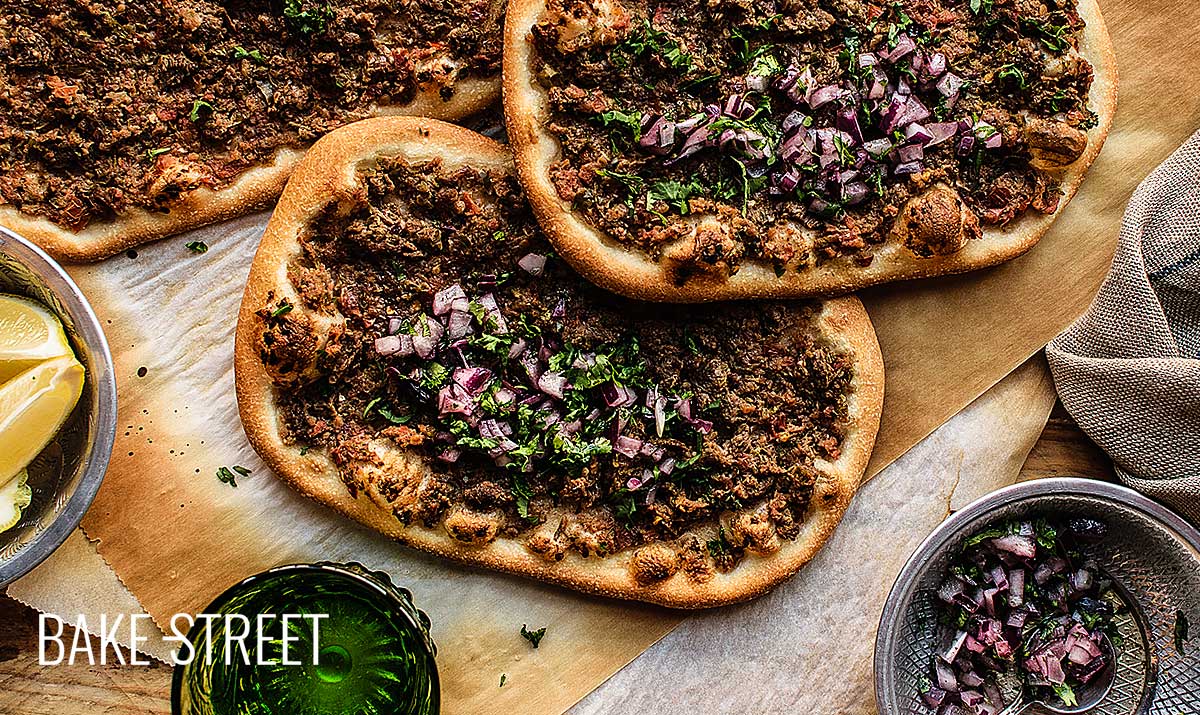 Lahmacun, flatbread stuffed
Este post también está disponible en Spanish
On weekends, at home, we love to enjoy more informal dinners (such as pizzas, bao, hamburgers, cocas, focaccias…) and prepare them all together in the kitchen. Everyone takes care of one thing, I always have to stretch and/or prepare the doughs, while they take care of filling and dressing. Wow, what a great part mine! This Christmas I prepared Lahmacun for the first time and we were in love.
My God, what an extraordinary taste! Not to mention how simple they are to prepare. Today I'm going to leave you with a fantastic option to solve for weekend dinners or even, being foresightful and having the dough in the fridge, leaving an unforeseen or preparing a dinner in a few minutes. Eleven to be exact. We almost beat instant noodles!
What is lahmacun?
Or lehmeyun is a typical elaboration of Middle Eastern, Turkish and Armenian gastronomy. It is a flatbread, very thin, covered with a mixture of minced meat, vegetables (which can vary depending on the area) and spices. It is baked and consumed immediately, making it perfect for serving as an entrée in a restaurant or enjoying it as "street food".
The name comes from the word lahm ala ajeenwhich means "meat with dough". It can also be found under the name "Turkish pizza", but the ideal is not to confuse concepts. Along with the wide variety of ingredients that can be made, three that are never missing are lemon, fresh parsley and sumac.
And what is sumac?
It is a very aromatic and slightly citric spice from red fruits that sprout in some shrubs of the genus Rhus. I say some because there are other types of Rhus shrubs that are poisonous like poison oak, ivy or sumac. They can be differentiated from non-toxic by the color of its fruit, this is white.
To obtain the sumac, let the fruit dry and spray it to obtain a reddish purple powder. Sumac is widely used in Middle Eastern cuisine, whether it is sweet or even salads/vegetables or meats.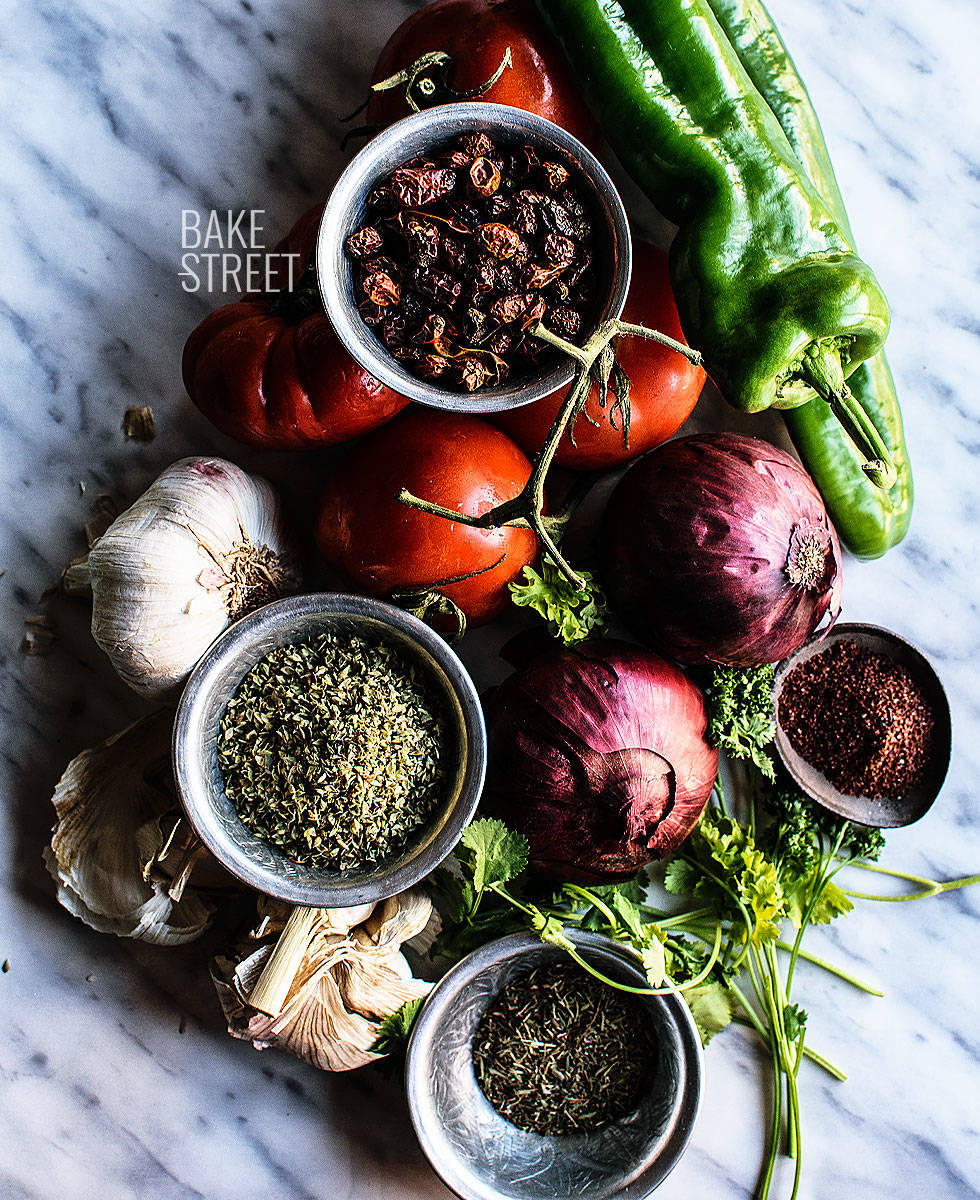 How to enjoy this wonderful recipe?
To tell you the truth, he doesn't need anything to tear us away at the first bite. Without forgetting the above-mentioned ones, lemon, parsley and sumac. But I recommend that to give it a fresh and spicy point, serve them with a purple onion salad seasoned with lots of fresh parsley and cilantro (this last optional, but I can't live without it). Glorious is a word that I am too small to define the union of all these elements… Really, once again I have asked myself why? why have I been without eating this for so long?
If somehow I consider in my life that I am wasting my time, in addition to the inevitable, it is not having tasted certain dishes before. What a rage not having time to do everything you want. Of course, I do my best to make the most of it.
Where did I get this recipe?
The truth is, I searched for a lot of recipes before I made it at home. I found some with yeast, others without yeast, doughs made with different ingredients, fillings varied… And at the end I chose the one that, in my humble opinion, was the most successful and delicious. I found it on a German blog, KochDichTürkisch. They kept the traditional and classical line, which I liked very much, and I was guided by their recipe changing some of the other nonsense. An exceptional result 😀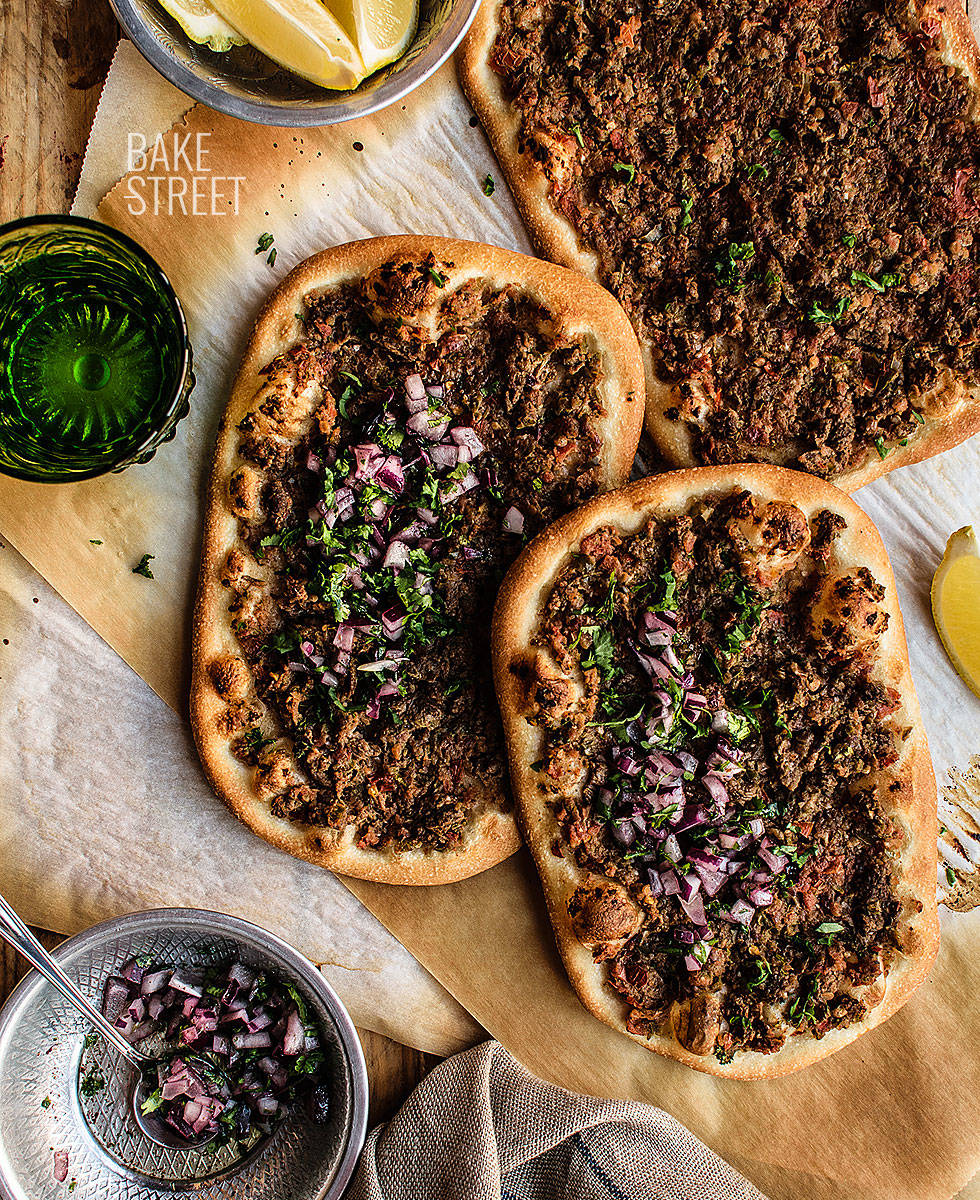 Ingredients for 4 pieces
FOR THE DOUGH:
225 g bread flour
107 g water
2,5 g dried yeast
pinch of sugar
40 g unsweetened Greek plain yogurt
9 g olive oil
4 g salt
FILLING:
5 oz (140 g) lamb or veal, minced
1 purple onion
1 green pepper
2 ripe red tomatoes
2 large garlic cloves
1 Tbsp hot paprika
1/2 tsp dried thyme
1/2 tsp dried oregano
a handful of fresh parsley, just the leaves
1 tsp sumac
1 chili from Cobán mashed
salt y black pepper to taste
FOR PURPLE ONION SALAD:
1/2 large purple onion
0,53 oz (15 g) olive oil
1/4 tsp sumac
pinch of salt
lemon juice to taste
fresh cilantro and parsley to taste
Instructions
Made the dough for the flatbread.
In the bowl of the stand mixer add the flour together with the yeast and water. Knead at speed 1 until the dough begins to amalgamate.
Add the natural yogurt together with sugar and salt. Knead again until get a homogeneous and smooth dough, it will take about 10-15 minutes.
Pour the olive oil and knead again until it is completely integrated. We must get a full development of gluten, the dough will be strung on the hook.
Take the dough out of the bowl, make a ball and place into a bowl greased with oil. Cover with film and leave to rise until doubled in size. In my case it took 3 hours at 70ºF (21ºC).
While the dough is rising, prepare the filling.
In a food processor add all the ingredients, except meat and spices, lightly chopped.
Blends until a homogeneous paste is obtained.
Transfer that paste to a large fine mesh strainer placed on a bowl. Let drain for 15 minutes to remove excess liquid.
Cut the raw meat with a sharp knife into small pieces, but try not to crush it. If you prefer, you can use a meat grinder. Set aside.
Once drained, add the spices together with the chopped meat. Mix well, cover and let it macerate until the dough is done. If it's too hot, put the bowl in the fridge.
Stretch the dough.
Dump the dough on a clean work surface, without any flour, and degass.

Divide the dough into 4 equal pieces and make balls with them. Remember that if there are small pieces of dough, we must place them in the center before preshaping each piece.
Cover with film and leave to rest for 15-20 minutes so that the gluten relaxes.
Take one of the pieces and stretch with a roller, we must obtain a very thin thickness.
Place on a tray lined with baking paper. Repeat the process with the other pieces. We will place two flatbreads on each tray.
Bake.
Preheat the oven to 480ºF (250ºC).
Place the steel or stone plate, in case we have, placing it in the second position starting from below.
Spread the filling over the 4 flatbreads almost reaching the edges pressing lightly with the help of a spoon.
Change the heat to the grill* option and bake the first 2 lahmacun for 11 minutes or until golden brown.
Remove from the oven, place on a grid and bake the next two pieces.
* See notes.
While the breads are baking, make the salad.
Cut the purple onion very thinly. Place in a bowl.
Chop the parsley and cilantro, add together with the onion.
Season with lemon juice, salt and sumac. Mix.
Finally, pour the olive oil and mix again. Set aside.
Serve.
We must serve the freshly baked lahmacun.
We will accompany them with a bowl of purple onion salad and more parsley and chopped cilantro, if desired.
Serve with some lemon slices.
Notes
We can prepare the dough in advance. It can be done the previous day and refrigerated once it has grown 1/3 of its volume. The next day we take them out of the cold and temper it before proceeding to shape them.
The traditional way is to prepare them with lamb meat, but it can be done with any other type of meat you like. The veal shank works very well too.
If you want to do a vegan version, just moit the meat.
Remember to drain the mixture well before putting it on the breads stretched to prevent the excess liquid from spoiling the dough.
If you don't like any of the vegetables, you can omit it and use another one instead.
If you have a steel or stone plate, I recommend using it for baking them. The result will be much crunchier. In my case, I place the breads on baking paper and then transfer them onto the steel plate.
Important note: As we will bake with grill, respect the distance between the breads with the baking paper and the grill. I recommend that the distance between the paper and the grill should not be less than 8 inches (20 cm) because there is a risk that the paper will catch fire. If your oven does not respect this distance, it is better to bake without the grill.
The purple onion salad is really delicious, I recommend you to accompany them with it. And don't skimp on adding a dash of lemon juice to the lahmacun.
The ideal thing is to consume it freshly made, but after a few hours, they are still very good...but cold!
I guarantee, promise and swear that you will fall in love with this recipe of Lahmacun. It is a fantastic option at any time of the day, with which you will always have an incredible result.
Don't take too long to try it, it's one of those things that is worth doing at home and enjoy a good cold beer. You'll tell me about it.
Big hugs,
Eva
Archivado en