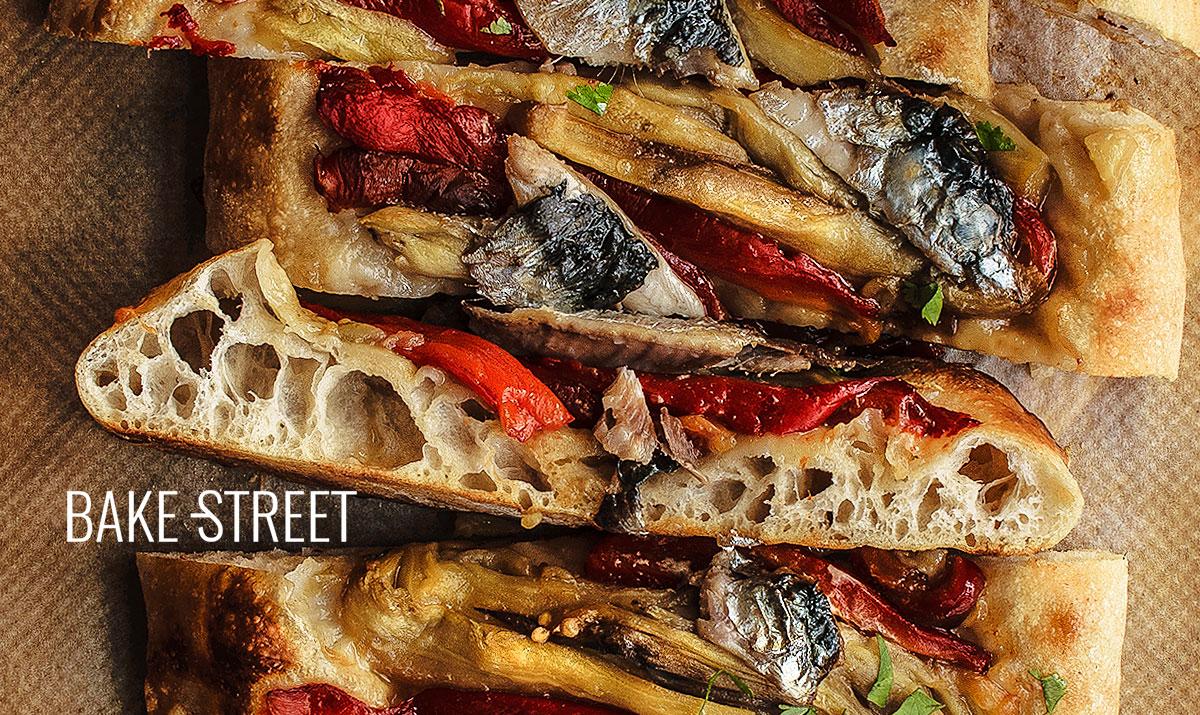 Coca de recapte
Este post también está disponible en Spanish
For all of you who love pizza, focaccia*and flat breads, we will give you some good news. We have another fantastic option to prepare at home and enjoy lunch or dinner in no time, "cocas". And to be more precise, I'll let you know how to make "Coca de Recapte"
The word "coca" comes from the Dutch word "kok" from the time of the Carolingian Empire and has the same origins as the word "Cake" or "Kuchen".
Its purported origin says that it arose because of the need to take advantage of the remains of bread dough instead of throwing them away. The women cooked the flattened leftovers by sprinkling sugar on top to serve as dessert.
The word "coca" encompasses a wide variety of preparations.
It is used to give name to flat breads or cakes. They are consumed throughout Catalonia, Aragon, Valencia, Balearic Islands and Andorra. It is usually served on holidays such as St. John's Night, Easter and Christmas. We must not, however, rule out consuming them for the rest of the year. They're delicious and really easy to make.
Salted coca is a simple way of presenting traditional dishes throughout the Mediterranean. It is also considered the "mother" of focaccia and Italian pizzas.
You can prepare countless recipes, both sweet and savoury.
On this occasion we will prepare this "coca de recapte", where recapte means "provision" that is taken to the countryside for a picnic. A crunchy dough on the outside and spongy on the inside, covered by "escalivada" (roasted red peppers and eggplants) and sardines macerated in oil and rosemary.
Few things so simple and rich will make us enjoy so much… It's a perfect idea to prepare and enjoy this weekend, don't you think so?
* Only available in Spanish.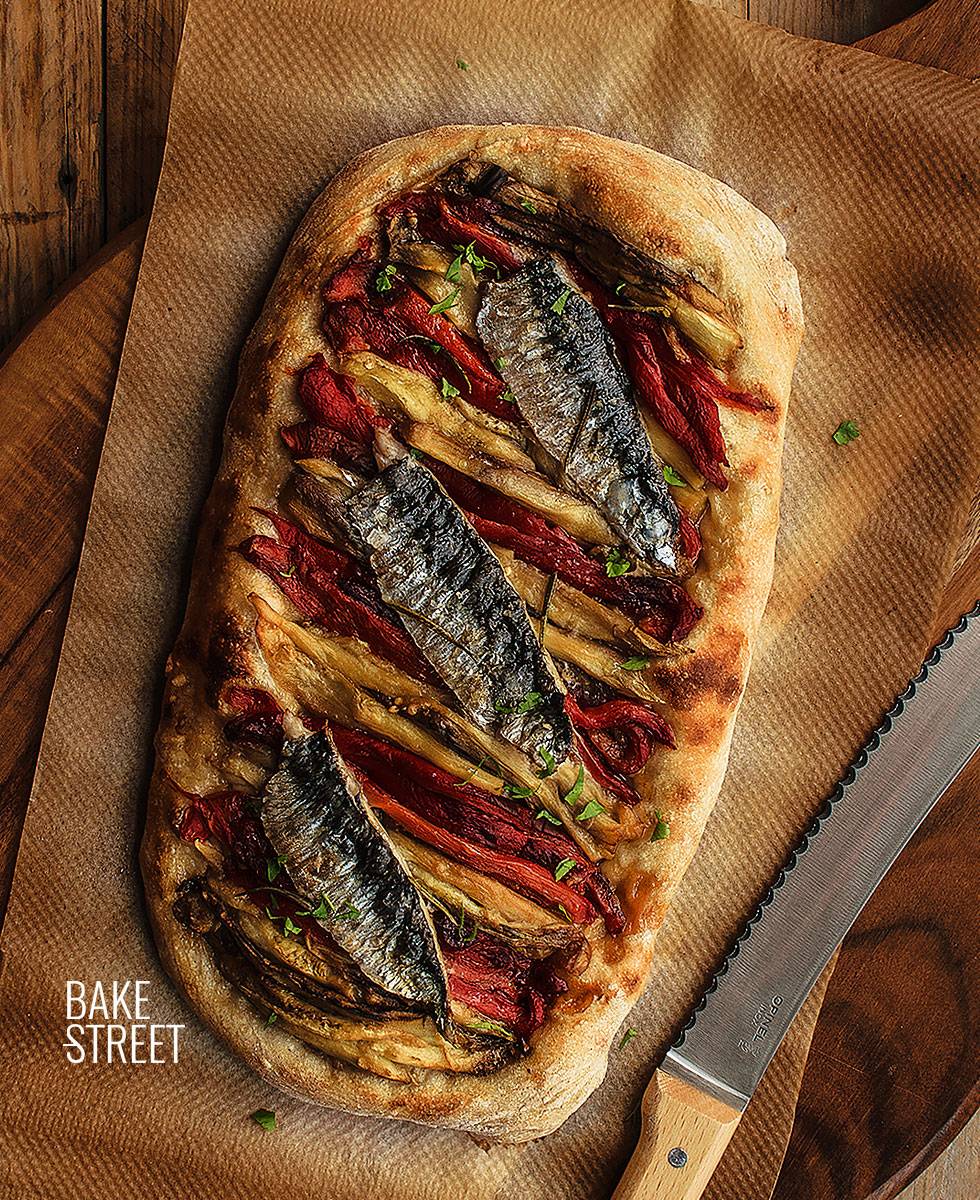 Ingredients
FOR THE DOUGH:
8,8 oz (250 g) bread flour W=340
0,02 oz (0,6 g) dry yeast
0,07 oz (2 g) sugar
0,28 oz (8 g) salt
6,17 oz (175 g) warm water
FOR THE FILLING:
2 red peppers
1 large eggplant
2 fresh sardines
salt
olive oil
fresh rosemary
fresh parsley
Instructions
FIRST DAY
Roast vegetables.
Preheat oven to 375ºF.
Wash and dry red peppers and eggplant.
Put the red peppers and eggplant on an oven tray lined with foil and place them in the oven.
Bake about 50-60 minutes, they should take a light toasted color on the outside, the meat should be tender and we can remove the skin without problems.
Half-way through cooking open the oven, move away from the door because a lot of steam will be released, and carefully using some tongs, turn the peppers to finish baking.
Remove, place in a glass bowl, cover with film and leave to cool completely overnight. This will make it much easier to peel the peppers.
Clean and marinate the sardines.
Eviscerate, remove the guts and head from the sardines.
Scale sardines. If we don't have a scraper for that, it's okay. Put a large drainer in the sink of the kitchen, where all the scales will fall, and clean the sardines under the cold water helping us of our hands. We'll scrape against the sense of the scales.
Wash very well under cold water and dry with paper towels.
Open the sardine, remove the fishbone and cut in half longitudinally. Cut the beards with a sharp knife or scissors.
Introduce the sardine fillets into an airtight glass container with the skin facing downwards. Sprinkle with salt, fresh rosemary leaves and cover with oil.
Cover and refrigerate overnight.
Make the coca dough.
In a medium bowl add the dry ingredients and mix.
Pour in the water and mix until a homogeneous mixture is obtained or until there are no remains of dried flour on the surface.
Cover with film and let rise for 18-24 hours at room temperature.
SECOND DAY
Our dough will be bubbling, its size will have increased and it will have settled, that is to say, we will see that it will have a slightly deflated appearance.
Sprinkle the work surface with flour, transfer the dough over it and proceed to preshape it.
Fold each of the four ends towards the center, turn the dough over and return trying to exert tension.
Sprinkle with flour and let stand for 25 minutes.

Preheat the oven 30 minutes before introducing the coca, we will do it at 520ºF. If your oven does not reach this temperature, it doesn´t matter, set the maximum temperature that allows you to work.
Shape the coca.
Stretch the dough on a floured surface trying not to manipulate or flatten it excessively. We must shape and stretch it carefully and gently.
Shape a rectangle of approximately 14 x 6,7 inches (35 x 17 cm).

If the dough has some resistance and shrinks, it is due to tension. Let it relax for about 5-10 minutes, always covered to prevent it from drying out, and continue shaping it.
Transfer the coca dough to a board or tray lined with baking paper and lightly sprinkled with flour.
Place strips of peppers and eggplant alternating them.
Place the sardines, sprinkle with a little olive oil, salt and fresh rosemary.

Before placing the coca in the oven, we turn the grill on at maximum power. Depending on our oven you will have several options in terms of heat power. In my case, I put it to the max.
Bake about 11-12 minutes or until the coca has a nice golden color.
Remove from the oven, garnish with chopped parsley and let it cool for a few minutes on a rack before tasting it.
Notes
Is it essential to use high strength flour for this recipe? Yeah.  We must work with a flour with a lot of strength that allows us to add a high hydration and get the results I show you. Like this variety of flour, it will tolerate long and prolonged fermentation times. You can use Manitoba flour too.
This dough does not need to be kneaded to develop gluten, we just need to integrate the ingredients well (until there are no residues of dried flour) and let it rise with calm.
We should observe the dough after 16-18 hours, especially if it is a time of the year when it is hot because it will rise faster. If so, once you have reached this point, you should keep it in the refrigerator until it is used.
If we want to prepare the dough with days in advance or if we make more for later days, after 18-24 hours, introduce the dough in the refrigerator and let it rest up to a maximum of four days. It is not worth freezing the dough because of the short time it takes to process.
Whenever you refrigerate the dough you should temper it about 2 hours before preparing to preshape it.
To bake it, you can use both steel and stone sheets, place it in the middle of the oven and remember to preheat it with it inside. If neither of these two elements is present, bake on a preheated baking sheet.
Important note on how to bake with the grill. The baking distance of the coca (mainly if it has paper on the base) and the grill must be respected. The distance should not be less than 7,9 inches (20 cm) because there is a risk that the paper will ignite. If your oven does not respect this distance, it will be better to bake without the grill. To obtain a roasted edge, you only need to extend the final baking time and the result will be very good as well.
Remember that each oven is different to other, perhaps yours needs a little more or less baking time. Watch it the first time you do it to work on time. It can take about 7-12 minutes.
I have used fresh sardines because I think the final result is considerably better. If you use this type of sardine, freeze them previously to prevent the possible presence of anisakis.
If you macerate the sardines, you will be able to enhance the flavours very much. In my case I have opted for fresh rosemary, but you can do it with the aromatic ones you prefer.
Can I use canned sardines instead of fresh ones? Yes, you can, but the result won't be the same. No resemblance.
Don't let yourself be put off using fresh sardines because of their smell when cooking them. By preparing them in this way, the smell of the oven will be reduced to a minimum.
Can I use another type of preserves instead of sardines? Yes, it is also usual to serve it with anchovies. If you choose this ingredient, do not add it before baking the coca. The reason for this is that the salty point is greatly enhanced and can be uncomfortable to taste. Place them on the coca once we have taken it out of the oven and while tempering on a rack.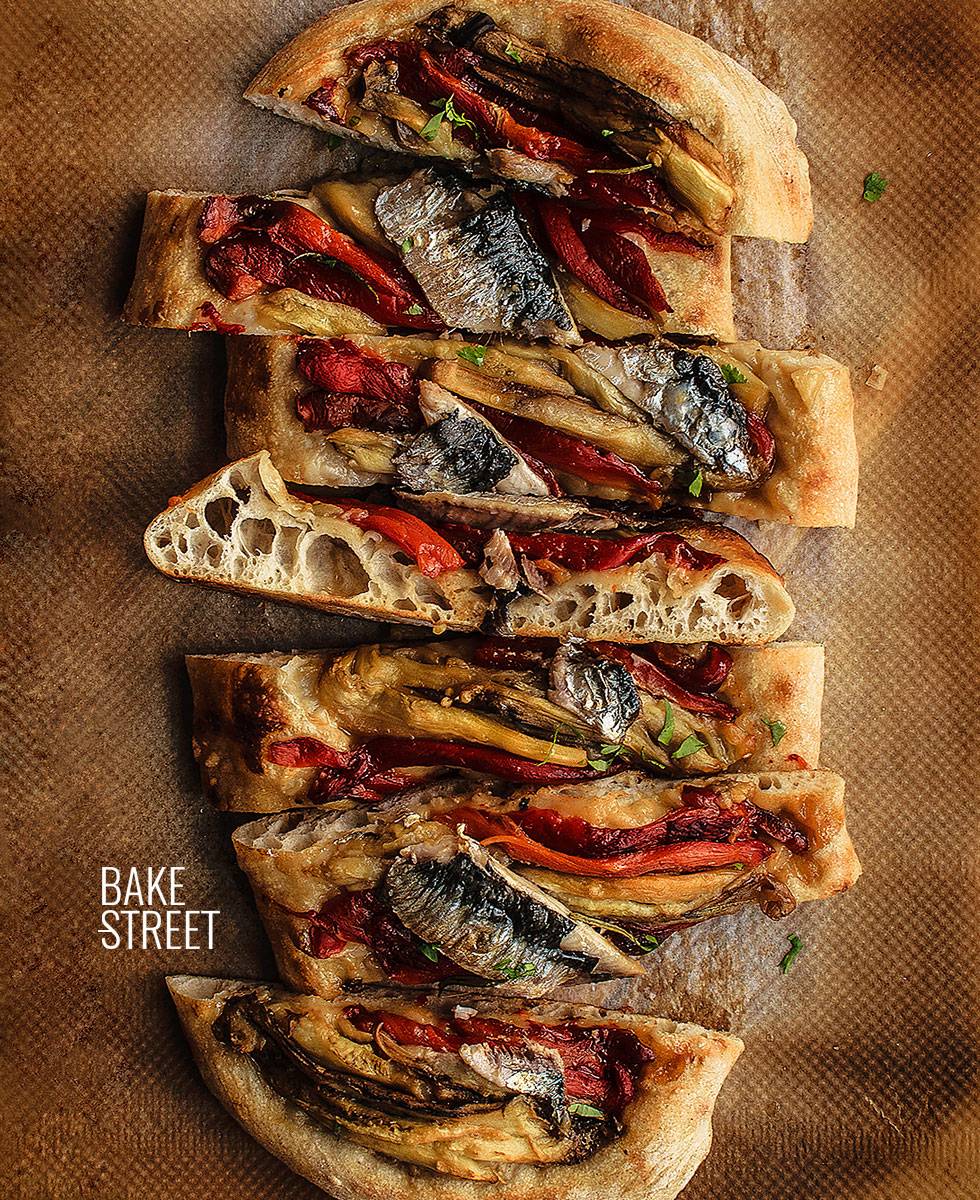 This "coca de recapte" can solve many dinners or appetizers, having the dough ready (which we can prepare in advance and keep it in the fridge for 4 days) in little more than 15 minutes we will be enjoying a wonderful dish.
I hope to seen yours soon! Have a great weekend, see you on Monday ;)
Big hugs,
Eva
Archivado en