Knäckebröd with watercress pesto and salad
Este post también está disponible en Spanish
I'm sure you remember the crispy Swedish breads Knäckebröd I left you a few weeks ago. I told you that I would share with you a way to serve and/or enjoy them. Well, today I'll leave you these Knäckebröd with watercress pesto and salad. You can't imagine how easy, simple and fast it is to enjoy a snack or even dinner with few ingredients, being able to leave everything prepared in advance.
This variety of bread holds in perfect condition for several days if we keep it in a zip-type bag. We will be able to preserve its wonderful crunchy texture and its incredible and aromatic flavor. In fact, if you can, the day you dare to prepare it make enough to enjoy it several times.
Watercress, dill and peanuts pesto.
If there's a sauce, dressing or versatile side dish that fills our plates with flavor and color, that's pesto. In the blog I have several types, in addition to the classic and wonderful basil pesto, such as "arugula, basil and almonds pesto", "sage and hazelnuts pesto" and another of "kale" (this only available in Spanish). And I have no doubt that I will continue to try new ingredients because there is an infinite combination of elements that will give rise to spectacular pestos.
Today I leave you a new version elaborated with watercress, dill and peanuts. Lately I've been very fond of dill, has a flavor with a lot of personality and a special freshness. It's a rare day when I don't have this aromatic herb in my fridge. In the end, it has become an indispensable element in my fridge and the day I'm missing I feel strange. It's as if we ran out of salt or oil at home, something similar.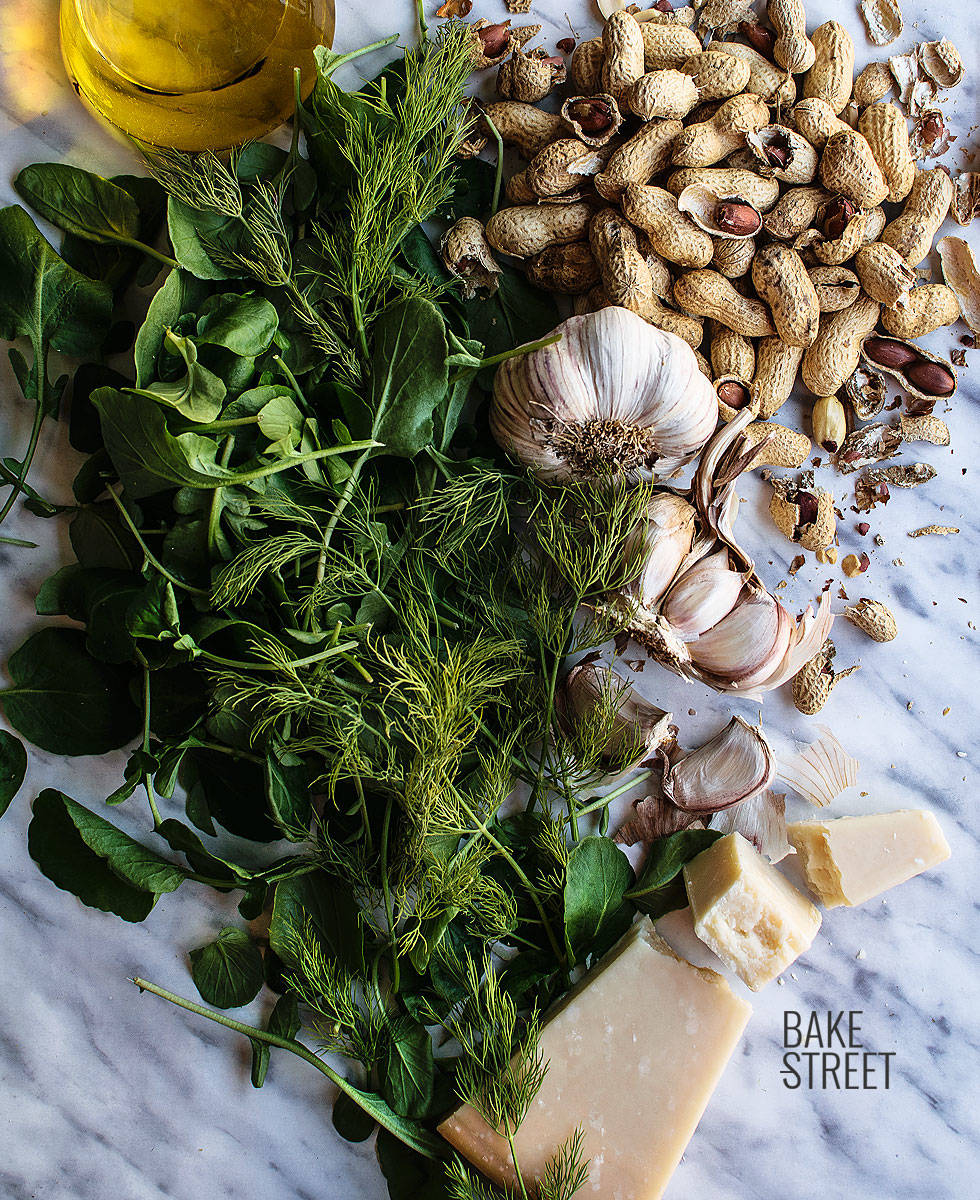 Nasturtium officinale, agron or watercress.
Watercress, that plant that is not well received by everyone because of its particular flavor, is another one of my favorite sprouts for just that reason. Its slightly spicy taste fascinates me.
It is a perennial aquatic plant originating in Europe and Central Asia very common in streams, clear water streams and swamps. It is considered one of the oldest vegetables consumed by humans. It is now widespread throughout the world and is widely used, especially in salads.
It has long been considered a medicinal herb. Around 400 BC, Hippocrates installed the first hospital on Kos Island near a stream to ensure that patients could consume fresh watercress. In 1700, Nicholas Culpeper (author of The Culpeper Herbalist) believed that watercress could purify blood. Today more than 15 essential vitamins and minerals have been found in this plant. One of them is vitamin K, which limits neuronal damage.
It has Gluconasturtiin, a glucosinolate component that gives it the peppery taste, existing in leaves and trunks. They provide Phenethyl isothiocyanate, which has been shown to inhibit carcinogens.
Watercress is a natural source of iron, calcium, iodine, folic acid, and Omega-3 fatty acids, as well as vitamins A and C. Because of its relatively significant vitamin C content, it was suggested by English military surgeon John Woodall (1570-1643) along with other plants as a natural remedy for scurvy.
Assembling our toast.
How many days we walk with the right time or we arrive home tired and with little desire to cook … Well, if you leave everything prepared in advance, enjoying a snack or simple dinner will take just under 5 minutes.
All we have to do is take our knäckebröd bread (or any of the ones I have suggested below in the NOTES section), spread a thin layer of crème fraîche, another more generous layer of watercress pesto and decorate to our liking. In my case cucumber, red onion, peach, cooked chickpeas, watercress, aromatic herbs and nigella seeds. Easy, fast, healthy and absolutely delicious 😉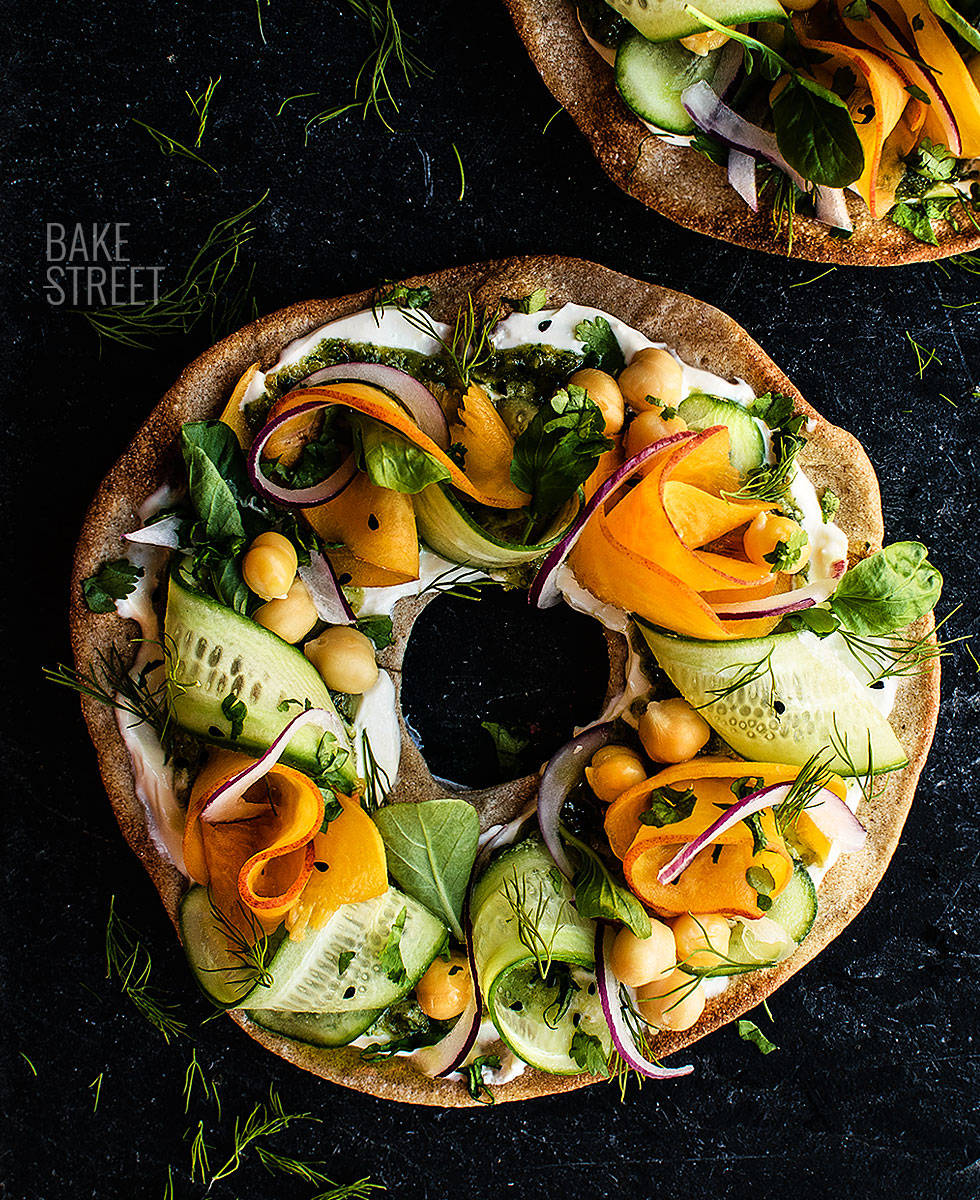 Ingredients
FOR WATERCRESS, DILL AND PEANUTS PESTO:
60 g watercress
25 g fresh dill
125 g olive oil
100 g Parmesan cheese
75 g roasted peanuts
1 large garlic clove
salt to taste
FOR ASSEMBLE THE TOAST:
Knäckebröd, recipe on the link
crème fraîche
sliced cucumber
sliced peach (or another fruit to our liking)
red onion thinly sliced
cooked chickpeas
watercress
fresh dill, peppermint and cilantro
nigella seeds
Instructions
Make watercress and dill pesto.
Wash the watercress and dill with cold water, dry carefully. Remove the broad stems from the dill and leave only the leaves.
In a food processor add the watercress together with the dill and the oil. Process well until you get a deep green paste.
Add peanuts together with the Parmesan cheese and the garlic. Process again until a homogeneous mixture is obtained.
Taste and rectify salt if necessary.
Pour the mixture into an airtight container, cover with olive oil and refrigerate until the time of use.
Cut fruit and vegetables.
Using a mandolin, cut the cucumbers, peach and red onion.
Set aside.
Assemble the toast with the crispy Knäckebröd bread.
Spread a thin layer of crème frâiche on the base of the bread.
On top of this, spread watercress pesto to taste.
Decorate with slices of cucumber, peach, red onion, cooked chickpeas, watercress sprouts, aromatic herbs and nigella seeds.
Serve.
Notes
To make toast you can use knäckebröd bread or any other type of bread that you like and you have at home. In this case, I like that the base is very fine and crunchy, the whole is perfect and very fresh.
Other breads that can be used to prepare it, in addition to a slice of common bread, can be: Tunnbröd or polar bread, naan bread, Laccha Paratha (only available in Spanich) or even some crepes of spinach and dill.
The pesto can be this variety that I leave you or any other, even the traditional one elaborated only with basil and pine nuts. In the blog you can also find a "arugula, basil and almonds pesto", "sage and hazelnuts pesto" and another of "kale" (this only available in Spanish)

KitchenAid blender from Claudia&Julia
Crème fraîche can be replaced by some type of cream cheese if you prefer.
Garnish can be totally adjusted to your taste. In my case I used these ingredients because when I prepared them it was summer. I love peaches and in salads and toasts I find them a real perdition... But now we can use sharonis or khaki sharonis, for example.
Eating healthy and tasty food can certainly not be easier if we take a few minutes to organize our meal for the following days. This knäckebröd with watercress pesto and salad has been my dinner for many nights this past summer.
Almost every night I like to dine on light dishes, but not necessarily just a salad. More than anything because after a while I die of hunger... This type of toast allows you to have a good dinner and to vary the fillings being able to adjust the ingredients that we have that day at home. It can be accompanied with a pesto, hummus, cream cheese ... just like the toppings. From fresh to cooked elements, such as roasted vegetables, sautéed and even accompanied with anchovies, serrano ham ... In short, everything you like and think of.
I wish you a wonderful beginning of the week!
Big hugs,
Eva
Sources:  Alimentos Saludables, Wikipedia
This post contains affiliate links
Archivado en