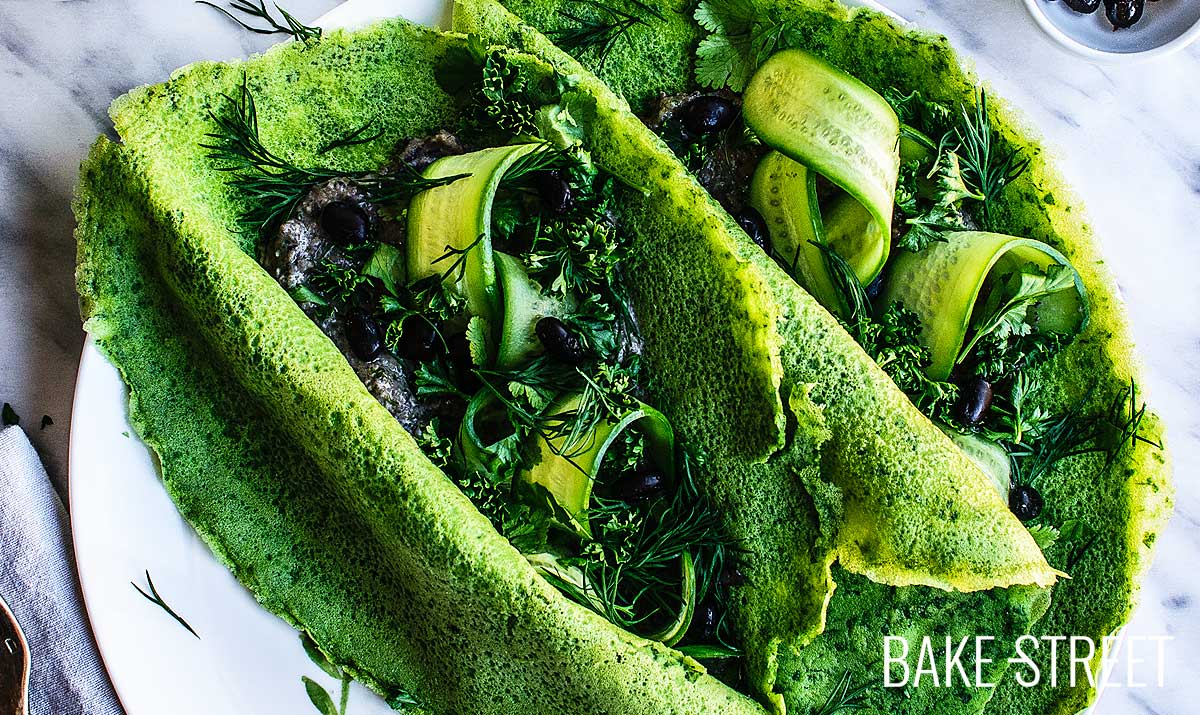 Spinach and dill crepes with black bean hummus
Este post también está disponible en Spanish
How was Easter? I hope you had a great time and a lot of rest. We have made a small disconnection, despite making some progress, which is always to be welcomed. In addition to taking advantage of doing things that in other occasions are more complicated for us to carry out. Lately we've been making salty pancakes for dinner at home. They are very versatile, healthy, nutritious and we can fill them with countless ingredients and preparations. Recently I left you some turmeric crepes with tomato and tamarind chutney and today I leave you with a new option. Spinach and dill crepes with black bean hummus.
These bright and intense green crepes have been capturing my attention for several weeks. We already know that we eat through our eyes rather than through our bellies and, in this case, even more so.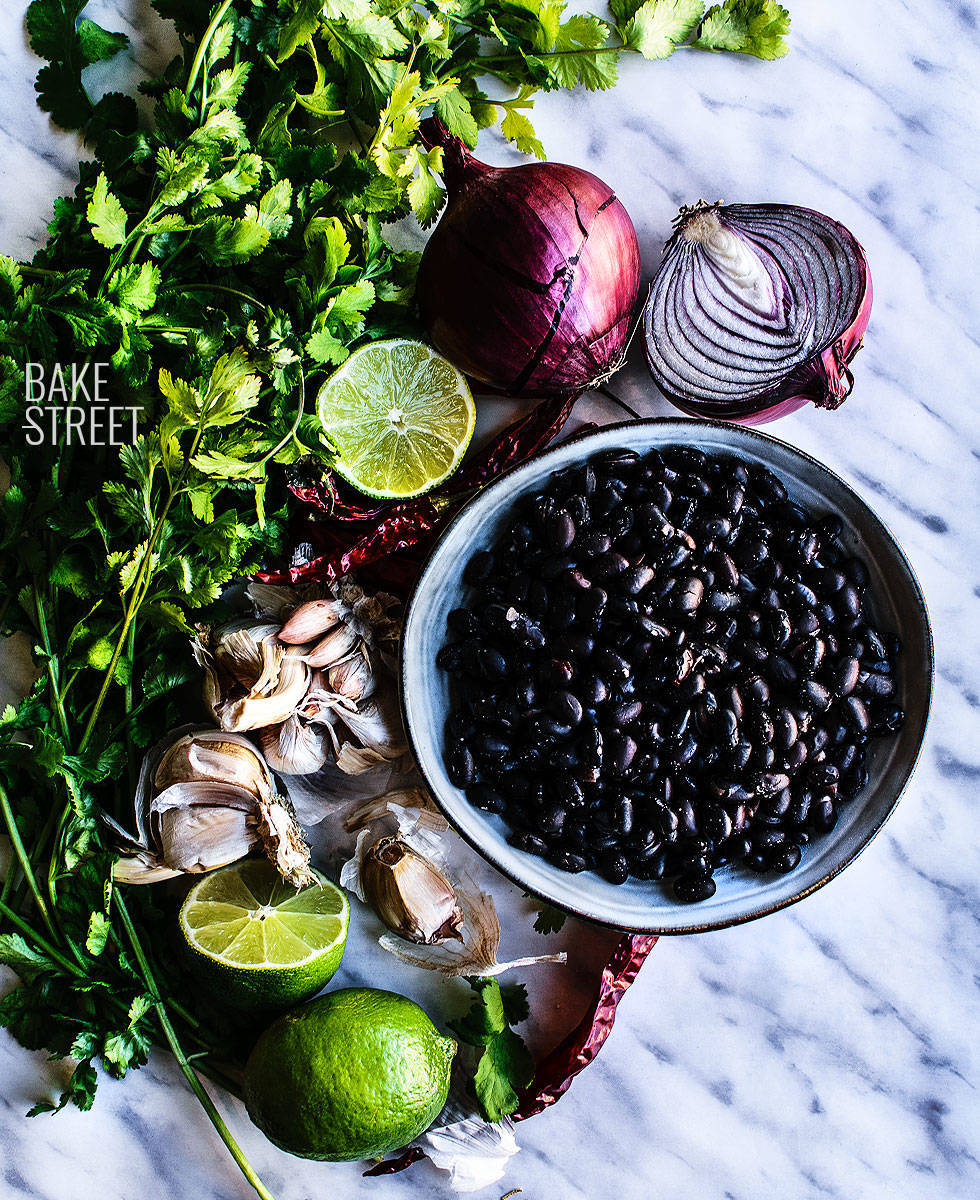 Making spinach and dill crepes.
To make these crepes we will use rice flour, which makes them suitable for everyone as they do not contain gluten. The rice flour we will use is a common flour, no glutinous rice or similar.
To give flavor, color and aroma we will use fresh spinach, fresh dill and almond oil. We will process everything together with the milk and the Greek yogurt until we obtain a very light green cream. Then we will mix with the rest of the ingredients and we will have the mixture ready.
Cooking them will take no more than 2 minutes per crepe, which will allow us to have them ready right away.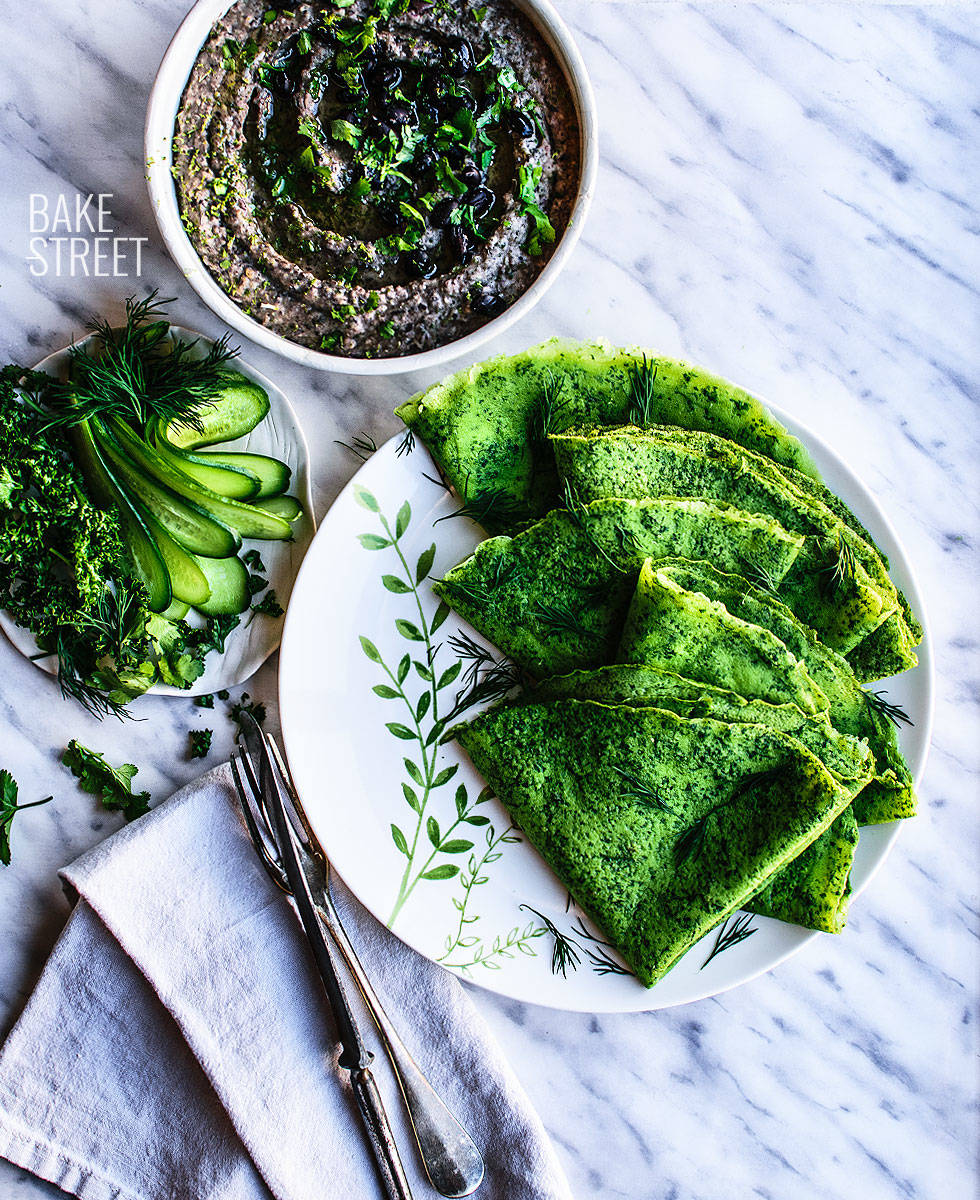 How could I come back without sharing some music? That would be, like, weird, weird!
I had several options to leave you today, but I finished making up my mind last night. Many times, when I go to sleep, I listen to some music to relax and sleep like the angels, hahahaha. The fact is that one of the last songs I heard was this one from Zero 7 with Mozez "Warm Sound" Link to Youtube. If you don't know this group, keep an eye on it.
We will accompany them with a black bean hummus.
Who doesn't like a delicious hummus? Not only can it be used as a snack, but it can also be a perfect starter or even used as a filling. As we will do on this occasion.
I always make hummus with chickpeas combined with different ingredients. The creaminess of this vegetable is wonderful and addictive! But I thought it would be nice to change the vegetables and try another way to make it.
I wanted to try black beans, and I also have to use lentils very soon…. We loved the result! This hummus is a little hot, aromatic, creamy and delicious. Combined with the spinach crepes it tastes great.
For a fresh and crisp touch, I've accompanied them with laminated cucumber and fresh herbs. Of course, you know that you can combine it with whatever you like or simply enjoy it as it is.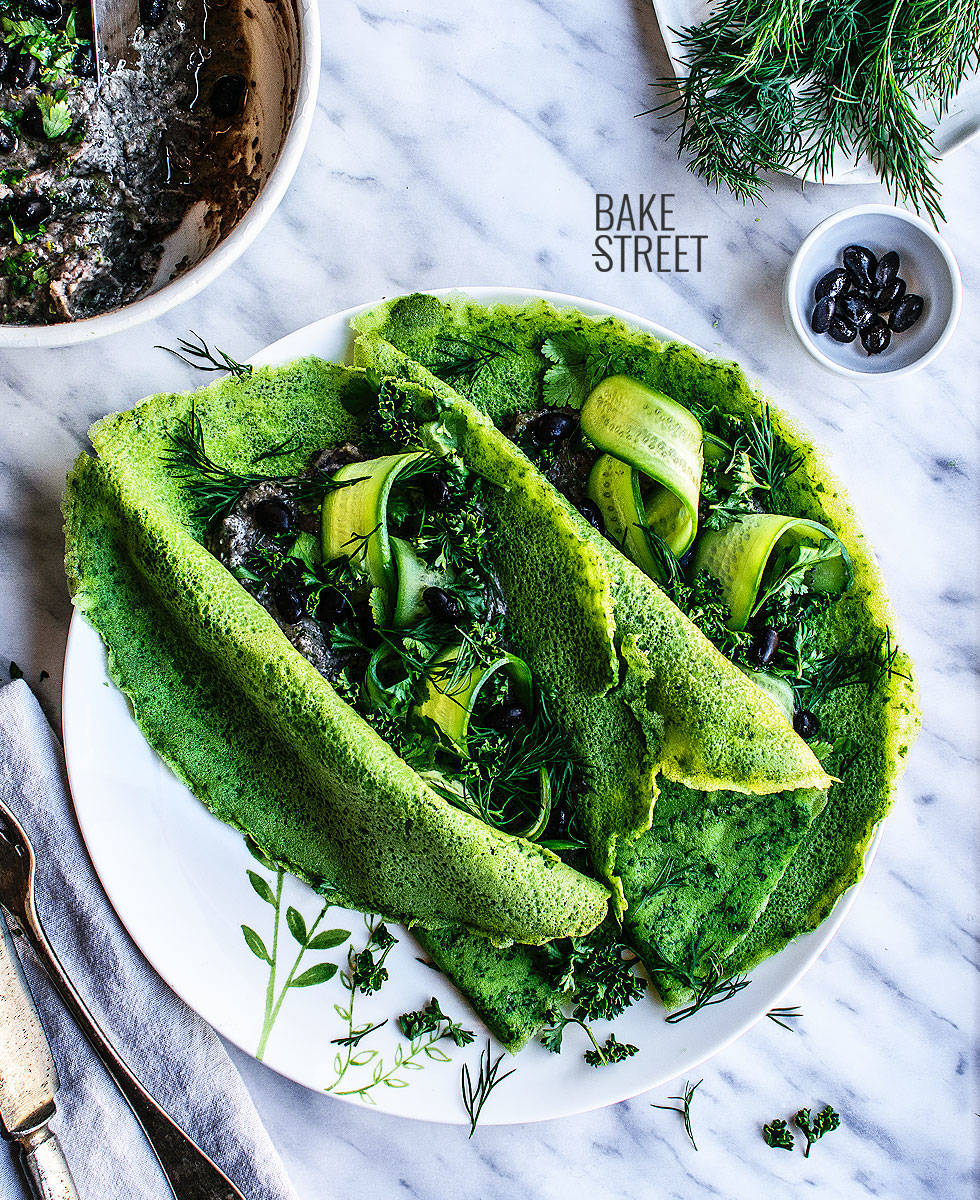 Ingredients
FOR THE CREPES (6-7 pieces):
2 large eggs
6,7 oz (190 g) whole milk
2,1 oz (60 g) unsweetened Greek yoghurt
1,95 oz (55 g) fresh spinach
2,65 oz (75 g) rice flour
1 Tbsp almond oil
1 large dill branch, leaves only
1/2 tsp salt
FOR BLACK BEAN AND CHILI HUMMUS:
6 oz (170 g) dried black beans
1 red chile (tree chile)
0,77 oz (22 g) fresh lime juice
0,42 oz (12 g) fresh cilantro, only the leaves
0,17 oz (5 g) cumin powder
3,17 oz (90 g) purple onion
0,24 oz (7 g) garlic
1,75 oz (50 g) olive oil
1 oz (30 g) water
salt to taste
boiled black beans + cilantro leaves + grated lime for garnish
FOR SERVE:
finely laminated mini cucumber
curly parsley
fresh cilantro
dill
mint leaves
Instructions
THE NIGHT BEAFORE
Soak the black beans.
Soak the black beans in water. Cover them completely with water, cover with film and leave for 12 hours at room temperature.
NEXT DAY
Drain the beans and wash them in cold water.
In a large po add the black beans along with the water, enough, and place on medium high heat. Once it comes to the boil, add a pinch of salt.
Cook over medium heat for 1 1/4 hours or 1 1/2 hours, until tender, but not longer than the cooking time. We don't want them to fall apart.
Drain well and set aside.
Make hummus.
In a food processor add 12,35 oz (350 g) of black beans along with the chopped purple onion, garlic, cilantro, cumin, red pepper, lime juice and oil. Process until we obtain a homogeneous and smooth paste.
Pour the water, the ideal thing is to do it little by little and processing again each time, until obtaining the desired softness point.
Salt to taste, process again and taste.
Pour into a bowl, cover with film and set aside. At room temperature if you are going to eat it right away or refrigerated if you are going to eat it later.
Make crepes batter.
In a food processor add the spinach leaves along with the milk, Greek yogurt and dill.
Process until the spinach is completely crushed.
Add the eggs together with the salt and process again until a homogeneous mixture is obtained.
Pour into a bowl and add the rice flour. Mix with a whisk until completely dissolved.
Set aside.
Cook the crepes.
Prepare a wide plate where to place the crepes.
Place a 79 inches (26 cm) diameter frying pan over medium heat.
Brush the pan with a some oil and ladle some batter on the pan. Quickly spread out the batter with the base of the ladle so that it occupies the whole surface or tilt it at the same time that we are pouring the mixture.
Cook it in the heat until you see that it has curdled, but without browning the base. It'll take about 1 minute. Turn and cook for 1 more minute.
Remove and repeat with the rest of the batter until all the crepes are made.
Use the oil in the frying pan only when necessary to prevent them from sticking. If the pan has a good non-stick, it will not be necessary to use it.
Serve the crepes with the hummus.
Garnish the surface of the hummus with the rest of the boiled beans that we have left over (they will be very few), chopped coriander, grated 1/2 lime and a dash of olive oil.
We can serve the crepes folded into triangles, accompanied by hummus and a separate dish with mini laminated cucumber and aromatic herbs. That way everyone can serve themselves as they please ;)
Notes
In my case I have used small black beans, but you can use larger black beans or even white beans. In fact, if you don't like beans, you can use chickpeas instead.
Hummus is hot, but not too hot. I have added a large tree chile (red chile), you can add as much and as varied chili as you like.
Remember that hummus is kept in perfect refrigerated condition, and covered with film, for 4-5 days.
I made the crepes with rice flour, but they can be made with chickpea flour or even wheat flour without any problems.
Dill adds a great aromatic flavor and aroma to crepes. In case you don't like this aromatic one very much, you can use mint instead.
If you are vegan and do not want to use fresh milk, you can use vegetable milk instead or even high-fat coconut milk.
Greek yoghurt can be replaced with soy yoghurt.
Do not cook the pancakes at a high temperature, otherwise they will brown and not keep the green color so bright and striking.
The dressing can be totally up to you. In my case I chose the mini cucumbers, which are very cute, because they provide a fresh and crispy point that combined great with the rest.
Aromatic herbs also bring freshness, flavor and texture to the recipe.
These spinach and dill crepes with black bean hummus are a perfect choice for lunch or dinner. You can leave the hummus prepared in advance and refrigerated. In addition, the taste is enhanced and improved overnight.
The crêpe batter is made in 2 minutes and cooking will take the same amount of time per unit. Eating well and in a short time is not incompatible ;)
Let's go for a new week!
Big hugs,
Eva
Archivado en