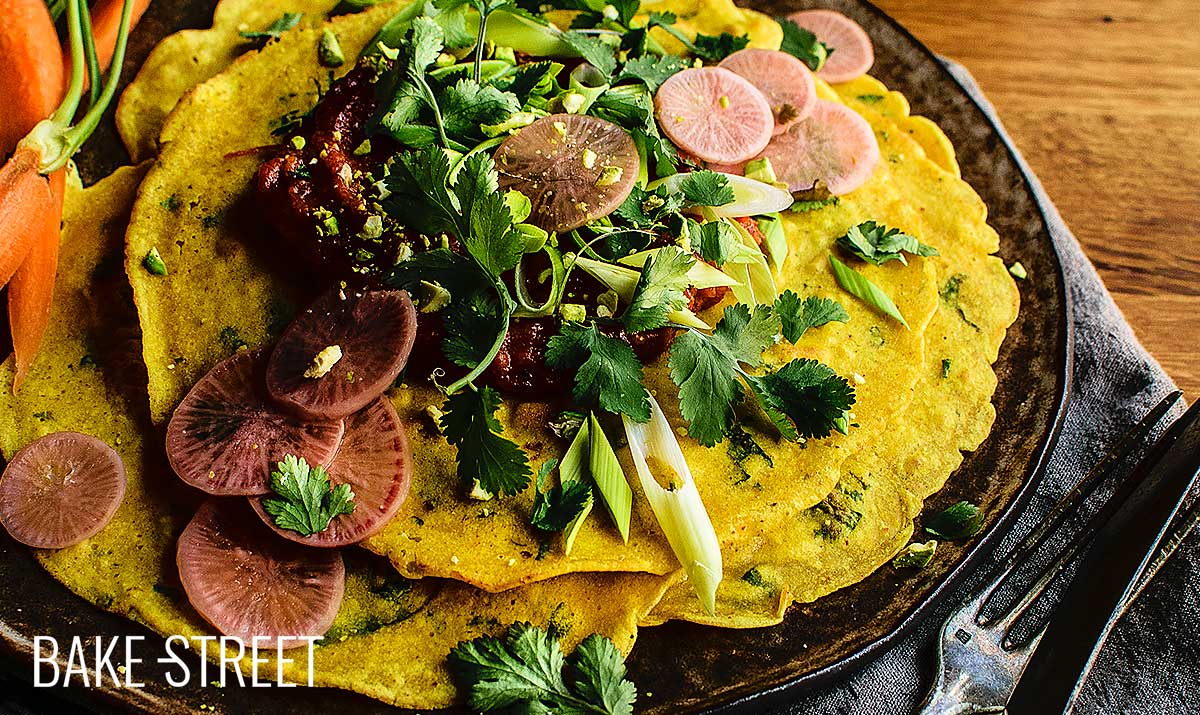 Turmeric crepes with tomato tamarind chutney
Este post también está disponible en Spanish
One of the things that you usually like the most, because it is a question or comment that you usually do me a lot, are recipes that can fix you a quick dinner. Of course, a mixed sandwich is a perfect (and delicious) idea, but not for every day. You can make quick and healthy dishes that allow us to enjoy a lot at the same time. Like these turmeric crepes with tomato tamarind chutney.
Now, I won't lie to you…. The recipe has a trick. While it's true that crepes can be made in less than 15 minutes, tomato tamarind chutney takes a longer time to prepare. But, this one has something good and is that it can be left prepared in advance and refrigerated. Ready to take out of the fridge and accompany our crepes.
In fact, you can make more than the amount I specify in the elaboration and keep it for a few days refrigerated to season more recipes. Salted waffles, flat breads, vegetables, rice, sandwiches… It is perfect to serve with countless ingredients.
I saw today's recipe a few days ago to Niki from the blog "Rebel Recipes" and I fell in love instantly. The colors, the combination of flavors, ingredients… I knew I had to try it very soon because I was going to love it. And so it has been. If you don't know her blog, don't miss it. She is vegan and has absolutely wonderful recipes. You'll be very surprised!
Turmeric crepes.
Some time ago I left on the blog some Vietnamese crepes made with turmeric and rice flour. In this case, we will elaborate them differently. We will use chickpea flour instead, water and omit the egg and coconut milk. Well, they have nothing to do with it.
We will also add fresh cilantro and Coban chili to give them a fresh, spicy and slightly smoky touch. An amazing taste. The result will be a crepe suitable for everyone, but with only one condition: they must like turmeric.
Tomato tamarind chutney.
It's one of the most wonderful and incredible creations I've ever tasted. What a great taste together! A mixture of sweet, fresh, citrus, spicy… really stunning.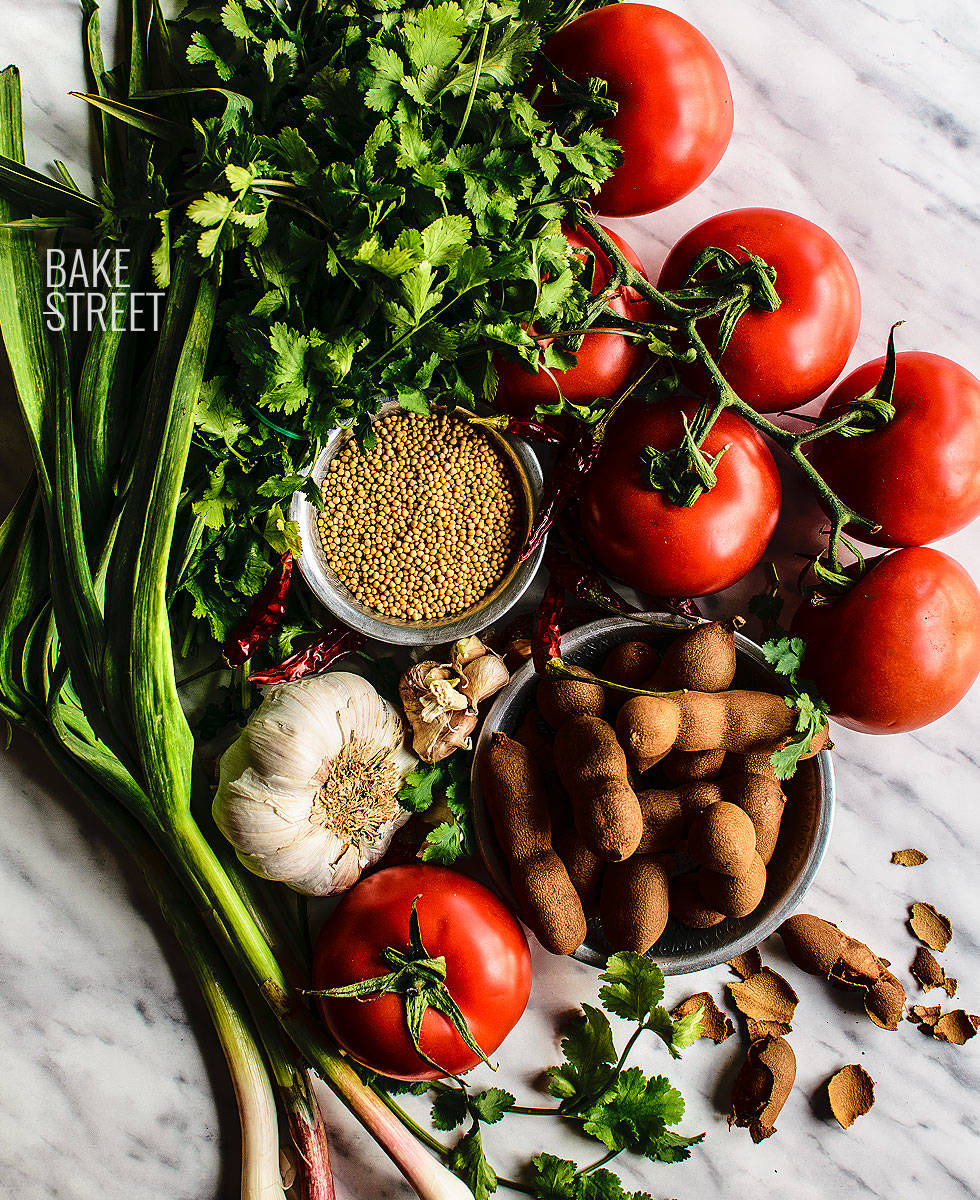 The production process takes a little longer because we must reduce the tomato juice to obtain a thick paste. It is very similar to what we would do to make a tomato passata, but this time we will not be so purist. Instead of cooking it over low heat, we will do it in medium low heat, which will take a little more than 1 hour instead of 2 hours to get it ready.
Of course, if you prefer, you can reduce the heat and cook it over a low heat. The taste will improve and be enhanced a little more than if we speed up the process.
On Mondays you have to start them with rhythm and good energy. Because it's already known that what starts well, ends well. Today I leave you a song from Seelenluft "Manila" (Youtube link) 😉
Combining the elements.
The result is simply amazing. A combination of flavors that make it impossible to miss a bite after another. Fascinating and I'm short of praise!
To accompany this recipe it is not necessary to add anything else. It's very enjoyable on its own, but in my case, besides flavors I like to combine textures. I love the crispness of raw vegetables and aromatic herbs, that's why I decided to accompany the crepes with fresh cilantro, garlic, pickled radishes (which I recently left on the blog 😉 ), carrots and pistachios.
Needless to say, all these ingredients can be omitted or replaced by others you prefer. The important thing is that you like the ensemble and be according to your tastes.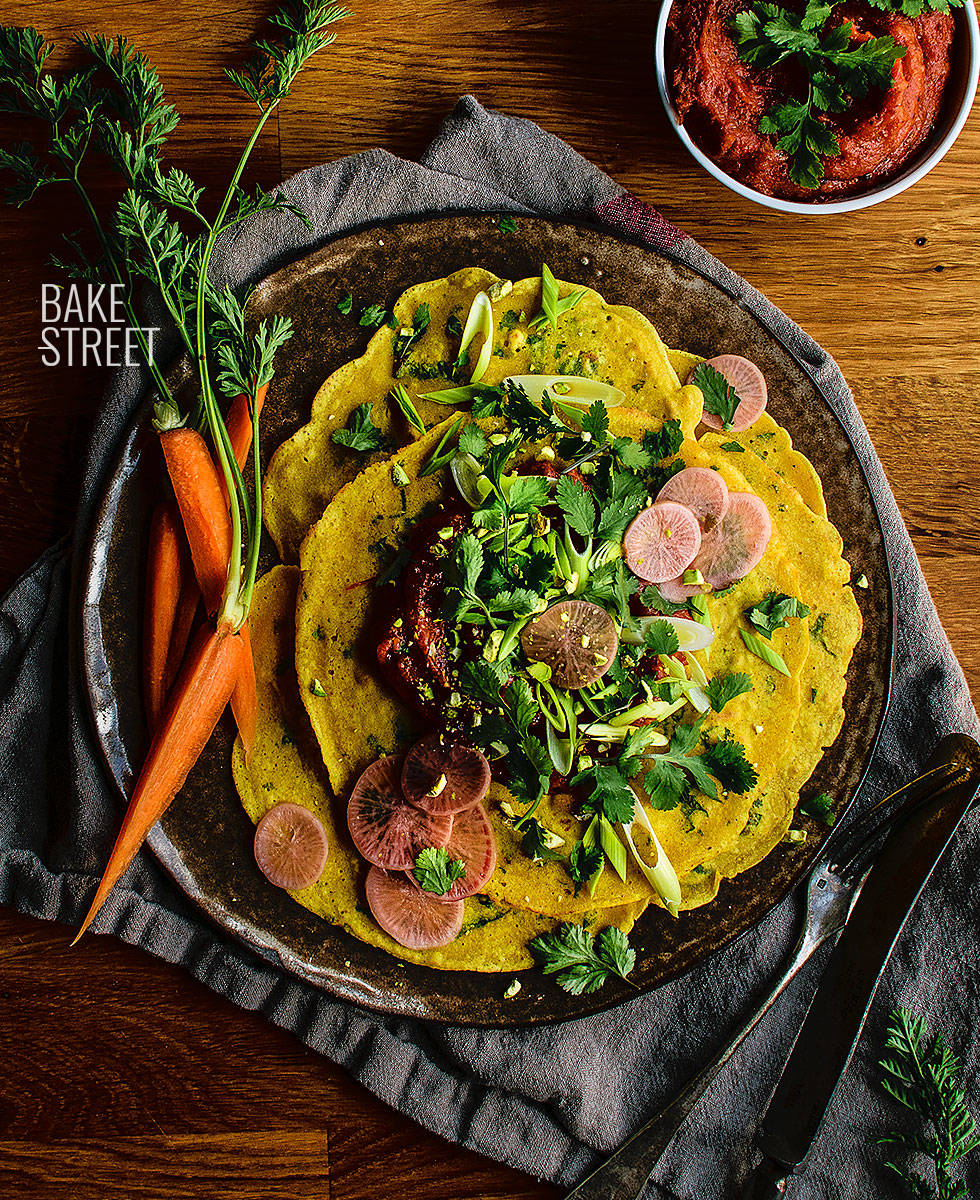 Ingredients
FOR TURMERIC AND CORIANDER CREPES (7-8 PIECES):
4,4 oz (125 g) chickpea flour
7,75 oz (220 g) lukewarm water
2 Tbsp olive oil or ghee
1/2 tsp salt
3/4 tsp turmeric powder
1 Coban chile smashed
fresh cilantro to taste, only the leaves
FOR TOMATO TAMARIND CHUTNEY:
4 large red tomatoes
2 Tbsp olive oil or ghee
6 large garlic cloves
1 tsp yellow mustard seeds
1 tsp cumin powder
1 red chile smashed
12 g tamarind, only the flesh
7 g fresh ginger
2 Tbsp honey
salt and pepper to taste
GARNISH:
fresh cilantro
carrots
green garlics
pickled radish (recipe link)
pistachios
Instructions
Blanch the tomatoes.
Wash the tomatoes, set aside.
Fill a medium pot with water and place in medium high heat until it reaches boiling.
Once it boils, add the tomatoes and blanch for 2 minutes.
Remove from the water with a slotted spoon, drain and set aside.
Peel them and chop.
Make tomato tamarind chutney.
In a large frying pan pour the olive oil or ghee and place in a medium heat.
Add the mustard seed and cook for about 1-2 minutes. You will notice that some of them begin to pop.
Add the smashed chili together with the cumin and the sliced garlic, mix. Cook for 3-4 minutes stirring occasionally.
Add the chopped tomato, reduce to medium low heat and cook for 40-45 minutes stirring occasionally. We must reduce the amount of water considerably.
Stir in the honey together with the tamarind, salt and pepper and cook for 3-4 more minutes stirring occasionally.
Remove from the heat and let it warm.
Pour the mixture into a food processor and grind to a paste.
Place the pasta back into the frying pan and cook for 15-20 minutes at low heat. We must reduce it to a thick paste.
Remove from the heat and let it cool completely.
Make the turmeric and cilantro crepes.
In a medium bowl mix the chickpea flour with turmeric, water, salt and olive oil. Mix until a smooth and homogeneous batter is obtained, free of lumps.
Add chopped fresh cilantro and mix to distribute evenly throughout the mixture.
Heat a 9 inch (22 cm) diameter skillet over medium-high heat. Pour in 1/2 teaspoon of olive oil or ghee and wait for it to warm up.
Pour about half ladle into the pan and, using the base of the own ladle, make circular movements to help the batters to expand. We can also tilt the pan with circular movements.
Cook until the crepe acquires a light golden color and a crispy and curled up edges, about 2 minutes. Then flip carefully over with a spatula and cook for another 2 minutes.
Remove from the skillet and repeat the process with the next. As we take out the crepes, we will stack them on top of each other.
Serve.
Serve 2 crepes per person accompanied by a couple of tablespoons of tomato chutney, fresh cilantro, pickled radishes, garlic slices and crushed pistachios.
You can serve them with crudités too, if you like. In my case, I served them with small carrots.
Notes
It is likely that the first pancake / crepe is thicker than desired. But think that it will help you to take the exact measurement so the next will be thinner and with a crispy edge. In addition you can enjoy it while cooking the rest …
The amount of crepes can be more or less, it will depend on the size of the pan and, above all, the amount of batter you pour to make each one.
When you cook the crepes let them brown slightly before flipping them over, otherwise it is very likely to break.
If you make more crepe batter, it can be refrigerated in an airtight container and taken out just when we want to prepare them.
Tomato tamarind chutney can be refrigerated in an airtight container for several days. To ensure that it does not spoil, if it is going to be more than a couple of days, cover the surface with olive oil.
These turmeric crepes with tomato tamarind chutney will be one of those perfect and ideal dinners that will turn a boring Monday into a wonderful and incredible Monday that will be the beginning of a great week.
You could almost compare it to starting the day by having breakfast with a doughnut to make it round ;)
I wish you a wonderful day!
Big hugs,
Eva
Archivado en