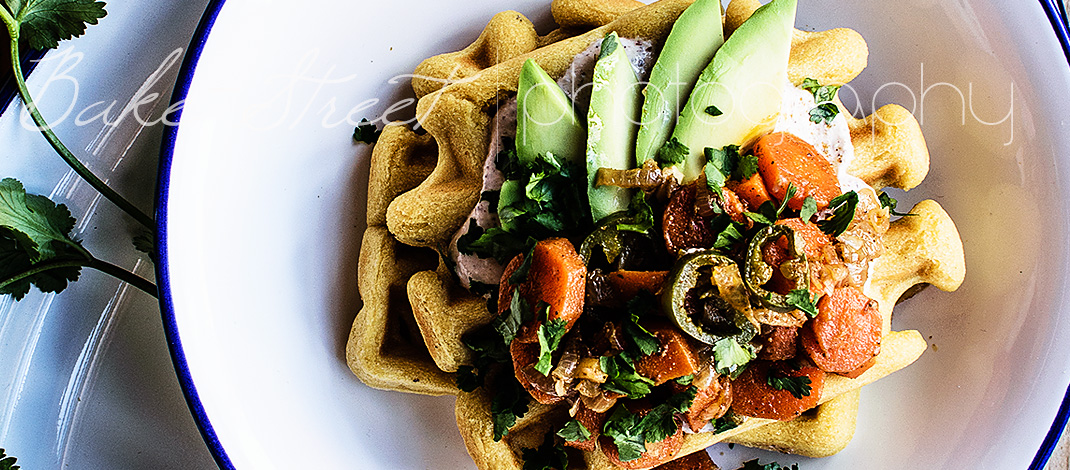 Chickpea waffles with Moroccan carrots
Este post también está disponible en Spanish
I do not know if most of you are more sweet taste than salty … For example, at home, they like salty more than sweet (except me, I have no hopeless!) So I always look for different options for them. The last has been these chickpea waffles with Moroccan carrots and yogurt, walnuts and white miso sauce.
Glad they're home! They liked the idea of making waffles in a salty version and accompanying it with a light and flavorful garnish. Well, not for my child… He almost prefers to take them just like with some yogurt and pecan nuts sauce.
These waffles are suitable for celiac because we will only make them with chickpea flour. The result is a very spongy and aromatic waffle, which texture reminds me rather of a cake batter rather than the real version of the Belgian waffles I left in this recipe.
It is also true that they are much simpler to make since you do not have to let the dough rises, we will just have to mix the ingredients just before to prepare them. What makes them perfect for a supper that we do not really want to cook, in about 10 minutes we will have them ready.
The truth is that to make chickpea waffles I looked at many recipes and, finally, I ended up developing one of my own. I thought of coconut milk, because I am a total addict, and I really like that creaminess and softness that brings in addition to its flavor. To give them a fresh aroma was my idea and I found an Ottolenghi´s recipe that was made with lime butter. I loved it!
Making the lime butter is very simple
It will be enough to mix the ingredients, at room temperature, that I explain below. Easier and faster it can not be! And we will give a fresh, citric and aromatic touch. If you were not convinced by the idea, you can use normal butter instead, but in that case I would recommend you spice the waffle.
The accompaniment for these chickpea waffles can be very broad. I wanted something that will bring a lot of flavor, spices, and that will combine well with the chickpea. Looking for ideas in my books I found a recipe by Ottolengui (again, this man is the most!) of Moroccan carrots that he serves with natural yogurt. I thought it was a fabulous idea and I kept it.
Yogurt sauce alone can be a very good choice. But days ago I saw a walnut white miso paste in another of my books, "The Miso Book", and I kept it for some special accompaniment. And this has been its destiny 😀
The amount that I leave is not too much but it is a pasta that we must reduce with yogurt because in itself it is very salty. For me the perfect combination are 2 tablespoons of Greek yogurt + 2 teaspoons of this walnut and miso paste. But at this point the ideal is that you taste and rectify.
FOR THE CHICKPEA WAFFLES:
4 pieces
4,2 oz (120 g) chickpea flour
1 large egg
5,3 oz (150 g) canned coconut milk
1,4 oz (40 g) lime butter (recipe below)
3/4 tsp baking powder
1/2 tsp salt
FOR THE LIME BUTTER:
Recipe Yoham Ottolenghi "Plenty"
1,4 oz (40 g) unsalted butter at room temperature
1/2 lime zest
3/4 tsp fresh lime juice
pinch fresh ground pepper
1/4 garlic clove finely chopped
1/4 Cobán chile smashed
pizca de sal marina
FOR THE MOROCCAN CARROTS:
Recipe Yoham Ottolenghi "Plenty"
17,6 oz (500 g) peeled carrots
1,8 oz (50 g) olive oil
1/2 medium onion finely chopped
2 garlic cloves finely chopped 
1/2 tsp sugar
2 spring onions cut into slices
1 green chile cut into slices
2 cloves smashed
1/2 tsp ginger powder
1/4 tsp coriander seeds smashed 
1/2 tsp paprika
1/4 tsp cinnamon powder
1/2 tsp cumin
1/2 Tbsp white wine vinegar
0,25 oz (7 g) preserved lemon finely chopped
sea salt
fresh cilantro for garnish
FOR THE PECAN WHITE MISO SAUCE:
Recipe "The Miso Cookbook"
2,5 oz (70 g) pecans
1,4 oz (40 g) white miso paste
1 tsp Mirin
1,4 oz (40 g) water
unsweetened Greek yoghurt
INSTRUCTIONS:
Make Moroccan carrots.
Peel the carrots and remove the ends. Cut into 0,2 inch (1/2 cm) slices. The larger slices cut them in half.
Fill a pot with water and place over medium high heat. Once it boils,  season with salt and add the carrots.
Cook for about 10 minutes. They should be slightly cooked but with a crisp texture.
Remove from heat, strain in a colander and set aside.
In a large skillet pour the oil and place over low medium heat. Once it is warm, add the onion and simmer for 12 minutes to low medium heat. They must acquire a transparent texture and not golden brown.
Add the carrots along with the garlic, green chile and all the spices with the exception of the preserved lemon.
Mix and cook for 2 minutes.
Remove from the heat, incorporate the preserved lemon, mix again and set aside.
Make pecan nuts and white miso sauce.
Place a small pan over medium heat along with the pecan nuts.
Toast them slightly until fragrant, set aside.
Transfer them into a blender along with white miso and water. Blend until get a smooth paste.
To mix with Greek yoghurt use 2 Tbsp Greek yoghurt + 2 tsp pecan miso paste. Mix and taste to rectify if you wish.
Transfer into an airtight container and put in the fridge until needed.
NOTE: The remaining pecan and miso paste can be stored in an airtight container and kept in the fridge for up to 2-3 days.
Make lime butter.
In a small bowl mix all ingredients until completely homogenized.
Set aside.
Make chickpea waffles.
In the Kitchen Aid or stand mixer bowl add all the ingredients and mix with the wire whip until smooth.
Preheat the waffle maker. Add 1 1/2 Tbsp to make each waffle.
Close the waffle maker and cook about 3 minutes. The cooking time will depend on each waffle maker, in my case I preheat to heat 4 (about a maximum of 5) and leave them for about 3 minutes. Always check the cooking point by opening the waffle maker after 1 1/2 minutes.
Remove, place them over a rack and make the remaining waffles.
Serve the chickpea waffles.
Serve 2 waffles/person.
Spread some yoghurt pecan miso sauce over them.
Place some avocado slices and Moroccan carrots.
Garnish with chopped fresh cilantro.
Serve.
NOTES:
If you do not have chickpea flour or do not like it, you can use wheat flour instead. The result of flavor will be much simpler because this flour has a very particular flavor.
The lime butter can be substituted for normal butter or flavored with spices that you like.
Walnuts pecans can be substituted by normal walnuts or even hazelnuts, cashew nuts … toasted always before to extract the aromas.
These chickpea waffles are a great choice for breakfast, if you like salty flavors, for a casual meal or even a supper. It adjusts without problems at any time of the day.
In my case I bring you this option to accompany them but, of course, can always be adjusted to your personal tastes. You know that I like the spicy dishes, with intense flavors of those that remain engraved on the palate. That's why I opted for these Moroccan carrots, which combine great with the chickpea, and to give it a bit of creaminess a yogurt, walnuts and white miso sauce.
I hope you like and enjoy too much! 😉
Happy week!
Big hugs,
Eva