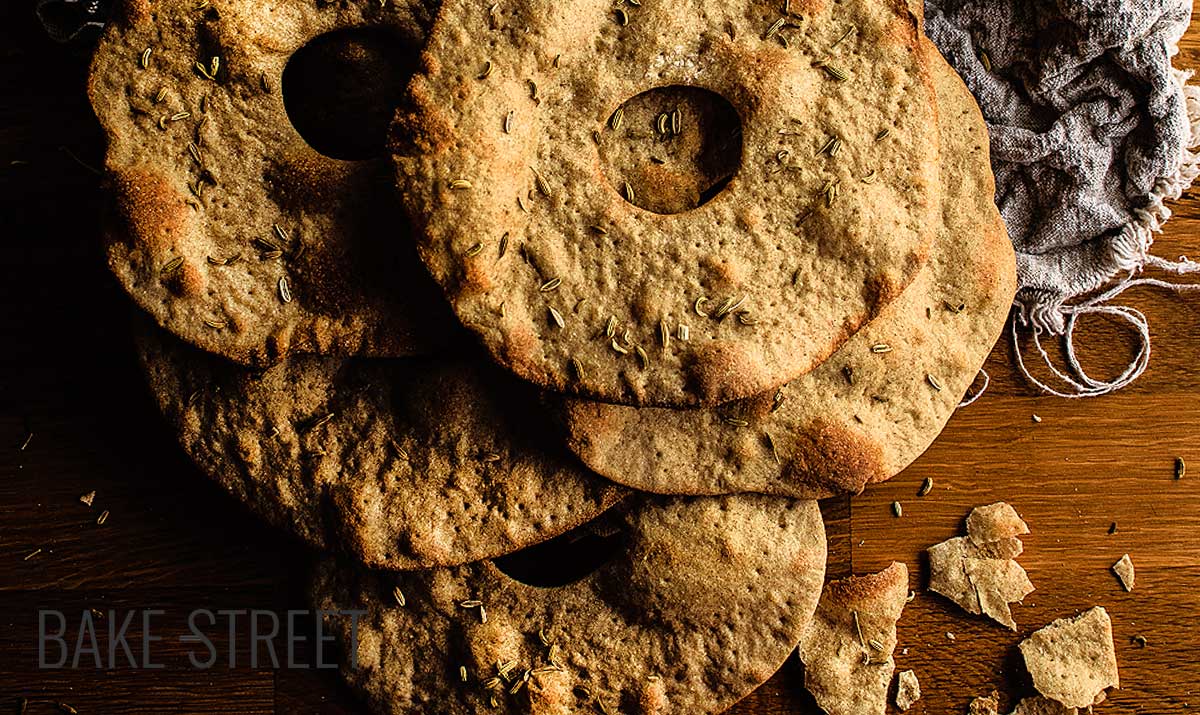 Knäckebröd, crispy Swedish bread
Este post también está disponible en Spanish
Today I am going to share with you one of my favorite flatbread recipes, Knäckerbröd. Maybe you won't recognize it at first because of its name, but if I tell you that it's the flat rye bread they sell at Ikea, I'm sure it will come to mind right away. And it's irresistible… At home we consume it many times in the same way we would do with regañás or picos (they are a Spanish crispy bread). But this bread has a much more powerful taste.
Knäckerbröd is a type of crispy flatbread of Swedish origin. It is made from rye or a mixture of wheat flour and rye, to which little more than water, salt and yeast is added. It can be flavored with fennel seeds, aniseed or caraway, I highly recommend it. In this way we will give it an aromatic point, as well as very digestive, which will be perfect with butter (in the link you will see how to make it homemade, only available in Spanish), cheese (some elaborations of cheese or fresh cheese that I left you some time ago), jams or charcuterie.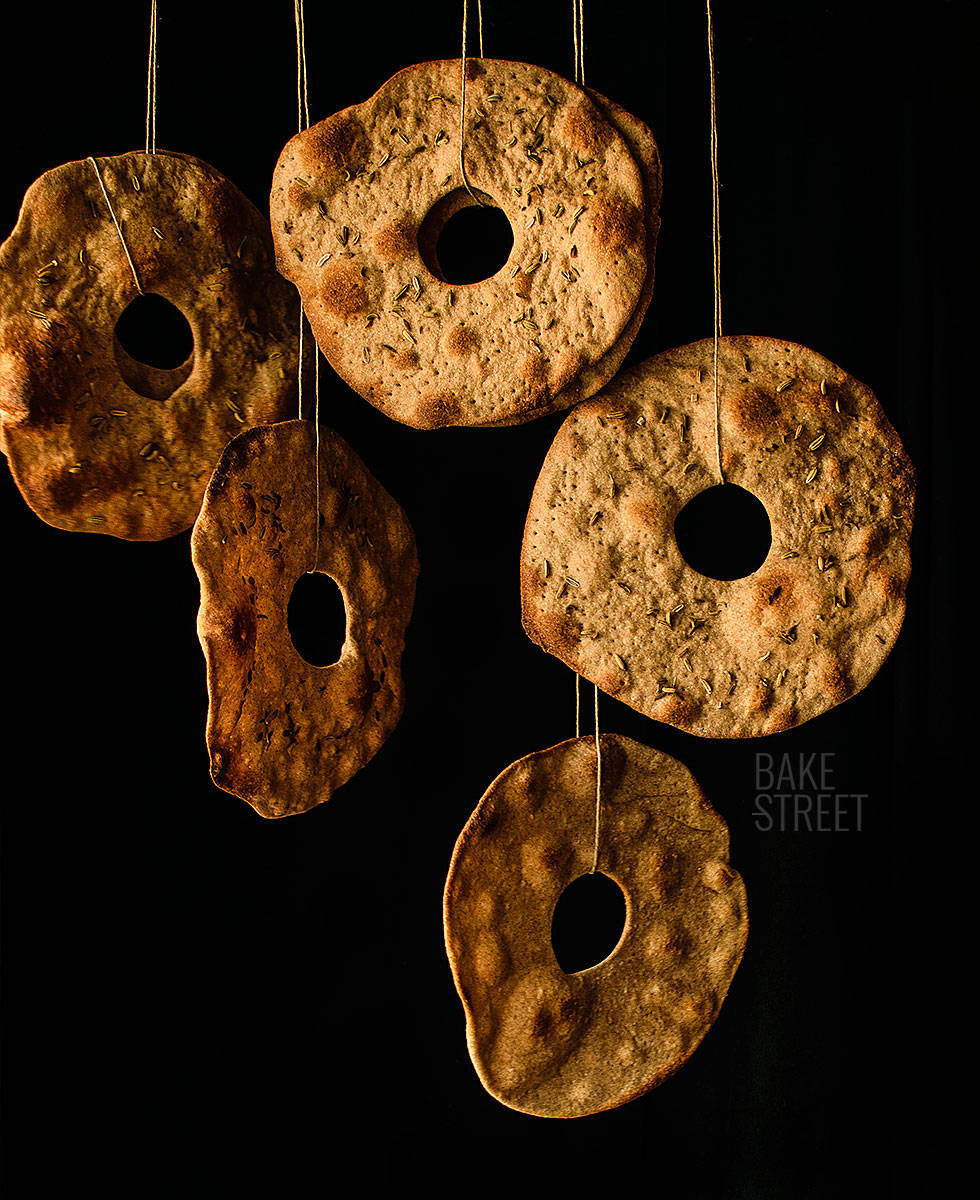 A perfect bread for any moment of the day.
There are some breads that are eaten better at certain times of the day. It's not my case because they always come in handy, but it's true that sometimes we can adjust one better than the other.
Knäckerbröd can be eaten at any time thanks to the type of format it has. Being a flat crispy bread, very similar to what we know as crackers, we can enjoy it at all times and serve it with sweet or salty elements. In fact, soon I'll leave you an idea to serve them that you're going to love!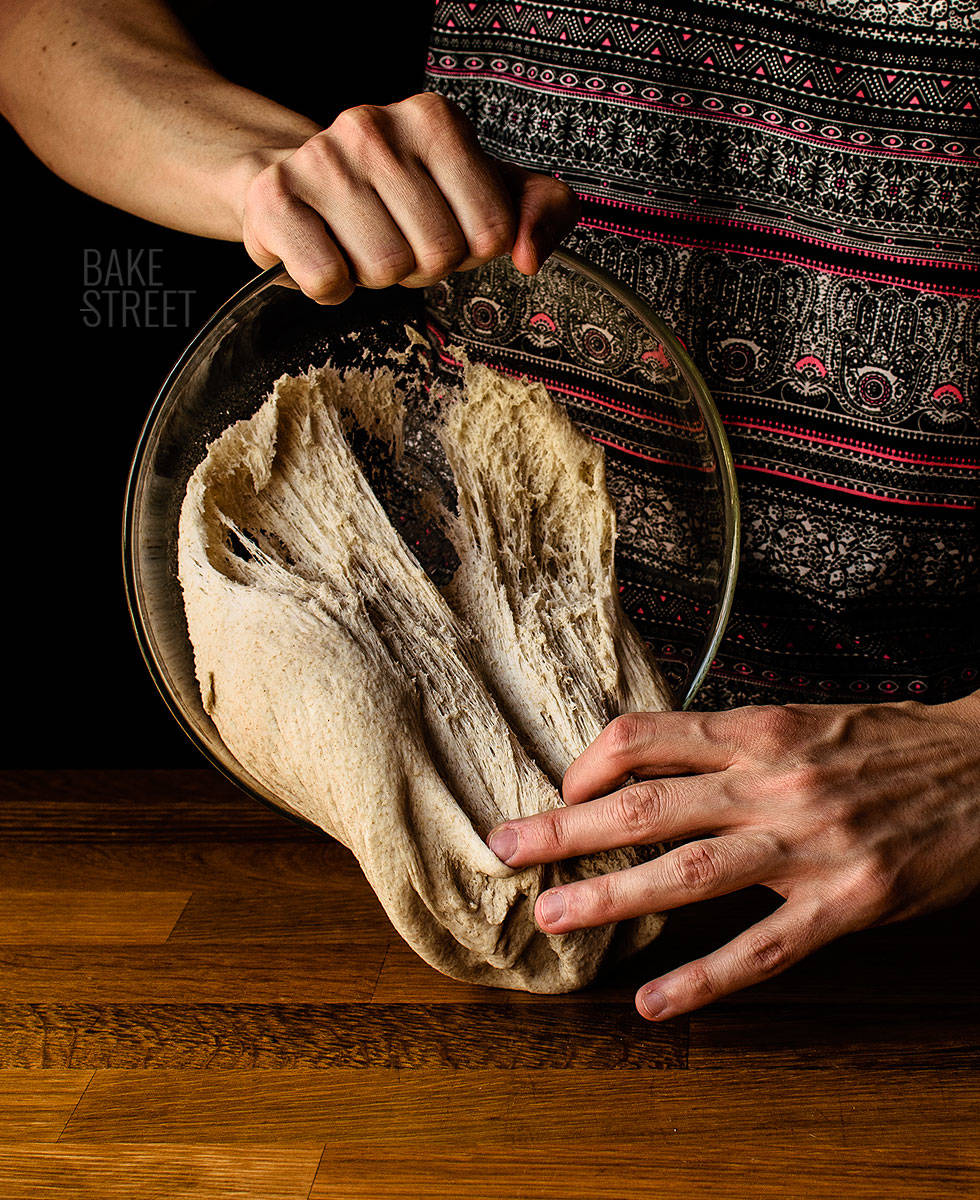 A perfect bread for beginners.
In general, almost all the doughs have a very similar method of carrying them out, in case they are not enriched (this is a separate issue). We can find a small degree of complication depending on:
The flour we have used to make them, rye is a type of flour that leaves us very sticky doughs, for example.
The dough hydration, the greater it is, the more "laborious" it will be to work and manipulate it.
Preferment or yeast. In this case we will do it with yeast, but in case of using sourdough we must bear in mind that the process will be somewhat longer and more delicate.
Shaping. This point should not worry us the least in this particular bread since it will be as simple as stretching a dough with a roller.
Final proof, this step usually gives some of you a headache. But I have good news because this bread only needs a bulk fermentation to develop a point of flavor. After preshaping and stretching, they don't need to have a second fermentation since they will go straight into the oven.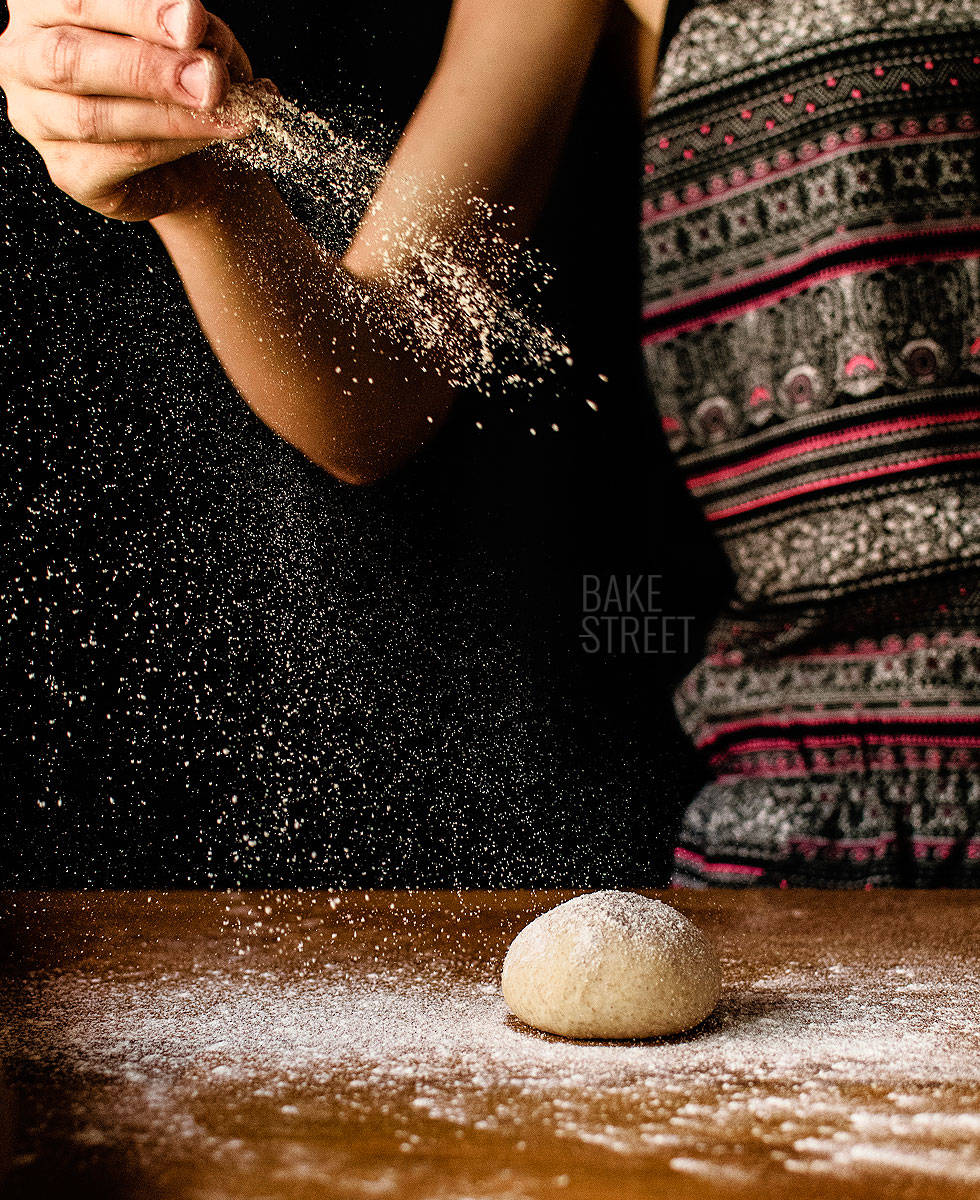 Easy, easy, isn't it? I think it's an ideal bread to lose your fear and jump into this dough´s world. Don't be frightened by the addition of rye. By mixing it with the wheat and fairly moderate hydration, it makes it easy to handle and work with. It's a fantastic dough to handle.
Shaping knäckerbröd.
As I told you before, shaping this bread is very simple. All we have to do is divide our dough into pieces, preshape them (to give shape and reorganize the small portions that have arisen at the time of dividing the piece) and stretch them with the help of a roller. That´s all! 😉
They have a singularity and that is their appearance. In Sweden it is usual to create a pattern in the dough, after stretching it, with a toothed roller or knobbly roller called kruskavel. It's a wooden roller widely used for flat breads that can be found in two formats: with a pattern similar to pointed tacks or a pattern of small squares.
I love this roller, but I don't have it, so to make room for that drawing on its surface we can use a fork. The pattern we believe will not be uniform and beautiful, but the result will continue to be absolutely spectacular as well as giving it a very artisan look.
Another characteristic of this bread is the central orifice. In the past, they were made to cross the breads with a stick and let them dry. I personally love it and I wanted to do it that way, but feel free not to do it if it doesn't convince you. You can bake the circles together with the breads, there's no reason to miss them at all. In fact I added them to my salads as small crackers.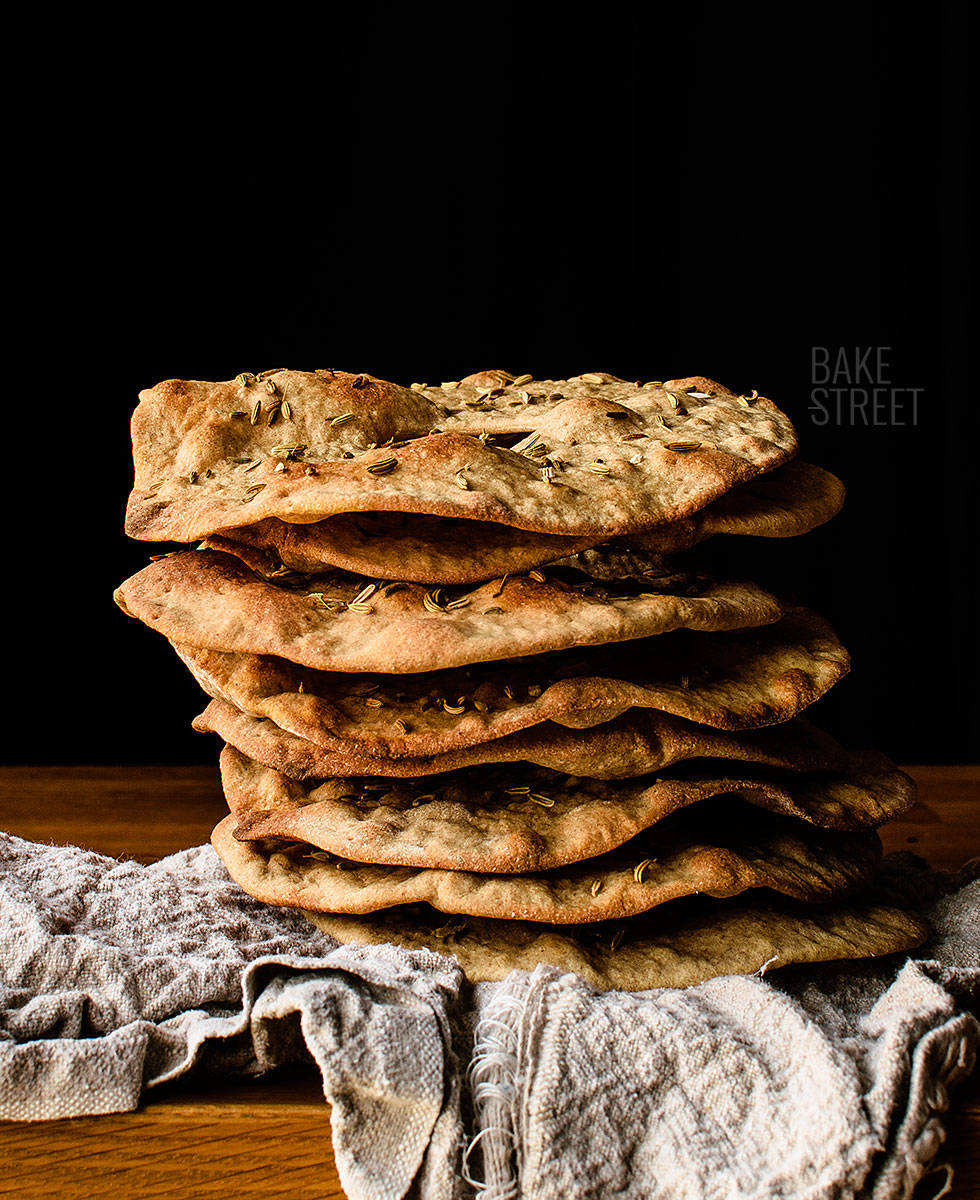 Ingredients for 9 pieces
240 g AP/plain flour
120 g wholemeal rye flour
235 g water
1,5 g dry yeast + 5 g water
6 g salt
fennel or aniseed seeds for sprinkling
Instructions
Make the dough.
In a large bowl or in the bowl of the stand mixer add the flours together with water. Mix until completely amalgamated, there should not be any part of dry flour. To mix it can be done manually or in a kneader using the hook, always mix at the lowest speed for 2-3 minutes maximum.
Incorporate salt and mix again.
Add yeast. Dissolve it with water and pour into the dough.
Knead well until it is fully integrated and a completely homogeneous and smooth dough is obtained.
 Transfer to a clean work surface, finish kneading by hand and put the dough in an airtight container previously greased with olive oil.
 Cover with its corresponding lid or film, to prevent the dough from drying out, and make bulk fermentation of 2 hours at 86ºF (30º C). It should rise double of its volume (the time will depend on the temperature of your home).
Preshape Knäkerbröd.
On a clean work surface, turn the dough over and degass it gently.
Divide the dough into 9 equal pieces, about 2,4 oz (68 g) each.
Preshape, cover with film and let stand for 20 minutes.
Shape Knäkerbröd.
Preheat oven to 465ºF (240ºC). Place the steel or stone plate, placed in the second position starting at the bottom.
Prepare a tray and line with baking paper, set aside. We will use the tray to move the breads to the plate or stone.
Take one of the dough portions and begin to stretch with the help of a roller. We must obtain a dough with a very fine thickness, the diameter of each bread will be about 45 inches/18 cm.

Place the dough disc on the tray and proceed to stretch the next one. In each tray we will be able to bake two breads.
With the help of a 10 inch/4 cm diameter cutter, cut in the center of the piece and remove. Do not rule it out, they can be baked together with the breads.

Brush the whole surface of the bread with water, lightly, and prick with a fork. Sprinkle with seeds of our choice, in my case I did it with fennel seeds, and press gently to help them to adhere to the breads.

Bake for 6-7 minutes, you will see that the bread takes on a light golden color and becomes very crunchy.
Remove and place them on a rack.
Repeat the same process with the following breads. While the pieces are baking, we can stretch the next batch to avoid that with the heat they start to rise.
Notes
The ideal is to make this bread with wholemeal rye flour, if you do not find it you can use common rye. Or in its defect, some variety of wholemeal flour.
The amount of water in the dough will depend on the type of flour you use. Rye has a much higher absorption capacity than wheat, so if you vary that ingredient remember to add the water little by little and observing at the same time its consistency until you achieve the desired one. You can be guided by the texture of the dough of the photos.

To sprinkle the breads we can use fennel, aniseed or caraway. I leave it totally to your choice.
Traditionally a circular cut is made in the center of the breads. If you want, you can omit it. Or to do it of smaller size, which makes you feel more comfortable or you like more.

In case we do not have a steel or stone plate and only have a baking tray, it will be ok. We will be placing the following breads on baking paper and as we remove the first breads, we move them to the tray in the oven with the help of a wooden board.
If you like to make bread and enjoy a simple variety, don't miss out on this Knäckerbröd or Swedish crispy bread. Without a doubt it is a very versatile type of bread, as well as being highly addictive.
It is very well preserved over time, stored in an airtight container/bag, and we can enjoy it with what we like. In fact at home is one of the favorite breads to accompany sauces, hummus and dip creams.
I wish you a wonderful beginning of the week!
Big hugs,
Eva
Archivado en