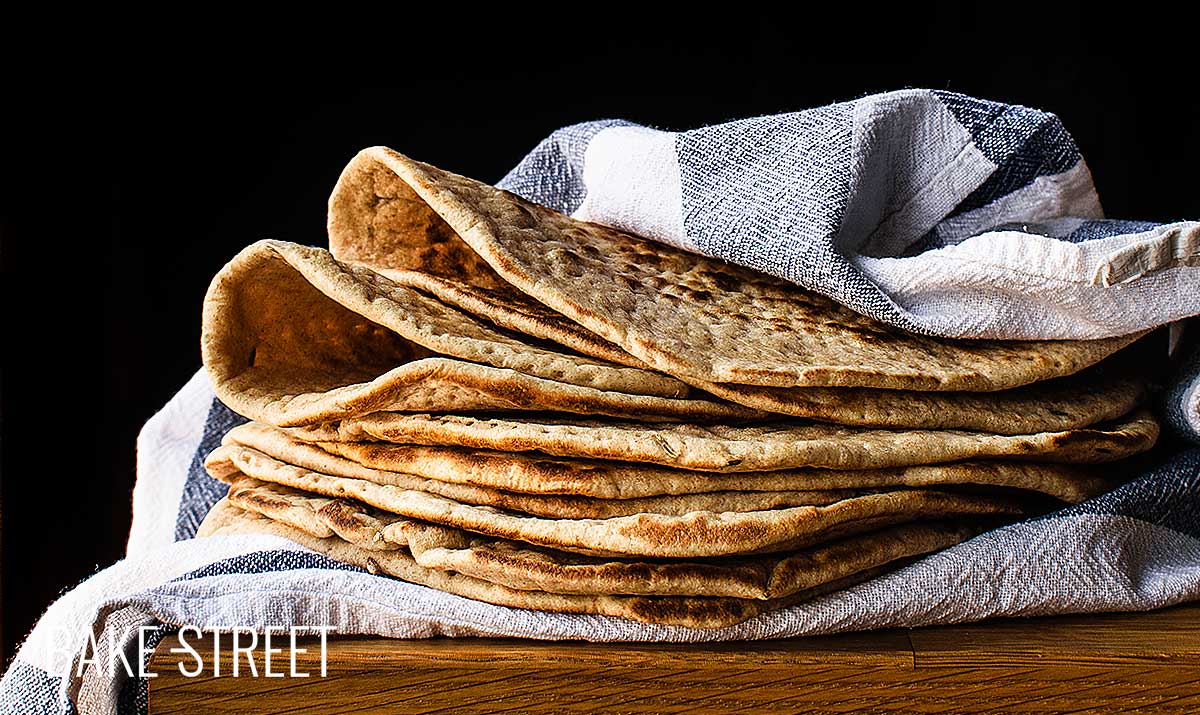 Tunnbröd or Polar Bread
Este post también está disponible en Spanish
If you like flatbreads, then you'll love today's recipe. The Tunnbröd or Polar Bread, is a very popular variety of bread from the gastronomy of northern Sweden. Two versions can be found, the more traditional version made with barley and milk or the more modern and modern version made with wheat flour, rye and yeast.
We will see how to prepare the second option, obtaining a bread that we can enjoy to accompany our meal in the same way as an tortilla or flatbread spongy and soft. Not crunchy.
Its name could be translated as "fine or thin bread". Like the great majority of flatbreads, it has the peculiarity of being cooked in an iron frying pan. The dough is usually seasoned with fennel or aniseed, giving it a spectacular flavor and aroma that combined with the taste of rye is extraordinary.
This variety of bread is commonly eaten with surströmming, fermented herring. Although, of course, we can accompany it with anything we wish. The important thing is to be able to combine it with ingredients that are enhanced with rye and spices.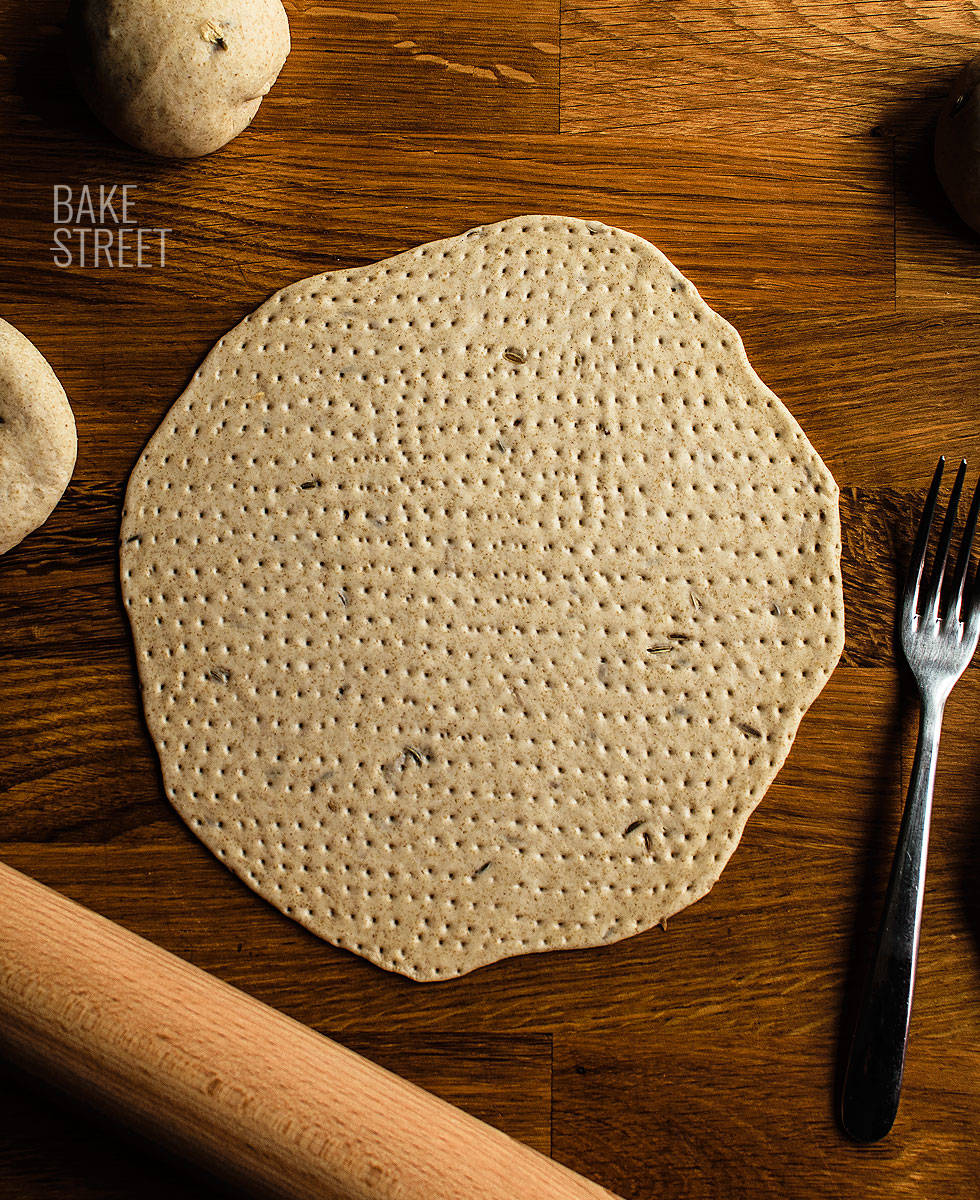 Is there anything special about this bread that distinguishes it from other flatbreads?
Yes, of course, of course. Apart from the wonderful and super attractive name it has, I'm sure you've noticed here too, its elaboration consists of a somewhat special ingredient.
In addition to using yeast to carry it out it is added hjorthornssalt, deer horn salt. This is not an ingredient of forest fairies or sagas, although it certainly could be so with that name! It is an industrial product based on ammonium bicarbonate. Wow, I just broke all the magic.
Hjorthorn salt is a trademark of a mixture of ammonium bicarbonate and ammonium carbamate. It is the precursor of baking powder and is often used as a baking agent for biscuits (such as springerle) and flatbreads. During its short cooking, this ingredient releases gases and carbon dioxide, but not water. This allows for faster cooking.
In the past, this salt was made by distilling shavings from animal horns, including deer horns. Specifically, it was carried out with the oil from these and from which a whitish powder was obtained. That's why it took its name.
For my part, I have not used this ingredient although, if you are interested in adding it, you can find it under the name of ammonium bicarbonate or hartshorn.
A simple and wonderful bread.
As you will see below, this bread has no major complications. We will only have to mix the ingredients, knead, let it rise, divide and stretch. One heat stroke in the iron frying pan and you're ready to go. You can't ask for much more than that.
Easy, fast and exquisite. Perfect to enjoy both sweet and salty.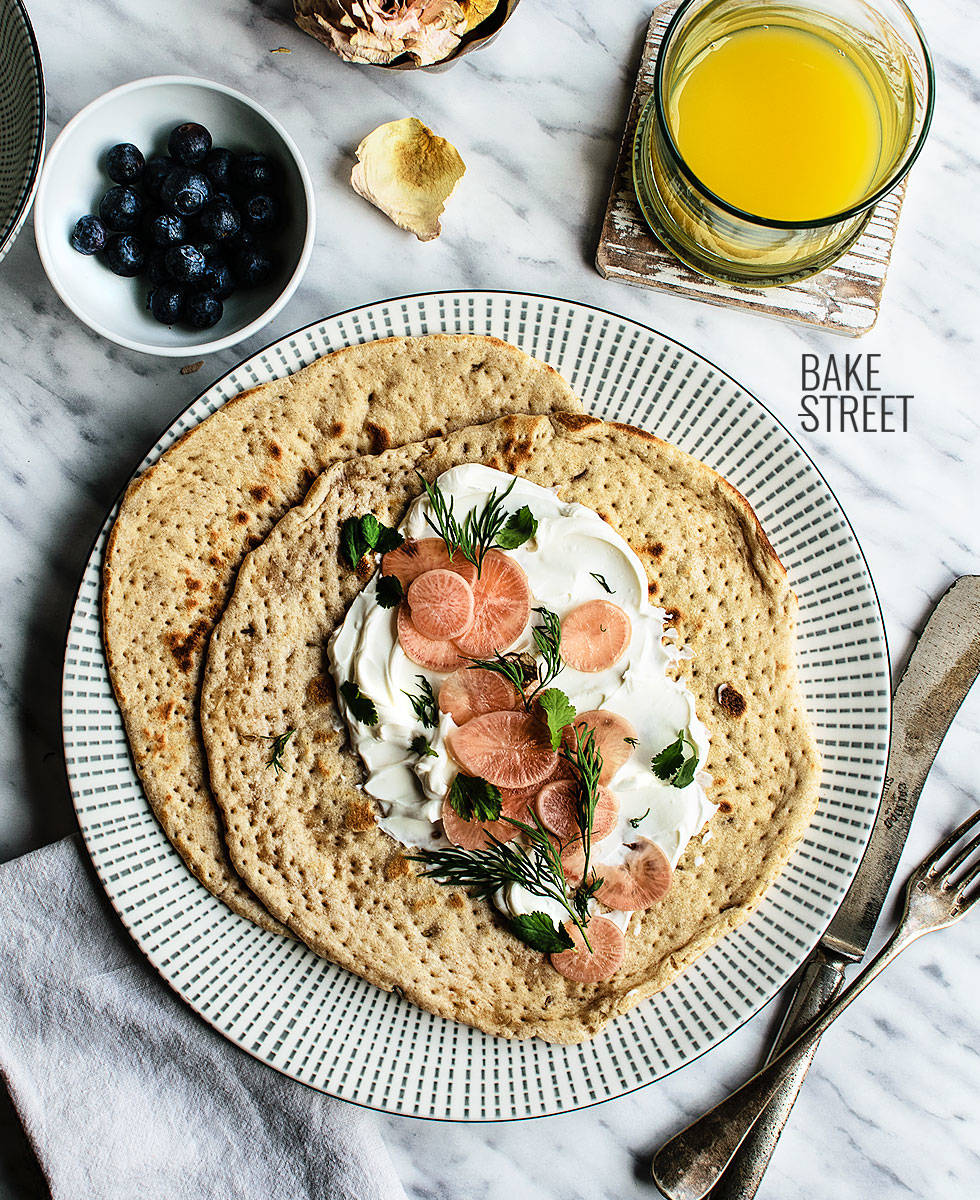 Ingredients
10,5 oz (300 g) bread flour
5,3 oz (150 g) rye
7,75 oz (220 g) whole milk
3 oz (85 g) crème fraîche
2 Tbsp honey
1 oz (30 g) unsalted butter
1 tsp fennel seeds
0,11 oz (3.2 g) dry baker's yeast + 5 g milk
0,17 oz (5 g) salt
Instructions
FIRST DAY
Infuse the milk.
Pour the milk into a saucepan along with the honey, fennel seeds and butter.
Place over medium low heat and let it take a temperature until it starts to smoke slightly.
At that time, remove from the heat and let cool completely.
Make the dough.
In the bowl of a stand mixer add the two types of flour together with the infused milk.
Mix with the help of the hook at low speed, we will obtain a sandy mixture.
Add the salt together with the crème fraîche and knead again until you get a smooth and soft texture. It will take a while, about 25-30 minutes.
Dissolve the yeast in the milk and add to the dough. Continue kneading.
As we knead, we will have to lower the dough from the hook and manually help it to begin to amalgamate.
Make bulk fermentation.
Once we have our perfectly developed dough, make a ball with it.
Grease an airtight container with olive oil, put the dough inside and let it rise until it has grown 1/3 of its volume. In my case it took 2 hours and 15 minutes at 72ºF (22ºC).
Put it in the refrigerator and let it stand overnight.
SECOND DAY
Warm the dough and preshape.
Take the dough out of the fridge 2 hours before working with it.
Dump the dough over a clean, flour-free surface. Divide the dough into 9 equal pieces, about 3,2 oz (90 g) each.
Make a ball with each piece, cover with a cotton cloth and let it rest for 15 minutes.
Shape and cook.
Place an iron frying pan on medium heat.
Using a roller, stretch one of the pieces to shape a disc with a diameter of 8 inch (20 cm).
Prick the surface with a fork and place into the pan.

Cook for 1 minute on each side, watch as bubbles appear on the surface.
Remove and place on a cloth. We repeat with the rest of the pieces.
As we take out the flatbreads, we will stack them one on top of the other.
They can be eaten freshly made or once they are cold like corn tortillas.
Notes
The dough containing rye will be a dough with a different texture than if we work with wheat. Slightly stickier and denser to the touch, remember that it has greater absorption capacity than wheat.
If your medium strength flour is lower in protein than the one I leave in the ingredients, it will need a little less hydration to achieve the same consistency as this one. In that case, I recommend you to add the milk little by little and watch until the desired consistency is achieved. Wait for the dough to absorb the liquid well before adding more.

It is not necessary to grease the iron pan to cook them. It is important to make sure that the pan (preferably iron) is hot so that the dough does not stick and the cooking is done properly.
The process can be done all in the same day without the need for a cold retard. In my case, it was a little late and that's why I decided to place it all night in the fridge.
These flatbreads can be kept for several days in a freezer bag or zipped. If you wish, you can warm it before consuming it.
This Tunnbröd or Polar Bread can be the ideal choice to start the day in the best possible way. A slight heat stroke on the grill, from which a wonderful, slightly sweet aroma will be released thanks to the honey and fennel, and we accompany it with cream cheese, salmon, cucumber, laminated radishes (or pickled radishes) and dill.
Or, if you are more sweet, this same warm bread with cream cheese (I told you a couple of days ago that I couldn't live without cheese), cranberry jam and nuts.
In the absence of a good juice, coffee or infusion to make it perfect. If this isn't a good start to the day, I don't know what it should be like.
Have a wonderful day!
Big hugs,
Eva
Sources: Sv.Wikipedia
Archivado en