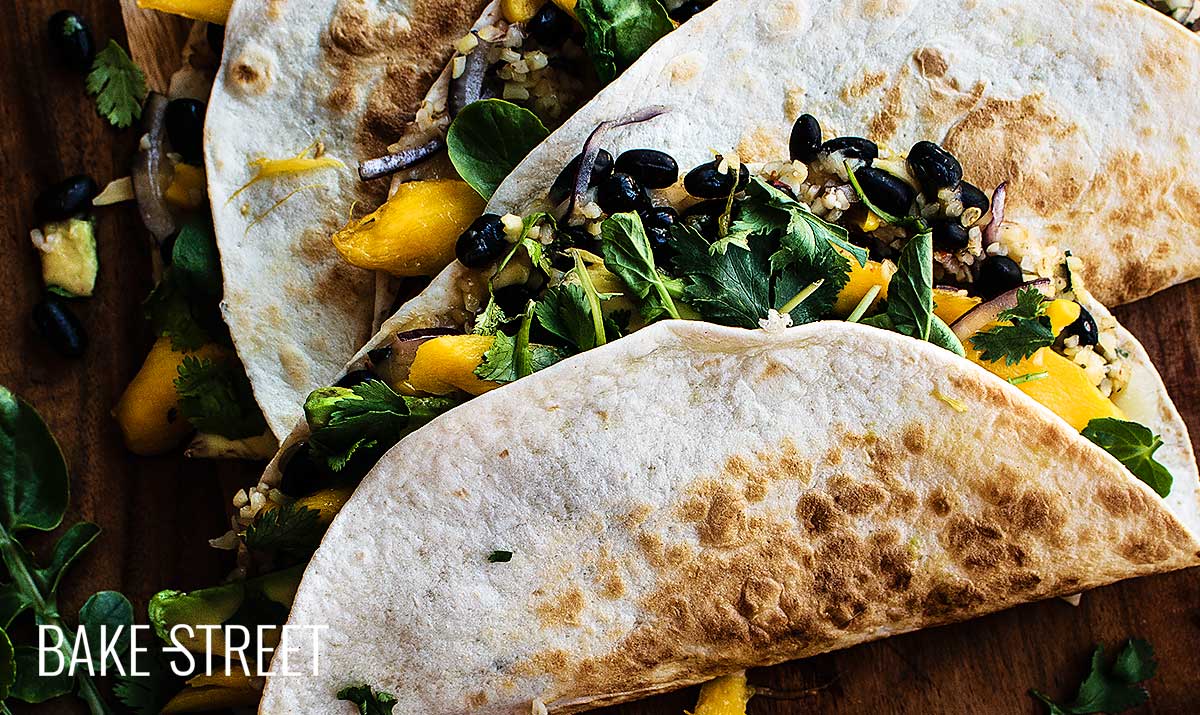 Black bean, bulgur and mango quesadillas
Este post también está disponible en Spanish
This recipe has happened to me as it has to hundreds of others I have on my blog. Whether for lack of time, laziness or simply the fact of having been on a list of pending recipes for months, a wonder like this has not been tried at home until now. On this occasion I am referring to the fact of preparing them and not tasting them, which is a delicacy. Black bean, bulgur and mango quesadillas with yogurt chili sauce.
Now is the time when our eyes light up (you know, that brilliant, brilliantly rhombus-shaped one that moves from one side to the other and inevitably dislodges our jaws and puts our fists together at the level of our mouths) for several minutes. Something similar to what we saw in the manga series like Sailor Moon, Ranma and Candy, Candy. And it's normal, how wonderful to be able to prepare something so simple and rich at home.
The quesadillas of your life.
Maybe you think I've gone too far with the title, but no, not at all. And if you ever decide to try them, you'll agree with me.
The first thing we need to prepare our quesadillas are some tortillas, either flour or corn, this is your choice and personal taste. At home we both like them, we are not delicate, although I think that if we had no choice but to choose one, it would be corn.
Of course, and of course, the ideal thing to do is to make homemade tortillas. But it is also true that we don't always have time to do everything we want or, many times, we go out of time. By this I mean that there are times when we get the "supreme craving" for something and, not always, we can do everything in the moment. In this case it would be the tortillas…. We can always find help in those who come prepared, although I am aware that it is not the same. But it helps to get out of the way.
If you want to prepare the corn tortillas at home, you can see how to make them in this post for some time ago (only available in Spanish).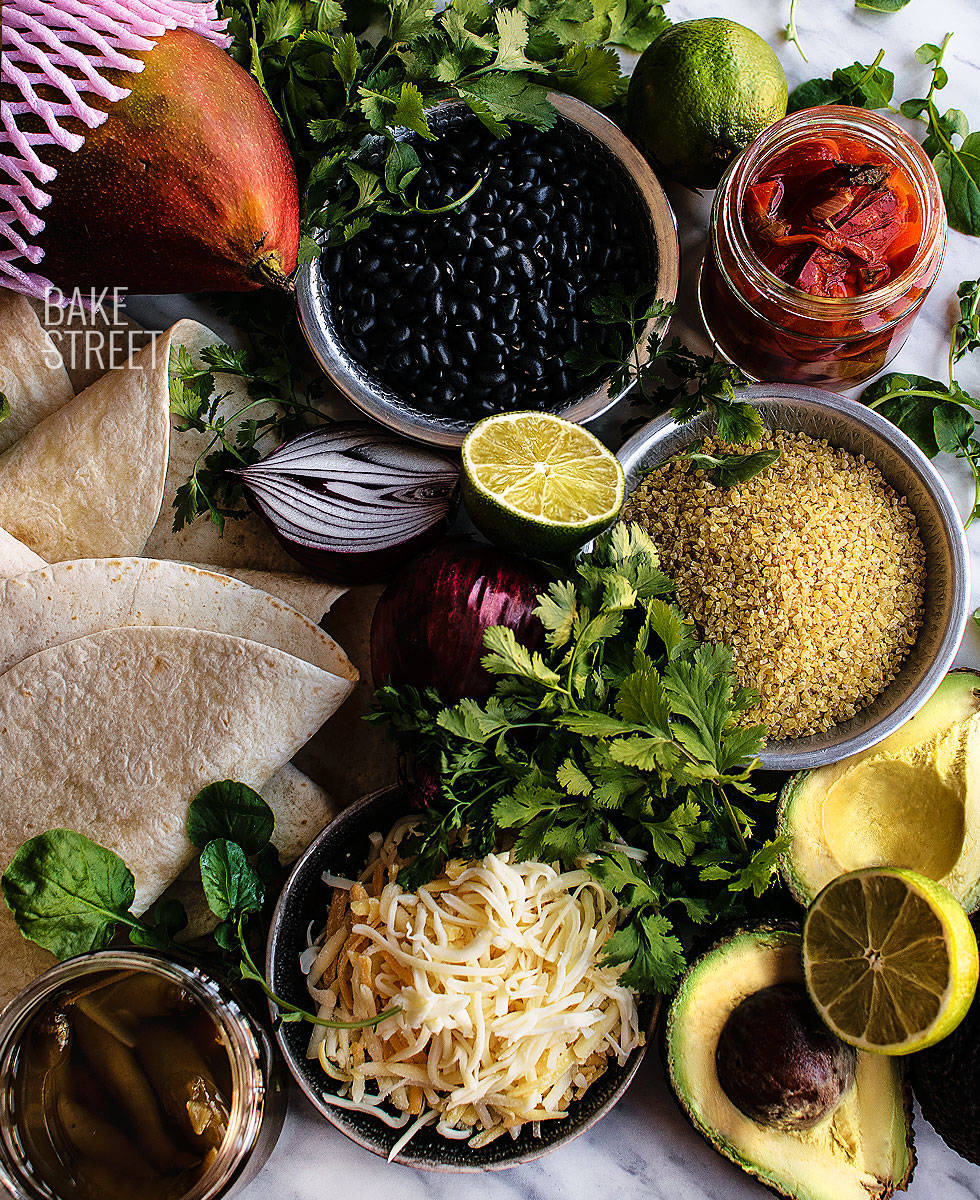 Very varied fillings.
When it comes to making quesadillas there is one ingredient that we cannot lack and that is cheese. From here, we open up a world of possibilities to adapt our personal taste.
You know that I always tend to go towards strange, different, exotic, daring mixtures…. Because if there's one thing I like about cooking it's that it breaks the monotony completely and allows us to be a little more hooligan. Intense colors and flavors to brighten up the day. And even more so when it's something we do every few hours.
A few days ago I saw some quesadillas from Tieghan "Half Baked Harvest" (it's impossible that you don't already know her, she makes really fantastic recipes) that were made with black beans and mango. I was crazy about the idea of combining a legume and an exotic fruit, so I borrowed her fantastic idea and finished shaping what would be the quesadillas I would prepare.
Designing the recipe.
The main base would be black beans, bulgur and corn. A combination of textures that range from creamy to crunchy. To dress it I used red onion, red chili and serrano, cumin and cilantro.
The finishing touches will be mango, avocado, watercress, more cilantro (I know, the crazy cilantro) and a cheese mix. All this together in an tortilla and accompanied by a yogurt, lime, chili and cilantro sauce (cilantro? how strange…). The result? Delicious, super delicious, I promise!
A crispy tortilla with such a tasty and different filling…. It's got me hooked, absolutely hooked.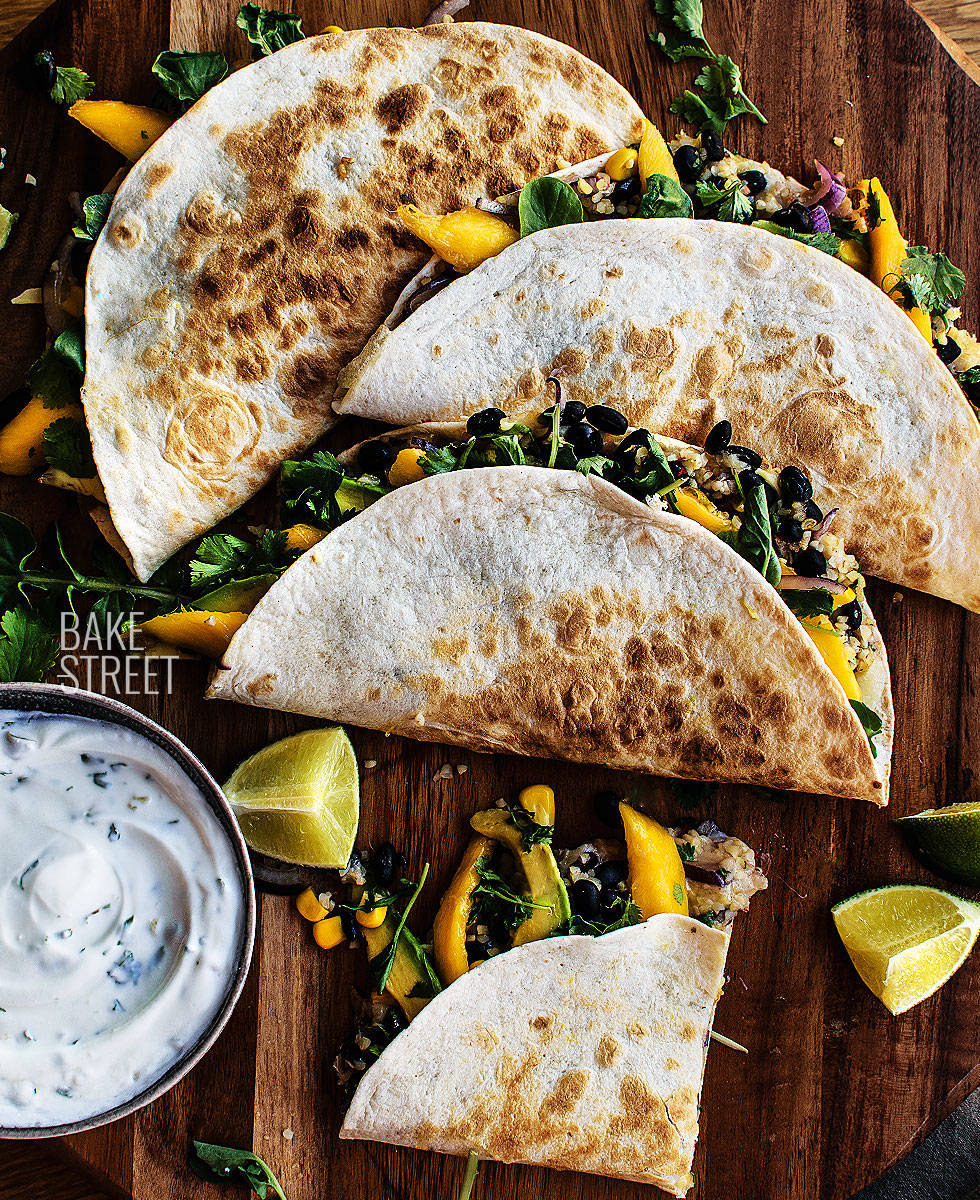 Ingredients for 4 pieces
4 flour or corn tortillas, if you want to make them homemade, click in this link
4 oz (115 g) raw black beans
1,75 oz (50 g) raw bulgur + 3,9 oz (110 g) water
1/2 mango
1 medium avocado
1/2 red onion finely sliced
2,65 oz (75 g) sweet corn
1 adobo serrano chile
1 adobo red chile
1 tsp cumin powder
7 oz (200 g) shredded cheddar and mozzarella cheese
a bunch of fresh cilantro, only the leaves
watercress to taste
salt to taste
FOR THE SAUCE:
4,4 oz (125 g) unsweetened Greek yogurt
juice from 1/2 lime
1/4 serrano chile chopped
2 Tbsp fresh cilantro chopped
a dash of olive oil
salt to taste
Instructions
THE NIGHT BEFORE
Soak the black beans.
Soak the black beans in water. Cover them completely with water, cover with film and leave for 12 hours at room temperature.
NEXT DAY
Drain the beans and wash them in cold water.
In a large po add the black beans along with the water, enough, and place on medium high heat. Once it comes to the boil, add a pinch of salt.
Cook over medium heat for 1 1/4 hours or 1 1/2 hours, until tender, but not longer than the cooking time. We don't want them to fall apart.
Drain well and set aside.
Prepare bulgur.
Add the bulgur in a bowl, set aside.
Fill a pot with a little more water than we need. Place over medium heat and leave to boil.
Remove from the heat and pour over the bulgur.
Pour the water and the pinch of salt. Cover with a plate and leave to stand for 30 minutes.
After this time, the bulgur will have absorbed all the water.
Make yogurt sauce.
In a small bowl, add all the ingredients and mix until smooth.
Cover with film and refrigerate until the moment of its use.
Make the filling for quesadillas.
In a medium bowl mix the black beans together with the bulgur, red onion, sweet corn, chopped chilies, some chopped cilantro (to your taste, which I tend to be exaggerated), the cumin and the salt. Mix well to distribute all the ingredients evenly.
Cut the mango and avocado into strips, set aside.
Make the quesadillas.
Place a cast iron frying pan over medium heat and let it take a temperature.
Place a flour or corn tortilla on the frying pan.
Cover with cheese to taste and put the bean filling covering only half of the tortilla.
Cook it until the cheese starts to melt.
At that point, place mango and avocado over the bean filling along with a little fresh cilantro and watercress.

Close the tortilla by folding the only half with cheese over the filling and press lightly with a wooden spatula. Leave it for a few seconds and take it out of the frying pan.
Repeat the same process with the following quesadillas.
Serve.
Ideally, serve the quesadillas as they come out of the pan with the yogurt sauce. At that time they will be very crispy on the outside and melting on the inside, perfect and irresistible.
Notes
In my case I have used small black beans, but you can use larger black beans or even white beans.
The bulgur doesn't need to be cooked, it just needs to rest in boiling water. This step will allow us to advance the rest of the ingredients while hydrating.
The tortillas can be made at home (better if possible) or store-bought, as well as using both flour and corn.
Do not overheat the pan or the tortilla will burn and the cheese will not melt.

Place the mango, avocado and sprouts just before closing the tortilla. This way they will keep their freshness better and the contrast with the filling will be more attractive.
Try to eat the quesadillas right after cooking them, they are at their best. Crunchy, melting and with an incredible texture.
If you want, you can make them in the oven instead of the frying pan. The good part is they'll all be done at once.
Greek yogurt can be substituted for soy yogurt if you are vegan.
You may not be fascinated by the idea of mixing black beans with mango, just as some people don't see Hawaiian pizza (ham and pineapple, yes) as something normal and feasible. It's all about taste, but I can assure you that you won't be disappointed by these black bean, bulgur and mango quesadillas.
Besides, I've decided to give bulgur a new and different use. The first time I used it was in this salad, I really liked the taste and how easy it was to prepare. This time I used it as part of a filling and I fell in love again. Very versatile and perfect for making the base of a dish.
If you like quesadillas, don't hesitate to try them. I hope you like them as much or more than I like them ;)
Big hugs and happy middle of the week,
Eva
Archivado en