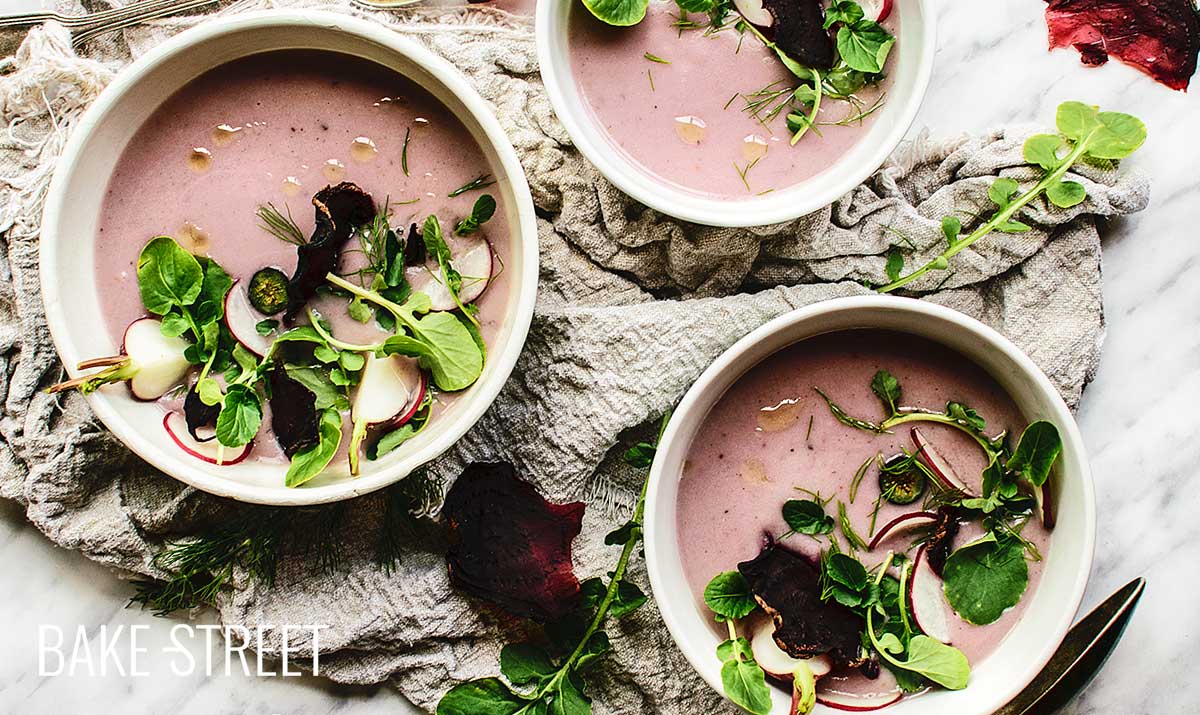 Radish Dashi cream with watercress
Este post también está disponible en Spanish
It's been a while since I've had my eye on a horseradish cream I saw on Denise's blog Foodlovin´. The simple idea of making a horseradish cream, with which I like both, seemed brilliant and very original. So as soon as I found radishes to "fall in love with my eye", I decided to make this Radish Dashi cream with watercress.
In the end I thought to modify Denise's cream quite a bit, but keeping the two main elements she used. The radishes and the potato. The rest I modified a little on paper and a little on the go, which is something I do very often.  Mostly because as you cook, you decide to add or omit items as you test what you're preparing.
Making the cream.
Surely there are many other ingredients, besides the potato, that can result in a smooth and subtly consistent cream. But in my case, I decided to keep it to combine with radishes. Not only because of its texture, but also because it would not take the lead from the main ingredient. And given the peculiar taste of radish, that was important.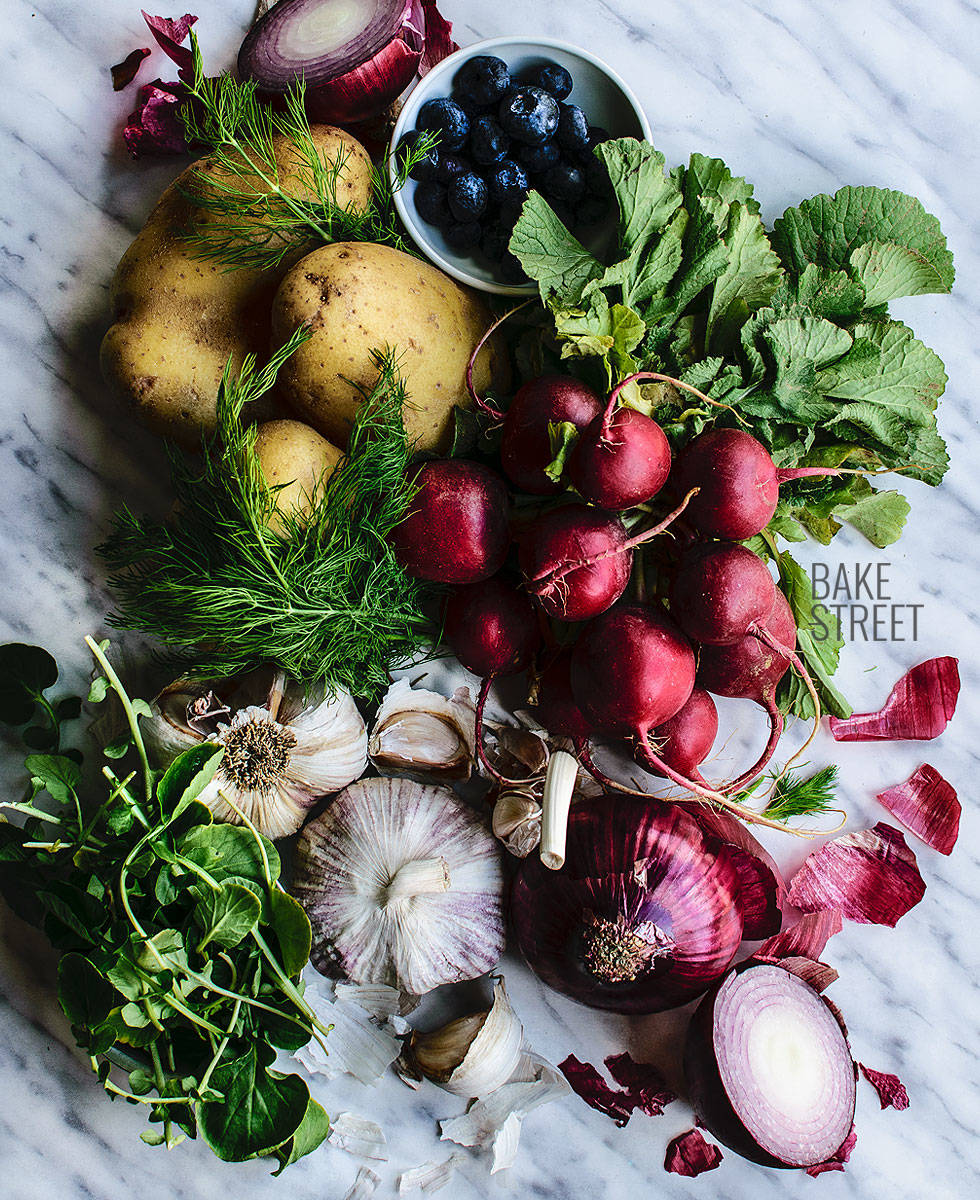 Any cream we make, well almost all of them, will gain a lot of flavor if we sauté a little onion and garlic beforehand. It will take us just a few minutes too long, and the result will be incredibly better. This time, I used red onion not only for the taste, but also to help highlight the final color. I also use some fresh blueberries to sweeten the cream a little, bringing a fresh touch along with a note of color.
Konbu Dashi broth.
To make this cream, we can make use of the variety of broth that we like the most; vegetable, chicken, meat… Or on the contrary if you like the idea of giving it a more Oriental taste, carry it out with the Konbu Dashi broth.
It's not the first time I've used this broth to make a cream. The first time was with this chilled apricot and fennel cream and I really liked it. So I decided to use it once again with this rhubarb and cherry cream with camomile panna cotta and, once again, I fell in love with it. For that reason, whenever I see that the combination between this type of broth and the ingredients can go well, I use it.
This time I was on the safe side, since radish is a widely used ingredient in this type of cuisine and I would know that the whole would be ideal. And so it was. I also added a touch of mirin to give it a sweet and different flavor. Remember that the ideal thing to do when we are preparing any recipe is to taste it as it is cooked. In this way our palate will appreciate the progression of flavor and we can add ingredients that we believe can go well.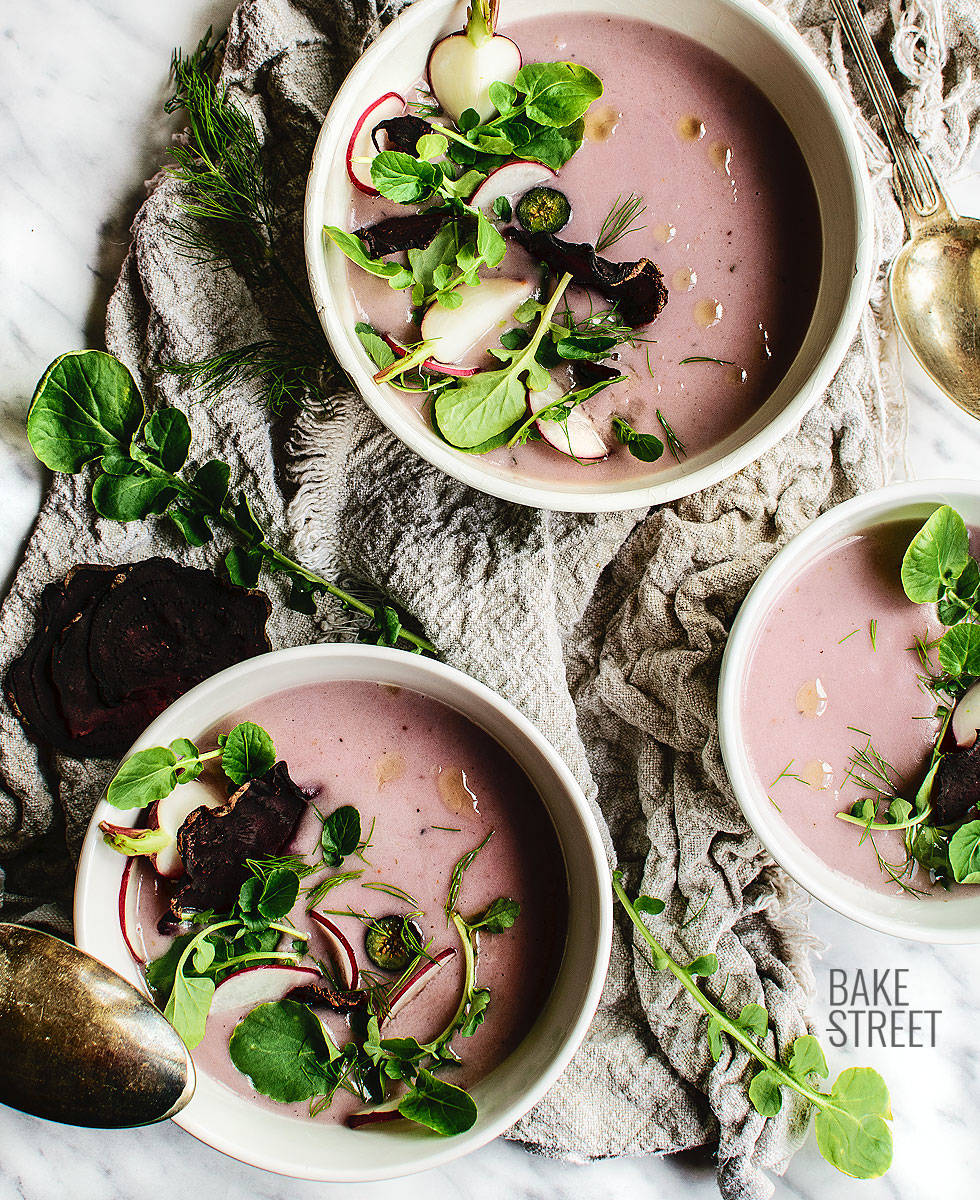 Ingredients for 4 serves
FOR THE CREAM:
1 bunch of radish, about 13,6 oz (385 g)
2 medium potatoes, about 10,5 oz (300 g)
1 red onion
0,4 oz (12 g) garlic
1,75 oz (50 g) fresh blueberries
3 Tbsp olive oil
1,75 oz (50 g) mirin
17,6 oz (500 g) Konbu Dashi broth (recipe in the link)
2 tbsp cream cheese
1 tsp honey
salt y shichimi to taste
FOR GARNISH:
watercress
fresh dill
radishes
fresh blueberries
beetroot chips
sesame oil
Instructions
Make beetroot chips.
With the help of a mandolin we cut the beetroot using the thinnest and smooth blade. In case of doing it in the afternoon/evening place in the dehydrator at 160ºF (70ºC) for about 5 hours, reduce the heat to 95ºF (35ºC) and leave for about 7 hours.
If you start doing it during the day, it is likely that in about 7 hours at 160ºF (70ºC) they will be ready.
Set aside.
Make the cream.
Reserve a couple of radishes for garnish.
Pour the olive oil into a medium saucepan and place over medium low heat.
Add red onion chopped and cook for 5 minutes. It should soften slightly.
Incorporate the laminated garlic and cook for 5 more minutes.
Add the laminated radishes together with the potatoes, peeled and cut into wedges. Cook, stirring occasionally, for 5-7 minutes.
Finally, add the blueberries and cook for 3 more minutes.
Pour the warmed broth, raise the temperature to high and let it boil. Once it comes to the boil, reduce to medium low heat and cook for 25-30 minutes. The radishes and potatoes should be tender.
Remove from heat and blend until a soft, light cream is obtained.
Incorporate the cream cheese, honey, season to taste and blend again.
Serve.
Ladle the cream into individual serving bowls.
Decorate with watercress, laminated and/or quartered radishes, dill, blueberries and sesame oil.
Serve immediately.

Notes
Olive oil can be substituted for grape seed oil or sunflower oil.
Konbu Dashi broth can be made at home, as I show you in the elaboration, or we can use a dehydrated preparation store-bough. I leave it to your choice.
If you don't want to use Dashi broth, you can use a vegetable broth instead.
The Mirin gives it a fantastic sweet taste, but in case you don't have it at home, it can be replaced by a sweet white wine.
You can use any variety of radish you want. In my case I can only find these and the elongated ones, but if you have another type within your reach, do not hesitate to use them.
Cream cheese can be replaced with crème fraîche, high-fat coconut milk or even thick cooking cream.
It can be kept refrigerated in an airtight container for 2 days. It can also be frozen, but the texture will change slightly due to the presence of potato. I recommend you to process it again before serving it once it has defrosted out and you have warmed it up a bit.
I promise you won't regret it if you try this Radish Dashi cream with watercress. It has a very particular flavor that mixes fresh, sweet and spicy touches, in addition to a very soft and light texture. Besides, it is prepared in a short time being a perfect option to take as a first course or dinner.
It can be eaten cold, warm or even hot. It works very well at this point allowing you to serve it at the temperature you prefer. To finish it, just decorate it with some sprouts, laminated radish and a little sesame oil. It's a real explosion of flavor.
I wish you a wonderful start to the week.
Big hugs,
Eva
Archivado en