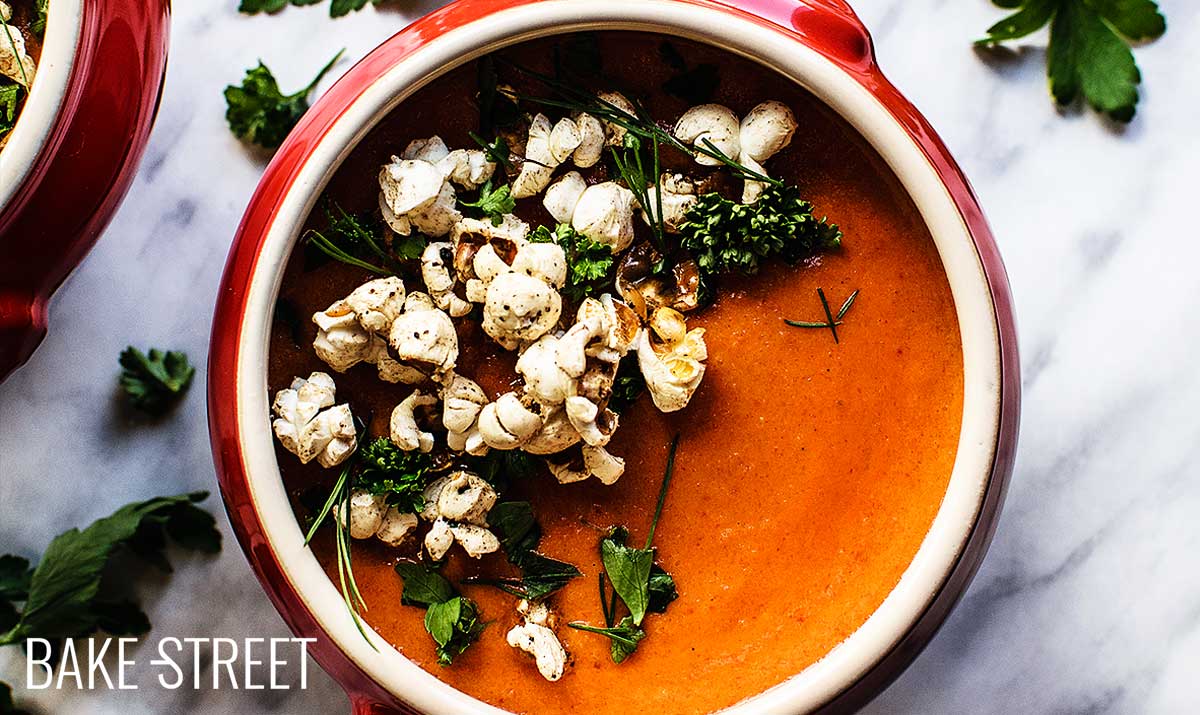 Tomato soup with plum, Bourbon and spicy popcorn
Este post también está disponible en Spanish
Don't think I forgot about the soups or creams… Not at all! I continue to prepare them every week and gather many of them (the ones I liked the most) to share them with you. What happens is that as I alternate everything I'm preparing, some of them take a long time to arrive. Today's recipe is not only amazing, but also absolutely delicious. A tomato soup with plum, Bourbon and spicy popcorn.
This soup is inspired by one I saw in The Feed Feed account made by Amanda. They suggested a tomato soup accompanied with spicy popcorn, I couldn't access the original recipe, the link is broken. So from Amanda's idea, which I thought was fantastic and tremendously original, I made my own tomato soup.
Carrying out the recipe.
In this soup it happened to me as it happens to me with many recipes, I start from an idea in which I have more or less clear what to use, and it ends up taking on color on the fly.
Amanda's idea merged with Lauren's Bourbon and tomato shots from Climbing Grier Mountain. I really liked the idea of combining tomato and Bourbon, it would be a mixture of soup and cocktail, fantastic! So the main ingredients were clear; tomato, bourbon and popcorn. There was only one good thing to come out of here.
Since Bourbon would bring a sweet touch, I wanted to move along that path and look for elements that would combine well. Plums are a fruit that we now have in season and that we must make the most of with them. So I decided that they would also be part of the recipe.
Afterwards, I only added ingredients that added flavor and color, always to my taste, of course. So if one of them doesn't work for you, you can omit it or replace it without problems.
Let's get to work.
Whenever I make tomato soups, I like to roast the tomatoes before cooking them with the rest of the ingredients. In this case, I didn't prepare it that way because I made it during those days when I was without an oven. That's why I proceeded to prepare them the same way we would for a homemade tomato sauce.
I blanched them, to remove the outer skin more easily, and then I cut them up to cook them together with the onion and garlic. We must reduce the tomato to obtain a denser paste and encourage the emergence of natural sugars.
Since I used popcorn on the surface to decorate the soup and cook it with butter, I thought it would be good to make the soup with butter instead of olive oil. I sautéed all the ingredients in order to cook them properly and added the Bourbon, about halfway through cooking. In this way we help all the ingredients to be well impregnated with it aroma and at the same time all the alcohol evaporates.
The salt I use in my soup is vanilla salt, I always have it at home. It is a salt that we can prepare ourselves and it is fantastic to use in both salty and sweet preparations. I showed you how to make it in this chilled apricot and fennel cream.
Finally, decorate the soup with some spicy popcorn and aromatic herbs, which we already know provide a fresh and textured texture. In my case I opted for coriander (which fascinates me), dill and curly parsley.
One of the spices you use is amchoor, what's that?
Amchoor is mango powder, its name comes from Hindi amm "mango" and choor "powder". It is a spice of Indian cuisine and is made from green mango. Its taste is very intense and strong, so we should use it with care and moderation.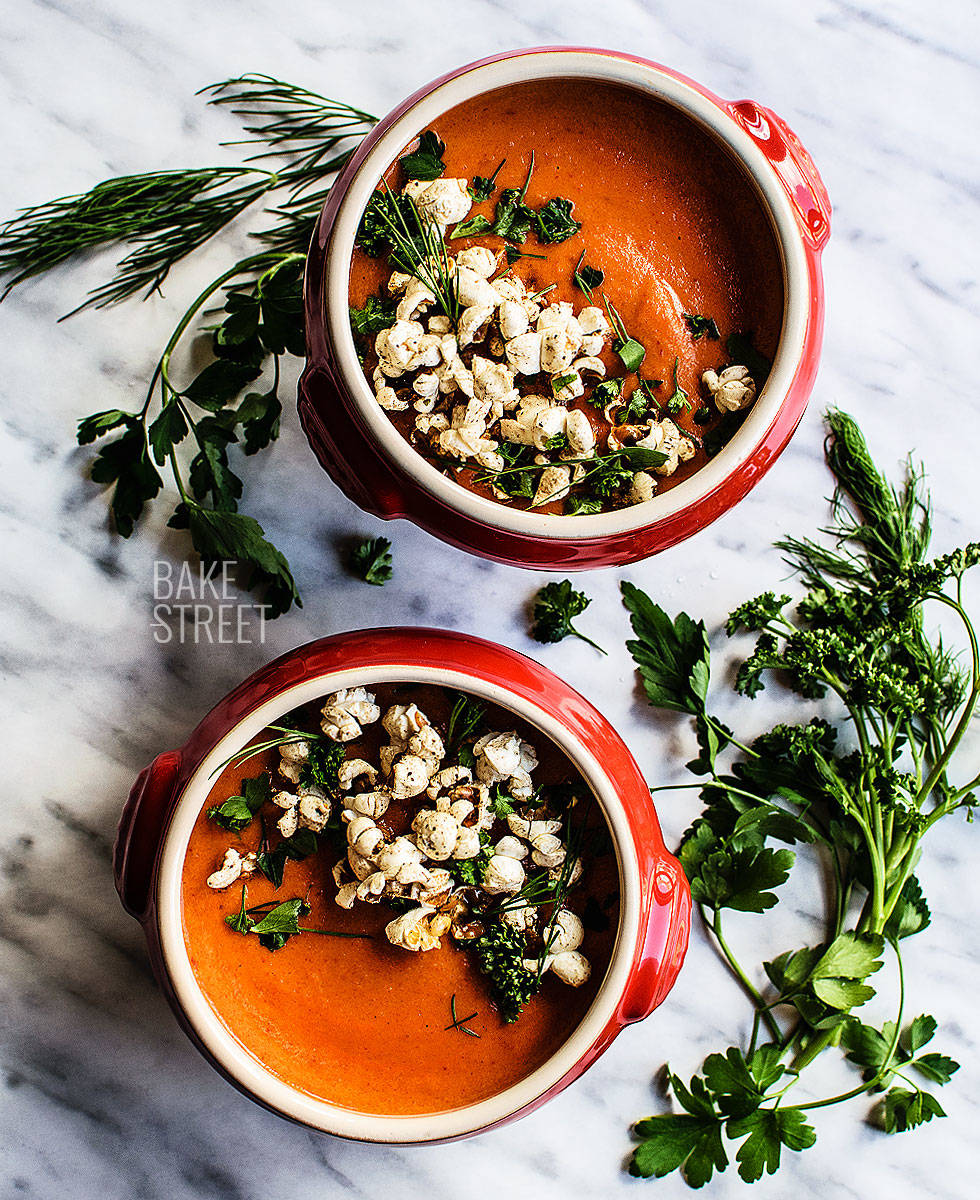 Ingredients for 2 serves
FOR THE SOUP:
26,5 oz (750 g) red tomatoes
1 Italian red pepper
8,8 oz (250 g) milk coconut high fat content
1,25 oz (35 g) unsalted butter
1 oz (30 g) light muscovado sugar
2 garlic cloves (16 g)
1 large sweet onion (240 g)
2,1 oz (60 g) Bourbon
2 red plums (300 g)
1 tsp amchoor
1 red tree chile
vanilla salt (link recipe)
FOR THE SPICY POPCORN:
2 Tbsp corn kernels
2 tsp butter
1/4 tsp Shichimi
cumin to taste
salt to taste
GARNISH:
fresh cilantro
dill
curly parsley
Instructions
Blanch tomatoes.
Fill a large pot with water, place on medium heat and leave to boil.
Meanwhile, make a cross cut at the base of each tomato.
Once the water comes to the boil, place the tomatoes very carefully on boiling water and blanch for 1 minute.
Remove them from the water and let it warm until we can handle them easily.
Peel them, cut and reserve.
Cook the vegetables.
In a large skillet, add the butter and place on medium heat and let it melt.
Add the garlic cloves together with the finely chopped onion. Sautée over medium low heat until they acquire a semitransparent tonality and begins to take a very soft golden color. It will take about 15-20 minutes.
Add the chopped tomatoes together with the red pepper cut into small squares and cook at medium heat for another 20 minutes, stirring occasionally.
Stir in the chopped plum together with the sugar, amchoor, red chili, bourbon and a little salt. Cook for 45-50 minutes more, we must buy a slightly reduced paste.
Finish the soup.
Pour the tomato paste into a medium saucepan and add the coconut milk. I have used the whole amount of dense coconut milk that comes in a can and filled it with coconut water until it reaches 8,8 oz /250 g (which is what I specify in the ingredients).
Process with a hand mixer until obtaining a smooth and homogeneous texture.
Cook at medium low heat for 8-10 minutes.
Drain the cream, to remove small traces of ingredients and obtain a very smooth and creamy finish.
Make spicy popcorns.
In a medium saucepan, add the butter and leave over medium heat until it melts.
Then add the corn kernels together with the spices and cover with a lid.
Once we hear the corn kernels explode, we will remove them from time to time without removing the lid, to encourage them to explode as many kernels as possible.
When we notice that the number of explosions is reduced, remove the frying pan from the heat and trasnfer the popcorn into a bowl. Remove the unexploded grains.
Salt to taste and set aside.
Serve the soup.
Ladle the soup into 2 individual serving bowls.
Garnish with spicy popcorn and a little chopped fresh cilantro, dill and parsley.
Serve immediately.
Notes
Can I use canned tomatoes instead of cooking them at home? Yes, you can, of course. But the taste has nothing to do with what you get at home.
The servings that come out are two generous, at home we are very soups and creams. If you dare to make more, you can easily freeze it in individual containers.
Can I use ready-made popcorn? They can be used, you just have to melt the butter with the spices and then add the popcorn and sauté for a few seconds to cover them with the mixture evenly. But I recommend you prepare them at home, it takes very little time and they look great.
This tomato soup with plum, Bourbon and spicy popcorn will make you fall in love with it to infinity. The taste is sweet, mild, spicy and very tasty. Together with its silky and delicate texture and the crunchy and spicy touch of popcorn or aromatic herbs, you will not be able to stop eating it until the last drop.
I'm sure of it. And if not, tell me! I'd love to hear what you think of it, that I can't wait to see the wonders you do in the social networks and that I'm always very grateful for all the things you try.
I wish you a very happy start to the week!
Big hugs,
Eva
Archivado en