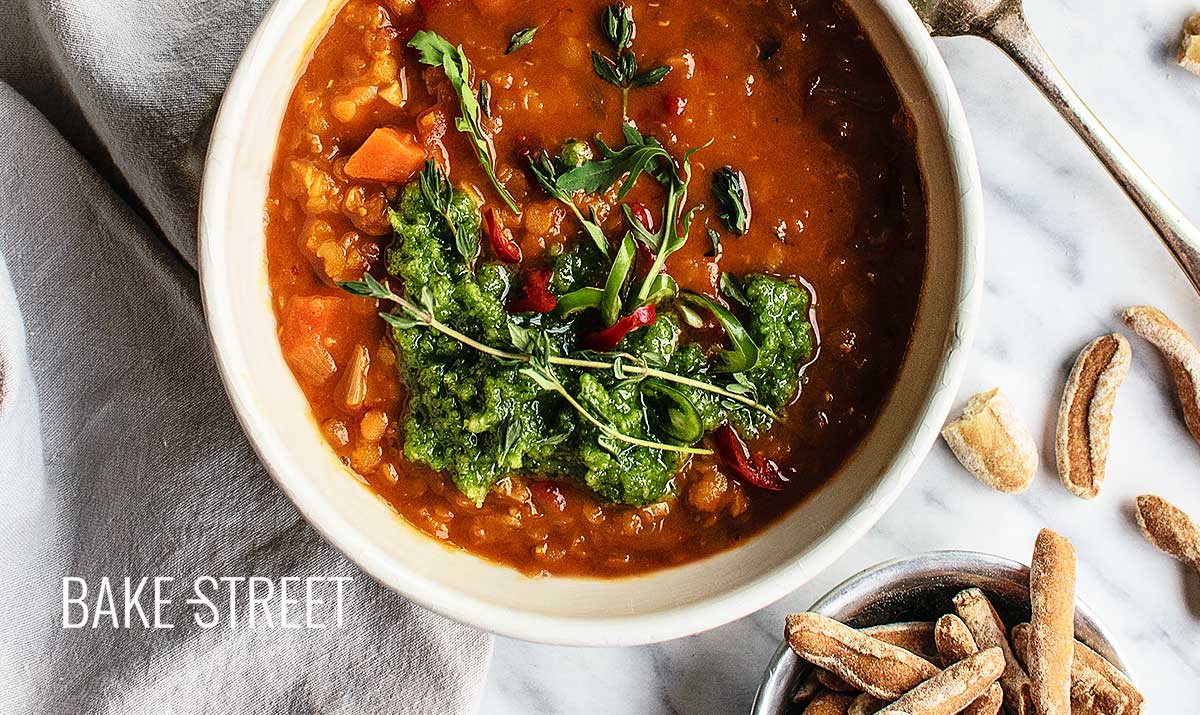 Spicy red lentils soup with arugula picada
Este post también está disponible en Spanish
Stews are dishes that my family like very much, especially in this cold weather we are having. It is true what they like best are the traditional dishes such as "cocido" (Spanish stew made with chickpeas), lentils, meat stews…. But every now and then I prepare different dishes to break the monotony, like this spicy red lentils soup with arugula picada.
I personally love spicy or seasoned dishes. Those that we could even say that they have personality thanks to their strong and characteristic flavors. This soup is an explosion of flavor, plus a very comforting dish to fight these cold days.
I've always been very interested in soups made with lentils, but even more so those made with red lentils. Sure, many of you may think that they do not stop resembling the traditional lentils that we all consume in our homes, but these are different. I assure you.
The recipe is inspired by Ali's Italian lentil soup, the blog Gimme some Oven and another I saw in FOOD52. Both are quite similar, but changing some spices and ingredients.
Red lentils.
It's not the first time I use red lentils, but it's the first time I've prepared a soup with them. My first contact with this variety of legumes was to prepare some lentil vegan burgers with lime and chili mayo (only available in Spanish). We already know that legumes look wonderfully good on vegan burgers, they give us a lot of texture as well as nutrients.
This time we will cook them in a more traditional version. There is one important point in today's recipe and that is to control the cooking time. In reality as in any recipe, but today we must spoil it a little more so as not to exceed it or else we will obtain a paste. If you want to know more about red lentils, in the burger recipe I tell you more details about this legume.
Soup elaboration.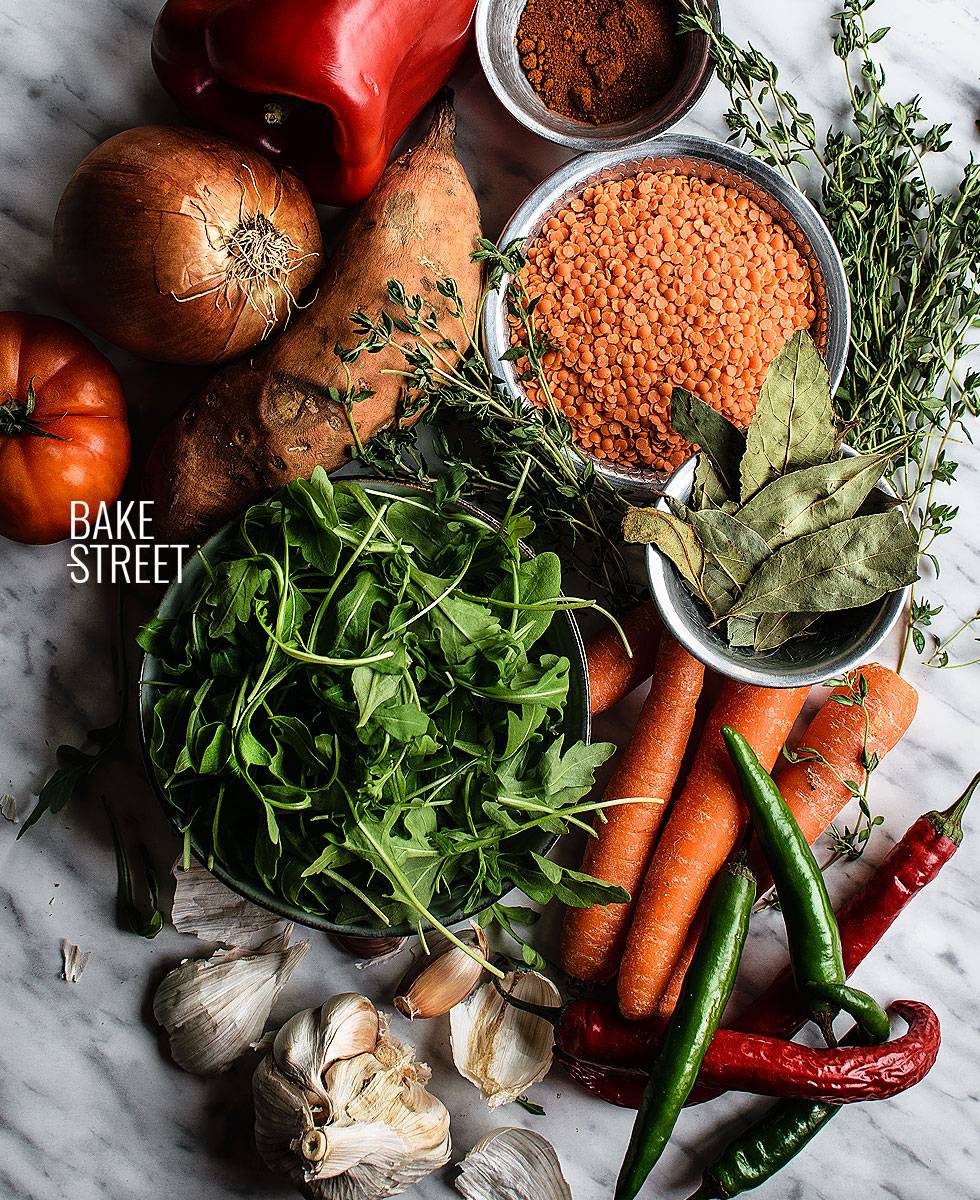 You will see that among the ingredients we have to prepare this soup, in addition to vegetables, we will find a homemade soup broth and a  Toban-Djan tomato cream. I'm sure some of you remember this recipe I left you not long ago. It is a cream made with roasted tomatoes, peppers, black garlic, Toban Djan and spices among other ingredients.
This cream can be consumed on its own, as I showed you in the recipe, with a few aromatics herbs and slices of chili or use it as a base for another elaboration. As we will do on this occasion to prepare this spicy soup. It is a cream that requires a little time, for this reason I recommend that when you make it, prepare a lot of cream and then freeze it in individual containers. Then you can take it out and consume it as cream or use it as we will do today.
Maybe you think that it is a lot of work to make this cream on one side and soup on the other… As I specify in the notes, you can always replace it with a homemade tomato sauce with a spicy point, or not, to achieve the flavors that this cream gives us.
The arugula picada or how to get a dish to a higher level.
This has been a wonderful discovery. If the soup alone is incredible, with the addition of this dressing is outstanding! The arugula picada is inspired by a parsley, almonds and garlic I saw in the recipe that helped me to inspire this one. And that picada, is based on the traditional Catalan picada made from almonds, toasted bread and garlic that serves as a condiment for many stews.
I decided to omit the toast bread and use arugula instead of parsley. Of course, you can always keep the above ingredients if you prefer. Personally I like sprouts very much, you know that, although the arugula is actually a type of vegetable.
I remember the first time I tasted it and it was in a sandwich. Yeah, it may seem strange, but it did. It was a sandwich made with poppy seed bread stuffed with cream cheese, raisins, walnuts and arugula. I died of love at the time and since then, this ingredient has always been in my fridge. By the way, I recommend you try this sandwich, really good.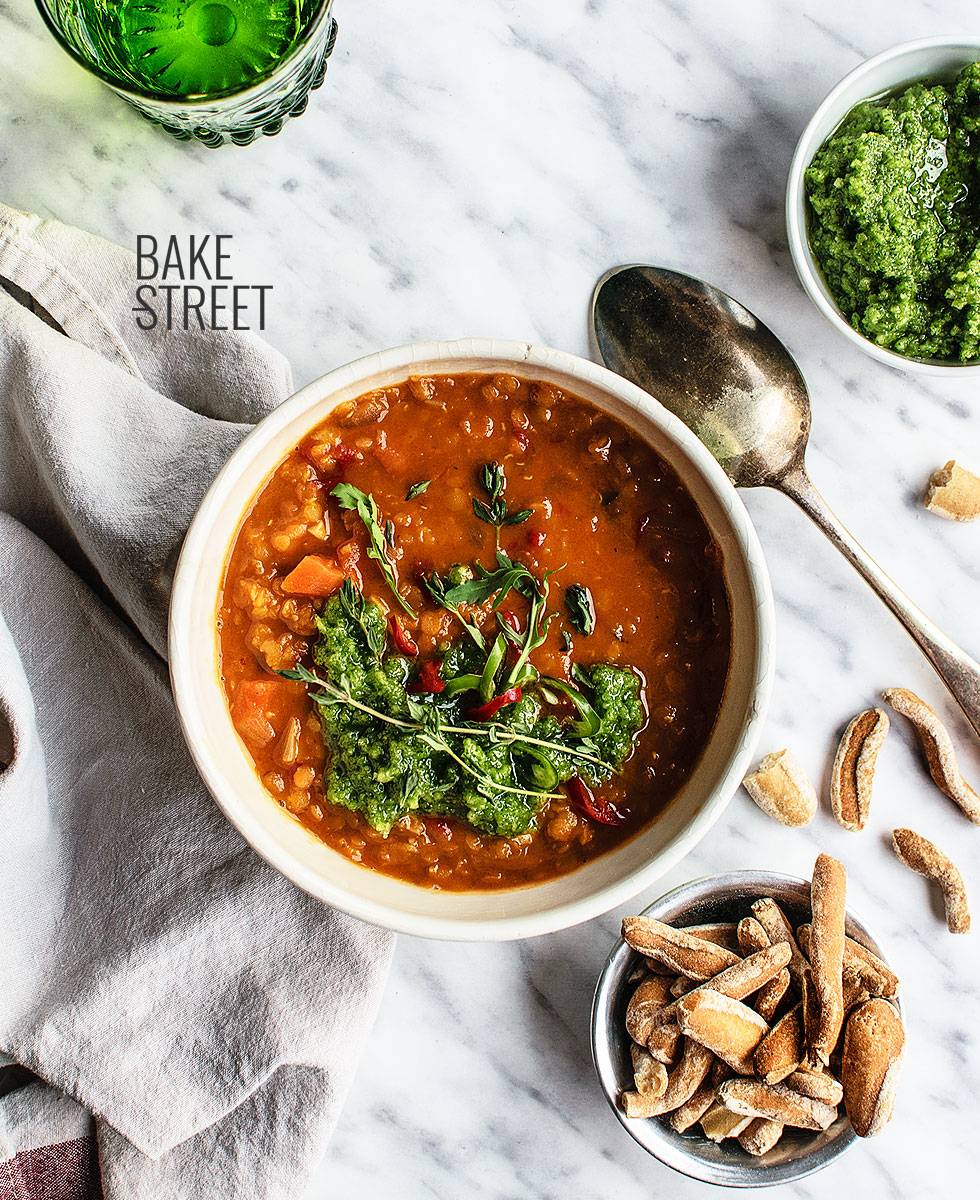 Ingredients
FOR THE SOUP:
28,2 oz (800 g) homemade vegetable broth, chicken...
7 oz (200 g) Toban Djan tomato cream (link recipe)
7 oz (200 g) red lentils
6,5 oz (185 g) diced sweet onion
1 sweet potato, about 200 g
2 medium carrots, diced
3 large garlic cloves, minced
1 medium roasted red pepper (see notes)
1 tsp fresh thyme
2 bay leaves
1 tsp sweet paprika
salt y pepper to taste
FOR ARUGULA PICADA:
2,1 oz (60 g) raw marcona almond
1 oz (30 g) arugula
1 large garlic clove, about 6 g
1,75 oz (50 g) olive oil + 1 Tbsp to fry almonds
salt to taste
GARNISH:
green and red chile
fresh thyme
Instructions
Make arugula picada.
In a medium skillet, add a tablespoon of oil and place over medium heat.
Add the raw almonds and fry until they acquire a nice golden colour.
Remove from the heat and salt to taste.
Place the almonds into a food processor together with the arugula, chopped garlic and olive oil.
Blend until a paste is obtained.
Salt to taste and blend again.
Place the picada in a bowl, cover with film and set aside.
Sauté the vegetables.
In a large pot pour the olive oil and place it over medium heat.
Once the temperature has been reached, be careful not to burn the oil and start smoking, add the chopped onion along with the sweet potato and carrot.
Sauté for 7-8 minutes stirring occasionally.
Add the chopped garlic and cook for 2 more minutes.
Pour the tomato cream together with the paprika, thyme, bay leaves and red bell pepper cut in small squares, salt and ground black pepper. Remove and cook for 1 minute.
Add the broth and simmer.
Pour the broth and stir to distribute the ingredients evenly.
Cook at medium high heat until it boils. Reduce heat to low and simmer for 25 minutes.
Taste and if necessary, rectify the salt and pepper.
Add the red lentils, mix and cook for 20-25 more minutes or until tender. You have to be careful with this variety of lentil is delicate and if we exceed the cooking time, they can be turned into a paste.
Remove from heat and let stand for 5-10 minutes.
Serve.
Ladle the spicy lentil soup into individual bowls.
Place 2-3 teaspoons of arugula picada, decorate with a few slices of chili and fresh thyme leaves.
Serve.
Notes
Always use homemade broth. I always tell you the same thing, but you'll be used to it. The type to use does not matter, made with vegetables, chicken, ham... But ideally it should be prepared by you. The taste is infinitely better.
Toban Djan tomato cream can be substituted with a spicy homemade tomato sauce. I do recommend roasting tomatoes because the result of flavor is fantastic.
I have used roasted red pepper, but without finishing this process. By this I mean that I only roasted it for 30 minutes, long enough for it to lose its firmness, the flesh to soften and the skin to come out fine. But its texture was still a little firm. The rest of the peppers that you roast next to it, let them finish their normal cooking.
Red lentils do not need to be pre-soaked before cooking. But as I told you before, it is a very delicate variety and we must control its cooking time to prevent them from getting a paste.
Can I use dried thyme instead of fresh? If you can't find it, yes, no problem.
The arugula picada can be made with an aromatic herb if you prefer, such as parsley or cilantro, for example.
Is it mandatory to use marcona almonds? Of course not, you can use the one you have available. I recommend this variety because it's great, but you can change it for another one.
What if I use fried almonds? You can use them too, of course. But the taste of homemade fried almonds is very different, pretty cool.
Can I use another nut variety? Of course, I can think of hazelnuts, cashews, even peanuts.
If you have enough arugula picada leftovers, you can keep it in a glass jar, covered with oil and refrigerated.
Do not take too long to prepare this spicy red lentils soup with arugula picada, is one of those dishes that get nobody to talk at the table while eating. As my son says,- "Mom, if I don't talk it's because it's so good and I'd rather not waste any time talking until I've eaten it all up -.
Hahaha, well, don't waste any more time and prepare it as soon as possible. I hope you have a wonderful start to the week.
Big hugs,
Eva
Archivado en