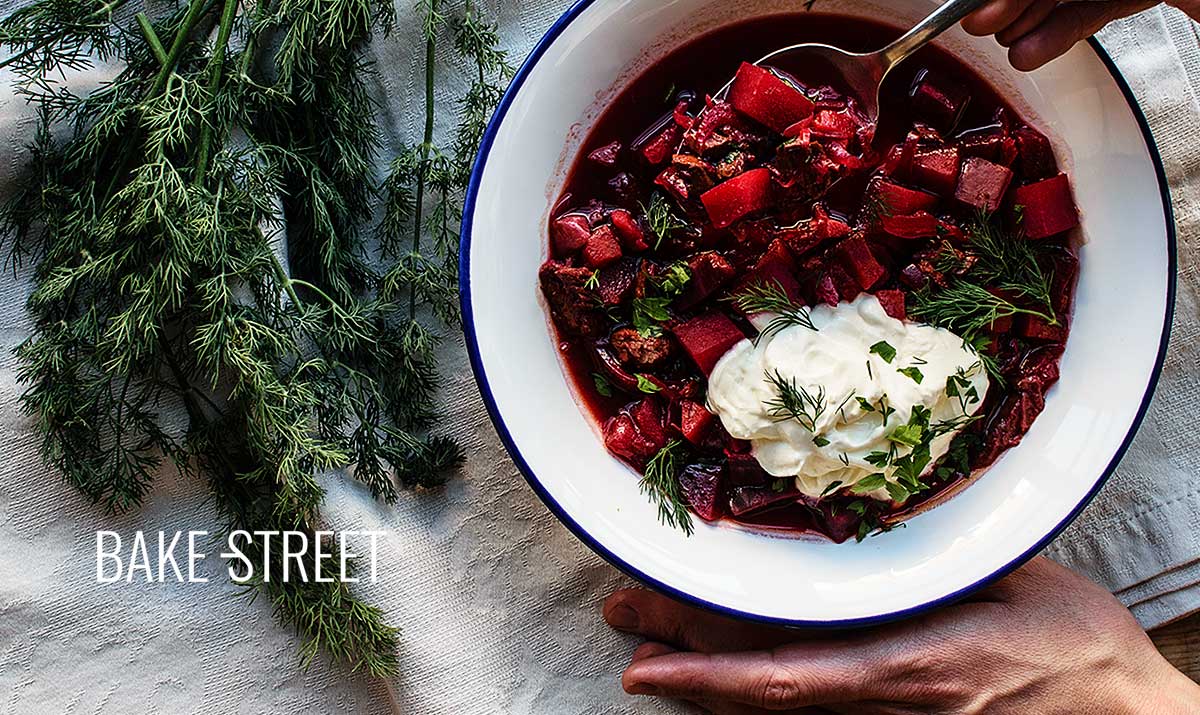 Borscht, traditional Ukrainian soup
Este post también está disponible en Spanish
Now that the cold has finally arrived, I can leave you with the recipe for this traditional Ukrainian soup that I love and fascinate. Borscht, spicy beef and beet soup.
This soup, which we can also find under the name of Borsch o Borshch (борщ) is a preparation in which its main ingredient is beet, responsible for giving that intense and characteristic red color. It is a traditional dish of East Slavs (Russia, Ukraine and Belarus) and, in particular, a distinctive dish of the cuisine of southern Russia and Ukraine.
The origin of Borscht.
According to the etymological dictionary of Slavic languages, the name of this soup is given by the plant Heraclum sphondylīum family of Borshevik  (Борщевик) also known as "hogweed", whose leaves are edible and are used to garnish dishes or ferment to prepare a liqueur. Apparently, the popular belief that "brsch" was the name of beet in ancient Slavic, must be attributed to popular etymology. A false etymology that emerges under the influence of the vernacular language.
In the past, the borshch was called "hogweed stew". Over time, it began to cook in beet kvass (fermented beverage), water and vegetables, among them beet, carrot and cabbage. It is not known exactly where this soup came from, but it is believed to have appeared somewhere in ancient Russia (Kievan Rus).
This soup was the favorite of the ballerina Anna Pavlova, Alexander II (Zar of Russia) and Catherine II (Emperatrix of Russia).
The preparation of this soup does not involve a specific process, but is adapted according to the areas where it is prepared: Poland, Russia, Lithuania, Romania and Belarus.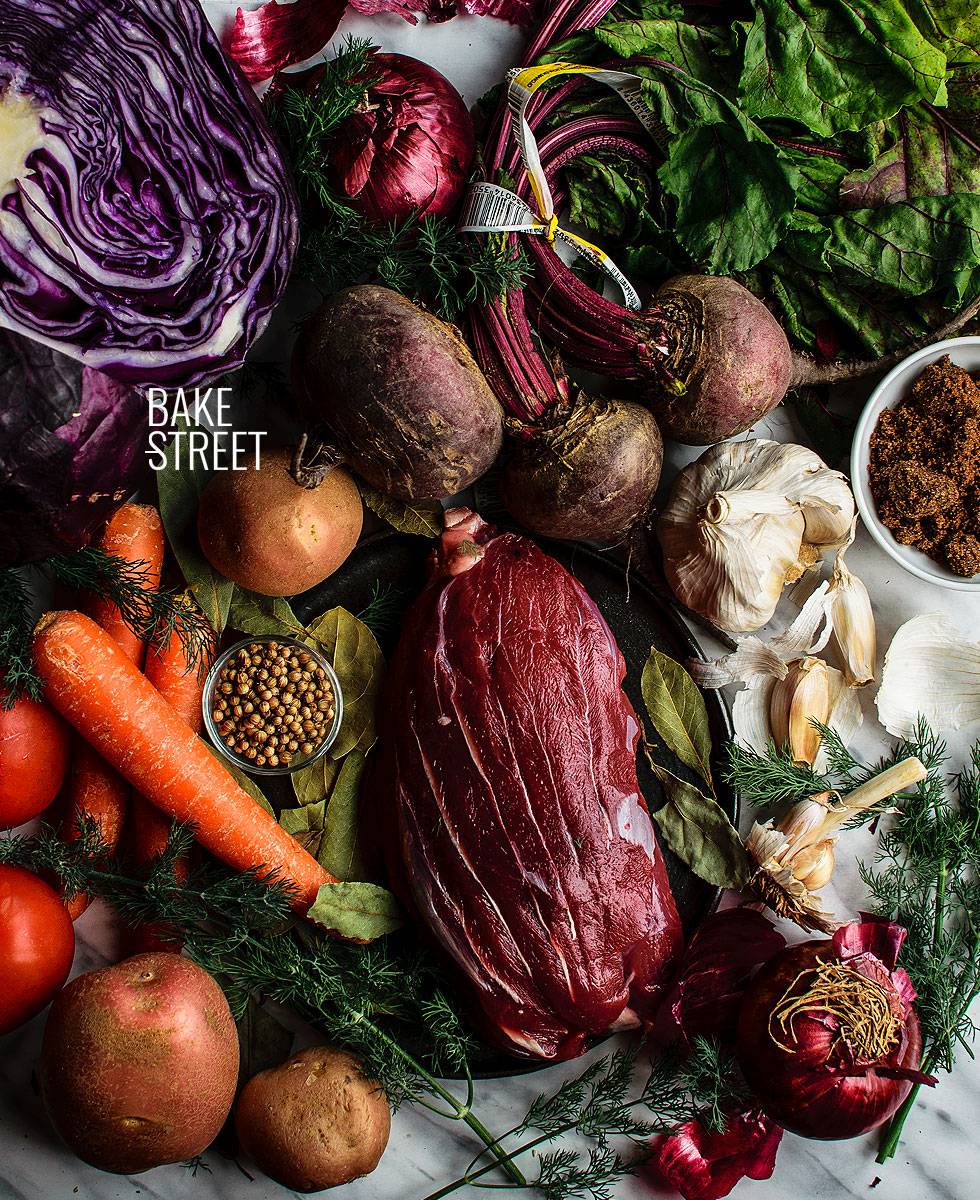 Varieties of Borscht.
As I mentioned above, you can find different varieties of borscht, but we can divide them into two types:
Hot: It is the most common variety and consumed, especially in Russia and Ukraine. The traditional red soup that used to be eaten by peasants. The addition of meat, at that time, was only added on holidays or special dates. It is usually served with sour cream, rye bread or pampushka (garlic fritters).
Cold: Made in hot seasons, spring and summer. Its base is usually kvass or cooked beetroot, to which yogurt or some dairy derivative is usually added, seasoned with aromatic herbs. Especially dill and parsley. It comes with sour cream, boiled egg and, in some cases, boiled potatoes to replace bread.
Preparation of the Borscht.
This soup is presumed to be a preparation not very easy to carry out. To make this soup you have to follow several steps and its main "difficulty" may lie in the process when preparing each vegetable.
The first step is to make a good homemade broth, which has nothing to do with the ones we find canned in supermarkets. To obtain a good taste, the ideal thing is to cook it over a low heat and add each ingredient at the right time. In my case, the process of making the broth takes me about 6 hours or so.
Then we must cook the vegetables in batches and with the exact cooking point so that at the end of the soup, they have the correct texture.
The traditional recipe is made with a kvass base instead of water (which is what we will use in this recipe), which makes the final result more sour than we will get. In fact, the flavor of this soup absolutely has a tangy taste. We will obtain a soup of incredible flavor, slightly sweet, very aromatic and powerful.
It is a thick soup, without much broth, just enough to accompany all the ingredients that are part of it.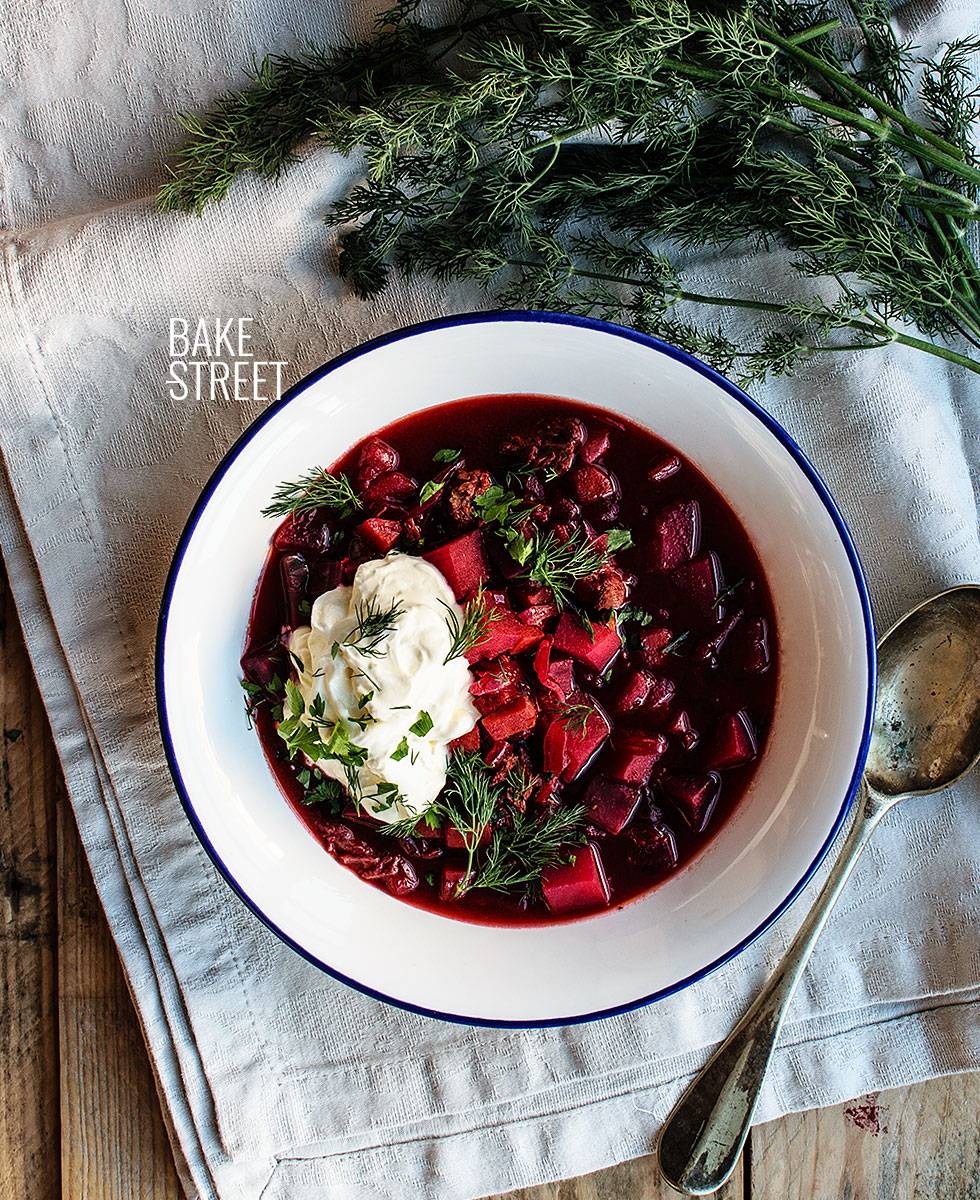 Ingredients for 5 serves
FOR THE SOUP:
Recipe adapted from Tablespoon, Tasty Mistakes, Fab Lunch
24 oz (680 g) homemade vegetables and chicken broth, or the type of broth you prefer
14,6 oz (415 g) water
10,5 oz (300 g) raw beet, peeled and cut into small squares
15,5 oz (440 g) veal shank + 2 Tbsp olive oil
1 large red potato, 350 g approximately, cut into small squares
3,5 oz (100 g) red onion, finely chopped
2 large carrots, peeled and cut into small squares
2 large garlic cloves, minced
10,5 oz (300 g) red cabbage, shredded, use a mandolin
1 big red tomato, diced in small squares
4 Tbsp olive oil
2 Tbsp dark muscovado sugar
2 Tbsp apple cider vinegar
1 tsp coriander seeds
2 bay leaves
salt and pepper to taste
FOR GARNISH:
crème fraîche
fresh dill
fresh parsley
Instructions
Cook the veal shank.
In a large saucepan pour 2 tablespoons of olive oil and place in a medium-high heat.
Once the temperature is taken, but be careful not to burn the oil and start smoking, add the veal shank. Cook on both sides until it gets a nice golden color, it will take between 2-3 minutes.
Season with salt and pepper, add the broth, reduce to medium low heat and cook, with the lid on leaving a little opening, for 1 hour and 30 minutes or 1 hour and 45 minutes. Or until the meat is very tender.
Turn off the heat, remove the meat and cut into small pieces or shred, according to our choice.
Add it back to the broth, set aside with the pot covered.
Sauté the vegetables.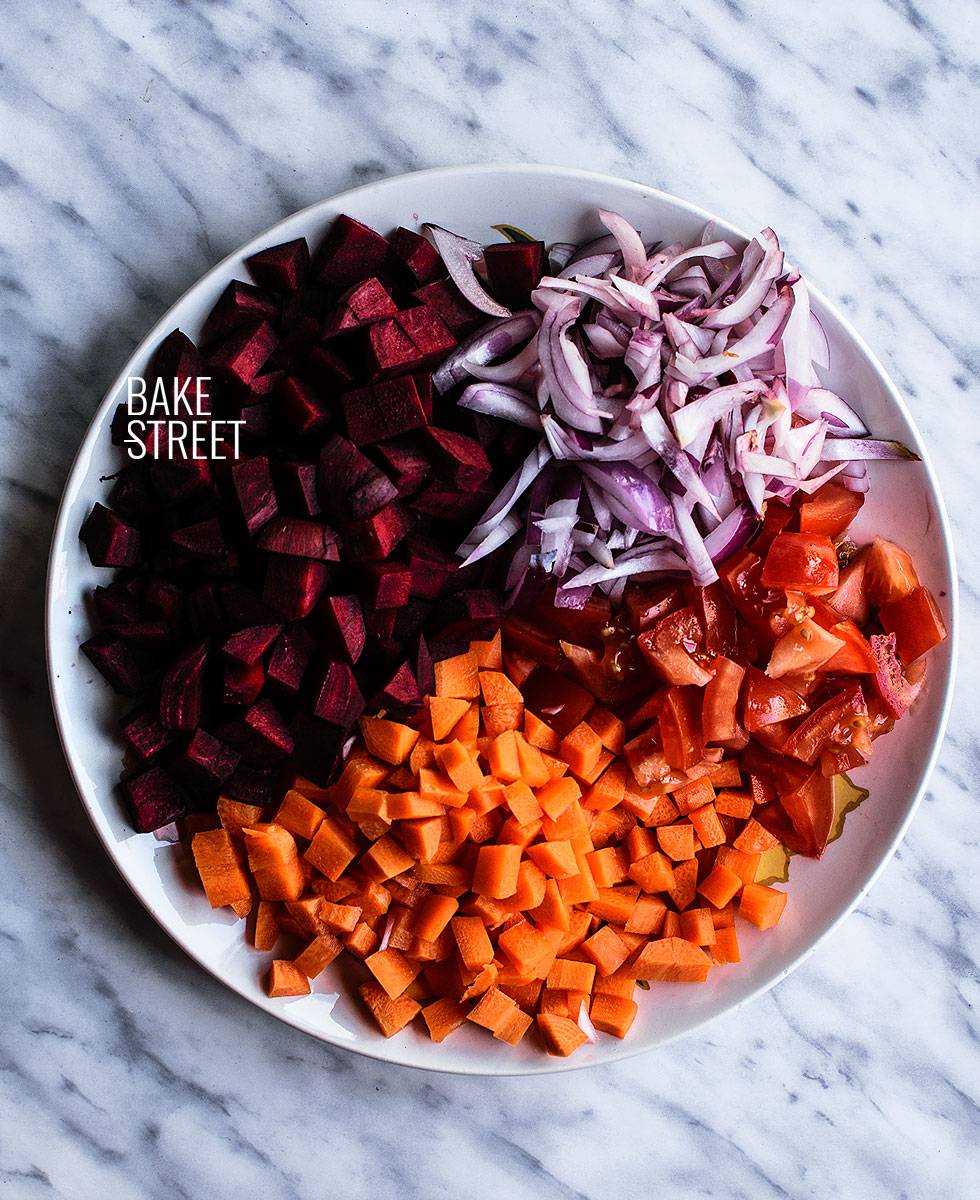 In a large frying pan pour 2 tablespoons of olive oil and place in a medium heat.
Add the beet along with the carrot, tomato and apple cider vinegar. Cook at medium heat for 15 minutes, stirring occasionally.
Add the sautéed vegetables in the broth together with muscavado sugar and bay leaves. Simmer for 20 minutes.
Meanwhile, in the same frying pan, pour another two tablespoons of olive oil and place on medium heat.
Add the onion, garlic and cilantro seeds. Cook for 10-15 minutes or until the onion acquires a semi-transparent texture.
Add to the broth together with the rest of the ingredients and mix.
Finish the soup.
Pour the water together with the potatoes, add salt and pepper to taste and cover the pot leaving an opening and cook for 10 minutes at medium heat.
Finally, add the shredded red cabbage and cook for 10-12 more minutes.
Remove from heat and let stand 1-2 hours before serving. If necessary, warm again just before serving.
Serve the Borscht.
Ladle the soup in individual bowls.
Garnish with a generous spoonful of crème fraîche on the surface and sprinkle with dill and chopped parsley.
Serve immediately.
Notes
The type of broth we use may be our choice, but I recommend you use it homemade. In my case, I have used the one they like best at home, which is made with vegetables, bones, ham and chicken.
The meat we use is veal shank. It is a very tender meat, perfect for this type of stews.
If you are vegetarians, you can make soup just as I show it to you except for the meat.
Do not use pre-cooked beet to make this soup. We need this vegetable to be raw to get the right texture. After cooking, as well as the spectacular color it brings to the soup.
Why should I use vinegar in the recipe? To help preserve the intense beet color. This can also be replaced by lemon juice.
I have used red potato because I like its firmness and texture very much, for me it is one of the best varieties of potato. But, of course, you can use another variety that you normally use at home.
The red cabbage can be replaced by cabbage if you wish.
In my case I have used apple vinegar, but the original recipe uses red wine vinegar. I tell you to keep it in mind in case you want to use this variety.
Brown sugar is usually used for this soup, but I have opted for dark muscovado sugar. You know I like it much more...
This soup can be eaten from one day to the next. Its flavor is much more potent, in addition to acquiring a much brighter and more intense color. It is an elaboration that rest time plays to its advantage.
Could I freeze this soup? Mmm, I dare not say yes and the reason is the presence of potato. We already know that this tuber can withstand freezing very badly and its texture changes a lot after this process.
What am I going to tell you about this marvel.... Well, you have to try this Borscht soup as soon as possible. For those of you who are not loyal followers of beet, to say that its taste is quite pleasant carried out in this way. In addition, the combination of flavors is simply exceptional.
For my part, I'm already working on the kvass... soon I'll let you know how to do it and, of course, I'll try again this delicious soup with this fermented drink.
Have a good start to the week ;)
Big hugs,
Eva
Sources:Russia Wiki
Archivado en