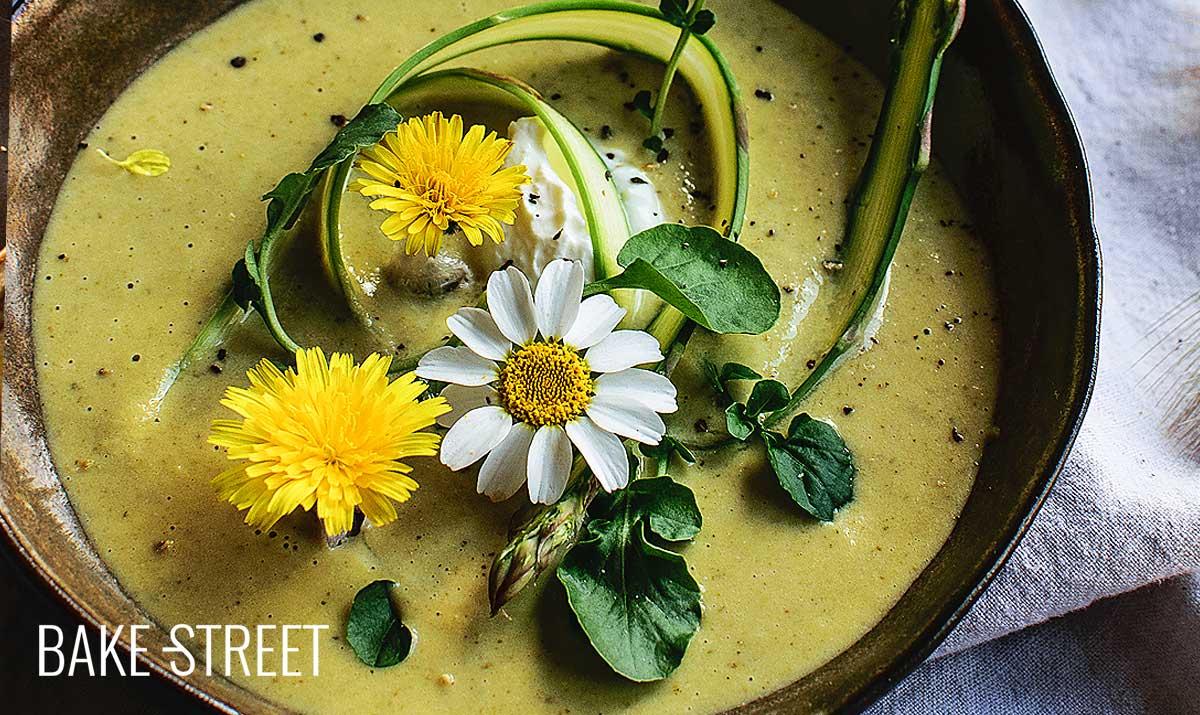 Cream of asparagus, lemon and green tomato with tahini
Este post también está disponible en Spanish
After a weekend, I always want light dishes and recipes to make up for the excesses, especially if there have been celebrations in between. There are seasons when the body asks for fresh ingredients, especially when the good weather starts to arrive. So today we'll have a treat with this cream of asparagus, lemon and green tomato with tahini.
You know I love soups and creams. I think they are a perfect and simple choice for a starter or even dinner. We can leave them ready in advance and create an infinite number of different and attractive combinations. Anything that passes through our imagination could be an amazing mix.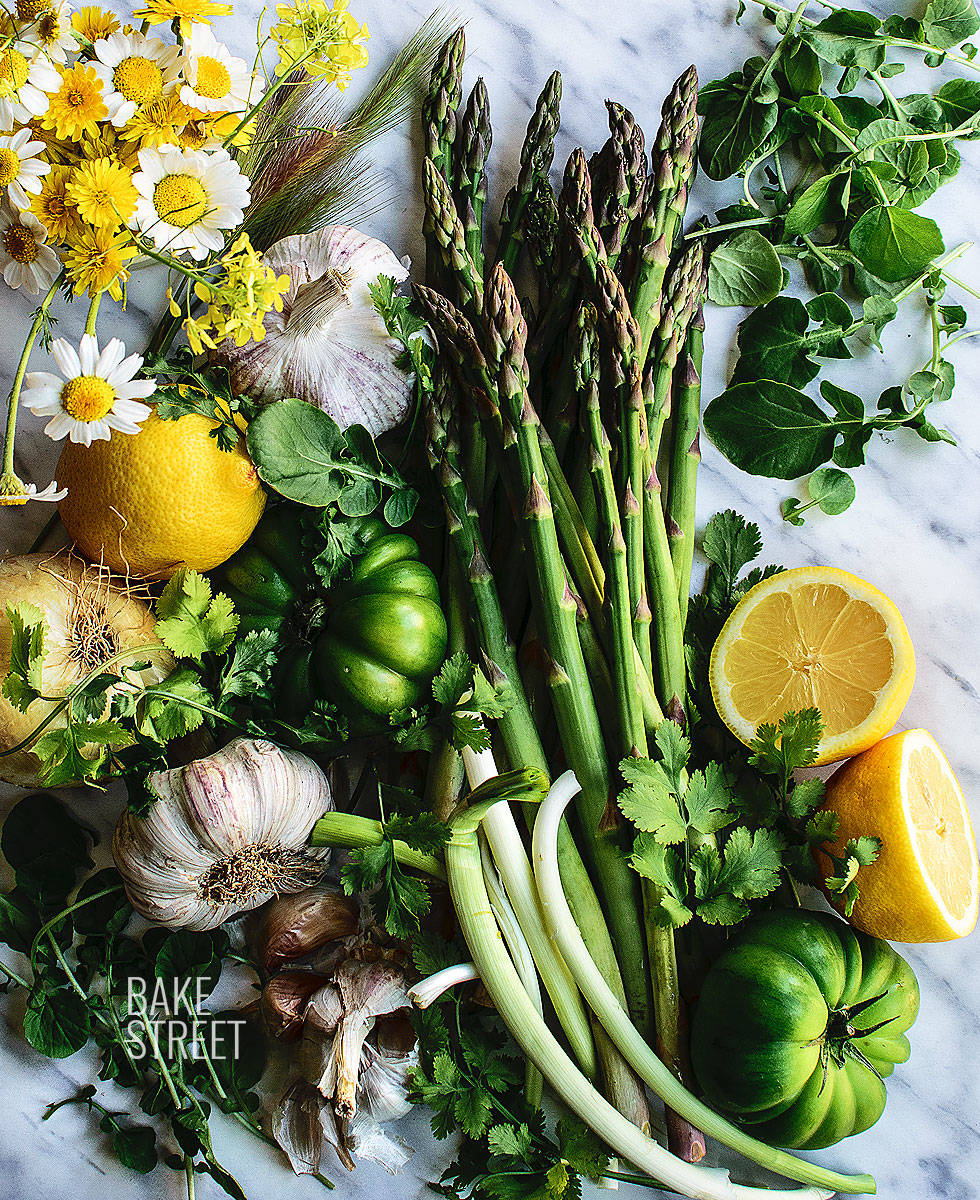 Asparagus and soups.
To be honest, I've never made any asparagus soup before. I remember when I was a little girl that one day I went to eat at a friend's house and her mother made a cream of asparagus for the first course, but it wasn't homemade, it was an store-bough soup… I didn't like it at all, but I ate it (more or less). That day I marked with a super black X the asparagus in creams or soups.
My mother cooked them in many ways and I loved them; stews, omelettes, scrambled with prawns…. But I thought that cream was awful and that's why I never wanted to prepare it this way. In fact, it was an option I always discarded. Until I saw this asparagus, lemon and tahini soup prepared by Lindsey from the Dolly and Oatmeal blog. How wonderful, how wonderful!
The texture of the soup was extremely smooth and creamy, the color, the combination of ingredients, the presentation… Everything so simple, elegant and delicate. I fell in love instantly and decided I'd give her a second chance. And I'm so glad I did.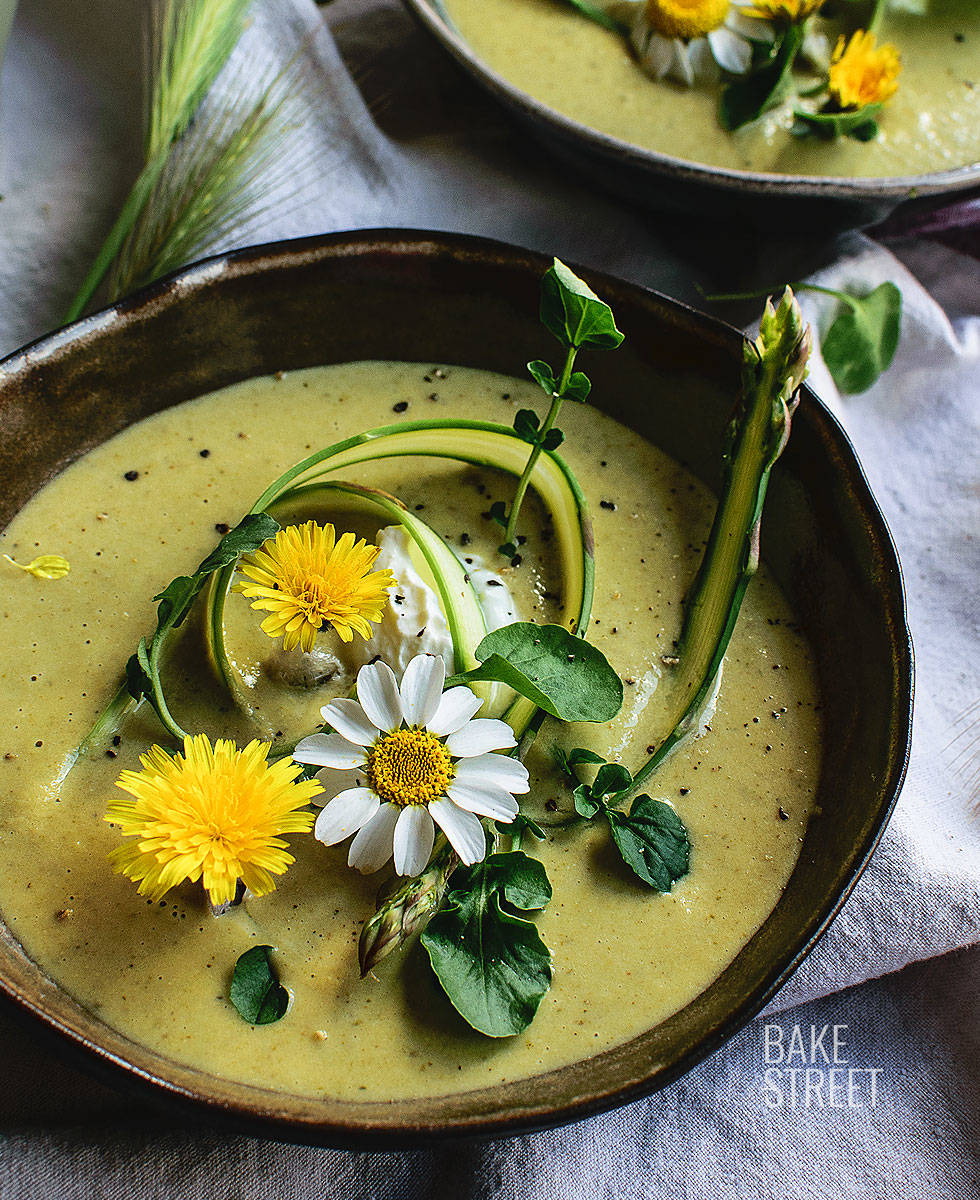 Second chances.
Here is a clear example that sometimes it is worth giving second chances. And how it shows, this soup that I have no doubt you will love.
The recipe I leave you is inspired by the one Lindsey leaves us, but in my case I decided to add some more ingredients to enhance the final flavor more and adjust it to my personal taste. Although I have to say that hers is absolutely fantastic because I have also tried it. But I can't help but feel that different and personal touch to the things I prepare.
Now it is very easy to find, at last!! green tomatoes of very good quality and I thought that combined with the asparagus it would go very well. To enhance the citrus flavor, I used kaffir lime leaf. I also added garlic, cilantro, harissa and crème frâiche.
The whole thing is extraordinary, a lot of flavor with a wonderful citrus touch that is very refreshing to eat. We can serve it both hot and warm and adjust it to the crazy spring weather we are having.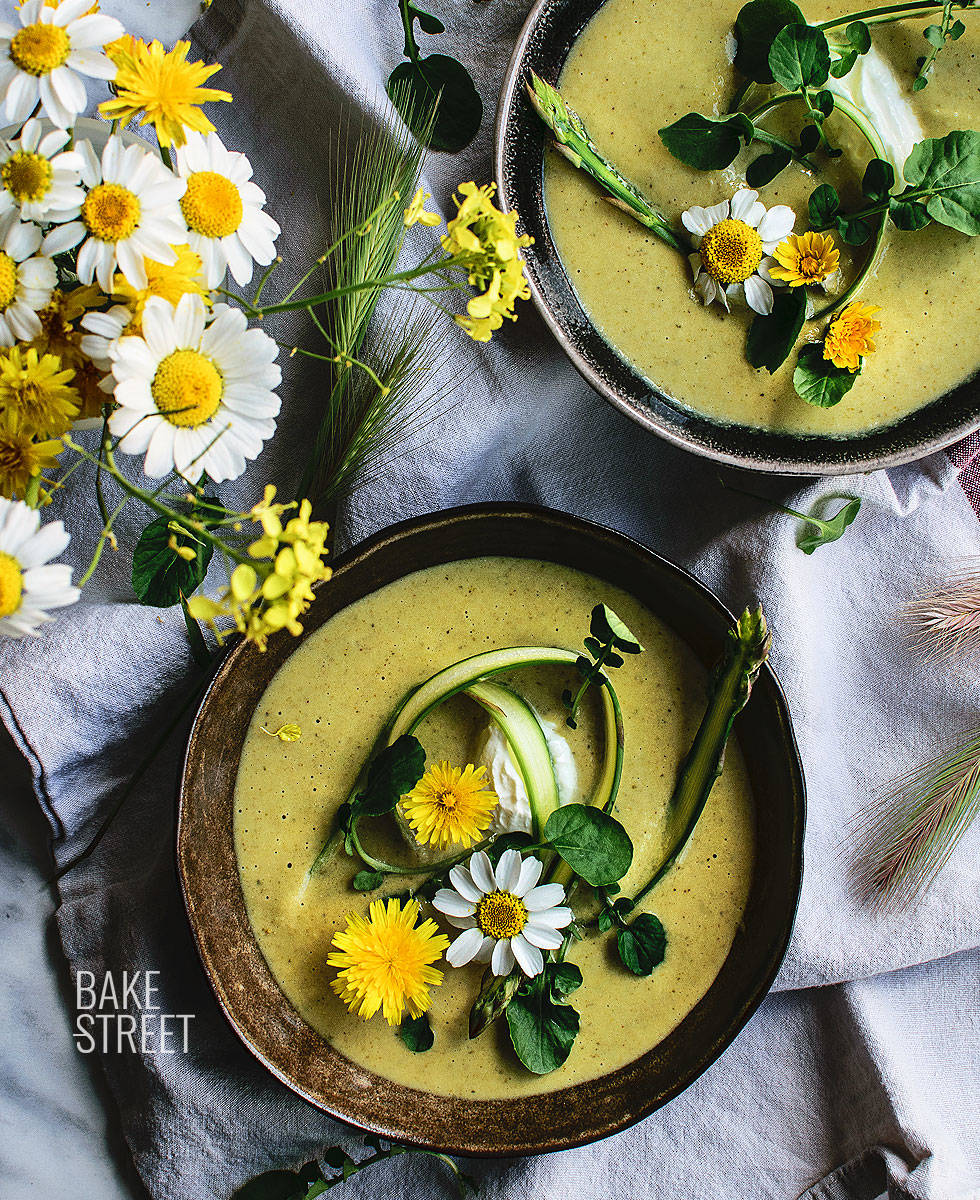 A spring Monday with a weather that does not finish being decided, with music, is much better. My recommendation for today is a group I love and (I think) have recommended to you on occasion . Zero 7  and their amazing song "Polaris", Youtube link.
Ingredients for 4 serves
a bunch of green asparagus, about 16 oz (450 g)
1 green tomato, about 6 oz (170 g)
1 large sweet onion, about 6,7 oz (190 g)
2 large garlic cloves
a bunch of fresh cilantro, 0,9 oz (25 g)
5-6 green garlics
17 oz (480 g) vegetable homemade broth
2 Tbsp olive oil
peel from one lemon
1,6 oz (45 g) tahini* (recipe on the link)
3 tsp harissa (recipe on the link)
3 Tbsp crème frâiche
1 Tbsp freshly squeeze lemon juice
1 lime kaffir leaf
salt and black pepper to taste
GARNISH:
1-2 raw green asparagus
watercress
2 tsp crème fraîche
black pepper
flowers (optional)
* Use sesame instead of almonds
Instructions
Sautée the vegetables.
Wash the asparagus, remove the last part of the stem (harder) and cut it into pieces. Set aside.
Wash the green garlics, remove the top and cut into pieces. Set aside.
Wash the green tomato and cut into wedges. Set aside.
Pour the olive oil into a medium pot and place over medium low heat.
Add onion, cut in chunks, and cook for 3-4 minutes or until semi-transparent.
Incorporate the chopped garlic and cook for another minute, stirring occasionally.
Add the asparagus together with the chopped green garlics and the green tomato. Sauté for 2-3 minutes, stirring occasionally.
Cook the cream.
Pour the broth together with the lemon peel and the kaffir leaf. Turn up to high heat until it comes to a boil.
Then, reduce to medium low heat and cook for 15-20 minutes or until the asparagus are tender.
Remove from heat and let stand, covered, for 10 minutes.
After this time, remove the lemon peel, the kaffir lime leaf and blend until we obtain a light and smooth cream.
Add the coriander leaves together with the lemon juice, tahini and harissa paste. Blend again until a homogeneous mixture is obtained.
Finally, add the crème frâiche with salt and black pepper to taste. Blend one more time until completely homogenized and get a creamy and smooth texture.
Serve.
Using a mandolin, cut the asparagus lengthwise.
Ladle the cream into individual serving bowls.
Decorate with a teaspoon of crème frâiche, laminated asparagus, watercress, some freshly ground black pepper and flowers (the latter is optional).
Serve immediately.
Notes
I recommend you always use homemade broth. We know what it is made with and the amounts of each ingredient. You can use the variety you prefer: vegetables, chicken with vegetables, meat...
If you do not have or do not want to use broth, it can always be replaced by water. But keep in mind that the final result will have less flavor.
When you cut the lemon peel, make sure it has no white part or it will add a bitter taste to the soup.
In case you don't have any kaffir lime leaves, just leave them out.
Do not use canned green asparagus, the taste and texture of the fresh can't be compared.

Do not limit yourself to a sesame tahini alone, remember that you can also make almond tahini or tangerine and ginger tahini (perhaps in this case it would be better to replace the tangerine with lemon).
Do not heat the soup, once the cilantro mixture is incorporated, for too long. Otherwise it will lose its bright green color.
Garnish, always, is totally optional. Do it the way you like and feel comfortable.
We can keep the cream in an airtight container for 2 days or freeze it.
Spring not only accompanies us in our daily lives, but we can also shape it and serve it at the table. This cream of asparagus, lemon, green tomato and tahini is a light, beautiful and very healthy option to start the week.
It does not require much time to prepare and we can leave it ready in advance if you do not want to heat it before serving it. Eating well doesn't have to be boring at all. Flat flavors should not be related to vegetables because that is the reason why many times they are not wanted to be eaten, it is all in the way of preparing them.
I hope you have a wonderful start to the week!
Big hugs,
Eva
Archivado en