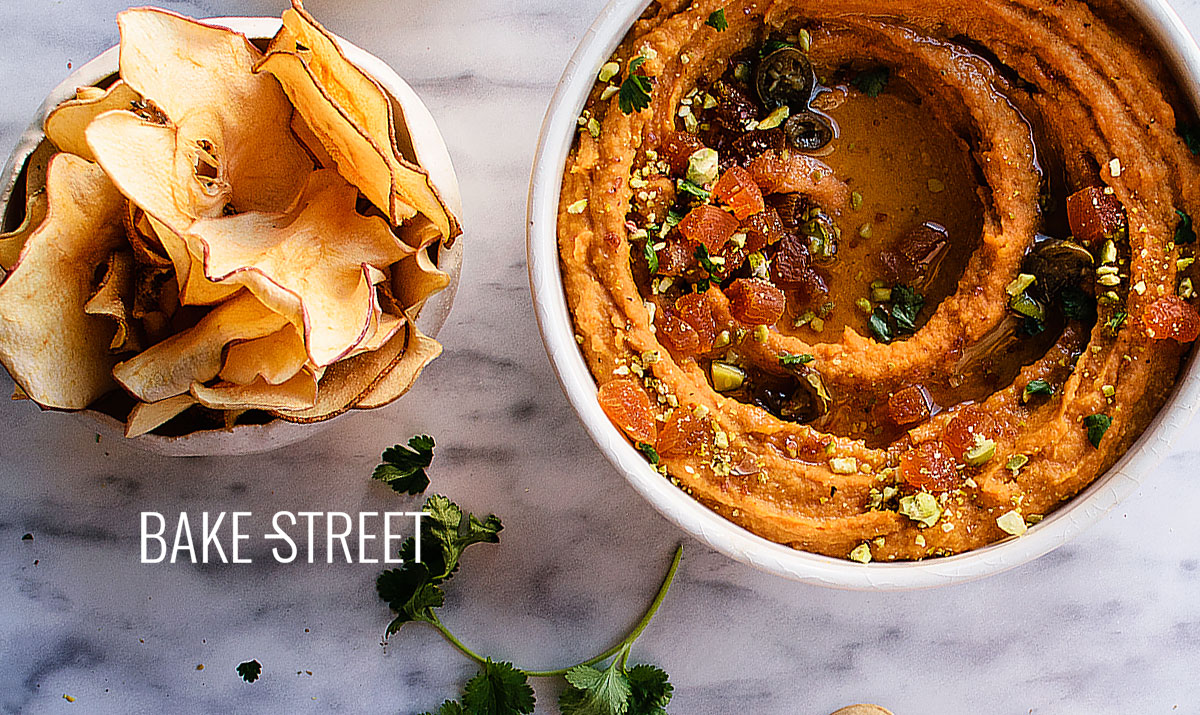 Apricot, tamarind and chile hummus
Este post también está disponible en Spanish
It is always good to have simple recipes at hand, which we can prepare in a moment and solve snacks, appetizers or starters. Hummus is one of those creations that are prepared in little less than 10 minutes and give us a wonderful result. Today I leave you a new variety that has us in love at home, apricot, tamarind and chile hummus.
The good thing about this type of sauces or dips is that they admit a variety of surprising ingredients, they are incredibly versatile. We can use and mix everything we like giving rise to a delicious and healthy dip. This recipe is an adaptation of Megan's blog Country Cleaver, I was fascinated and fell in love with the idea of mixing dried apricots and jalapeño. Spicy and sweet, this could only be a show for the senses.
So I set out to prepare it. You know that I always start from an idea, but I begin to vary it as I elaborate it. In this way we can adjust it to our personal tastes.
Pampering our palate.
Megan elaborates her hummus with yellow lentils, which I'm sure must be a real wonder. In my case, I didn't have these lentils at home, not even the red ones we usually consume a lot. So I simply changed the legume and used the most classic for these preparations, chickpeas.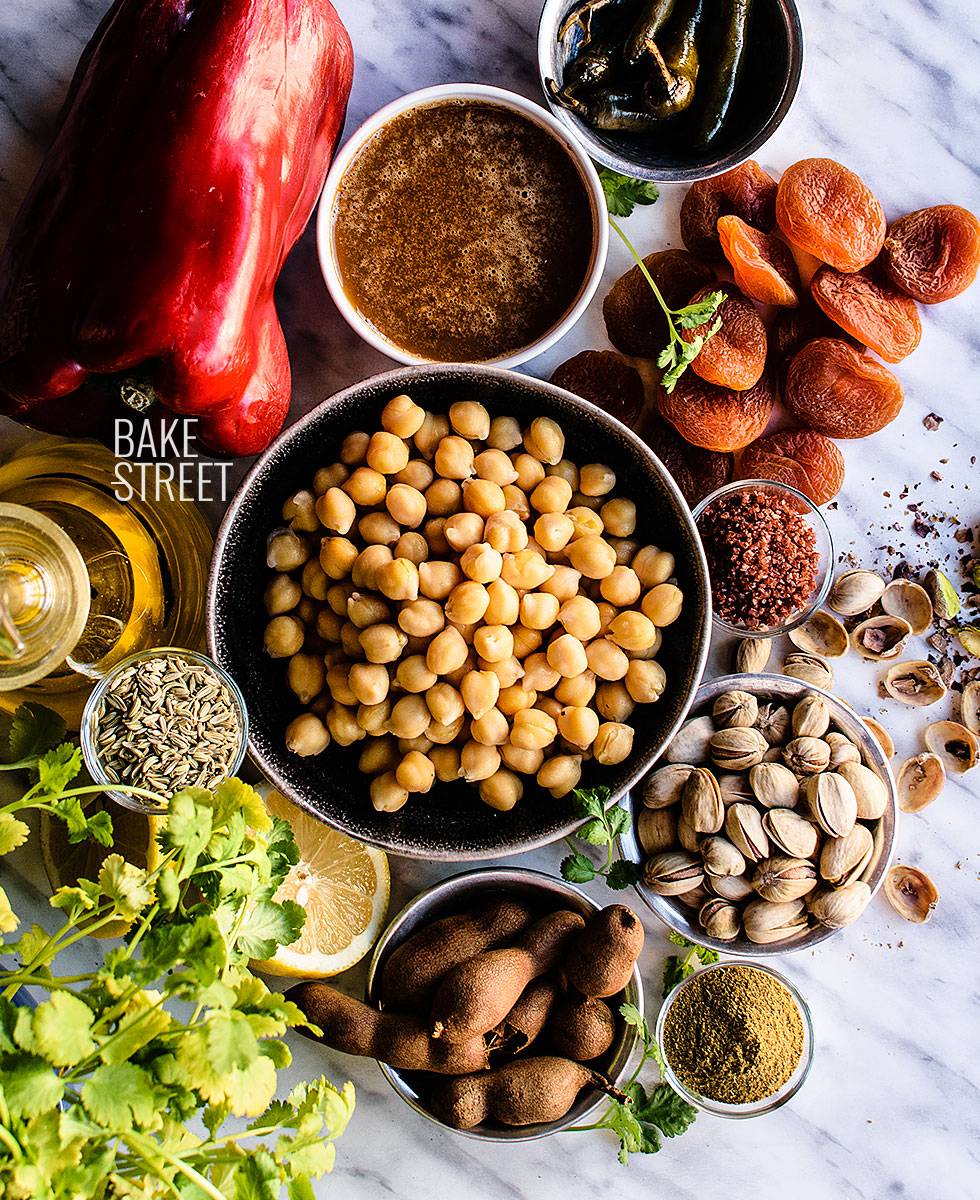 Jalapeño is a kind of chili that I like, but I prefer hotter ones. Instead I used pickled Serrano chili peppers that we can also buy fresh as well. I also added tamarind, a type of fruit whose meat can remind us of dates, but with a wonderful sweet-acid taste and toasted fennel seeds.
The tahini, on this occasion, was made with almonds that I left you some time ago and that I personally like very much. In fact, it's the last one I made at home and I had on hand, I always have a bottle of homemade tahini in the fridge "just in case". But if you want to use the traditional sesame tahini, you can see the recipe in this link.
Looking for the ideal companion.
This apricot, tamarind and chili hummus is so good that I would only need a fork to enjoy it. But since it's supposed to be a dip sauce, we'll look for ingredients that can make it even more delicious.
We always serve it with carrot and celery crudités, we love it this way. But this time I also served them with homemade apple chips that were great. Super crunchy and slightly sweet sheets accompanied by this hummus… No words. If you want to see how to prepare them, just look at this link (they are pear chips, but they would be made in the same way).
If you prefer something stronger than a fruit or vegetable, in that case you can serve it with naan bread, lavash* or even toasted bread. In addition to being able to spread it on toast, sandwiches…
* Only available in Spanish.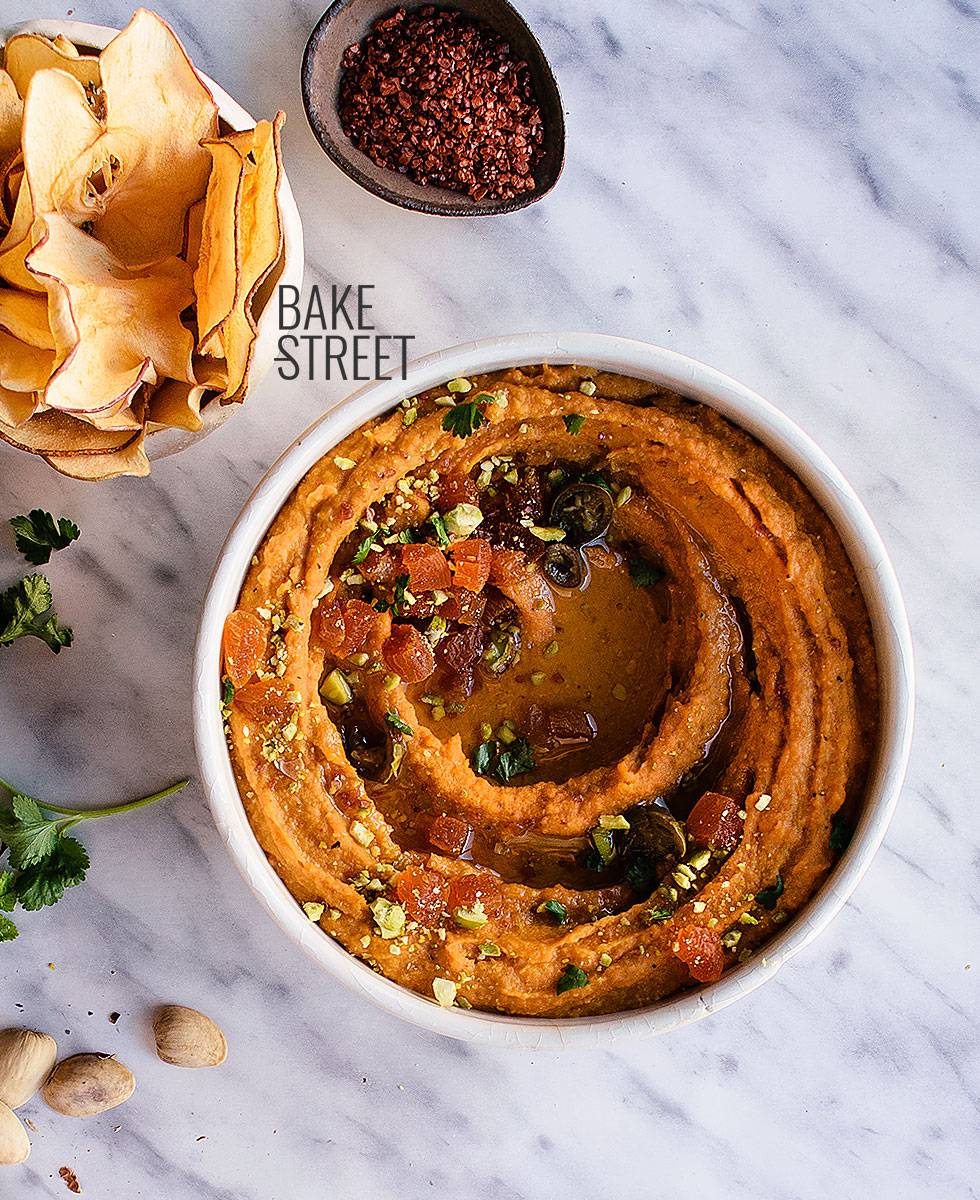 To begin this week, between summer and autumn I'm not clear with this crazy weather, I leave a song for you to start with good rhythm. An artist that I love Beck with this great song "Tropicalia" (link to Youtube). A mixture of rhythms that will take you to a paradise corner 😉
Ingredients
FOR THE APRICOT AND CHILI HUMMUS:
Recipe adapted from Country Cleaver
8,8 oz (250 g) cooked chickpeas
1,75 oz (50 g) freshly squeezed lemon juice
2,45 oz (70 g) almond tahini (recipe below)
0,8 oz (23 g) olive oil
0,25 oz (7 g) garlic (2 garlic cloves)
2,3 oz (65 g) dried apricots
1,4 oz (40 g) roasted red pepper
0,7 oz (20 g) Serrano chile
0,35 oz (10 g) tamarind, clean and seeded
1,4 oz (40 g) water
1/4 tsp cumin powder
1/8 tsp roasted and ground fennel seeds
salt to taste
ALMOND TAHINI:
3,2 oz (90 g) roasted or raw almonds
1,75 oz (50 g) olive oil
pinch of salt
FOR GARNISH:
2-3 chopped dried apricots
1 Serrano chile finely sliced
smashed pistachios
chopped fresh cilantro
olive oil
Himalayan red salt
Instructions
Make almond tahini.
If we use roasted almonds we can skip this step, but if you use them raw we must roast them beforehand. Arrange the almonds in a frying pan and place them in a medium heat.
Roast them stirring from time to time to prevent them from browning on either side.
Once they are golden brown, remove from heat and transfer into a food processor.
Pour the olive oil together with the pinch of salt and blend until a soft paste is obtained.
Keep it in a glass jar, cover and set aside. Once cooled, you can refrigerate until needed.
Make the apricot and chili hummus.
The night before soak the chickpeas.
The next day drain and cook them in salted water for 1 hour or until tender.
Drain well and let cool completely.
In a food processor add the chickpeas along with roasted red pepper, almond tahini, garlic, chopped dried apricots, tamarind flesh, Serrano chile and and turn on until smooth.
Pour lemon juice along with cumin, salt, roasted and mashed fennel seeds and olive oil. Blend again until get a creamy an homogenous mixture.
Pour the water to lighten the paste and process once more.
Transfer the hummus to a serving bowl, cover with film and place in the fridge until needed.
Serve the hummus.
Drizzle with a generous dash of olive oil.
Decorate with chopped apricots, mashed pistachios, slices of serrano chili, fresh cilantro and a pinch of red salt.
Serve with apple chips or whatever you prefer.
Notes
Can I use canned chickpeas? If you wish, yes. But in that case remember to drain them and rinse them thoroughly under cold water to remove the taste of "packaged food".
Can it be done with another legume? Of course, in fact the recipe I have based on uses yellow lentils.
The almond tahini can be replaced by sesame tahini if you wish. In my case I used this one, which was the last one I prepared at home because we like it very much.
The roasted red pepper, I recommend you, prepare it at home. I know we need very little for this recipe, but the flavor has nothing to do with packaging. We can always make this recipe at a time when we are going to roast peppers at home or vice versa.
If you can't find tamarind, it's okay, just skip it. The flavor it provides is sweet and acidic, very particular. If you want to know more about this fruit, you can see this recipe (only available in Spanish) in which I talk about it.
The Serrano chili can be replaced by another variety of chili that you like, jalapeño, other varieties of red chili.... In my case I also used pickled instead of fresh.
Fennel has a flavor that may not be pleasing to all palates. The amount used is very subtle, it only brings nuances that are perceived very distant. Also, by integrating it previously toasted and ground, it integrates very well into the set. But if you don't like this spice, omit it.
The dressings to accompany you choose your freewill. To me, which I love dried apricots, is what I liked best to finish the hummus along with pistachios that bring color and flavor, plus cilantro and red salt.
We can store the hummus in an airtight container refrigerated for 4-5 days.

 
This apricot, tamarind and chile hummus will change the chip completely with respect to this type of creams. Its flavor is a union of sweet, spicy, acidic and sweetness and creaminess that is very pleasant.
Pistachios are great for this hummus, not only because of the contrast of color (which is obvious) but also because of the combination of flavor of this nut and those of the cream. To finish off a little fresh cilantro and a pinch of red salt (I love the different types of salt, I have a lot at home, obviously this ingredient is optional) and you will have it ready to enjoy.
Have a happy start to the week, happy Halloween and see you on Friday. There will be no post on Wednesday because it is a holiday and all the chaos that goes with it these days at home.
Big hugs,
Eva
Archivado en