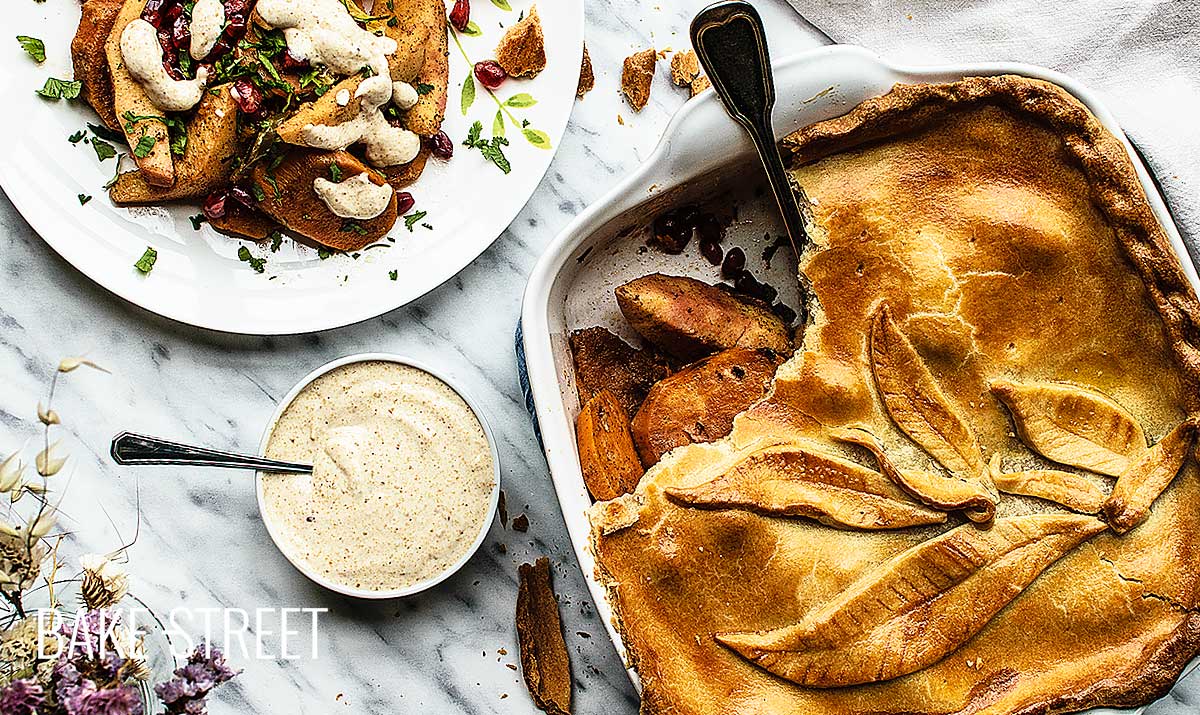 Sweet potato, quince and pomegranate pie
Este post también está disponible en Spanish
I was so anxious to bring a quince recipe! You know that my parents have a huge quince tree in their house and every year they reward us with an excessive amount of them. Of course, this year I brought a shipment home again, but until now I haven't had time to cook them. It's a good thing they keep them in a cool, dry place. My first recipe this year using them is this sweet potato, quince and pomegranate pie.
I am fascinated by each and every one of the ingredients that are part this pie and, I think, one of the main reasons is that they are seasonal products. Which makes us like them even more, because we can't always enjoy them.
Anyway, I was really looking forward to baking a sweet potato quince pie. Why is that? For the combination of both flavors. One is sweet, soft, creamy against the other with a more citric, fresh and rough textured flavor. Being so different they had to give very good results together. And so it was.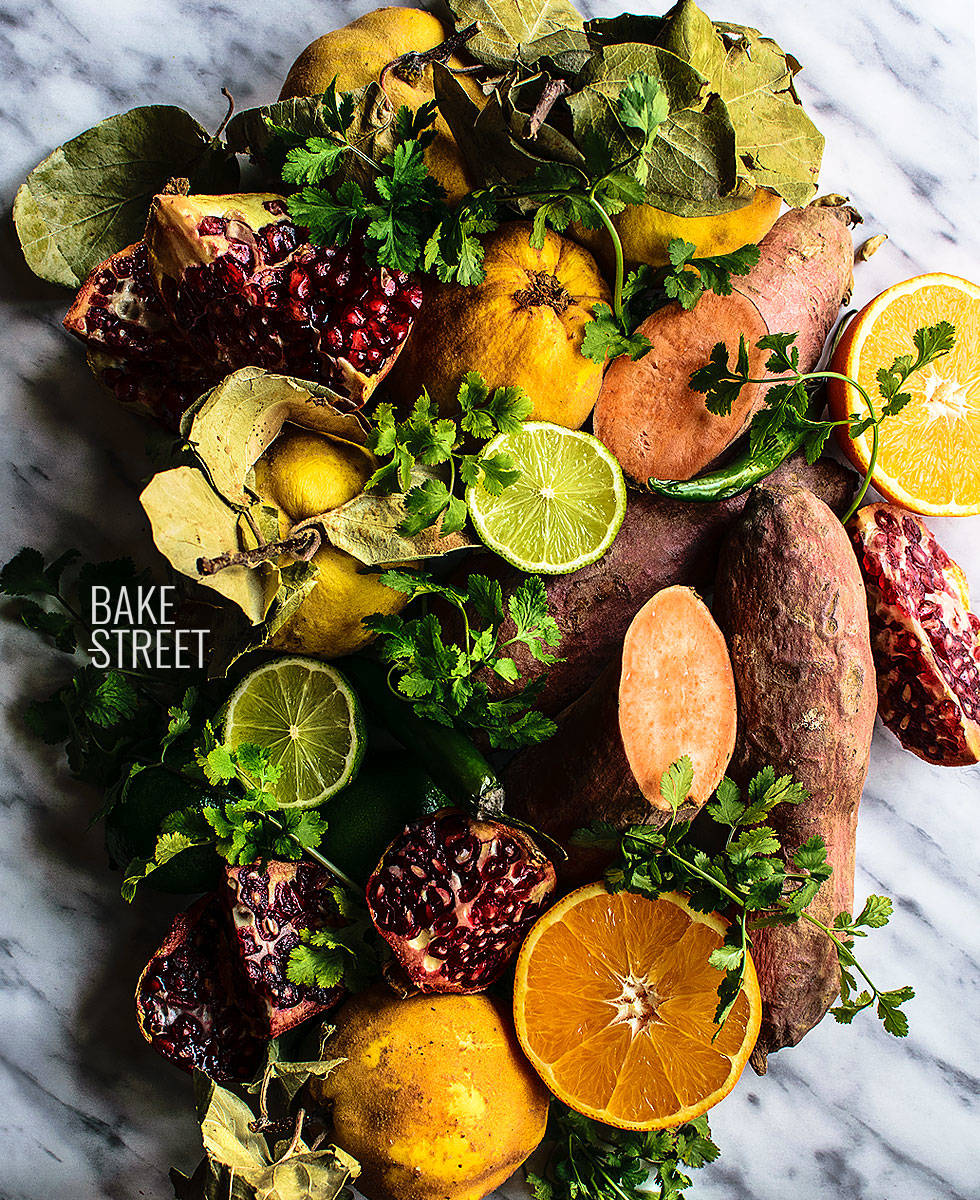 Pie or fake pie?
The truth is that at first glance we see a piee that should have dough on the bottom, but we will only use it to cover the pan. With it we will finish the interior cooking and also achieve a beautiful presentation of our elaboration. And of course, you can eat it! We will obtain a golden and crisp layer that will be perfect to accompany the filling. Not to mention the satisfaction of breaking the top layer to see the inside… superb! 😉
How can we enhance all these flavors?
With a yoghurt and tahini sauce (a wonderful recipe from Ottolenghi, from his book Plenty) that will bring a lot of flavor and life to vegetables. Ottolenghi suggests us to use a sesame tahini, but if you want to go a little further, I recommend making a tangerine and ginger tahini. To do this, we will need to prepare the sesame tahini beforehand and then mix it with tangerine, ginger, soya… below I leave the entire process of elaboration.
When serving dishes, decorate with more fresh pomegranate, which will add a crunchy and fresh touch, along with chopped fresh cilantro. We can have it prepared in a bowl and at the time of tasting it each one can be served to your liking or we can do it, this I leave it to your choice.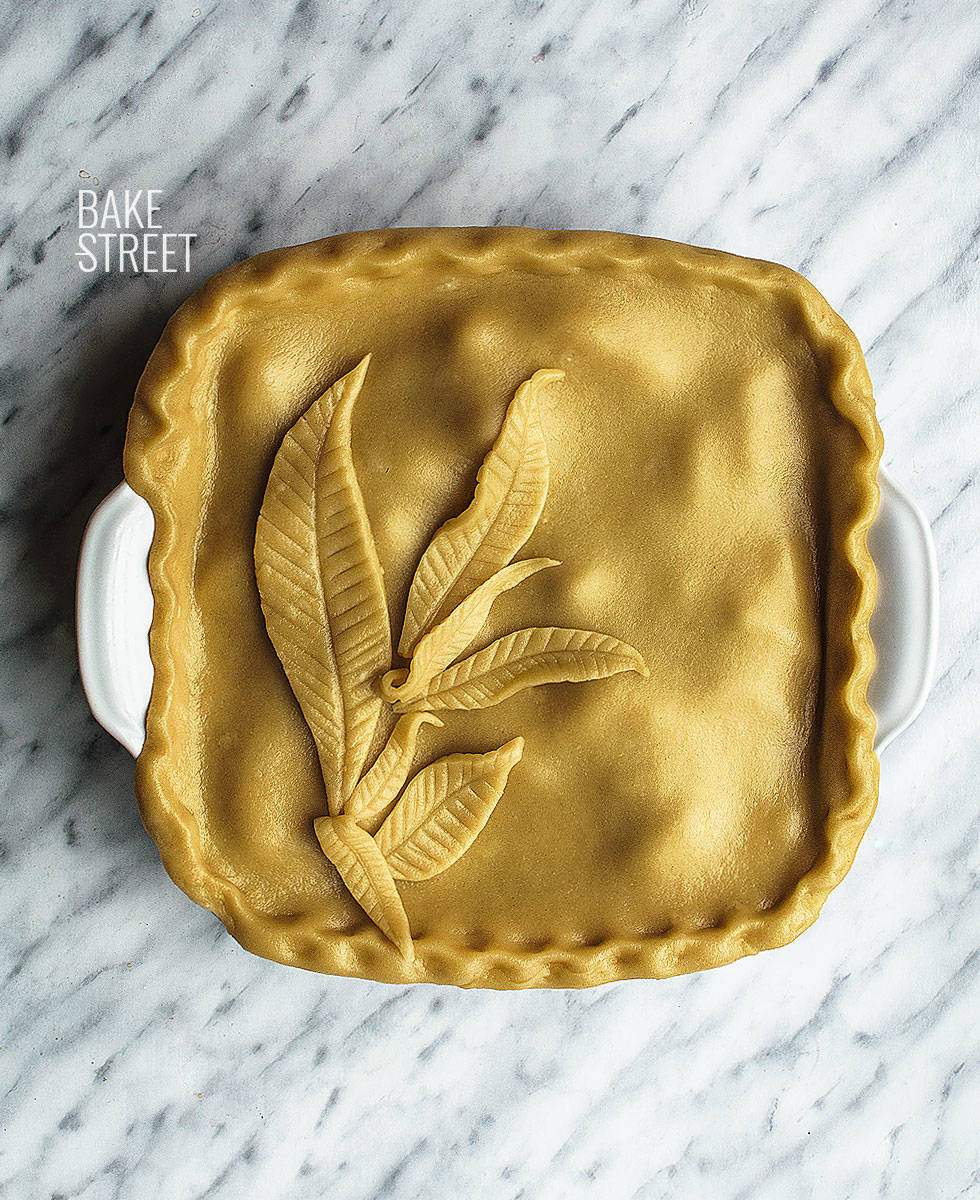 Which pan should I use?
The pan we use to present it can be anyone you have at home and with whom you feel comfortable when working. The shape does not have to be square or rectangular, remember that we can adjust the dough to the size of the pan without problems. In my case I have used this Emile Henry ceramic pan with 10,6 x 9 x 2,75 inches (27 x 23 x 7 cm) side so that you can have a reference.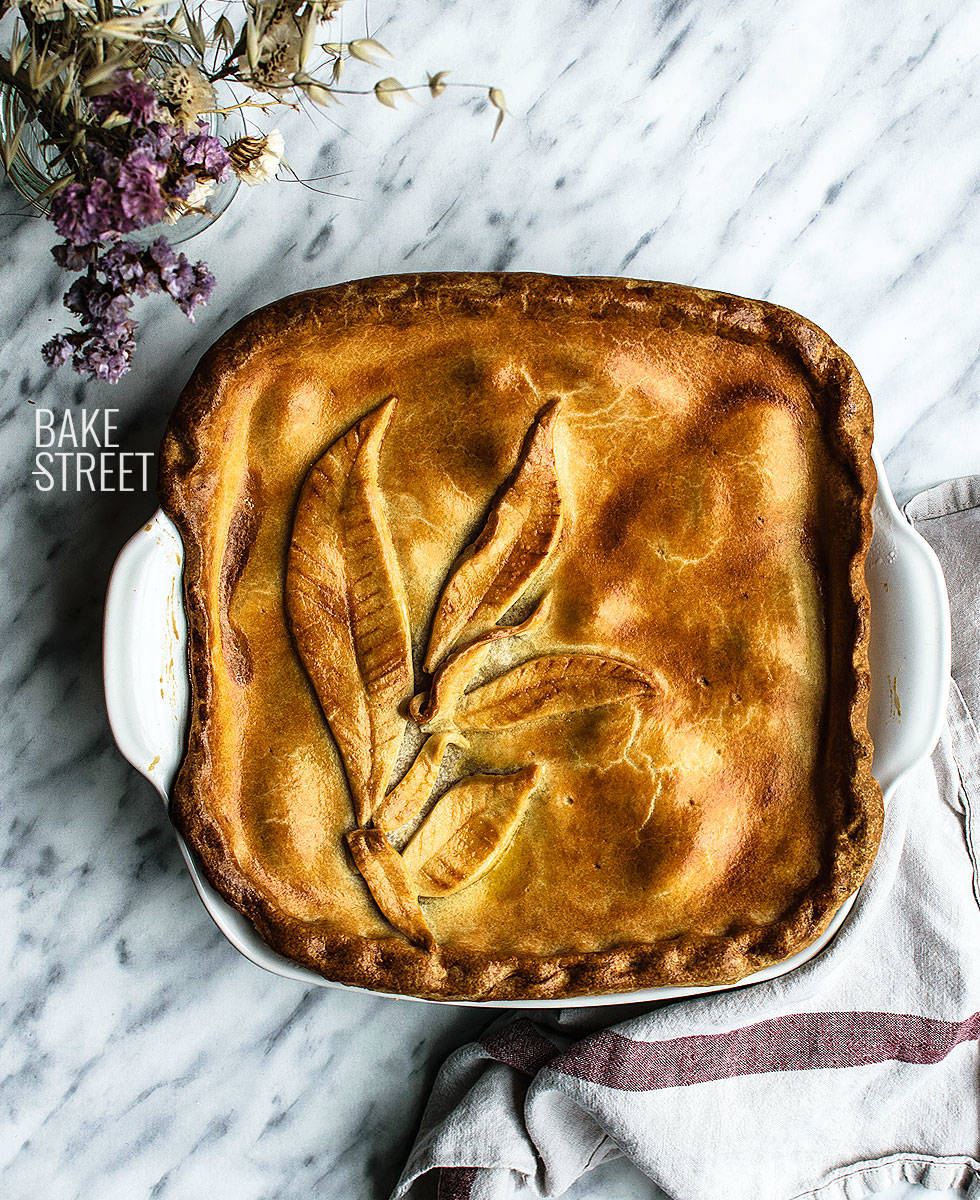 Ingredients for 4 serves
FOR THE FILLING:
23 oz (650 g) sweet potato, peeled
17,6 oz (500 g 9quince, peeled and seedless
1 pomegranate
1 orange
50 g olive oil
3 g cardamom seeds
1 tsp all spices
a bunch of fresh cilantro, only leaves
1 fresh green chili finely sliced
vanilla salt (recipe on the link)
FOR THE DOUGH:
17,6 oz (500 g) plain flour
5,3 oz (150 g) whole milk
5,3 oz (150 g) sunflower oil
1 large egg
1 tsp salt
1 beaten egg + pinch of salt to brush
FOR YOGURT AND TAHINI SAUCE:
3,5 oz (100 g) unsweetened Greek yogurt
1,4 oz (40 g) tahini* o tangerine ginger tahini (recipe below) if you don't mind carrying out a longer process, I recommend this last one (recipe on the link)
juice of 1/2 lime (in case to make sesame tahini)
pinch of salt
* Use white sesame instead of almonds
FOR THE TANGERINE GINGER TAHINI:
4,4 oz (125 g) sesame tahini
2 tsp honey
2 tsps apple vinegar
1 Tbsp soy sauce
zest of one tangerine
2,8 oz (80 g) freshly squeezed tangerine juice
1/2 tsp ground ginger
1 small Cobán chili pepper
pinch of flaky salt
Instructions
Make the dough.
In the bowl of the stand mixer add the flour together with the milk, egg and salt.
Mix with the hook at low speed till you get a crumbly texture.
Add the oil in a continuous thread while kneading.
Knead until the dough is completely smooth and homogeneous with a fully developed gluten. It'll take about 15 minutes.
Shape it into a ball, put it in a bowl and let it rest for 2-3 hours.
Make the sauce.
In a bowl, mix the Greek yogurt together with the tahini, lime juice and the pinch of salt until homogenized.
If we make tangerine ginger tahini, mix all the ingredients except lime juice.
Cover with film and refrigerate until the moment of its use.
Prepare the filling.
Preheat the oven to 375ºF (190ºC).
Line a baking tray with parchment. Set aside.
In a mortar, crush the cardamom, remove the pods and grind the seeds. Set aside.
In a bowl mix the oil together with the cardamom and all spices.
Peel sweet potatoes and cut into slices. Placer on the baking tray.
Peel the quinces, remove the core with a Parisian spoon and cut into segments. sprinkle with lime juice to keep it from getting dark. Dump on the baking tray together with the sweet potato.
Sprinkle with vanilla salt. Pour the mixture of oil and spices, mix with the help of your hands to cover them completely with the mixture.
Bake for 15 minutes.
Remove and cool completely. It will take about 20-30 minutes.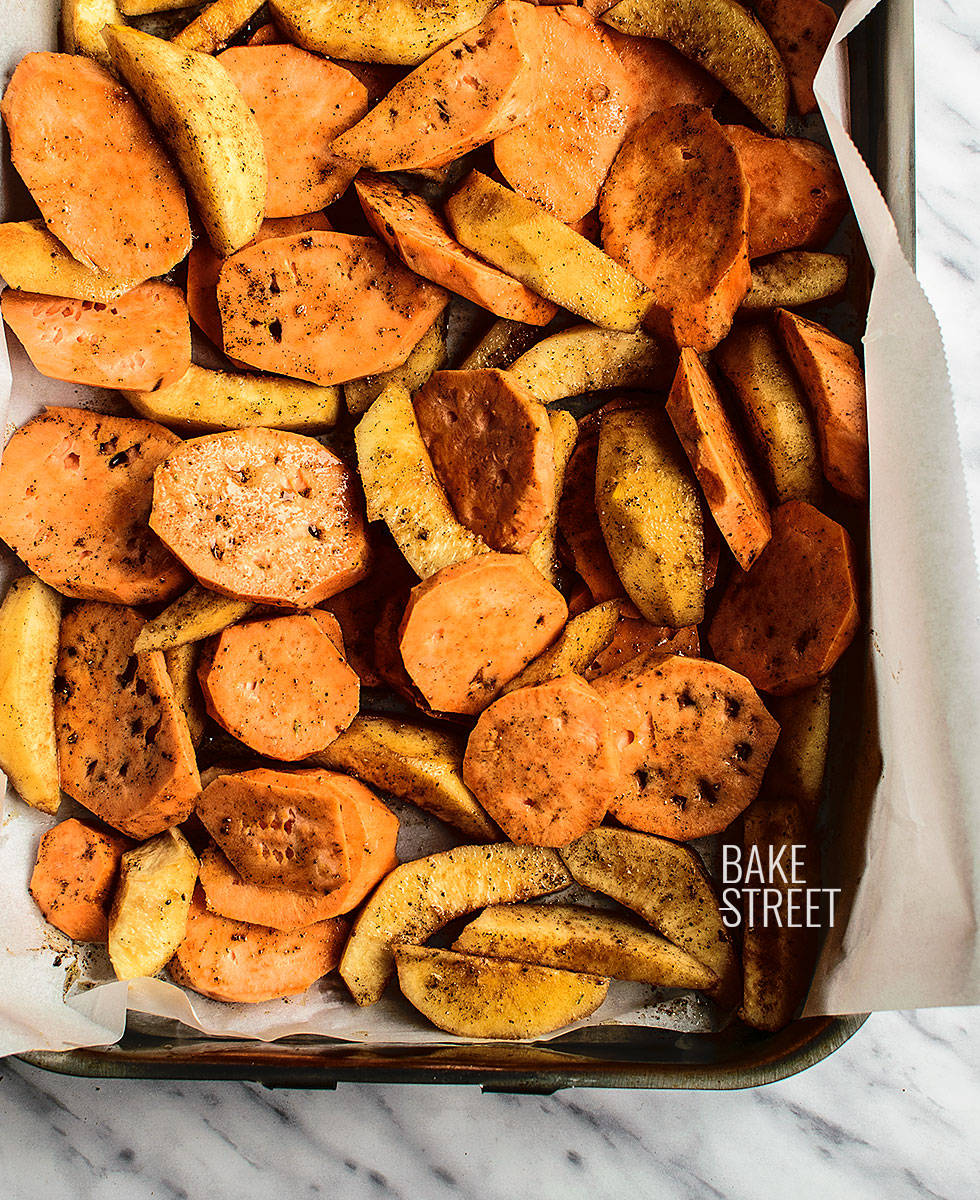 Meanwhile, we preshape the dough.
Divide the dough into two equal pieces.
Make two balls and cover with a film. Let stand for 20 minutes.
Assemble the pie.
Cut the orange into slices, cut the outer peel and divide these into halves.
Place the sweet potato and quince, previously baked, in the Emile Henry pan.
Spread half of the pomegranate on the surface together with half of chopped fresh cilantro, orange and green chili slices.

Stretch the dough and decorate.
Preheat oven to 380ºF (195ºC).
Stretch one of the pieces with a roller, we must obtain a thin dough. We will shape a rectangle slightly larger than the size of the pan.

Place the dough on the pan, use the roller to carry out this step.

Adjust the edges to the pan, trying to seal it well. In case there's a doughsurplus, we'll cut it out. Shape the edges by creating furrows.

Stretch the other piece of dough by creating a rectangle of the same dimensions as the first.
With the help of a knife we will cut leaves of different sizes to decorate the pie. We will simulate the relief of the leaf by marking the underside of a knife.
Place the leaves on the surface of the pie to your liking.
Prick the surface of the dough with a knife, brush the surface with beaten egg and bake for 40 minutes.
Remove from the oven and let it warm for a few minutes on a rack.
Serve with yogurt and tahini sauce. Decorate with more fresh pomegranate and cilantro when plating.
Notes
The vegetables should be cooked only lightly and help to achieve a slightly roasted point. Remember that we will bake them again covered with the dough.
Remember to use only cilantro leaves without the stems, these always tend to be bitter.
The pomegranate, add half together with the sweet potato and quince to cook in the oven, and the other half use it to finish decorating the dishes when served. It is curious the tender texture that it acquires after baking, but if you are not convinced, you can always add it right after serving the dishes.
The dough does not contain yeast. It is a type of dough that does not need to rise, just to rest so that the stretching process is much easier.
The dough can be made with sunflower oil, instead of olive oil that has a stronger flavor. But if you wish, you can use the other one instead.
We will have dough left over, this can be frozen wrapped in film or used to make pastries or individual pies. It's actually the same dough I use to make empanada (Spanish Galician pie).
Yogurt can be substituted with crème fraîche, very dense cooking cream or coconut yogurt.
I have used homemade tangerine ginger tahini, but remember that it can be substituted by other tahini recipes such as almond or sesame tahini.
Remember to make the most of seasonal products, which is when we must consume them. This sweet potato, quince and pomegranate pie is great to serve as an entrée, accompaniment to a main course or even as a dinner.
I hope you start the week full of energy!
Big hugs,
Eva
Archivado en