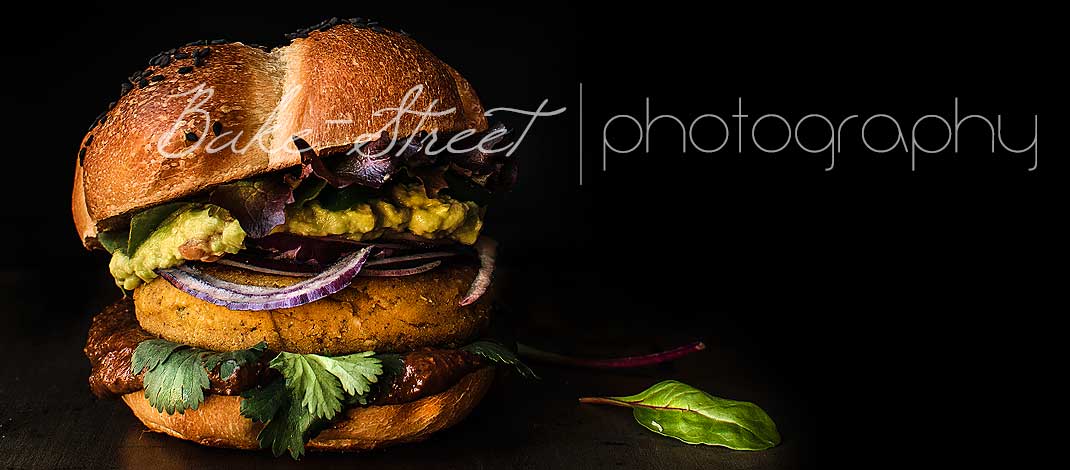 Pumpkin and yuca burger with guacamole
Este post también está disponible en Spanish
Surely you already imagined that would be today recipe … Kaiser rolls made it clear! Yes, indeed I bring a new vegan burger (which I really love!) and this time is a pumpkin and yuca burger with guacamole.
If you knew how much flavor there is together in this small burger … Not only in the vegetable patty, that it has a lot of flavor, but also thanks to another of its garnishes. The mole negro.
Before taking a few holidays at Easter I made some stuffed green peppers with mole negro sauce (it is not the original, but it is also very savory). I made a lot of it and I decided to freeze in small tuppers, so I could make good use of it to accompany different dishes. In fact I already had thought to incorporate it in this burger like dressing, a mixture of sweet and very powerful spicy flavors. I love it!
The final result is spicy and very tasty, but you can always reduce and adjust the power to your taste in case you do not like it. Or simply omit the mole negro and use another dressing to your choice.
Between the two main burger ingredients one of them is yuca, I imagine many of you already know it. Although I had seen it since I was a child, I had never given a try. I have tasted it in many restaurants and it is that it is absolutely delicious if you know how to cook it, since without anymore, it does not taste great.
What is yuca?
Yuca is a tubercle also called cassava, guacamot or manioc and is grown mainly in America, Asia and Africa where it plays an important role in its gastronomy.
There are two types of yuca; sweet and bitter. The latter is not suitable for use, at least the way we usually cook it in our homes. But do not worry, the one that we can find in supermarkets, markets or places of trust will not be toxic, this could happen in roadside stalls.
Bitter yuca is toxic because it has a high content of cyanide. This variety of yuca is used for the traditional elaboration of casabe, a very fine and crisp unleavened bread. To prepare it the pulp is grated and subjected to a pressing to extract the poisonous juices, this process usually lasts 24 hours. After this rest, the dough is sieved and with it are made flatbreads on a plate called budare.
The flesh of the sweet cassava is softened within a few minutes of cooking it unlike the bitter cassava. What we must be clear is that we can not consume it raw because it is toxic in both cases, it should always be cooked.
It has many nutritional benefits; It is satiating, easy to digest, has a high energy content, is suitable for celiac, depurative, anti-inflammatory, neurostimulant and antioxidant.
An explosion of flavor …
You will already have noticed that I like the spicy flavors… Today's hamburger revolves around that side of the palate that gives us happiness every bite. For that reason the rest of the dressings will try to be fresh and with a citric touch, to help refresh and compensate the flavors.
PUMPKIN AND YUCA BURGER:
6 patties
10,5 oz (300 g) roasted pumpkin
3,5 oz (100 g) cooked yuca
2,8 oz (80 g) roasted hazelnuts
1,25 oz (35 g) oak flakes
4,4 oz (125 g) chickpea flour
2 garlic cloves
0,7 oz (20 g) shallot
0,3 oz (8 g) red chile
0,3 oz (9 g) Serrano chile
0,15 oz (4 g) fresh cilantro
0,15 oz (3 g) yellow mustard seeds
0,3 oz (9 g) olive oil
1 tsp cumin powder
1/2 tsp all spice
1 tsp Garam Masala
1/2 tsp dry oregano
1 tsp Worcestershire sauce
0,18 oz (5 g) salt
FOR GUACAMOLE:
1 medium ripe avocado
1 ripe and firm tomato
a dash of fresh lime juice
a dash of olive oil
salt to taste
GARNISH:
mole negro
fresh cilantro leaves
red onion finely chopped
finely slices of fresh green chile
sprouts to taste
INSTRUCTIONS:
Bake the pumpkin.
Preheat oven to 390ºF.
With a sharp knife, and very carefully, cut the squash in half lengthwise. Remove the seeds and place in a tray previously lined with baking paper.
Brush the pumpkin surface with olive oil, a pinch of salt and freshly ground pepper and place in the oven  at medium height for 60 minutes *.
Every 20 minutes, open the oven and brush again with olive oil. We will do it a total of 3 times.
Remove from the oven and let cool completely.
Cook the yuca.
Cut a piece of yuca, since it is usually larger than the amount we need, and keep the rest in the fridge wrapped in film.
Cut into slices of about o,4 inch and peel it.
Place the chunks in a bowl with water and let it soak for 2 hours.
Fill a medium pot with water. Place over medium heat high and let until the water boils.
Once the water is boiling, add a pinch of salt along with yuca slices.
Cook for 20 minutes or until tender.
Remove from heat, drain and set aside.
Make pumpkin and yuca burger.
In a food processor add the chopped roasted squash along with cooked yuca, hazelnuts, oat flakes, garlic, shallot, chilies, fresh cilantro, spices, Worcestershire sauce and olive oil. Blend until get a homogeneous paste.
Try and add salt to taste.
Transfer the mixture into a bowl and add the chickpea flour. Mix until combined.
Try again and add salt to taste if needed.
Cover with film and refrigerate for 1 hour.
Made the burgers, divided into 6 equal patties, about 3,5 oz (100 g) each.
Wrap in film individually and refrigerate until the moment of its use.
NOTE: The burger mixture is not too thick but can be handled well. The ideal is to cook them directly from the cold and, once in the iron skillet, it will be easy to work with.
Make guacamole.
Wash and dry the tomato.
Cut into small squares, set aside.
Split the avocado in half and remove the pit.
With the aid of a spoon remove the flesh and transfer into medium bowl.
Squeeze the lime juice to prevent it from rusting.
Mash with a fork to obtain a paste.
Add the chopped tomato along with the salt and the olive oil. Mix until homogenized.
Try and add salt to taste if necessary.
Cook burgers.
Heat a cast iron skillet over medium heat and add a dash of olive oil (or another kind of vegetable oil).
Transfer the patties and cook for 3-4 minutes by side, they must have a nice crust but do not burn them!
Remove from the heat and assemble the burgers.
PRESERVATION: Vegetable burgers can be refrigerated wrapped in film for a couple of days or frozen for 1 month.
To serve these burgers I used these fluffy, sweet and wonderful Kaiser rolls that I posted a couple of days ago, but you can use those that you prefer without a doubt. The burger, of course, you can assemble it to your liking but I share a suggestion that I assure you is great.
Spread a base of mole negro, some fresh coriander leaves (be generous), the pumpkin and yuca patty, finely slices of red onion, guacamole, green chile slices and some sprouts at your choice.
Amazing, believe me. It has been a long time without made new veggie homemade burgers and this option has really pleased us. So much that all I made did not last more than 3 days …
Big hugs,
Eva
Sources: Eco Agricultor, BBC.