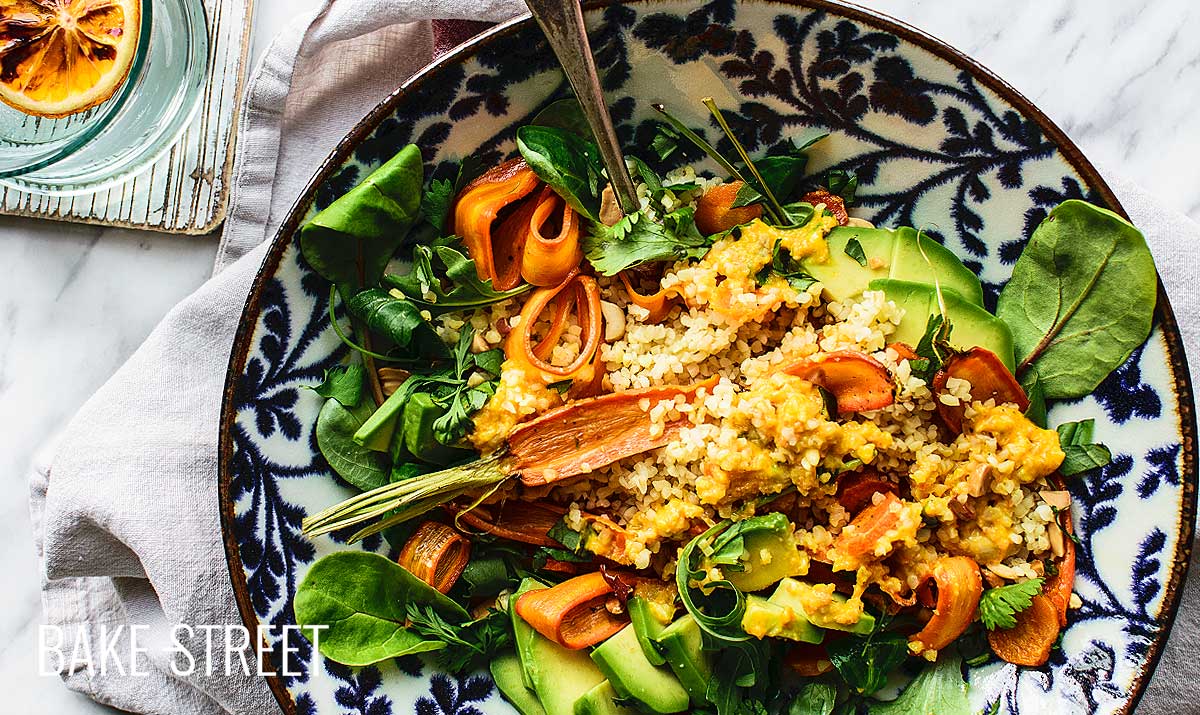 Bulgur and roasted carrots with chipotle ginger sauce
Este post también está disponible en Spanish
I'm sure you've noticed by now that a nice relationship has developed between me and bulgur. I could say it's the same one I have with the noodles. If you're wondering why, the reason is very simple. It is an ingredient that we can use to prepare an infinite number of dishes in a very short time, but at the same time, it allows us to eat in a healthy way. Like this bulgur and roasted carrots with chipotle ginger sauce.
It is a dish that is halfway between a warm salad and a vegetable dish. To do this, we will use sprouts of our choice (in my case you can never miss the arugula, I love it to die), bulgur, carrots, avocado, nuts and a sauce that will make you fall in love.
Thinking about recipes for good weather.
This year the spring is being like it hasn't been in years. Rainy, cold, warm, with constant changes of temperature that lead to constant changes of clothing…. At first light you can go out as if it were February, but in the middle of the day it seems that you are in August. For my part, I don't see the day when the hot weather will come at once and I'll stop walking around with my jacket hanging from my arm.
Since I usually prepare my recipes well in advance, today's recipe has fallen on a not very hot day. I thought we'd be in a warmest time almost at the beginning of June, but here we are, sleeping with a duvet. The salad is delicious, but it doesn't seem to be its moment. Or yes.
The good thing about salads is that they can be eaten at any time of the year if we accompany them with cooked ingredients. Like today's version. And, of course, keep them in mind for that moment that is coming (dear summer, don't make yourself beg any more) when we want to stay away from the stove.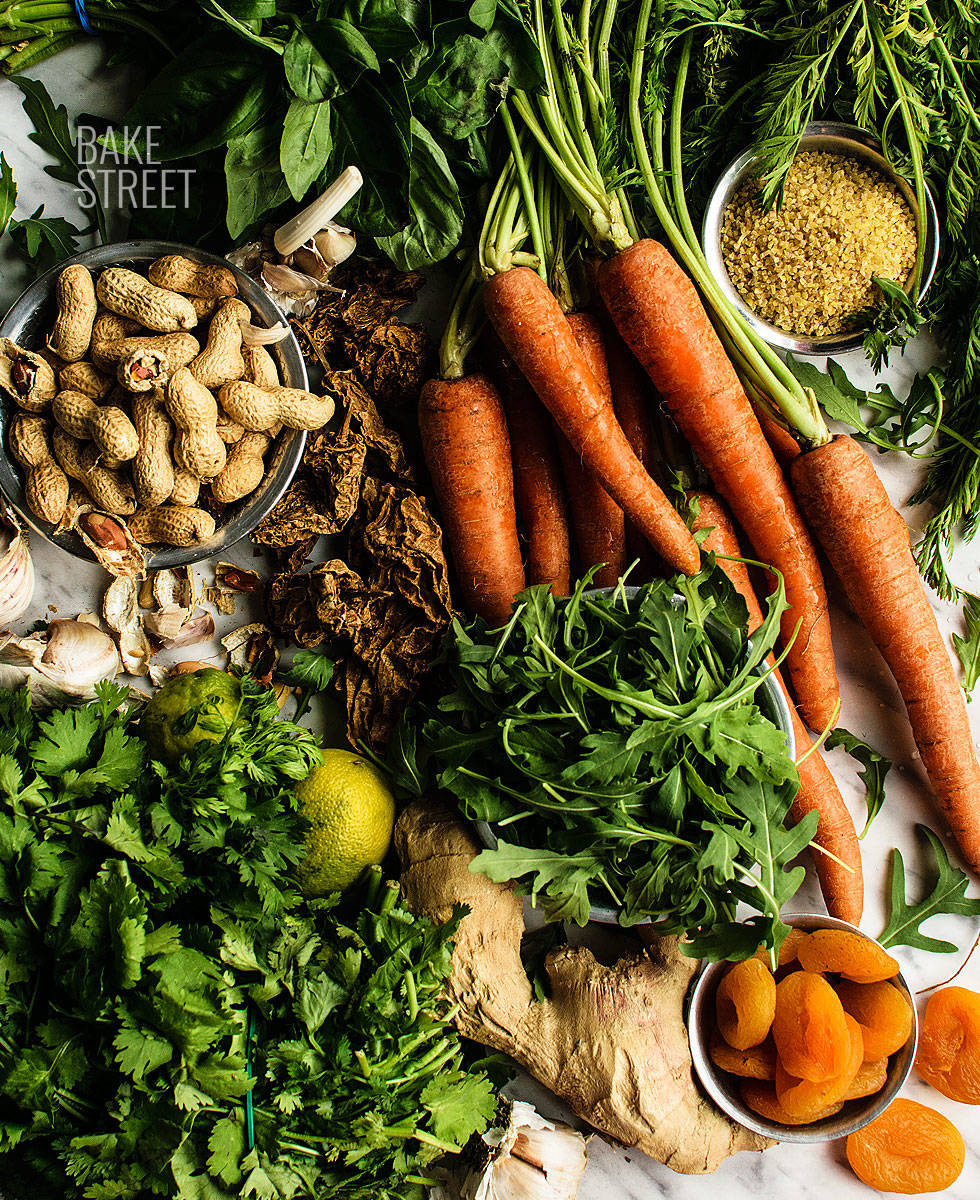 A very simple process.
To prepare this salad we will need to hydrate the bulgur. If you remember, in the recipe for the aromatized bulgur salad with blood orange, plum and yoghurt, I told you all about bulgur and how we can use it. In case you want to keep an eye on it.
While we hydrate the bulgur, roast the carrots. We will cut them in two different formats so that they can be integrated into the dish mixed with the bulgur and decorate the surface in a more attractive way. They will need to be baked very short, just long enough to roast and make them lose their stiffness.
And, finally, let's make the sauce. In this case you can do it a few hours before, or even the night before, or while the other two preparations are being finished. As simple as processing all ingredients, testing and rectifying. You'll try it a thousand times, because it's an explosion of incredible taste. Chipotle, ginger, garlic, carrot, dried apricots, lime….
Who said eating well was laborious? 😉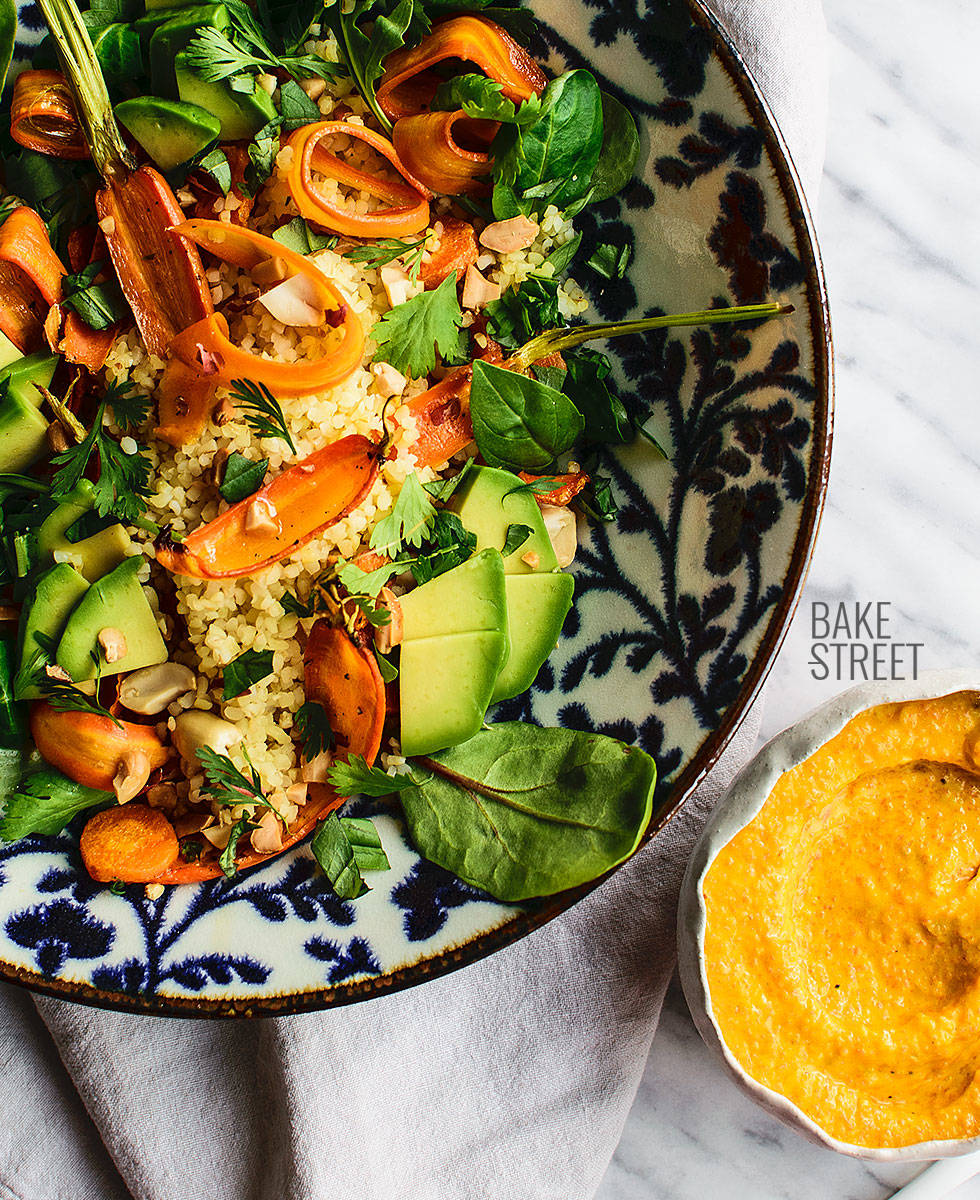 Ingredients for 2 serves
FOR THE BULGUR:
120 g bulgur (1/2 cup)
2 measures of boiling water for 1 bulgur, in my case 1 cup
pinch of salt
FOR GARNISH:
5 large carrots
olive oil
1 avocado
sprouts to taste
roasted peanuts
fresh cilantro y basil
FOR THE SAUCE:
100 g raw carrot
16 g fresh ginger, peeled
1 dried chipotle
30 g dried apricots
9 g garlic
10 g fresh lime juice
45 g olive oil
110 g crème fraîche
salt and ground black pepper to taste
Instructions
Prepare bulgur.
Add the bulgur in a bowl, set aside.
Fill a pot with a little more water than we need. Place over medium heat and leave to boil.
Remove from the heat and pour over the bulgur.
Add the pinch of salt, cover with a plate and leave to stand for 30 minutes.
After this time, the bulgur will have absorbed all the water.
Bake the carrots.
Preheat the oven to 390ºF (200ºC).
Peel the carrots and remove part of the stem.
Cut two carrots with a sliced knife and laminate the other three with a mandolin.
Place on a tray lined with baking paper, season with salt and pepper, some olive oil and bake for 18-20 minutes.
Remove from the oven and set aside.
Make the sauce.
In a blender, add the carrot, previously peeled and chopped, along with the ginger, garlic, dried apricots, chopped chipotle and olive oil.
Blend until we obtain a homogeneous mixture.
Add the lime juice together with the crème fraîche and blend again. We will have to do it several times until we obtain a smooth and homogeneous consistency.
Season to taste, blend one more time and taste. Rectify if necessary.
Pour into an airtight container and refrigerate until serving.
Assemble the salad.
Put a base of sprouts of our choice on a plate or platter where we will serve it.
Place the bulgur on top with the roasted carrot.
Decorate with chopped avocado, lightly crushed peanuts, cilantro and fresh basil.
Serve with the sauce.
Notes
The bulgur doesn't need to be cooked, it just needs to rest in boiling water. This step will allow us to advance the rest of the ingredients while hydrating.
Carrots should not be overcooked (soft). They should be tender, but keep a slightly firm texture.
I recommend using roasted peanuts instead of fried peanuts. For my personal taste, the flavor is better.

If you don't like them or can't eat peanuts, you can replace them with another nut you like better. Cashews, almonds, hazelnuts... Even sunflower or pumpkin seeds.
The sprouts and aromatic herbs are totally up to you. I have suggested you those I like the most, such as arugula, lamb's lettuce, coriander, basil... But feel free to use the ones you like or have on hand.
The sauce can be kept refrigerated for 3-4 days.
I'll never get tired of this bulgur and roasted carrots with chipotle ginger sauce. The taste is spectacular, refreshing, soft and light. And the sauce... I think it has the same danger as when we make homemade lemon curd. You can't stop eating it, this will happen to you anyway.
Take good note of these simple recipes for those days when we have little or no time to cook. They are perfect to prepare them in a few minutes and enjoy them very, very much.
Big hugs,
Eva
Archivado en