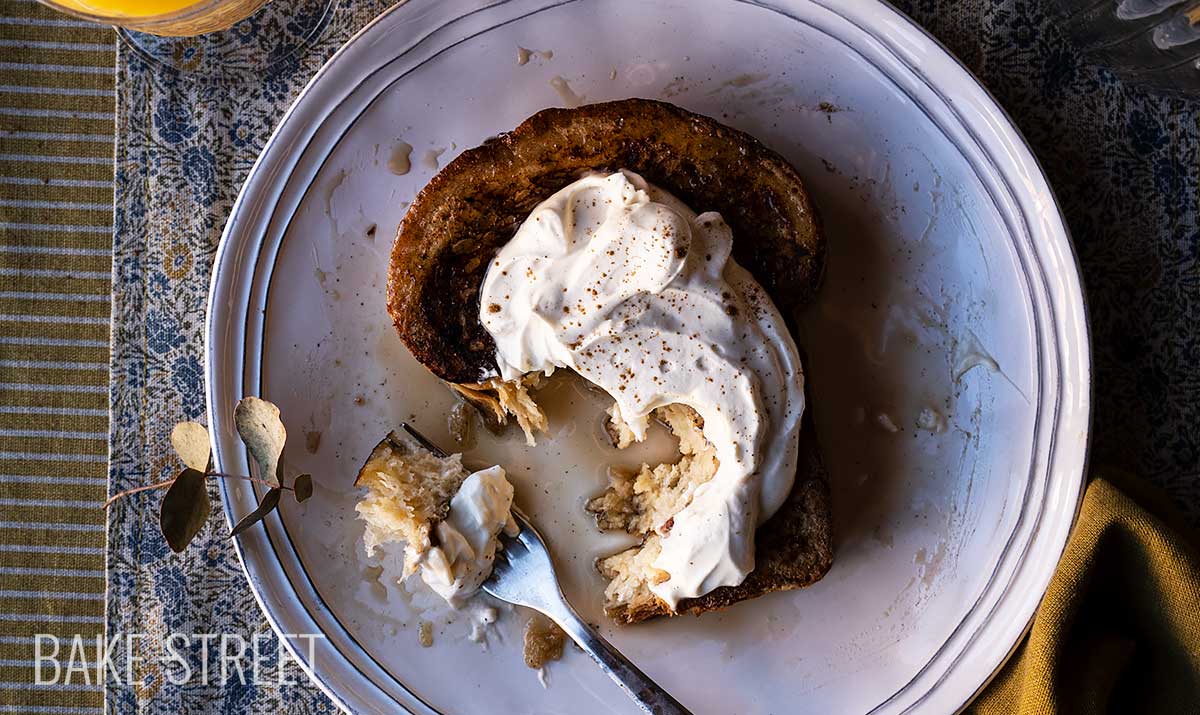 How to make Brioche French Toast
Este post también está disponible en Spanish
Being such a fan as I am of torrijas, you can imagine that the classic French Toast fascinates me as well…. In fact, I think it's very unlikely not to like a recipe as simple and magnificent as this one. Mainly because it brings together a lot of wonderful elements; brioche (in my case, although it can be made with bread), milk, eggs, butter and love.
It is also true that I have always considered that it was an easy preparation to carry out and, perhaps for that reason, I had not left it here before. But, knowledge takes no place. Besides, I bring you a brioche recipe that, I promise you, you will fall in love with.
The recipe is based on, and slightly modified, from Yohan Ferrant's brioche recipe from his amazing book "Oh La Lá". I can already tell you that it is an essential book if you like to make enriched doughs, laminated doughs and bread. It was clear to me that as soon as it went on sale, it would be mine. A real gem that I highly recommend. For the moment, I have only been able to try their brioche recipe and the result has been formidable.
Aroma, flavor, texture… And shelf life. Five days after baking it is still tender and incredibly fluffy.
French toast can be made with any variety of sweet bread we like, from sliced bread, brioche, challah…. But in my case it was clear to me that this occasion was perfect to try the recipe and also to show you how to make brioche French toast.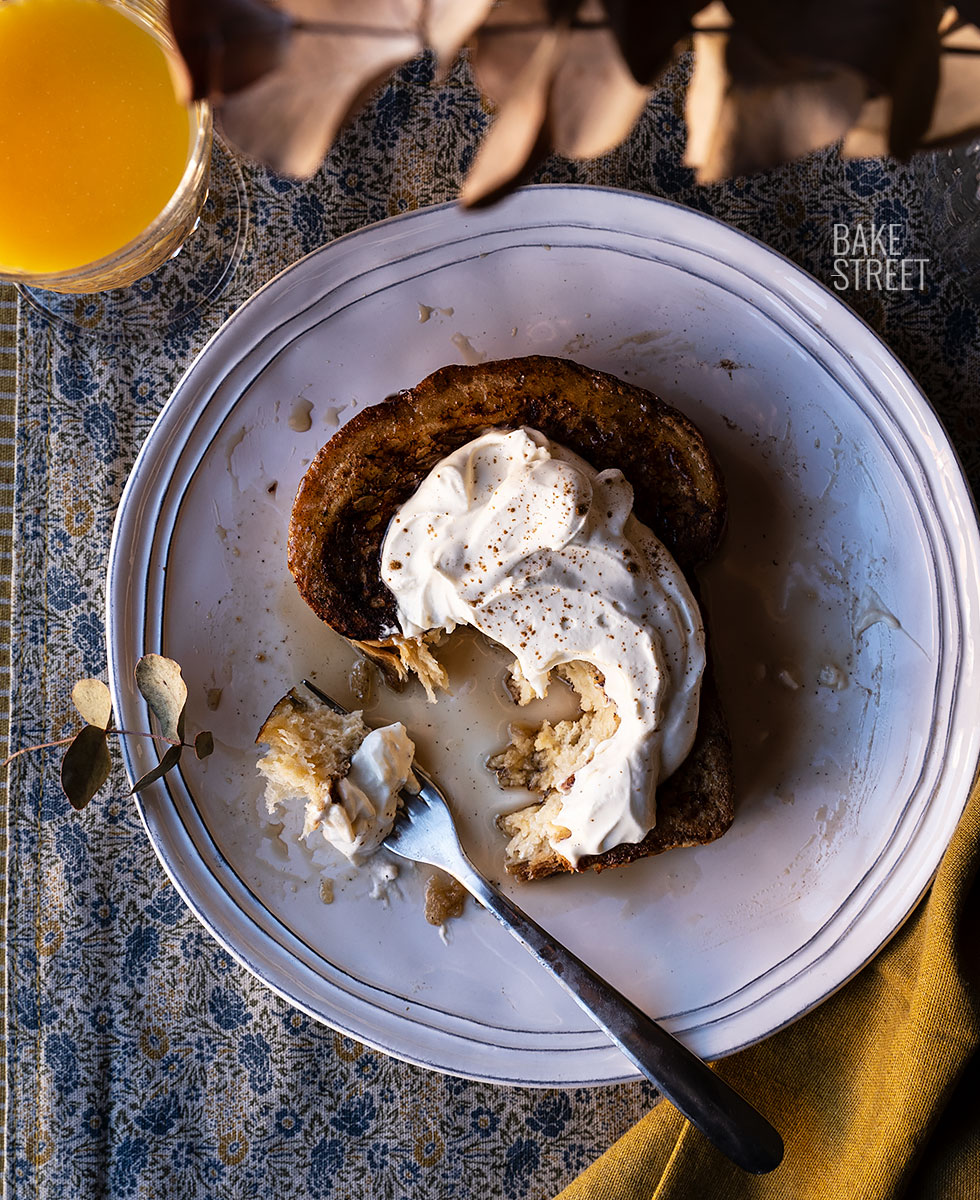 French Toast origin.
I must admit that, until the very moment I looked for information about them, I always thought that these toasts were of French origin. But, it turns out that this is not so. Certainly, their most popular name is this, French Toast, but they are also known as Spanish toast, German toast, egg bread or the poor gentlemen of Windsor, among others.
In the Roman Empire they already existed. The first written reference to French toast dates back to Apicius, De Re-Coquinaria, a collection of recipes dating from the 4th-5th century in the middle of the Roman Empire. At that time, the recipe was known as "aliter dulcia" which can be translated as "another sweet dish". It can be found on page 63 of the book I have linked. This recipe did not use eggs, it only called for dipping it in milk, frying it and spreading it with honey.
One of the most curious legends about its origin is that it was first created in Albany, New York, around 1724. The name of the creator was a settler named Joseph French and at the time he named his creation in English, he called them French Toast.
But the actual name French Toast dates back to 17th century England. Where the first settlers took the term with them to America where it became a very popular dish. It was a typical dish among peasants and people of limited economic resources, a recipe for making the most of it. To this day, in France, this dish is known as "pain perdu". This name refers to a bread that has gone bad.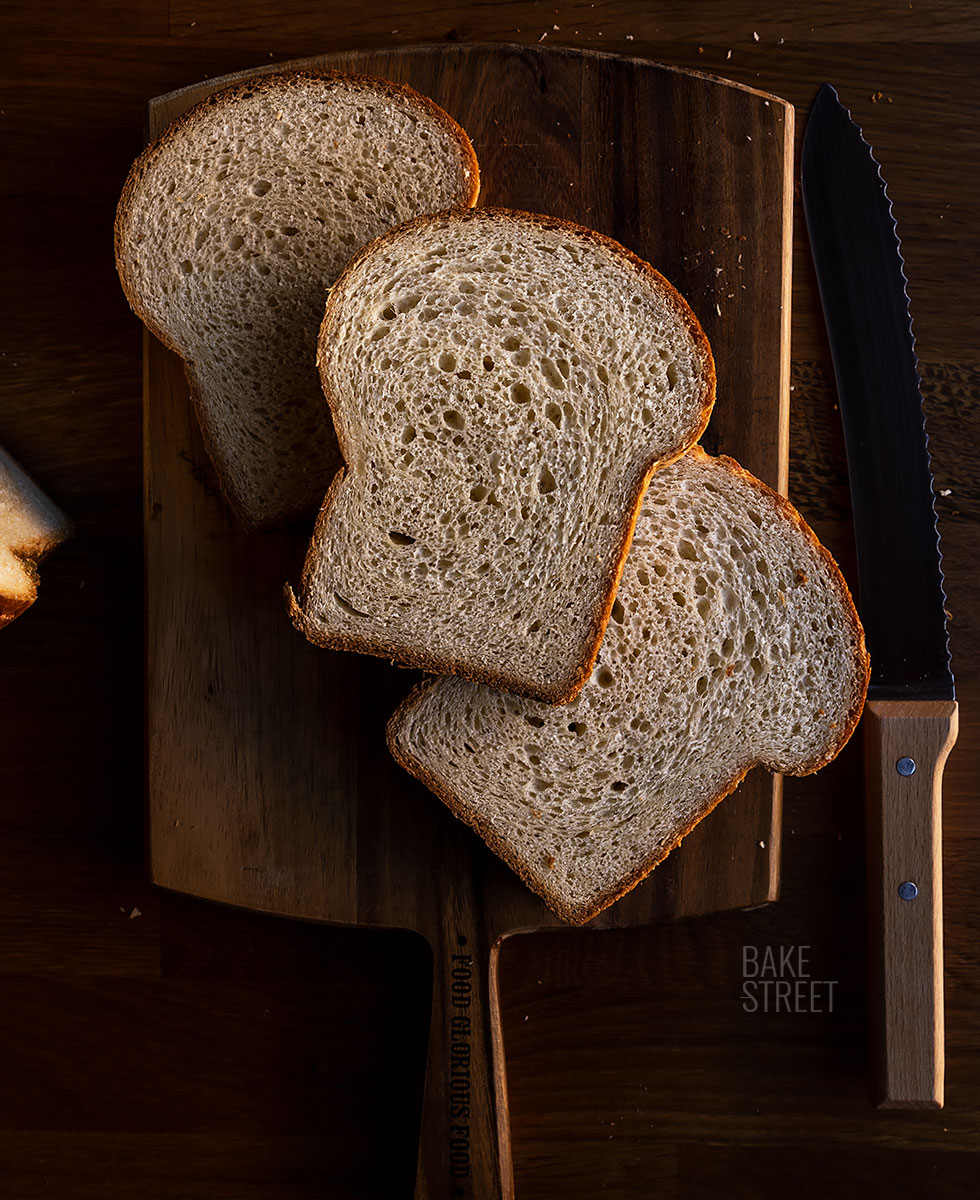 Making French toast at home.
This recipe is, frankly, simple to make. Actually, the most "complex" part, so to speak, is the preparation of the brioche. It doesn't have to be at all, since we will use the kneader to make it. I do recommend you to follow all the steps that I detail in the process to achieve a good result.
Once we have made the brioche, the rest is very easy to elaborate. We will only have to moisten the slices in a mixture of eggs, milk and cream, and then cook in a pan with butter. And that's all. This is the process to enjoy an incredible Sunday breakfast 😉
Recipe French Toast
For a 30 x 11 x 7 cm mould
SOURDOUGH:
20 g of 100% hydrated sourdough
40 g water
40 g T45 flour
FOR THE BRIOCHE:
300 g flour T45
300 g flour T65
230 g egg
110 g whole milk
80 g 100% hydrated sourdough
24 g fresh yeast or 8 g dry yeast
90 g sugar
240 g unsalted butter at room temperature
12 g salt
FOR THE FRENCH TOAST:
Ingredients for 4 pieces of toast
2 large eggs
230 g whole milk
65 g heavy cream
1 teaspoon natural vanilla extract
cinnamon to taste
pinch of salt
butter to toast in the pan
TO ACCOMPANY:
mascarpone and honey cream: 100 g heavy cream + 60 g mascarpone cheese + 25 g honey
honey syrup
cinnamon powder
MATERIAL WE WILL NEED:
marble rolling pin or wooden rolling pin
rectangular mold 30 x 11 cm
pastry brush
skillet or iron pan
pastry spatulas
bowls + bowl
Instructions
FIRST DAY
Prepare brioche dough.
In the bowl of the mixer add the flour together with the eggs, milk, sourdough, yeast, salt and sugar. Knead at low speed for 5 minutes. We will have to have a semi-developed dough in which we observe that the ingredients are amalgamated.
After this time, we raise to high speed and knead for 12 minutes.
Stop the mixer and start adding the butter little by little. Allow the butter to fully integrate into the dough before adding more. During the whole process of incorporating the butter, we will knead at low speed.
Once all the butter has been added and incorporated, knead for 5 more minutes at low speed. The dough should be elastic, soft, smooth and not break.
Let it rest in the bowl, covered with film or plastic wrap for 45 minutes.
Remove the dough, fold and place in a bowl previously greased with olive oil.
Store in the refrigerator for 12-24 hours. In my case it was 14 hours at 39ºF/4ºC.
SECOND DAY
Shape.
Remove the dough from the refrigerator and turn it out onto a clean work surface.
Gently degas the dough. With the help of a rolling pin, try to give the dough a rectangular shape. If necessary, sprinkle with a little flour.
Roll up on itself to form an elongated loaf. We will try that the length of the dough is close to the length of the mold.
Put it in the mold, put it in a large freezer bag or cover it with plastic wrap and let it rise. The dome that forms in the center should protrude from the mold. The dough will have doubled its volume.
In my case it was 4 and 1/2 hours at 78,8ºF/26ºC.
Bake.
Preheat the oven to 355ºF/180ºC with heat up and down.
Brush the brioche with beaten egg.
Bake at medium height for 50-53 minutes. Remember that the internal temperature must reach 190º-194ºF/88º-90ºC for the baking to be finished.
As soon as it begins to acquire a golden color on the surface, cover with aluminum foil until the baking is finished.
Remove from the oven, unmold and let cool completely on a wire rack.
Wrap in plastic wrap or store in a zip bag until the next day.
THIRD DAY
Cut the brioche and soak with the milk mixture.
In a bowl, beat the eggs with the milk, cream, salt, vanilla and cinnamon.
Cut the brioche slices. In my case I give them a thickness of two fingers, but do it the way you like.
Place the slices of bread in a large bowl.
Pour the milk mixture over the cut brioche.
Let stand for 30 minutes so that the brioche absorbs all the milk. This step is very important to obtain a good result on the inside. We want them to be creamy, not hard or dry.
While the toasts are resting, prepare mascarpone and honey cream.
Before we get ready to whip the cream we must make sure of two things:
The cream and mascarpone cheese must be at least 24 hours in the refrigerator.
The bowl in which we whip the cream must be cold. I recommend using an aluminum bowl and putting it in the freezer for 20 minutes before whipping the cream.
Pour the cream together with the mascarpone cheese into the cold bowl and begin to whip with an electric whisk on speed 1.
Once it begins to be a little bit firm, add the honey while continuing to whisk.
Increase the speed gradually but never reach the maximum speed. The ideal is a medium speed.
We will whisk until we get soft peaks, we are not looking for a whipped cream with firm peaks.
Cover the bowl with plastic wrap and refrigerate until ready to use.
Fry French toast.
Add enough butter in a skillet to generously cover the base of the pan. Let it come to temperature.
Carefully take a slice of brioche soaked in the milk mixture and place it in the pan.
Fry for about 2 minutes on each side. It should get a nice golden color on both sides.

Remove and place on a tray.
Repeat the same process with the rest of the brioche slices.
Once they are all done, serve immediately.
Serve with the mascarpone cream and honey, cinnamon powder, along with honey syrup or fruit.
Notes
If we cannot find T45 and T65 flour, we can use a medium-strength flour W=280 approximately as a substitute. It is important to observe how the flour behaves, as we add ingredients, to know if it has enough absorption capacity. If you do not know the flour with which you are going to work, add the milk little by little.
If you do not want to use sourdough in the recipe, omit it and instead add 40 g of T45 flour and 40 g of milk. It will not be necessary to increase the amount of yeast.
Respect all the steps, resting and rising times to obtain a good result both in taste and texture.
I recommend using a good quality butter because it will affect the final flavor of the dough.
The brioche will keep in perfect condition for 5-6 days wrapped in film or in a freezer bag. From this point on, it will begin to lose tenderness.
We can freeze it in individual slices wrapped in film. They can be left to thaw overnight or given a heat treatment in the toaster.
The resting time of the brioche with the milk mixture cannot/should not be omitted. In this way we will achieve a creamy and moist interior because the brioche will absorb all the milk that we have poured over them.
Cinnamon can be omitted if you wish.
Mascarpone and honey cream can be sweetened with sugar or another ingredient according to your taste, such as maple syrup, for example.
We can serve it with fresh fruit, applesauce, baked apples, figs, homemade jam...
I recommend you to eat the French toast as soon as you make it, it is the moment when it is the most delicious.
I hope you will be encouraged to prepare at home this easy and simple French Toast that, in addition, its result is sensational. A quick breakfast with few complications, which will allow us to enjoy a lot.
If you don't feel like making the brioche, you can always use some store-bought sweet bread... But, for my part, I will always advise you to make it at home if your time allows it. The result is nothing to see, promise.
I wish you a wonderful day!
Lots of love,
Eva
Sources: Blasting News, Hmong
Archivado en