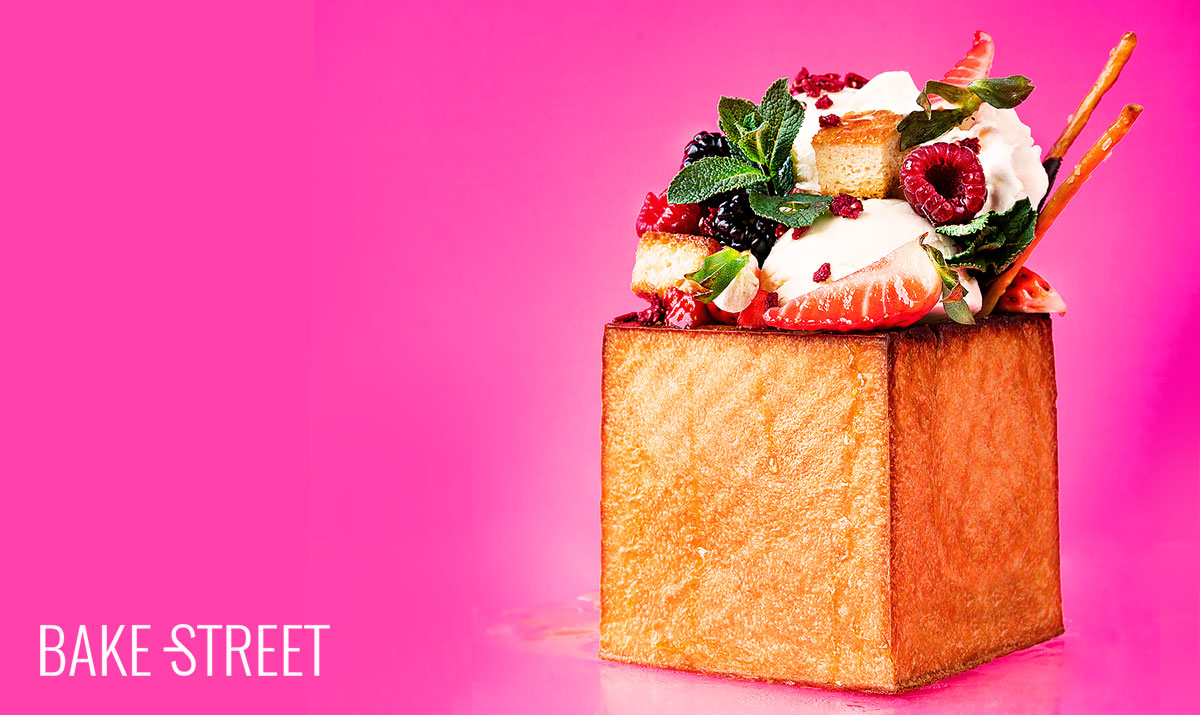 Shibuya Honey Toast
Este post también está disponible en Spanish
Another of the preparations that I have been saving for a long time is this Shibuya Honey Toast. Also known as Brick Toast or Hanito. I knew about this wonder thanks to a reader who wrote to me to ask me if I had ever tried it and if it would be possible for me to share it with you.
As soon as I saw it, I loved it! I certainly didn't know it and, from here, I thank you once again for sending it to me. It took me a while to make it, but I can finally share it with you. I can already tell you that you're going to love it…. In fact, it could be the perfect breakfast or snack for the weekend. Of course, I advise you to share it because it is hearty. By the way, thank you for writing me so many of you and helping me to get to know gastronomic wonders scattered around the world.
Shibuya Honey Toast is one of those things you can't get out of your head until you try it. It's easy on the eyes as soon as you see it. It's a cube-shaped loaf of bread, or a very wide piece of unsliced sliced bread or milk bread, which is emptied and brushed with a mixture of honey and butter, toasted and refilled with cubes of toasted crumbs, fruit, ice cream, cream and sweets of your choice. From chocolates, chocolates, bonbons, wafers…
Something that may remind us, in a distant way, of bubble waffles filled with an infinite number of things or even Taiyaki. Only, in this case, the container is an incredibly tender, soft and aromatic bread.
Shibuya honey toast origins.
In Japanese ハニートースト, it is a dessert originating from the Shibuya district of Tokyo, which was created during the height of the Japanese economic bubble in the 1980s.
The word shibuya(渋谷) means Astringent Valley (渋 Shui "Astringent" 谷 Tani "Valley" "Tibetan or simultaneous") and is complemented by Ku (区) in such a way that it would be "Substances" (Astringent Valley Region), in a more simplified way it would result in "Shibuya" or "Shibuya Region".
Shibuya was founded on 15 March 1947 and is known as a shopping and entertainment area, popular with young people for the past 30 years.
Shibuya is home to several fashionable shopping malls, the most famous of which is "Shibuya 109" (ichimarukyū). This mall is very popular with young people, especially teenagers, and is famous for being the origin of the kogal subculture, as well as being located opposite the famous Shibuya crossing, which is said to be the busiest crossing in the world (more than a million people pass through it every day).
North of Shibuya Station is the Dōgenzaka (道玄坂), which offers entertainment for a more mature crowd, with many nightclubs and love hotels.
This dessert is often served in karaokes.
Karaoke Pasela,a franchised entertainment company that describes itself as an "urban oasis" with the interior of a modern Asian resort that also offers karaoke, party rooms and dining. According to a recent study, it was revealed that of the 43,000 Honey Toast orders placed each year, about 20 per cent of customers leave dessert uneaten. And, around 30% of the bread of those who do eat is wasted. By calculation, the company throws away about 2,580 whole loaves of Honey Toast a year.
Originally, this honey toast was (and still is in many places) a large piece of milk bread that was cut across the surface into squares and drizzled with a mixture of honey and butter to toast it. It was then served with ice cream, whipped cream and more honey. The new version is as I present it to you.
The bread cube is emptied and cut into squares, then brushed with the honey and butter mixture to toast it. To serve it, the cube is filled with fruit, the toasted bread squares, ice cream, whipped cream and sweet treats (a wide assortment). This ensured that there would not be too many of the famous Shibuya Honey Toast left over.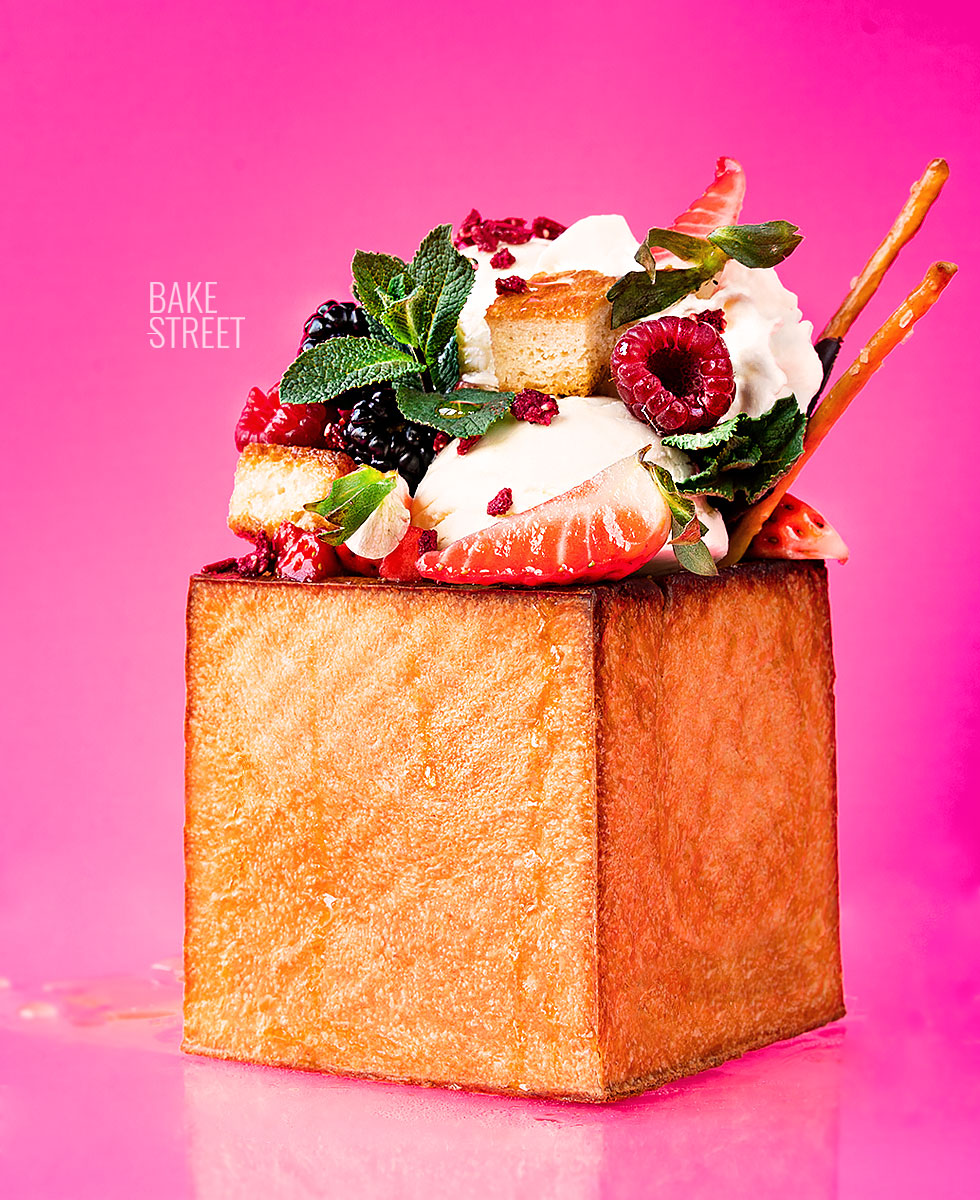 Recipe Shibuya Honey Toast
With this amount of dough we can make two bread cubes and have some dough left over or we can make one bread cube and one loaf of bread measuring 20.5 x 10.5 x 9.5 cm (mold).
TANGZHONG:
75 g water
15 g bread flour
DOUGH:
485 g bread flour
265 g whole milk
all tangzhong
4,5 g fresh yeast or 1,5 g dry yeast
55 g egg
40 g honey
50 g unsalted butter, at room temperature
8 g salt
FOR DECORATING:
for brushing before browning bread; 40 g unsalted butter + 35 g honey, melted
ice cream
whipped cream
syrup (optional)
fruits to taste
sweet treats (bonbons, marshmallows...)
MATERIAL WE WILL NEED:
kneader
rolling pin
scraper
digital kitchen scale
digital kitchen thermometer
saucepan
knife
Instructions
Prepare tangzhong.
In a small saucepan add the water together with the flour, place over medium-low heat and stir with the help of a whisk.
Leave on the heat, stirring constantly, until it reaches 149ºF/65ºC, you will notice that it thickens slightly.
Remove from the heat.
Transfer to an airtight container, cover and leave to cool completely.
Prepare dough for bread.
In the bowl of the kneader add the flour together with milk, egg and tangzhong. Knead until you obtain a dough, more or less amalgamated.
Add the fresh yeast and knead again for 2-3 minutes.
Incorporate honey and salt, and knead again until the dough is completely homogeneous. We will knead combining kneading time with rest. In this way we favor the gluten to develop, but the dough does not get too hot due to friction.
Once the dough is almost developed, add the butter. We do this in two batches and wait for it to be fully integrated before adding the next one.
The gluten mesh must develope very well.
Remove the dough from the kneader, round the dough and place it in a previously greased bowl. Cover and make bulk fermentation.
Make bulk fermentation.
Leave to rise until it doubles in volume. Depending on the temperature it can take from 2 to 4 hours without problems. In my case it took 2 hours and 20 minutes at 75,2ºF/24ºC.
Divide and pre-shape.
Lightly flour a work surface.
Turn the dough out onto the table and gently degas.
Divide into 2 pieces of 325 g each and gently pre-shape.
Cover with cling film and leave to rest for 20 minutes.
Shape breads.
Grease the cube moulds with butter on all sides, including the lid. Set aside.
Lightly dust a work surface.
Turn the pre-shaped piece with the sealed side upwards (when the dough was left to rest, this side remained in contact with the work surface). With the help of a rolling pin, roll out the dough slightly.
Fold one end towards the centre and then the other, placing it on top of the first fold. Flatten slightly with the rolling pin and roll up on itself.
Place inside the mould, cover with cling film and leave to rise. Repeat the same process with the other piece.
Cover with cling film and leave to rise until it almost reaches the edge of the mould. In my case it took 5 hours and 45 minutes to 69,8ºF/21ºC.
Bake breads.
Preheat the oven to 374ºF/190ºC with heat up and down.
Remove the film and close with the mould lid; it is not necessary to brush the bread with any ingredients.
Place the bread in the oven at a medium height and bake for 30 minutes or until the internal temperature is around 186º-194ºF/86º-90ºC.
Remove the bread from the oven, carefully unmould and leave to cool completely on a wire rack.
Prepare the bread for the Shibuya honey toast.
Cut a square in the inside of the bread to remove the crumbs and "create" a box with the bread. Slide the knife along the sides of the bread, making sure to leave a thickness of approximately 2 cm on each side, it should not be too thin as it must contain all the filling.
Insert the knife at the bottom, about 2 cm above the base, and slide it in without reaching the ends (photo 4). This will cut the base of the inner cube and we can remove it intact.

Once we have the cube of crumbs out, cut it into squares.
Brush the inside of the bread with the melted butter and honey mixture as well as all the cut squares of bread. Place on a tray.
Place in the oven, preheated to 355ºF/180ºC, for 10 minutes.
Remove from the oven and allow to cool.
Finish assembling the Shibuya honey toast.
Fill the inside of the bread with chopped strawberries (or other fruit) and toasted bread cubes. Drizzle with some honey.
Decorate with 1-2 scoops of ice cream, whipped cream, fresh fruit, mint and syrup or honey.
Serve immediately.
Notes
I recommend not omitting the tangzhong, as this flour scalding allows the dough to absorb a little more hydration, as well as making the dough very soft and fluffy. I have made it with water, but it can be made with milk (as is done for the famous Shokupan).
In my case I have developed this dough to make the bread, according to my tastes, but any other type of dough can be used as long as the end result is tender and spongy.
The dough of the cubes (tins) must not reach the edge of the mould because, before baking, we will have to put the metal lid on it. I advise you to check the height of the dome because it will always be higher than the height of the dough on the sides.
The mould unmoulds very well, it is only necessary to grease the inside, in my case with butter, the walls and the lid. On the base, in my case, I place a small square of baking paper to prevent the butter from coming out through a small hole in the base.
If there are small ridges of dough on the edges, cut them off with a knife after baking.
To remove the crumbs from the inside, the way I show you is the cleanest way to do it and the one that gives the best results.
You can fill it with whatever you like, let your imagination run wild! In my case I used strawberries, blackberries, raspberries, vanilla ice cream, whipped cream, freeze-dried caramelised raspberries, mint, bretzel sticks and honey.
This cube is ideal for sharing between two people.
Once filled, it should be consumed at the same time.
I can assure you that this Shibuya Honey Toast is a complete spectacle! It's true that it's a sweet bread that is easy on the eyes.... It doesn't require much effort on their part to dazzle us. But, the moment you taste it, you're going to be amazed. I mean it.
The bread, so spongy and aromatic, can almost be eaten on its own. But it is true that the mixture of butter and honey, with which we brushed the whole loaf, gives it a wonderful flavour, aroma and texture. We get a sensational crunchy/caramelised touch.
The combination of the rest of the elements is a bomb, in every way. For me it has been a wonderful discovery, but I advise you to share it because it is a hearty dessert or preparation. I hope you like it and I look forward to hearing what you think of it and what you prepare it with!
Lots of love,
Eva
Sources: Wiki, Viajando por Japón
This post contains affiliate links.
Archivado en