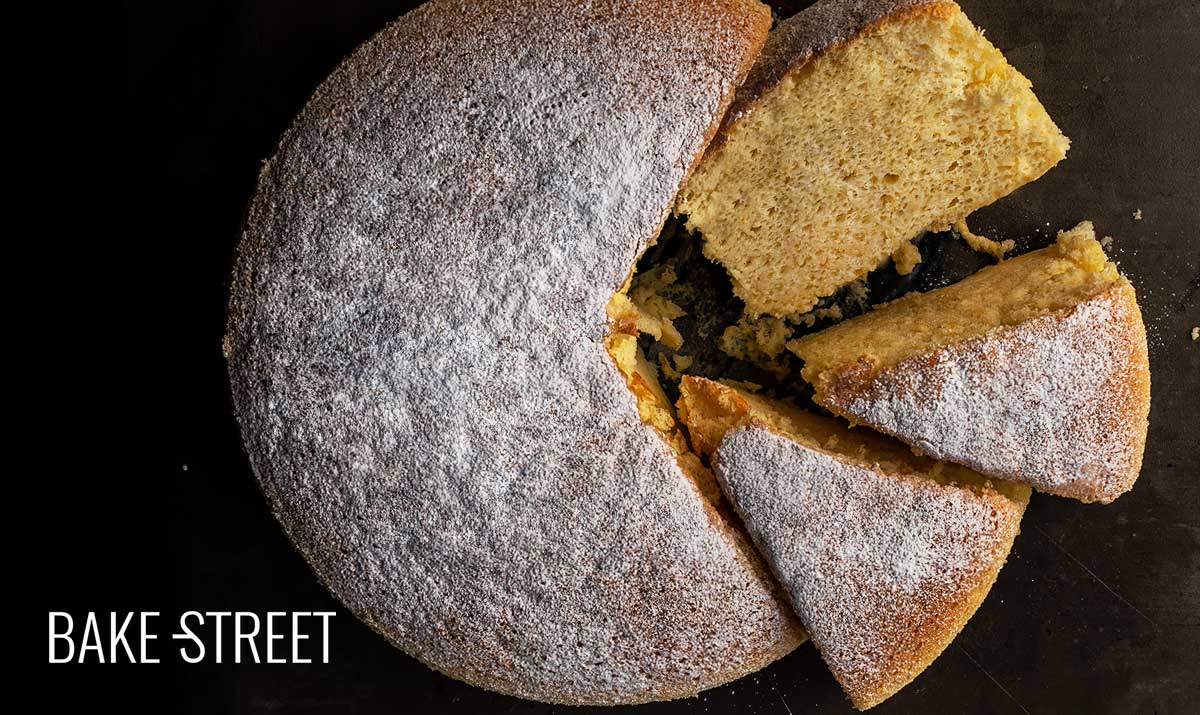 Japanese Cotton Cheesecake
Este post también está disponible en Spanish
Well, today I bring you a recipe that you usually like very much. Easy, simple to prepare, with basic ingredients and a spectacular final result. I know that many times I bring you recipes that are too elaborate and some of you tell me that you are afraid to make them (you wouldn't have to, since you can achieve what you propose) or they are very complicated to prepare. Today there are no possible excuses! I bring you a Japanese Cotton Cheesecake that, I assure you, you will repeat on more than one occasion.
What's more, do you know how many times I've prepared it in 2 days? In total I have made 5 cakes, exact and identical to this one, in a period of less than 48 hours. You may wonder why? Ok. The main reason has been to do several tests with different cooking processes to see what results I could get. And, in this way, to be able to leave you a process as exact and detailed as possible so that at home you do not have problems when preparing it. The other reasons are obvious… A super easy dessert, which only requires about 15 minutes maximum work by hand (ignoring the cooking time that is prolonged) and with a mind-boggling result. Yes, we've been having breakfast, snacks and an amazing dessert for days.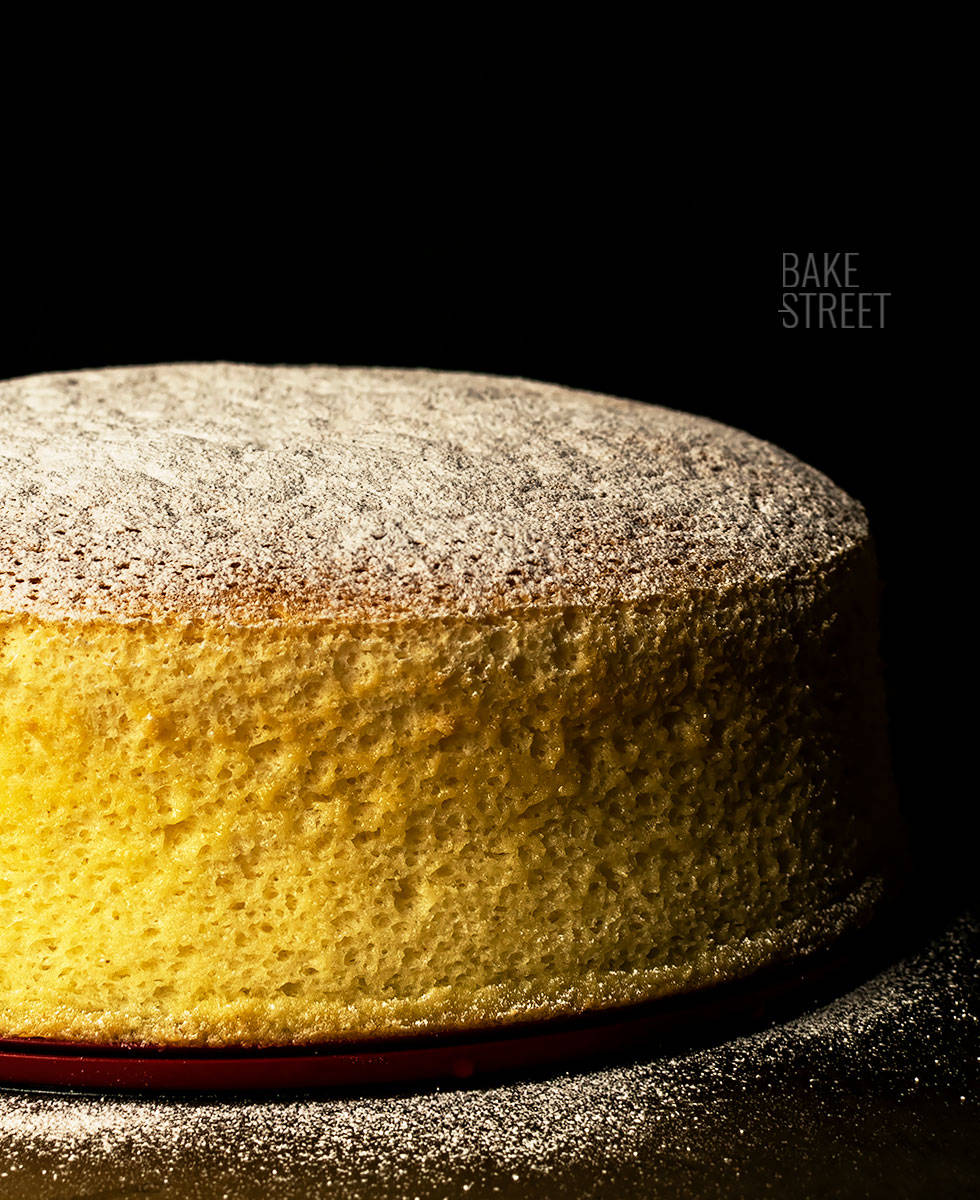 What is Japanese Cotton Cheesecake?
If I tell you it's a dessert fallen from the sky, you'll tell me, – Wow, how exaggerated! -. It could be. But now I encourage you to prepare it and try it. I am 300% sure that after doing it, you will agree with me. And I'll tell you, "I already knew," hahahaha. It is a dessert that is eaten without realizing it. Aroma, flavour, texture… In addition, it is very light, with very little sugar and is not at all heavy when you eat it.
A brief definition would be: "A cheesecake with a soufflé texture, mild, delicate, slightly moist taste, as if we were eating cotton…".
It is incredibly gratifying to dip the spoon into a piece of this cake and hear, as it slides, the crackling of the air bubbles breaking in its way. Not to mention the texture it has, it vanishes on the palate… Wonderful, wonderful!
In Japan there are 3 types of cheesecakes.
Baked Cheesecake (ベイクドチーズケーキ): This is the classic cheesecake that we all bake at home, it can have a cookie base.
Cheesecake rare (レアチーズケーキ): This is a variety of no-baked cheesecake. It is a cheesecake made without an egg, instead gelatin is used to curdle it. It is usually made with a cookie base and served with fruits.
Soufflé Cheesecake (スフレチーズケーキ): This is the cake we'll make. More commonly known as Japanese Cheesecake or Japanese Cotton Cheesecake (outside of Japan). Its peculiarity is that whites are added whipped to the mixture to obtain a soufflé texture, in addition to being cooked to the bain-marie (water-bath).
What should we take into account when making Japanese cotton Cheesecake?
As you would expect, the quality of the ingredients is very important. These will guarantee us a spectacular flavour, as well as a good final result of our production.
Cream cheese: In the market we can find many different types, famous brands or white label brands. You know that I always leave it to your choice, but I recommend you to use a good quality one with a high fat content. Do not choose a skimmed or similar… A whim, is a whim.
Butter: No salt, good quality. No margarines.
Eggs: In my case I have used L-calibre eggs (large) weighing approximately 63-73 g. When you separate the yolks from the whites, it is important that no egg yolk falls into the whites. Otherwise, the presence of a greasy element will give rise to whites that do not whip or whip very badly. There are many recipes that add a little lemon juice or cream of tartar to whip the egg whites… If these are at room temperature, they will whip perfectly.
Flour and Cornstarch: To make this cheesecake we need to add flour that will help give structure and volume. The flour should not have a high protein content because it can cause cracks in the final result. For that reason we must use a common flour (AP) or cake flour, in its defect. The starch in the flour or the cornstarch helps to delay the coagulation of the egg proteins. Once the egg protein and gluten become firm, the cake rises faster.
Sugar: In my case I have used granulated sugar, if you find a finer granulated sugar, it can also be used. But, don't use icing sugar instead. The reason is the presence of cornstarch it contains, it would change the structure, texture and final result.
Mould: In my case I used a Push-Pan mould 20 cm (8 inch). If you don't have it, I recommend it. Not only because of how well you work with it, but also because the quality/price is fantastic. It's a very economical mould, I'm in love with it. But if you don't want to buy it, it´s ok. You can use a mould with the diameter I specify, it is important that it is high and not necessarily removable. There are moulds that are not removable that are used to make these cakes. If you use a removable one, line the sides with baking paper or, if you unmould it, you can damage the cheesecake.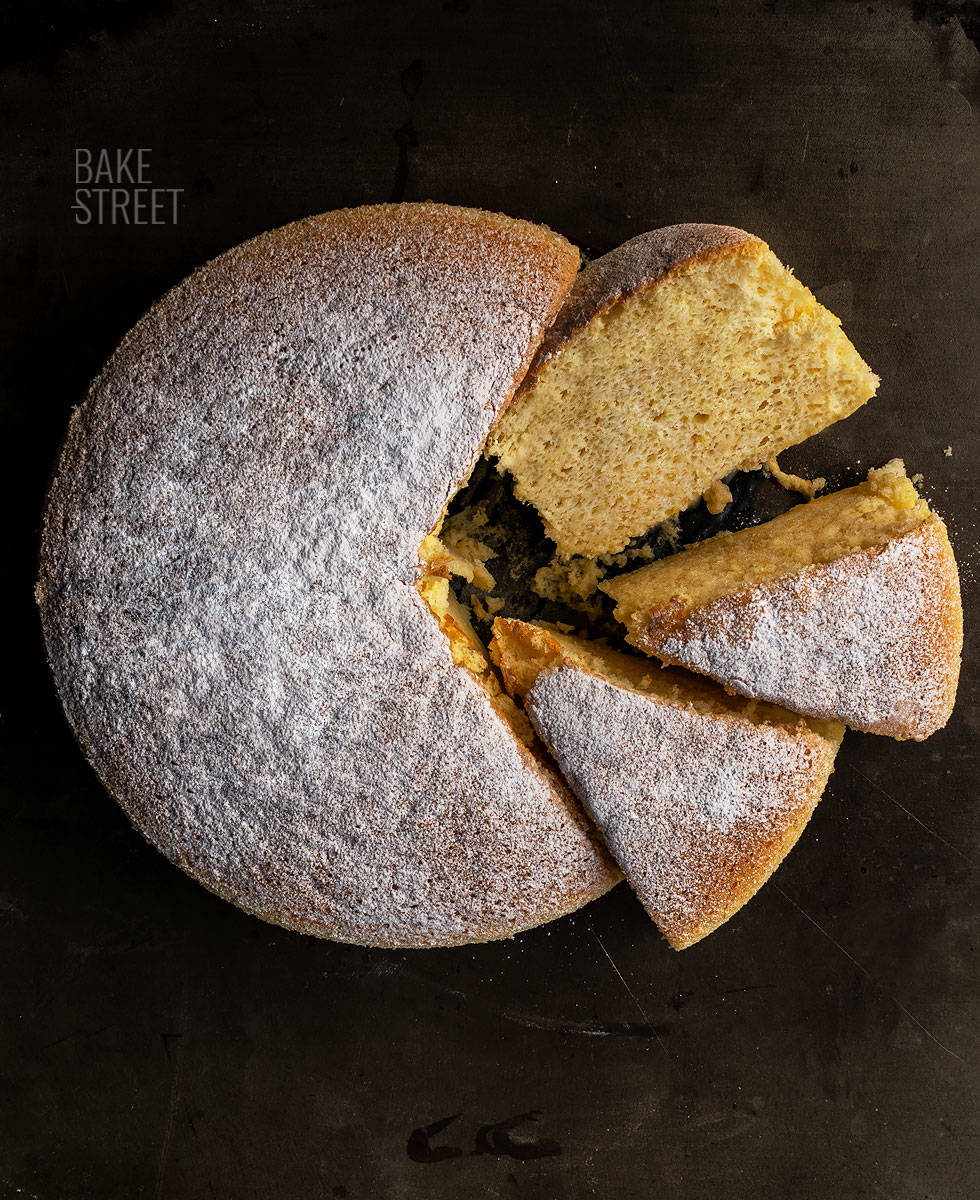 Process.
Making this cheesecake from Japanese cotton is very simple, but it requires following certain steps faithfully. Before I got ready to do it, I read a lot of websites and watched a lot of videos. All of them were very useful to me because I could see and learn how the mixture behaves following different processes. But of course, then it's time to put everything into practice to see if it really turns out the way it's shown.
The recipe that I leave you as well as the elaboration process is from Michael Lim. On the other hand, the cooking time as well as the temperature I have varied and adjusted until I found one that works well in my oven, getting the results I was looking for.
To integrate well the cream cheese and butter, mix it with the milk while subjecting it to a low heat source. In this way we will achieve a creamy and smooth mixture. To this mixture, add the dry ingredients and mix until a homogeneous consistency is obtained without lumps. But be careful not to overmix because this can cause the cheesecake to crack during cooking.
Then add the egg yolks, mix and finally the whipped egg whites.
The meringue should not be dry, i.e. we should not whip it too much. Firm peaks, but not too much. To integrate these in the mixture, I show you how to do it with a whisk. It is a very simple process that will make the work much easier for those people who are not very good at doing it with a spatula. But no beating, soft, enveloping movements that start at the surface and end at the base, ascending to make it easier for them to integrate well.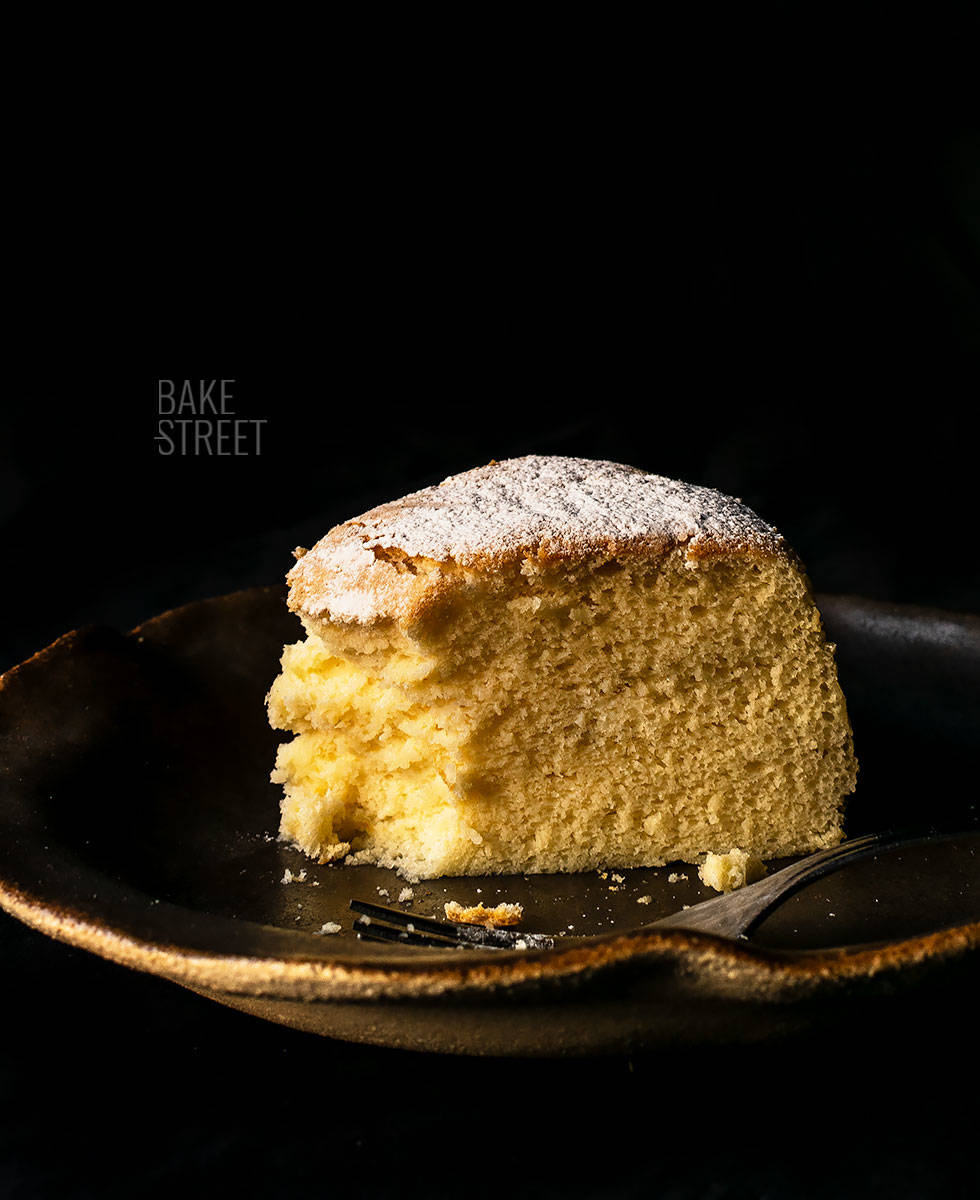 Cake finishing.
When pouring the mixture into the mould, do not pass a spoon or spatula over the surface to smooth it. We will help each other with a toothpick, spinning in a spiral, to smooth it and remove possible bubbles. Afterwards, we will have to tap gently on a work surface to remove bubbles from the mixture (but not all of them).
Why? We must settle the mixture and prevent large bubbles that have formed while pouring the mixture, rise to the surface and cause small cracks.
Cooking should be done in a bain-marie to reduce the direct heat to the mould, in addition to providing a humid environment that favours its final finish, juicy texture and volume. To do this, the ideal is not to use a very large tray because the larger the tray, the longer it takes the heat to reach the mold and, therefore, curdle the cake. Remember that water absorbs some of the heat.
In my case I used a large tray, but I wanted to share it with you to keep it in mind.
We must fill with water approximately 2 inch, so that the sides of the cake do not cook too fast leaving the central part without curdling. This will leave a cake with too much "dome" and run the risk of cracking. So by doing it this way, we get a more uniform baking.
The cooking time can vary a lot from one oven to another. The ideal is to try to see how our oven works and how it behaves. Generally, the times and temperatures I give you will work without problems, with regard to the cake being curdled. It can only happen that it would have taken a little more or less time to bake. That I was too shaky and collapsed a little or, on the contrary, that I set too much and become firmer.
In my case, Leslie's blog post I Eat I Shoot I Post, has helped me a lot, a lot. In fact, it gives detailed and scientifically based explanations to explain why it should be done one way or another and why it works. Don't forget to read her post because I assure you it's worth it!
Ingredientes for a 8 inch cake
5 large eggs
140 g cream cheese
40 g unsalted butter
60 g whole milk
50 g AP or cake flour
15 g cornstarch
100 g sugar
Instructions
Prepare the Japanese cotton cheesecake.
Preheat oven to 285ºF/140ºC.
Place an oven tray or a mould bigger than the one we use to bake inside and pour hot water into it. Enough to cover approximately 2 inch of the mold.
Line, only the base, of a Push-Pan mould 8 inch/20 cm with baking paper. Set aside.
Separate the egg yolks from the egg whites. Set aside.
Sift the flour together with the cornstarch. Set aside.
In a medium saucepan, pour the milk together with the cream cheese and butter.
Place at medium low heat and mix with a whisk. We will leave it, stirring constantly, until the cheese and butter are completely integrated into a homogeneous mixture, the temperature will be around 104º-122ºF/40º- 50ºC. This must not reach boiling stage in any case. Remove from the heat.
Pour over the dry ingredients and mix with a whisk until a homogeneous mixture is obtained without lumps. We should not over-mix in any case, because we will develop gluten and we are not interested (as we do in sponge cakes).
Pour the yolks and mix with the whisk until they are completely homogenized. Set aside.
Whip the egg whites.
In the bowl of the KA or with the help of electric hand mixer, whip the egg whites.
We will do it starting with a softer speed and increasing progressively.
Once we have the egg whites semi-whipped, add half of the sugar and continue whipping.
You will notice that the egg whites begin to be firmer, add the rest of the sugar and continue whipping until you get a firm and shiny meringue. But don't dry.
Integrate merengue into the cheesecake mix.
Let's pour the cheese and egg yolk mixture into a large bowl.
Add a small amount of meringue and mix with a whisk. Attention at this point!
We don't want to beat the mixture, what we will do is integrate both elements with soft and delicate movements. To do this, start with gentle circular movements on the surface and continue extending the route down towards the cream until you reach the bottom. It is important to do it carefully so as not to break the meringue bubbles.
By doing this process in this way, it will be much easier for those who find it difficult to integrate meringue into a mixture with a silicone spatula.
Continue integrating the meringue, little by little and in batches, in the mixture of the cheesecake helping us with a whisk.
The final batch can be integrated with the help of a spatula or, if you are not very good, with the whisk in the same way we have done so far. Remember that you must always reach the bottom of the bowl and make a smooth, upward and enveloping upward movement to integrate the merengue well.
Pour in the mould and bake.
Let's pour the mixture into the mold Push-Pan 20 cm that we had reserved.
Using a toothpick, smooth the surface. We will draw a spiral in the surface, so that it will help us to smooth it and to remove possible bubbles that there are near this one.
Carefully and without being abruptly tap the mould a couple of times against a working surface and put it in the oven inside the tray with hot water.
Bake for 35 minutes at 285ºF/140ºC.
Reduce the heat to 255ºF/125ºC and bake for a further 45 minutes.
Once the baking is finished, turn off the oven and let it rest for 15 minutes inside.
Remove from the oven and let it rest inside the mould, on a rack, for 10 minutes.
Separate the sides. To do this what we do is to tilt the mould and the cheesecake itself will be detached only from the walls. It is important to make this step before it cools completely, otherwise it can remain stuck and we run the risk of damaging it when demoulding.
Unmould.
Once it has cooled, unmold and serve.
We can decorate the surface with a stencil and icing sugar, sprinkle the whole surface with icing sugar or serve it as it is.
If you can, I recommend you to let it rest for a few hours or all night in the fridge. The taste will mature and be more delicious.
Notas
It is important to use whole milk and fat cream cheese, i.e. neither semi-skimmed nor skimmed. The final result will be better.
The wheat flour I have used is all-purpose wheat flour but you can use cake flour too.
It is important to follow the processes as specified in the post so that the final result is good.
When we integrate the meringue in the cheese cream and yolks, we must do it with care to avoid breaking the bubbles that we have created when assembling it. In the video I show you a process that is much easier if we are not very good at integrating it with a silicone spatula. But, remember, it is very important not to beat it or make sudden movements. We must make delicate, soft and enveloping movements. The whisk will help us to integrate it easily.

For a good final cooking result, the oven must be preheated well. Cooking should be done in a bain-marie (water-bath) to favour a humid environment and achieve a cheesecake with volume.
The cooking temperature is also very important if we do not want to get cracks or, on the contrary, collapse when leaving the oven. A very strong temperature will make the cheesecake grow very fast and will lead to the appearance of cracks. It is preferable to bake at a lower temperature and allow it to grow gradually at the same time as the upper part is curdled. If, on the other hand, we have a lack of cooking, the cheesecake will take on volume during baking, but when we turn off the oven and take it out, itwill collapse, come down and give us a flat, rough surface. In addition to a possible tighter final texture.
When we finish cooking it is important to let it rest for a few minutes in the oven so that the cheesecake maintains its volume.
Before unmoulding, let it cool completely inside the mould.
We can keep it refrigerated inside an airtight container or a glass bell for 3 days. But I'll tell you, it won't even last that long!
There's really no reason not to be encouraged to make this Japanese Cotton Cheesecake. The result is simply spectacular and the process is super easy. All it requires is a long cooking process, but we don't have to be in front of the oven either.
We set an alarm to reduce the temperature and that's it. We can be doing other things without problems. We have dessert for 1-2 days, depending on how many of you are at home and how much you like it! I'm telling you, I've done 5 in two days. It sounds like a crazy thing, but when you try it, you'll tell me.
I wish you a wonderful weekend, see you on Monday!
Big hugs,
Eva
Archivado en