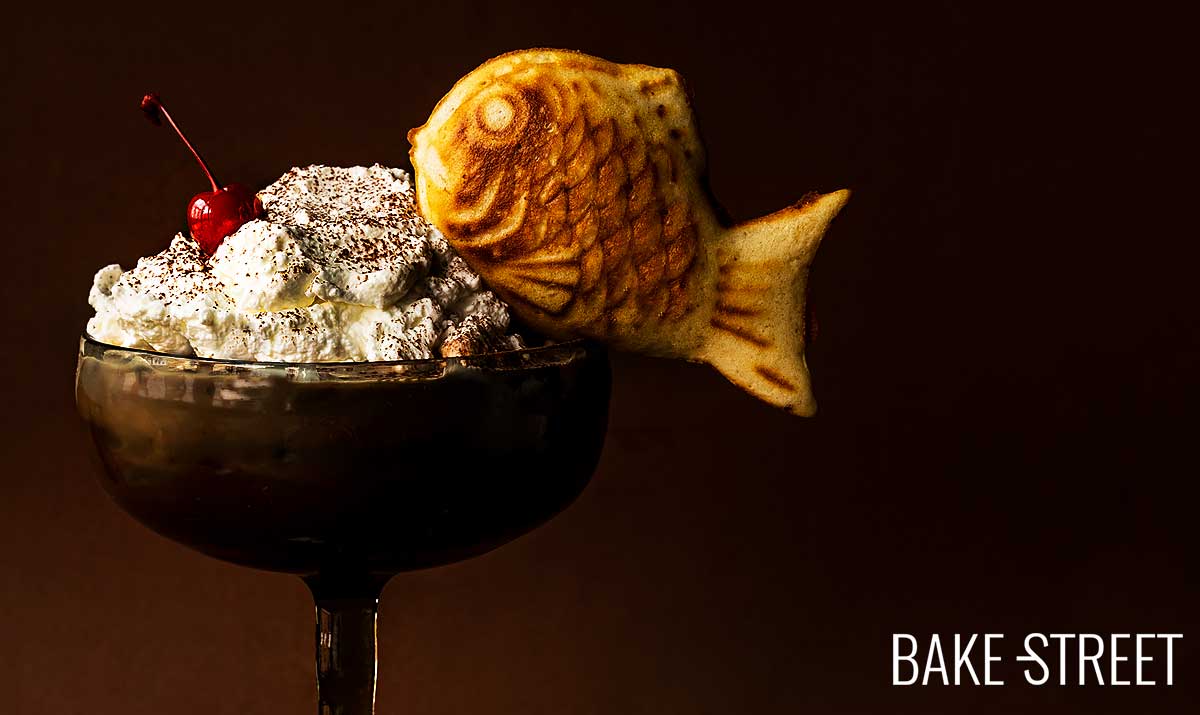 How to make Taiyaki + Black Forest Milkshake
Este post también está disponible en Spanish
A few weeks ago, a girl left me a comment on Instagram asking me if what I had made was Taiyaki. I told her no, but thanked her for letting me know about this wonderful recipe. It's true that I had already tried them, although I didn't remember their name, and they were filled with ice cream…. I must add that the ones I tried, from an ice cream parlour in Madrid, I didn't like at all. The dough was tasteless and overcooked, not to mention the ice cream was crystallised.
So the same day she told me about it, I bought the pan to make them. As happens to me on more than one occasion, I was overcome with emotion and didn't think about the fact that my induction hob would not be compatible with this pan as it is raised on both sides. But I leave you with a way (different and peculiar, I won't deny it) to use it and enjoy an incredible Taiyaki with a Black Forest milkshake at home.
The truth is that the way you enjoy them is entirely up to you. With some chocolate or caramel and whipped cream, they are wonderful. But if you feel like getting a bit more creative and pampering yourself (all the love you give yourself is more than deserved), this option could be fabulous. Especially for the weekend.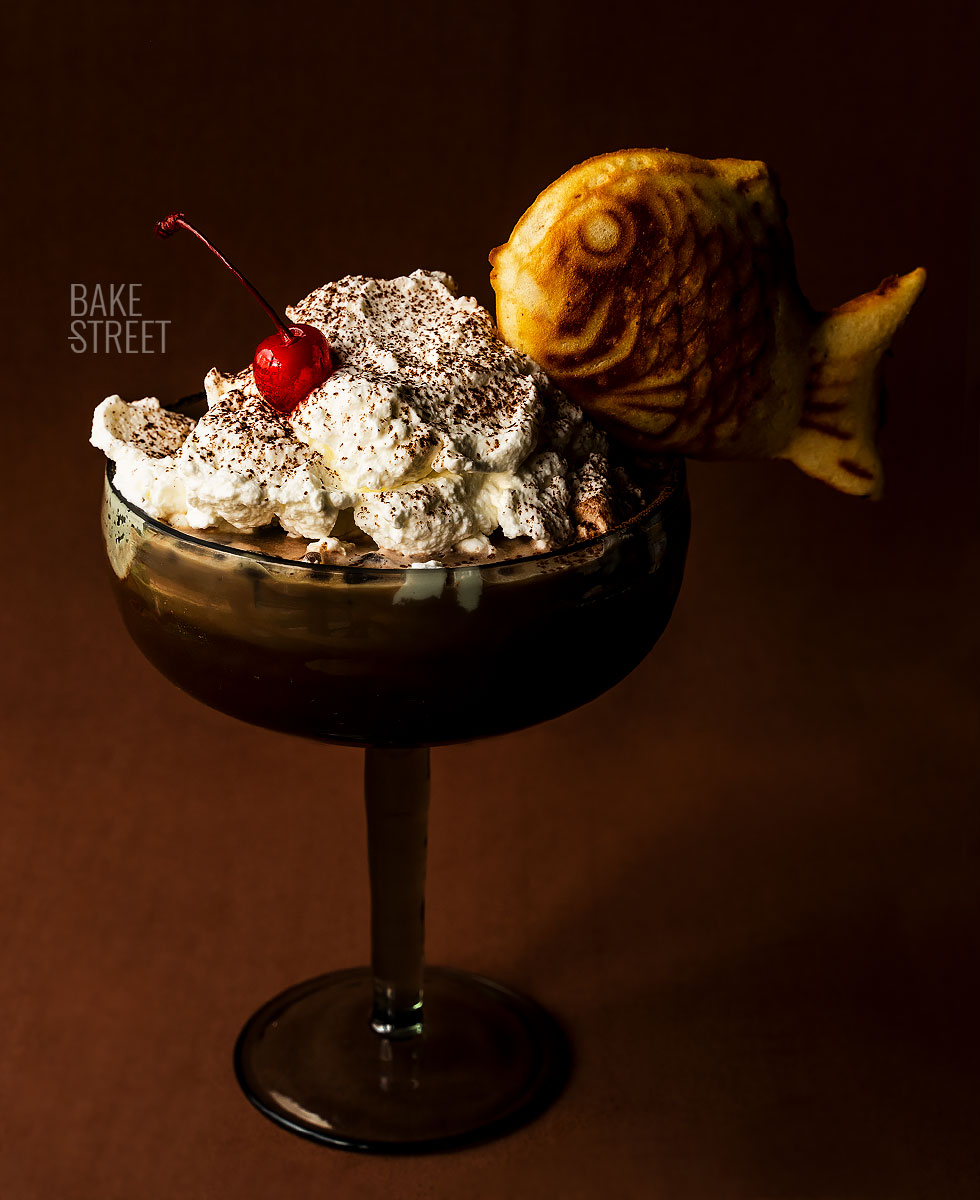 The translation of taiyaki that means "cooked sea bream", first appeared in Tokyo a century ago. The story goes that a similar sweet known as imagawayaki was sold in Kansai, western Japan, and that vendors visiting Tokyo (then known as Edo) began selling it near one of the bridges in the Kanda district.
Imagawayakiwas made with a denser batter and was commonly found in a round shape. The taiyaki, on the other hand, was made with a thinner, more delicate batter, resulting in a crisp, fish-shaped cake. Both sweets were part of a trend to use molten metal moulds to shape food. At the turn of the century, as the Meiji period was coming to an end, taiyaki was becoming fashionable and it was common to find mentions of this cake in the newspapers.
It is unclear exactly why sea bream was chosen for the shape of the mould, but the most common theory is that the cake is associated with luxury. Sea bream is a somewhat expensive fish and for that reason, it is thought, the moulds were shaped like sea bream so that those who tasted it could imagine that they were doing well and eating luxury goods. In Japan, sea bream is known as the "king of fish" and is considered a delicacy, which suggests that this story may not be far off the mark.
Sea bream is eaten on special occasions, such as New Year's Day, to anticipate good luck.
There may be a connection with the word for sea bream, "tai", which sounds similar to "medetai", Japanese for happy or auspicious, and the idea that eating it brings good luck.
Although it has been around for quite some time, taiyaki began to establish itself in society after World War II. With the need to earn money, making and selling taiyaki proved to be a simple and inexpensive way for many people to make a living in the post-war period. However, it was not until 1976 that taiyaki achieved its true success with the fortuitous release of the song Oyoge! Taiyaki-kun, meaning "Swim! Little Taiyaki". It was an incredibly massive hit with children and adults alike, and is credited with helping to popularise taiyaki in Japan.
Today, taiyaki can be found everywhere in Japan.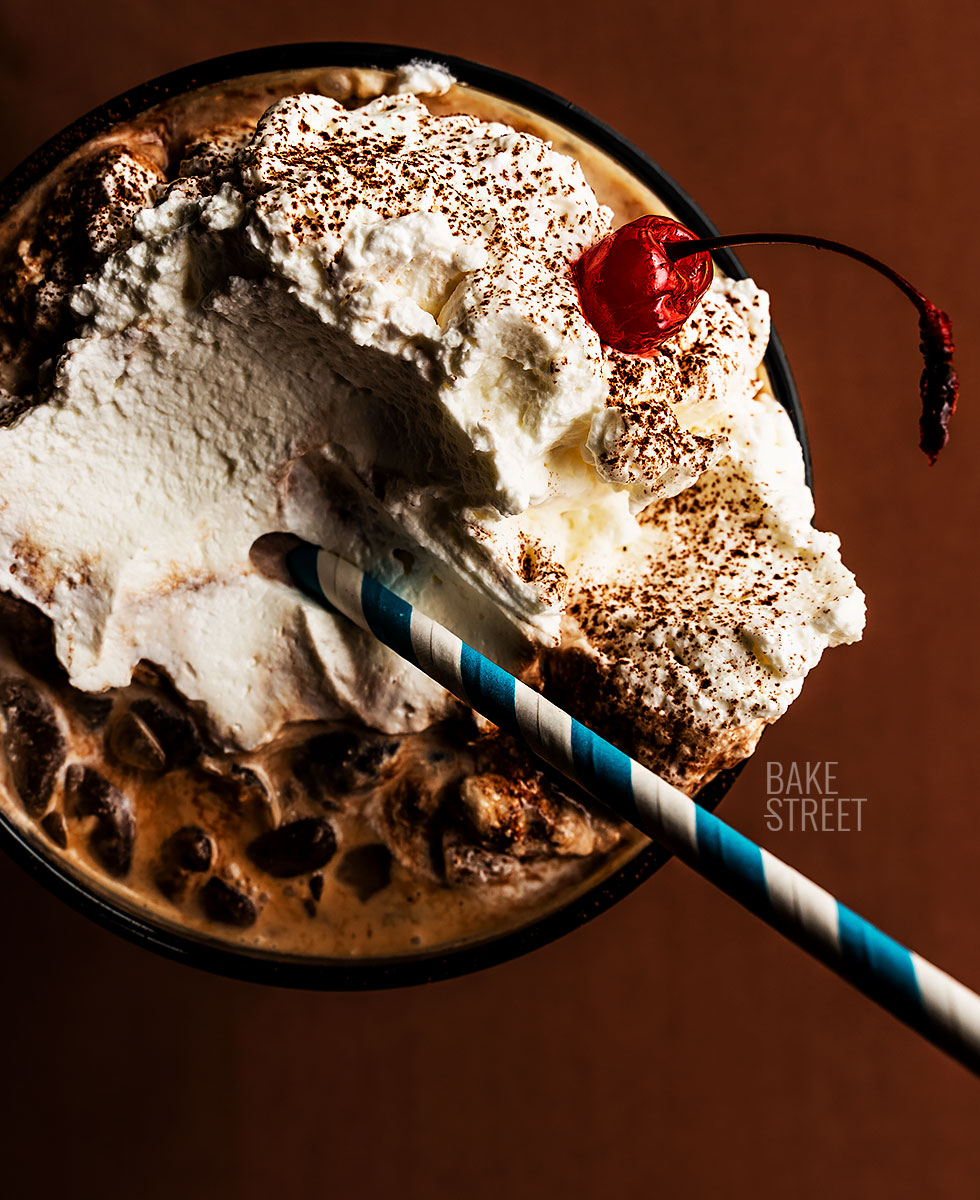 The tail controversy.
Being such a popular food, it was easy to find various articles in which both experts and celebrities talked about the food. Andou Tsuruo, a novelist, wrote an article for the Yomiuri Shinbun newspaper entitled "Taiyaki tastes better with paste in the tail".
In it, he shared his experience of meeting a taiyaki vendor who stuffed his taiyaki, including the tail, with red bean paste. Andou saw this as a generous act and opened a debate on whether or not the taiyaki tail should be filled with bean paste. Readers responded with the following opinions:
The tail was originally just a handle to hold the taiyaki that was discarded after eating.
The tail should not contain any filler as this part helped to reduce the sweetness after eating the rest of the taiyaki.
If the tail has no filling, there is a feeling of wasting that part of it.
If the tail is filled with bean paste, the cake has much more value.
The dispute continued over how to eat taiyaki: Do you start eating it from the head or from the tail? Some people even went so far as to assign different personality traits according to the way you eat taiyaki:
If you started at the top, you were considered an optimist.
If you started at the tail, you were a romantic.
Someone who ate by the flipper was sensitive.
A person who opened it, was a person of action.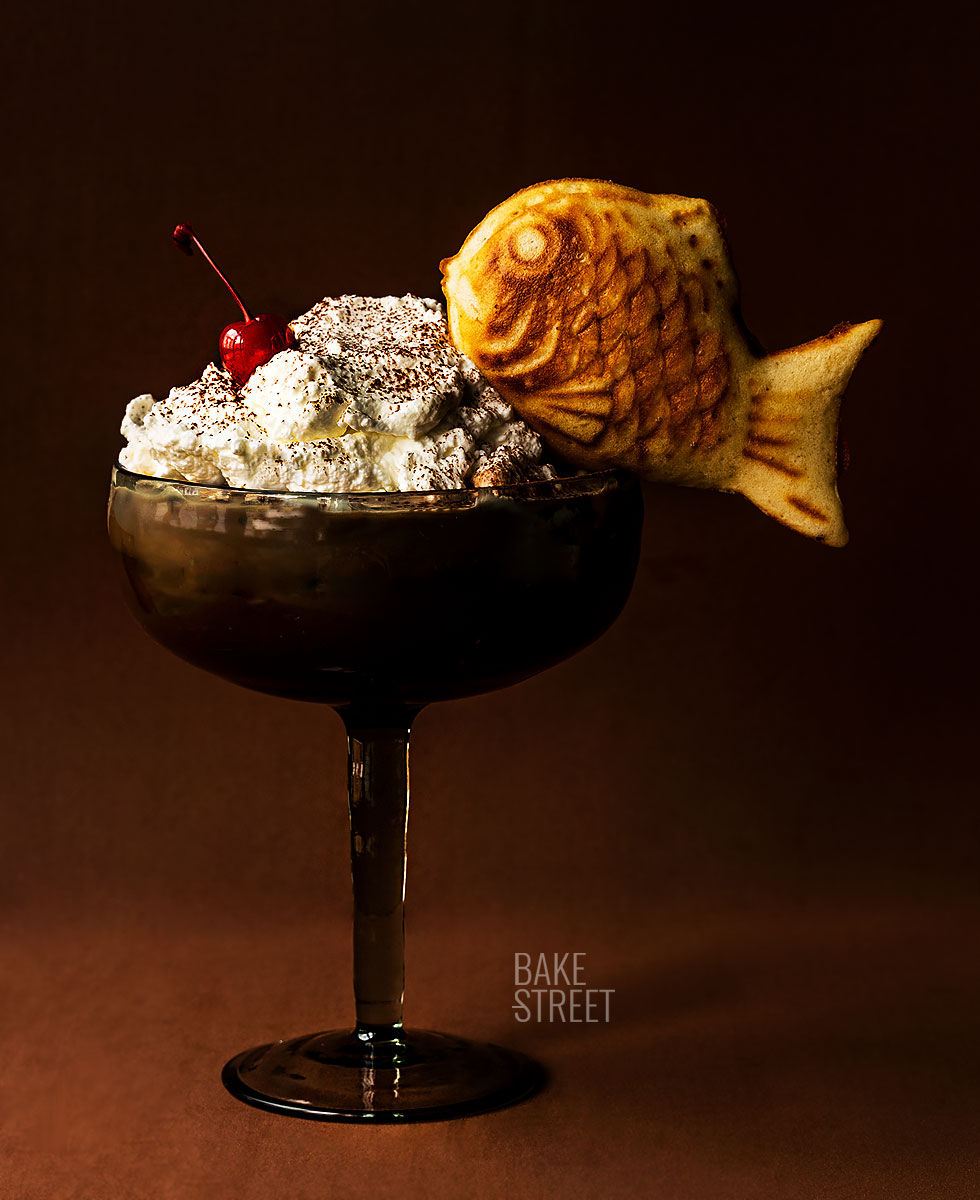 There are different varieties of taiyaki depending on the region of Japan.
In Nagasaki Prefecture, the city of Tsushima is home to the Saga taiyaki. This is a taiyaki with a folded tail and a circular appearance, which is more similar to the original sweet imagawayaki. Another version of taiyaki has wings, known as hanetsuki taiyaki (taiyaki with wings attached), and is shaped like a fish surrounded by a thin, crispy rectangular wafer of dough. There is even a croissant-style taiyaki.
In Iwaki City, Fukushima Prefecture, where scientists are studying the famous coelacanth, the taiyaki is shaped like this strange fish. In Kazo City, Saitama Prefecture, they make taiyaki in the shape of the carp streamer that is used to celebrate Children's Day on 5 May. It is called koinoboriyaki. In places like Nagasaki City and Muroran City in Hokkaido, the waffle is baked in the shape of a whale and is known as kujirayaki, "baked whale", while in Fukuoka Prefecture a taiyaki in the shape of a sunfish – manbouyaki– is sold.
In Akita City, a cold version of taiyaki called cold taiyaki "hiyashi taiyaki" is made, while in the north, in Aomori Prefecture, in Goshogawara City, a fried taiyaki "agetai taiyaki" is made.
Although taiyaki, wherever they are made, are traditionally shaped like fish, they can also be found in other shapes, such as faces of people, birds, turtles, anime characters, and even Hello Kitty. When they are shaped like people or animals, they are called ningyoyaki– cooked dolls.
Taiyaki recipe (6-7 pieces)
BATTER:
150 g pastry/cake flour
160 g whole milk
10 g water
1 large egg
12 g baking powder
30 g sugar
pinch of salt
FILLING:
BLACK FOREST MILKSHAKE (1 serve):
30 g milk chocolate
45 g dark chocolate 70%
1 Tbsp cocoa powder
190 g whole milk
1 Tbsp dark muscovado sugar
2 Tbsp cherry jam
1 shot Maraschino liqueur
crush ice
whipped cream + cocoa powder + 1 Maraschino cherry
MATERIAL WE WILL NEED:
Taiyaki pan
bowls
whisk
cooling racks
pastry brush
Instructions
Prepare taiyaki batter.
In a bowl, add the egg, milk and water. Beat until homogenised.
Add the sugar and beat again.
Sieve the flour and add the baking powder and salt.
Pour the mixture of liquid ingredients over dry ingredients and mix until the mixture is smooth and lump-free.
Cover with cling film or a shower cap and leave to rest for 30 minutes.
If you do not have a gas cooktop, preheat the oven.
Preheat the oven to 375ºF/190°C with the heat turned up and down.
Ten minutes before preparing the taiyakis, place the pan on the base of the oven. In my case, I have a sliding door oven, so I can practically close the door, leaving the handle of the pan outside (it is made of plastic).
Cook taiyakis.
If you have a gas cooker, heat the pan over medium-low heat until hot.
Once hot, brush the inside of the holes (on both sides) with olive oil or melted butter.
Pour the mixture up to the edge of the holes. Close the pan and cook. If cooking on a gas cooktop, cook on low heat for 2-3 minutes on each side (approximately). If we do it on the base of the oven, cook for 3-4 minutes on each side. I advise you to check their state to make sure they are cooked and slightly golden in colour, but do not overdo it to avoid them being dry instead of fluffy.
Open the taiyaki pan, carefully remove and place on a rack.
Repeat the same process with the rest of the batter.
If we want to fill them, pour the mixture into the holes without reaching the edge. Use a spoon to spread the dough towards the tail part. Put a little filling to taste in the middle and cover with a little more batter.
Cook in the same way as before.
Prepare Black Forest Milkshake.
Pour the milk into a saucepan and place over medium heat. Bring to simmer.
Remove from the heat and add the two types of chocolate together with muscovado sugar and cocoa powder. Mix until completely homogenised.
Leave to stand, stirring from time to time, until cool.
Just before serving, add Maraschino liqueur and stir well.
Serve Black Forest milkshake with Taiyaki.
Place two spoonfuls of cherry jam in a wide-bottomed glass.
Add ice to taste.
Pour in the chocolate milkshake.
Decorate the surface with whipped cream, sprinkle with cocoa powder, Maraschino cherry and taiyaki.
Serve.
Notes
The batter should be mixed, just until the ingredients are integrated, making sure that there are no traces of flour. Do not overmix.
The ideal way to cook taiyaki is on a gas cooker, but if you are like me and your cooktop is induction, this is an option for making them and enjoying them at home.
You can cook the taiyaki the way I have shown you in the video or you can pour some filling on one side, spread it out, cook it for 1 minute, flip the pan over, fill the opposite side and finish cooking. This way you can be sure that both sides will be very well marked with the reliefs of the fish.
The filling is completely optional and can be adjusted to your personal taste. Or you can cook them without filling and then serve them with whatever you like. In my case, the milkshake I have left for you.
Be careful not to burn yourself when removing the taiyakis from the pan. Let them cool for a few minutes before eating them.
Ideally, they should be eaten the same day they are made. If you don't want to do this, you can wrap them individually in cling film and refrigerate them for a day or freeze them so that you can enjoy them whenever you feel like it.
Milkshake can be made without alcohol if desired. It is not necessary to add anything to replace that portion of liquid.
If a lot of ice is added, the milkshake should be consumed within a short period of time to prevent it from going watery.
If we prefer to drink the milkshake hot, once we remove it from the heat, serve it immediately as shown in the video, but omitting the ice.
I am well aware that the way I cook these Taiyaki is not the most appropiate.... I wish I had a gas cooker (no doubt when I change my kitchen I will install a gas hob combined with induction), but as I don't have one and I bought the pan on a whim, I had to look for another option that would work for me.
And it works. Another thing is that it consumes more electricity than a gas cooktop would. It is also true that it is not something I do every day, so it is not a big problem. In any case, if you like them, if they catch your eye and you want to try them, go for it. The result is a cake with a texture very similar to a pancake, spongy, tender, soft... And with filling. A complete delight.
As I mentioned above, it can be served and presented in an infinite number of ways. In my case I leave you with this Black Forest milkshake, which can be served either hot or cold. But whatever you want to serve it with, it will go well, trust me.
I wish you a wonderful weekend!
Big hugs!
Eva
Sources:This is Japan (thank you for this comprehensive information)
Archivado en