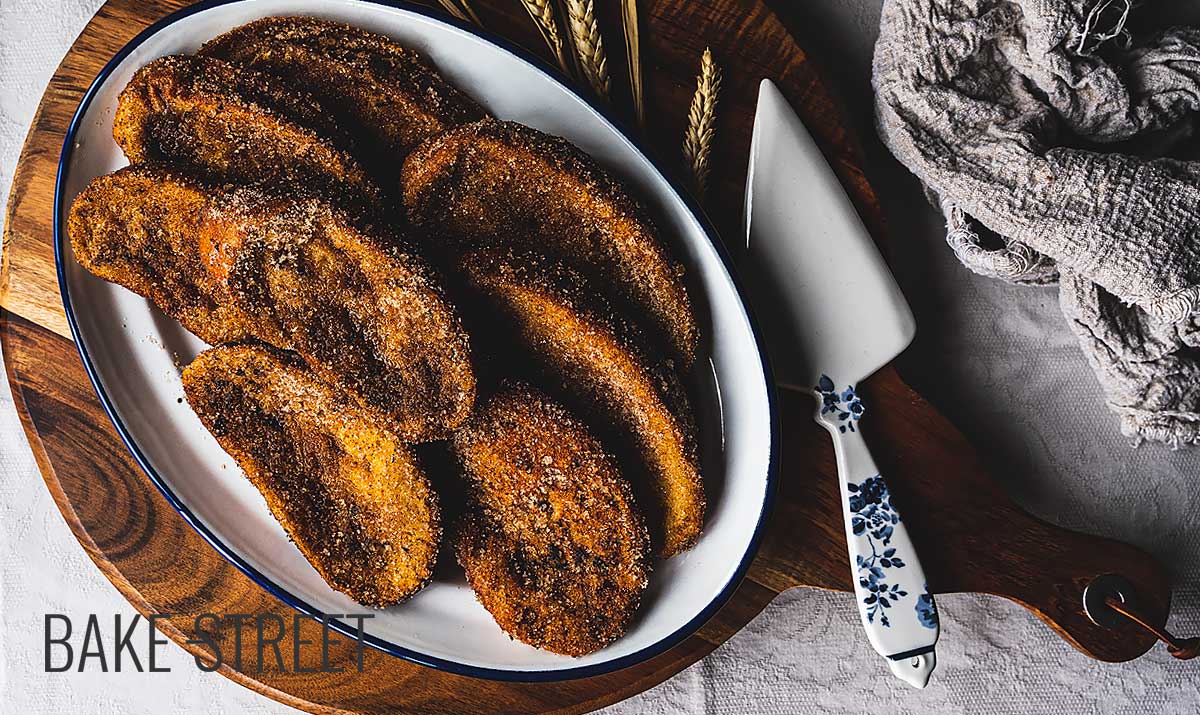 How to make perfect Torrijas de leche
Este post también está disponible en Spanish
After preparing our torrijas bread, it is time to get down to business and see how to make perfect Torrijas de leche. Without a doubt one of the most classic and traditional desserts of Spanish gastronomy, which have been part of our lives since childhood. And they will continue to be with us forever. I have engraved in my memory a large number of scenes in which my mother prepared torrijas throughout my childhood.
It was one of those moments of the year that I liked very much. Well, I've always been very much into festivities and parties, so anything that's a celebration is great. But, if I collect all my best moments with my family (#trendingmoments), most of them were around a kitchen or a table. In fact, there are aromas, which remind me and immediately transfer me to a certain moment in my life. They are the best page markers to take up chapters of our existence.
Well, I have a philosophical mood and I'm leaving what interests us.
Let's see how to make some torrijas de leche. I know that there are other varieties such as wine torrijas, with milk and honey, syrup, baked, with pastry cream, condensed milk… Endless possibilities. But, in my case, I will share the ones I like the most and this is the recipe for traditional torrijas de leche (with milk). The most classic. Although it may also be the one that was the most "suitable for children" and for that reason it was the one my mother always made.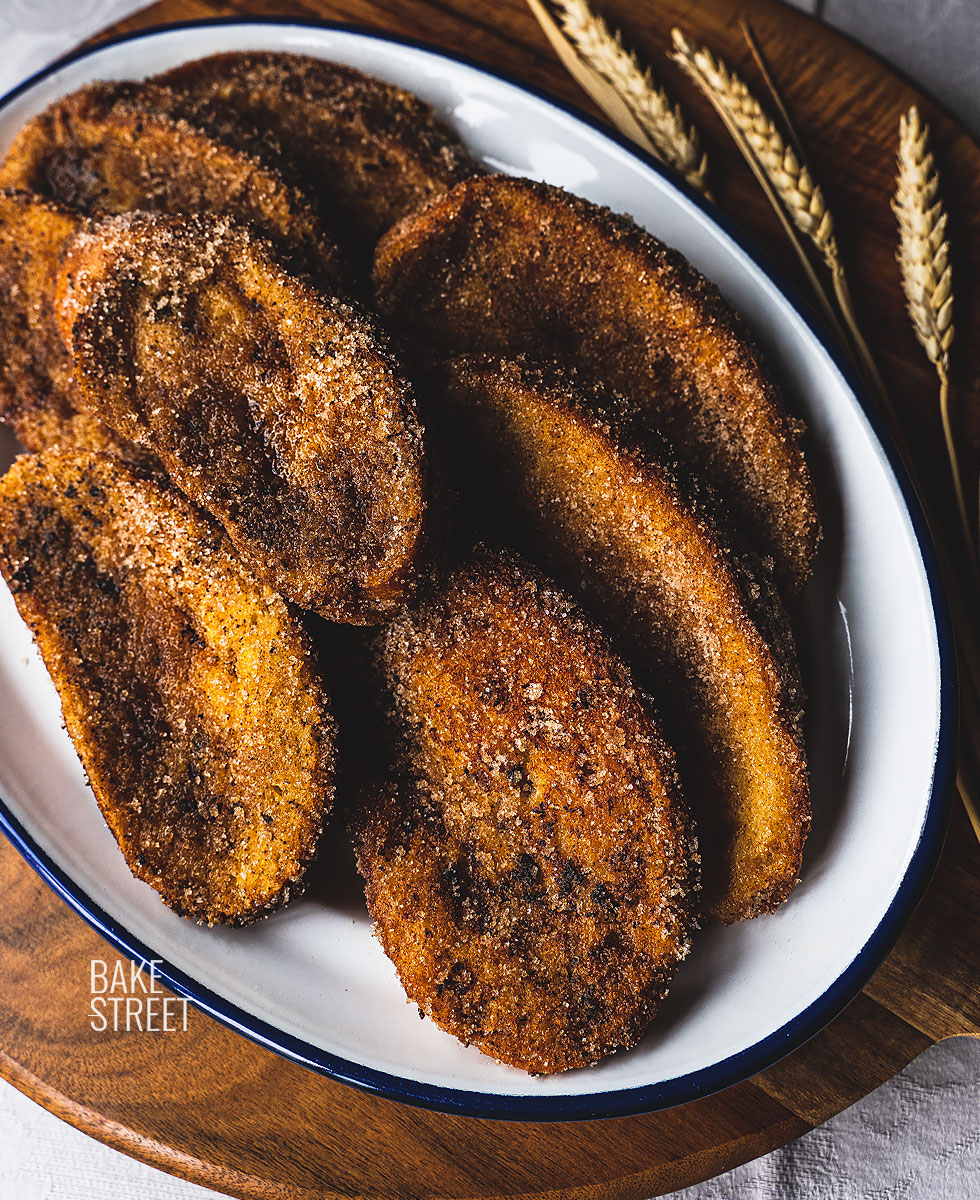 What are torrijas?
I'm sure we all know what they are, but it never hurts to make a brief presentation of a great dessert.
Torrija, also known as torreja, is a classic Spanish dessert made with bread, usually from previous days, so we could say that it is a recycled recipe. It is soaked in milk, wine or syrup, bathed in egg and fried with oil. Then it is covered with sugar and cinnamon or honey. Nowadays it can be made with hard bread, specific bread for torrijas, sliced bread or we can make our own homemade torrijas bread.
Surely it reminds you a lot of the famous French toast that certainly looks a lot like it.
Torrija origin.
The first known reference to an elaboration such as the torrija appears in Apicius' work. There you can find a collection of Latin recipes dating from the 4th and 5th centuries. The recipe book mentions that the slice of bread must be dipped in milk, without mentioning the presence of eggs, and does not give it a specific name. It simply calls it aliter dulcia (another sweet dish).
Bread dipped in milk and sweetened with sugar was known in medieval Europe as suppe dorate, soupys yn dorye, tostées dorées or pain perdu in France, which gave rise to payn purdyeu in the United Kingdom. The word soup or suppe, quoted above, refers to the fact that it has been immersed in a liquid, a "soup".
In the 14th century, the recipe book Le viandier de Taillevent presented the recipe for "golden toasts" (tostées dorées), which were coated in beaten egg yolk before being cooked in the frying pan and sprinkled with sugar. At the same time, a German recipe book uses the name arme ritter (poor knight), a name used in English as poor knight and in the Nordic languages.
In Spain, the term "torrija" or "torreja" appears already documented in the 15th century.
The chef Domingo Hernández de Maceras in his recipe book Libro de Cozina (1607) uses the term "torrija" in a dish, a kind of cake sweetened with sugar and cinnamon, although he does not detail the process of making it. The writer and chef of the palace of Felipe II, Francisco Martínez Motiño, in his Arte de cozina, pastelería, vizcochería y conservería (1611) describes the recipe for "torrijas"; it consists of bread soaked in milk, egg, fried until it is a little brown -as he advises-, sweetened with syrup or honey and sprinkled with sugar.
Torrija was very common in the early twentieth century in the taverns of Madrid and used to be served with glasses of wine (chatos). Its association with Lent could be due to the need to make the most of the leftover bread. Since meat could not be consumed, less bread was eaten in the houses.
Making torrijas de leche.
It is certainly an easy and simple recipe where there are any. All we have to do is cut the bread, soak it well with the infused milk, coat it in egg and fry it. Tell me how many simple recipes can provide as much satisfaction as a freshly made torrija de leche? Just a few 😉
Recipe for torrijas de leche
Ingredients for 2 loaves for torrijas, 450 g each
FOR INFUSED MILK:
2 l. whole milk
165 g sugar
one lemon peel
2 cinnamon sticks
FOR COATING:
3 large eggs
200 g sugar + 4 tsp cinnamon powder
FOR FRYING:
Instructions
Make infused milk.
Pour the milk into a medium saucepan along with the sugar, lemon peel and cinnamon sticks.
Place on a medium-low heat and leave until it reaches a gentle boil.
Remove from heat and let stand for 1 hour.
After this time, strain the milk to remove the lemon peel and cinnamon. Pour it into a jar and set aside.
Cut the bread and soak it in the infused milk.
Cut torrijas bread into slices.
In my case I cut them a little bit inclined to get a bigger size toast, but do it the way you like.
Place bread slices inside a wide dish. In my case I needed to use 2 trays.
Pour the infused milk over the bread, just enough to soak them well and make them juicy.
Let rest for 30 minutes so that the bread absorbs all the milk. This step is very important to get a good result inside. We want them to be creamy, not hard or dry.
Fry torrijas.
Pour sunflower oil into a medium saucepan. We should use enough oil to cover half torrijas.
Put it on medium heat and let it reach 347ºF/175ºC. To do this we will use a digital thermometer.
Meanwhile, beat the eggs in a deep dish. Set aside.
Add the sugar together with the cinnamon in a medium bowl, mix well to obtain a homogeneous mixture. Set aside.
Prepare a plate with kitchen paper where we will place torrijas as we remove them from the oil. Set aside.
Once the oil has reached the right temperature, fry torrijas.
Take, carefully, a torrija soaked in milk, batter in egg on both sides, drain well and place in the pan. Fry for about 1 minute on each side.
Remove, drain well and place on kitchen paper.
Leave to rest for a couple of minutes before coating in the cinnamon-sugar mixture.
Repeat the same process with the rest of torrijas.
Once we've got them all done, place them inside a recipient. Or eat them!
They're very good the same day we make them, the next day, too. But better freshly made.
To keep them for 2-3 days, they must be kept refrigerated in an airtight container. Ideally, it should be made of glass.
Notes for torrijas de leche
To make the torrijas we can use hard bread, store-bought specific bread, this bread for torrijas or even the Mouna, brioche flavored with orange.
When we infuse the milk, we must let it rest so that the aromas are intensified and the milk loses heat. Otherwise we would not only burn ourselves when handling the bread toast, but also the bread may disintegrate.
The resting time of torrijas de pan con la leche in milk cannot/should not be omitted. In this way we will achieve a creamy and juicy interior because the bread will absorb all the milk that we have poured over them.
It is very important to handle them carefully when we are going to coat it with egg.
We can use sunflower oil for frying or mild olive oil or seed oil. I leave it up to you.
We must fry them until they acquire a light golden color. The ideal temperature of the oil is 374ºF/175ºC.
In case the torrijas absorb too much oil, we will have to refill the frying pan and wait until it has the right temperature to fry them.
We must wait for the torrijas to lose some heat before covering them with the sugar and cinnamon mixture.
Torrijas de leche can be kept for 2-3 days refrigerated in an airtight container.
I hope you find this post on How to make perfect Torrijas de leche useful and put it into practice in the next few days. It's good to keep busy so that the time becomes more enjoyable and bearable. For me cooking has always been a therapy and these days I think it is more than ever, hahaha.
And if you wish, remember that you can also prepare torrijas bread. In that case we will need two days to carry out the whole process. The result will be a very aromatic and juicy inside. Another advantage of preparing bread at home is that you can control the amount of sugar in the bread, the amount of yeast (commercials usually have tons) and the quality of the ingredients.
I hope you have a good weekend, within our possibilities, and that you take care.
Big hugs,
Eva
Archivado en