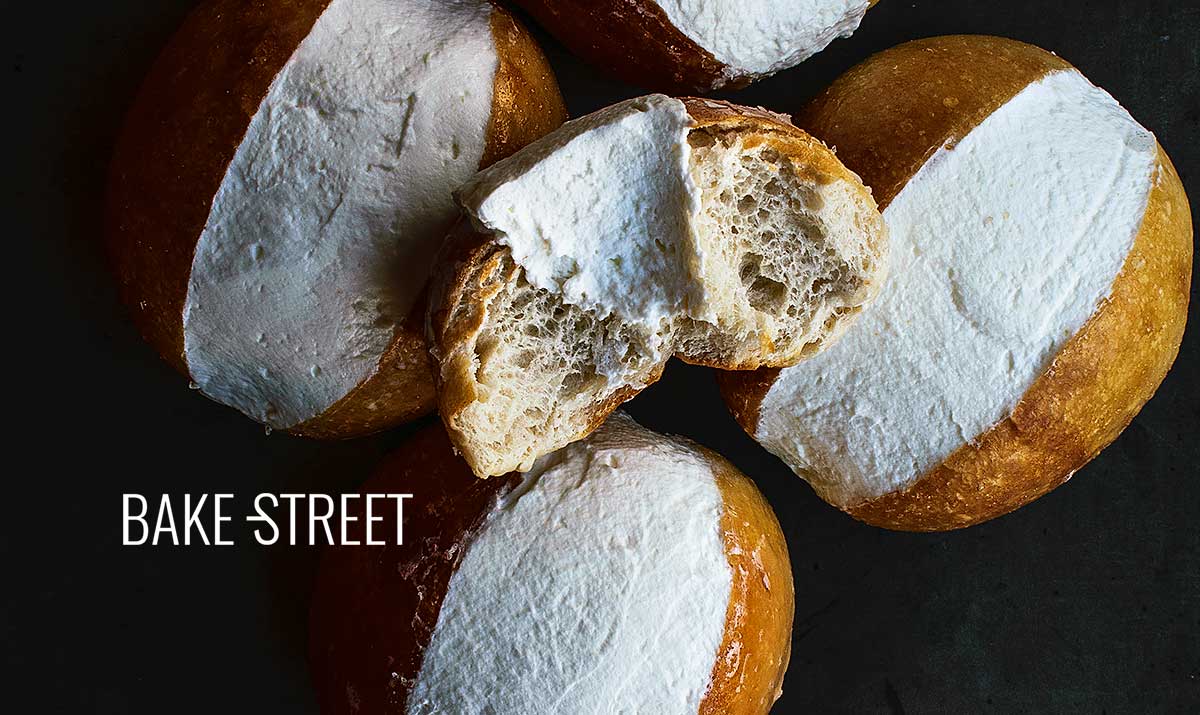 Maritozzi, sweet bread with cream
Este post también está disponible en Spanish
Today's recipe fell me deeply in love with until it stole my heart. You may think it's an exaggeration, but not at all. This sweet not only falls in love because of its presence, but also has a fascinating flavor and sponginess. It's something you probably haven't tried in a long time. It is a sweet bread flavoured with orange and filling, splendidly and very generously, with cream. Maritozzi con panna.
These sweet breads originate in Italy, specifically from Lazio, but their origins date back to ancient Rome. Its elaboration consists of very common ingredients in confectionery such as flour, eggs, honey, butter… but it is the detailed process and the exact ingredients that make this extraordinary sweet. There are other versions in which they add pine nuts, raisins, candied orange… But to tell you the truth, I don't think it needs anything else.
As far as their history is concerned, there are many and all of them perfect.
Some say that these buns were already consumed, made with honey and raisins, in Roman times during the long days of work in the countryside. But maritozzi are much more likely to have originated from those sweet breads.
In Catholic times it was said that it was the only sweet that was allowed to be eaten during the fasting of Lent. They called them "Er sacro maritozzo", it was like a little whim.
Nowadays, these breads have undergone an evolution as it happens with all the preparations that last over time. Its format has become somewhat smaller and ingredients such as pine nuts have been added. Like its history, it has also adapted and channelled along a much more romantic way.
It was tradition that the boyfriend and future husband (maritozzi: husband, from there takes its name this sweet bread) gave the girlfriend this sweet as a sign of his love and also used to hide a ring inside. The sugar glaze symbolized two trapped hearts.
I think it would be perfect if someone asked me to marry this sweet… In fact, I would fall down after the first bite and be happy forever and ever.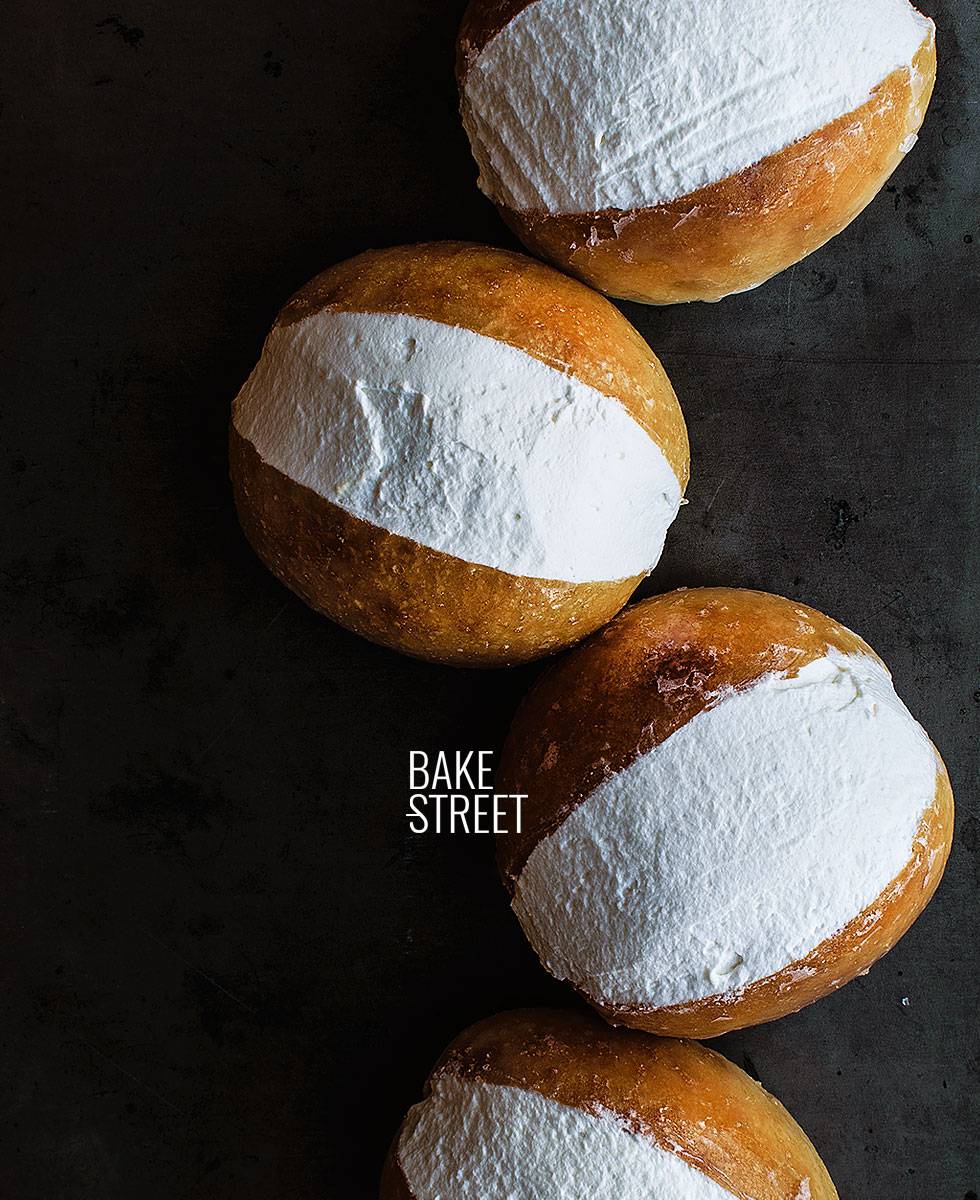 Ingredients 10-12 pieces
Recipe by Maestro Adriano, Profumo di Lievito.
FOR THE DOUGH:
15,8 oz (450 g) high strong flour, W=340
1,75 oz (50 g) rice flour
7 oz (200 g) water
3,2 oz (90 g) sugar
1 oz (30 g) honey
1 large egg
1 large egg yolk
2,1 oz (60 g) unsalted butter at room temperature
1,4 oz (40 g) sunflower oil
0,1 oz (3 g) dry yeast
0,28 oz (8 g) salt
1 tsp natural orange extract or orange zest from one piece
FOR BRUSH:
1 egg white lightly beaten
3,5 oz (100 g) water + 4,75 oz (135 g) sugar, for the syrup
FOR THE WHIPPED CREAM:
17,6 oz (500 g) cream
3,2 oz (90 g) icing sugar
few drops of vanilla extract
Instructions
Make preferment.
In a bowl pour the water together with the dry yeast and 200 g of flour. Mix until completely homogenized. We'll get a very similar texture to a poolish.
Cover with film and leave to rise until doubled in size. It will take 1-2 hours, depending on the outside temperature. The surface will be covered with bubbles.
Make the dough.
Add the remaining 250 g of flour along with the rice flour, orange/zest extract and sugar. Mix with the hook at slow speed for a few seconds, the dough will be very compact and dry.
Add the egg together with the yolk and salt, and continue kneading.
Pour the honey and continue kneading until get a fully developed dough. It will take a while, for that reason it is better to use a kneader in case you have it.
Once we have the gluten developed, add the butter. We will do this in two batches and we will not add the next batch until the first batch is completely absorbed.
Finally, add the oil. We will do it little by little and in a thin and continuous thread, waiting until the dough has completely absorbed it before adding more. You will notice that the dough is covered in fat and, at first, it takes a little while to absorb it. But little by little the texture will change.
The total kneading time will be around 1 hour without rest. The final texture is incredibly soft and delicate.
Make bulk fermentation.
Roll the dough and place it in a slightly greased container. Cover and let rise until it doubles in size. In my case it was 5 hours at 77,5ºF.
Fold the dough, either in the container itself or on a clean work surface, to degass it gently.
Place it back in the container and leave for 30 minutes at room temperature.
Put it in the fridge and leave overnight. In my case, it was 14 hours at 39°F.
Shape maritozzi.
Remove the dough from the fridge and let 2 hours at room temperature.
Place the dough on a clean work surface and degass gently.

Divide the dough into pieces of 2,8 oz / 80 g and preshape. Cover with film and let stand for 20 minutes.

Shape the rolls, we will do it the same way if we make batards to give them a slightly elongated shape.
Place them on a tray lined with baking parchment, leaving space between them to grow (we will need 2 trays), cover with film and let them rise until doubled in size. In my case it was 2 1/2 hours at 77,3ºF.
Make whipped cream.
Cream must be cold 24 hours before used it.
The bowl in which we are going to make whipped cream must be cold. I recommend to use one aluminium bowl and freeze 20 minutes before beat it.
Pour heavy cream into freeze bowl and beat with an electric mixer into slow speed.
Once cream is becoming to form stiff peaks, add sugar little by little stirring the whole time. Increase speed gradually but without reaches high one. Ideally use medium speed.
Before finish to beat the cream, add vanilla extract and beat until get a perfect whipping cream. Be sure not to over-beat, otherwise cream will become lumpy and butter-like.
Cover with plastic wrap and chill until used it.
Prepare the syrup while baking the maritozzi.
In a saucepan add water and sugar.
Place it in medium heat and leave until you get a soft syrup, it will take about 5-6 minutes.
Remove from the heat and set aside.
Bake.
Preheat oven to 355ºF.
Brush the maritozzi with egg white and introduce at medium height. Bake for 14 minutes or until the inside temperature is around 185-195ºF.

Remove from the oven, place on a rack and brush the maritozzi with the syrup.
Let cool completely.
Fill the maritozzi.
Cut the bread in half and longitudinally without cutting the base.
Open slightly and fill with whipped cream. To obtain a smooth and clean finish we must do it with a scraper. It's better to watch it in order to understand it, I'll give you a link to a video that will be very useful to know how to do it.
Enjoy.
Notes
Is it mandatory to use a high strong flour? Yes, the main reason is the high fat content of the recipe, this flour has a higher absorption capacity, as well as the long fermentation processes.
I can't find that kind of flour, which one can I replace it with? Manitoba flour, Caputo 00 or any other type of flour of great strength that you can find in the market.
The rice flour that I specify to you in the ingredients is not glutinous rice flour, which I recently left for another recipe. This variety that we will use you can easily find in any supermarket.
Don't skip any step, not even the main one to elaborate the preferment, if you want to get a good result.
Do you recommend using a kneader to prepare this dough? Yes and absolutely yes. You know I love to knead by hand, I really enjoy it. But this dough is very laborious, the kneader will advance a lot of work... and it will make the hardest part, everything is said.
Sunflower oil can be replaced with any mild vegetable oil. But always bear in mind that olive oil brings a lot of flavor.
Can I brush with egg or yolk? Yes, you can. The original recipe brushes with egg white, which will be left over from the addition of yolk to the dough, so we take advantage of everything. Remember that in order to brush well, we will have to beat the egg white to "break" its structure and allow us to spread it easily on the rolls.
Do not omit the syrup after baking, the result after cooling is absolutely wonderful. It brings a slight sweetness along with a wonderfully crackle texture.

The unfilled rolls are kept perfectly tender and stored in a zip bag for 7 days. If we stuff them, due to the cream, they will last us 3-4 days stored in an airtight container and refrigerated.
If you don't want to fill them in the way I share with you, you can do it with a pipping bag or even a spoon.
Freshly baked and stuffed are a true delicacy of the gods, I assure you. But those that we have stuffed and preserved in the fridge, are kept in very good condition while maintaining their tenderness.
If you whip the cream well, it will keep its shape without problems. So don't worry, thinking it'll lose consistency.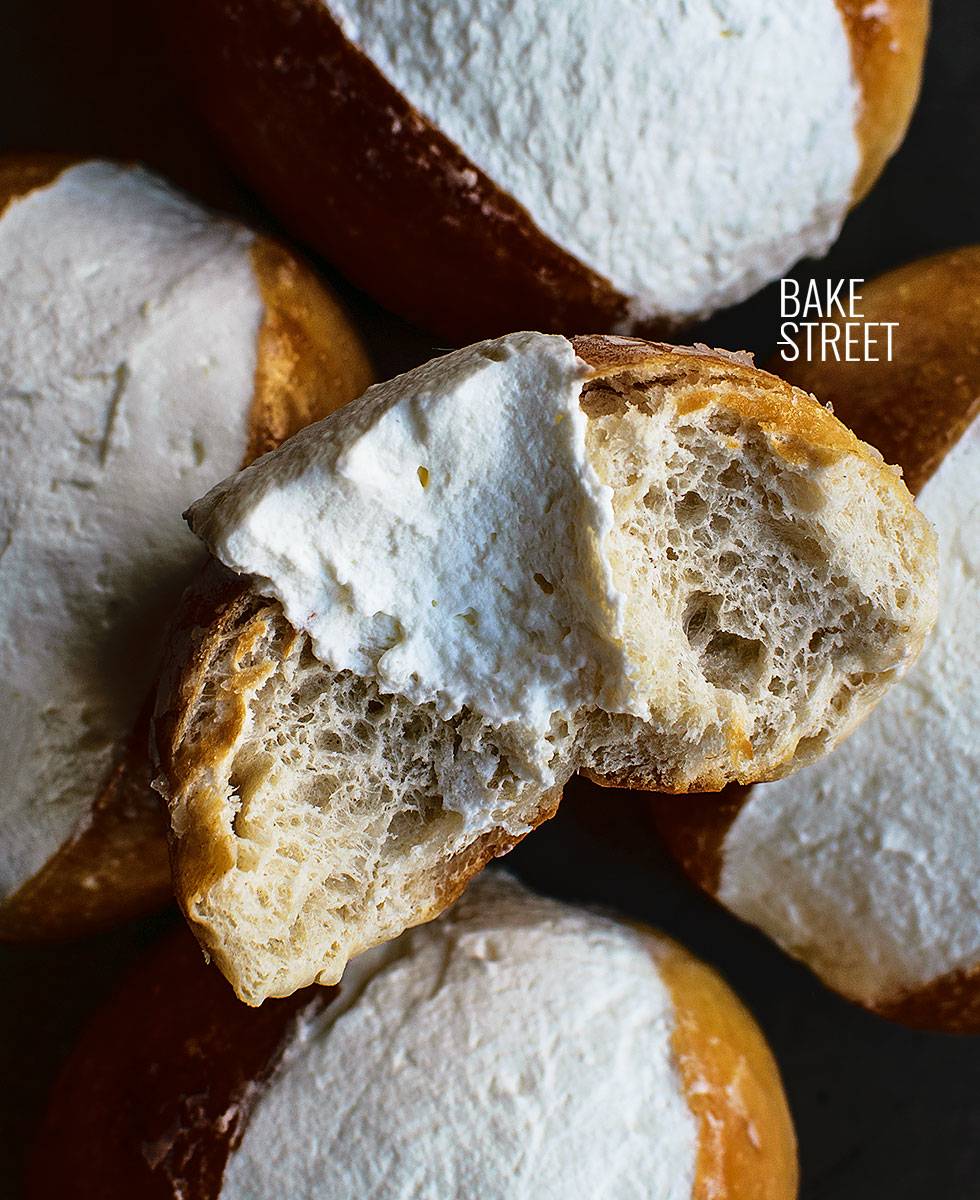 These maritozzi con panna or sweet breads filled with cream, are the best I have made in recent weeks. What I did before I also liked very much, but you must try it to understand me.
It's been a while since I've tasted such a tender, fluffy bun with such an incredible flavor... and to all this add a cream filling with just the right amount of sweetness. This I think it is important not to exceed the sweetness in the cream because the roll has a glaze coating that already sweetens enough.
Don't delay in trying this delicacy of Italian gastronomy ;)
Big hugs,
Eva
Sources: Wikipedia, GialloZafferano, Informazione.tv.
Archivado en