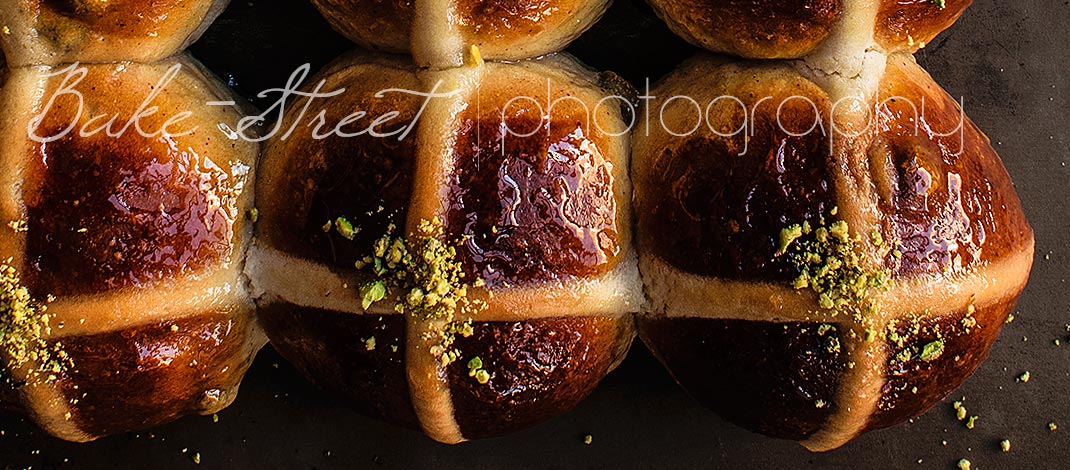 Hot Cross Buns – Easter buns {Video recipe}
Este post también está disponible en Spanish
I never imagined that these buns could be so incredibly good. Surely you've seen them a thousand times and they may seem like another sweet roll. These Hot Cross Buns have been a discovery of taste and texture without a doubt, at home we have loved it.
It is tradition to consume these spiced buns at Easter. Its appearance, with a cross on the surface, is a symbol believed to represent the crucifixion. I say it is believed because the Anglo-Saxons already consumed buns marked with a cross prior to the Christianity expansion.
Hot Cross Buns origin
They tasted some buns marked with a cross in honor of the goddess Eostre (ancient Germanic divinity of spring, who is after the name of Easter) that represented the four moon quarters of the moon. Although it is also said that the Greeks already marked buns with a cross.
According to Elisabeth David, culinary writer, the protestant kings of England found these rolls like a threat against the catholicism since they were elaborated with the dough to make the consecrated hosts. This entailed an attempt by the Kings to prohibit their sale.
They enjoyed great popularity so that Isabel I enacted a law that allowed to sell the Hot Cross Buns in bakeries but only in Easter and Christmas.
Making these buns…
They are sweet and spicy buns, traditionally filled with raisins. On its surface is drawn a cross that can be made with different methods; a dough / batter made with flour, with glaze or practicing cuts on its surface.
The recipe that I share with you today is based on one of my books that are part of my personal treasures, Baking and Pastry, is superb! The dough recipe I have respected almost in its entirety, I am always tempted to modify things to give a personal touch.
Something I liked a lot, a lot, is the citric touch they have. Not only in the dough, with lemon zest, but also, the added candied lemon. It's awesome! I reduced the amount of raisins because they were many … but, of course, be free to use more if you wish.
The cream of the cross I had to readjust because it was excessively thick and I think it would have given me problems to place it over the buns. I like this version much more than with a frosting.
The syrup that I use to brush just when I take them out of the oven is the same to make the candied lemon. The original recipe is made with another syrup with liqueur, but I liked the idea of reusing this syrup simmered with lemons.
Great, great … really. Much more than they may seem. Go practicing a little with them, I have the feeling that they are the perfect partners for the torrijas* 😉
* Sliced bread or brioche, covered with egg, fried and garnished with sugar. In Spain we eat them at Easter.
HOT CROSS BUNS
18 pieces
FOR THE DOUGH:
14.1 oz (400 g) bread flour
3.52 oz (100 g) wheat flour
0.15 oz (4,1 g) dry yeast
8.8 oz (250 g) whole milk at room temperature
2.1 oz (60 g) egg (1 large egg approx.)
1.4 oz (40 g) unsalted butter at room temperature
0.56 oz (16 g) honey
2.7 oz (76 g) sugar
lemon zest from 2 large lemons
0,017 0z (0,5) g all spice
0.03 oz (0,9 g) ground cinnamon
0,017 0z (0,5) ground nutmeg
0.37 oz (10,5 g) salt
3.52 oz (100 g) raisins
1.75 oz (50 g) candied lemon (recipe below)
1.75 oz (50 g) Danish or croissant dough, cuts (optional)
FOR THE CROSS BATTER:
2.25 oz (64 g) pastry flour
1.2 oz (34 g) whole milk
1,10 0z (33 g) sugar
1,10 0z (33 g) unsalted butter at room temperature
few drops of vanilla extract
FOR THE CANDIED LEMON:
2 large lemons
25 oz (700 g) water
6.35 oz (180 g) sugar
water, without specific measurement, for the first 3 cooking
FOR BRUSH:
1 beaten egg + a pinch of salt
syrup from candied lemons to brush at the end of baking
smashed pistachios (optional)
INSTRUCTIONS:
Make candied lemons.
Wash the lemons and dry. Sliced and set aside.
In a large pot add enough water to cover the lemons, place on medium-high heat and cook until boiling.
Drain the water, re-cover with new water and repeat the same process. We will do it a total of 3 times. This process will help us remove bitterness from the peel.
Drain all the water from the last cooking and pour the 700 g of water along with the sugar and the lemon slices. Place on medium heat and cook to obtain a thick syrup. Be careful not to reduce the syrup in excess.
Remove from the heat, take the lemons with a pair of tongs and drain.
Place on a rack or a lined baking tray.
Let cool completely.
Make hot cross buns dough.
In the Kitchen Aid bowl, or the dough mixer with which you work, add the flour along with the milk, egg, dry yeast, salt and spices. Start to knead, in low speed, until obtaining a homogeneous dough.
Add the honey and knead again. Once it is integrated, add the sugar along with the lemon zest and knead until homogenized.
Begin to integrate the butter little by little. We will do it in batches and we will not add more until it is fully integrated. This step can take us about 20-25 minutes.
Add the cuts of Danish /croissant dough previously chopped. Knead until it is fully integrated.
The total time kneading can be around 35-40 minutes, it is a dough from which we must obtain a complete gluten development.
Once we have an elastic and developed dough, add the raisins and the candied lemon. We will do this in batches and kneading each time to ensure that they are evenly distributed.
Grease a hermetic container and place the dough inside. Cover and let rise until doubled its volume, in my case were 5 and 1/2 hours at 71ºF.
Preshape and shape the buns.
Transfer the dough on a clean work surface, divide the dough into portions of 60 g each. We will get 18 buns, one of them with less weight.
Preshape, cover and let rest for 15 minutes.
Shape and place on a tray lined with baking paper. We will leave about 1.5 – 2 inches between each piece.
In my case I used two trays, one of them with 12 pieces and another with 6 pieces.
Spray with water, cover with film and let rise until doubled their size. In my case it took 4 hours but at half rising the temperature was controlled at 86ºC (I was on time). If you want to rise them at room temperature, they will be around 5 or 5 and 1/2 hours.
Make the batter to make the cross just in time before using it.
Mix all the ingredients in a bowl and stir until obtaining a homogeneous batter.
Transfer the batter in a pastry bag and set aside.
NOTE: I did not use piping tip because all the ones I had were very large or very small, so I decided to make a cut directly on the pastry bag.
Bake.
Preheat the oven to 375ºF, at least 20 minutes before baking.
Brush with egg beaten and draw the crosses on its surface.
Place in the oven at medium height and bake for 18 minutes.
Remove, place on a rack and brush with the lemon syrup, previously warmed.
Introduce the other tray and repeat the same process.
Let cool completely before consuming them … or at least a little!
Just before serving, if you wish, sprinkle the surface with a some smashed pistachio.
PRESERVATION: Once they have cooled completely we can store them in a zip-type bag. They will be tender for 2-3 days.
I think that in the time I have written the post I have eaten two or … three! They are awesome! I think I'll have a real race or I'll end up rolling!
Have a nice weekend, see you on Monday!
Big hugs,
Eva