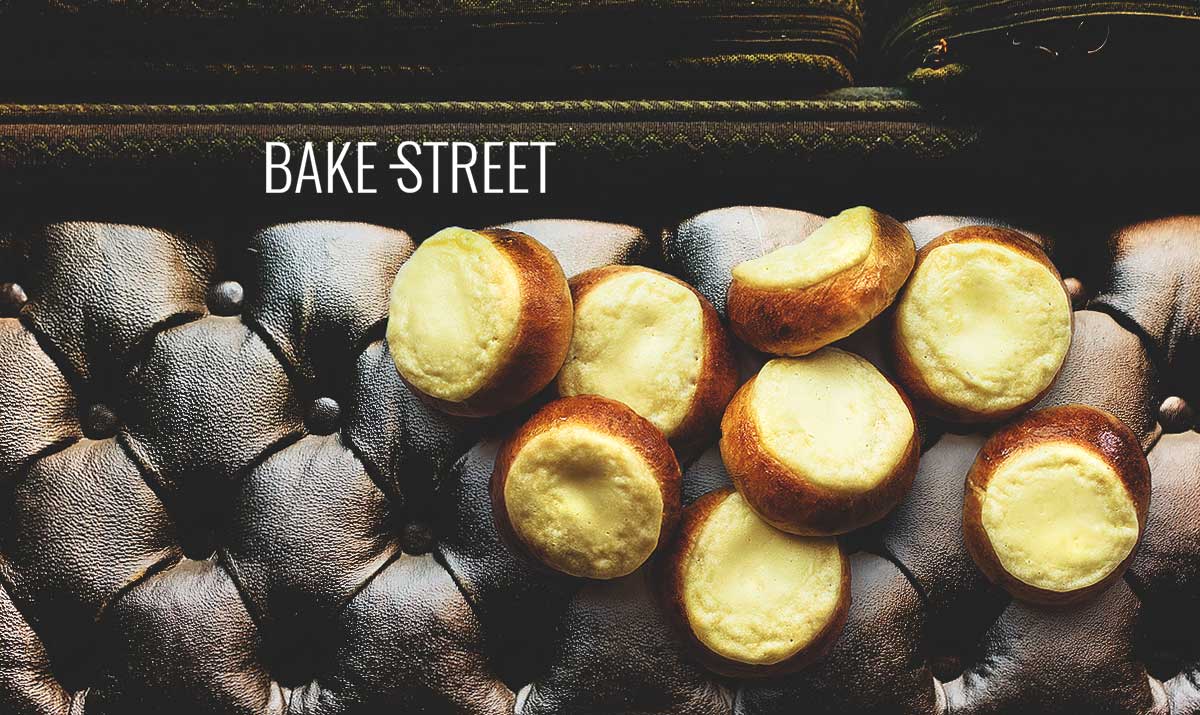 Vatrushka {Russian sweet bread}
Este post también está disponible en Spanish
During the last month I have been searching and researching many new recipes (which I am looking forward to share, I can not wait!) and, among several types of cuisine, I have been very focused on Russian cuisine. It was a bit of luck. I was looking for how to make different decorated and braided breads when I came across the recipe for this Russian sweet bread, vatrushka.
Despite not being a particularly attractive bread, it caught my attention. It looked like the traditional sweet and fluffy bun, which was also stuffed with a sweet cream cheese. Wonderful. It immediately went over the to-do list.
August has been a month in which I have been able to try and prepare many new recipes, I really wanted to have the time to do this. In addition to clearing the mind, it allows me to advance work and not lead a strenuous rhythm of life. Following this I started to look more closely at this type of cuisine and found very interesting recipes. How have I been able to put aside their wonderful gastronomy?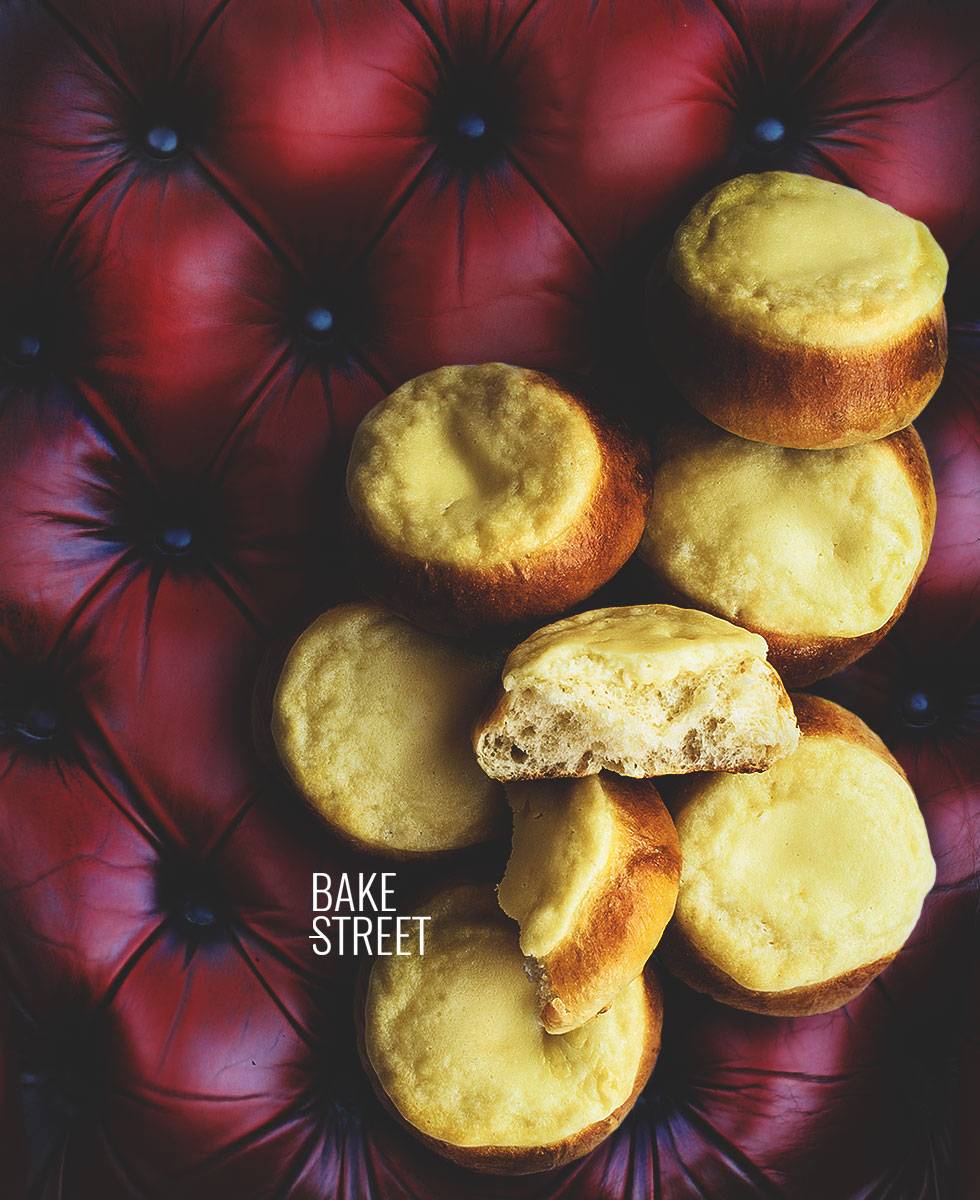 Vatrushka (Ватрушка), pronounced vat-roosh-kah, is a very tender, round-shaped bun stuffed with a mixture of cottage cheese. The filling can be sweet or salty, so that the vatrushka can be served as breakfast / dessert or accompanying a main course, usually soup.
In my case I'll leave you the sweet version, which is also usually seasoned with jam or raisins. I leave to your choice.
Origin of Vatrushka.
These sweet breads are very consumed in Eastern Europe (Russia, Belarus and Ukraine). The name derives from the word "vatra" which means "home fire or fireplace" in most Slavic languages.
Traditions.
In northwest Russia it is tradition to consume them on "Day of Yuri" (St. George's Day) by the Slavic calendar which is celebrated on April 23, is the first day of grazing. It is customary to prepare and give out pies, cheese cakes (vatrushkas) and eggs. When they received guests at home they used to bake these cheese cakes with surprise inside:
If a coin was found, you would be rich.
A piece of chocolate was a sign of a happy life.
A button augured a very hard working life.
And those who did not find anything inside, should wait for the next party to see what the future holds.
You will see that its elaboration is quite simple.
All you have to do to get great results is:
Knead properly the dough to develop gluten and get a tender and fluffy result.
Let the dough rise properly to develop aromas, flavors and not get a "solid brick". The result must be an extremely tender bun.
Do not overfill the hollow with the cheese filling, especially if we do not use cottage cheese or fresh cheese, to avoid overflow during baking.
Ingredients for 8 serves
Recipe adapted Videoculinary y Russian recipe book.
FOR THE DOUGH:
9,2 oz (260 g) AP/ plain flour
1 large egg
3,8 oz (107 g) whole milk at room temperature
1 oz (30 g) unsalted butter at room temperature
1 oz (30 g) sugar
0,05 oz (1,4 g) dry yeast
1/3 tsp salt
FOR THE CHEESE FILLING:
7 oz (200 g) mascarpone cheese at room temperature
half large egg at room temperature
1 oz (30 g) sugar
0,35 oz (10 g) wheat flour
1/4 tsp salt
FOR BRUSH:
half large egg
pinch of salt
Instructions
Make vatrushka´s dough.
Dissolve the dried yeast in a small part of milk, set aside.
In the bowl of the stand mixer add the flour along with the milk except for the part with the dissolved yeast, the egg and the salt. Knead at low speed until a moderately homogeneous dough is obtained.
Add the sugar and knead until it is fully integrated.
Pour the milk mixture with yeast and knead until homogenized.
Stop the stand mixer and add the butter little by little. I recommend adding it in two parts. We will let it fully integrate into the dough before adding the next batch.
Once we have added all the butter, knead until obtaining a good gluten development. The dough should be elastic and not break. It will take us about 10-12 minutes.
Grease a bowl, place the dough inside and let rise until it almost triples its volume. Depending on the temperature can take 2-4 hours. In my case it was 2 hours and 30 minutes at 85ºF.
Make sweet cheese filling.
In a bowl mix the mascarpone cheese along with the egg, sugar, flour and salt.
We must obtain a smooth and homogeneous mixture.
Cover with film and reserve until needed.
Shape the vatrushkas.
Transfer the dough on a clean surface and without any flour. Degas gently.
Divide the dough into 8 equal pieces and preshape into a boule. Remember that if you get dough pieces, we must place them in the center of the piece before preshaping so that they remain inside.

Place them on a tray lined with baking paper, leaving space between them as they will grow during the rise and bake, cover with a cotton cloth and let stand for 10 minutes to lose the tension.

To prevent the dough from drying out excessively, spray the buns lightly with water.
Flatten each piece with the hand and, with the help of a glass, make a hollow in the center. Do not be afraid to press.

Fill the hollows with the cheese mixture but do not overdo or overflow during baking.
Spray again lightly with water, cover the buns with film and let rise until they almost double their size. In my case they were 1 hour at 86ºF.
Bake.
Preheat oven to 390ºF.
Brush the edges with beaten egg with salt and bake, at half height, for 14 minutes. Remember that the inside temperature reaches 86-194ºF the cooking is finished.
Remove from the oven and let cool slightly (preferably) or completely over a rack.
Notes
Always take into account the absorption capacity of the flour that you use. The dough should remain slightly sticky to the touch, not dry. When you integrate the moist ingredients, observe how the dough behaves as you knead it.
If you use fresh yeast instead of dry, remember that the proportion of this is 1 :3 (dry : fresh).
The original recipe is made with cottage cheese, which is more dense. You can use this instead of mascarpone if you wish. The result with mascarpone cheese is much softer and creamier, but also a more fluid texture is obtained when filling the buns.

In the ingredients list you will see that I specify that for both filling and brushing we need 1/2 egg. Use a whole egg, beat it and divide it into 2 parts for use in both processes.
It is a dough that tends to dry out a lot during the shape and rest / rise time. It is important that you spray lightly with water to prevent the surface from drying.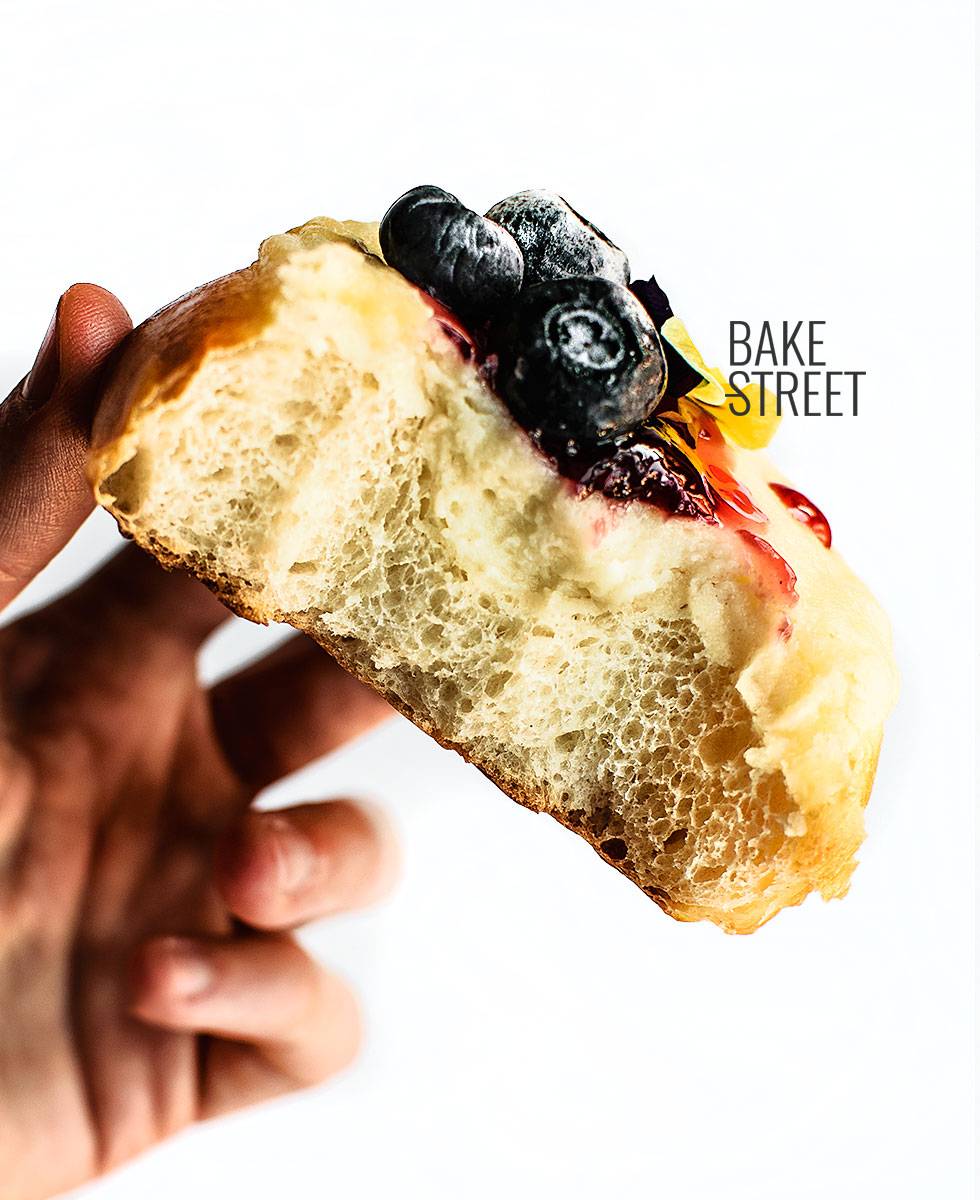 These buns are at their best on the very day we bake them. Warmed are a real delicacy. But they are well preserved for the next 3-4 days in an airtight container.
You will fall in love with the Vatrushka, I have no doubt. Beginning from its heady aroma, that comes off boldly from the oven, even by its incredibly soft and tender texture. You will hallucinate.
You will also think how it is possible to have been so long without your palate enjoying such a delicacy. I do not exaggerate. When you try them, you tell me ;)
Big hugs,
Eva
Source: Kuhnya.syty
Archivado en