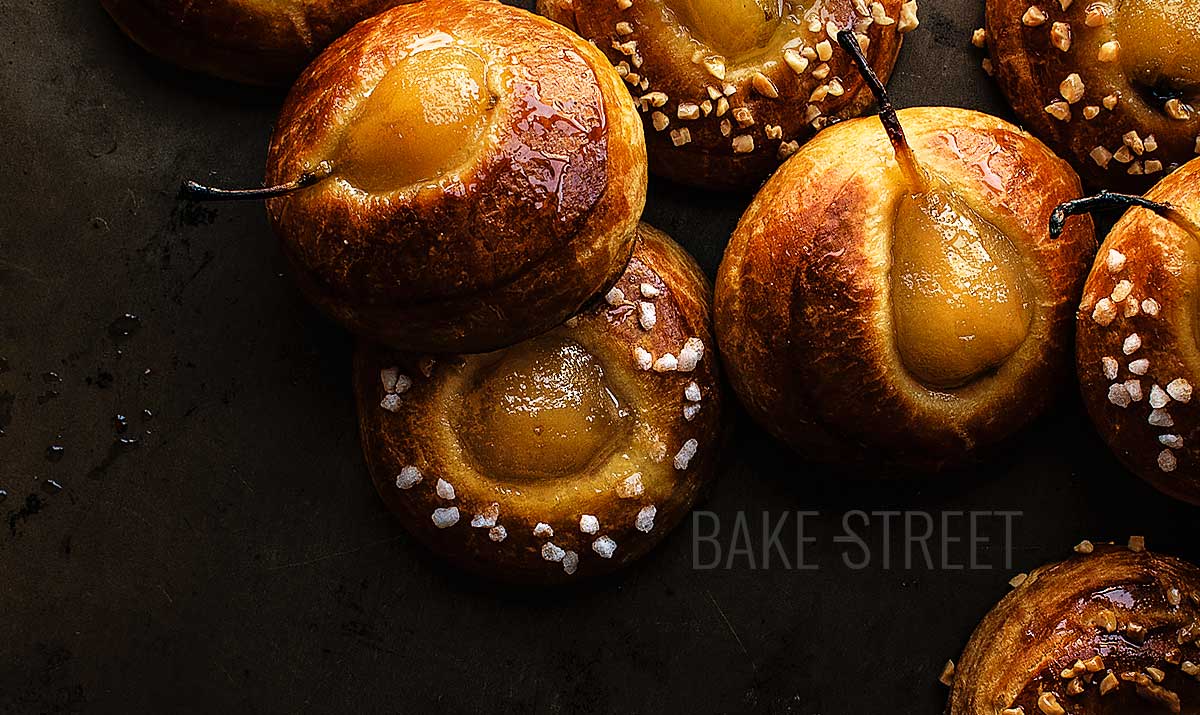 Brioches with pears
Este post también está disponible en Spanish
Whom I tell that I have made brioches with 86ºF at home will think that I am crazy. I had an incredible craving days ago and … I had no choice to bake them. These brioches with pears in syrup and almond or pearled sugar are supposed to be made for September. But I needed to enjoy them.
I have to say that kneading these doughs with this hot weather is not easy. The butter overcomes its melting point which makes it more laborious to manipulate and develop the dough, but with patience is possible.
If madness is stronger than you and decide to make them, I recommend kneading the dough in a dough mixer. It is true that, especially the enriched doughs, are fantastic to work by hand but with high temperatures are somewhat more laborious. Besides that with the heat, the process of kneading would become eternal. In a gym we would enjoy more.
How should I work the dough to get a perfect result?
Another aspect that you must strictly follow is to introduce the butter little by little. Never do it suddenly and there is a reason for it.
If we add all the butter at a time when our dough is still undeveloped, we will hinder the development of gluten by coating it with fat. It will take much more effort to develop the gluten mesh and the final result will not be as good as if we follow an addition process.
We must develop gluten lightly with the first ingredients added and then continue kneading and working as we incorporate fat (which is the bulk of the hydration).
Shaping the brioches.
This time instead of pre-shaping and shaping the pieces, what I have done is to degas and stretch the dough. Then I used a round cutter to shape future brioches.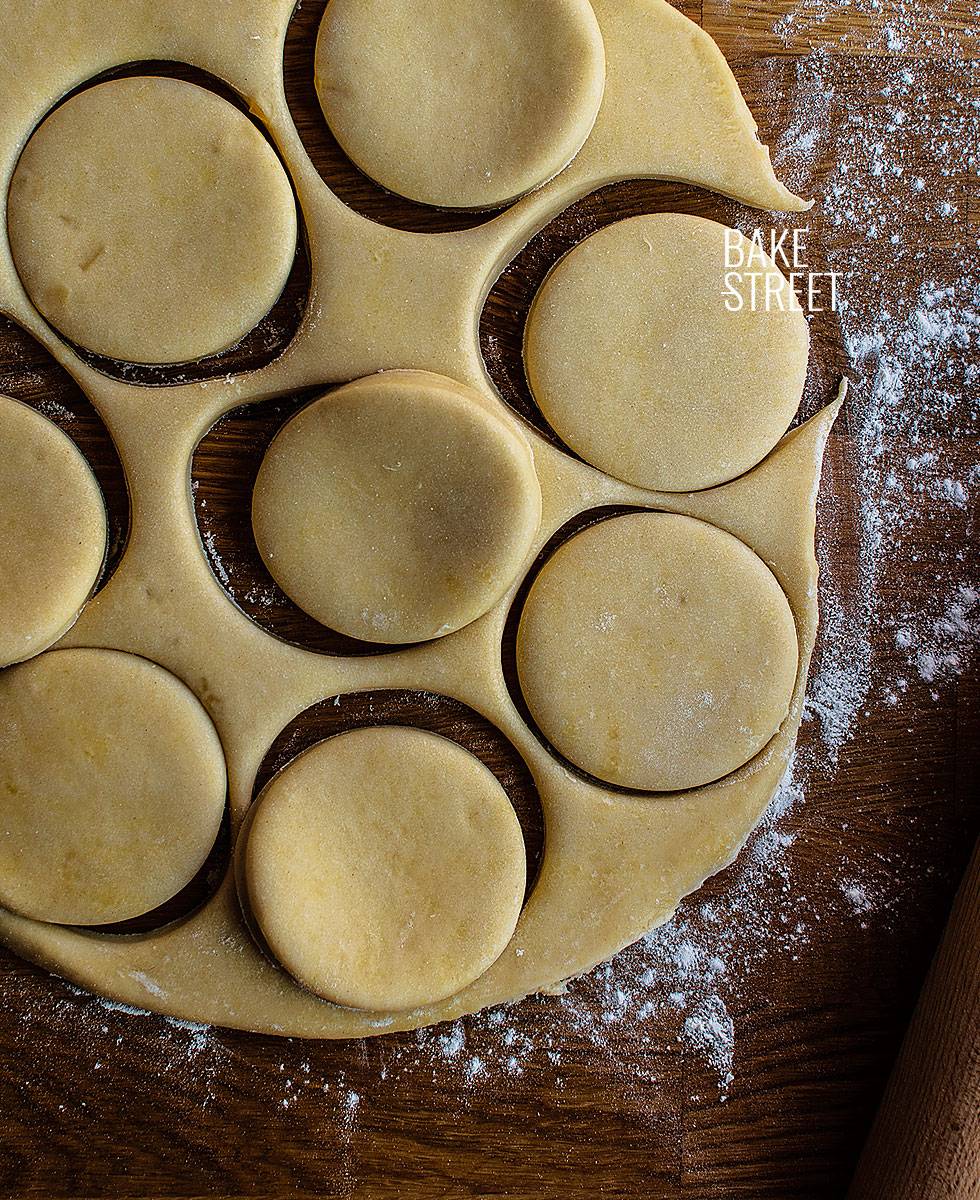 This will allow us to obtain a beautiful round brioches but we will have a drawback with the remaining dough pieces. If we re-unify them to re-stretch, we have to let them rest about 15-20 minutes so the dough will relax and not resist when re-stretching. In addition, some folds will be created which will not allow the dough to remain completely uniform.
For that reason I recommend you that after cutting the brioches, make a boule with each piece and flatten slightly with the palm of the hand. You will get a very similar buns to the Swiss rolls.
To decorate the brioches we can use …
In my case I chose San Juan´s pears in syrup which was what I had in mind, but you can decorate them with the fruit you like, nuts, chocolate … And also you can give them a softer and creamy taste if you place under each pear you some pastry cream. The result is absolutely scrumptious.
You can also use almond cream or frangipane, but maybe is too consistent for this time of year. Or not 😉
The recipe is adapted from Teresa's blog "Now, forager". Do not forget to take a look, it's fantastic.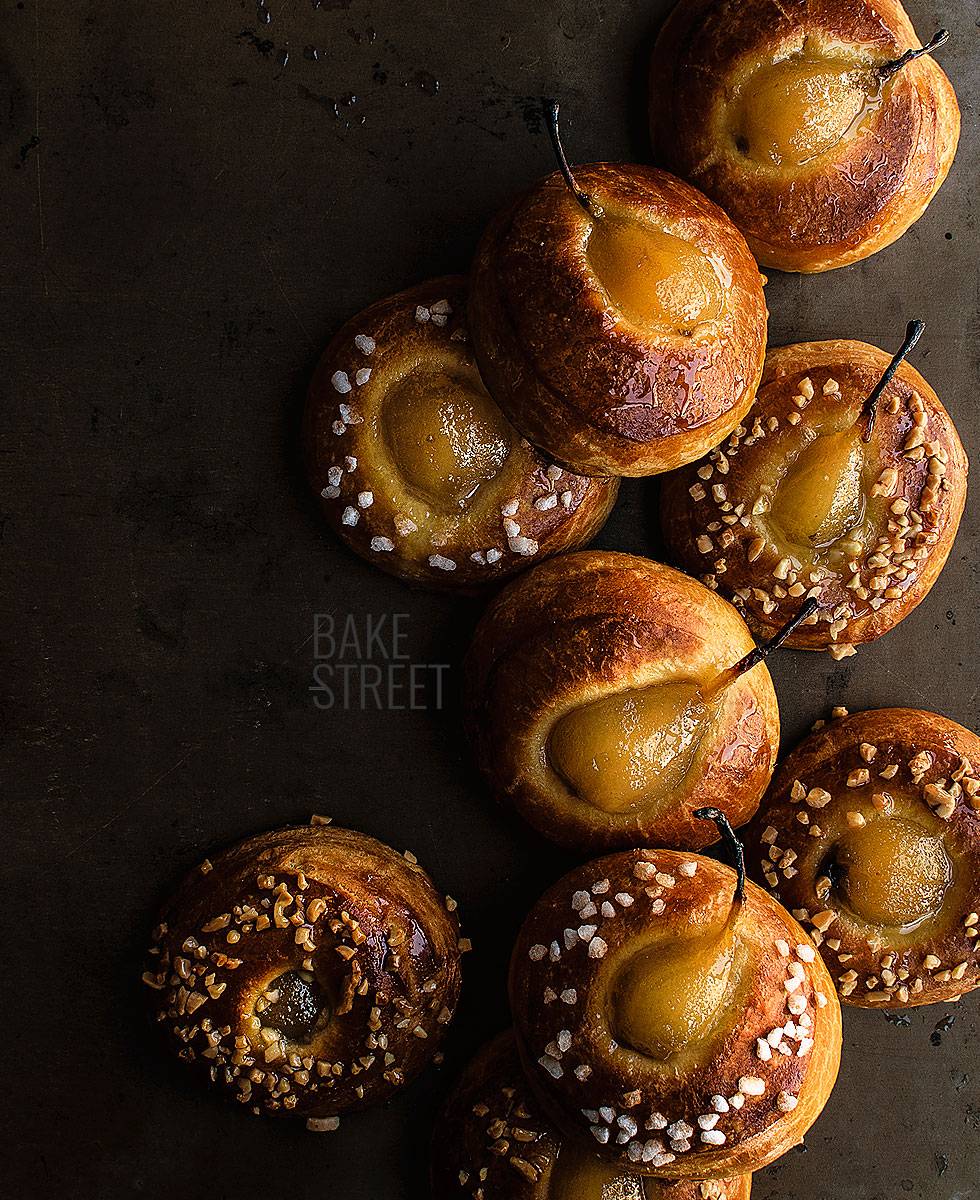 Ingredients for 12 brioches
FOR THE BRIOCHE:
14,1 oz (400 g) bread flour
4 large eggs (225 g aprox.)
1 1/4 oz (35 g) whole milk
7 3/4 oz (218 g) unsalted butter
2 1/2 oz (70 g) sugar
0,15 oz (4,4 g) dry yeast
0,25 oz (7 g) salt
1 egg + 1 Tbsp milk + pinch of salt
FOR DECORATE:
almond
pearled sugar
cream pastry (optional)
* Link recipe
Instructions
FIRST DAY
Make dough brioche.
In the dough mixer bowl add flour along with the eggs, salt and sugar. Knead over low speed during 8-10 minutes.
Dissolve the yeast in the milk and pour into the dough. Knead again until it is fully integrated.
Stop the dough mixer and start adding butter little by little. We will let it fully integrate into the dough before adding more.
Once we have added all the butter, knead until obtaining a good gluten development. The dough should be elastic and not break.
Grease an hermetic container, place the dough inside and let it rest until almost double its volume. Depending on the temperature can take 2-4 hours. In my case it was 1 hour and 45 minutes at 87ºF.
Place in the fridge overnight.
SECOND DAY
Turn the dough over a work surface slightly sprinkled with flour and stretch with a roll until get 1/4 inch thickness.
Using a 3 1/4 inch diameter round cutter, cut 12 equal pieces. It is likely that there are rest dough pieces, in which case I recommend shaping into 2 oz (60 g) boules and flatten them slightly with the hand.
Place on a tray lined with baking paper, with space between them since they will grow during resting time and baking, cover with a cotton cloth and let rest until double their size. In my case it was 2 hours at 88ºF.
Bake.
Preheat oven to 375ºF.
In a saucepan pour some of the pears syrup and reduce to medium heat. We should get a loose syrup.
Cut pears in halves, set aside.
Press in the center of each brioche, without fear, making a cleft. Put a half of pear in each hole.
Brush with the egg mixture the edges, sprinkle with almond or pearled sugar and bake for 12-14 minutes. Remember that the inside temperature must reach 190-195 ° F to finish their cooking.
Remove, brush with the syrup (not the part with pearled sugar) and let cool completely on a rack.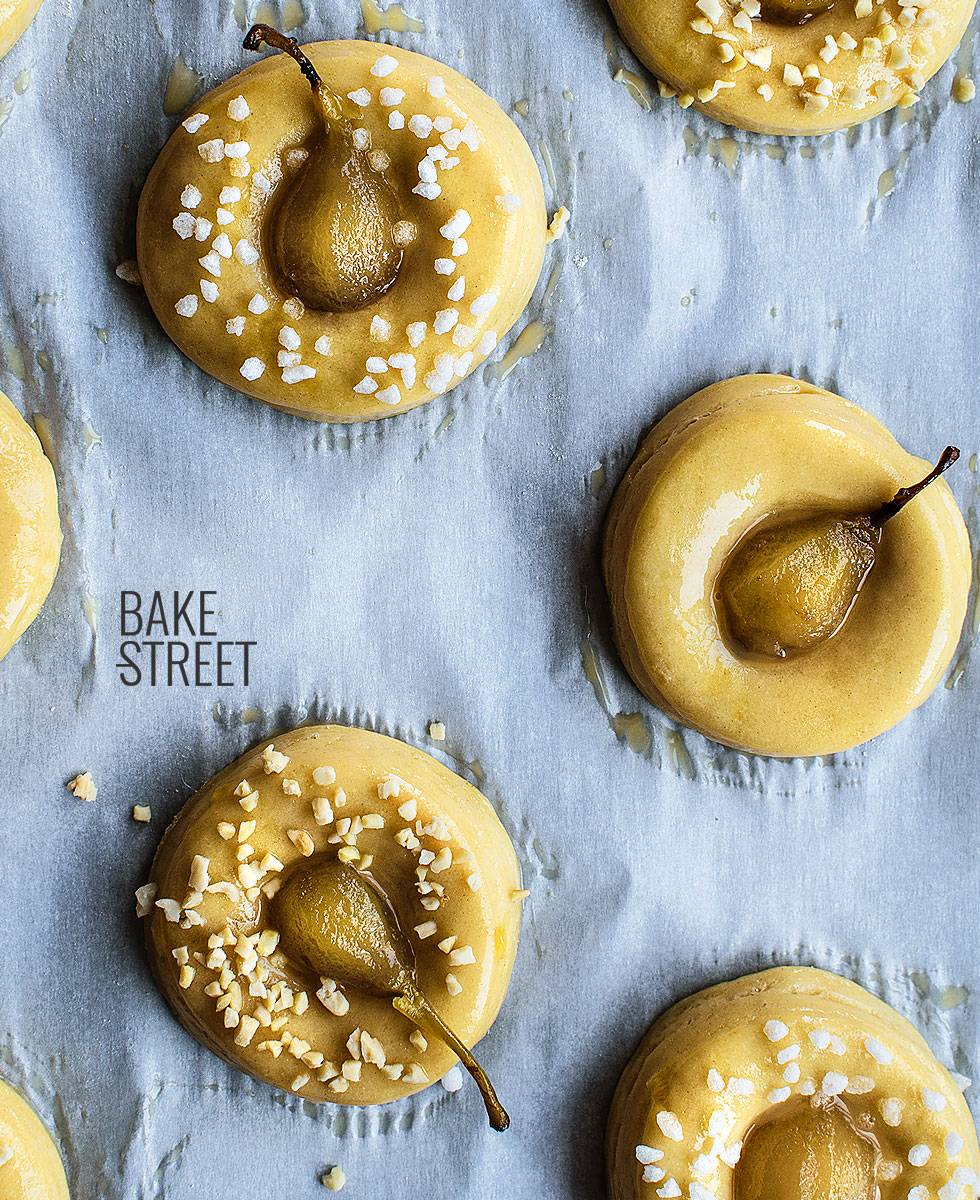 Notes
If we use fresh yeast we will have to dissolve in the milk.
How long can I leave the brioche dough in the fridge? In my case I left the dough in the fridge for 12 hours. It can be from a minimum of 8 hours to a maximum of 36 hours.
We must always work with the dough directly out of the cold so that it is easy to handle.
One suggestion to decorate them is to place some pastry cream* or almond cream* under the pears. Spectacular.
* Only available in Spanish.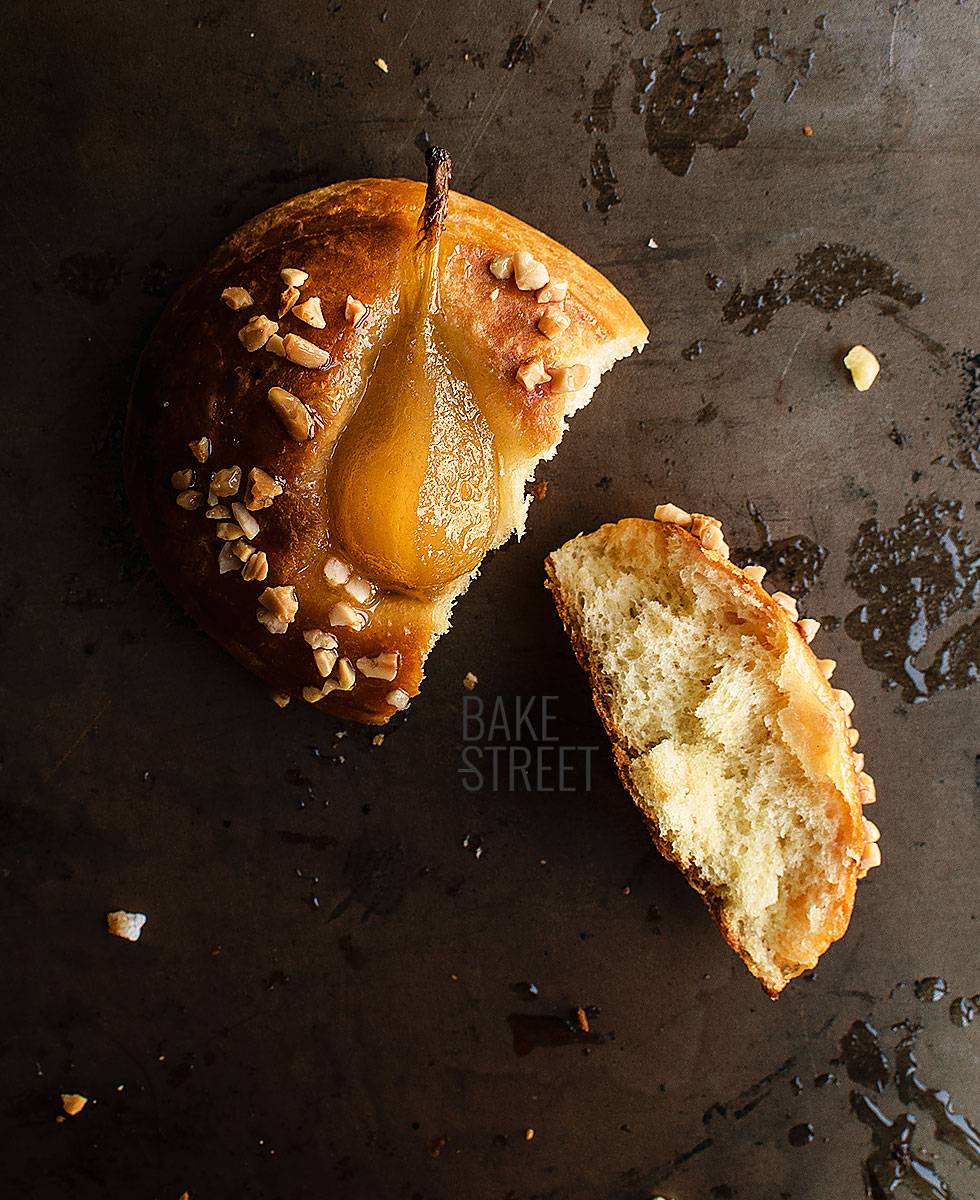 These brioches with pears wee a hit at home ... So I can say that, undoubtedly, it was worth the effort and the heat that I spent in the kitchen. The truth that I have been wanting to make bread and doughs these days, the heat has not yet conquered me.
And the good thing about the high temperature, moderately, is that the doughs rise better than at other times of the year. If you decide to make them, you will see how your breakfasts or "coffee time", will be much better.
Big hugs,
Eva
Archivado en