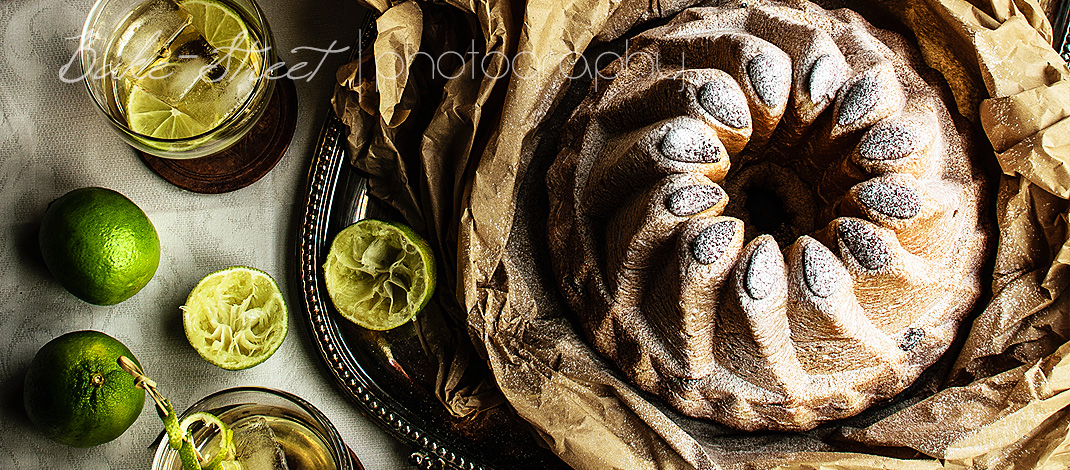 Frangelico & Lime serve with Kugelhopf
Este post también está disponible en Spanish
I know that these days we usually eat Roscón de Reyes, which I love, but this year I have started a bit rebel and decide to make Kugelhopf instead. It is good to taste new recipes and this, without doubts, it makes me to fall in love absolutely.
To serve this kugelhopf I have chosen a hazelnut liquor, which is indispensable for special days, Frangelico. And you can make it better, more different and fresh. Let me encourage to taste it with fresh squeeze lime juice, the light acidity from the lime and its special and exotic aroma involved the sweetness from caramel and hazelnut to become an incredible flavor explosion. The perfect ending for a great meal.
It is a dough far similar to brioche but with a puffy and smooth texture. Crumb is very tender, silky, incredibly aromatic, not too sweet and with fruits flavors (thanks to raisins). It is common to soak in rum overnight but I change the liquor, I used one with hazelnut and caramel aroma. Yes, Frangelico 😉
When we use dry fruits like raisins and almonds, we extend its freshness (this is a good information to get in mind for futures elaborations). An I can ensure it. I made this Kugelhopf and after 3 days I couldn´t take photos, Christmas days… Its texture was amazing, very tender. I was really surprised and loved it more, if it possible.
Which is Kugelhopf origin?
It is quite difficult.
Kugelhopf is a very popular sweet bread in Germany, Austria and Alsace. One story says it originated in Vienna when the Hapsburg forces defeated the Turks at the city's gates. In celebration, Viennese bakers supposedly made a cake in the shape of the sultan's turban.
Furthermore, Alsatians, hold to another view partly explained in "The Lutece Cookbook," by Mr. Soltner. It seems that the Magi, or Three Kings, were walking from Bethlehem to Cologne and were very tired when they got to the hilly wine village of Ribeauville in Alsace. There they received hospitality from a pastry chef, one Mr. Kugel. In appreciation, they later baked a cake in the turban shape and gave it their benefactor's name. In honor of that event, a Fete de Kugelhopf is held every June in Ribeauville.
It must also be noted that the word "kugel," in German, means a sphere or a ball, which might also have something to do with the name.
Other disputes center on the number of eggs and the amount of sugar, raisins… Although most bakers agree that for the driest, smoothest crust and best-textured result, the baking mold should be made of terra cotta glazed only on the inside. Nowadays it is common to use metallic pans because other are very fragile.
Pan/mold, is ot important?
I used Kugelhopf pan from Nordic Ware but, of course, you can use other kind of pan with similar form and size. Result will be the same, only form will be different. But it is important to use a pan with a hole in the middle. Hot distribution will be better and time baking won´t be equal in other pan without hole/tube.
 
KUGELHOPF:
Recipe Pane dolce al Cioccolato.
FOR THE PREFERMENT:
5.8 oz (150 g) Manitoba flour or all-purpose flour
0.088 oz (2,5 g) dry instant yeast
3.52 oz (100 g) water
FOR THE DOUGH:
12.35 oz (350 g) Manitoba flour or all-purpose flour
4 oz (115 g) whole milk at room temperature
2.45 oz (70 g) egg yolks, roughly 4 large eggs
4.40 oz (125 g) unsalted butter at room temperature
3.24 oz (92 g) sugar
0.1 oz (3 g) dry instant yeast
0.32 oz (9 g) salt
1 vanilla pod
6.17 oz (175 g) raisins + liquor to soak
12 almonds with skin
INSTRUCTIONS:
THE NIGHT BEFORE
Make the preferment.
In a medium bowl mix flour along with dry yeast and water. Knead with your hands until get a homogenous dough. It will be stiff.
Cover the bowl with plastic film and place in the fridge at 39ºF for up 8-10 hours.
Soak the raisins.
In a bowl add raisins and pour liquor at your choice until cover.
Wrap with film and let soak overnight at room temperature.
THE NEXT DAY
Make Kugelhopf dough.
Remove the preferment from the fridge and temper for 1 or 1 1/2 hours.
In a bowl of a stand mixer add preferment, cut into pieces, along with milk, dry yeast and sugar. Mix with the wire whip attachment at low speed until preferment dissolves completely. It will take 5-6 minutes.
This step will help to incorporate preferment without make lumps.
Add egg yolks and mix until combined.
Change the wire whip attachment for the dough hook and begin to add flour little by little and mixing at a time at low speed.
Add salt and mix again. Knead with the dough hook until get a smooth dough, gluten will begin to develop. We will see a dough very smooth.
Mix butter with vanilla seeds and let begin to incorporate to the dough little by little. This process will be long, it will take 35-40 minutes. We must develop gluten while we add butter. Don´t add more butter until this is fully absorbed by the dough.
You have to measure dough temperature during the process from kneading. It mustn´t exceed 75-77ºF, if this will happen, stop the mixer, cover the bowl and let sit in a fresh place for a few minutes (fridge or terrace).
Dough must have a perfect gluten developed, very smooth, silky and shiny.
Add soak raisins.
Incorporate soak raisins, drained previously, and knead to spread for the dough.
Make a ball, place into a bowl and cover with plastic film. Let proof until double sized. Mine was 3 1/2 hours at 71ºF.
Shape and make final proof.
Grease a Kugelhopf pan with butter, ensure to grease well every corner. Place one almond in each indentation and set aside.
Transfer the dough to a clean work surface and degas slightly with your hands.
Make a ball with the dough an insert your fingers in the middle to make a hole.
Place the dough into the pan, fit with care, cover with plastic film and let proof until reaches the edge from the kugelhopf pan. Mine was 5 hours at 71ºF.
Bake.
Preheat oven at 355ºF at least 20 minutes prior to baking.
Place the pan in the middle over a rack and bake for 40 minutes. Halfway through baking cover kugelhopf with an aluminium sheet to avoid an intense golden brown
To know when kugelhopf is baked, we can measure temperature with a digital thermometer. This must be 194-197ºF.
Remove from the oven, let sit 3-4 minutes and un-mold. Let cool over a rack.
Before serve, you can dust with icing sugar if you dessire.
PRESERVATION:
Once it has cooled completely, we can store in a zip-lock plastic bag. It will be tender for up 6-7 days.
And… how can we make it more perfect? I will tell you, serving this delicious sweet bread with a glass of Frangelico with fresh lime juice. We will enhance its awesome hazelnut flavor, besides, to give it a fresh touch. I´m sure you will surprise your guests these days. Make it is too easy:
Fill a short glass with ice.
Squeeze juice from half lime.
Complete with Frangelico and stir.
Decorate with some thinly lime slices.
And the best part… enjoy it!
Please drink responsibly 20º
Sources: NYTimes
¡Happy Day!
Eva
Archivado en