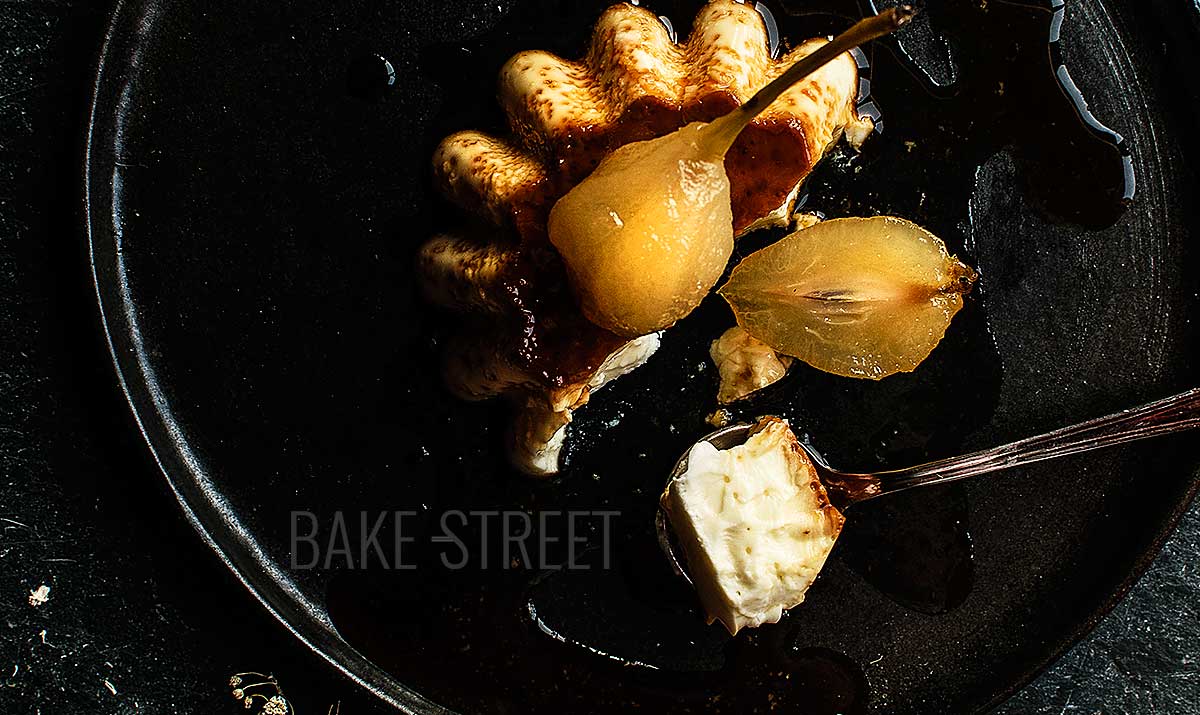 Mascarpone flan with pear in syrup
Este post también está disponible en Spanish
A simple dessert, known in every home that we can have ready without working too much is the flan. I know it's a "vintage dessert" that may not like everyone … except one, and that's the mascarpone flan. Its texture has nothing to do with the traditional egg flan that may be unpleasant for some people.
On the contrary we will find a very soft and mellow texture accompanied by a delicate flavor and a touch of caramel. I really assure you that it is superb, despite being an unattractive dessert at first, since we are very accustomed to see and consume it.
To serve the mascarpone flan I have prepared some San Juan´s pears in syrup which, in case you do not find them or the season is finished (which is very short), we can always prepare some pears in syrup and cut them into wedges at the time to serve them.
San Juan´s pears have a very small caliber, comparable to an apricot, and takes its name from the feast of San Juan (June 24) since its harvesting season coincides with it. Their flesh is firm and sweet, with a crusty exterior, which makes them perfect for consuming them in many formats.
For my part I had long wanted to prepare these pears in syrup, they are wonderful and perfect to serve as garnish. But, of course, if you do not like them you can prepare only the flan.
Pans to make the mascarpone flan.
To make the flans I have used two types of pan; This 4 inch brioche pan (10 cm in diameter) and a rectangular pan 3x6x2 inches  (8 x 15 x 5 cm). We can prepare them in pans that we have at home without any problem either in individual format or in a larger one and then cut portions.
When removing the flans from the pan we will have to do it carefully to avoid breaking them. You have to help them because the candy base "grabs" the flan and just turning it will not be enough. We can always give some steam to the base, or immerse it for a few seconds in hot water, to help it release more easily.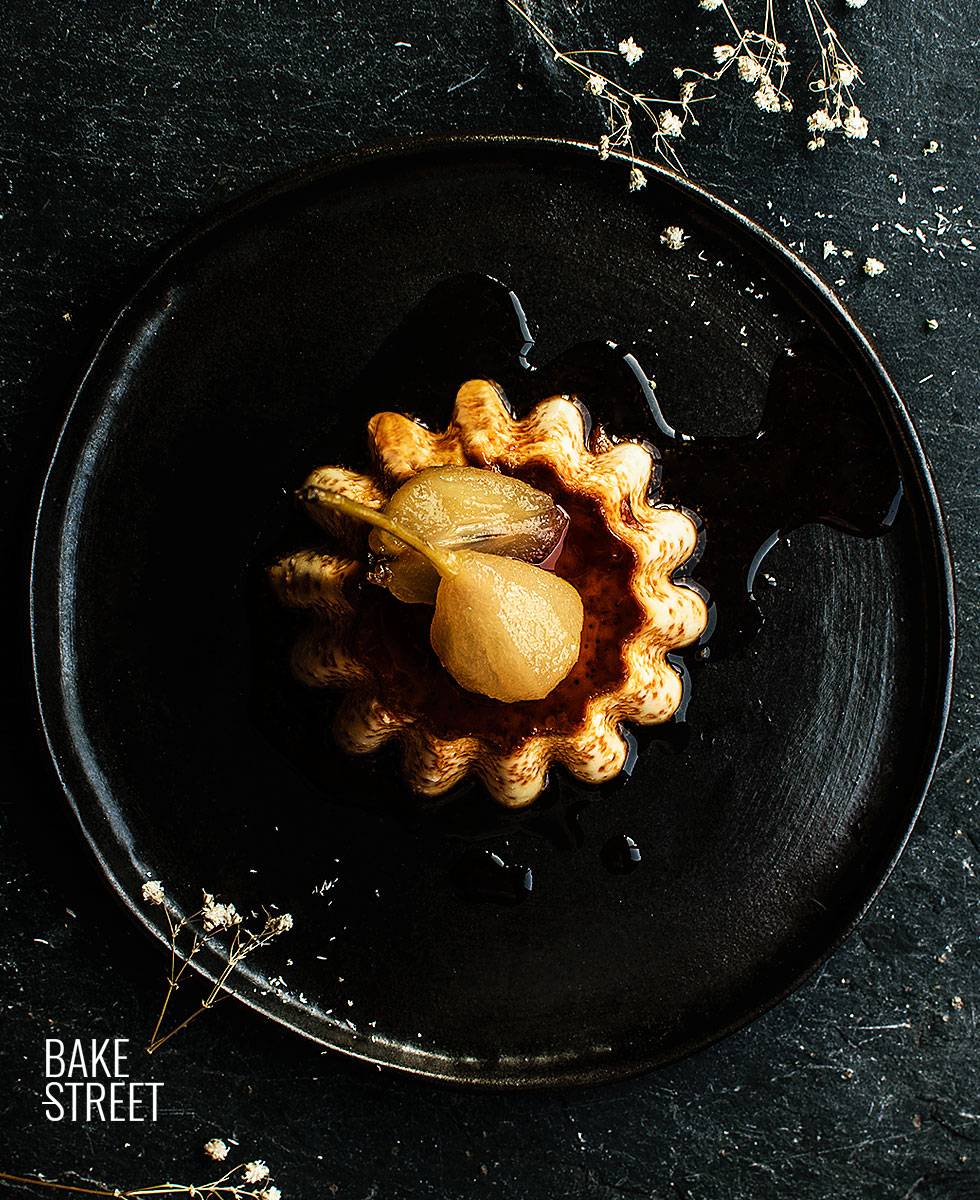 Ingredients for 6-8 serves
FOR THE MASCARPONE FLAN:
4 large eggs
7 oz (200 g) mascarpone cheese
12,3 oz (350 g) whole milk
4,5 oz (130 g) sugar
FOR THE CARAMEL:
7 oz (200 g) sugar
0,7 oz (20 g) water
FOR THE PEARS IN SYRUP:
17,6 oz (500 g) San Juan´s pears
26,4 oz (750 g) water
juice of half a lemon
10,5 oz (300 g) sugar
1 cinnamon stick
Instructions
Make the pears in syrup.
Fill a medium pot with water, lemon juice, sugar and the cinnamon stick. Place over medium high heat and let it to boil.
While peeling the pears, set aside.
Once the water is boiling, carefully introduce the whole pears and leave on a medium heat for 15-17 minutes. The cooking time will depend on the degree of maturity of the pears and their size. They must be tender when pricked but firm, the fork enters and leaves easily.
Remove from the heat and let the pears rest overnight in the syrup at room temperature.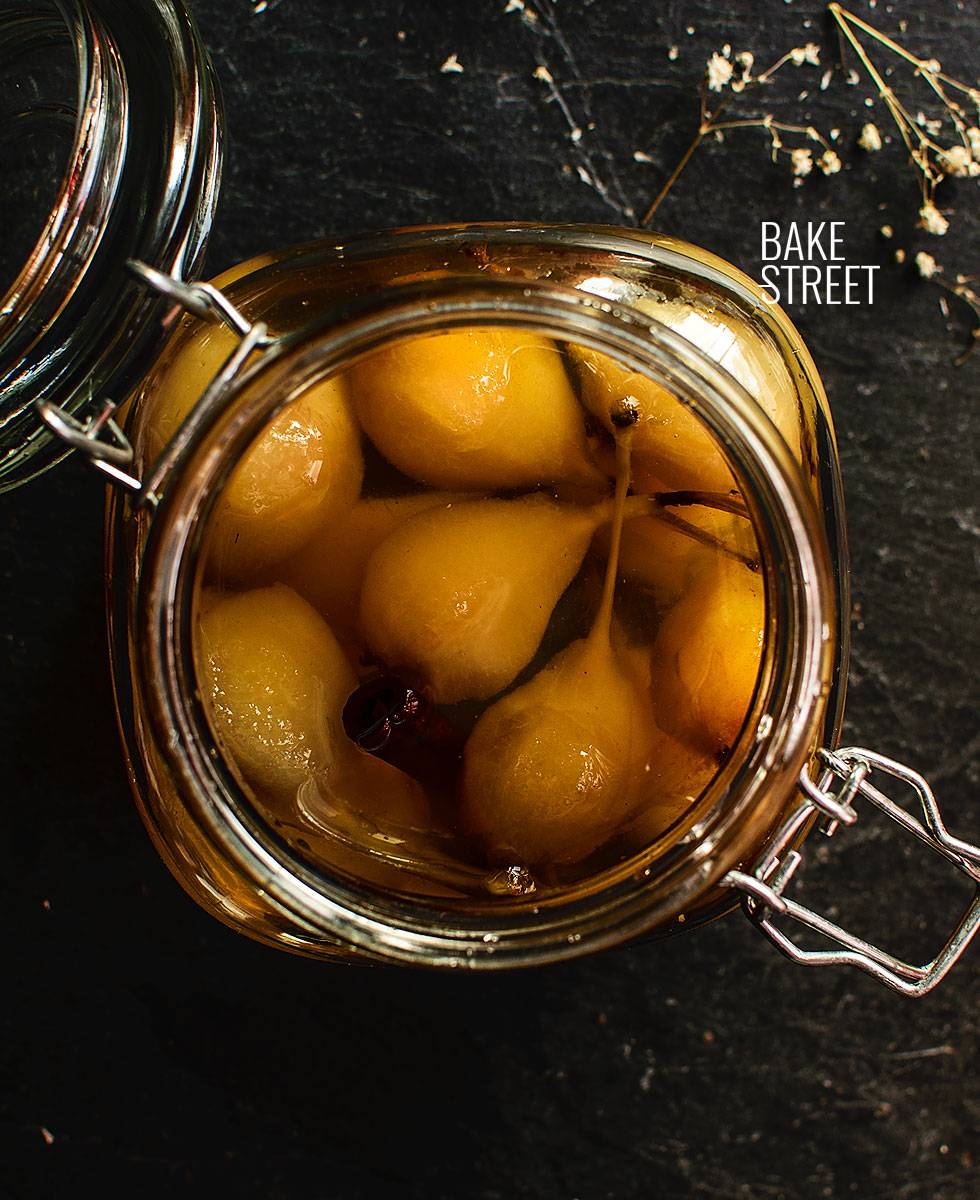 NOTE: Ideally, prepare them the evening / night before so they can rest and cool in the syrup.
Make the caramel for the flan.
In a saucepan add the sugar along with the water, let to heat medium high until you get a golden caramel. We must watch over it to avoid burning. Remember that otherwise it would become bitter.
Divide into the pans, set aside.
Make mascarpone flan.
Preheat oven to 350ºF.
Place a oven dish at half height and fill with water. Keep in mind that the water should cover slightly more than half of the pans.
In a large bowl mix the milk together with the sugar and mascarpone cheese. We must completely dissolve the cheese, without any lumps remaining.
Add the eggs and mix until completely homogenized.
Pour the mixture into the pans, cover with aluminum foil (to prevent water from entering) and insert inside the oven dish with water.
Bake in the water bath for 50 minutes.
Remove and let cool completely at room temperature.
Refrigerate until the next day.
Serve.
Remove the flans from the pans into a serving dish.
Decorate with pears in syrup, serve.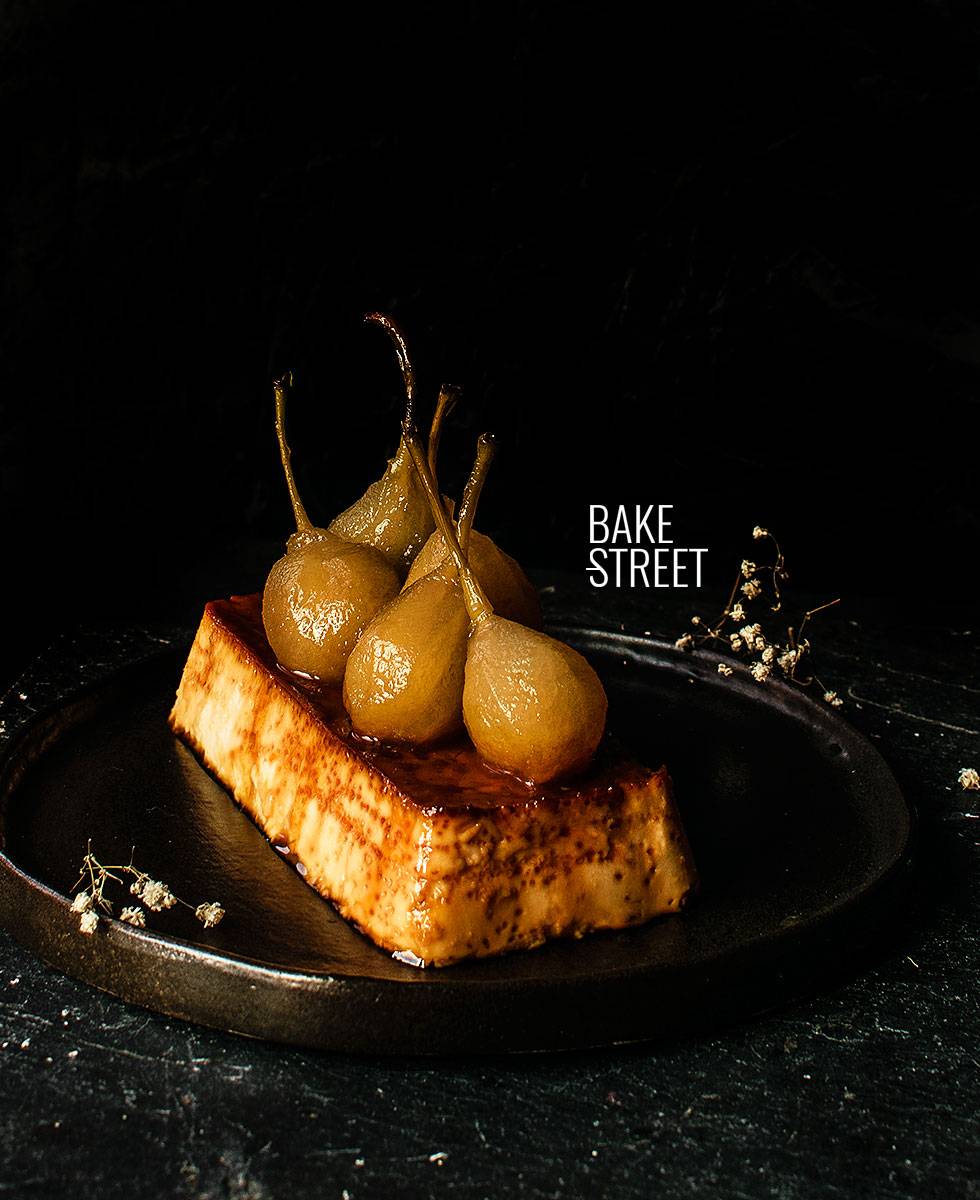 Notes
Can I use another variety of cheese instead of mascarpone? Yes you can. But remember that mascarpone will give a much softer and creamier texture, in addition to a very subtle and delicate taste. If we use a cream cheese the taste will be stronger.
Milk, should be whole? If possible, yes. We want a smooth and creamy texture. Total, we are going to eat one piece... ;)
Can I use another variety of sugar? You can, without problems. The result will be dark in case of moscabado, panela ...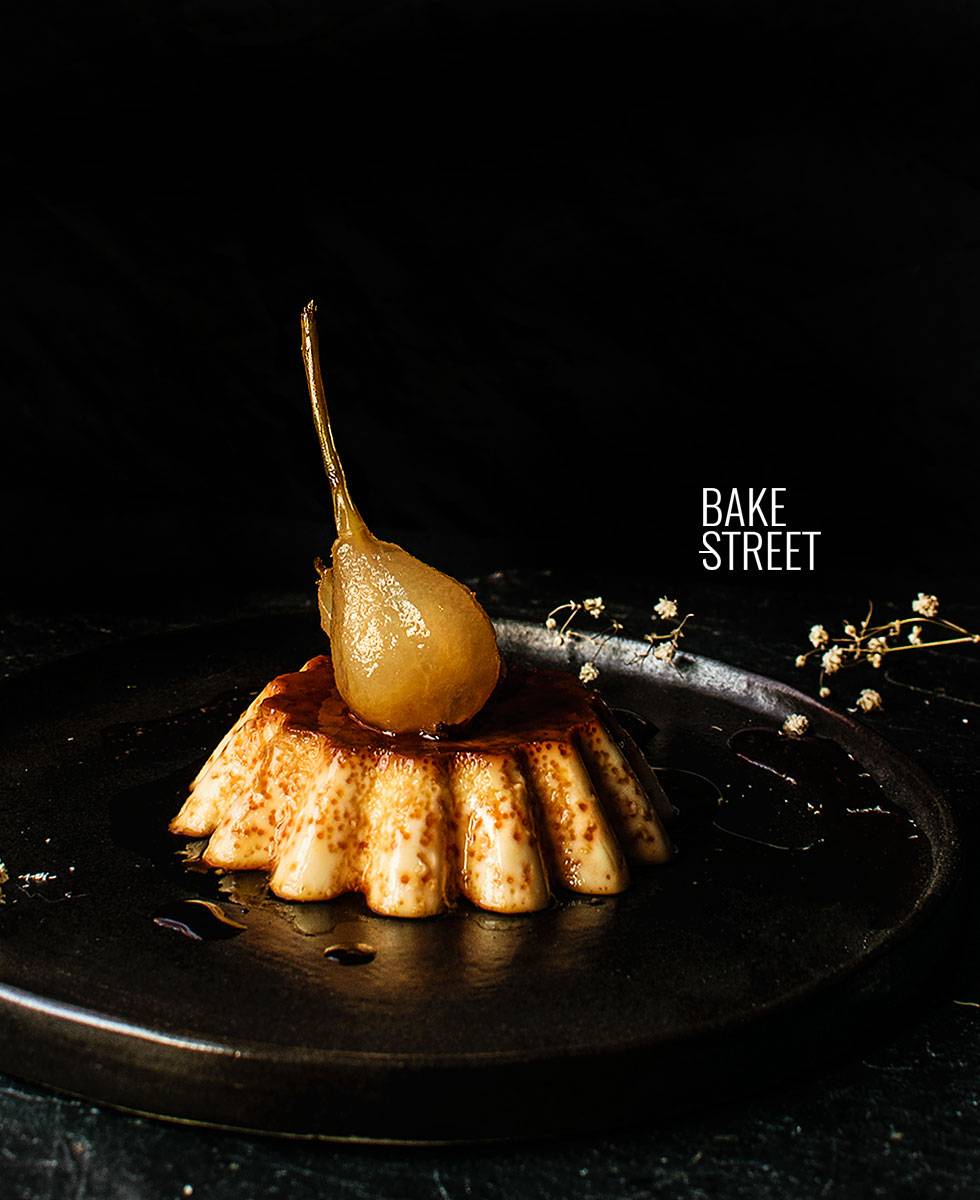 Can I make the flan in a larger mold? Of course. Just take into account the capacity of this.
The time of cooking of this variety of pears in syrup is lower than if we elaborate them with normal pears type Conference. If you use the latter, the time will be around 30-40 minutes.
Can I keep the pears in syrup for several days? Yes, you can store them in a hermetic glass container with its own syrup and refrigerate them for several days. The sugar will act as a preservative.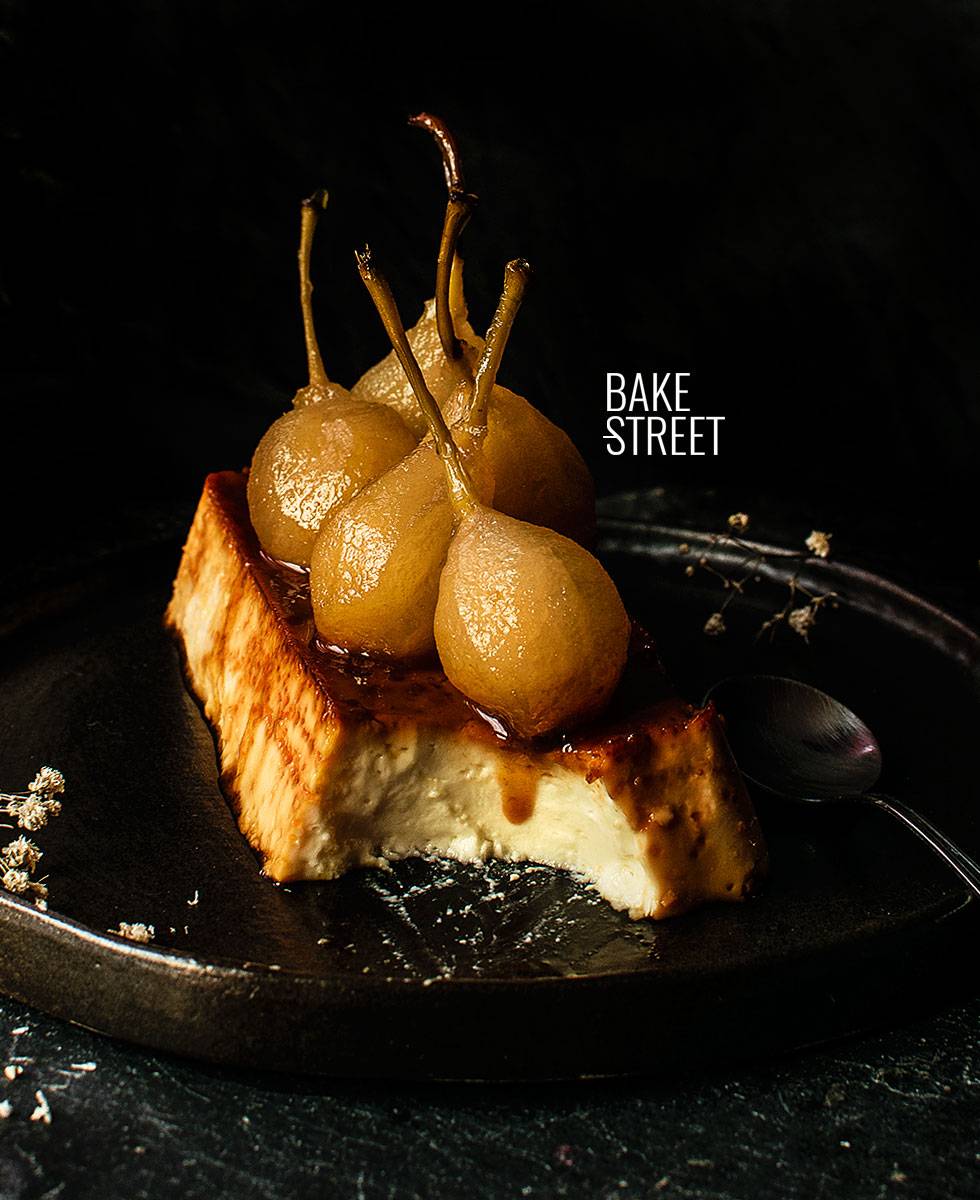 Do not forget to try this mascarpone flan with its wonderful garnish ...
So do not get too distracted because the San Juan´s pears run out in a very short time and we must give them a good use before they leave us. Although ... we can buy a good amount and make them in syrup to preserve them. That way we can enjoy them for a long time ;)
Have a nice weekend!
Big hugs,
Eva
Archivado en