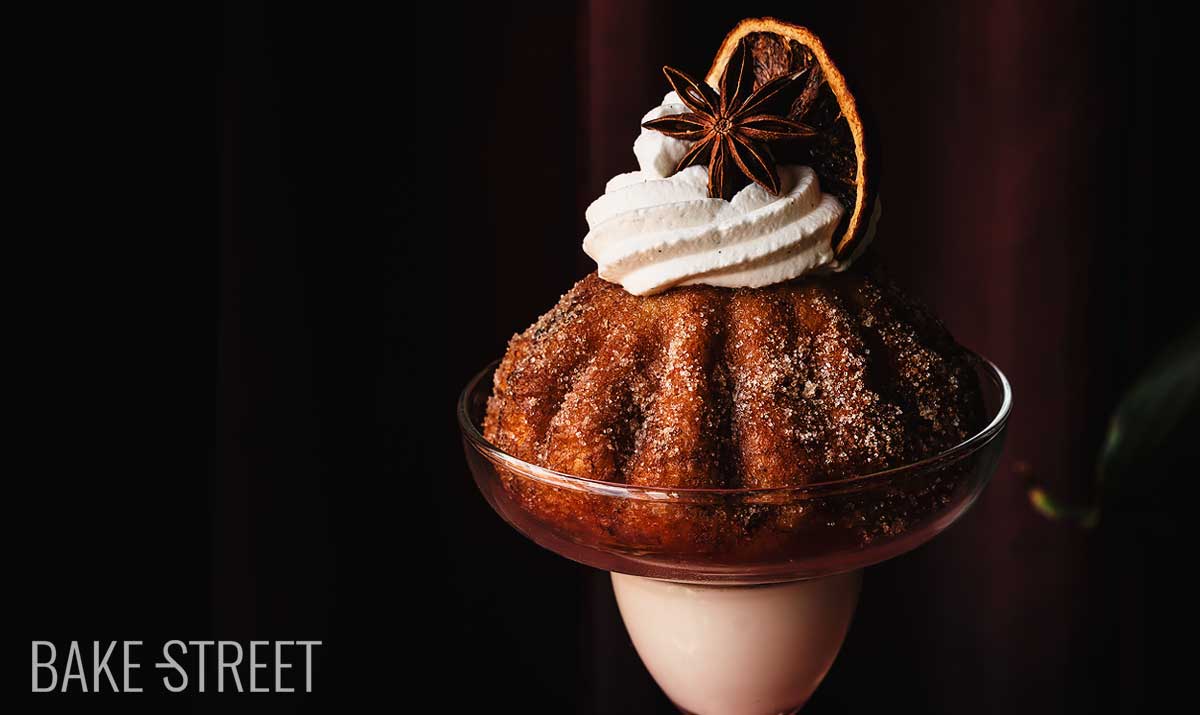 Torribabà, fusion of Torrija and Babà au Rhum
Este post también está disponible en Spanish
The recipe that I bring you today is an idea that came to me a few days ago thinking of leaving you a recipe for a different kind of torrija. Because, yes, traditional torrijas are delicious. We are not going to deny it. But this year I wanted to prepare a different torrija, "bigger" and very, very moist. Thinking about it I came to what I wanted and had in mind…. It is a fusion of two classic and traditional Spanish and French elaborations, Torrijasand Babà au Rhum, to give rise to the Torribabà.
I must admit that the name is what I found most difficult. Even so, it does not convince me, but I was looking for a name that would reflect both elaborations and that was not a surname. At first I thought of Torriba, but when I searched I saw that it was not an option because of what I mentioned before.
Creating the Torribabà recipe, a fusion of Torrija and Babà au Rhum.
The process to elaborate a torrija is quite simple. We start with a stale bread or sweet bread specifically for this preparation (like this torrijas bread that I left you some time ago), soak in infused milk, cover with egg and fry it.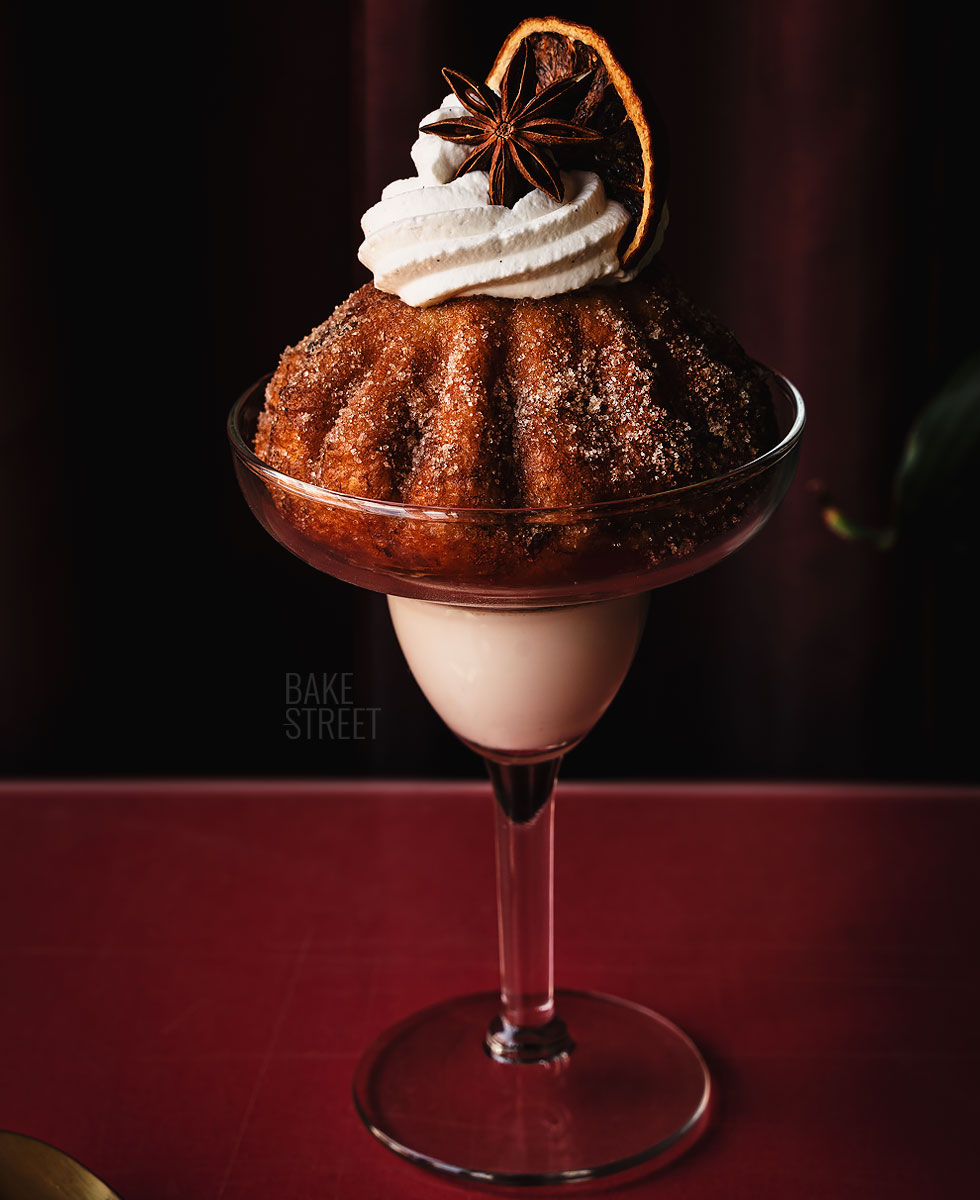 In our case, we will start the process from scratch. We will make a hybrid brioche dough, that is, we will add sourdough and yeast. It is the same brioche that I left you to make the famous French Toast and that is Yohan Ferrant's recipe. Do not worry if you do not want to use sourdough, in the notes section (below) I explain how to proceed if you want to omit it.
To shape them, instead of creating the traditional loaf to cut slices, what we will do is to shape small round pieces that we will let rise in a brioche mold. When baking them, it is important not to brush them with beaten egg. Otherwise it would create an outer layer that would not allow the brioche to absorb the infused milk easily. Brush the brioches with whole milk.
Once baked, let them rest for a day and then soak them in the infused milk for several hours. The infused milk is a bit particular… Since we will combine two preparations, we will also do it in this step. On the one hand we have the cinnamon and citrus flavored milk from the torrijas and, on the other hand, we have the syrup made with rum from the babà au rhum. What I did in my case was to combine both elaborations to produce a milk infused with spices, citrus and rum.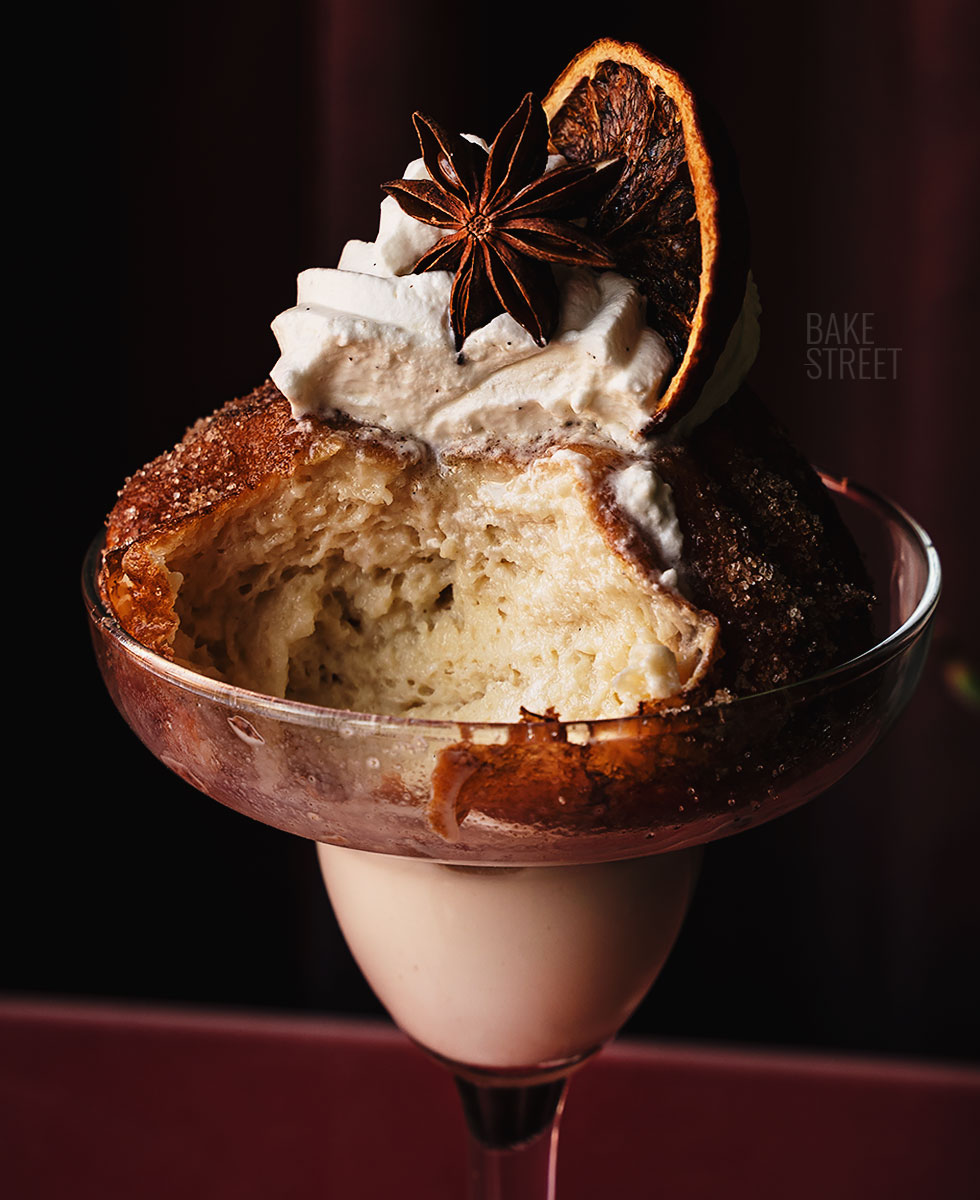 It is very important that the whole brioche is soaked very well so that when it is split, we can enjoy a very moist Torribabà.
Finally, cover with beaten egg and fry until it acquires a nice golden color.
When it is time to serve, we can coat it with sugar and cinnamon if we wish. If we want to show off, we can present this Torribabà in a Margarita glass as I show you in the video. This step is optional, but if you dare, it will be a very elegant presentation.
Recipe Torribabà, fusion of Torrija and Babà au Rhum
SOURDOUGH:
20 g of 100% hydrated sourdough
40 g water
40 g T45 flour
BRIOCHE:
300 g flour T45
300 g flour T65
230 g egg
110 g whole milk
80 g 100% hydrated sourdough
24 g fresh yeast or 8 g dry yeast
90 g sugar
240 g unsalted butter at room temperature
12 g salt
INFUSED MILK:
1.9 liters of whole milk
165 g sugar
peel of one lemon
peel of an orange
2 cinnamon sticks
3 teaspoons natural Bourbon vanilla extract
100 g rum (I have used Matusalem)
FOR COATING:
2-3 large eggs
200 g sugar + 4 tsp cinnamon powder
FOR DECORATING:
FOR FRYING:
mild olive oil or sunflower oil
MATERIAL WE WILL NEED AND SHOWN IN THE VIDEO:
big pot
big bowl + colander
digital kitchen scale
digital kitchen thermometer
10 cm diameter brioche molds
fruit peeler
saucepan, mine is this from DeBuyer*
Margarita glass to serve (optional)
*You have a 5% discount on the website Claudia&Julia using this code BAKESTREET. Delivers throughout Europe.
Instructions
FIRST DAY
Prepare brioche dough.
In the bowl of the mixer add the flour together with the eggs, milk, sourdough, yeast, salt and sugar. Knead at low speed for 5 minutes. We will have to have a semi-developed dough in which we observe that the ingredients are amalgamated.
After this time, we raise to high speed and knead for 12 minutes.
Stop the mixer and start adding the butter little by little. Allow the butter to fully integrate into the dough before adding more. During the whole process of incorporating the butter, we will knead at low speed.
Once all the butter has been added and incorporated, knead for 5 more minutes at low speed. The dough should be elastic, soft, smooth and not break.
Let it rest in the bowl, covered with film or plastic wrap for 45 minutes.
Remove the dough, fold and place in a bowl previously greased with olive oil.
Store in the refrigerator for 12-24 hours. In my case it was 14 hours at 39ºF/4ºC.
SECOND DAY
Shape.
Remove the dough from the refrigerator and turn it out onto a clean work surface. We must work with the dough cold, not tempered.
The dough should have quadrupled its volume.
Turn the dough out onto a clean work surface, gently degas and divide the dough. Cut 16 pieces of approximately 80-85 g each.
If the dough sticks to our hands, sprinkle lightly with flour.
Shape in a smooth way, without exerting excessive tension. Remember that if you have created scraps when dividing the dough, these should always remain in the center of the piece.
Place in the brioche mold.
Repeat the process with the rest of the brioches.
Make final proof.
Cover with plastic wrap and let rise until doubled in size. In my case it was 4 and 1/2 hours at 78,8ºF/26ºC.
Bake.
Preheat the oven to 355ºF/180ºC with heat up and down.
Brush the brioche with whole milk.
Bake at medium height for 17-18 minutes.Remember that the interior temperature must reach 190º-194ºF (88-90ºC) for the baking to be finished. I recommend controlling the internal temperature of the brioches, in order to avoid exceeding the baking time and leaving dry brioches.
Remove from the oven, unmold and let cool completely on a wire rack.
Once they have cooled, store in zip bags until the next day.
THIRD DAY
Prepare the infused milk.
Pour the milk into a large saucepan along with the sugar, lemon and orange peel, rum, vanilla and cinnamon stick.
Place over medium-low heat and let it come to a gentle boil. At this point, reduce the heat to very low and cook for 30 minutes.
Remove from heat and let stand for 1 hour.
After this time, strain the milk into a large bowl to remove the citrus peels and cinnamon. It is important that we have a large bowl to immerse the brioches.
Set aside.
NOTE: We can infuse the milk the night before and, once it has cooled, refrigerate it. The next day we put it on the heat to temper the milk until it reaches about 95ºF/35º C to be able to use it.
Soak the brioches in the infused milk.
Place the brioches in the milk, which should be about 91º-95ºF/33º-35º C approximately.
Let stand for 3-4 hours, we must make sure that the brioches are completely soaked to the inside with the infused milk.
From time to time, we will move or turn them to help the brioche to absorb the milk all over the surface.
When the brioche is well soaked, you can see it in its weight and texture. If you press gently, you will notice that it is very moist. If the center has not yet soaked well, we can also appreciate it to the touch (it will be slightly harder).
Fry Torribabà.
Pour oil into a saucepan, it is important that it is high enough to fry the pieces well. We must use enough oil so that the Torribabàs float.
Place at medium heat and let it reach 347ºF/175ºC. To do this we will use a digital thermometer.
Meanwhile, beat the eggs in a deep dish. Set aside.
Add the sugar together with the cinnamon in a dish, mix well to obtain a homogeneous mixture. Set aside.
Prepare a plate with absorbent paper where we will place the Torribabàs as we take them out of the oil. Set aside.
Once the oil is hot, fry the Torribabàs.
Carefully take a brioche soaked in milk, dip in egg covering the entire surface of the brioche, drain well and place in the pan. Fry until it acquires a nice golden color all over the surface. We will have to turn the brioche carefully during cooking.
Remove, drain well and place on absorbent paper.
Let stand for a couple of minutes before dipping in the cinnamon and sugar mixture.
Repeat the same process with the rest of the pieces.
They are very good the same day they are prepared, warm, although the next day they are also spectacular.
To keep them for 2-3 days, they should be kept refrigerated in an airtight container. Ideally it should be glass.
Serving Torribabà.
Of course we can enjoy this Torribabà in a plain dish. But in case you want to give it a more "apparent" presentation, I leave you this suggestion of presentation in case you dare with it.
We will need Margarita glasses, although any other glass with a wide mouth and without much depth would also work.
In case of using a Margarita glass, pour a little infused milk in the base up to the edge of the wide part. In other words, we only fill the small hollow of the glass.
Place the Torribabà inside the glass.
Pipe a little Chantilly over it and decorate as desired. We can use candied cherries, Marraschino cherries, candied fruits.... In my case I used an anise star and a slice of dehydrated blood orange.
Serve.
Notes
If we cannot find T45 and T65 flour, we can use a medium-strength flour W=280 approximately as a substitute. It is important to observe how the flour behaves, as we add ingredients, to know if it has enough absorption capacity. If you do not know the flour with which you are going to work, add the milk little by little.
If you do not want to use sourdough in the recipe, omit it and instead add 40 g of T45 flour and 40 g of milk. It will not be necessary to increase the amount of yeast.
I used brioche molds of 10 cm in diameter.
We must shape the brioches with the cold dough, otherwise it would be very difficult to carry out because the dough will become very sticky.
If you notice that the dough adheres to the edge of the hand, sprinkle it lightly with flour, so that you can roll your hand over the dough without any problems.
Respect all the steps, resting and rising times to obtain a good result both in taste and texture.
I recommend using a good quality butter because it will affect the final flavor of the dough.
The brioche will keep in perfect condition for 5-6 days wrapped in film or in a freezer bag. From this point on, it will begin to lose tenderness.
When we infuse the milk, we must let it rest so that the aromas intensify and the milk loses heat. Otherwise, not only would we burn ourselves when handling the brioches, but they could also disintegrate.
If you do not want to use rum, you can omit it and replace that part with milk.
The resting time of the brioche with the milk mixture cannot be omitted. In this way we will achieve a creamy and moist interior because the brioche will absorb all the milk that we have poured over them.
It is very important to handle the milk torribabàs carefully when coating them with egg.
We can use sunflower oil for frying or mild olive oil or seed oil. I leave it to your choice.
They should be fried until they acquire a light golden color. The ideal oil temperature is 347ºF/175ºC. Be careful when introducing the brioches soaked in the oil, they will jump a little due to the high liquid content.
We must wait for the torribabàs to lose heat before covering them with the sugar and cinnamon mixture. Otherwise, the sugar will dissolve.
The milk and rum torribabàs can be kept for 2-3 days refrigerated in an airtight container.
What can I tell you... I am very proud of the result of this Torribabà recipe, born from the fusion of Torrija and Babà au Rhum. And from my crazy ideas.
It is just what I was looking for, a torrija of good thickness, with a striking appearance on the outside, incredibly moist, full of aromas and presented in a more elegant way than its traditional format. I wanted to raise its level slightly and, I think, I have succeeded.
I strongly encourage you to try them at home and let me know what you think!
I send you lots of love and I wish you a very happy Easter! See you back from vacation.
Eva
This post contains affiliated links.
Archivado en