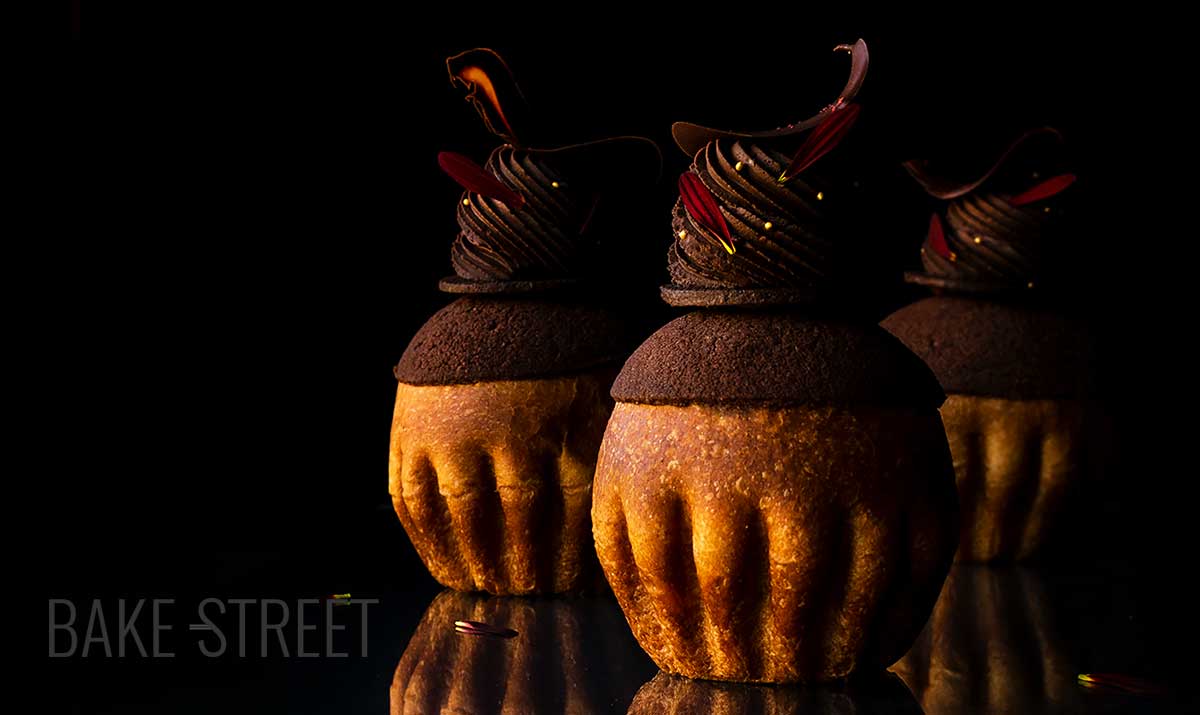 Religieuse Brioche
Este post también está disponible en Spanish
I've wanted to share this recipe with you for a long time. But I'm going to tell you that I haven't already told you… So many wonderful recipes to try, that are accumulating. I imagine that many of you already know Johan Martin,, he is a professional pastry chef with unique hands. I love everything he does. Well, La Religieuse Briochée or Religieuse Brioche is an elaboration that was born thanks to seeing one of his creations.
Of course, there is no comparison between his work and that of the rest of mortals. But I believe and consider that it is always necessary to name the person who has awakened in you the inspiration, the ideas, the illusion, the dreams, the desire to create… He doesn't deserve less, since not everyone has that capacity. It's my way of saying "thank you" and supporting that person to continue creating wonders for our eyes. Don't miss his work, you will fall in love without remedy.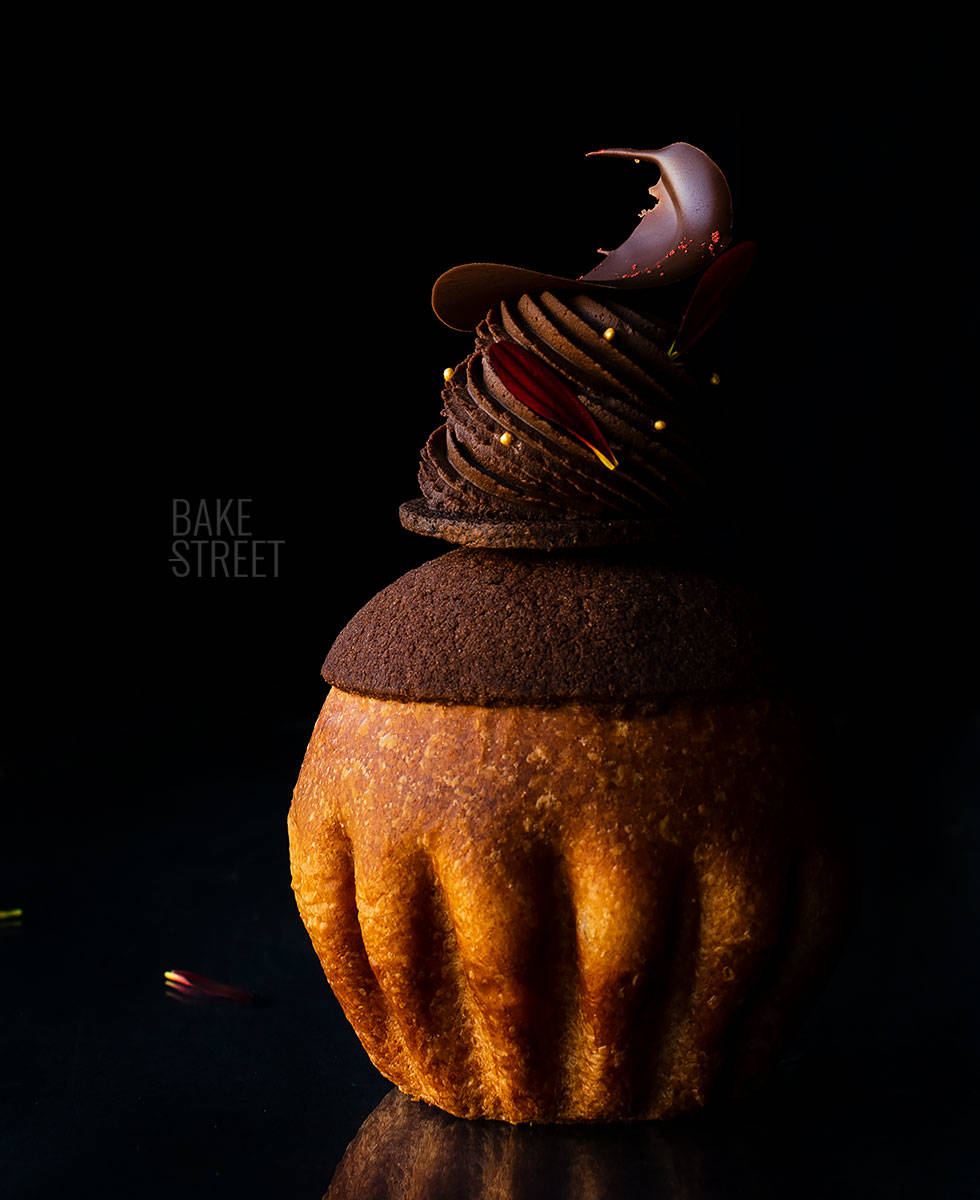 La Religieuse Briochée.
In pastry, normally, when we read Religieuse we associate it (as is logical) with a choux paste filled with cream, usually coffee or chocolate, and with a very elegant decoration that can combine many ingredients.
In fact, La religieuse is a cake that comes from France. A popular Parisian coffee Café Frascati, named as a famous Neapolitan ice-cream maker was invented in 1856.
The process to carry it out is practically the same as the éclair, but they differ in the way they present it. The religieuse consists of two pastries made of choux paste, one larger than the other, arranged one on top of the other. They are covered with fondant, chocolate… And they are filled with cream.
Today there are many recipes for this preparation that use a craquelin on the surface of the pasta choux, instead of chocolate or fondant.
Well, today's recipe is inspired by this French preparation which is his day I saw Johan Martin. It consists of a very tender brioche (you can watch it in the video), covered with a chocolate craquelin and decorated with a chocolate sablée cookie accompanied by a chocolate creamy.
In my case, I decided to change the top decoration by not doing it the same as Johan.
The elaborations I have followed for each element are all from my blog except for the chocolate cream. This recipe was followed by Ettore from "Bavette", thank you very much, it's wonderful.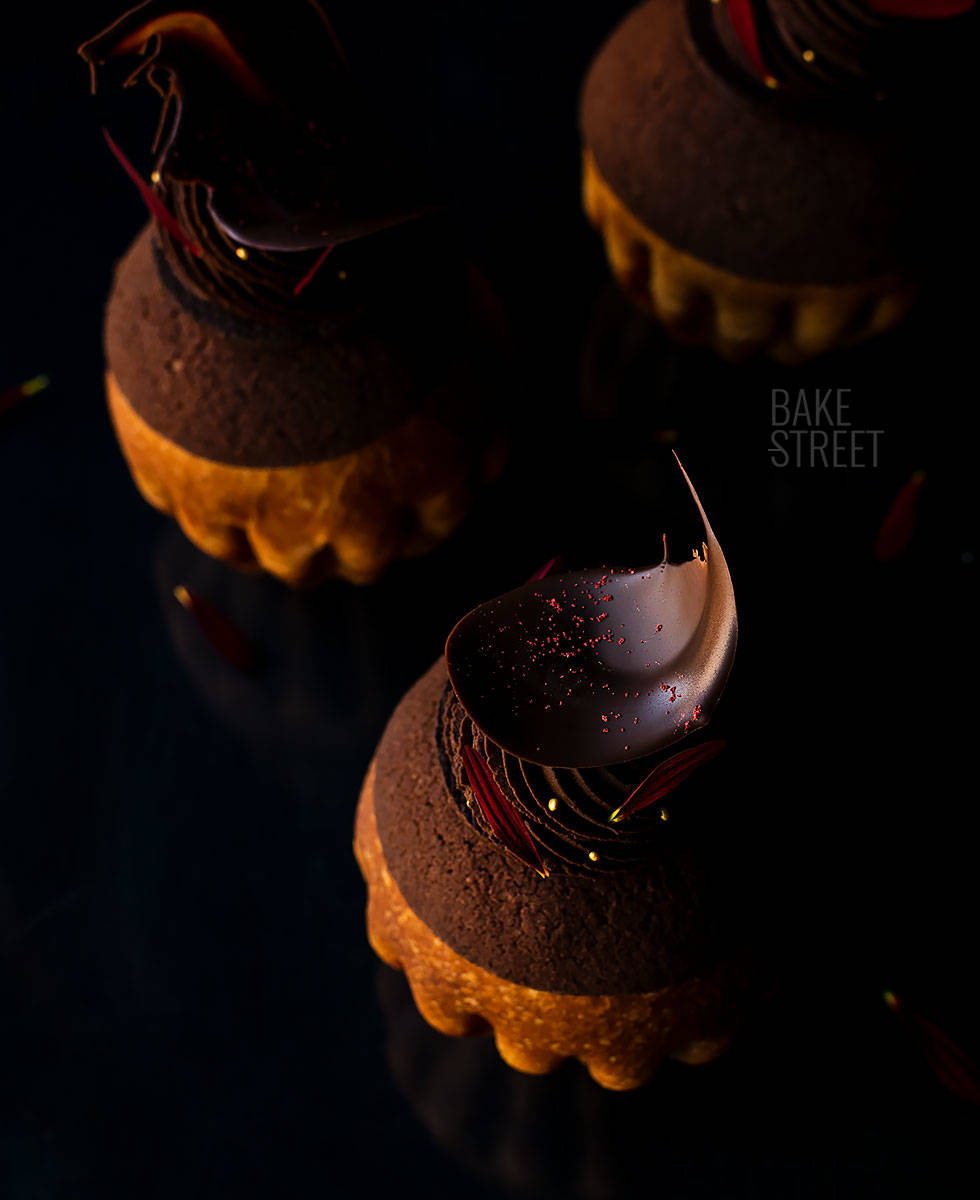 Making the recipe.
I have to admit that it is a recipe that has many steps and processes, but if we organize ourselves well, we will not be overwhelmed by the process.
Here, the key element is the dough of the brioche. It's an adaptation of my brioche a tête recipe, adjusted to the flours I have at home now. Remember that not all of them have the same absorption capacity and they don't work in the same way. It is of vital importance that you knead very well to achieve a perfect development of gluten. In this way we will be able to make the most of the fermentation process.
Since the process is a little long, we will use the cold ingredients to prevent the dough from ending up at a high temperature. I start the process with the kneader, but I finish it by hand. It is the only way, with my kneader, to achieve a perfect development. In the end, KitchenAid what it does is spin the dough than knead it. Not in all cases, but in many.
Then it's very important how you handle the dough. Never, ever, be abrupt. Treat it with love so that the result is a soft, light and very tender dough. Here we must carry out another step which is to respect the fermentation process well.
Do not force this step by subjecting the doughs to high temperatures in order to accelerate it or work with it before the indicated time. Only by doing each step well, you will achieve the result we are looking for. Be patient.
Once you have this, the rest will be very simple.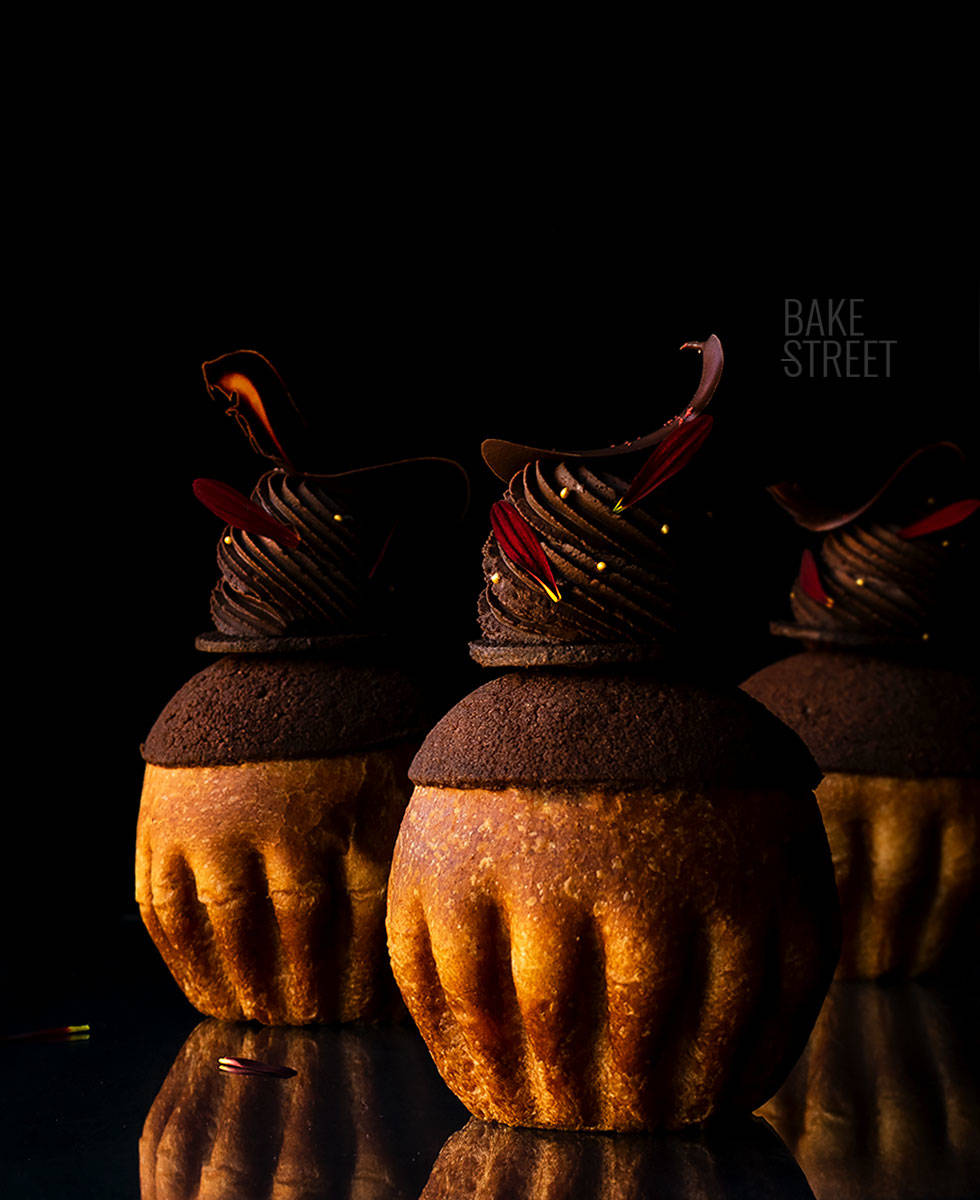 Decoration.
To decorate the brioche religieuse, we will prepare a chocolate sablée cookie. It's the same recipe we prepared to make a sableé dough, you'll be able to see it in many cakes on my blog, only we'll stretch it a lot and cut it in cookie format. Ideally, use an adjustable roller to achieve the same thickness over the entire surface, stretching it between two sheets of Teflon or baking paper.
The dough must be very cold at all times, especially when cutting for a clean finish. To bake them, place them (ideally) on a perforated silicone mat and a perforated tray.
On the cookie we will place the chocolate cream, you will love it, and we will decorate with a chocolate leaf, sprinkles and flower petals.
To make the chocolate petals and give them a curved shape, I have used half a bottle cut lengthwise. It's not the most glamorous thing, but it works very well. In case you have a mold or grooved utensil intended for that, phenomenal 😉
Ingredients for 13 pieces
FOR BRIOCHE DOUGH:
500 g bread flour W=300, I have used "Primitiva" from Molino Pasini
50 g whole milk, cold
300 g egg (without shells)
175 g unsalted butter, cold
6 g dried yeast
85 g sugar
15 g honey
10 g salt
FOR CHOCOLATE CRAQUELIN:
43 g plain flour, W=200
40 g unsalted butter
50 g sugar
7 g cocoa powder
FOR CHOCOLATE SABLÉE COOKIE:
90 g pastry/cake flour
12,5 g cocoa powder
65 g unsalted butter, cold
30 g egg
20 g sugar or dark muscovado sugar
1 g salt
FOR CHOCOLATE CREAM:
290 g heavy cream
40 g whole milk
2 large egg yolks
200 g black chocolate 72%
40 g sugar
1 gelatin sheet (2 g)
DECORATION:
70 g black chocolate 70%
golden sprinkles
daisy petals
edible Ruby powder
Instructions
FIRST DAY
Make dough brioche.
In the bowl of the dough mixer add the flour together with the egg, milk, dry yeast and salt. Knead at low speed for about 5 minutes. We'll get a semi-developed dough.
Add the honey together with half the sugar and knead again. Once it has been integrated, add the rest of the sugar. Continue kneading until fully integrated.
PWe stop the kneader and start adding the butter little by little. It must be fully integrated into the dough before adding more.
Knead the dough until a good gluten development is obtained. It should be elastic, soft, smooth and not break. On this occasion, I decided to finish kneading by hand combining it with rest.
Grease an hermetic container, place the dough inside and let it rise until it grows 1/3 of its volume. Depending on the temperature it can take 2-4 hours. In my case it was 1 hour and 40 minutes at 76ºF/24.4ºC.
Keep in the refrigerator until the next day. In my case it was 15 hours at 39,2ºF/4ºC.
Make chocolate craquelin.
In a bowl add the flour together with butter, cocoa powder and sugar.
Mix with the help of a spatula until a homogeneous dough is obtained.
Place between two sheets of Teflon and stretch with an adjustable roller, give a thickness of 2 mm.
Store in the freezer for at least 1 hour. It can be left until the next morning.
Make chocolate cream.
Hydrate the gelatine with very cold water for 15-20 minutes.
Chop the chocolate and place in a heat-resistant bowl, set aside.
In a bowl, add the yolks together with the sugar and whisk. Set aside.
In a saucepan add the cream together with the milk and bring to a gentle boil.
Gradually pour the cream mixture over the yolks while beating to prevent them from curdling. We will add all the mixture without stopping stirring at any time.
Pour this mixture back into the saucepan and place it in a gentle heat until it reaches a temperature of 179,6ºF/82ºC. During this step, stir the mixture constantly.
Remove from the heat, drain the gelatine and add to the mixture of yolks and cream. Mix until completely dissolved.
Pour over the chocolate and mix.
Once we have a homogeneous mixture, beat with a hand mixer to emulsify.
Cover with film and refrigerate until the next day.
Make chocolate sablé dough.
Grate or cut butter, set aside.
In a big bowl add pastry flour with cocoa powder ground toasted hazelnuts, grated butter and salt. Mix between your hands until combined. Texture must be grainy.
Add muscovado sugar, egg and mix lightly.
Transfer the dough to a counter and knead making fraisage technique. It will be useful to get an homogenous dough but without gluten developed.
Put the heel of the hand over the dough and push to the front little by little to get a merged dough but without being elastic. We can see how to make it in this video.
Once the dough is homogenous, roll it between two teflon sheets into 0,11 inches (3 mm). Diameter dough must be bigger than iron skillet.
Let sit between two sheets over a baking tray in the fridge for 2 hours or overnight.
SECOND DAY
Divide and preshape.
The dough must have quadrupled in volume.
Dump the dough on a clean work surface and divide. Cut 12-13 pieces of approximately 80 g each.
If the dough adheres to your hands, sprinkle lightly with flour.
Shape gently, without exerting excessive tension. Remember that if, when dividing the dough, leftovers have been created, they should always remain in the centre of the piece.
Place in the mould.
Repeat the process with the rest of the brioches.
Make final fermentation.
Cover with film and let them rise until they double in size. In my case it was 3 hours at 75,2ºF/24ºC.
Bake.
Preheat oven to 355ºF/180ºC.
Cut the chocolate craquelin with a 5.5 or 6.5 cm diameter ring. Keep it in the freezer until the moment we place it on the brioches.
Put the craquelin discs on the brioches.

Bake at medium height for 17 minutes.Remember that the interior temperature must reach 190º-194ºF (88-90ºC) for the baking to be finished.
Remove from the oven, unmold and leave to cool completely on a rack.
Bake the chocolate sablée cookies.
Remove the dough from the freezer and cut circles 5.5 cm in diameter.
Put them back in the freezer.
Preheat the oven to 355ºF/180ºC.
Prepare a perforated tray with a silicone mat perforated. It will favor a textured finish.
Remove the cookies from the freezer and move to the tray. Try to do it with a spatula since they are very thin, they quickly lose their firmness. Bake them in two batches.
Bake at medium height for 14 minutes.
Remove from the oven and let it cool completely on a rack.
Make chocolate leaves.
Melt chocolate (70 g) in a bain-marie.
Temper until it reaches 86º-87,8ºF/30º-31ºC.
Prepare strips of baking paper and a concave container.  If you have any mould in this way, perfect. In my case what I have done is cut a plastic bottle in half lengthwise.
Put small piles of chocolate and spread with a spoon or spatula to give a finish similar to a leaf.
Place the strip inside the concave or grooved container. Store in the freezer for 30 minutes.
Repeat the process with the rest of the chocolate or until we make all the leaves we want.
Softens the chocolate creamy.
Take the chocolate cream out of the fridge about 30 minutes before you whip it.
Transfer to the KitchenAid bowl.
Using the flat beater, mix at a speed 3 for 3-4 minutes.
Stop, replace the flat beater with the whisk and mix again at a speed 3-4 for 2-3 minutes.
Place into a piping bag with a 6B Wilton tip.
Set aside.
Assemble.
Take a chocolate sablée cookie and spread some cream on the base.
Carefully place on the brioche and press gently.
Pipe the chocolate cream on the sablée cookie.
Decorate with a chocolate leaf on top and sprinkle with Ruby powder.
Finish decorating with daisy petals and golden sprinkles.
Serve.
Notes
I used brioche pans with a diameter of 25 inches (10 cm)
We must shape the brioches with the cold dough, otherwise it would be very difficult to carry out because the dough will become very sticky.
If you notice that the dough adheres to the edge of the hand, sprinkle it lightly with flour, so that you can roll your hand over the dough without any problems.
Respect all the steps, rests and rising time to obtain a good result as much in flavor as in texture and sponginess.
I recommend you to use a good quality butter because this will affect the final taste of the dough.
They last in perfect condition for 4 days stored in a zip-type bag at room temperature (if it's not hot). From here, it will begin to lose tenderness.

We can freeze it in individual wrapped in film.
The chocolate craquelin paste can be made with light moscabado sugar, is very good and gives it very rich nuances. In my case I didn't have it left and I decided to do it with normal sugar.
Chocolate craquelin should be cut when it is very cold, that way we will get a clean cut.
To achieve the superior texture of the cookies, you must bake it on a perforated silicone mat.
The sablée dough, being very fine, loses temperature and, therefore, firmness, immediately. Try to keep it out of the freezer for as short a time as possible.
If you have too many cookies, you can keep them in an airtight container for several days. The recipe is for about 30 pieces.
If it's cold, you should temper the chocolate cream a little earlier. Otherwise it will be difficult for you you to pipe it on the cookie.
If you have surplus chocolate cream, you can refrigerate it for 2-3 days or freeze it for 1 month.
The decoration is totally optional. You can adjust it to your tastes and needs.
I recommend you assemble the brioches just before serving. That way you will be able to keep all the elements in ideal conditions. This point is especially important for the optimal texture of the brioches. If we refrigerate them, the interior will become hard and firm, due to the cold. When their texture is like a cloud.
I encourage you, from deepest part of my heart, to make at home this recipe of Religieuse Brioche. The combination is extraordinary and will allow you to have breakfast like real kings.
A spongy brioche covered with a thin layer of chocolate craquelin, crowned with a crunchy chocolate sablée cookie and chocolate cream... I can't think of a better way to start a day. Or to finish it, because this makes you happy any moment of the day.
I wish you a wonderful weekend, see you on Monday!
Big hugs,
Eva
This post contains affiliated links.
Archivado en