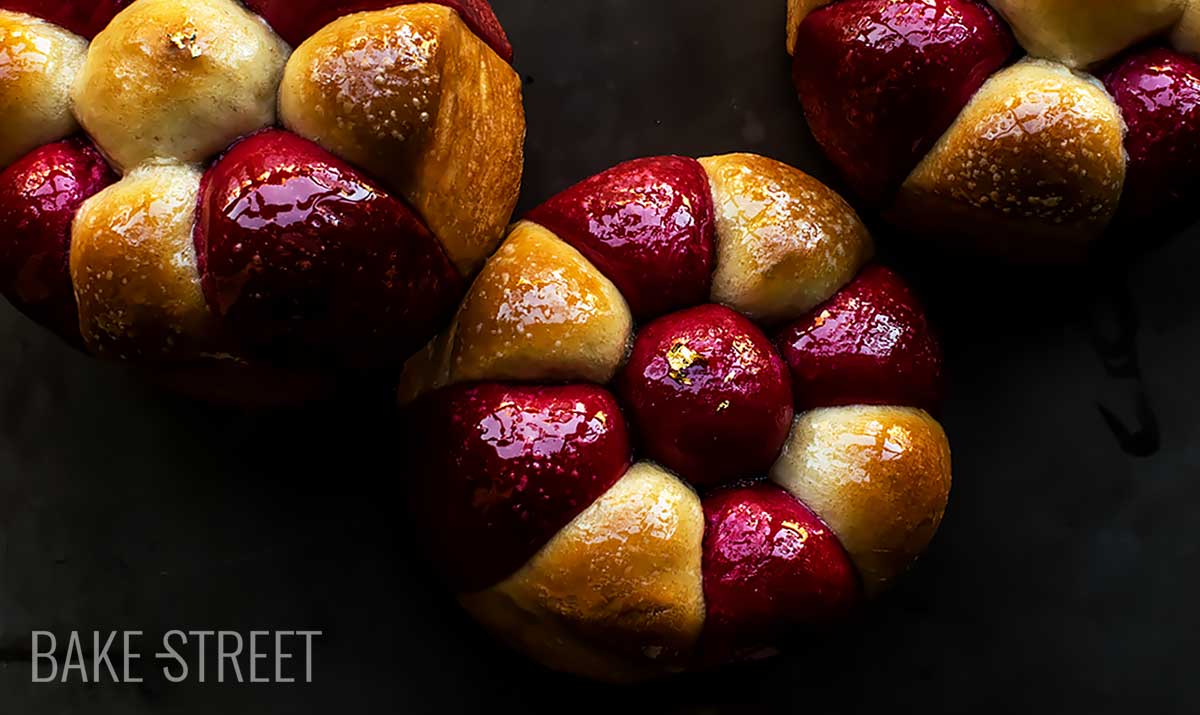 Violets brioche
Este post también está disponible en Spanish
I think it was time to retake doughs, hahaha. I've had a season that I just wanted to make cakes! Ok, I still feel like a lot, but today I decided to change a little and bring you a different recipe and incredibly good too. Violets brioche, because who doesn't like a brioche for breakfast?
For a long time I wanted to prepare brioches with this shape. Although, I haven't finished doing it the way I wanted… The reason was the lack of time. There are seasons that come together too many things and you have to prioritize. But well, they were very good and beautiful. Besides, I already have a good reason to repeat them and finish carrying out the process I wanted 🙂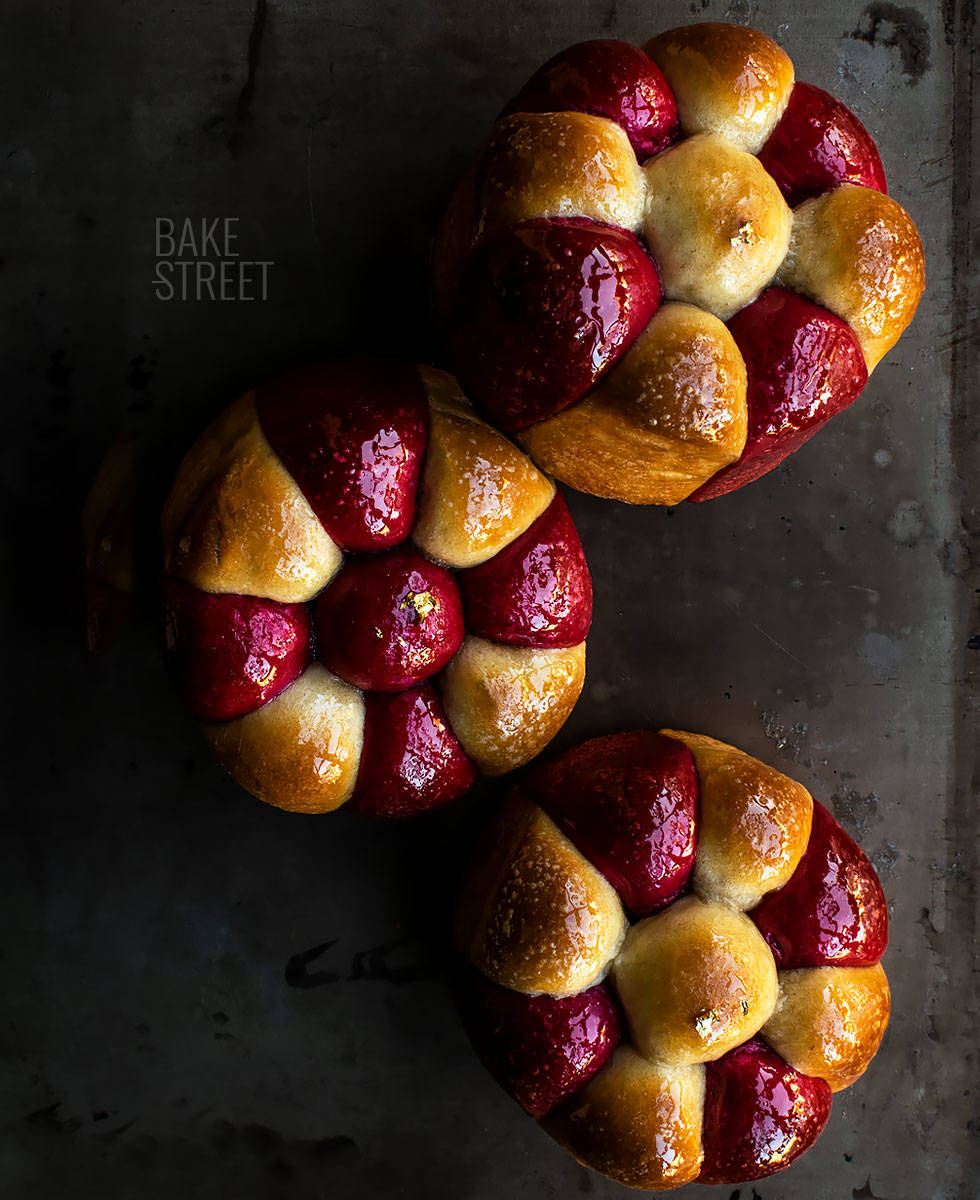 Violets brioche.
First of all, tell you that the dough is not naturally colored. This time I used a food coloring that gives a very strong and bright color. But, for those who want to carry them out in a natural way you can use beet powder that also provides a lot of color and not as much flavor as the beet itself.
Since I gave it color, I decided to give it aroma as well. The color perhaps invites more blueberries, blackberries… But I wanted them to give off a violet aroma and flavor. So that was my choice to combine with the incredible and wonderful flavor of the brioche.
As you can imagine, the aroma can be omitted or you can use another one you like better. This is not going to interfere in the production process at all. The important thing is always that you like it.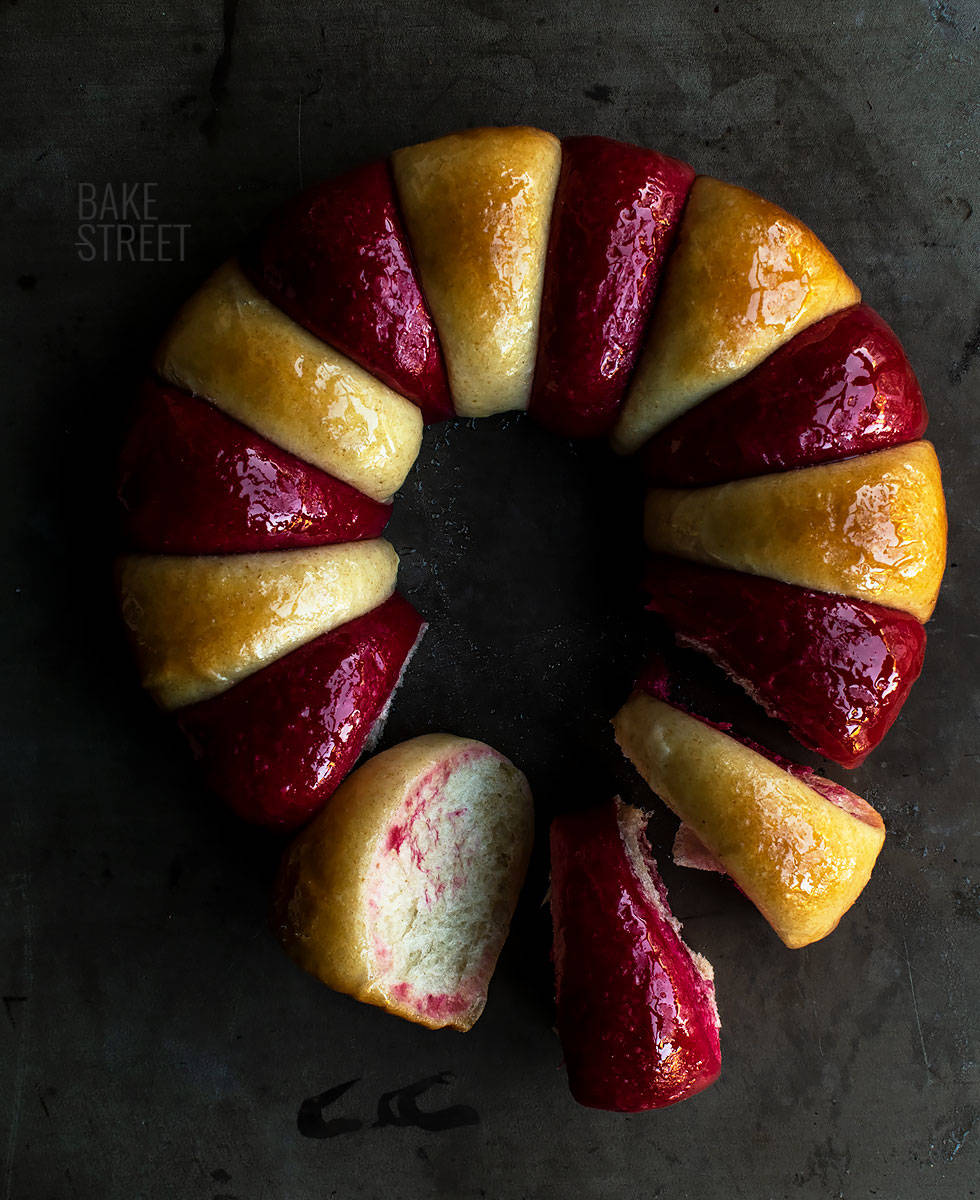 Making the brioches.
There's a great Pastry Chef I admire a lot. He does an impeccable and exceptional job, Johan Martin.. I'm sure you already know him, because it's impossible not to. But if not, don't forget to enjoy his wonderful work.
The thing is, he makes some lovely cassis brioches. I've always liked them, a lot. And my recipe today is inspired (modestly) by his spectacular work.
The recipe for the brioche is based on this brioche all´arancia that I left you some time ago. It's a dough that works very well and I usually use it a lot, changing a few things. It is made with stiff sourdough, in this case, and yeast.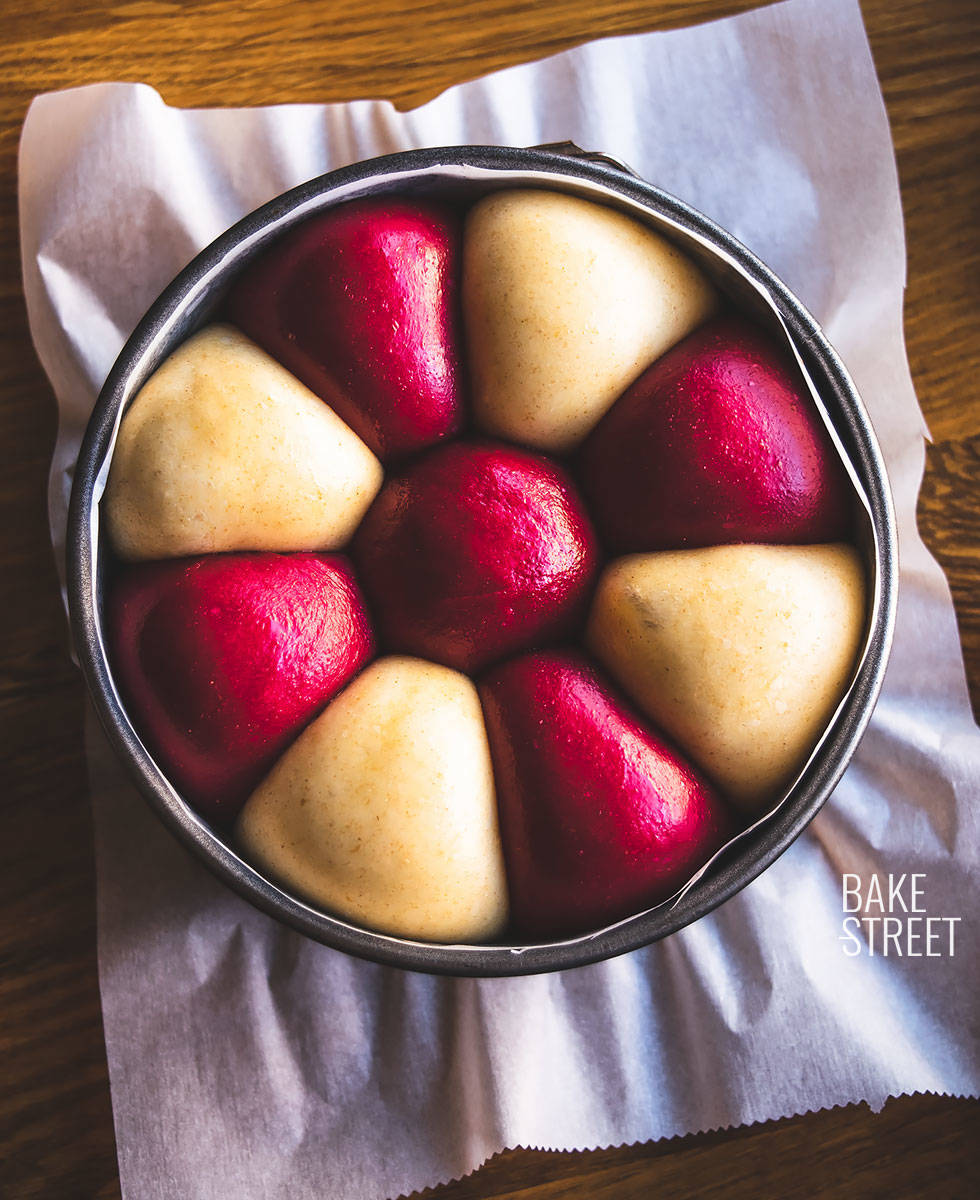 I know you're going to ask me to make the recipe without SD. In case you don't want to use it, simply add the amount of flour and water from the mother dough to the final dough. And that's it 😉
If you wish you can increase the yeast a little, up to 4,6 or 5 g maximum. The process to elaborate it will be the same, only control the fermentations since these can vary.
Ingredients
FOR THE DOUGH:
565 g bread flour
60 g cold whole milk
225 g eggs, 4 large eggs
150 g cold unsalted butter
50 g stiff sourdough
4,2 g dried yeast
100 g sugar
18 g honey
9 g salt
purple food coloring and a few drops of violet extract
FOR THE SYRUP:
Instructions
FIRST DAY
Make the dough.
In the bowl of the dough mixer add the flour together with the egg, milk, sourdough, dry yeast, honey, salt and sugar. Knead at low speed for about 8-10 minutes. We'll get a semi-developed dough.
We stop the kneader and start adding the butter little by little. It must be fully integrated into the dough before adding more.
Knead the dough until a good gluten development is obtained. It should be elastic, soft, smooth and not break.
Divide the dough into two equal pieces, they will weigh about 583 g each.
Make a ball with one of them and put in a bowl or airtight-container. Cover it with film or with its corresponding lid.
Place the other piece in the bowl of the kneader. Add the food coloring together with the violet extract and knead until a uniformly colored dough is obtained.
Make a ball and placee in a bowl. Cover.
Let it rise until it grows a little more than 1/3 of its volume. Depending on the temperature it can take 4-6 hours. In my case it was 4 hours at 78,8ºF/26ºC.
Place in the refrigerator until the next day.
SECOND DAY
Make the syrup.
Pour the water  with the sugar in a saucepan. Place at medium heat and let it boil. The sugar should be completely dissolved.
Once it comes to the boil, turn off the heat and let it cool completely.
Set aside at room temperature.
Dividimos y preformamos.
Remove the dough from the fridge and leave at room temperature for 2 hours. If it has not doubled, leave it until it reaches that volume.
In my case I have formed 3 pieces in molds of 4.7 inches/12 cm of diameter and one in a mold of 7 inches/18 cm of diameter. For the small molds we will need 8 pieces (4 of each color) plus one in the centre and for the large mold 14 pieces (7 of each colur).
Dump the dough on a clean work surface and divide the dough. Cut pieces of 25 g each.
Preshape gently, without exerting much tension. Remember that if when dividing the dough, leftovers have been created, they must always remain in the centre of the piece.
Cover with film and repeat the same process with the pink dough.
Make final proof and bake.
Line the molds with baking paper the way I show you in the video.
Place the pieces inside the molds. Before place them, roll again each piece.
Cover with film and let it lift until it doubles in size. In my case it was 4 hours at 80ºF/27ºC.
Preheat oven to 345ºF/175ºC.
Bake at medium height for 22 minutes.Remember that the interior temperature must reach 190º-194ºF (88-90ºC) for the baking to be finished. I recommend you to cover the brioches with aluminum foil after 10 minutes. In this way we will avoid that they are browned in excess losing the color.
Remove from the oven, unmold and brush with syrup while the brioches are still hot.
Allow to cool completely.
If we wish, when serving, we can decorate them with gold leaf.
Notes
With this recipe we will obtain 3 brioches of 12 cm of diameter and a crown of 18 cm of diameter.
If you notice that the dough adheres to the edge of the hand, sprinkle it lightly with flour. But that won't be necessary.
Respect all the steps, rests and rising time to obtain a good result as much in flavor as in texture and sponginess.

I recommend you to use a good quality butter because this will affect the final taste of the dough.
To color the pink/purple dough, I used artificial dye in the paste. But powdered beet can be used if you wish.
I have used violet aroma, but you can use any other aroma or even omit it if you wish.
It is not necessary to brush the brioches with egg before baking. In this case I wanted to brush them with syrup just after removing them from the oven to give them a glossy finish.
They last in perfect condition for 4 days stored in a zip-type bag at room temperature (if it's not hot). From here, it will begin to lose tenderness.
We can freeze it in individual wrapped in film.
This violets brioche is one of those things that make your day. You get up, prepare coffee and accompany it with one of these amazing treats... If that's not happiness, then I don't know what it is anymore! hahaha!
As you can see, it's a pretty simple recipe to prepare. The only thing we have to be patient with rising time and preshaping. Yes, you have to make a lot of balls, preshape, shape and place them in the mold. But it's worth it.
I hope you have a great weekend, see you again on Monday!
Big hugs,
Eva
Archivado en