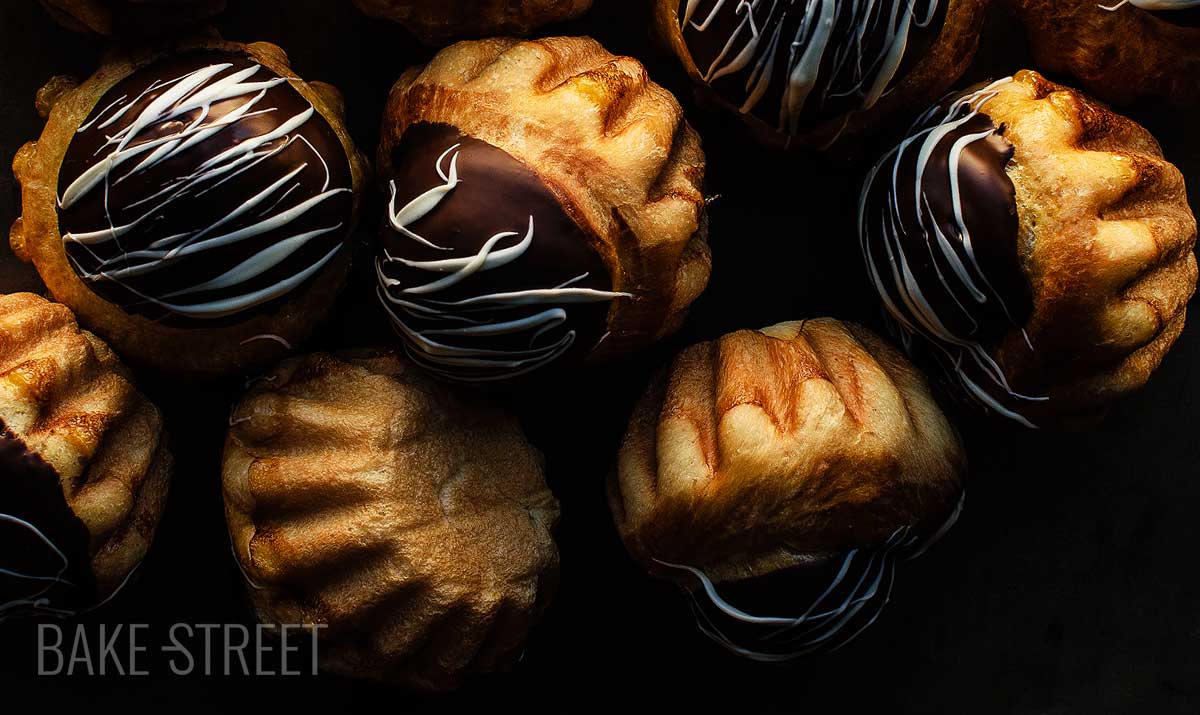 Brioche all´arancia {orange brioche}
Este post también está disponible en Spanish
I know I've shared with you several brioche recipes, but I can't help it, it's an elaboration that drives me crazy and I love to carry it out in different ways. For some time I have been preparing and trying some recipes from the book "PH 4.1. Scienza e artigianalità della pasta lievitata" and each one I make I like more than the previous one. I remember when I saw the recipe Brioche all´arancia and immediately thought I had to prepare it. I have made some modifications to the original recipe.
The dough that I have carried out does not resemble any of the recipes that I have left you before, in fact we will add sourdough. The fermentation process will not only be carried out with this natural ferment, but we will also add a little dry yeast to speed up the proof process. In spite of carrying it out in 2 days.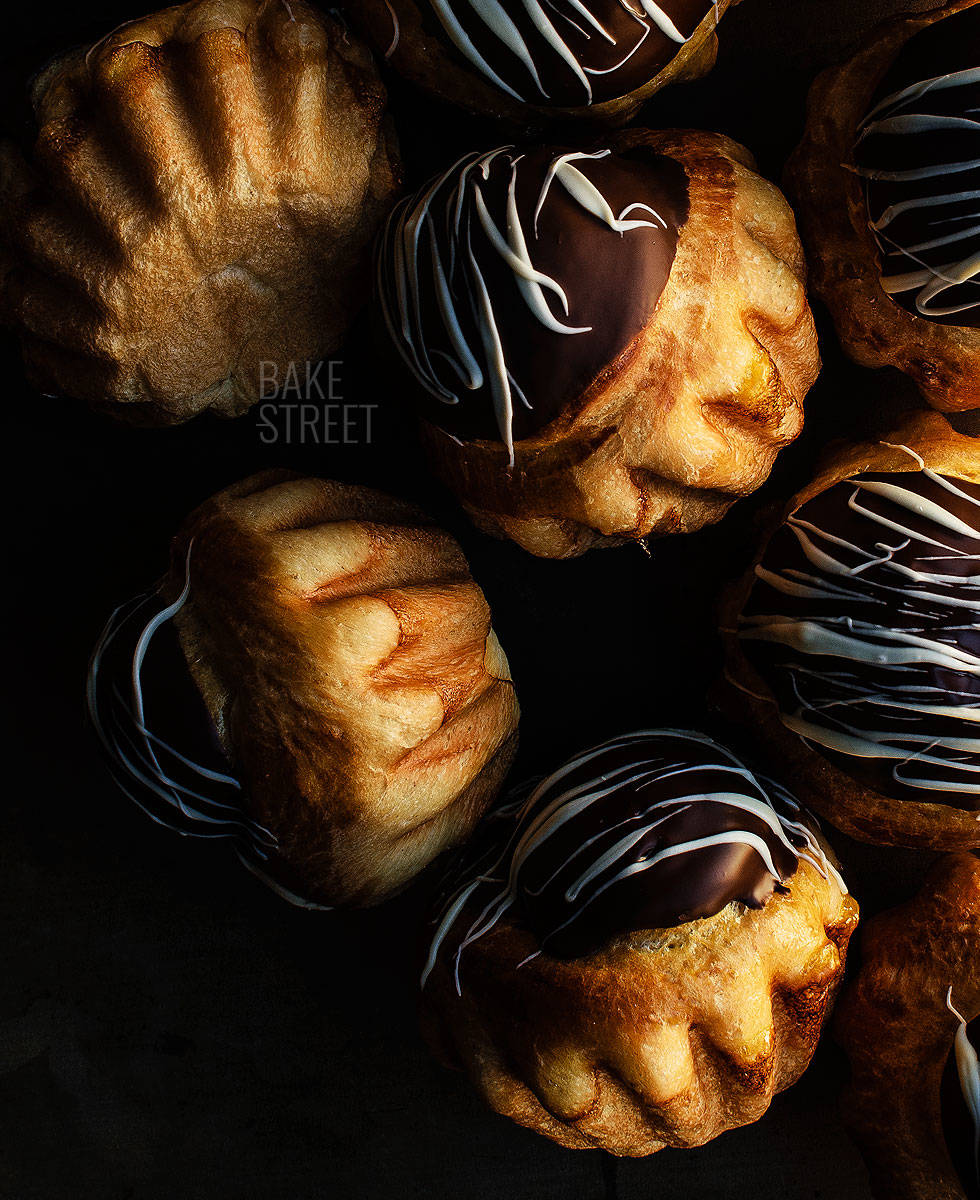 You might think why I use both ingredients to make the dough. Of course, as you can imagine, it could only be done with sourdough. But in this case what I'm looking for is a product with good taste, good aroma, tender and spongy texture as well as a moderate fermentation process.
The result is amazingly good.
Thanks to sourdough we will not only be able to provide those nuances that we only get using this type of preference but also extend its useful life and get a very soft and tender crumb. Without a doubt its texture is one of the things that has fascinated me the most. In addition to its taste and aroma, but which brioche is bad?
The last brioche I left you on the blog was the Mouna. It is a dough enriched with orange blossom water and carried out with a liquid sourdough and yeast traditional from Algerian pastry. A real wonder that thanks to its format we can enjoy on toast for breakfast. Another type of brioche, but this time laminated, was the Fujisan bread inspired by Mont Fuji. Its process is wonderful to carry out and, in return, we get a very attractive format.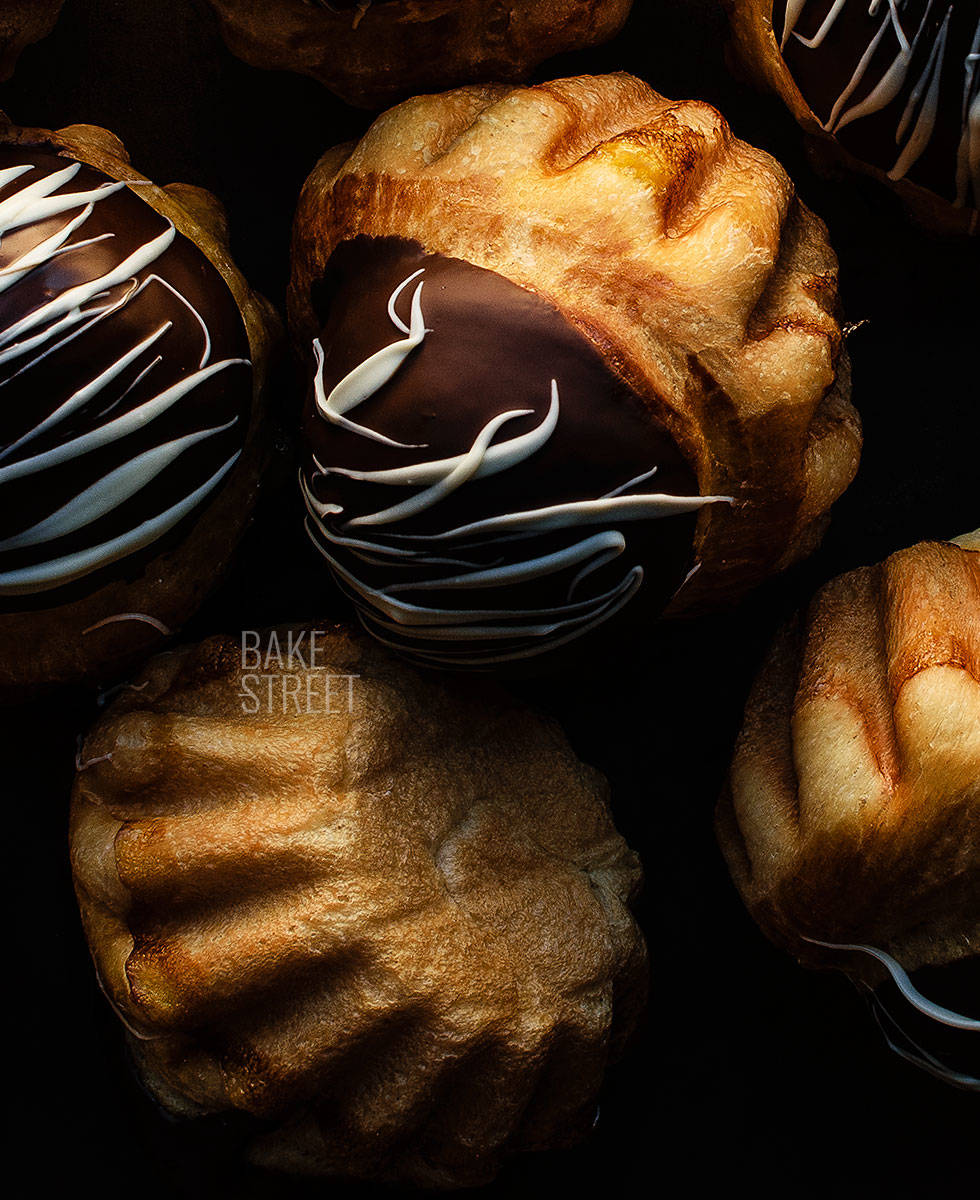 I also left you the recipe of the Brioche Couronne, with a circular shape and cuts on the top, brioches with pears in syrup, Sticky cream brioches… And, among all of them, also the brioches a tête that are how we will shape today's brioches. (The last two recipes are only available in Spanish)
Learning to shape brioches.
In today's post I will show you how to shape the traditional brioche a tête with two different methods. To do this, I have made a video in which I show you how to proceed to manipulate the dough and shape them. In the old post I left you 3 years ago, I only explain the process, but you don't see how to do it.
So today, in addition to learning a new recipe to prepare them, we will learn and see how to shape them.
Finally, we will decorate them with chocolate. I'm sure many of you here think – "No! Why??? They don't need it! -. That's what I thought the first time I saw them, only that the photo caught my attention powerfully. In fact, that was the reason to encourage me to bathe them and, believe me if I tell you that you won't regret it. What an extraordinary and spectacular combination… You will love them very much.
| INGREDIENTS | BAKER´S %  | SOURDOUGH | REST | TOTAL |
| --- | --- | --- | --- | --- |
| T45 flour/ Ap flour | 100% |  50 g | 565 g |  615 g |
| Water | 8,1% |  50 g | |  50 g |
| Milk | 13,8% | | 85 g | 85 g |
| Egg | 35,8% | | 220 g | 220 g |
| Sugar | 16,2% | | 100 g | 100 g |
| Honey | 1,62% | | 10 g | 10 g |
| Dried yeast | o,74% | | 4,6 g | 4,6 g |
| Salt | 1,46% | | 9 g | 9 g |
| Butter | 26,8% | | 165 g | 165 g |
Ingredients for 15 pieces
FOR THE DOUGH:
565 g AP flour or T45 flour
85 g cold whole milk
220 g eggs
165 g cold unsalted butter
100 g sugar
10 g honey
100 g sourdough 100% hydrated
4,6 g dry yeast
one orange zest
1 tsp orange extract
1 tsp cinnamon powder
9 g salt
FOR COATING:
150 g 70% black chocolate
50 g white chocolate
Instructions
FIRST DAY
Make brioche all´arancia.
In the bowl of the dough mixer add the flour together with the egg, milk, orange extract, sourdough, dry yeast, salt and sugar. Knead at low speed for about 8-10 minutes. We'll get a semi-developed dough.
Add honey and mix until it is fully integrated.
We stop the kneader and start adding the butter little by little. It must be fully integrated into the dough before adding more.
Once all the butter has been added, add the orange zest together with the cinnamon. Knead again to distribute evenly.
Knead until get a good gluten development. The dough must be elastic, smooth and not cracked.
Grease a tupper or hermetic container, place the dough inside and let it rise almost it grows 1/3 of its volume. Depending on the temperature it can take 2-4 hours. In my case it was 2 y 1/2 hours at 73,4ºF (23ºC).
Place in the fridge until the next day.
SECOND DAY
Divide and preshape.
Dump the dough onto a clean work surface and divide the dough. Cut 15 pieces of approximately 85 g each.
Preshape in a gentle way, without exerting too much tension. Remember that if when dividing the dough, remnants have been created, they must always remain in the centre of the piece.
Shape.
I am going to show you two methods to shape brioches, choose the one you like the most or the one that is easiest to carry out.
First shaping. Take one of the portions and, with the help of the edge of the hand, begin to roll on it separating more or less 20% of the total size of the dough. We will try to create a kind of pendulum that will join the biggest and the smallest piece.
Take the piece and, with great care, place the largest part of dough inside the pan while we hold the smallest piece trying not to separate any of the two from the cord that joins them.
While holding the small piece, with the other hand, exert pressure with your fingers around the center without fear of reaching the base of the pan. We will create a hole where, later, we will place the smallest piece (top ball). So that during baking it grows without coming out. Also by pressing with the fingers we will help the dough to distribute better through the pan.
Second shaping. It is very similar to the previous one, take the piece and roll the edge of the hand over it to create the pendulum. Lightly sprinkle our hands with flour and create a hole in the largest part of the dough.
Pass the pendulum through the lower part of the hole so that it protrudes through it and is enclosed by dough. Place in the pan.
Repeat the process with the rest of the brioches.
Make final proof and bake.
Brush the brioches with olive oil, cover with film and let it rise until it almost doubles in size. In my case it was 4 hours at 73ºF (22.7ºC).
Preheat oven to 355ºF (180ºC).


Brush the brioches with beaten egg.
Bake at medium height for 17-20 minutes. Remember that the interior temperature must reach 190º-194ºF (88-90ºC) for the baking to be finished. I recommend you to control the internal temperature of the brioches from minute 17. In this way we will avoid exceeding the cooking time and leave some brioches dry.
Remove from the oven, unmold and leave to cool completely on a rack.
Dip in chocolate.
Melt the dark and white chocolate separately in a water-bath.
Dip the upper part of the brioche in the dark chocolate, drain well and place on a rack. Repeat this step with all the brioches.
Using a fork, create threads of white chocolate on all the brioches.
Refrigerate for 15 minutes to help the chocolate harden.
Serve.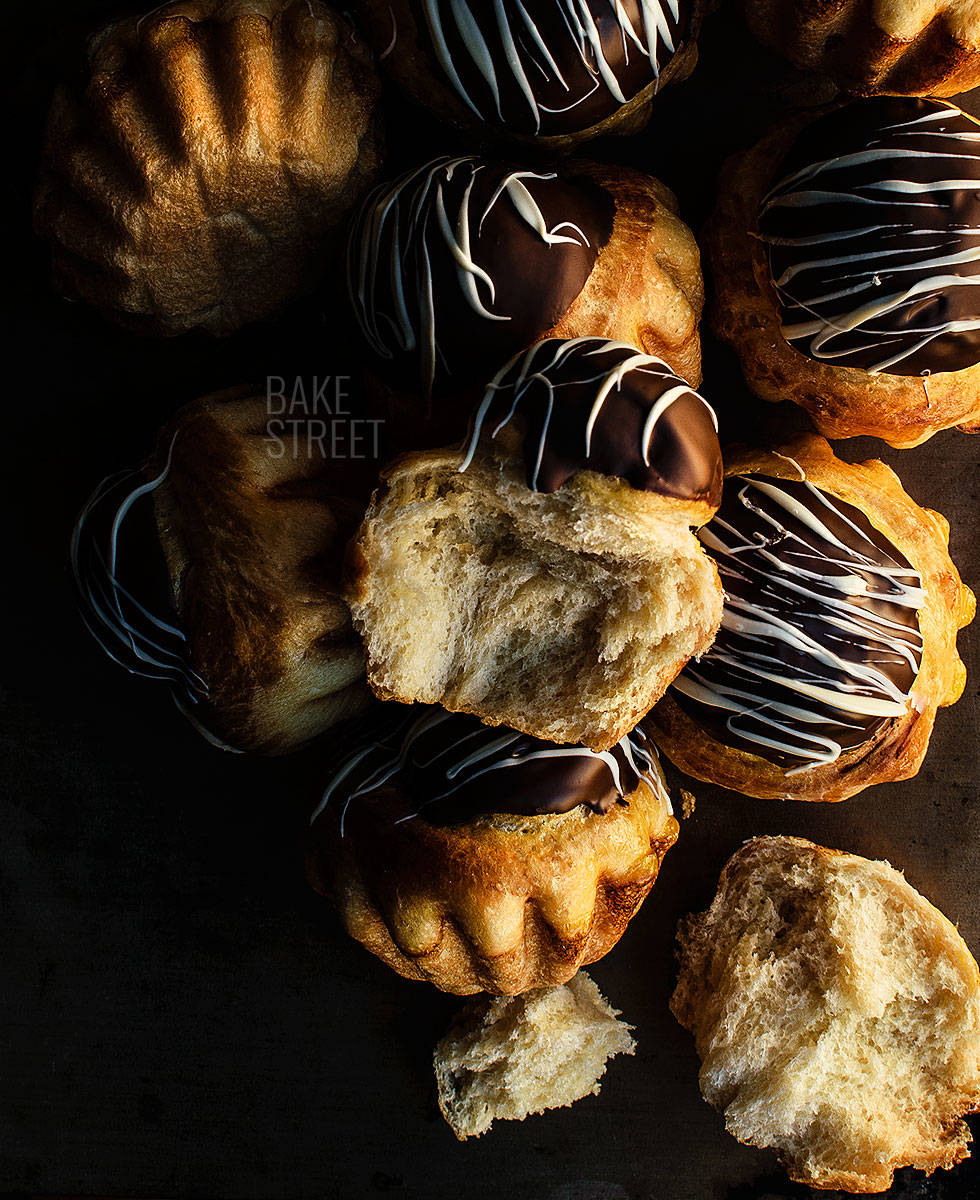 Notes
I used brioche pans with a diameter of 25 inches (10 cm)
We must shape the brioches with the cold dough, otherwise it would be very difficult to carry out because the dough will become very sticky.
If you notice that the dough adheres to the edge of the hand, sprinkle it lightly with flour, so that you can roll your hand over the dough without any problems.
If it is very difficult for you to shape brioches, you can make them shaping a ball and placing it in the pan.

Respect all the steps, rests and rising time to obtain a good result as much in flavor as in texture and sponginess.
I recommend you to use a good quality butter because this will affect the final taste of the dough.
They last in perfect condition for 4 days stored in a zip-type bag at room temperature (if it's not hot). From here, it will begin to lose tenderness.
We can freeze it in individual slices wrapped in film.
This brioche all´arancia or orange brioche, is another discovery to my enriched doughs that will become part of my usual recipe book. I love working with this type of doughs, I have always found them very satisfying not only for the whole process itself, but also for their incredible results.
If we add to this its aroma, flavor and texture ... I have little more to say. We know that the orange-chocolate combination is always a winning option. In this case it will be again, without forgetting the cinnamon touch!
I wish you a very happy weekend and see you again on Monday ;)
Big hugs,
Eva
Archivado en