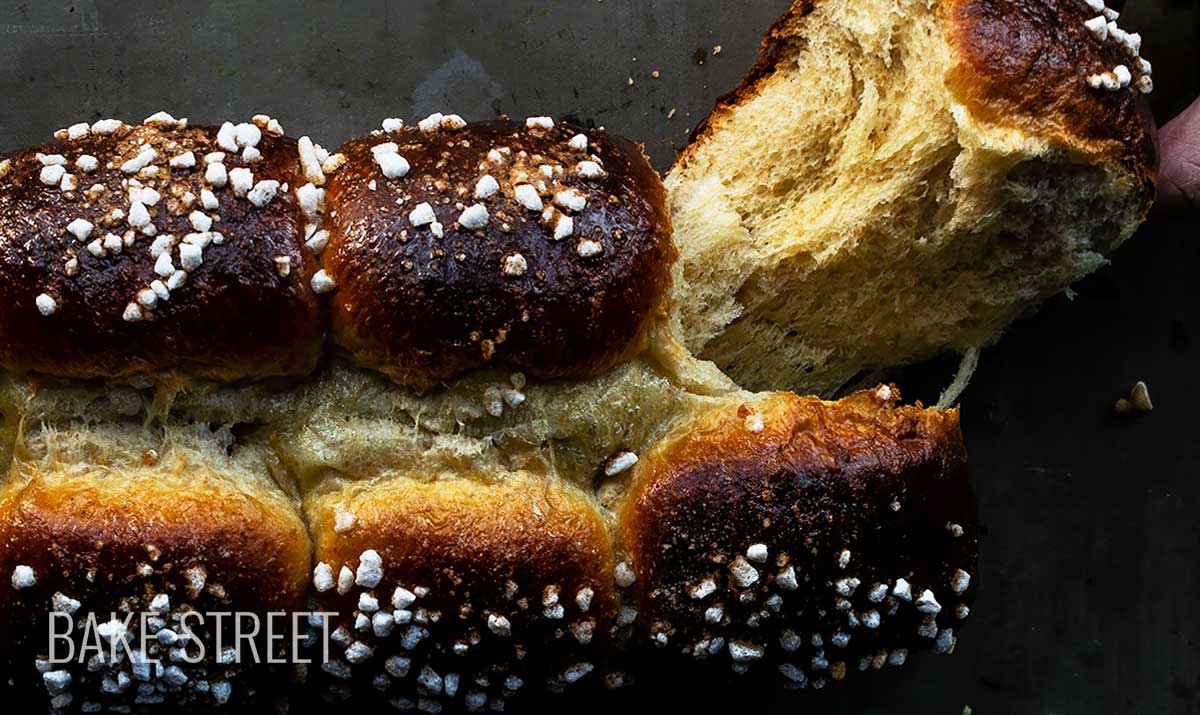 Cabrales and quince Nanterre Brioche
Este post también está disponible en Spanish
If there's one thing I often do at home, it's brioche. We like to take it as toast in the morning, sliced, toasted and with jam. In my case, without a doubt, with bitter orange jam. Wonderful. There was a version I had in mind since I made the Cabrales sponge cake and thanks to a reader who told me the idea of adding it to a brioche (thank you very much!). As you can imagine, I did it as soon as I could. So today I leave you this version of Cabrales and quince Brioche Nanterre.
The result is a spectacular brioche… A very tender crumb, soft and with a wonderful aroma. The taste of Cabrales cheese is very delicate and subtle, together with the sweetness of the quince cheese gives a spectacular combination. The truth is that I would have liked to use cider apple cheese, but I've run out of it for months since the last time I made it. So I'll have to try it on it as soon as I do it again. This is a suffering, hahaha.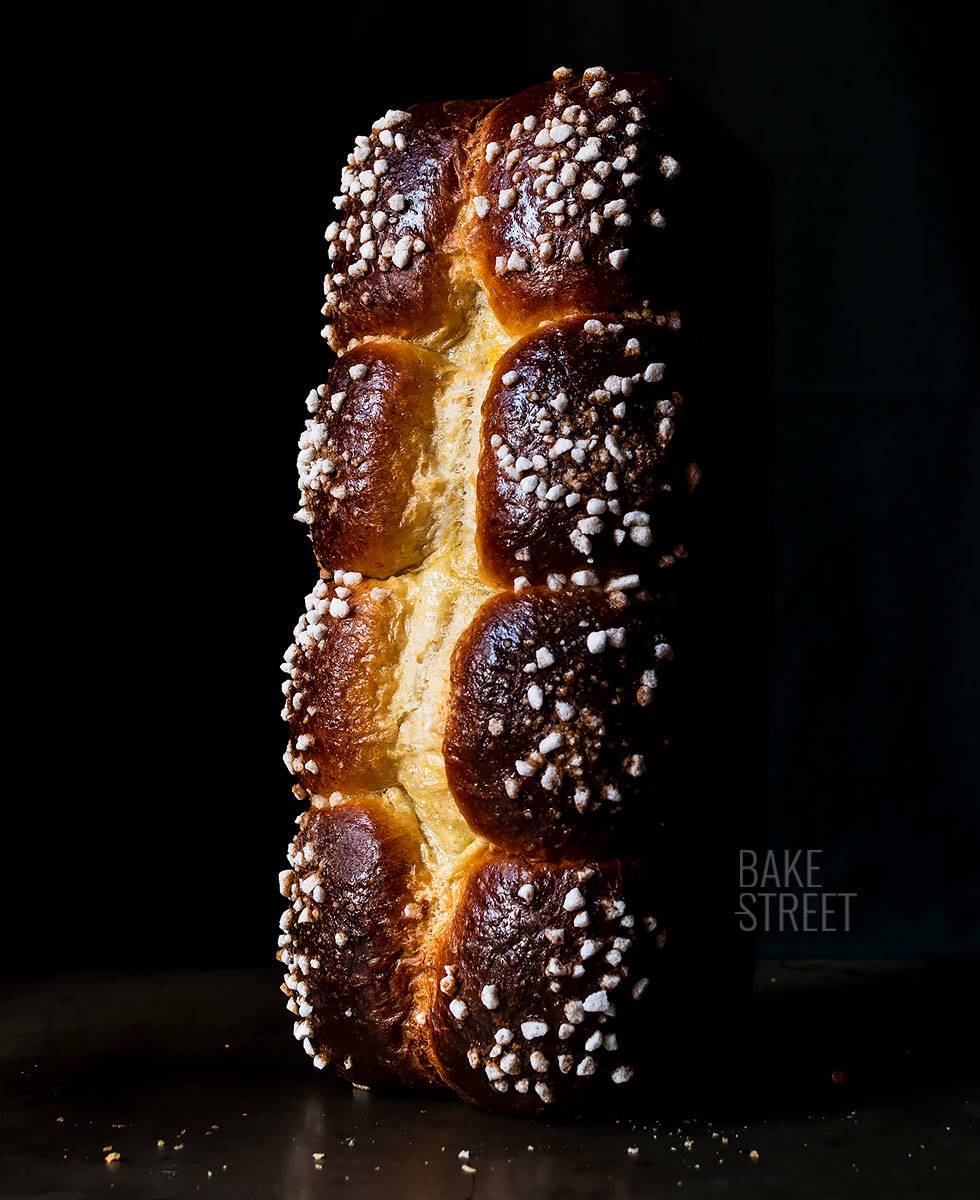 Brioche Nanterre origin.
According to Robert Cornaille, president of the Nanterre History Society (SHN), it seems that the brioche Nanterre could have its origin in the year 451. The Archdeacon of Auxerre brought blessed cakes to Genevieve (Saint of Nanterre). It is said that it was customary, then, to distribute small cakes with the image of the saint to the canonicals of the abbey of Sainte-Geneviève in Nanterre. This religious origin brought added value to the cakes and allowed them to be sold during pilgrimages to Mont-Valérien (then Nanterrien) Sainte-Geneviève, as well as at the Rose Garden festivities. They were believed to be miraculous. According to the testimonies of the travelers, the merchants of Nanterre were offensive, although others claimed that they were very friendly.
The notoriety of the brioches of Nanterre, which then resembled individual buns, took presence in the 16th century. The numerous peasant women of Nanterre, who went daily to Paris to sell their small buns, were much appreciated by the chroniclers and cartoonists of the time. They like to annoy the merchants of Nanterre, whom they also called "la petite Madeleine".
The Nanterre Brioche is an enriched dough made up of 8 pieces that are baked together in the same mold. It is said that any candidate to the PAC in pastry must know how to elaborate a "Nanterre Brioche".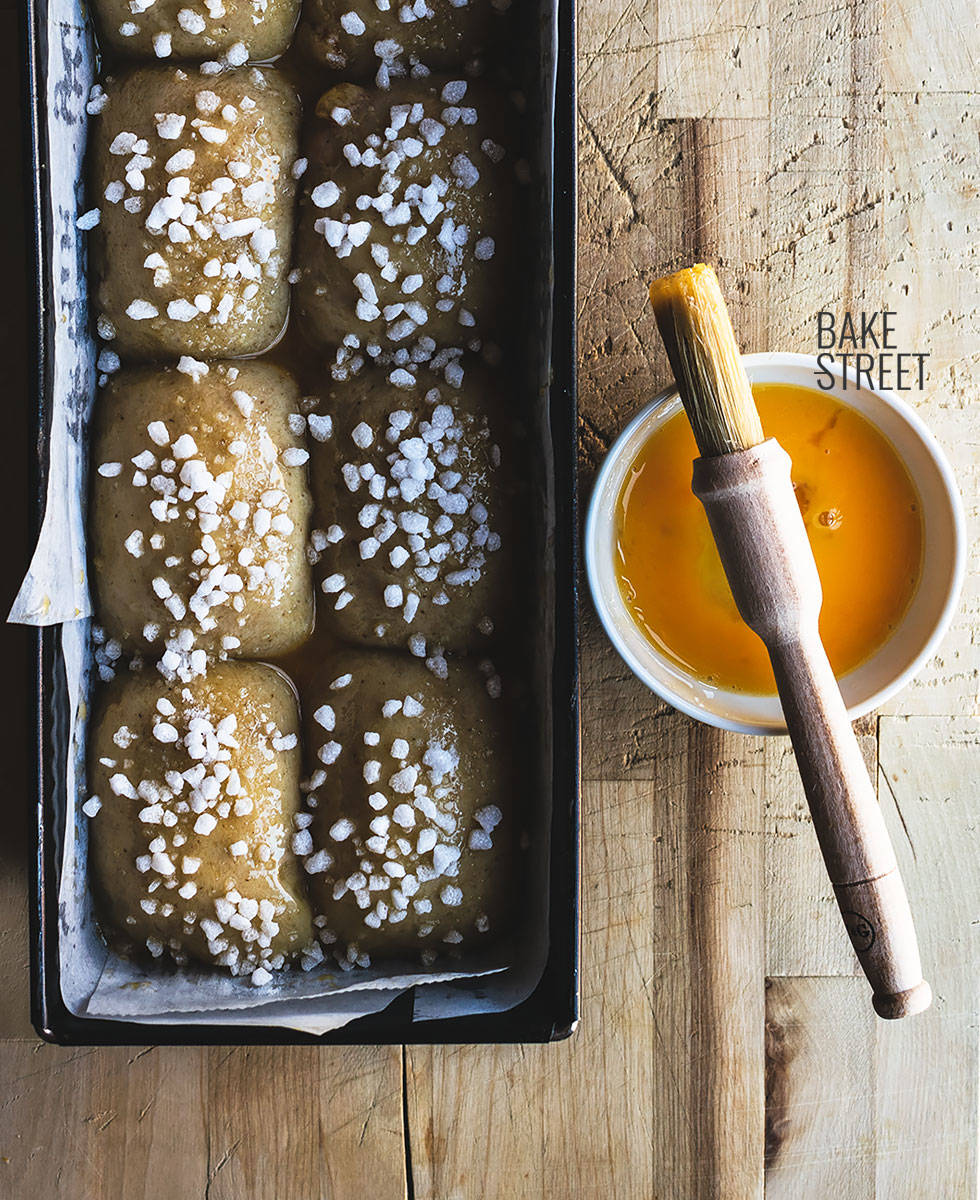 Musical break.
It's good to start the week in the best possible way. We already have a good breakfast, but what is a Monday with sun without a song to accompany it?
Today I would like to recommend a song that, lately, is another one that I listen to a lot. This one I met recently thanks to my sister on my father's birthday that we recently celebrated. We were listening to her Spotify list in the background and as soon as the version of this song played, I fell in love with it. The group is Monieur Periné and the song "Sabor a mí" (link to YouTube).
In Paris, the pastries of Nanterre, have been known for a long time.
In 1545, the author Antoine Truquetof "The Laments" (Les Cris) which are shouted daily to Paris lends this chorus to the merchants of Nanterre:
 « À ma brioche chalant ! – Quatre pains pour
un tournois – Je gagne peu de monnoys – Et si vays
toujours parlant. »
Jean-Jacques Roussea in Rêveries du promeneur solitaire (1776-1778) quotes the merchants of Nanterre passing through the village of Clignancourt (Paris district in the 18th century). At that time, the sale of these cakes was lucrative enough for the merchants to go to the capital on foot every day – they carried a basket full of small cakes wrapped in a cloth to sell them. They were highly valued, especially when they were still warm.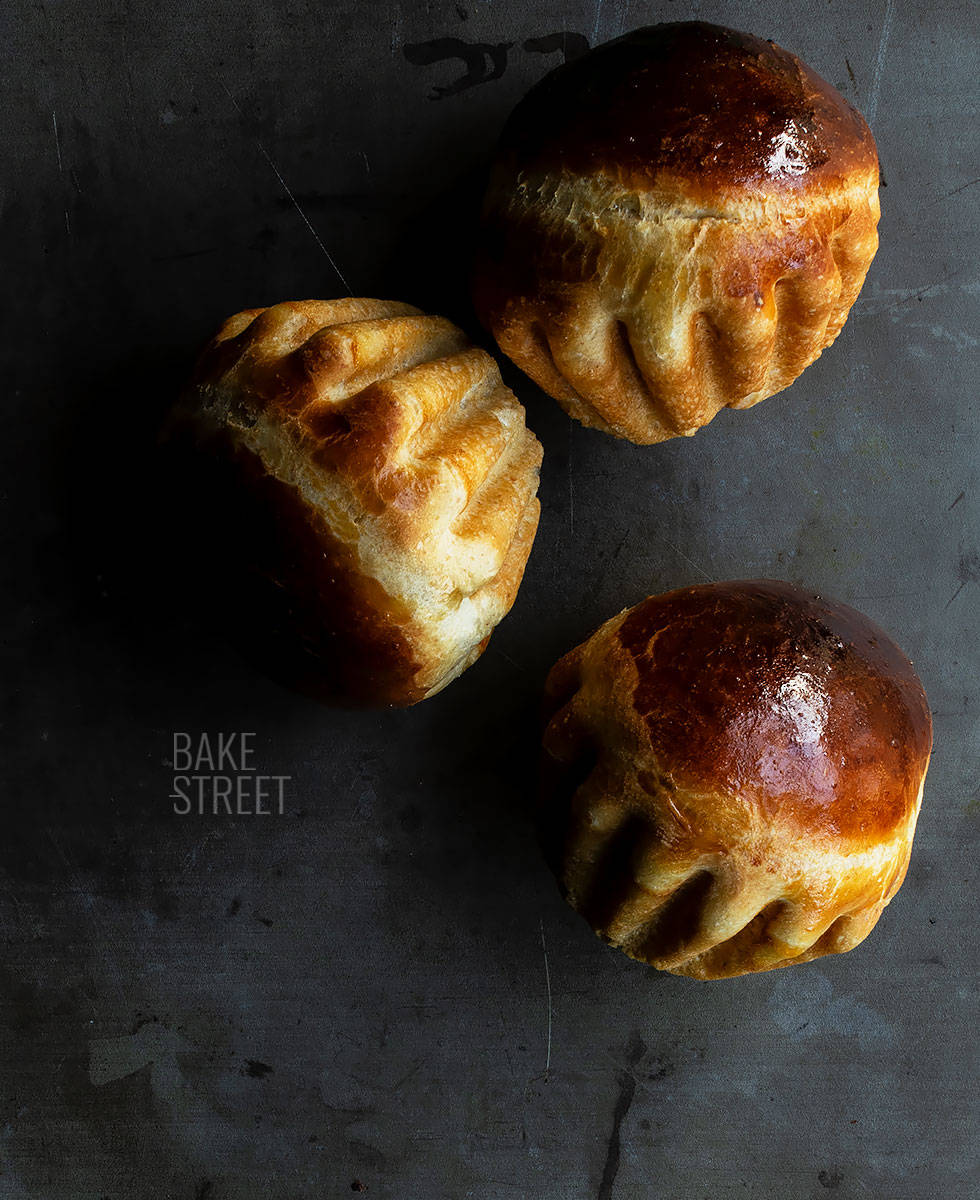 Les Célébrités de la rue, published in 1868, cited the following text:
« Madeleine […] chantait de sa voix aigre : La Belle
Madeleine – Elle vend des gâteaux – Elle vend
La brioche de Nanterre
des gâteaux – La Belle Madeleine – Elle vend des
gâteaux – Qui sont tout chauds. »
It seems that after having appeared in all the gastronomy guides, these small sweets disappeared in 1913, not having survived the war of 1914 and the shortage of wheat. Apparently, it is present again thanks to Romania, New Chalcedony and the USA.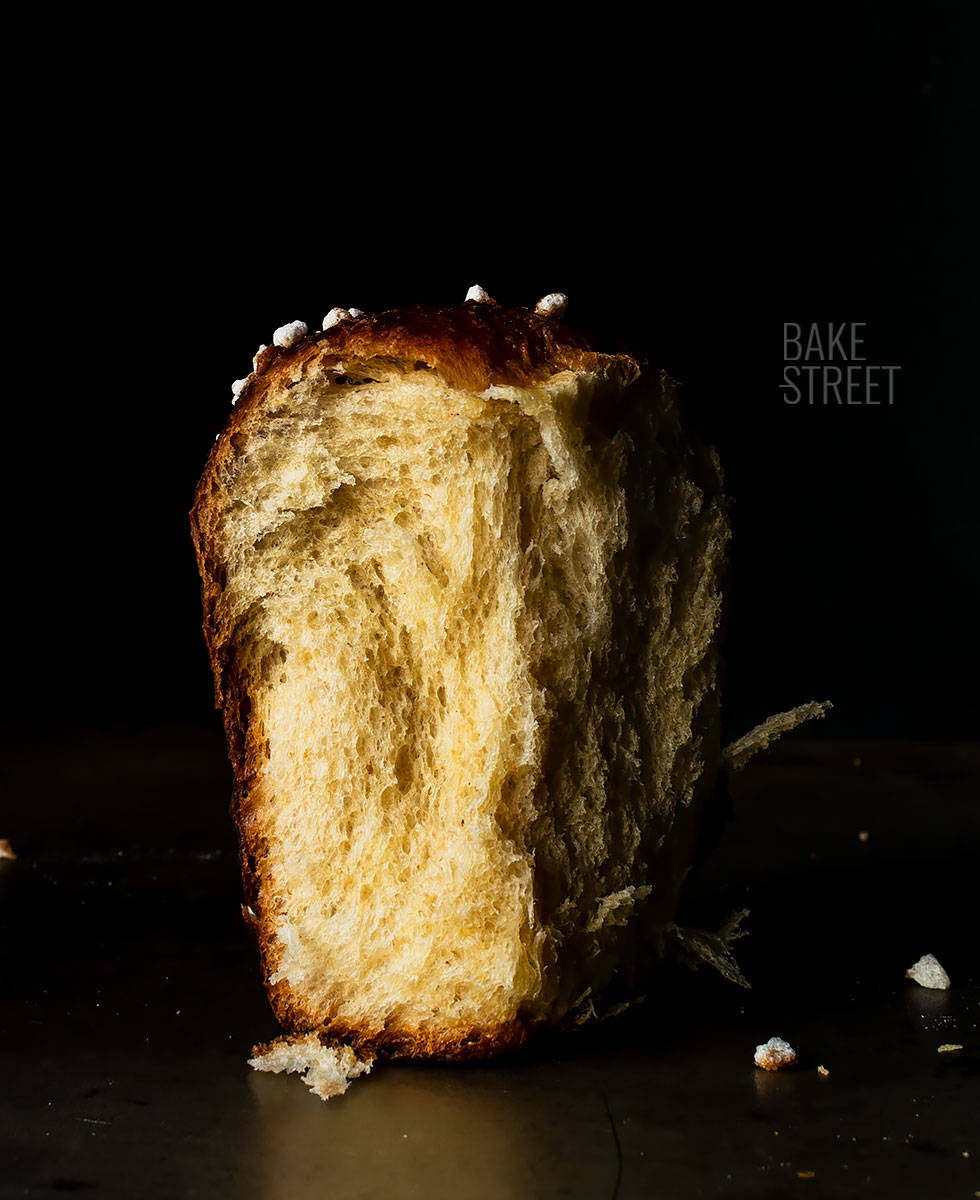 My own version.
To elaborate this Nanterre brioche  I have maintained some traditional steps in the elaboration of its dough. The hydration of this comes from eggs and butter, along with the small amount that can provide Cabrales cheese and quince.
The shaping that I have carried out is just as it should be done, 8 pieces placed in the same mold. To bake it, just brush it with beaten egg and sprinkle a little pearled sugar.
The amount of dough I leave you is greater than the capacity of the mold I have used (mold 76 x 28 x 17 inches/30 x 11 x 7 cm). So I also made 4 individual brioches (in 10 cm diameter molds). You can see how to make them in this post which is accompanied by a video.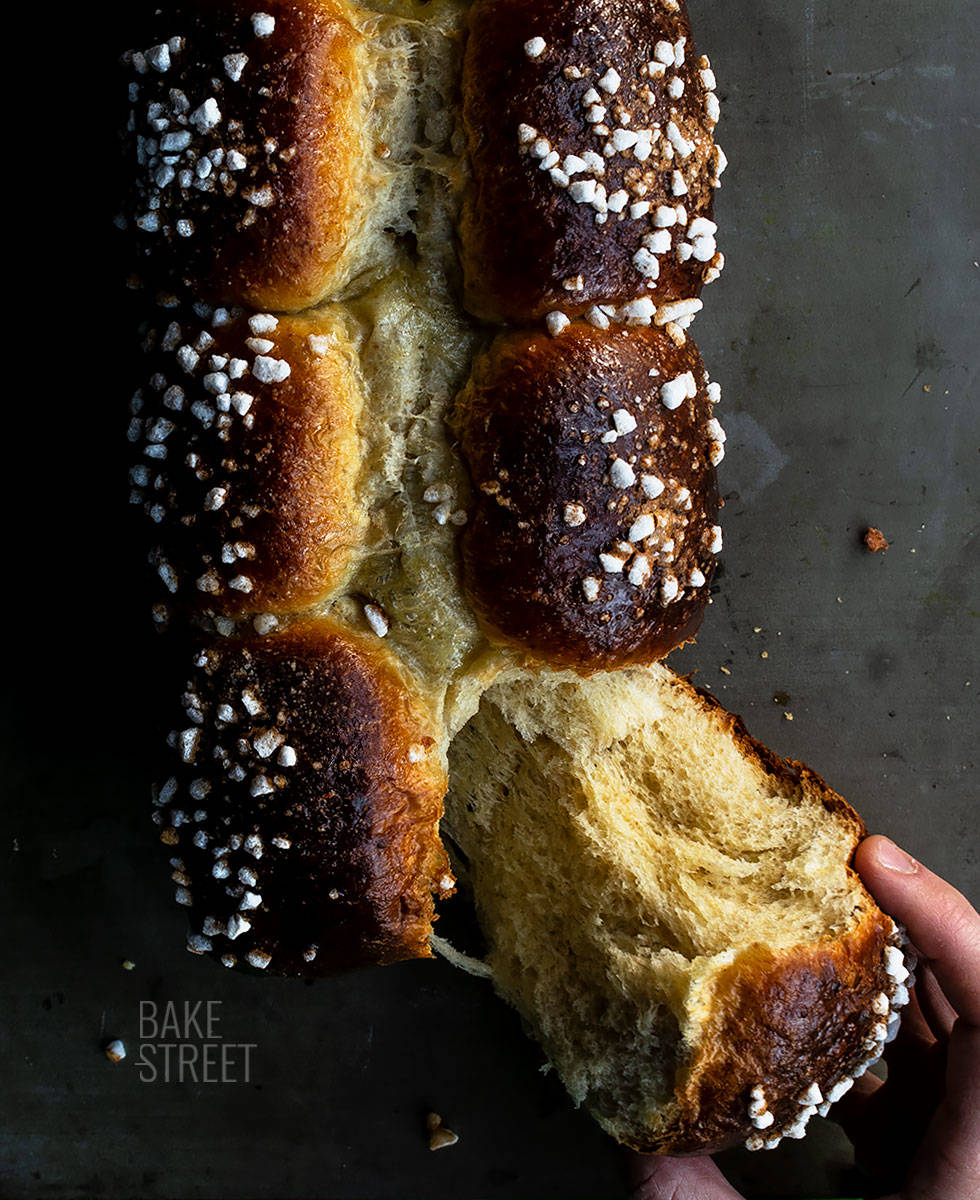 Ingredients
For a mold 76 x 28 x 17 inches/30 x 11 x 7 cm and 4 individual 10 cm diameter brioche molds
FOR THE DOUGH:
600 g T45 flour, W=280
5,4 g dried yeast
6 large eggs (about 330 g)
165 g unsalted butter, cold
80 g sugar
20 g honey
50 g Cabrales cheese
130 g homemade quince cheese or good quality store-bought
12 g salt
TO BRUSH AND DECORATE:
1 beaten egg + pinch of salt
pearled sugar
Instructions
FIRST DAY
Make brioche dough.
In the bowl of the dough mixer add the flour together with the eggs, dried yeast, honey, salt and sugar. Knead at low speed for about 8-10 minutes. We'll get a semi-developed dough.
We stop the kneader and start adding the butter little by little. It must be fully integrated into the dough before adding more.
Once all the butter has been added, add Cabrales cheese little by little, crumbling to pieces.
When the cheese is completely integrated, we proceed to make the same step with the quince. Add this little by little and cut into squares. These will not be maintained with form, it will be integrated in the dough.
Knead until get a good gluten development. The dough must be elastic, smooth and not cracked.
Grease a tupper or hermetic container, place the dough inside (making a ball) and let it rise a little more than 1/3 of its volume. Depending on the temperature it can take 2-4 hours. In my case it was 2 hours at 76ºF (24,4ºC).
Place in the fridge until the next day.
SECOND DAY
Divide and preshape.
Take the dough out of the fridge and shape. If it has not doubled in size, leave until it reaches that volume and then refrigerate for 1 hour.
In my case I have shaped a Nanterre brioche with 8 pieces of 110g each and 4 individual brioches of the same weight.
Dump the dough on a clean work surface and divide the dough. Cut pieces of 110 g each. Maybe some of them will be a few grams short, let this be the individual.
Preshape in a gentle way, without exerting much tension. Remember that if, when dividing the dough, small pieces have been created, they should always remain in the centre of the piece.
Place 8 pieces inside the rectangular mould, previously lined with baking paper, as shown in the image. We cover it with film and let it grow more than twice as much.
To shape the individual brioches, you can see how to do it in this post. You can also make balls, if you wish, and place them in brioche molds directly.
In my case it was 7 hours at 78,8ºF/26ºC.
Hacemos la fermentación final y horneamos.
Preheat the oven to 345ºF (175ºC).
Brush with beaten egg and decorate with pearled sugar.
Bake medium height for 47-50 minutes, Nanterre brioche. Remember that the inside temperature must reach 190º-194ºF (88-90ºC) for baking to be complete.
The baking time for individual brioches is 18 minutes. Remember to check the temperature with a digital thermometer before removing them.
Remove from the oven, unmold, place on a rack and let cool completely.
Notes
I used brioche pans with a diameter of 25 inches (10 cm)
If you notice that the dough adheres to the edge of the hand, sprinkle it lightly with flour, so that you can roll your hand over the dough without any problems.
If it is very difficult for you to shape brioches, you can make them shaping a ball and placing it in the pan.

Respect all the steps, resting and rising times to obtain a good result both in taste and texture.
I recommend you to use a good quality butter because this will affect the final taste of the dough.
They last in perfect condition for 4-5 days. From here on, you will begin to lose tenderness.
We can freeze it in individual slices wrapped in film. They can be left to defrost overnight or toast in the toaster.
This Cabrales and quince Nanterre Brioche is one of the best things I've been having for breakfast these days. The taste is spectacular, although the cheese may be strange or strange, it is not at all.
This type of cheese goes very well with sweet ingredients and flavors, so all it can do is surprise you and a lot. I already told you above that with bitter orange jam is the best... But I don't rule it out with a good apple jam ;)
Come on and try it before the warm weather arrives, since it will be a very difficult dough to manipulate, and you tell me how do you think.
I wish you a wonderful beginning of the week!
Big hugs,
Eva
Sources: Histoire Nanterre, Le Parisien
Archivado en