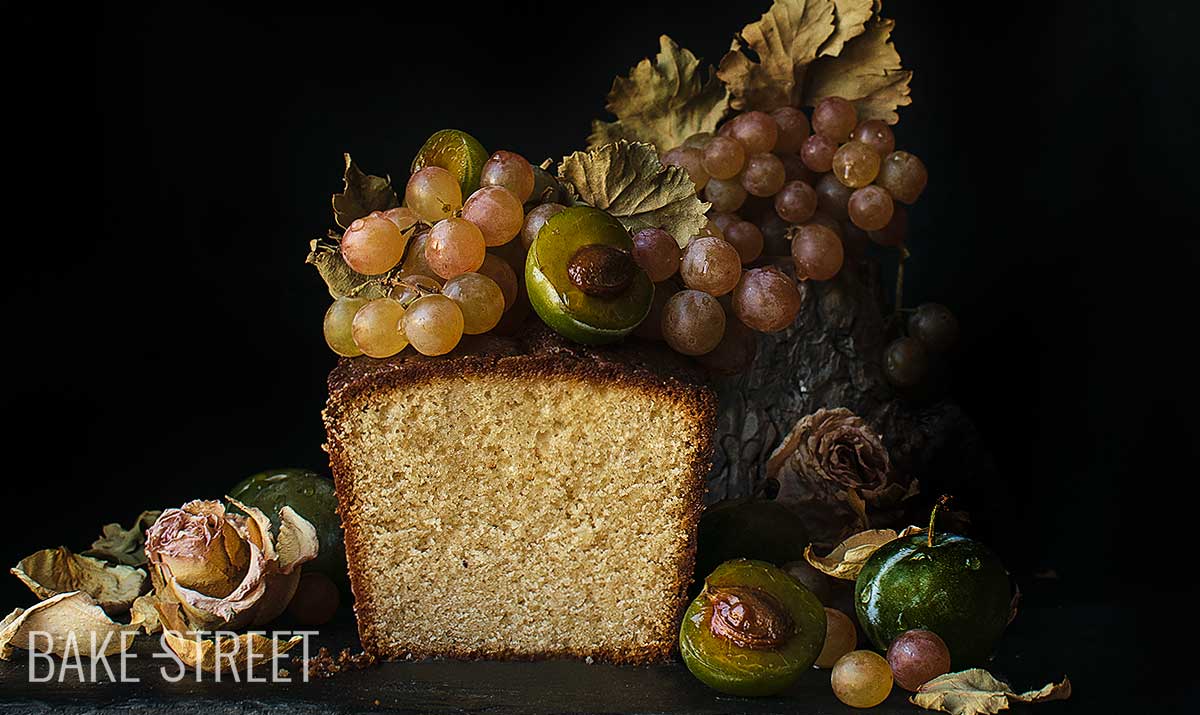 Cabrales sponge cake with raspberry grapes
Este post también está disponible en Spanish
I think we should never rule out a crazy or impossible idea. Much less think it could end badly. If we work it right and find the means to make it work, it will happen. During the holidays I came up with the idea of making a Cabrales sponge cake that, at first, might seem strange.
At home they actually looked at me like I was crazy. And, at the time, I knew I was doing well. Whenever I say "I'm going to do X" and they look at me like that, what I'm going to do is going to be fine. At least to this day, we know that there is always an exception that confirms the rule. The day it happens, I'll tell you about it, too, of course. That's how this Cabrales sponge cake with raspberry grapes came about.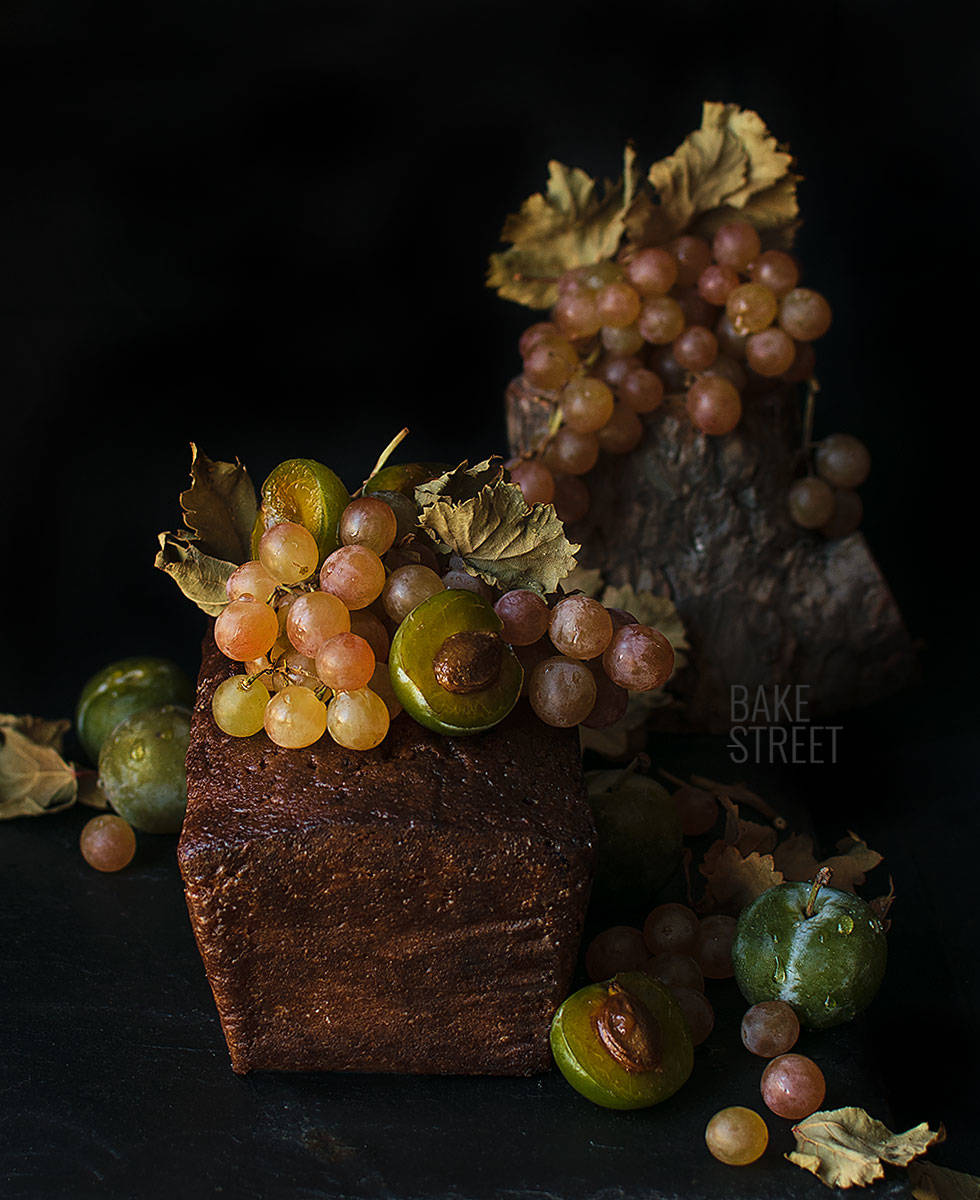 Creating Cabrales sponge cake.
Normally, when I want to make a new or "invented" sponge cake, I usually base myself on recipes that I have already tried and know work. I change ingredients and proportions, but always trying to keep the same amount of dry, liquid and fatty ingredients intact. This method works very well for me, I don't know why sometimes I decide not to do it.
To find the recipe that got the result I had in mind and was looking for, I had to prepare it twice. The first time I relied on a Yann Couvreur cake, but I didn't get what I wanted. I kept some ideas that I did like and I thought were really cool. Like the use of liquid cream instead of milk or another similar ingredient and the final glaze along with the drying with the heat of the oven.
My results were not what I wanted and I think one of the reasons was that the recipe used a small amount of eggs. In any case, I repeated it again (1 hour after finishing the first one). I adjusted quantities and ingredients based on other recipes of mine, in addition to the temperature and final cooking time. This time, yes, I found what I was looking for. And from that moment on, I had to do it on more than one occasion… We liked it very much.
You can't imagine its taste until you taste it.
Believe me, it is absolutely spectacular and extraordinary.
It has a tenderness and sponginess that is outstanding. Its crumb is very tender, with just the right amount of sweetness (don't omit the outer covering, it gives a fantastic sweet touch and texture) and that wonderful taste of Cabrales cheese. I dare say, and aloud, that it's the best sponge I've prepared so far. Without a doubt.
I wanted to decorate the exterior with fruits that go well with cheese, as well as season. In this case I used raspberries grapes and Claudia plums.
Raspberries grapes? What's that?
That's what I thought when I saw them. At first I was a little reluctant to them even though they caught my attention. A feeling of attraction-rejection that you don't know very well how to walk, but you finally decide to let go and fall into it.
Well, I can only tell you that if these raspberries  grapes cross your path, buy them. Their taste is amazing. A mixture of raspberry flavored grapes, sweet, soft, fresh … I don't know how they're not everywhere! Obviously it will be some kind of graft, but I liked the invention very, very much.
Decorating.
Some time ago I followed a woman by IG that for me is absolutely wonderful. She is elegant, delicate, very charismatic and has a particular personality. I think that's why you start to see other profiles on the social networks that are inspired by her style and work.
Her name is Jamie Beck and you can see her work on her IG feed or on her Ann Street Studio website. She, together with her husband, were the creators of the well-known cinemagraph, in this link I leave you an example of their wonderful creations.
I love the still lifes she does, they are extraordinary. She manages to create a beautiful atmosphere that you never get tired of watching. My photos today are inspired by her work, but of course nothing to do with the wonders she does. I think it's good (and healthy) to share who the sources/persons are that inspire us, give us ideas and allow us to learn, improve and evolve.
In my case I didn't want to stop recommending Jamie's work because it's great. Also, I'm sure those of you who don't know her will be glad you did.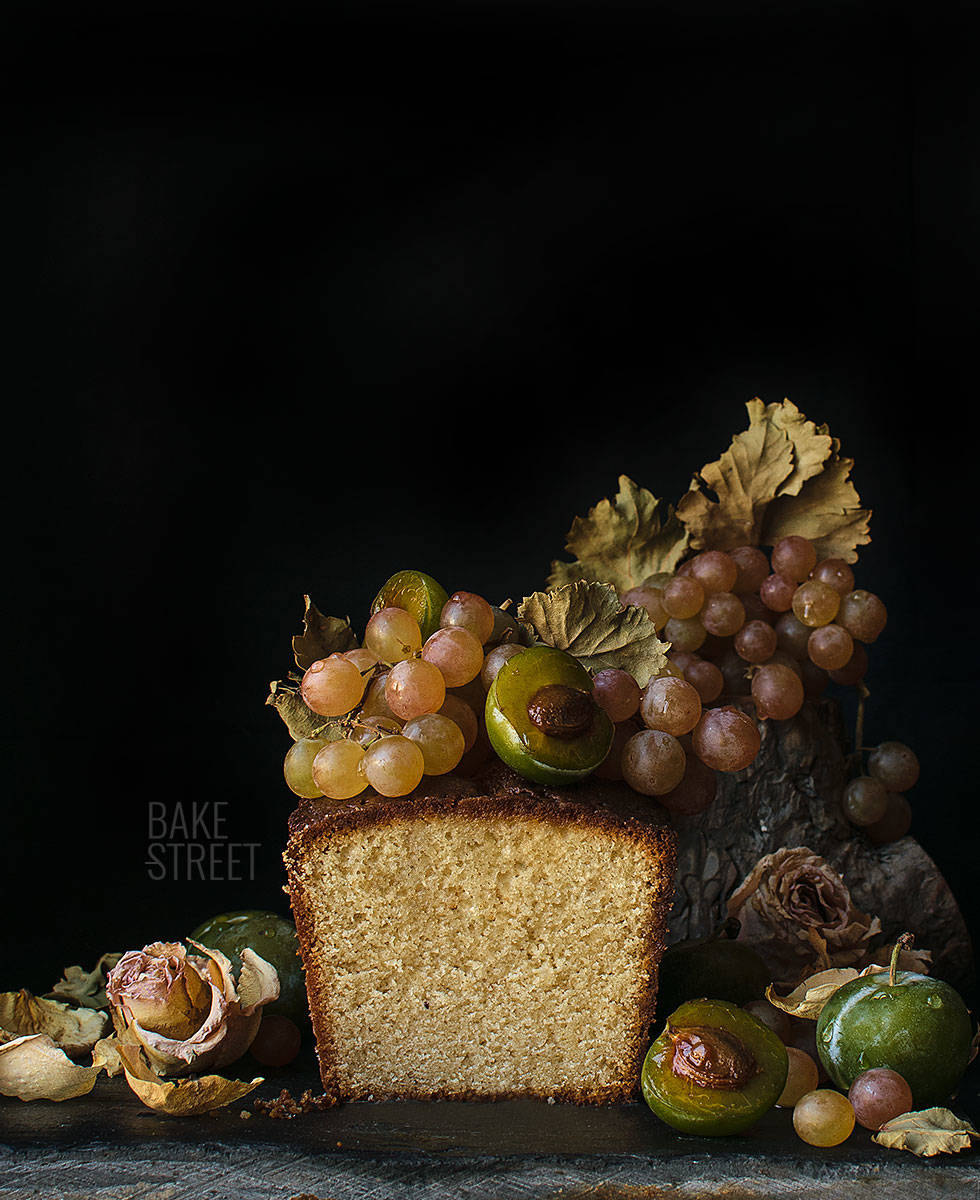 Ingredients or a pan 8x4x4 inches (20.5 x 10.5 x 9.5 cm)
FOR THE SPONGE CAKE:
175 g cake flour
100 g unsalted butter at room temperature
160 g sugar
2 large eggs
100 g cream
45 g good quality Cabrales cheese
2 g salt
6 g baking powder
FOR COATING:
90 g icing sugar
40 g water
FOR GARNISH:
raspberry grapes
Claudia plums or another variety to your taste
Instructions
Make the sponge cake.
Preheat oven to 320ºF (160ºC).
Grease and line the pan with baking parchment, or spray the pan with a demoulding spray. Set aside.
Sieve the flour together with the baking powder and salt. Set aside.
In the bowl of our kneader or KitchenAid add the butter together with the sugar and mix with the help of the flat beater at speed 1. We must obtain a creamy and whitish texture.
Add the eggs and mix until they are completely integrated. The texture obtained will be soft and creamy.
Incorporate the Cabrales cheese, slightly crumbled, and mix with the flat beater until a homogeneous mixture is obtained. The consistency will be very smooth and creamy.
Alternate the addition of cream and flour in 2-3 batches. We will not add the next batch until the first one has been integrated. Remember not to over beat the mixture, we will mix only until the flour has been fully integrated. Otherwise the cake will be dense and compact.
Pour the mixture into the pan, the texture will be very creamy. It will remind you of a freshly made ice cream. Gently tap the pan to settle the batter and eliminate any possible air bubbles. Smooth the surface with a spatula.
Bake for 65-70 minutes or until a toothpick is inserted and it comes out clean. When there are 20 minutes left to cook, I recommend that you cover it with aluminium foil to prevent it from browning overly.
Remove from the oven, let stand 7-8 minutes in the pan and unmold. Let it cool completely on a rack.
Once it is cold, wrap in film and place in the fridge until the next day.
Prepare the glaze.
Preheat oven to 340ºF (170ºC).
In a bowl dissolve the icing sugar together with the water.
Take the sponge cake out of the fridge, place on a rack and bathe with the glaze. I recommend you to place underneath a tray to collect the excess glaze and to be able to bathe it again. In my case I used all the amount of glaze by bathing it a total of 3 times.
Place the sponge cake in the oven, over a rack lined with baking paper or aluminium, and leave inside for 2 minutes. This step will help to fix the glaze.
Remove and leave to rest for 15 minutes on a rack.
Serve.
Serve the sponge cake decorated or accompanied with raspberry grapes and Claudia plums.
Notes
Beat the butter well with the sugar and eggs until you get a creamy, aerated texture.
Cabrales cheese must be completely dissolved in the mixture. To do this, work the mixture until it integrates and there are no lumps.
I recommend you not to replace the cream with milk, the texture of this sponge is incredibly soft and juicy thanks to the fats provided by the various ingredients.
If you want to avoid the step of fixing the glaze in the oven, you can reduce the amount of water by 10 g (i.e. use only 30 g in total), bathe it on a rack and let it air dry. I tried it the last time I did it and it also gives good results. Although I like it more the way I specify you in the recipe.
We can also serve the sponge cake with sweet apple (do it in the same way as sweet quince), and if the apples are cider, much better.
In order to preserve the sponge cake I recommend you to wrap it with film. We can keep it for 2-3 days at room temperature or for 1 week in the fridge.
Maybe this is a strange idea for you, but trust me and try this Cabrales sponge cake with raspberry grapes. It's really addictive, as if it had umami since you can't stop eating it.
It is undoubtedly a perfect dessert to surprise your friends and family. Cheese is usually part of the desserts accompanied with fruit and what better option than to give it a new air and present it in this way.
I can't wait to hear about your experience!
Big hugs,
Eva
Archivado en