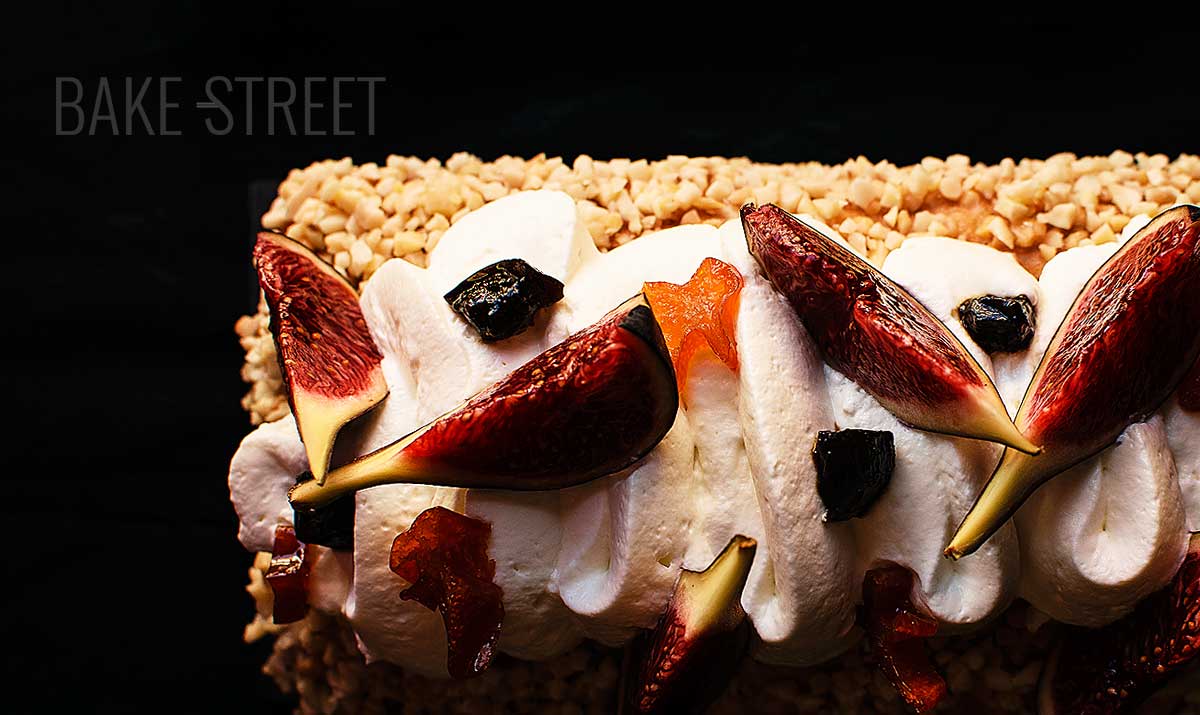 Fig cake with mascarpone cream
Este post también está disponible en Spanish
We're in fig season and we have to make the most of it before it's over. In fact, I had this recipe saved and waiting to be able to make it as soon as I had the first of the season in my hands. A fig cake with mascarpone cream to cheer us up in the morning.
The cakes are always very much helped because they solve a breakfast / snack very quickly. In a couple of hours we can have it ready and satisfy that homemade sweet appetite. "Complexity ", in some cases, can come at the time of carrying out the decoration.
In this case it's not complicated but it does take a little time. To decorate the fig cake I have prepared some figs and candied kumquats.
The truth is that they are recipes that do not require special attention, you only have to dedicate a few minutes a day. But they do need 3 days in each case, to finish their entire process (in the case of the kumquats, you have to add a week of rest). The recipe of the kumquats is from the book "À la mère de Famille" and the recipe of the figs candied from Laylita´s blog.
If we stop to think, it is much less time than we need to make the marron glacés (recipe only available in Spanish)… As good as they are, it's worth the time and effort. In fact, we'll soon be getting ready for Christmas.
The rest of the recipe is simple, we can also leave everything prepared in advance and assemble the cake just before the serving.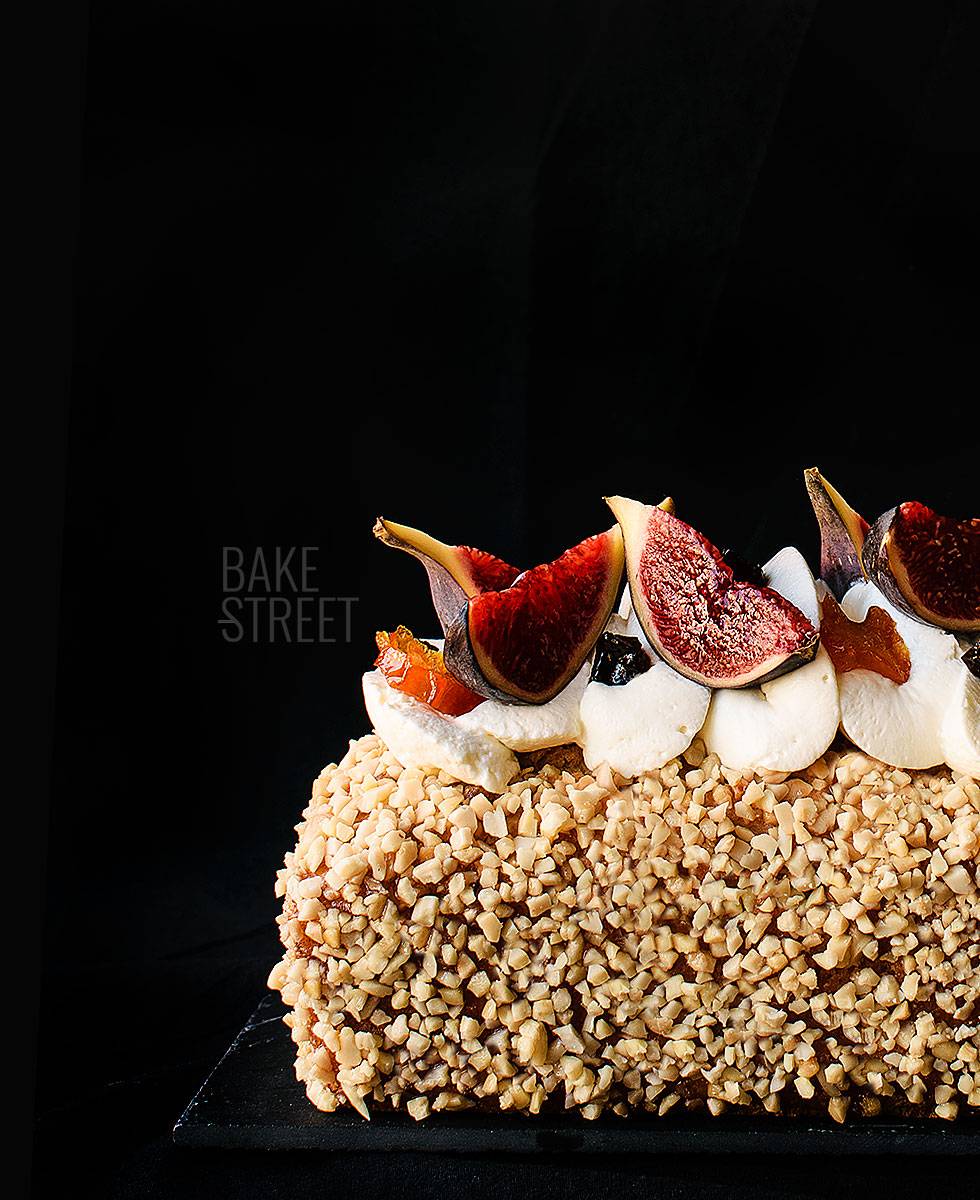 This sponge cake is a little particular…
The sponge cake that we will make does not have a very tender result. Rather, it is a sponge cake with a dense texture that acquires its freshness thanks to the fresh figs that are found inside.
The cardamom touch is perfect with the combination of figs and mascarpone cheese. The truth that surprised me very much.
Apricot nappage gives an extra juiciness along with mascarpone cream. But always keep in mind that the result will be something compact. Not like in other cakes creations that we have prepared. The recipe is adapted from the book "Invitation d'un pâtissier voyageur" Nicolas Bernardé that I recommended a while ago.
The mascarpone cream.
Who can resist the mixture of figs and cheese? Maybe whoever doesn't like one of those two ingredients, but nothing else. That's why I decided to decorate the top with it. The process of this cream is basically the same as making whipped cream, but when it reaches almost the end of the process we incorporate the mascarpone cheese.
To decorate the cake you can make the way you prefer. In my case I chose to use a Saint Honoré pipping tube, but feel free to use the one you have at home or prefer. Even spread out (similar to this sponge cake, only available in Spanish) can look great, giving it a rustic look.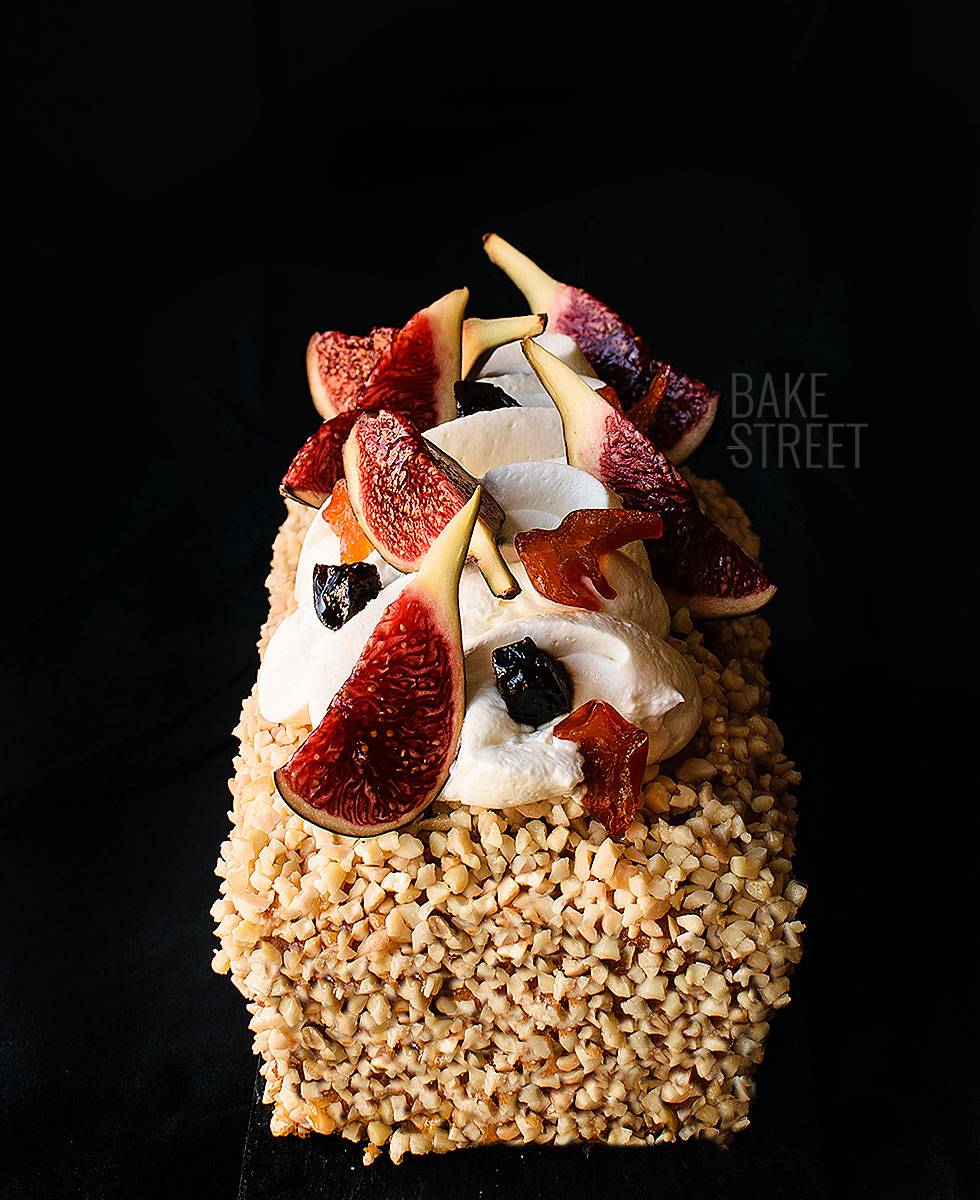 Ingredients for a pan 8x4x4 inches (20.5 x 10.5 x 9.5 cm)
FOR THE CAKE:
5,3 oz (150 g)pastry flour
1,75 oz (50 g) sugar
4,2 oz (120 g) egg (2 large eggs)
4,2 oz (120 g) unsalted butter
0,27 oz (7,5 g) baking powder
0,05 oz (1,5 g) salt
0,17 oz (5 g) cardamom pods
5,3 oz (150 g) fresh figs
almond crocanti
1 red fig to decorate
FOR APRICOT NAPPAGE:
2 Tbsp apricot jam
1 Tbsp honey
1 1/2 ó 2 Tbsp water
FOR THE MASCARPONE CREAM:
 6,2 oz (175 g) cream
3,5 oz (100 g) cold mascarpone cheese
few drops of vanilla extract
1,25 oz (35 g) icing sugar
FOR CANDIED FIGS:
5 large figs
pinch of baking soda
7 oz (200 g) muscovado sugar
FOR CANDIED KUMQUATS:
5,65 oz (160 g) kumquats
13,4 oz (380 g) water
14,1 oz (400 g) sugar
Instructions
Make the candied figs.
Make a cross cut at the base of each fig.
Place in a bowl covered with water and leave to soak for 24 hours.
Drain the figs carefully and place them in a saucepan. Cover with water, add a pinch of baking soda and cook over low heat for 15 minutes. Let it rest for 24 hours in that water.
Remove the figs from the soak, carefully because they are fragile, and let them drain.
Fill a saucepan with 17,6 oz (500 g) of water and the sugar. Place at medium low heat and leave until a light syrup is obtained.
Add the figs and cook over low heat for 2 hours. Stirring them occasionally to caramelize the entire surface.
At the end of cooking, the figs will have a dark and bright colour. The syrup will have reduced considerably and will be somewhat dense.
Remove from the heat and let cool completely.
Once they are cold, store in an airtight glass container with syrup. Place in the fridge until needed.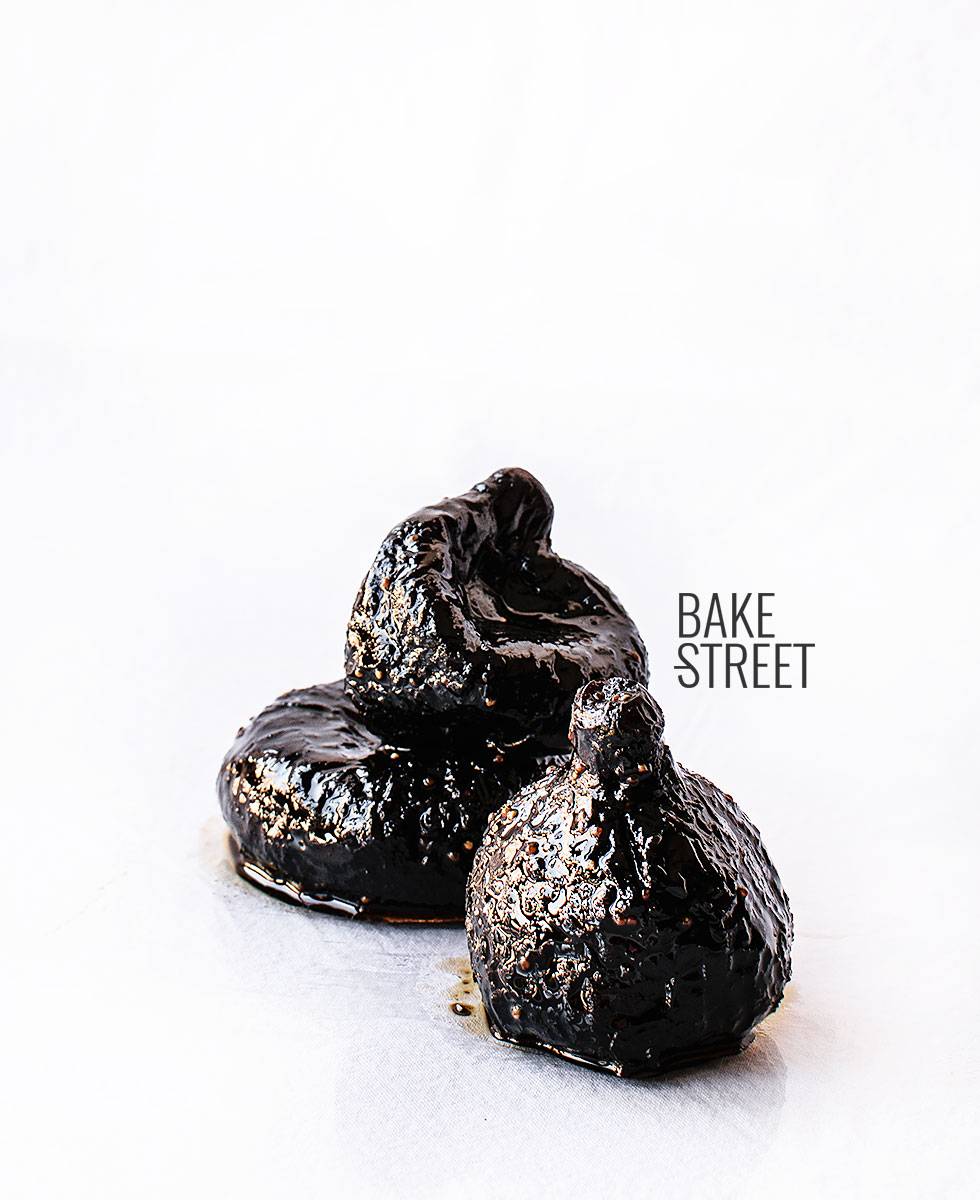 Make the confit kumquats.
Wash the kumquats.
Fill a medium saucepan with water and place at medium high heat.
Once it breaks to boil, add the kumquats, reduce to medium heat and boil for 5 minutes. We will control this process by ensuring that the kumquats do not explode.
Remove from the heat, remove the kumquats with a slotted spoon and set aside.
In the same water we add 7 oz (200 g) of sugar and bring it back to the boil.
Add the kumquats, cook for 5 minutes and remove from heat. Let it rest in the syrup for 24 hours.
The next day remove the kumquats from the syrup again.
Add 3,5 oz (100 g) of sugar and bring to boil again. Add the kumquats, cook for 5 minutes and remove from heat. Let it rest in the syrup for 24 hours.
Repeat this same process one more day.
Transfer the kumquats to a glass container together with the syrup and let them finish for 1 week.
Make the fig cake.
Preheat oven to 320ºF.
Smash the cardamom pods and remain only with the seeds. We shred slightly to enhance its aroma. Crush slightly to enhance its aroma.
Melt the butter in a saucepan and add the cardamom. Let it infuse while we continue with the elaboration.
Grease the pan and line with parchment, you can use non-stick spray if you prefer. Set aside.
Wash the figs very well, dry them with absorbent paper and cut into cubes of approximately 0,4 inch (1 cm). Set aside.
In the KA bowl or a bowl from a stand mixer sieve the flour along with baking powder and salt, mix with a silicon spatula. Set aside.
Add the sugar together with the eggs and mix with the flat beater. We'll get a very dense and brittle mixture.
Add the butter little by little and in a thin and continuous thread while kneading at speed1. You will notice that as this is integrated into the batter the consistency obtained is very similar to a choux paste.
Mix until a homogeneous mixture is obtained.
Pour half of the mixture into the pan, place the chopped figs and cover with the other half.
Sprinkle the surface with almond crocanti and bake in the oven for 60 minutes or until a toothpick is inserted in the center and comes out clean.
Remove from the oven and let sit on the pan for 3-4 minutes.
Remove the cake from the pan and let cool completely on the racks.
Once the are cooled, wrap in film and place them in the refrigerator until the next day.
THE NEXT DAY
Make mascarpone cream.
Cream must be cold 24 hours before used it.
The bowl in which we are going to make whipped cream must be cold. I recommend to use one aluminium bowl and freeze 20 minutes before beat it.
Pour heavy cream into freeze bowl and beat with an electric mixer into low speed.
Once cream is becoming to form stiff peaks, add sugar little by little stirring the whole time. Increase speed gradually but without reaches high one. Ideally use medium speed.
Before finish to beat the cream, add vanilla extract along with the mascarpone cheese (slightly smoothed with a spoon) and beat until get a perfect whipping cream. Be sure not to over-beat, otherwise cream will become lumpy and butter-like.
Cover with plastic wrap and chill until used it.
Make apricot nappage.
In a small pot add all the ingredients and place over medium heat until they become liquid.
Set aside.
Assemble the fig cake.
Brush the cake with the apricot nappage over the whole surface except for the base. It will leave a very bright finish.
Decorate the sides with almond crocanti. The nappage will allow us to adhere to it.
Put mascarpone cream in a piping bag with 0,7 inch (18 mm) Saint Honoré pipping tube. Decorate the top part of the piece by creating a zigzag from side to side.
Garnish with fresh fig wedges, some slices of candied kumquats and some pieces of candied figs.
Serve.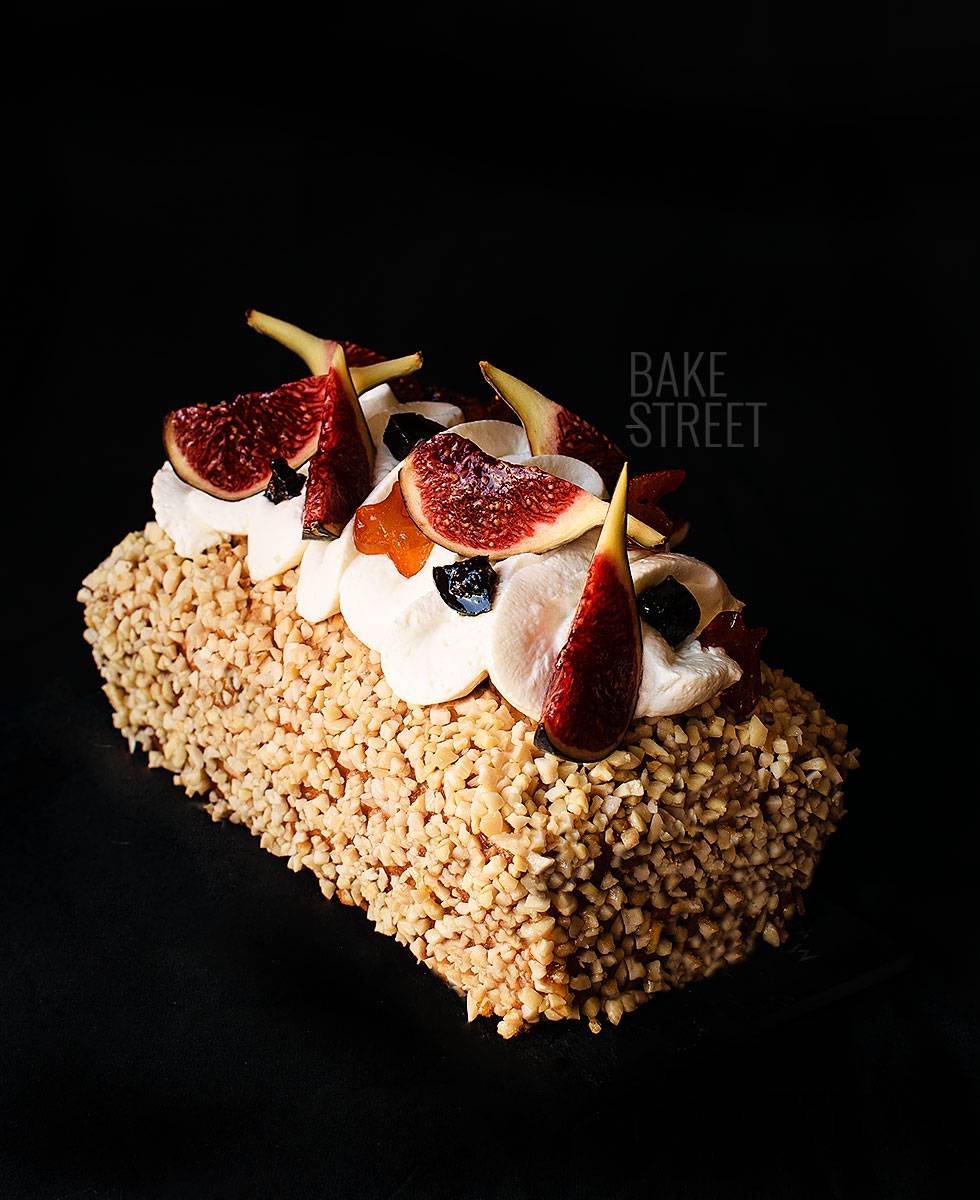 Notes
Can I replace the cardamom in pods with cardamom powder? Yeah. In that case we should reduce the amount to about 0,07-0,1 oz ( 2-3 g).
Can I use dried figs instead of fresh figs for the inside of the cake? Yes, they can be replaced by these. But we must bear in mind that this cake is not very juicy and by adding them fresh we help to make it wetter.
The almond crocanti can be replaced by laminated almonds if you wish.
I don't specify a specific amount of almonds because when decorating the exterior it is difficult to calculate exactly what remains adhered and what falls. But it will be around 3,5 -5,3 oz (100-150 g).
The apricot nappage helps to preserve the freshness of the cake and finish the decoration with the crocanti.

If you don't like the cream you can decorate the surface only with slightly sweetened mascarpone cheese. And vice versa, if you don't like mascarpone you can decorate the cake with a whipped cream (whipped cream with a pinch of vanilla).
The decoration, figs and candied kumquats, is somewhat laborious. Of course you can omit them if you want, although the flavors they bring are wonderful.
Both kumquats and candied figs will last you months in an airtight container, better glass, and refrigerated.
The fig cake can be kept in an airtight container and refrigerated for 3-4 days. If it is not decorated with cream cream, it will be preserved for a few more days.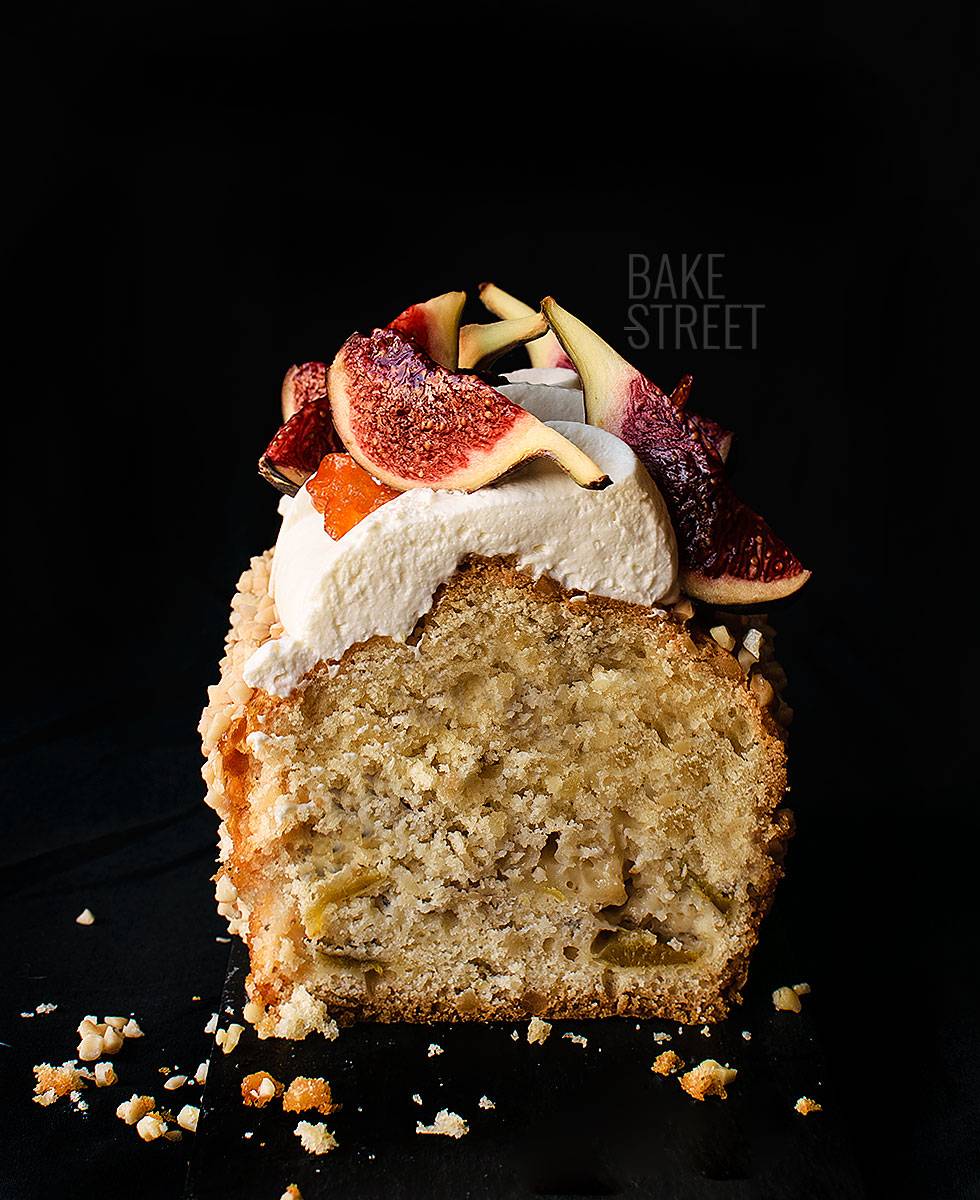 This fig cake with mascarpone cream is waiting for me right now along with a good cup of coffee. And since I'm very polite, I won't make it wait much longer ;)
Don't let the candied fruit process back down. Think that you can make them without problems while you prepare the coffee in the morning, make dinner or have a snack in the middle of the afternoon. And these fruits can be used to decorate future desserts or, in the case of figs, serve them with a good cheese.
Big hugs,
Eva
Archivado en