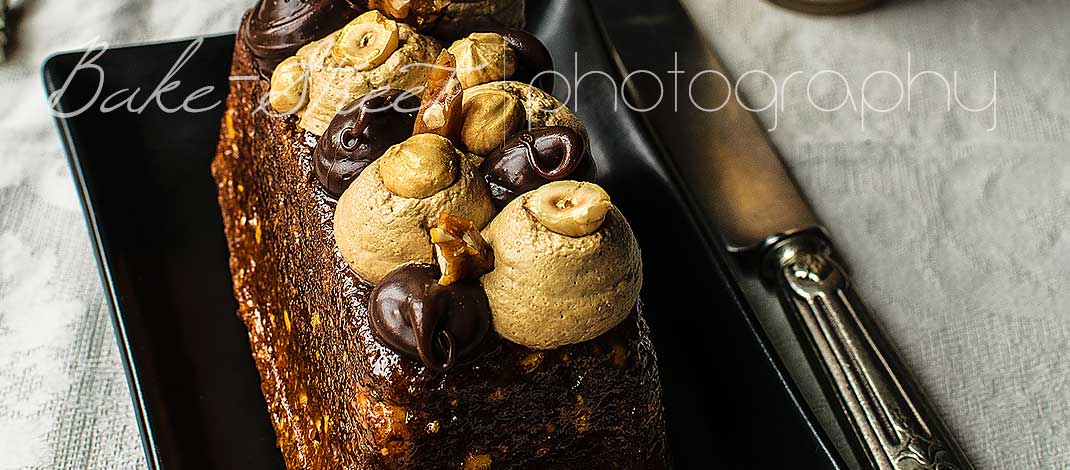 Dolce Vita, hazelnut and coffee cake
Este post también está disponible en Spanish
I do not want to say anything … but Mother's Day (in Spain) is near and I think a good way to surprise her, from early in the day, would be with a breakfast worthy of a real queen. But if it is not Mother´s Day, you can surprise her too! Why not? There is nothing more beautiful to elaborate with your own hands something that is destined for a person that we love and care, and this Dolce Vita, hazelnut and coffee cake can be a fantastic option.
It is something that is valued much more than anything else we can buy, because behind a simple cake there is much enthusiasm, affection, time dedicated, emotion, desire to make happy and to take a wide smile at that person.
I must admit that since I was a child I have always loved to give surprises to my parents and my friends. It could be from a simple drawing, a letter, pictures (which to me seemed precious at the time but now you see them and … terrible!), Make them ornaments for the house or cook them special breakfasts. I was looking forward to seeing their faces in surprise and enjoying it.
That is why I have always valued something more than anything else. The simple fact that a person has been thinking of you at several moments in his/her days, preparing that secret surprise with such enthusiasm … there is nothing that can compete with that.
And what can be that fantastic breakfast?
This wonderful hazelnut and coffee cake, its absolutely a delicious combination. A sponge cake with a generous interior of hazelnuts and flavored with coffee, decorated with a coffee chantilly, caramel and chocolate ganache topped with hazelnuts and nougatine … I can not think of anything better!
Ok yes, accompanied by a delicious fresh coffee in my NESCAFÉ Dolce Gusto® coffee machine, both the "Latte Macchiato" and "Chococino Caramel" are my favorites … You know that I am an unconditional fan of chocolate and coffee is another of my prefer ingredients, and both together are a crazy thing.
Also, I find it beautiful! Mine is the Eclipse model, when you see it at first time it does not look like a coffee machine. It has a design so elegant and minimalist that almost looks like an ornamental element. But not only that, when you turn it on you have an automatic opening system that unfolds one of the arms and we can adjust the levels of coffee quantity in a tactile way. Amazing 🙂
DOLCE VITA, HAZELNUT AND COFFEE CAKE
Recipe adapted "Invitation d'un pâtissier voyageur" by Nicolas Bernardé
You will need a pan 8x4x4 inches (20.5 x 10.5 x 9.5 cm) and another pan of  3x6x2 inches  (8 x 15 x 5 cm)
FOR THE HAZELNUT AND COFFEE CAKE:
6,35 oz (180 g) pastry flour
3,5 oz (100 g) ground hazelnuts (use roasted hazelnuts)
7 oz (200 g) smashed roasted hazelnuts
6,7 oz (190 g) sugar
0,7 oz (20 g) honey
7,6 oz (215 g) eggs, 4 large eggs approx.
0,7 oz (20 g) freshly coffee (I have used Ristretto Ardenza de Nescafé Dolce Gusto)
3,5 oz (100 g) de clarified butter, ghee* (you can use melted and cooled butter instead)
3,5 oz (100 g) olive oil or another type of vegetable oil
0,5 oz (15 g) baking powder
0,1 oz (3 g) salt
* Recipe in the link (Spanish only)
FOR APRICOT NAPPAGE:
2 Tbsp apricot jam
1 Tbsp honey
1 1/2 ó 2 Tbsp water
FOR THE COFFEE CHANTILLY:
7 oz (200 g) cream
1,75 oz (50 g) icing sugar
0,2 oz (5 g) coffee powder
1/2 tsp gelatin powder + 2 tsp water (optional)
FOR THE CHOCOLATE CARAMEL GANACHE:
 1,8 oz (50 g) milk chocolate
 1,8 oz (50 g) heavy cream
 1 oz (30 g) sugar
1/2 Tbsp Corn Syrup
1/8 tsp salt
FOR DECORATE:
hazelnuts painted with edible golden dust
hazelnut nougatine (recipe below)
FOR THE HAZELNUTS NOUGATINE:
2.65 oz (75 g) roasted hazelnuts
2.1 oz (60 g) unsalted butter
2.1 oz (60 g) inverted sugar* (you can use Golden Syrup instead)
0.05 oz (1,5 g) pectin NH
2.1 oz (60 g) sugar
*Recipe in the link (Spanish only)
INSTRUCTIONS:
FIRST DAY
Make the batter hazelnut and coffee cake.
Preheat oven at 320ºF.
Grease the pans and line with parchment, you can use non-stick spray if you prefer. Set aside.
In a medium bowl sieve the flour along with baking powder and salt, mix with a silicon spatula. Set aside.
Blend the roasted hazelnuts until get a finely texture. We must be careful not to blend for a long time because when we heated the blades, this favors the hazelnut oil leaves. If necessary, we will blend it intermittently. Set aside.
In a bowl mix the clarified butter, still tempered, along with the olive oil. Stir until combine both ingredients.
In the KA bowl or a bowl from a stand mixer add flour along with sugar and ground hazelnuts, mix.
Add eggs, one at a time. Mix with the flat beater at slow speed until combined ingredients.Do not over mix. Mixture will be creamy.
Pour the honey along with the coffee, mix until combined.
Pour the butter mixture little by little and mix at a time at low speed. Once we have poured all the butter mixture, we will only mix until we notice that the ingredients have been fully integrated. The result will be a very bright batter.
Finally, add smashed hazelnuts and mix again with the aid of a single silicone spatula until uniformly distributed through the batter.
Let sit on the pan for 3-4 minutes.
Remove the cake from the pan and let cool completely on the racks.
Bake the cake.
Pour the mixture into the pans and bake for 70 minutes for the bigger and 40 minutes for the smaller cake or until a cake tester comes clean when inserted into the center.
Let sit on the pan for 5 minutes.
Remove the cakes from the pans and let cool completely on the racks.
Once the are cooled, wrap in film and place them in the refrigerator until the next day.
Make hazelnuts nougatine.
Preheat oven 320ºF.
Place a silpat over a baking sheet with bottom, set aside.
Mix pectin with sugar, set aside.
Smash lightly hazelnuts, set aside.
In a medium saucepan add the butter in pieces along with the inverted sugar and cook over medium heat until completely melted.
Add the sugar and, stirring constantly, cook until completely melted and get a caramel.
Incorporate smashed hazelnuts and mix to combine.
Pour the mixture over the silpat and bake for 15 minutes.
Remove from the oven and let cool completely upside down on a rack.
Make chocolate and caramel ganache.
Chop the chocolate, set aside.
Pour heavy the cream into a small pan and simmer until it is warmed, without boiling. Set aside.
Add sugar in a medium saucepan and let until get a brown caramel. Stir occasionally to avoid burn and get a perfect melt from sugar.
Pour heavy cream little by little and mixing at a time until get an homogenous mixture. Remove from the heat and add corn syrup. Mix again until combined.
Add chopped chocolate and mix until get a well combined cream.
Transfer into an airtight container and let cool completely at room temperature. Place in the fridge overnight.
SECOND DAY
Make coffee chantilly.
Before make whipped cream we must know:
Cream must be cold 24 hours before used it.
The bowl in which we are going to make whipped cream must be cold. I recommend to use one aluminium bowl and freeze 20 minutes before beat it.
Add gelatin powder with water in a glass, mix and let hydrate 5 minutes.
Put into the microwave on high temperature for 15 seconds. Remove and let cool (it must reduce to 91-95ºF) while we beat the heavy cream.
Pour heavy cream into freeze bowl and beat with an electric mixer into low speed.
Once cream is becoming to form stiff peaks, add sugar little by little stirring the whole time. Increase speed gradually but without reaches high one. Ideally use medium speed.
Before finish to beat the cream, pour the coffee powder along with the gelatin mixture and beat until get a perfect whipping cream. Be sure not to over-beat, otherwise cream will become lumpy and butter-like.
Cover with plastic wrap and chill until used it.
Make apricot nappage.
In a small pot add all the ingredients and place over medium heat until they become liquid.
Set aside.
Assemble hazelnut and coffee cake.
Brush both cakes with the apricot nappage over the whole surface except for the base. It will leave a very bright finish.
Introduce the coffee chantilly into a pipping bag with a pipping tube of 0,8 inches (2 cm). Prepare another pipping bag with a pipping tube of 0,4 inches (1 cm) and introduce the chocolate and caramel ganache.
Decorate with hazelnuts brushed with edible golden dust and a few pieces of hazelnut nougat.
Serve with a cup of fresh coffee or a chocolate with caramel from Dolce Gusto®.
PRESERVATION: We can store it in an airtight container and keep it refrigerated for 3-4 days.
NOTES:
I do not like hazelnuts, you can always use another dry fruit instead at your choice like almonds, for example.
Can I substitute sugar for unrefined sugar? Of course, there is no problem. In addition, muscovado sugar will bring very interesting nuances.
Can I omit apricot nappage? Yes, you can, but the cake will not have a shiny finish. Also this helps to preserve its freshness.
Chantilly is a type of cream that can lose firmness if we do not whisk well or we keep a lot of time out of the cold. Gelatin will help us to prolong its stability.
But can I omit the gelatin? Yes, it can be omitted. But try to keep this cream always at low temperatures to ensure its stability.
The cake decoration is just a suggestion. If you do not want to elaborate the hazelnuts nougatine you can substitute this one for disks or chips of chocolate, for example.
You can prepare the recipe on the same day, except for the nougatine. I post the steps in two days to make the process easier.
Try it this weekend…
This hazelnuts and coffee Dolce Gusto cake, is that kind of elaborations that are worth spending a little time working with. When you are enjoying it the first thing that comes to mind is – what a time so well spent! -.
Then the only thing you can think about is sharing that moment that you created with your hands. A special breakfast to enjoy with your mother in which starting from a simple idea, such as a sponge cake, we will transform it into something new, different, unique and personal. Because each recipe is different depending on the hands that make it.
And now, if you'll let me, I'm going to enjoy a piece of this cake with a good fresh coffee to enjoy this #CreativeBreakfast with the best company.
Have a nice weekend!
Big hugs,
Eva
This post is a collaboration with the brand