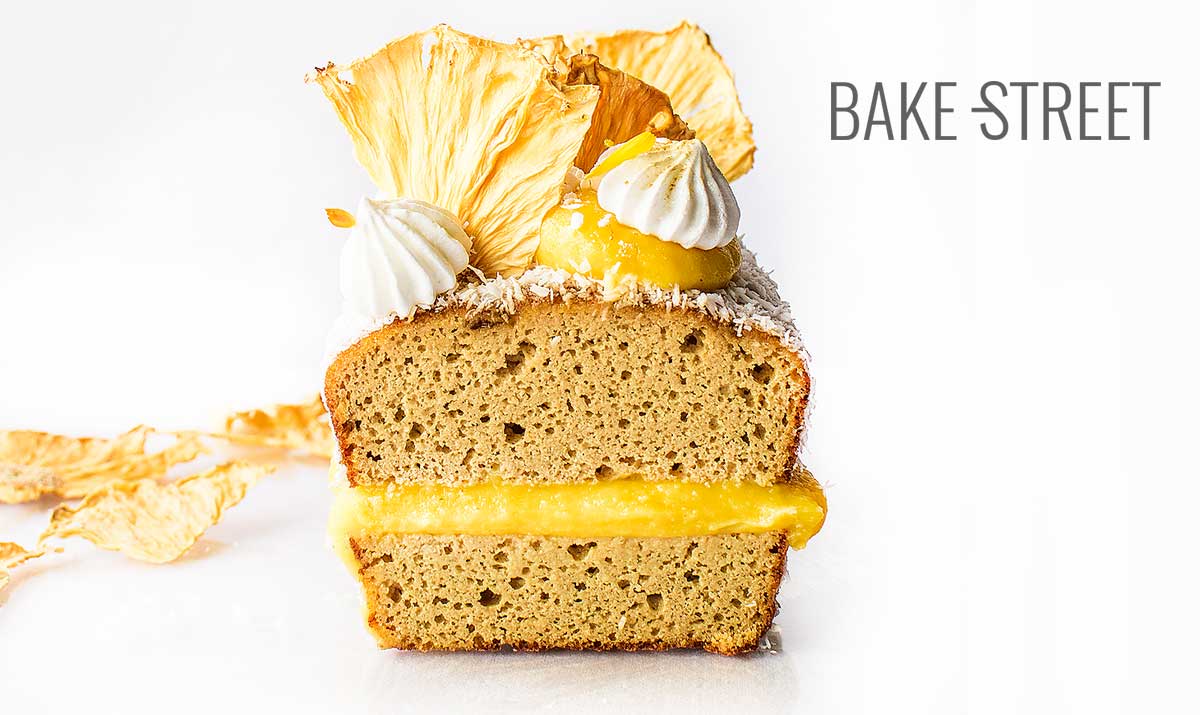 Coconut gluten-free sponge cake with pineapple curd
Este post también está disponible en Spanish
One of the queries or requests for which you often ask me a lot are the gluten-free cakes. Above all, you place special emphasis on a sponge cake recipe that is juicy, tender and if possible different. Today's recipe gathers everything, or almost everything, so you asked me. A coconut gluten-free sponge cake with pineapple curd.
When I say coconut cake, I say it with all the letters. Not only will we find this ingredient on the outside, but it is also part of the dough in 3 different formats: flour, sugar and oil. As you can imagine, one of the most remarkable characteristics is its incredible aroma. When baking it, the smell is absolutely wonderful.
A gluten-free sponge cake.
To tell you the truth, nowadays, I'm not very specialized in gluten-free elaborations (like bread and cakes). I think it's a complex world that requires time and dedication to get a good result. Either in cakes or breads. But I thought it would be good to start with something simple and, as long as I have free time, dedicate it more to this type of recipe.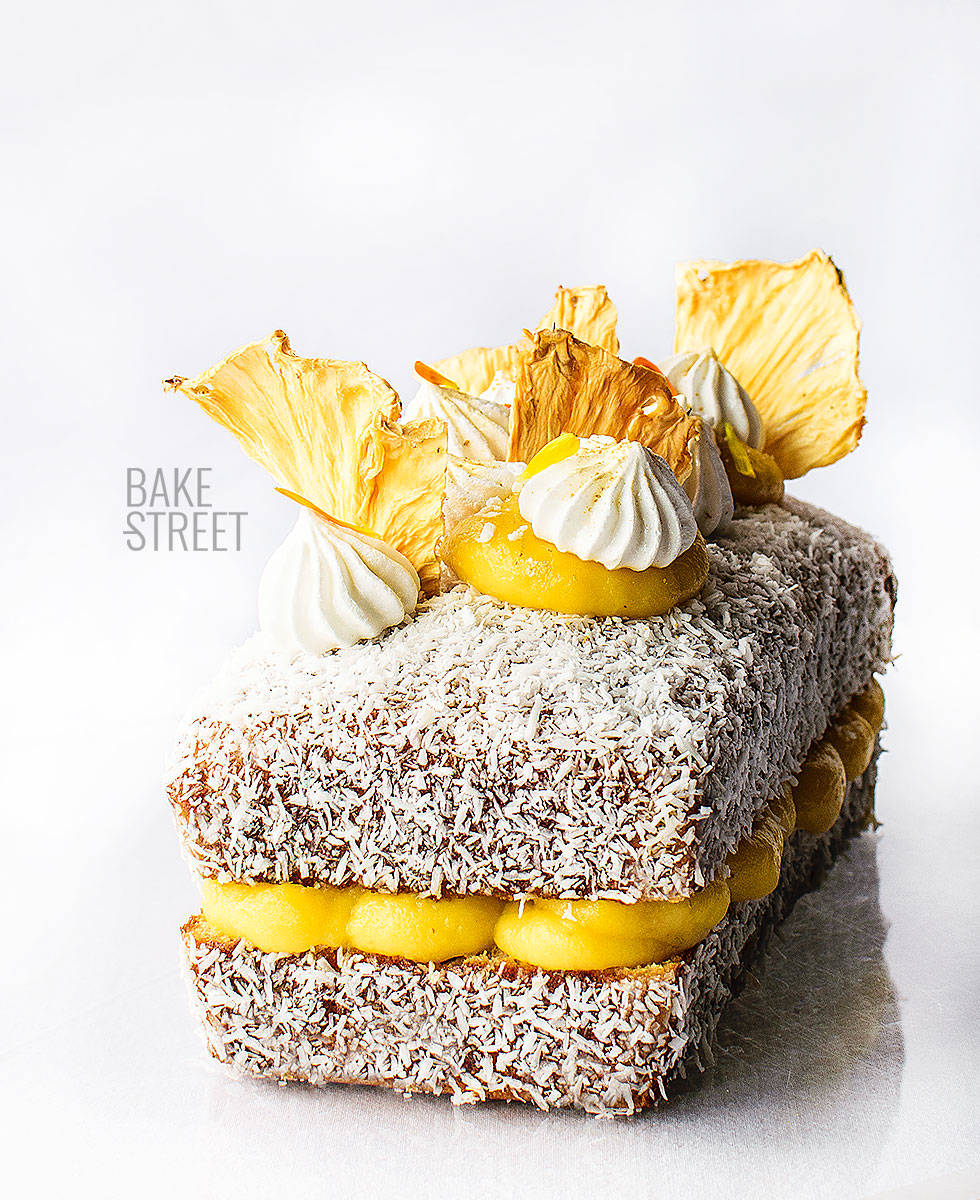 On the blog I have several recipes gluten-free, but among them despite having tarts, waffles, sweets… there was not a cake 100% without wheat flour and, of course, at the moment there is no bread.
A few weeks ago I was given flour and coconut sugar, which I must admit I was very eager to try. But it happened to me as it always does, so many things to do and try, that the days go by and they wait for me to pay attention to them. Until a few days ago I remembered them and thought it would be good to make a 100% coconut cake.
A sweet, fresh and exotic filling.
I like to decorate and fill sponge cakes. That doesn't mean I don't enjoy a simple vanilla sponge cake, but I love this part of the recipes. It is where we can let our imagination fly by combining and mixing everything we come up with.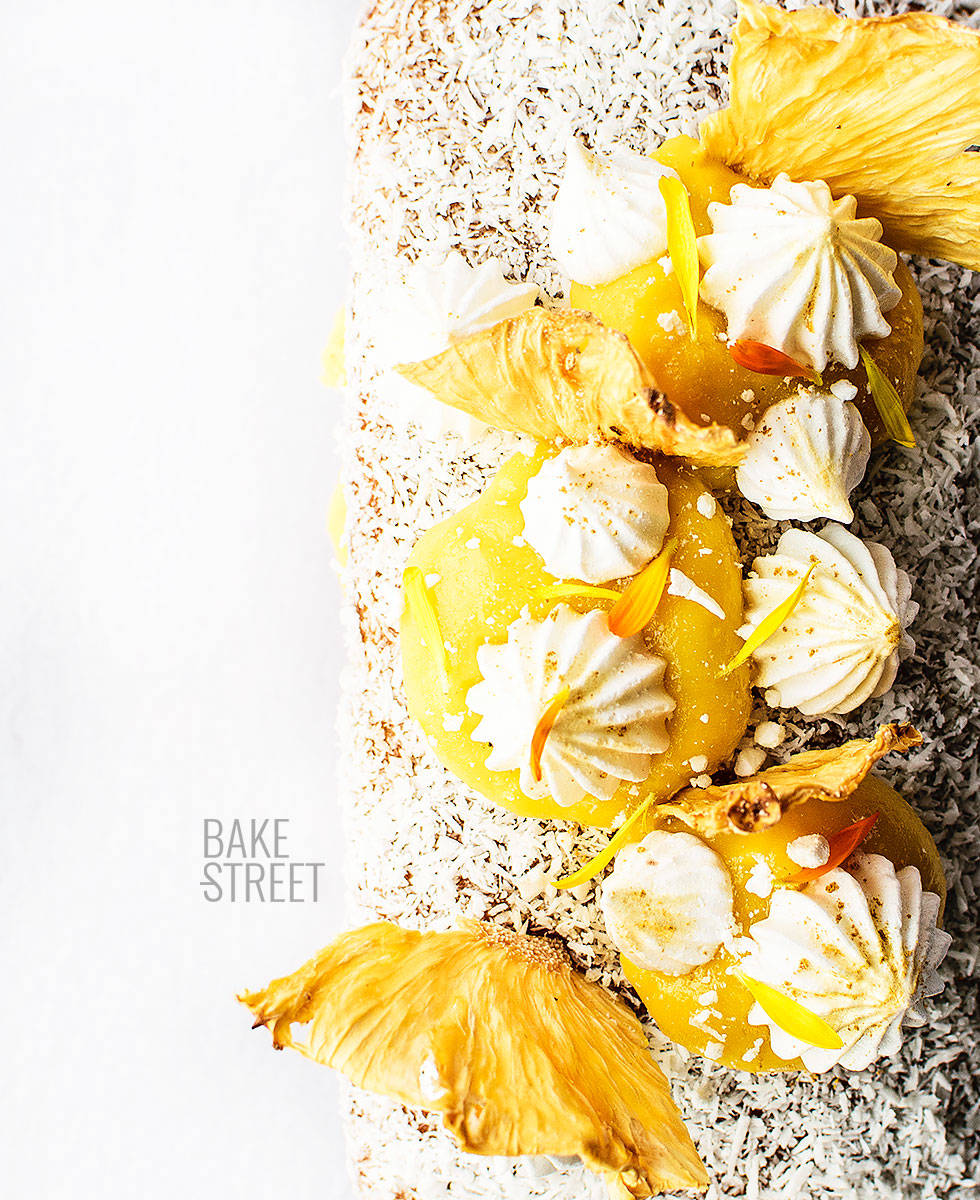 This time I wanted a creamy filling, but not a pastry cream. We all know that pineapple and coconut make a perfect match, so I decided to make a pineapple curd with a fresh and slightly spicy taste. I added lemon zest and fresh ginger. Wonderful!
It's not the first time I made a pineapple and ginger curd, I made it in this post (from two million years ago). Only that this time I followed a process more similar to the one I do with the blueberry curd, I get a thicker texture and for this time it would be much better.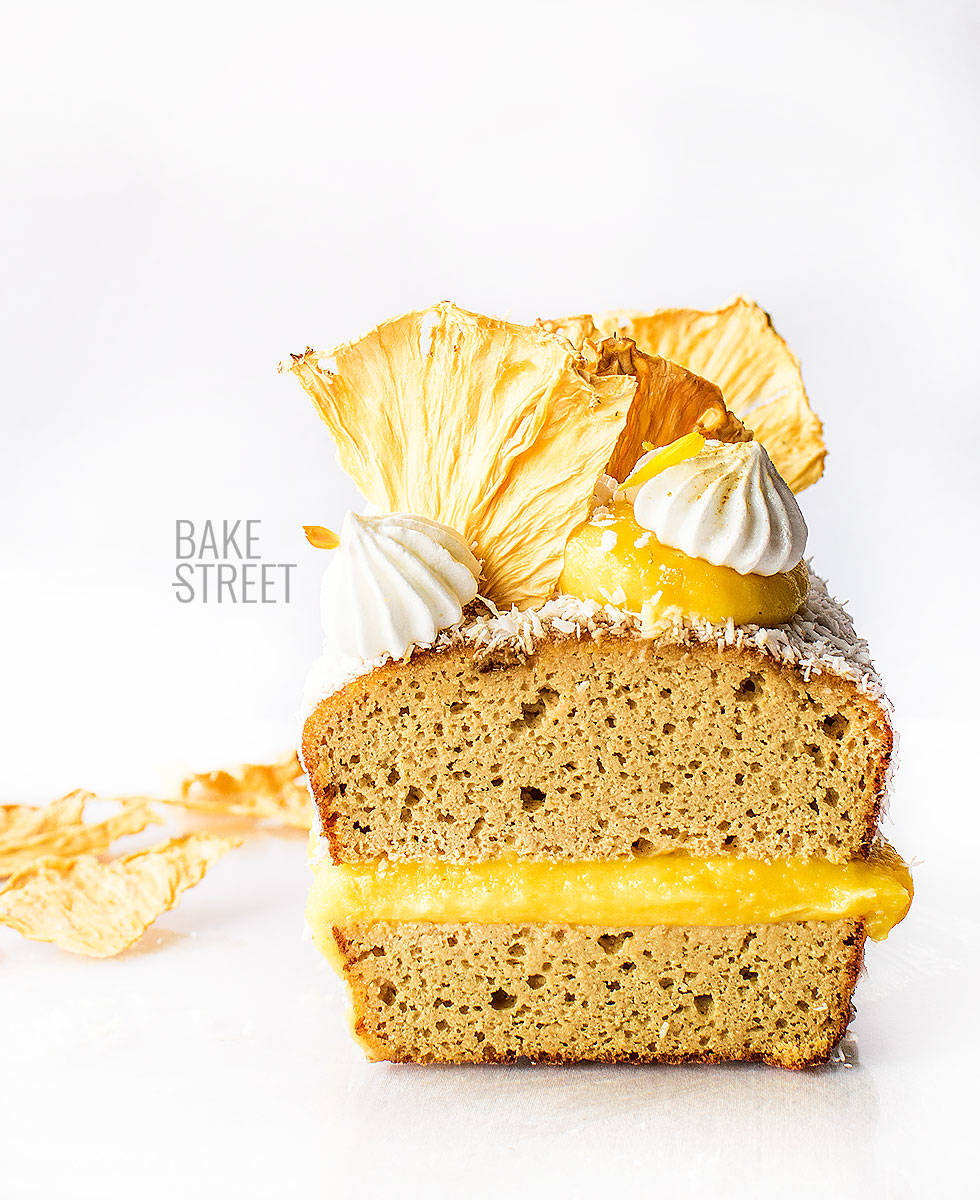 The outside decoration.
The only thing I knew for sure was that I would cover the sponge cake with grated coconut. The rest kept popping up while I was making the video… I risked a little bit that the result would be totally catastrophic, but this time it didn't go wrong!
The truth is that the final decoration is rarely clear to me. It mostly comes up as I do it, on the fly. Even when I think I have finished it, I look at the elaboration and remember things that I have and that could look good.
This situation reminds me very much of when I draw. I know what I want to do, an "X" character with a certain pose, a certain kind or type… But the details, the little things that will give it personality, come up in the moment. They are not planned in advance.
Ingredients for a pan 8x4x4 inches (20.5 x 10.5 x 9.5 cm)
FOR THE SPONGE CAKE:
6 large eggs, egg-withes and yolks separated
2,3 oz (65 g) coconut flour
1,75 oz (50 g) coconut oil
3,5 oz (100 g) unsweetened Greek yogurt
2,45 oz (70 g) coconut sugar
1 tsp vanilla paste
1/2 tsp baking powder
1/2 tsp salt
FOR APRICOT NAPPAGE:
2 Tbsp apricot jam
1 Tbsp honey
1 1/2 ó 2 Tbsp water
FOR PINEAPPLE GINGER CURD:
12,35 oz (350 g) fresh pineapple, peeled
1 oz (30 g) fresh ginger, peeled
one lemon zest
3 large egg yolks
3,5 oz (100 g) unsalted butter
3,35 oz (95 g) sugar
1 Tbsp of cornstarch
pinch of salt
GARNISH:
grated coconut
dry meringues
dehydrated pineapple (recipe on the link)
edible gold powder
edible flower petals
Instructions
Make coconut gluten-free cake.
Preheat oven to 340º F.
Grease and line the pan with baking parchment, or spray the mould with a demoulding spray. Set aside.
Sieve the coconut flour together with the baking powder and salt. Set aside.
Add the coconut oil in a small bowl and melt in the microwave. Leave aside to cool while we prepare the rest of the ingredients.
In the KA bowl, or a bowl together with a hand blender, add the egg yolks along with the coconut sugar, vanilla and Greek yogurt.
Whisk, at a speed of 1 until it begins to froth. It will take about 3-4 minutes.
Pour the coconut oil and mix again with the whisk until it is completely integrated, about 1-2 minutes.
Add the coconut flour little by little and mix at the same time. We'll get a very dense mixture. Set aside.
Whip the egg-whites until they make firm and soft peaks.
With the help of a silicone spatula, add the whipped egg-whites gradually to the sponge cake mixture. Fold with soft and enveloping movements to help them integrate, but without losing the volume.
Pour the mixture into the pan, smooth the surface and bake for 50 minutes or until a toothpick is inserted and it comes out clean.
Remove from the oven and let stand for 5 minutes in the pan.
Unmould and allow to cool completely on a rack.
Once it is completely cooled, wrap it in film and refrigerate until the next day.
Make ginger pineapple curd.
In a blender add the pineapple together with the chopped ginger.
Process until we obtain a dense juice. Set aside.
In a medium saucepan add the yolks together with sugar, lemon zest, sifted cornstarch and salt.
Strain the pineapple juice and pour into the pan together with the yolks.
Place over medium heat and stir constantly until it begins to thicken. It will take about 6-7 minutes.
Stir in the butter and continue mixing until it is completely integrated and the mixture thickens. About 3-4 more minutes, approximately.
Pour the curd into a container and let it cool completely at room temperature.
Refrigerate until the next day.
Make apricot nappage.
In a small pot add all the ingredients and place over medium heat until they become liquid.
Set aside.
Assemble the cake.
Brush the cake with the apricot nappage over the whole surface except for the base. It will leave a very bright finish.
Decorate with grated coconut all over the visible surface of the cake.
With a cake cutter, or a knife if you are handy, cut in half lengthwise. Remove the top part by leaving it aside.
Place the curd into a piping bag with a 0,4 inch smooth round tip.
Decorate the sponge cake with the curd.
Cover with the half sponge cake we put aside.
Make 3 mounts of curd on the surface of the sponge cake.
Decorate with dried meringues, dehydrated pineapple slices and edible flower petals.
Crush 1-2 dry meringues and sprinkle on the surface. Brush the meringues with edible golden powder.
Serve.
Notes
I'm vegan, is it mandatory to use Greek yogurt? Some recipes make vegan cakes with vegetable milks. If you want, you can do it. But we must bear in mind that both bicarbonate and baking powder react with dairy. With this we achieve that sponge cakes acquire more volume.
The coconut oil must be melted in cold seasons since it solidifies by lowering the 70ºF (21ºC). In summer it won't be necessary because it will have a liquid aspect.
Coconut sugar can be replaced with common sugar or muscavado if you wish.

Ideally, the curd should be left to rest overnight in the fridge. this way it will be firm and the flavors will mature.
The decoration is completely optional, you can decorate the cake in the way you like.
Preservation: You can store it in an airtight container in the refrigerator for 3.4 days. If it's not filled with the curd, it'll last much longer.
This gluten-free coconut sponge cake with pineapple curd is incredibly juicy, tender, soft and with a wonderful aroma. The truth is that I was very surprised, I didn't think it could turn out that way at all. Really delicious.
Of course, the breadcrumb is not the same as a sponge cake made from wheat flour. But that was something I already had in mind. It's certainly one of those things worth trying because it has a wonderful taste and a truly wonderful texture.
Happy Wednesday and enjoy the day!
Big hugs,
Eva
Archivado en