Pineapple, ginger and turmeric tart
Este post también está disponible en Spanish
Since spring has decided to delay its most desirous stay for all of us, or at least on my part, we will simulate it at home until it stays with us. Well okay … spring is like this, but I want to enjoy already sun and flowers, I'm getting long the bad weather. This pineapple, ginger and turmeric tart will help us to make its arrival much easier.
My partner had been saying to me that why I did not make a tart with pineapple, and I did not finish deciding because it is a fruit that I like natural or in shakes … I thought that it won´t like me in a sweet elaboration. Well said, I thought. I never believed a pineapple cream could be so incredibly good, really, how much flavor!
The fact is that one day I said, ok, I'll make a pineapple tart. First he looked at me like … I do not believe you, you've been making excuses for not doing it for months. And I said, yes, it is true but I have had an idea. It happens to me many times, I suddenly get a vision of a recipe already fully developed, assembled, decorated in my head… And I have to make it as soon as possible, I can not wait.
The base tart on my head was white. Since when baking any base, like it or not, it will take color, I opted for the one I left in the panna cotta of lychees and coconut (only Spanish available, sorry). A base made with grated coconut, ground almonds and condensed milk. It is not necessary to bake it, just to mix, place into the mold and chill for a few hours.
The filling I wanted it to be creamy, like a curd, but with some firmness so that when cutting will not scatter everything. I followed the filling I used for the basil and lemon tart (only Spanish available, sorry), changing the main ingredients and sweetness since the pineapple is very sweet naturally. The tart itself will turn yellow, butter and egg help this work, but the turmeric ends to give that alive and naturally finished. Without adding artificial colors.
Some color and good music to begin the day. Today Raul Midon "Sunshine (I Can Fly)", Youtube link.
And finally the decoration could not be anything other than pineapple flowers. At first I thought that some petal of yellow flower might be fine … but no, this was more than necessary. I had already done these flowers before and I liked them a lot but, this time, I used another method to make them. I have used dehydrator instead of oven. But in the elaboration I tell you the two ways to prepare them.
You will have a little more amount of base and fill mixture. I was able to make 4 more small tartlets and, from the filling, I had half a glass. It can be enjoyed without problems as if it were a creamy dessert, so we can give the approval before sinking the teeth into 😉
PINEAPPLE, GINGER AND TURMERIC TART:
Rectangular tart pan 8 x 12 inches
FOR THE COCONUT ALMOND GLUTEN FREE BASE:
8.45 oz (240 g) grated coconut
9.5 oz (270 g) ground almond
6 oz (170 g) condensed milk
0.7 oz (20 g) water
pinch of salt
FOR THE PINEAPPLE, GINGER AND TURMERIC CREAM:
25 oz (710 g) fresh pineapple juice, natural (about 35 oz (1 kg) natural pineapple, peeled)
2.45 oz (70 g) fresh lime and lemon juice, about 1 lime + 1 lemon
1.6 oz (45 g) fresh ginger, peeled
1/2 tsp turmeric powder
4 large eggs
4.25 oz (120 g) unsalted butter, melted and cooled
8.8 oz (250 g) sugar
6 gelatin leaves (10 g)
pinch of salt
FOR DECORATE:
dehydrated pineapple flowers
green pineapples leaves
INSTRUCTIONS:
Make the coconut and almond base.
In a large bowl add the grated coconut along with the ground almond and salt, mix with a spoon.
Pour the condensed milk and mix to integrate the ingredients. We will have to work a bit with our hands to get a homogeneous mixture.
Add water little by little and integrate at the same time. We will have to get a batter that does not break but does not exceed when hydrating it.
Tranfer the mixture to the tart pan. We will do it in small portions and we will adjust the mixture to this, both the base and the sides.
Once we have all the mixture transfer into the mold, we will help with a small glass to level the mixture.
Refrigerate for 2-3 hours so the base gets firm.
Make the pineapple, ginger and turmeric cream.
Fill a bowl with very cold water and introduce the gelatin leaves inside to make them hydrate.
Melt the butter, set aside.
Clean the pineapple, cut the outer crust and slice it. We will reserve 6 or 7 slices, finely cut, to make the flowers later.
Using a blender we will elaborate the pineapple and ginger juice. Add both in pieces and liquefy, reserve the juice.
Squeeze the lemon and lime, pour into a medium-sized pot.
Pour the pineapple juice and ginger along with eggs, sugar, melted butter and turmeric.
Place over medium heat stirring (my vitroceramic hob has 1-9 position, I used the 5), thus avoid adhering to the bottom of the pan and forming lumps.
Keep it to the heat, beating with the rods constantly until the mixture reaches the 181ºF, for this we will help us of a digital thermometer. It is important that the mixture does not boil. It will take us about 10 minutes, patience.
Remove from the heat and let the mixture reduce its temperature to 131-122ºF.
Add the hydrated gelatin leaves, previously very well drained, and mix with the rods until completely dissolved.
Pour the pineapple mixture over the base, you will have a little more of the mixture that you will need for the tart, and place in the fridge overnight.
Make pineapple flowers.
To make the pineapple flowers I have used a food dehydrator although they can also be made in the oven. I will leave you instructions to elaborate them both ways.
If we use a food dehydrator.
Place the thinly pineapple slices on the trays. You can dehydrate the ones you need to decorate the cake or more if you wish. Ideally is to take advantage of all the trays with this fruit or others to make good use of its performance.
Place at 160ºF and leave for 5 hours. The final time will depend on the thickness of the slices.
Once they are practically dry, remove them from the dehydrator and place them to a muffins pan. We will place each flower in one of the hollows, let set overnight so they will acquire this shape.
If we use the oven.
Preheat oven to 210ºF.
Place the pineapple slices on a tray lined with a Silpat or baking paper.
Bake at half height for 1 hour and 15 minutes.
At half bake we will turn the slices.
Remove the pineapple slices from the oven and place them on a muffins pan.
Let set for overnight.
In this post (Spanish available), two million years ago, you can see how I put the flowers in the pan to give them shape. Do not be scared … we all had a beginning.
Decorate the tart.
Decorate the tart just before serving so that the flowers do not get wet.
Place some pineapple flowers to your choice and decorate with some green leaves of the pineapple, previously washed and dried.
Serve and enjoy, of course! 😉
PRESERVATION: We can keep it refrigerated in an airtight container for 4-5 days.
NOTES ABOUT PINEAPPLE, GINGER AND TURMERIC TART:
Use a good quality and ripe pineapple, the taste is very important to get a good result. I always buy the Del Monte pineapple.
Sure, sure you have thought … could I make this tart with canned pineapple? You can, of course. But the taste will not be the same at all … If you decide to use canned pineapple must be not unsweetened, natural. Otherwise the final sweetness will be much more enhanced and will not be pleasant at all.
And another idea that will come next is … Can I use canned pineapple juice, in brick? Buff, I do not recommend it. Not only because of the indigent amount of sugars that are beyond our control, but because, how much real juice is there?
The touch of ginger is subtle, not very potent. I tell you in case you decide to reduce it, do not do it. In any case if you want to make it more intense, add a little more quantity.
Turmeric gives us color and a pleasant taste that makes us think … what is this?
If you make more pineapple flowers than you need, once they are well dried, you can store them in an airtight container for millions of months.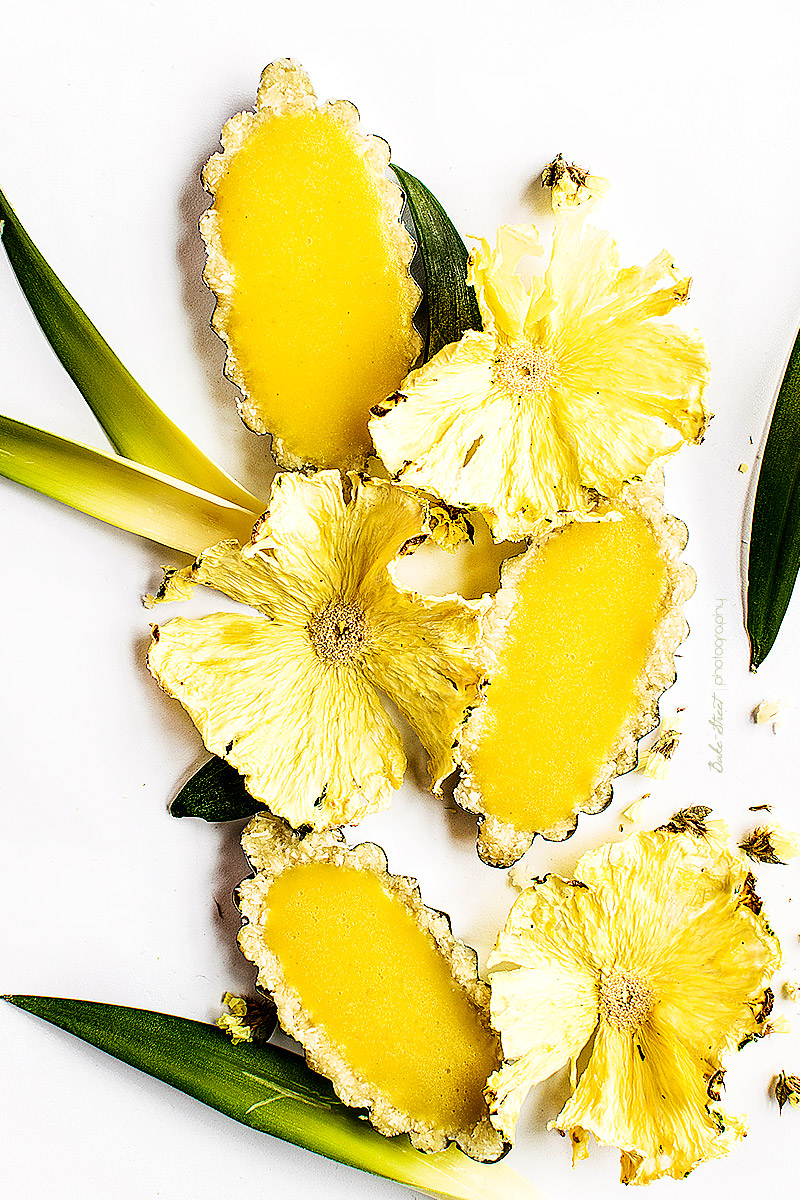 This pineapple, ginger and turmeric tart is a wonderful way to enjoy the "no-arrival" of spring. I need days of light, warmth, flowers and good weather. But we still continue with cold days, rain, snow … So we will have to rejoice our eyes with elaborations like this until it decides to stay with us 😉
Have a nice week!
Big hugs,
Eva