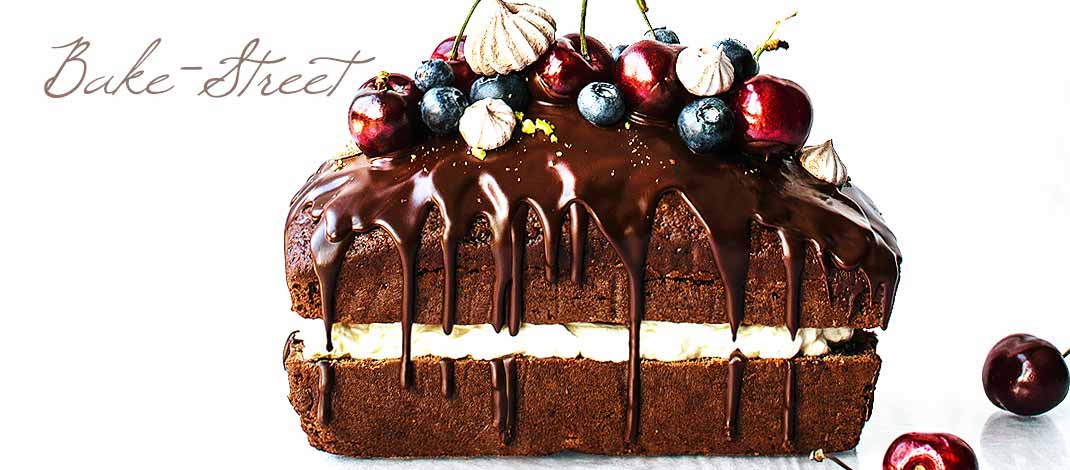 Black Forest Cake
Este post también está disponible en Spanish
I longed for the cherry season to make this Black Forest Cake. It is not the first time I make it… in fact on the blog there are a couple of old recipes elaborated, more or less, following this recipe. But I really wanted to make a Black Forest with this format.
The more difficult? This hot weather that has arrived from one day to another and made my photo shoot a hell… Mostly because the filling is a vanilla chantilly (more commonly known as whipped cream with a few drops of vanilla ) and it did not tolerate very well the 83ºF that I was suffering in my living room. I was thinking about to turn on the air conditioning! But I restrained myself…
Today's recipe is not innovative, but I was craving to make this cake with chocolate and cherries, whipped cream and a decoration full of fruits (and cherries!). In addition, that these sponge cakes are always very grateful and are much enjoyed at any time of the day.
To make the cake I followed the same recipe, slightly changed, of the chocolate banana cake which I shared some time ago. I like it very much and that hump… it drives me crazy! 😉
The filling is the only thing that you must have a little care to make and keep it once it is out from the fridge, if it is hot where you live, otherwise without worries. The whipped cream does not tolerate high temperatures (despite gelatin) and must be stored several times in the fridge during the assembling process. Another point is vegetable cream… it keeps perfect its shape, but I do not like too much.
Other fill options?
This cake can look great with a slightly sweetened cheese filling, mascarpone for example, and natural cherries, a milk chocolate ganache or simply with cherry jam. Although, of course, there is also the option of not filling the cake inside and cover it only with the chocolate coating and fruits.
BLACK FOREST CAKE:
You will need a pan 8x4x4 inches (20.5 x10.5 x9.5 cm)
FOR THE BATTER CAKE:
6 oz (170 g) pastry flour
0,7 oz (20 g) cocoa powder
4,6 oz (130 g) sugar
2 large eggs
3,3 oz (95 g) unsweetened Greek yogurt
2,4 oz (68 g) melted and cooled unsalted butter
3 oz (85 g) cherry jam
0,17 oz (5 g) baking powder
pinch of salt
1,75 oz (50 g) black chocolate cut into little squares
2,8 oz (80 g) cherries
FOR THE COATING:
2,1 oz (60 g) 70% black chocolate
1,2 oz (33 g) unsalted butter
3/4 tsp Corn Syrup
FOR THE VANILLA CHANTILLY:
7 oz (200 g) cream
1,75 oz (50 g) icing sugar
few drops of vanilla extract
1/2 tsp gelatin powder + 2 tsp water (optional)
FOR DECORATE:
cherry jam*, homemade if possible
cherries
blueberries
chopped pistachios
*/** You can read in the link how to make it homemade (only Spanish available)
Make chocolate and cherry batter.
Preheat oven at 320ºF.
Grease a pan and line with parchment, you can use non-stick spray if you prefer. Set aside.
In a medium bowl sieve the flour along with cocoa powder, baking powder and salt, mix with a silicon spatula. Set aside.
Wash, cut and remove stones from the cherries. The ideal is to cut the cherry in half and, each half, divide it into two pieces. Set aside.
In the KA bowl or a bowl from a stand mixer mix sugar with eggs using wire whip attachment on low speed until lightly puffy.
Add cherry jam along with Greek yogurt and mix again until get an homogeneous mixture.
Change the wire whip for the flat beater and add flour.
Pour one third from the flour and mix on low speed for a few seconds. Stop, scrape down the sides of the bowl and pour other one third from the flour and repeat. Do not over mix, only until combined.
Finally, pour melted butter little by little and mix at a time.
Cover with flour chocolate and cherries and transfer to the batter. Mix with a silicon spatula to get a homogeneous distribution.
Pour into the pan and bake for 65 minutes or until a cake tester comes clean when inserted into the center.
Let sit on the pan for 3-4 minutes.
Remove the cake from the pan and let cool completely on the racks.
NOTE: It is better to make the sponge cake the day before to assemble it. Once it has completely cooled, wrap with film and refrigerate until the next day. This way we will cut it more easily.
Make vanilla chantilly.
Before make whipped cream we must know:
Cream must be cold 24 hours before used it.
The bowl in which we are going to make whipped cream must be cold. I recommend to use one aluminium bowl and freeze 20 minutes before beat it.
Add gelatin powder with water in a glass, mix and let hydrate 5 minutes.
Put into the microwave on high temperature for 15 seconds. Remove and let cool (it must reduce to 91-95ºF) while we beat the heavy cream.
Pour heavy cream into freeze bowl and beat with an electric mixer into slow speed.
Once cream is becoming to form stiff peaks, add sugar little by little stirring the whole time. Increase speed gradually but without reaches high one. Ideally use medium speed.
Before finish to beat the cream, add vanilla extract along with the gelatin mixture and beat until get a perfect whipping cream. Be sure not to over-beat, otherwise cream will become lumpy and butter-like.
Cover with plastic wrap and chill until used it.
Make chocolate coating.
Chop chocolate and transfer into a bowl heat-resistant along with the butter.
Cook in a water-bath, water must not touch the base from the bowl, and let melt completely stirring from time to time.
Remove from the heat, add Corn Syrup and mix until combined.
Let lightly cool before cover the cake.
NOTE: Corn syrup provides a shiny coating, if you do not have it at home, you can omit it without problems.
Assemble Black Forest Cake.
With a cake cutter, or a knife if you are handy, cut in half lengthwise.
Fill the cake with the vanilla chantilly. At this point I recommend you transfer this half of the sponge cake (with the whipped cream over) in the fridge for 20 minutes. In this way the whipped cream will keep its shape and will support very well the weight of the other half of the cake.
Spread some cherry jam over the whipped cream, at your taste, and place on the other half of cake.
Place into the fridge for 20 minutes, so the whipped cream will get firmness.
Pour over the cake the chocolate coating. Wait a few minutes to get solid the chocolate, not too much, and decorate with cherries, chopped pistachios and dry meringues.
PRESERVATION: We can store it in the refrigerator for 3-4 days.
How much I suffered with this Black Forest Cake… In its favor, I have to say that despite the difficulty during the photo shooting; cake to the kitchen, cake to the dinning room… the end result is worth a lot. When I finished my work, I got a good piece (like 1/4 of the cake) with an ice coffee and this was the best part of all!
So do not get too distracted, because if I go back to the kitchen … I do not answer for myself!
Happy mid-week!
Big hugs!
Eva