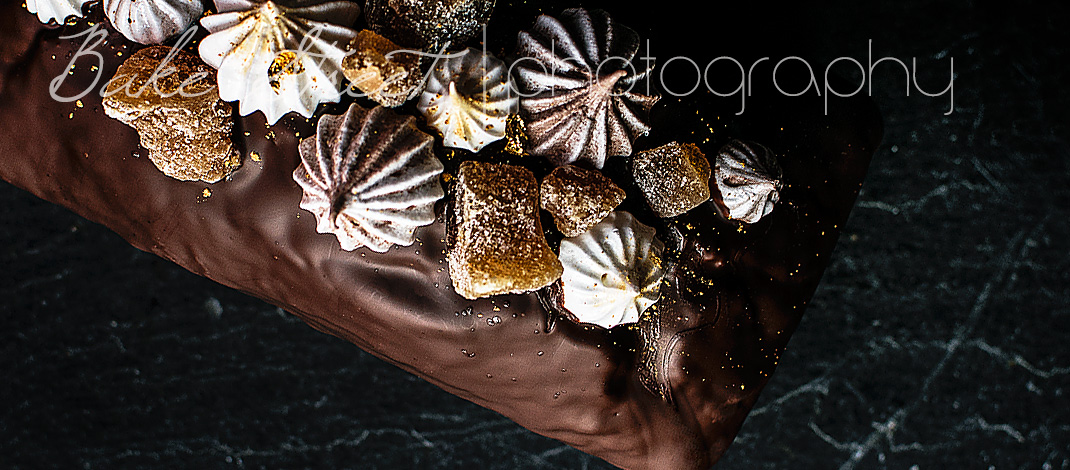 Chocolate Banana Cake
Este post también está disponible en Spanish
Today an easy and awesome recipe, chocolate banana cake with chocolate coating. Mix, bake and decorate to make you happy. And easily you will enjoy your weekend breakfast or your coffee time after lunch.
Last week I brought you a banana pie (Banoffee Pie) because I am really falling in love to make sweet recipes with this fruit. I love its flavor more and more each day, besides we can use less sugar thanks to this fruit.
It has been a long time without make a cake, so I decided to bake one. My idea about how I wanted it, was clear. I wanted a chocolate banana cake with a big hump. To make it I followed two recipes from me; this Cake au Citron and this Sour Cream Banana Cake. I joined both recipes and create which I share today.
Cake has not mystery, to get a great texture you must not over-beat ingredients to avoid get compact batter. Baking temperature has to be low so it will be better to get a beautiful hump in the middle, you will see how it grows during the baking.
There is a little tip for the chocolate coating. It is important not cover the cake when you remove chocolate from the water-bath, you must take a few minutes to cool and reduce temperature. This way you will get a perfect coat. I have learned this tip from the book "Chocolate by Pierre Hermé", besides I follow the combo ingredients from one of his cakes; chocolate, banana and ginger.
My recipe is not the same, I use other process and different remaining ingredients. In fact, he uses dried banana instead of fresh. I tasted this way but I preferred to try another one, which I bring you below.
I was listening this song all the week… and I share with you today to begin this weekend. Song by "Djuma Soundsystem" – Les Djinns  🙂 (Youtube link).
The result is a very tasty cake with an intense banana flavor that combined with chocolate and small pieces of ginger … is really amazing.
CHOCOLATE BANANA CAKE:
You will need a pan 8x4x4 inches (20.5 x10.5 x9.5 cm)
FOR THE BATTER CAKE:
6 oz (170 g) pastry flour
0.7 oz (20 g) cocoa powder
4.6 oz (130 g) sugar
2 large eggs
3.3 oz (95 g) crème fraîche
2.4 oz (68 g) melted and cooled unsalted butter
1 ripe banana, 3 oz (85 g)
0.17 oz (5 g) baking powder
pinch of salt
1.4 oz (40 g) black chocolate negro cut into little squares
1.4 oz (40 g) candied ginger cut into little squares
FOR THE COATING:
2.8 oz (80 g) 70% black chocolate
7 oz (200 g) coating chocolate
0.7 oz (20 g) vegetable oil
FOR DECORATE:
candied ginger
edible gold foil
*You can read in the link how to make it homemade (only Spanish available)
INSTRUCTIONS:
Make the batter for the cake.
Preheat oven at 320ºF.
Grease a pan and line with parchment, you can use non-stick spray if you prefer. Set aside.
In a medium bowl sieve the flour along with cocoa powder, baking powder and salt, mix with a silicon spatula. Set aside.
Cut and smash ripe banana until get a puree.
In the KA bowl or a bowl from a stand mixer mix sugar with eggs using wire whip attachment on low speed until lightly puffy.
Add mashed banana along with crème fraîche and mix again until get an homogeneous mixture.
Change the wire whip for the flat beater and add flour.
Pour one third from the flour and mix on low speed for a few seconds. Stop, scrape down the sides of the bowl and pour other one third from the flour and repeat. Do not over mix, only until combined.
Finally, pour melted butter little by little and mix at a time.
Cover with flour chocolate and ginger squares and transfer to the batter. Mix with a silicon spatula to get a homogeneous distribution.
Pour into the pan and bake for 60 minutes or until a cake tester comes clean when inserted into the center.
Let sit on the pan for 3-4 minutes.
Remove the cake from the pan and let cool completely on the racks.
NOTE:
I recommend you to make cake one day in advance and cover with chocolate coating the next day. Once the cake is completely cool, cover with film and let sit at room temperature overnight.
You can chill it, if you desire or if you are going to cover with chocolate 2 days after.
Make chocolate coating.
Chop both types of chocolate and transfer into a bowl heat-resistant.
Cook in a water-bath, water must not touch the base from the bowl, and let melt completely.
Remove from the heat, pour vegetable oil and mix until combined.
Let cool until chocolate reduces 104-109ºF. This temperature ensure to get a perfect chocolate coating.
Place a oven rack over a tray and put the cake over the rack.
Transfer chocolate coating into a jar and cover the cake.
Decorate the cake.
Wait a few minutes before decorate the cake, but be careful that chocolate does not get harden.
Place some dried meringues and candied ginger on top. You can dust with some gold lustre food dust if you desire.
Place little pieces from edible gold foil.
Let at room temperature until chocolate gets harden.
PRESERVATION: You can store it in a glass container for 5-6 days.
NOTES:
How can I make cocoa meringues? Easily. Once you have made meringue, divide it in two bowls (so you can make white and chocolate meringue). In one bowl add 1 or 1/2 tbsp of cocoa powder and whisk until combined.
Can I omit ginger? Of course, I know that its flavor does not like everybody.
As days pass by, dried meringues will get soft but they will keep its shape.
This chocolate banana cake is easy to make and perfect to enjoy this weekend. I think there is nothing better to have a piece of this cake in the afternoon… or mid-morning. I am sure that this will made your day.
Have a nice weekend and see you on Monday 😉
Eva