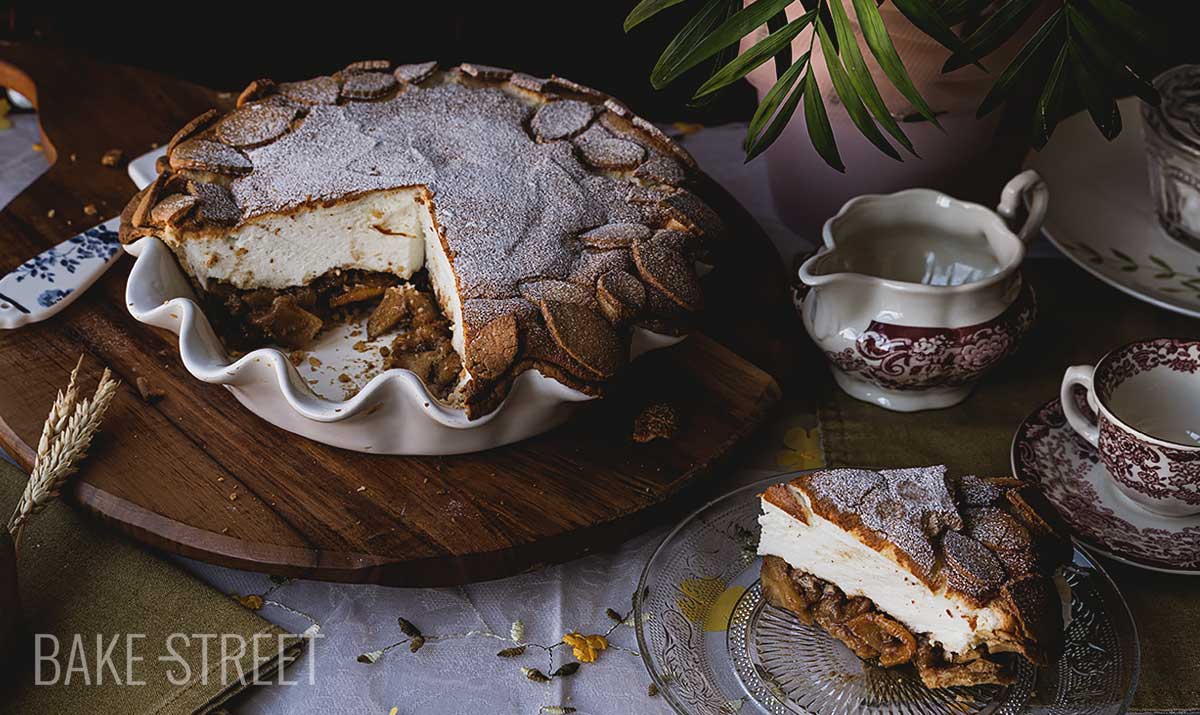 Yogurt apple cake
Este post también está disponible en Spanish
Today's recipe will fascinate you for several reasons, but the main one is that it is very easy to make and it is done in no time at all. This Yogurt apple cake is extraordinary, both in taste and texture. But, in addition, it is one of those preparations that do not require complex ingredients to find. I know that this is something that you value a lot, recipes made with easy, inexpensive ingredients and that leave us with an exceptional result.
It is not always easy to find this type of elaborations, but when they cross my way, I never hesitate to share them with you. You already know that I always like to give a little twist to the elaboration process, but on this occasion I have tried that the main thing is the simplicity in the elaboration.
Making yogurt apple cake.
I saw this recipe for the first time on YouTube. From there, I started looking for it and I saw that it was a recipe that at the time (I'm a little late) was made a lot. As much as I have tried to look for its origin or provenance, it has been completely impossible. I have searched in Google with all the definitions you can imagine and nothing came up. I suppose it is a simple recipe that, later, has been evolving in each person until arriving to what I show you.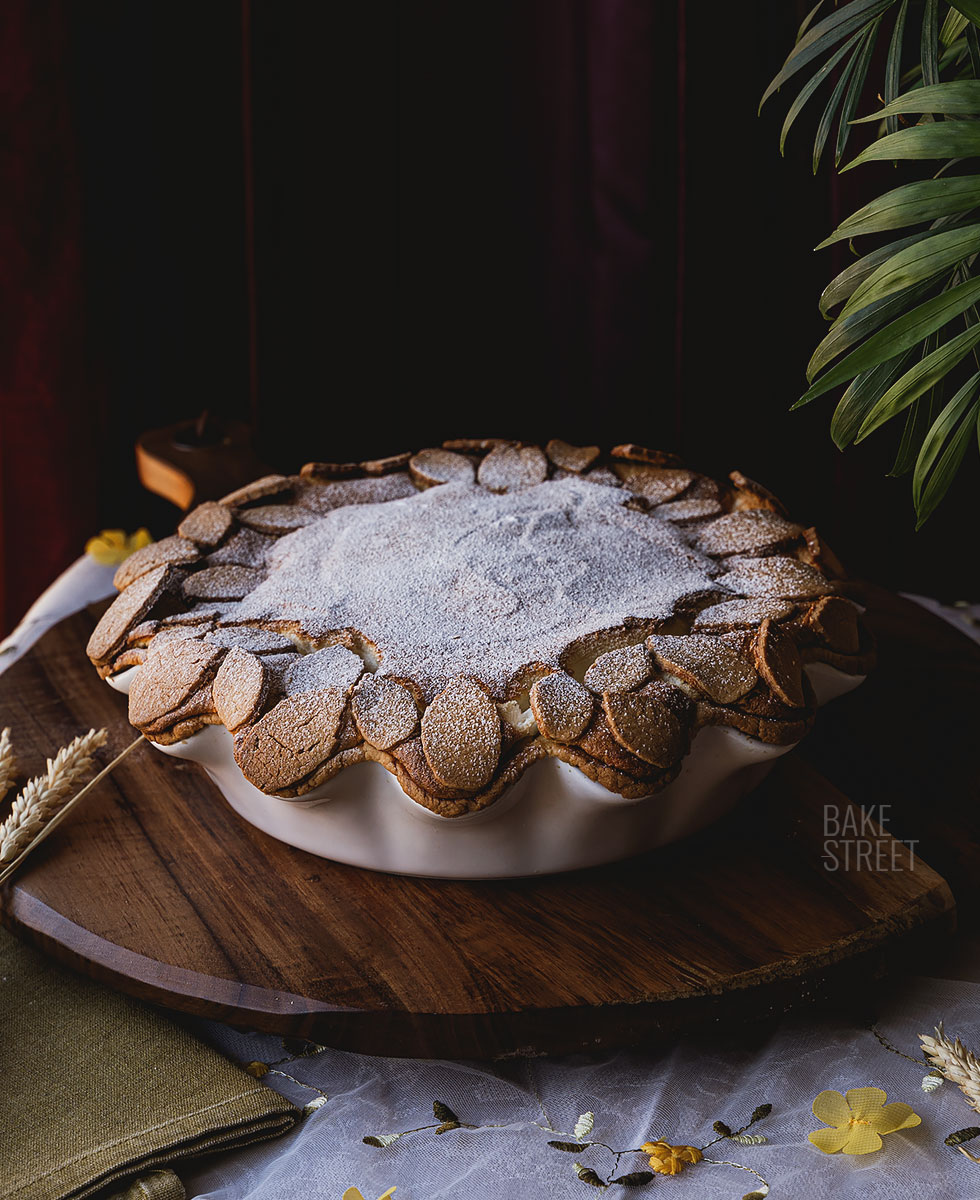 The first preparation I found is this one, from 3 years ago, it is not quite the same because it incorporates the yolks in the yogurt cake, but it is very similar. Later, I found this one and this one, from 2 years ago, which are carried out in the way I show you. And well, there are many…. The same or with small differences.
If any of you know anything about this cake, you know that I welcome the information with open arms. And I am very grateful in advance 🙂
All the cakes I have seen have yogurt cake in common. Some of them use a fruit base, I would dare to say that it can be made with any of them. Of course, we must cook them beforehand to prevent them from releasing juices during baking.
The top is usually decorated with a kind of crumble made with the same dough we have used for the base. Not in all cases, but in most of them.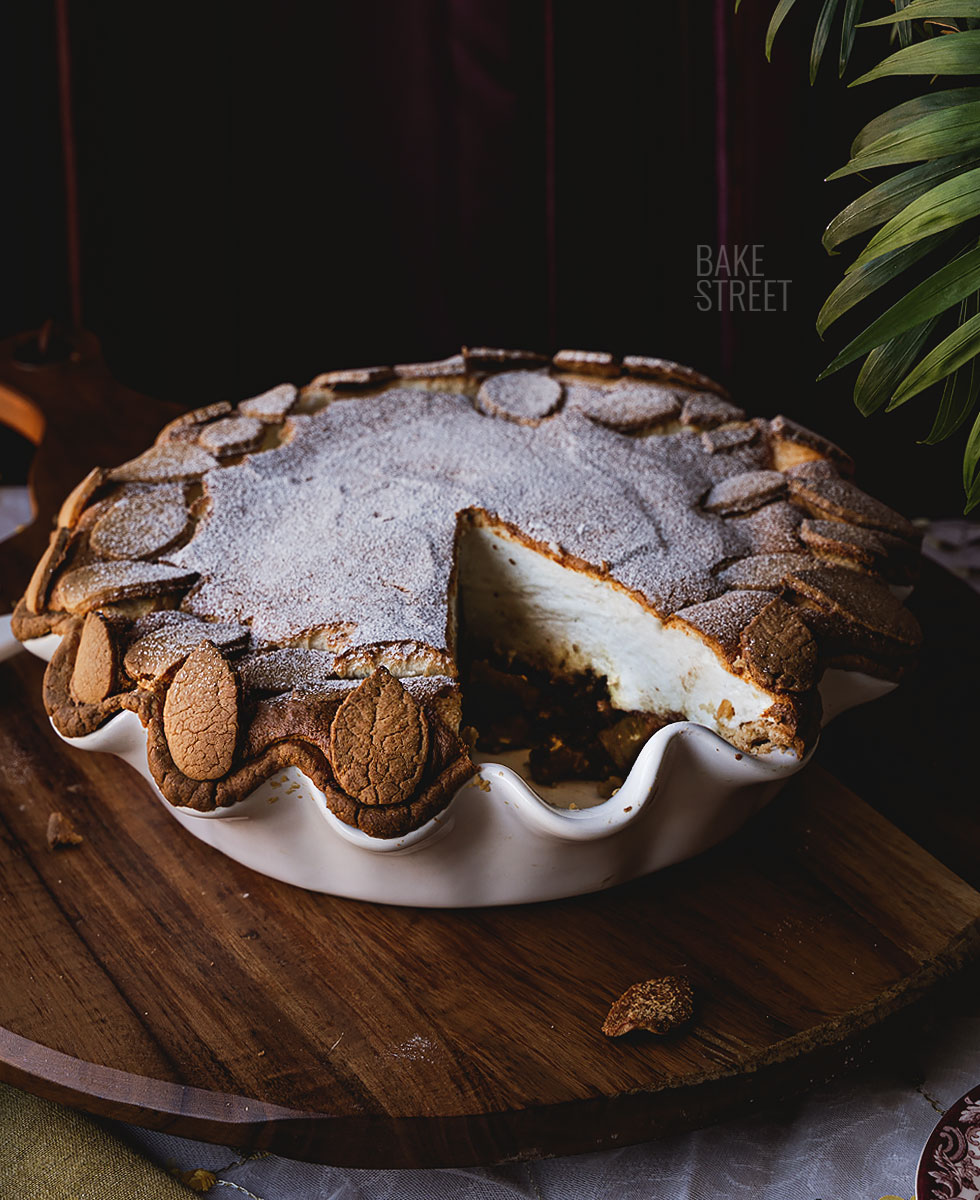 In my case I chose to make a crust following the same process that almost all recipes use. One thing I liked was that we used whole eggs in two parts of the recipe. The egg whites are used for the yogurt cake and the egg yolks for the base. Many times we come across recipes that leave out part of this ingredient and, if they are the yolks, it is usually more annoying… They last less in the refrigerator and freeze very badly.
The Greek yogurt cake is suitable for celiacs because it does not contain gluten. And the result is very good both in taste and texture. But, for the cake to be suitable for celiacs, you would have to adapt the recipe for the crust. I'm sorry I can't leave you a recipe from my website that can be useful for you, I have to work more in this area.
The filling, in my case, is a spiced apple with walnuts. Very similar to the one I make when I prepare apfel strudel. But, as I mentioned above, you can use any fruit you prefer. Even jam.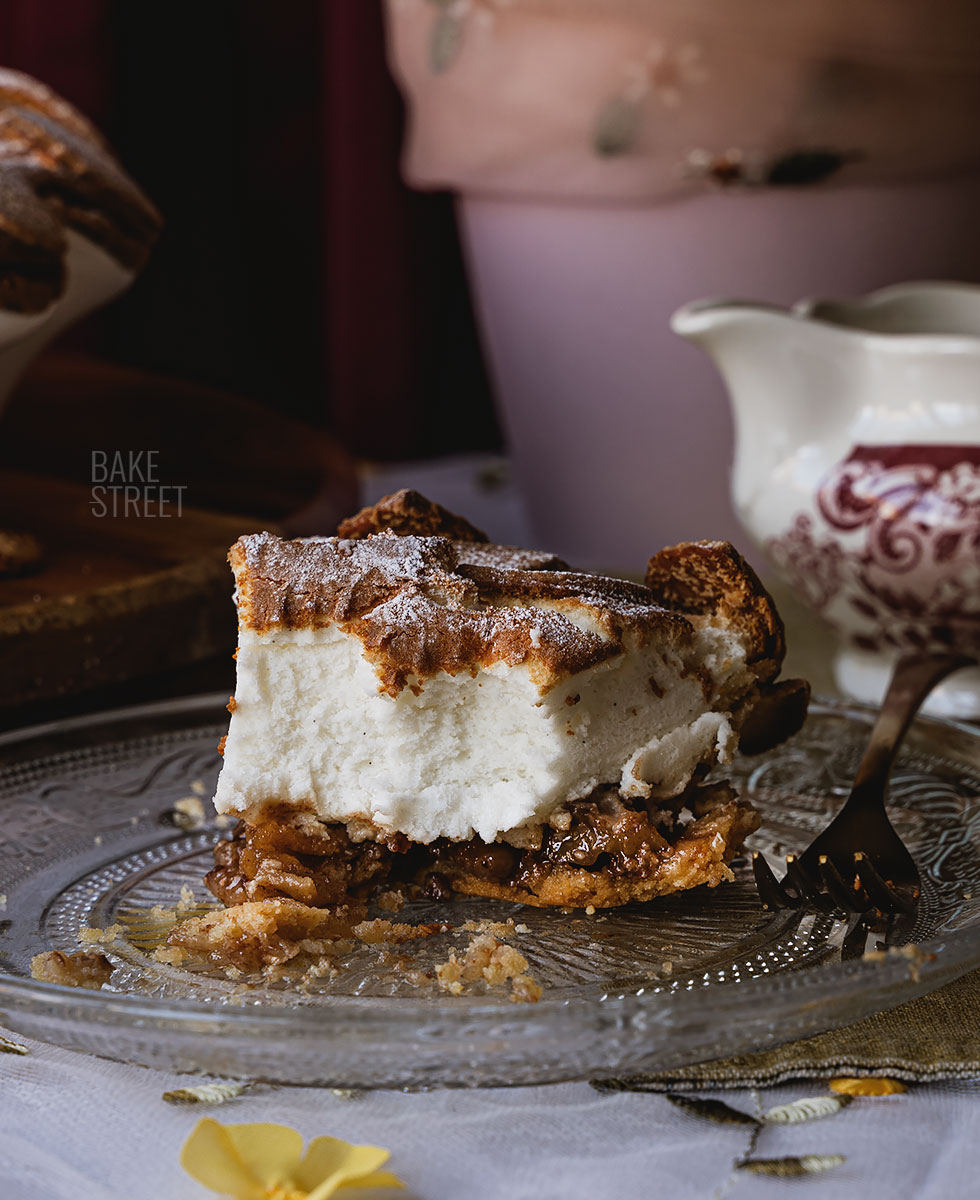 At first I thought to carry out the same appearance above, with the crumble dough (which is not really a crumble as such), but just so you can understand me well. But, the day I set out to prepare it, I thought it would be better to make a top decoration with leaves. The look is very autumnal and, in addition, we vary a little the presentation.
To present the cake I used this ceramic curly mold, but it can be done in a round mold, preferably a removable one. For these quantities you will need a mold of approximately 24-25 cm and the cooking times will be the same as those detailed in the preparation process.
Recipe yogurt apple cake
Ingredients for a mold of 26 cm top diameter, 6 cm height and 21.5 cm bottom diameter
CRUST:
4 large egg yolks
300 g cake flour
90 g powdered sugar
90 g unsalted butter, melted and cooled
5 g baking powder
4-5 teaspoons water
pinch of salt
APPLE NUTS FILLING:
3 Fuji apples
juice of half a lemon
90 g sugar
50 g unsalted butter
2 teaspoons cinnamon powder
1 teaspoon of powdered ginger
1/4 teaspoon nutmeg
80 g walnuts
GLUTEN FREE YOGURT CAKE:
500 g Greek yogurt, unsweetened
50 g cornstarch
4 large egg whites
130 g sugar
2 teaspoons vanilla extract, natural
pinch of salt
MATERIAL WE WILL NEED AND VISIBLE IN THE VIDEO:
*These products you have a 5% discount on the website Claudia&Julia using this code BAKESTREET. Delivers throughout Europe.
Instructions
Prepare the crust.
In the bowl of the KitchenAid, add the egg yolks along with the salt and powdered sugar.
Cover the bowl with a cloth, to avoid a cloud of sugar, and beat with flat beater or butterfly attachment until homogenized.
Incorporate melted butter and beat until both elements are fully integrated.
Begin to add the flour, previously mixed with the baking powder. We will do it little by little at the same time that the mixture is beaten at the lowest speed.
Mix until a more or less homogeneous dough is obtained.
Transfer to a clean work surface and start working with your hands. We will knead trying to obtain an amalgamated dough.
You may need to add a little water to the dough to prevent it from being too dry and crumbly. Do it little by little and kneading each time to observe the final consistency. The amount of water will depend on the size of the yolks.
Roll out the dough, with an adjustable rolling pin and a thickness of 2 mm, between two sheets of Teflon or silpat. We will give a larger diameter to the mold.
Refrigerate for 1 hour.
Place the dough on the mold and attach it to the mold without pressing the dough. We adjust it perfectly, but without putting too much pressure on it with our hands.
Run a rolling pin around the edges, so that we can remove the excess dough so that it fits perfectly.
Refrigerate while preparing the filling.
Knead and stretch the excess dough again. Place it in the refrigerator until it hardens again.
Once the dough is cold, we will cut sheets of different sizes with the help of a cutter with an ejector. Although we can use another cutter that we have at home.
Refrigerate until we need them to decorate the cake.
Prepare apple and nuts filling
Peel and core the apples. Cut into quarters and these in slices of ½ cm approximately. We will get about 2-3 slices of each portion.
Place the sliced apples in a large bowl and sprinkle with lemon juice to prevent them from oxidizing.
Prepare a large frying pan and place over medium high heat. Add the butter and let it melt.
Incorporate chopped apples and sugar. Cook over medium heat for 18-20 minutes, stirring occasionally.
When the apples release their juices, add the spices and mix to distribute evenly. Cook until the juices are reduced enough to obtain a kind of caramel. At this point, add the walnuts and mix again. The texture of the apple should be tender, but slightly firm.
Remove from the heat and let it cool completely.
Prepare yogurt cake.
In a large bowl add the yogurt together with the corn starch. Mix until completely homogenized.
With the egg whites we will prepare a French meringue. Incorporate the egg whites in the bowl of the KA or stand mixer together with a pinch of salt. Begin to whisk.
Once frothy, add the sugar in batches. We will do it little by little and wait for it to integrate before adding more.
Before we finish whipping the meringue, add the vanilla extract.
Whip the egg whites until the meringue is firm and glossy.
Add the meringue to the yogurt mixture. We will do it, once again, in batches. Add a little meringue and incorporate with the help of a whisk. We will make enveloping and smooth movements to prevent the meringue from losing air.
Bake.
Preheat the oven to 338ºF/170ºC with heat up and down.
Take the mold, lined with the dough, out of the refrigerator and place the apple filling into the base. Level the apples with the help of a silicone spatula.
Pour the yogurt cake batter over the apples. Make sure to cover each hole well and, once everything is incorporated, smooth the surface.
Decorate the edge of the cake with dough leaves that we had reserved in the refrigerator.
Bake, at medium height, for 50 minutes. During baking, the sponge cake will rise very much and will crack in the area of the leaves. This is completely normal.
After this time, turn off the oven and let the cake stand inside (with the door closed) for 15 minutes.
Remove from the oven and let it cool completely on a wire rack. Once the cake has cooled, the yogurt cake will have lost volume. This is normal and correct.
Just before serving, if desired, sprinkle the surface with powdered sugar.
Notes
I have used a curly mold, but it can be made in a round or square mold (preferably removable). With these quantities, the dimensions would be a mold of 24-25 cm in diameter.
I advise you to let the dough (crust) rest a little in the refrigerator before placing it in the mold. It will be much easier to line the inside, in addition to achieving a uniform thickness.
To roll out the dough I recommend using an adjustable rolling pin, whenever possible.
Refrigerate the mold with the dough to help it harden and keep its shape after baking.
The apple filling can be changed for any other fruit of your choice. You can add the spices or omit them, as well as the nuts.
Yogurt cake is suitable for coeliacs because we do not use gluten flour. If you want to adapt the whole recipe, you will have to use a base made with gluten-free flour or flour made with nuts.
I advise you to follow the times and steps that I detail in the cooking process to get a good result.
In my case I leave you this suggestion of decorating with leaves on the edge. But, many other elaborations that I have seen, grate the raw dough on the surface before baking the cake or have flakes of dough.
Top decoration is entirely up to your taste. In this case, I opted for sprinkled powdered sugar.
We can keep it refrigerated for 4-5 days. I advise you to cover it with plastic wrap to prevent the cold from drying it out in the refrigerator.
*You have a
 5% discount
on the website
Claudia&Julia
using this code
BAKESTREET. Delivers throughout Europe.
I can only encourage you to try this Yogurt apple cake... Easy, economical and incredible delicious. It is one of those recipes with which I guarantee you will always succeed. It is very good and will not give you much work when preparing it. Fact that I know well that you value very much.
For my part, I wish you a wonderful Sunday and, of course, I am looking forward to seeing your creations!
I remind you that you can watch all my videos on my YouTube channel. If you subscribe and activate the little bell, I will be eternally grateful to you!
Lots of love,
Eva
This post contains affiliated links.
Archivado en