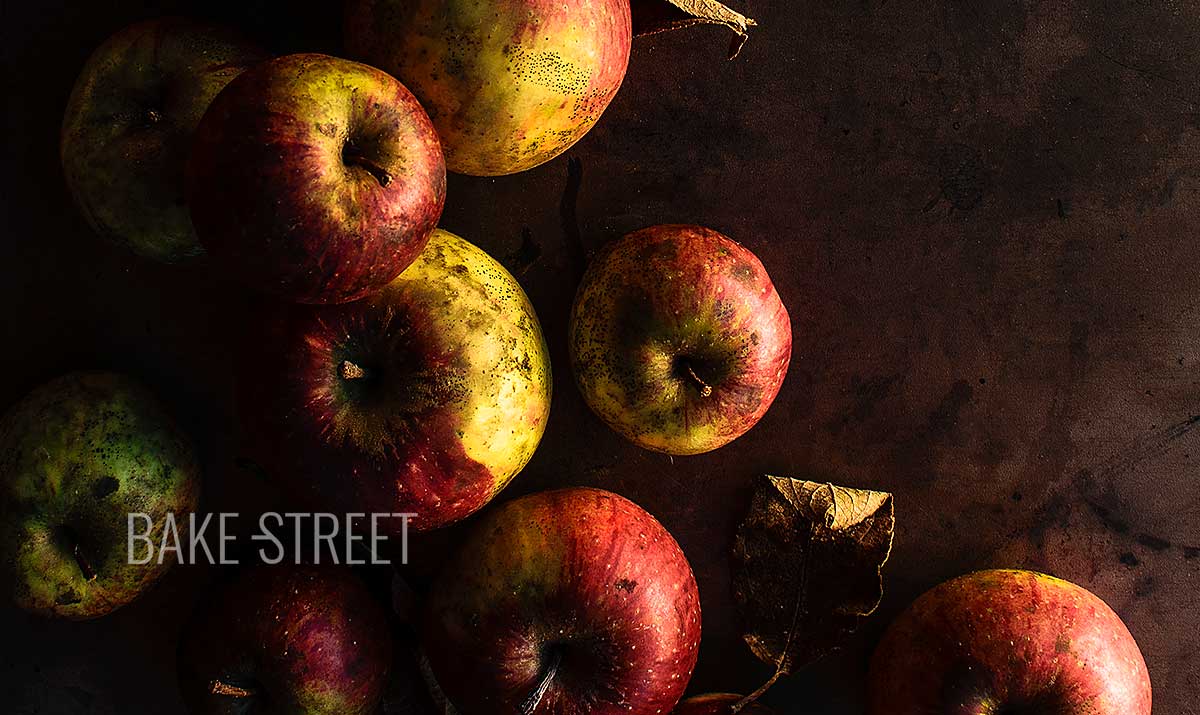 Bourbon Apple Butter
Este post también está disponible en Spanish
I had long wanted to make this Bourbon Apple Butter, I couldn't wait to put it into practice and taste it. his had to be a flavour show! And with apple…
The truth is that I was waiting for some good friends of ours, thanks Bea and Rafa (I love you!), to bring us apples from Sebrayu (Asturias) that they grow to make cider.  Yes, they brought them to me from there, and I welcomed them with open arms. Like everything that comes from that wonderful land that has stolen my heart.
When I saw them, I loved them, so different from what we usually find in the markets. All with a different size, with that rustic touch, even some of them bruised from falling to the ground… And, of course, cultivated in a natural way. I love them just the way they are without being perfect.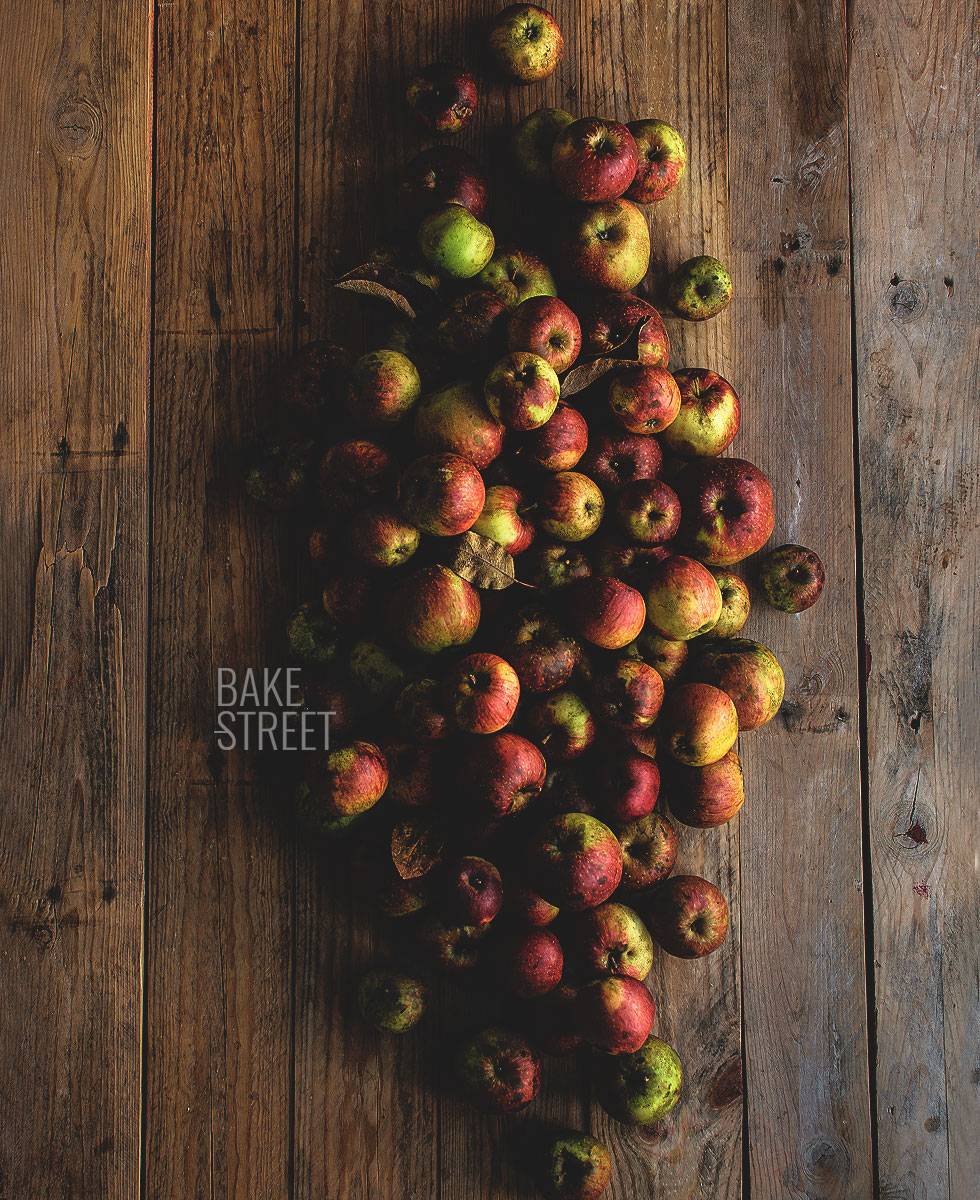 Why name it apple butter if it has no butter?
I would dare to say that this definition is given by its soft, silky and spreadable consistency that reminds us so much of butter, as we know it (if you want to encourage yourself. Its flavor is not like a compote, with an extremely sweet taste. We will obtain a paste with a creamy consistency of slightly sweet flavor and aromatized the way we prefer to do it. In this case, bourbon and orange.
When was my first encounter with this wonder?
The first time I learned of the existence of apple butter was through the book "Mastering Fermentation" a couple of years ago. I freaked out, I assure you. I left it on my to-do list, but I didn't put it into practice… Many times our work accumulates.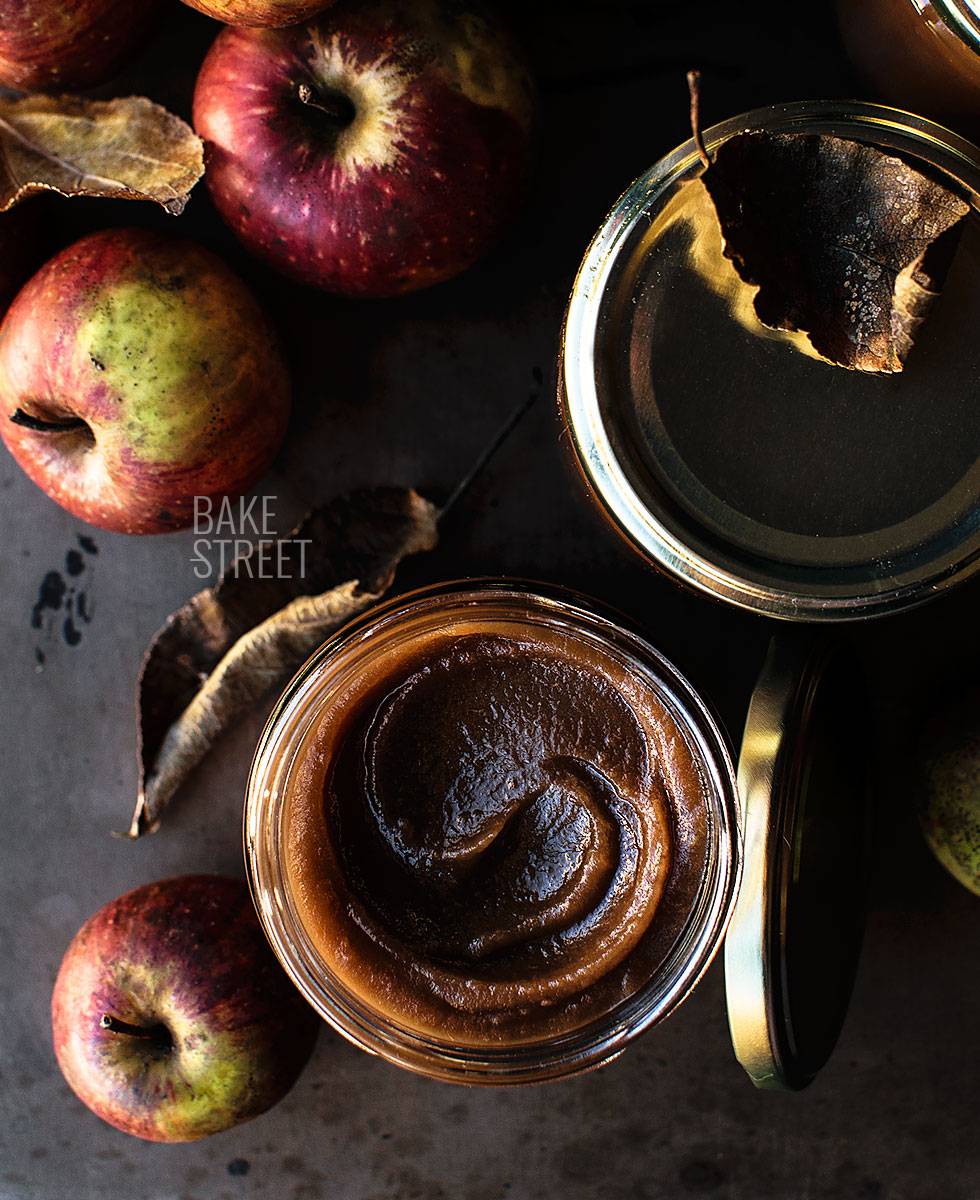 Over time, through Pinterest, I found it again. I've already started to do a little more research and I've seen several ways to do it. The vast majority with spices where cinnamon predominated. But one of those recipes made me fall in love with it; apple, bourbon and orange… There can't be a more tempting combination! So this was my choice, Marisa's recipe from the blog "Food in Jars". Thank you so much for this incredible combination!
Putting the recipe into practice.
Unlike the method that they share in the book "Mastering Fermentation", carrying out a fermentation process, I have chosen to cook it over a low heat (for an eternity) to obtain a fascinating result. When cooking at low temperature, any food, we favor that its flavors concentrate and amplify, obtaining softer textures. It's really worth it.
Don't worry, in the recipe I explain in detail how to carry out the process without having to take away hours of sleep 😉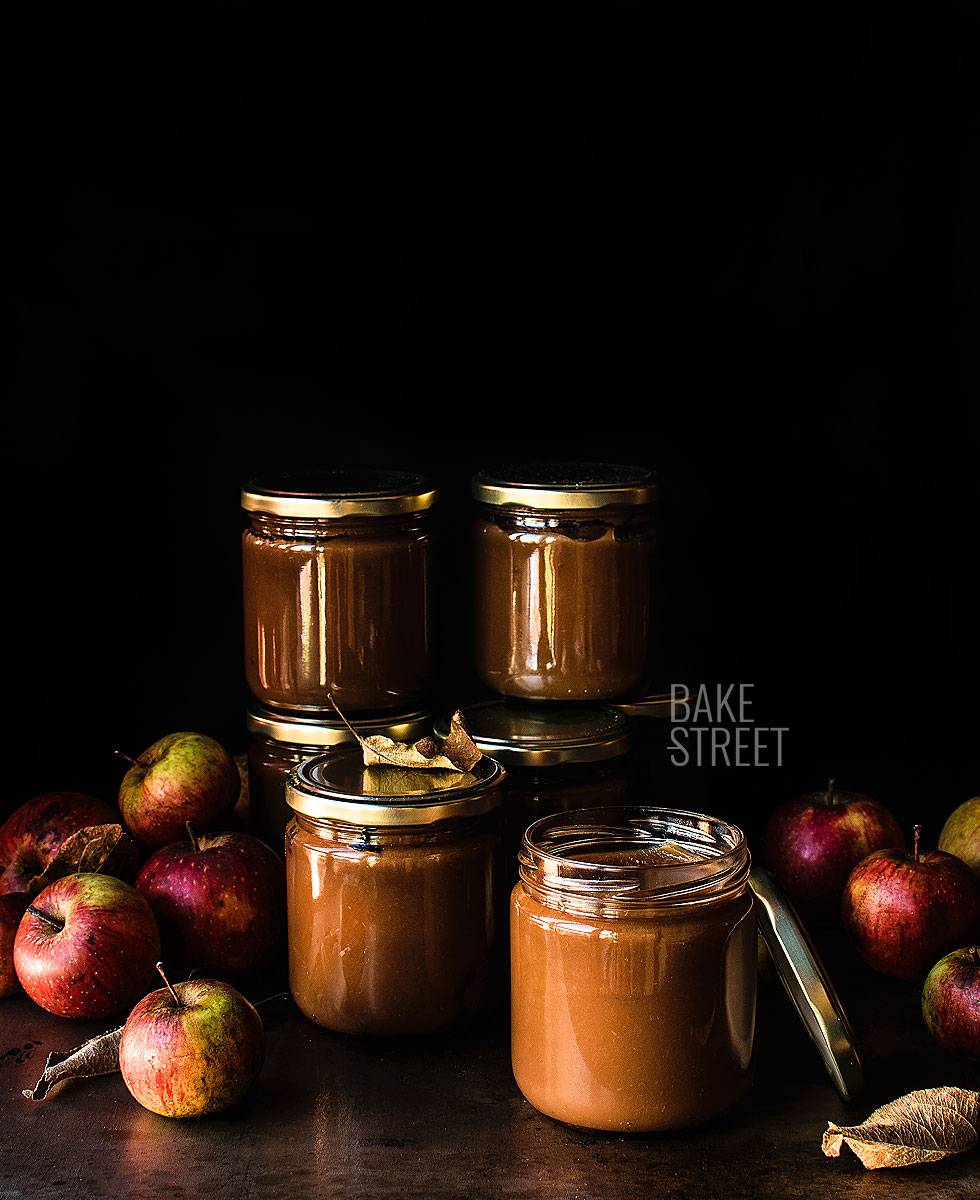 This recipe totally moves me to a life in the countryside, a house in the mountains, with green meadows, sunrises of warm colors… And I can't help but remember this song which is how it makes me feel. Pretty corny, but it's just like that, hahaha.
Ingredients
With these quantities, 7 bottles of 11,3 oz (320 g) each are obtained.
7,3 pounds (3,300 g) apple clean, peeled and seedless
23,2 oz (660 g) water
7 oz (200 g) de Bourbon whiskey
5,1 oz (145 g) muscovado sugar
one orange zest
Instructions
Clean the apples.
Peel the apples, remove the core and cut them into chunks. Since there are a lot of them, we could ask for some help... ;)
Make the Bourbon apple butter.
Add all the cut apple into a very large pot.
Pour the water together with the bourbon and place at medium low heat. Cook for 60 minutes stirring occasionally. The apple should soften and purée.
Remove from the heat and blend. We must obtain a very smooth and silky texture, similar to a cream.
Add the muscovado sugar along with the orange zest and mix until combined.
Put over low heat. My vitroceramics has values ranging from 1-9, so I placed position 2.
Cook for 17 hours stirring occasionally with the lid half open. Sounds crazy, but in the notes I tell you how to do it. Calm.
In the second batch of cooking, that is to say halfway through, we will remove the lid.
Remove from the heat and bottled.
Put in jars the apple butter.
Fill the jars with the apple butter, previously sterilized.
Close with its corresponding lid and place it face down to cool completely.
Store in a cool and dry place.
Notes
What kind of apple can I use? I daresay any variety of apple. if we use an acid variety, the result is likely to be somewhat stronger. In my case, I have used apples, whose purpose is to make cider.
Is it essential to use sugar? Probably not, but it helps to highlight slightly the final sweetness. We are not talking about a very pronounced sweetness, on the contrary, it is very subtle.
Can I use another sugar variety? Of course, whether it's white sugar, brown sugar... I've used this variety of raw sugar that I like to use whenever I can.
Is it essential to add bourbon? No, not at all. Of all the varieties of apple butter I found, this was the one that caught my eye the most. But you can make this recipe by omitting this ingredient and adding spices, if you wish.

Can I make less than the amount you specify in the recipe? Of course. In my case I use a lot of apples because I got ton oh them, in fact in this recipe I haven't used 1/3 of them... Besides that, given the time it takes to carry out the recipe, I think it's good to get as much out of it as possible.
How do I cook so many hours at a time? It is very complicated to do all the cooking time at once, for that reason I decided to do it in two parts of 8 and 1/2 hours each. I started cooking it at 4:30 p.m. and turned it off at 1:00 in the morning. The next day, continue cooking from 9:30 to 18:00 in the afternoon. With this in mind, you can adjust the schedule to make it easier.
If I have Slow Cooker/Crock-Pot, can I do it there? Of course, in fact I am sure it will be much simpler and more comfortable to carry out the process. And without having to do it in two batches.
How will I know when it's ready? You must observe its texture. It should be similar to a chestnut cream, i. e. slightly thick. When stirring with a spoon, it must maintain its shape on the surface. It will also acquire a more intense golden color due to the caramelization process.
In the last two hours or so, the butter will have a denser texture and it will jump out from time to time. Be careful not to burn yourself with these drops that jump when you stir the butter. Of course, the kitchen tiles will end up "beautiful".
How can I keep it in time? The best option is undoubtedly to store it in sealed jars where it can last for months in a cool and dry place. Once we open the jar, we will store it in the refrigerator for a maximum period of 1 month.
This Bourbon apple butter is a gift from the Gods... Believe me, nothing better than this to accompany your toast in the morning. Well, and that's one of the easiest and quickest combinations I can think of. Because imagine this butter forming part of the filling of a bread, spread on a sponge cake, pancakes, waffles...
However, taking into account the cooking time required, I would recommend you to try it in large quantities on the day that you want to try it. You can keep it for a long time if you can the apple in sealed jars, just like a jam. And get help to peel so much apple! I did it myself. To tell you the truth, it was my "half lemon" who peeled all the apples! In return he has this marvel for his breakfasts ;)
Big hugs and wishing to see yours,
Eva
Archivado en