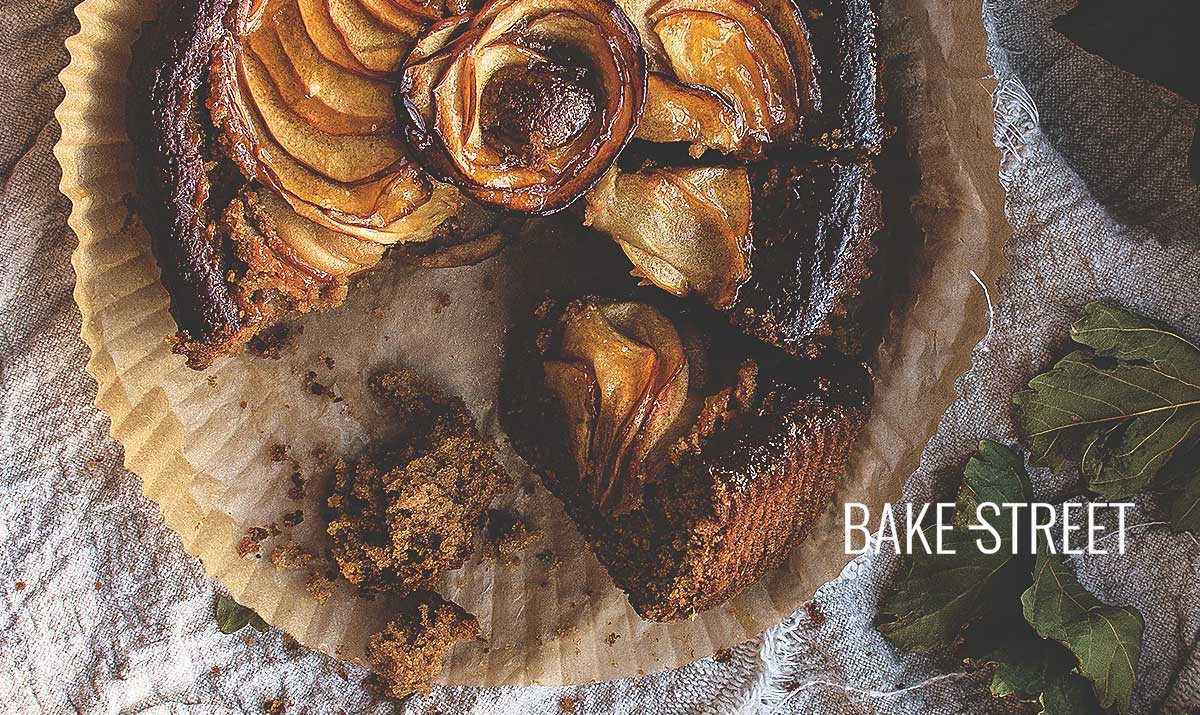 Almond, apple and cinnamon sponge cake
Este post también está disponible en Spanish
Sponge cakes are not only delicious, they can also be beautiful. How much they allow us to do with them and how much we enjoy it. I recently saw in Zak The Baker's account these cakes that he made and I was fascinated by them. How beautiful, for God's sake! Taking advantage of the fact that I also have these wood pans at home, I prepared this almond, apple and cinnamon sponge cake.
The recipe has nothing to do with his, among other things because they are products that he sells for his bakery and we can only see it on his social networks. Unless we are lucky enough to live close by and then we would enjoy all those wonders it does. That's why I tried to look for a sponge cake that I had already worked with before, guaranteeing me a good result. Plus it had enough consistency to dispose of the apples the way he does.
Of all the recipes I've tried, I knew that the recipe for hazelnut and caramel cake would be the best for it. I changed the hazelnuts for ground almonds, replaced the yogurt with crème fraîche (this is a personal taste, I like the silky texture it provides) and added some cinnamon. What better partner for the apple surface?
Wood pans…
These moulds are made of poplar wood and withstand high temperatures, so we can bake in them. Don't worry about them if you can't order them, it can always be done in another round mold that we have. I know that in some online stores they have or have had them and in Amazon I found this same format, but somewhat smaller. But, I insist, in a round mould that you have at home you will be able to do just as well.
Decorating the cake.
The ideal thing is to cut the apple with a mandolin, the reason is that we will give the same thickness to all the slices in addition to achieving a very thin cut that is what interests us. You already know that the apple is very easily oxidized, for that reason you should sprinkle it with lemon juice as soon as you have cut it. And it doesn't take too long to place it on the sponge cake since it will begin to lose firmness.
In my case, I cut the apple while mixing the ingredients of the cake. You're here and there for a while… but it's okay 😉
When decorating the apple on the sponge cake, try to make a crown at the top leaving a hole in the center where we will place more apple slices to simulate the appearance of a rose. And from there, to the oven.
The result?
An extremely tender sponge cake, with just the right amount of sweetness, cinnamon aroma and topped with very fine slices of baked apple…. Add the apricot nappage and there's nothing more to add. Glorious and I think it's too little to define.
A note that I have already mentioned in another post, but I remind you quickly in this one. The nappage will not only be used to make the cake "pretty", but actually, its final appearance is incredibly improved by brushing it. It is also intended to help preserve its freshness with the passage of time. So don't stop using it, especially in sponge cakes of this type with fruit on the surface.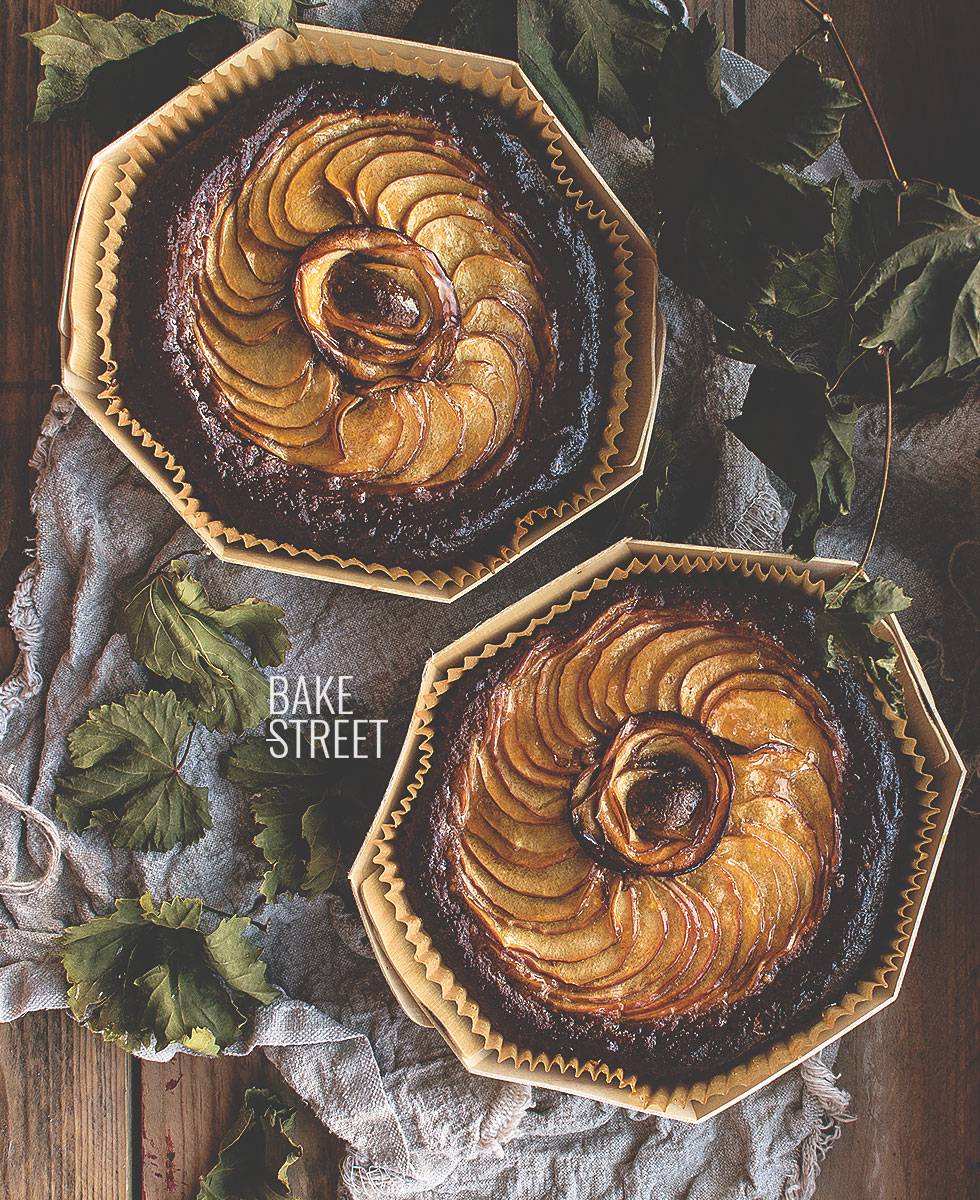 Ingredients for 2 cakes
FOR THE BATTER:
Two  7 x 2 inches (18 x 5 cm) wood pans.
7 oz (200 g) pastry flour
3,5 oz (100 g) ground almond
7 oz (200 g) unsalted butter at room temperature
4 large eggs
2,3 oz (65 g) whole milk
1,75 oz (50 g) crème fraîche
7,75 oz (220 g) dark muscovado sugar
2 tsp baking powder
0,14 oz (4 g) cinnamon powder
1 tsp vanilla extract
pinch of salt
FOR DECORATE:
FOR THE NAPPAGE:
55 g apricot jam
1 Tbsp honey
1 Tbsp water
Instructions
Prepare the apples.
This step can be done while mixing the cake batter.
Wash the apples thoroughly and dry. We won't peel them.
With the help of a mandolin cut the apple into very thin slices.
As the apple will be the actual size of this one, cut in half with a knife. When we find the seeds, remove them.
Place in a bowl, sprinkle with lemon juice and set aside.
Make the batter cake.
Preheat oven to 345ºF.
In a bowl sift the flour together with the baking powder and salt. Set aside.
In the bowl of the KA, add the butter together with the muscovado sugar and mix with the flat beater at low speed until both ingredients are fully integrated. The mixture will become very creamy and increase slightly in volume.
Add eggs one at a time, do not add the next one until the first one is integrated.
Start to add the dry ingredients together with the milk. We'll do it alternating between us. Add 1/3 of the dry ingredients, mix until it is integrated into the batter, add half of the milk and mix until homogenized. Repeat until you add the entirety of both. We should not over-mix the batter, we will only do so until the ingredient we have added is integrated.
Finally, add the vanilla, cinnamon powder and crème fraîche and mix until homogenized.
Bake the cake.
Divide the mixture in both moulds, spread it lightly with a spatula or spoon. Gently tap on a work surface to encourage the expulsion of air bubbles.
Place the apple on the surface, first form a disc with the slices overlapping each other.

Close the circle.

Then we'll make a rose in the middle.

Place in the oven at medium height and bake for 60 minutes or until the stick comes out clean.
Make apricot nappage.
In a small pot add all the ingredients and place over medium heat until they become liquid.
Set aside.
Finish cooking.
Remove, place on a rack and brush the entire surface, apple and sponge cake, with the nappage.
Let it cool completely.
Notes
Can I replace the almonds with another nut? Of course you can, just as if you choose to skip it and replace this amount with flour. In fact, this recipe is based on another one I left for you, this hazelnut and caramel cake (only available in Spanish.
Can I use white sugar instead of muscavado sugar? Yes, you can. The flavor will not be the same because the muscavado sugar has an incredible caramel aroma. Just as this sweetens less than white sugar, so if you decide to change it, add less sugar.
Crème fraîche can be substituted with unsweetened Greek yoghurt.
I used Fuji apple because it's the one I like best, but you can use another one with hard and tight flesh. Under no circumstances use Reineta, it crumbles easily.
The apple should overlap well with each other to prevent the batter from seeping into each other during baking and spoiling the final appearance.
The pan I have used is poplar wood and can be baked in it (in addition to reusing it many times), is this.  It has the same capacity as a 20.5 x 10.5 x 9.5 cm rectangular pan.
When you brush the cake with the nappage, do it in the same direction as the apple slices are arranged. If you do it in the opposite direction, they will rise up and risk damage.
We can keep the cake for 4 days at room temperature or refrigerate it for 7-8 days.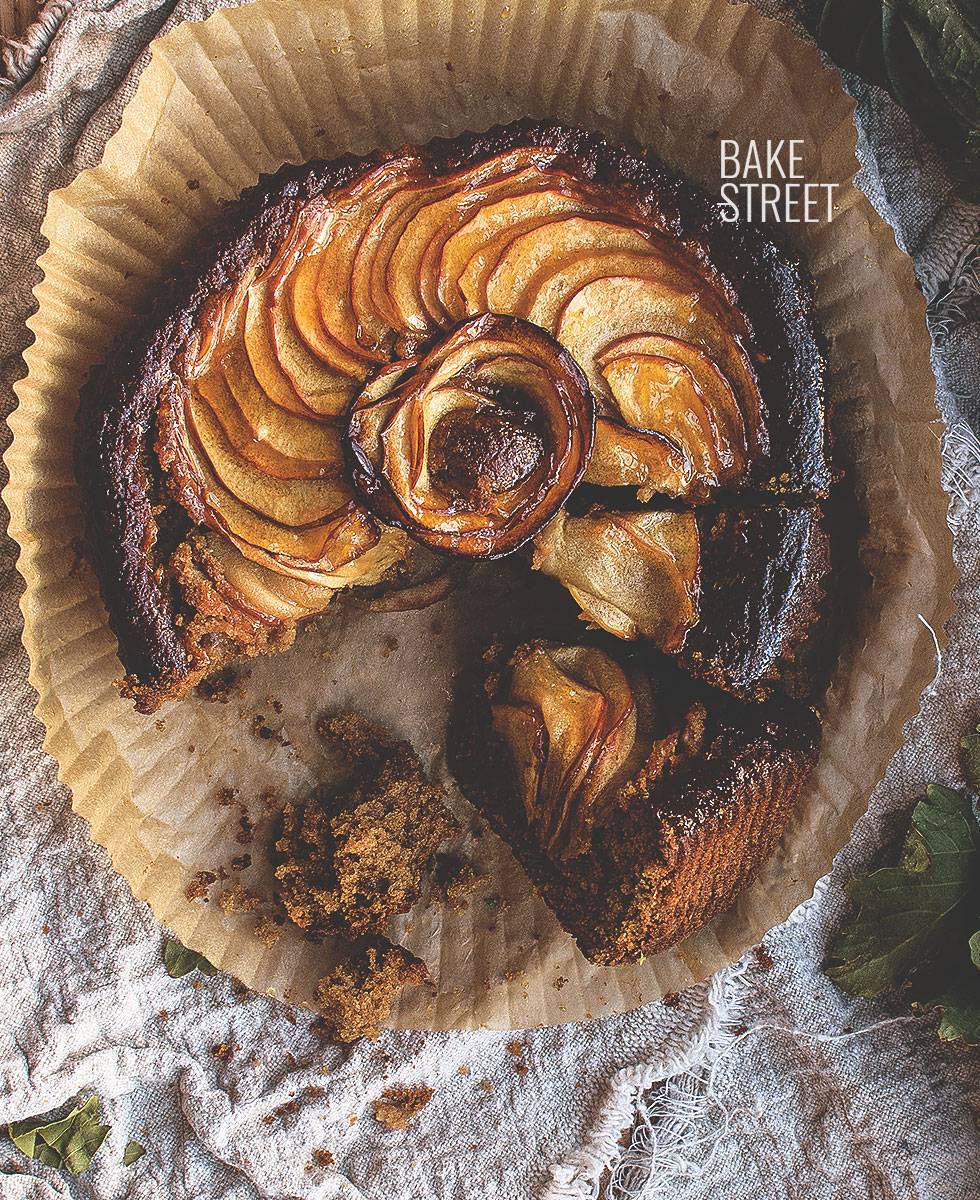 This almond, apple and cinnamon sponge cake can be your ideal companion this weekend. Imagine having breakfast with a serving of freshly brewed coffee or an infusion, if you don't like coffee very much. I'm sure you've got a little smile on your face... a sign that you'll have no choice but to prepare it.
Have a great weekend, see you on Monday!
Big hugs,
Eva
Archivado en