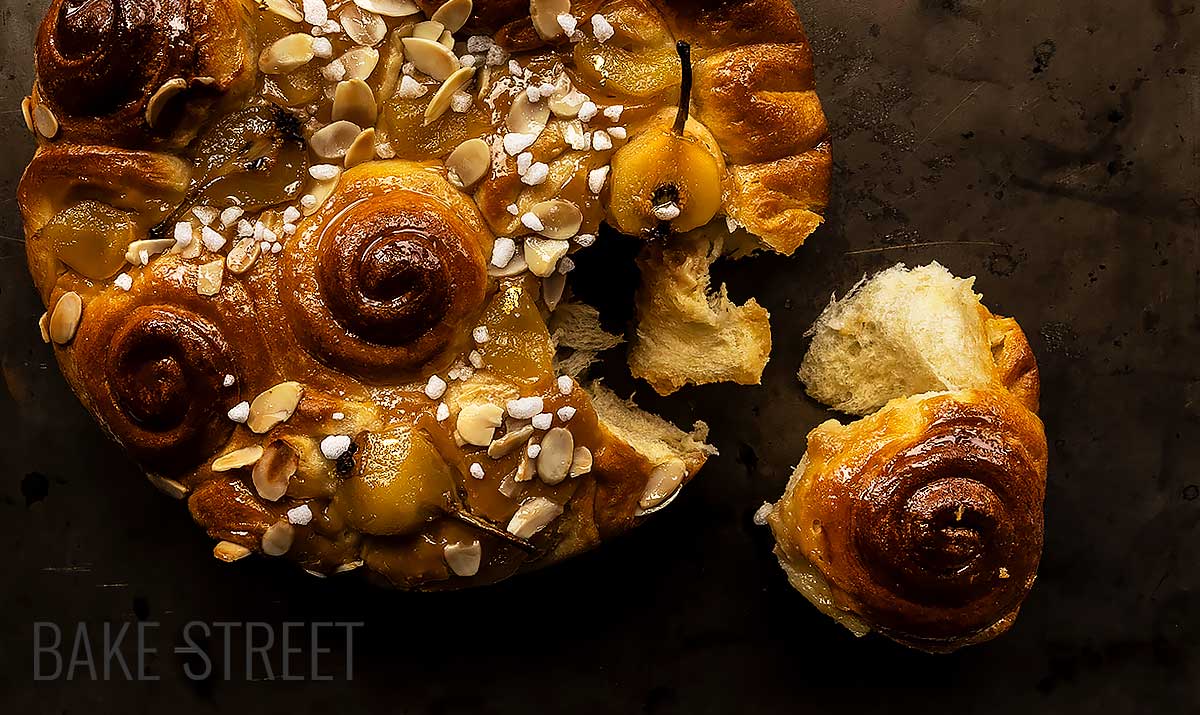 Coca de Sant Joan, pears in syrup and Dulcey cream
Este post también está disponible en Spanish
I like a lot of things about summer, but there is only one thing I don't like anymore… The hot weather. I must be getting older because I used to tolerate these temperatures very well, which I don't do now. But, I prefer to focus on what I like and one of them is to celebrate San Juan night. And what better way to do it than preparing at home your own coca de Sant Joan, this year I leave you a version made with San Juan pears in syrup and Dulcey cream. Besides having a very different presentation to what we usually see.
So, please forgive the purists because this year I have decided to give it a totally different look. I must be a bit rebellious after everything I have been through this last year…. On the other hand, please excuse me because I have been a little bit absent, but it has been for a good cause.
I've been working hard for several weeks to bring out a new online workshop! It is a workshop inspired and based on Street Food, only that everything you learn in the workshop is street food based on bread or doughs. It is a workshop in which we not only learn to cook, knead and bake breads, but also learn many curiosities, ingredients, stories, legends and the origin of each recipe.
I teach you how to elaborate 7 emblematic recipes of street food, although some of them contain between 3-5 different elaborations. For those of you who are curious and want to know a little more, I leave you the link to the unspervised workshop. At the end of the summer, new dates for the supervised version will be available.
Now, let's continue with the recipe I bring you today!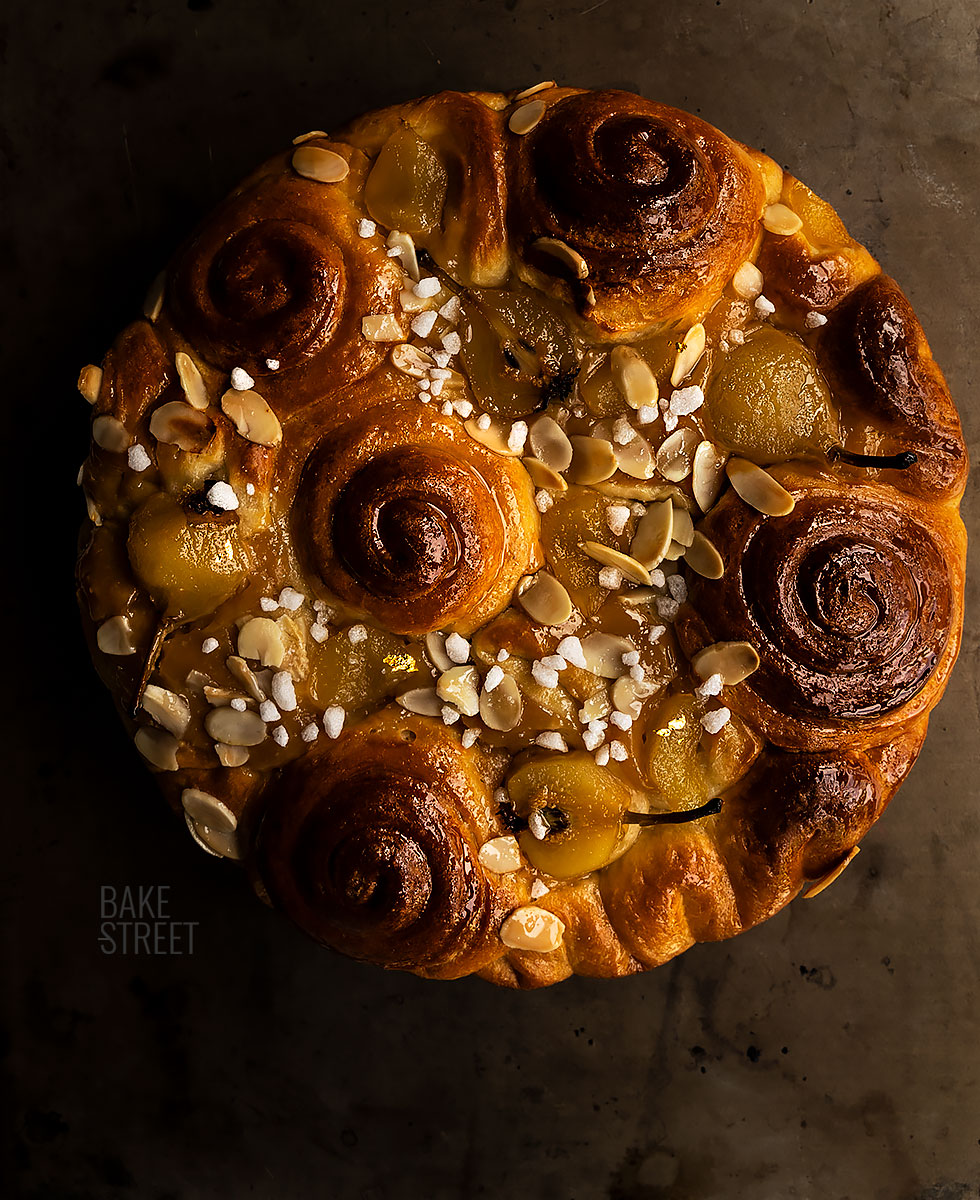 Coca de Sant Joan origin.
Coca is a symbol of tradition in Catalan gastronomy. Its name comes from the Dutch word kokat the time of the Carolingian Empire and has the same root as the word cakein English or German kuchen. They all mean cake.
According to Eliana Thibaut i Comalada, chef of Catalan Cooking School of the Illa de Tet and author of gastronomic books, coca was born thanks to the use of bread dough that had not risen well. Instead of discarding it, the housewives baked it as a flat bread, covered it with sugar and served it as a dessert.
There is a great variety of cocas for San Juan. They are generally sweet and usually covered with candied fruit, although in Campo de Alicante they are usually salted and made with tuna. The recipes vary according to the town in which they are made and in some places in Franja de Aragón, Lérida y las Tierras del Ebro they are called cóc.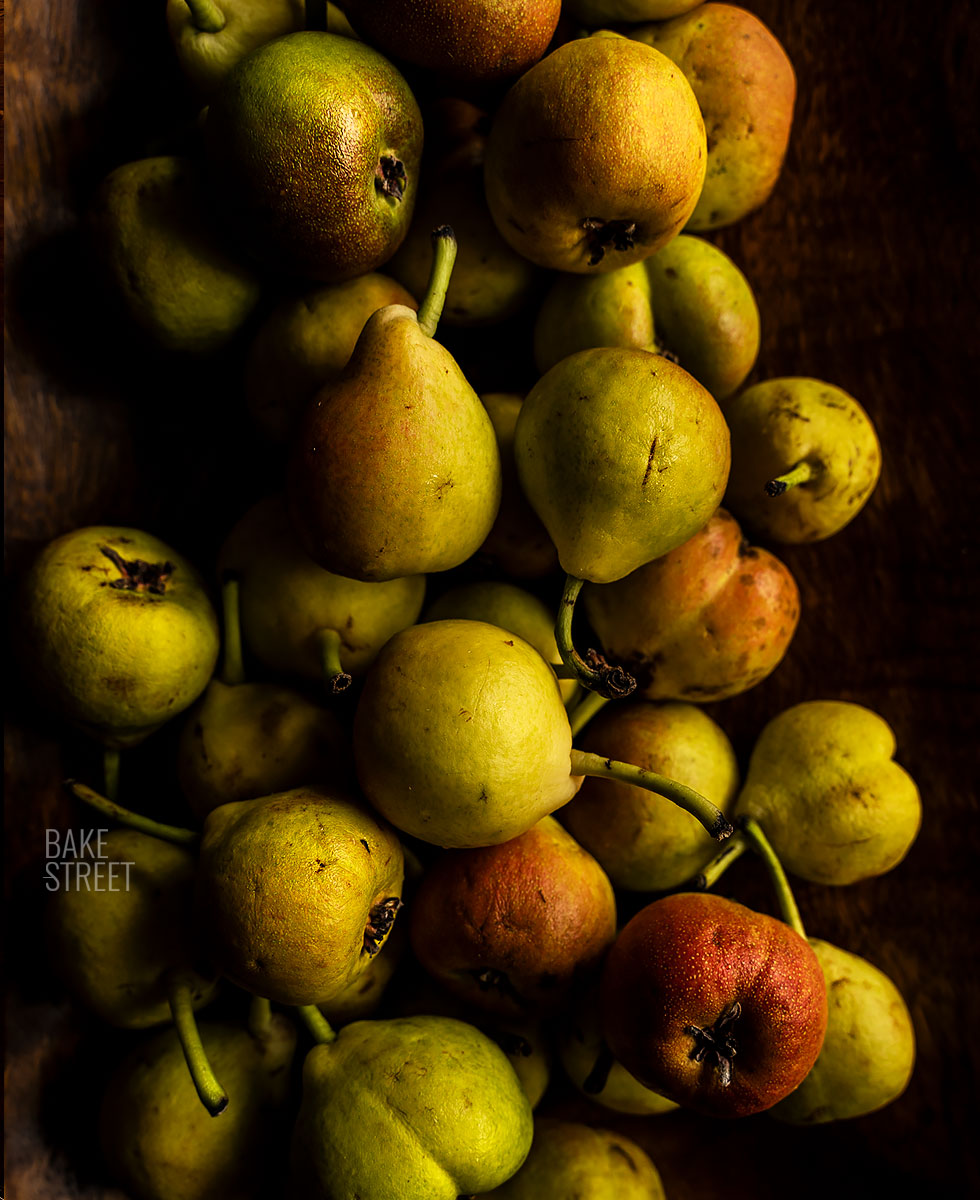 The tradition of eating it on the night of Sant Joan.
Gremio de Pastelería de Barcelona argues that this tradition obeys pagan solar rites that have been preserved for centuries, a night where the sun is the host. This symbolism explains the primitive rounded shape of the coca, a circle with a hole in the middle that emulates the sun.
Originally, the basic ingredient was bread dough marinated in oil, eggs and sugar, baked and with pine nuts as the main decoration. With the appearance of master pastry chefs, new formulas were created and new ingredients were introduced, such as cherries, apricots and all kinds of candied fruits.
The tradition of this sweet is part of the Mediterranean east where it is still very present during the night of June 23rd.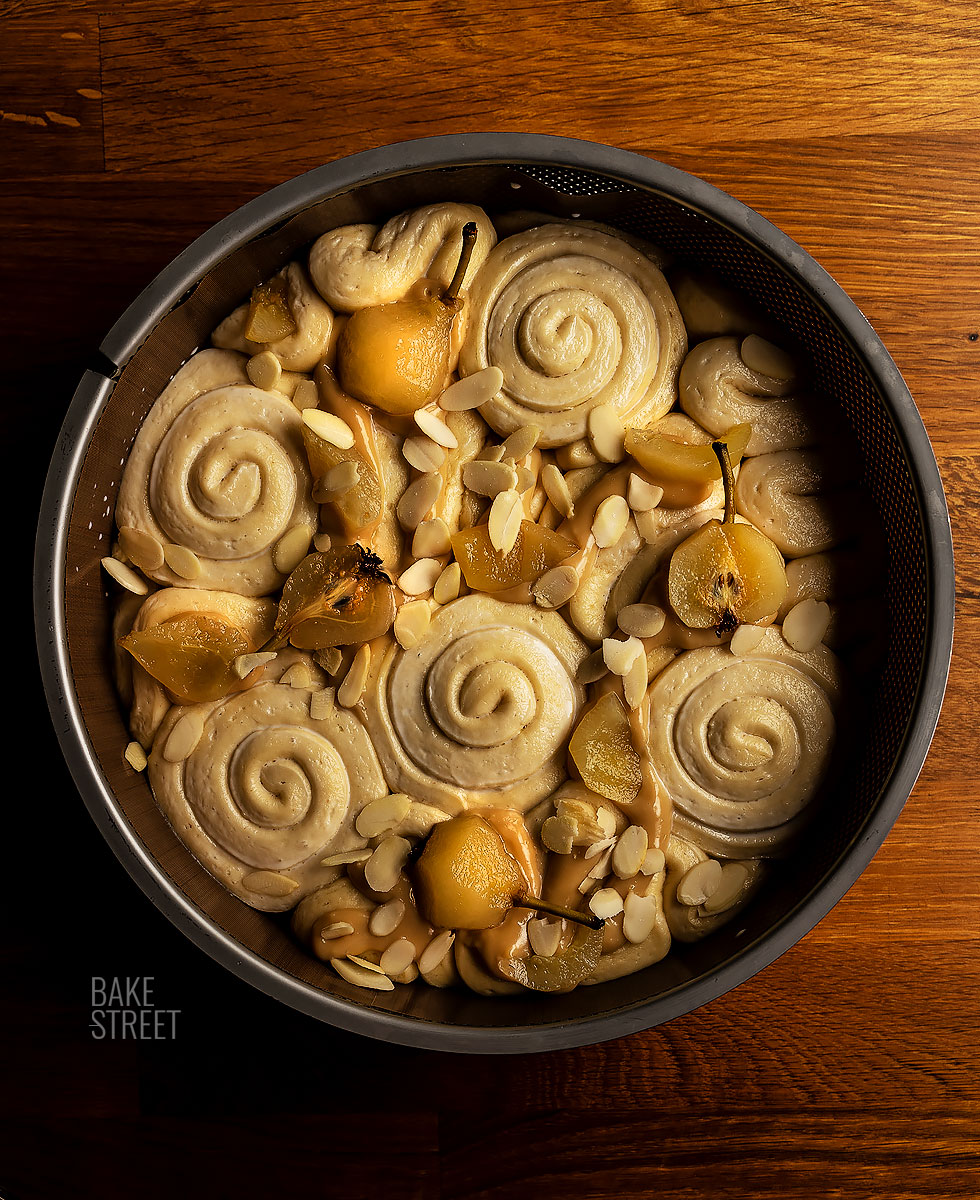 Making my coca de Sant Joan.
On the blog I left you some time ago a recipe for coca with cherries and apricots (old recipe only available in Spanish), as well as the recipe for coca de recapte. This year I wanted to develop a coca recipe with a totally different shape, in addition to achieving an incredibly tender and silky dough. And so it has been. I promise that you will fall in love with this dough, both for its flavor, softness, texture and shelf life. It keeps perfect for 3 days.
The shaping is based on this marvel created by Francois Daubinet. I am in love with this piece from the first moment I saw it, I have pending to make it with a laminated dough, but for the moment I have been able to carry it out with an enriched dough giving shape to this coca de San Juan.
To accompany it I have made a pastry cream with Dulcey chocolate, San Juan pears in syrup, laminated almonds and pearl sugar. I have no words to describe the result, it is truly the best cake I have made to date. I hope you will try it and let me know how it turned out.
Recipe Coca de Sant Joan
DOUGH:
500 g Manitoba flour (W=380-400)
225 g whole milk, cold
110 g egg
55 g sugar
150 g unsalted butter, cold
3,5 g osmotolerant yeast
10 g salt
PEARS IN SYRUP:
1,5 kg San Juan pears or another variety of pears
2,1 l. water
840 g sugar
juice from one large lemon
2-3 cinnamon sticks
DULCEY CREAM:
250 g whole milk
1 tsp vanilla extract
1 large egg
65 g sugar
35 g corn starch
80 g Dulcey chocolate
FOR DECORATING:
whole milk for brushing
sliced almonds
pearl sugar
golden leaf
100 g syrup from cooking the pears
Instructions
FIRST DAY
Make San Juan pears in syrup.
To see how to make San Juan pears in syrup, you can read it in this post. In the video I show you the process of making them.
I have prepared a lot of them, you don't need that much to make coca de San Juan. But I like to make enough to be able to use them to make different desserts or eat them plain.
Make the dough.
In the bowl of the KA or a mixer, add the flour along with the eggs, milk and sugar. Knead until a homogeneous dough is obtained.
Add yeast, knead at low speed for 3-4 minutes.
Incorporate salt and knead again until the gluten is well developed. It will take about 15 minutes.
Once we have a developed gluten, begin to integrate the butter. We will do it in batches and waiting for the first batch to be integrated before adding more.
Knead at speed 1 until the gluten is perfectly developed. The dough will be completely strung on the hook leaving the sides of the bowl clean.
Remove the dough from the bowl of the mixer, make a ball gently and place in a previously greased bowl. Cover with film or its lid, and let rise at room temperature until it grows 1/3 of its volume. In my case it was 1 hour and 20 minutes at 78ºF/25'7ºC.
Refrigerate until the next day. In my case it was 15 hours at 39ºF/4ºC.
SECOND DAY
Make Dulcey cream.
In a medium pot add the milk together with the vanilla, place over medium heat and let it come to simmer. The milk should not boil.
On the other hand, in a bowl beat the egg with the sugar and the previously sifted cornstarch. Mix well with the help of a whisk.
Once the milk has come to a gentle boil, pour a little milk into the egg mixture.
Beat well with the whisks to temper the egg and prevent lumps from forming.
Add the rest of the milk and mix again.
Pour the mixture into the pot and place over medium-low heat, stirring constantly. You will notice that the texture becomes thicker after a few minutes.
Once it thickens, turn off the heat and add the Dulcey chocolate, previously melted.
Stir well until it is completely integrated.
Transfer the cream to a bowl or container, cover with cling film (touching the surface) to prevent a layer that gives it the appearance of a "crust" from forming on top, and let it cool completely.
Once it has cooled completely, refrigerate until the next day if it was made the day before. Otherwise, keep at room temperature until ready to use.
Temper the dough and shape coca de San Juan.
Remove the dough from the refrigerator and let it temper for 1-2 hours before working with it, depending on the outside temperature. In my case I left it for 80 minutes at 77ºF/25ºC. The dough should triple its volume.
Turn the dough out onto a work surface, lightly dusted with flour, and roll out with a rolling pin. We will create a rectangle of approximately 30 x 43 cm.
Cut the dough into 3 cm wide strips.
To shape the coca we will create spirals with some of the strips (rolling them on itself) and with others we will form wavy patterns.
Put the pieces inside the mold. In my case I used a Buyer mold of 24 cm in diameter.
Make final proof.
Once all the pieces are placed inside, cover with film and let it double in size. In my case it was 1 hour 50 minutes at 77ºF/25ºC.
Decorate coca de San Juan.
Put the pastry cream into a piping bag with a smooth tip.
Fill some holes, between folds of dough, with the pastry cream. We will also decorate part of the surface with it.
Brush the surface of the dough with some milk.
Place the pears, cut in half, to decorate the surface. If you wish, you can also put pear quarters in syrup.
Sprinkle sliced almonds over the cream.
Bake.
Preheat the oven to 345ºF/175ºC with heat up and down.
Place the mold at medium height and bake for 40 minutes. Remember that to know if the dough is baked, prick it with a digital kitchen thermometer, the temperature should be around 190º-194ºF/88º-90ºC.
Remove from the oven, place on a wire rack and then brush with the syrup.
Let stand 15 minutes in the mold, unmold and let cool completely on a wire rack.
Once completely cooled, decorate with a little pearl sugar and gold leaf, if desired.
Serve.
NOTE: The syrup we use will be the surplus from cooking the pears. Add 100 g of syrup in a saucepan and reduce by half over medium heat, let it warm while the coca is baking to brush it when it comes out of the oven.
Notes
The flour used is Manitoba with a W=380-400. If you decide to vary the type of flour, this will have a direct impact on the amount of ingredients that enrich and hydrate the dough, it will be necessary to reduce them and adjust the quantities to obtain good results.
Respect all the steps, resting and rising times to obtain a good result both in flavor and in texture and sponginess. The dough is like a cloud, it frays, but it is important to follow well all the steps of the process.
I recommend using a good quality butter because it will affect the final flavor of the dough.

If you cannot find San Juan pears, you can use another variety of pear in syrup. When decorating the coca de San Juan, you can cut segments to decorate the surface.
The cream is made with Dulcey chocolate from Valrhona, a variety of chocolate with 35% cocoa butter, notes of cookie, butter and salt. It can be replaced by another variety of chocolate if you do not have it.
To brush the coca when we take it out of the oven, we will use the syrup from the cooking of the pears. We will need to reduce it because it is too fluid. Place it in a saucepan over medium low heat and reduce it by half before using it. The surplus syrup can be stored in a glass bottle and refrigerated. It will be useful for soaking cakes or brushing similar doughs. In the latter case, it should always be reduced.
The almonds can be replaced by hazelnuts if you wish or use only pearl sugar.
It keeps in perfect condition for 3-4 days wrapped in film or in a zip bag.
I hope to be on time for all of you who are thinking of preparing a coca de Sant Joan this year and celebrate this magical night. To be honest, it had been a couple of years since I had prepared this sweet at home, but this year I have committed myself to celebrate everything that can be celebrated. Because in the end, that's what we take with us. Good experiences and moments.
It is a recipe that will not give you much trouble, it is quite easy to carry out, only that we must and we have to carry out, each and every one of the steps. The result is worth a lot.
In case you do not want to innovate with the shaping, you can always divide the dough in two pieces and form them in the traditional way. Then pipe the cream on top, decorate as you like and that's it.
I wish you a wonderful and incredible Sant Joan's night!
Big hugs,
Eva
Sources: Pastelería
Archivado en