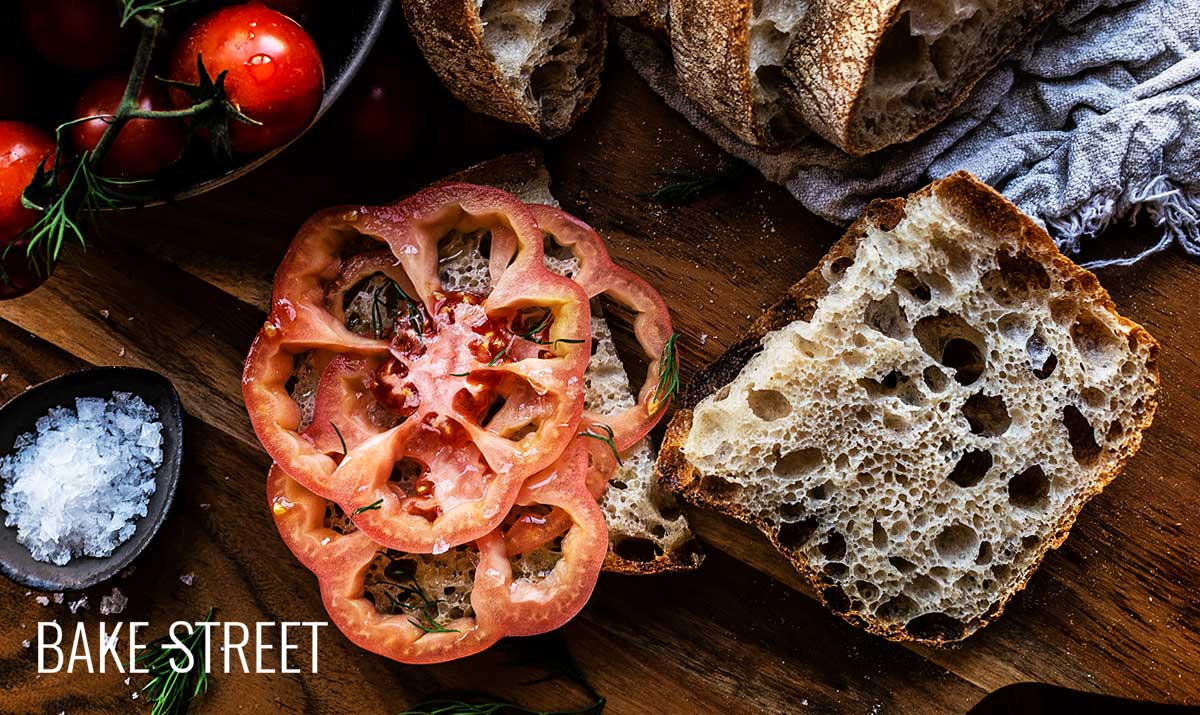 How to make Coca Bread, Catalan bread
Este post también está disponible en Spanish
If there's one thing that can't be missing from our tables, it's bread. But if we can also do it at home, then we can guarantee that it will be enjoyed twice as much. Not only because of how wonderful the process is, but also because of the difference in taste, texture and aroma. When it comes to making bread at home we can find a wide range of possibilities, without adding all those that we ourselves want to create. On this occasion we are going to see how to make the famous Coca Bread at home.
This type of bread is very similar to crystal bread. It is a slightly flattened bread, with a very thin and crispy crust, accompanied by a very light and airy crumb. Undoubtedly the perfect choice to use it as an accompaniment or to enjoy it as a base for a coca. For example, using the same ingredients that we used to make Coca de Recapte.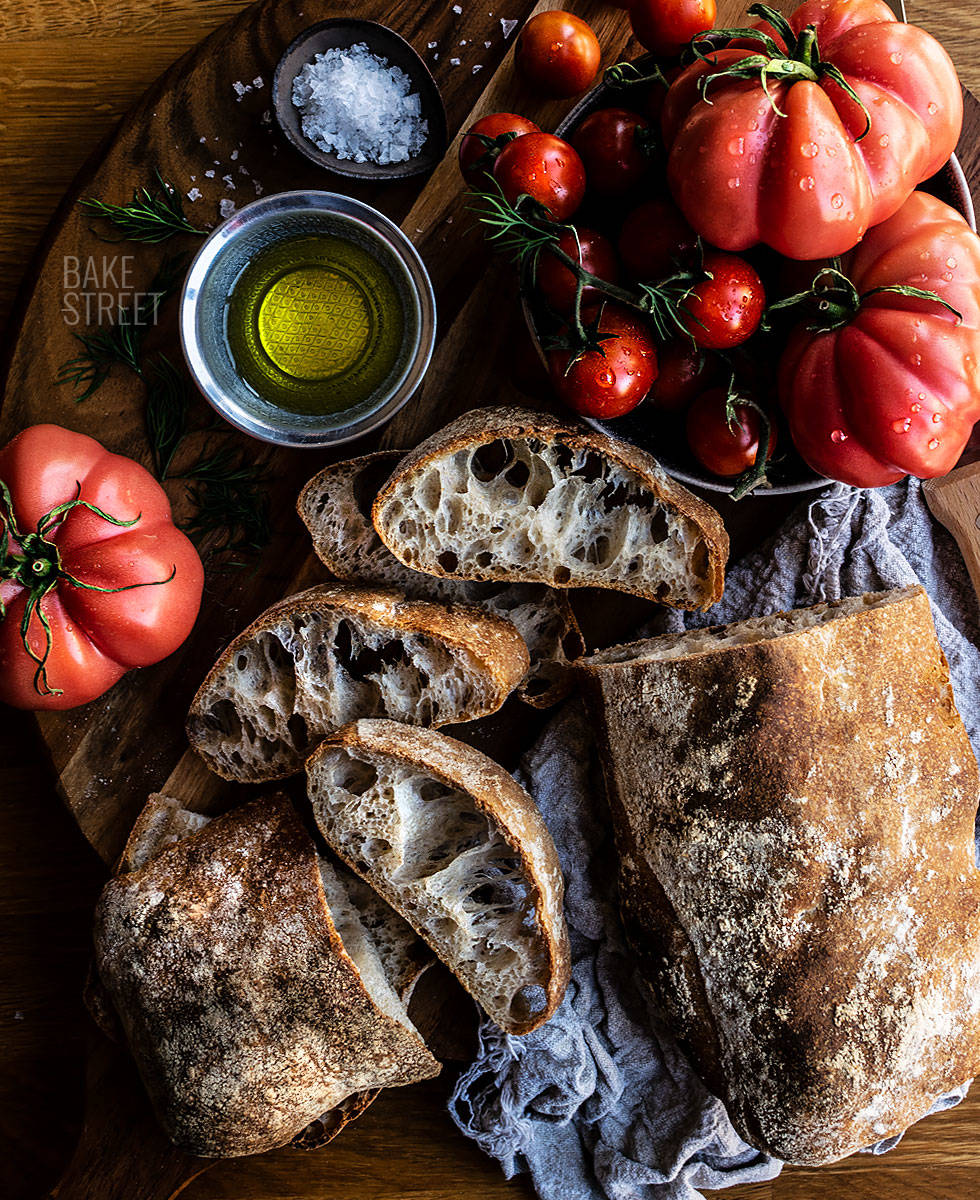 Coca bread origin.
Coca bread is a variety of bread, from Catalonian gastronomy, which is characterized for being a bread of thin and crispy crust accompanied by a light crumb. As I mentioned above.
Apparently, coca is born from the use of bread dough that has not been baked. Instead of throwing them away, what was done was to keep them and cook them flat. The most common thing was to sugar them to serve them as dessert. This custom turns the coca de pan into the base of all the cocas, either with ingredients on its surface or cooked to accompany them later.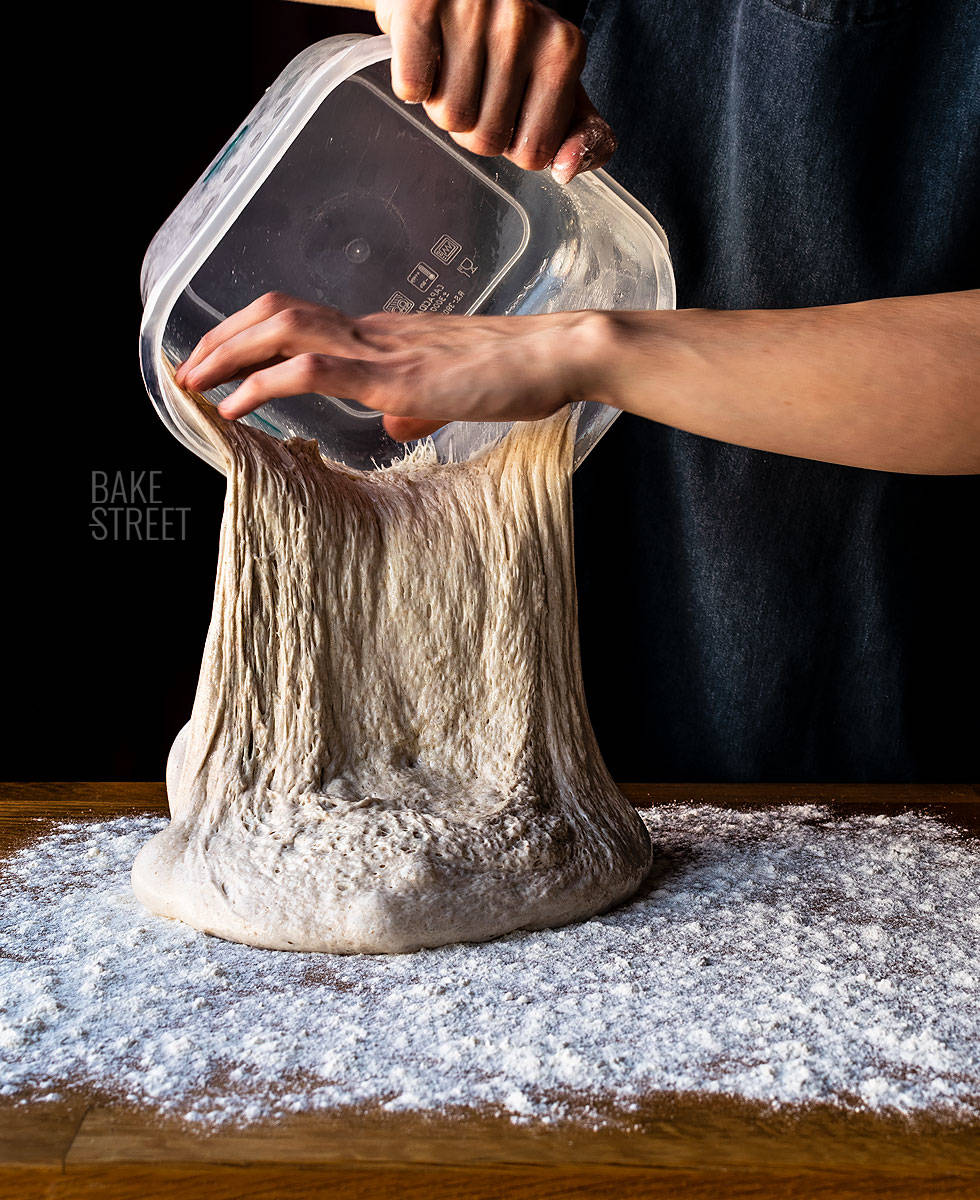 INCISO: RECORDATORIO DE TALLER ONLINE DE PAN CASERO
Within a few days myonline workshop "Homemade bread for beginners", and of which very few vacancies remain.
It is a workshop for all those who want to make bread at home and do not have extensive knowledge about baking or these are very basic. It has a duration of just over 4 weeks during which we will work breads with yeast, preferments and sourdough.
We will also work with doughs with different types of hydration, flours, shapings and types of fermentation. During these weeks you will receive daily emails to segment the information, being divided into theory, videos and exercises. you can access from anywhere in the world and in any type of device.
Now there are no excuses to learn how to make bread at home! 😉
Making Coca bread.
This type of bread is a variety that can be catalogued as high hydration breads. This means that we will work with a sticky dough that is difficult to manipulate. But only at the beginning, because once you get used to working with this type of dough, it will be very easy for you. They are actually addictive.
To prepare it, we can make the process a little easier by using the KitchenAid sifter and scale accessory. We already know that our time is time and everything that makes life easier, because we will receive it with lots of love! It helps us weigh it as we add it to our KitchenAid.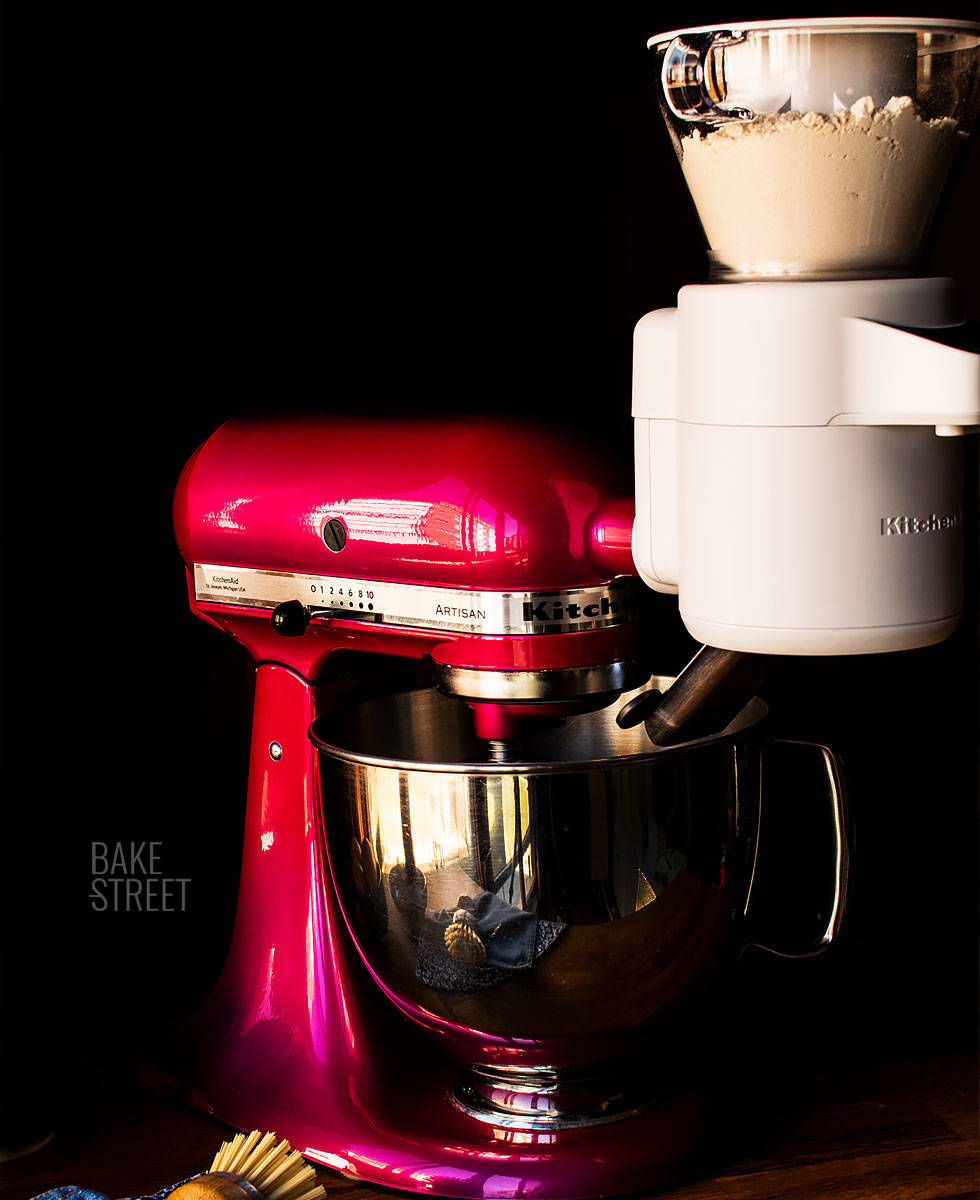 To make our coca bread we will follow a few simple steps:
Mix the flour with the water
Make autolysis to hydrate the proteins of the flour and reduce the time of kneading
We will knead until a perfect development of gluten is achieved
Make bulk fermentation together with folds to strengthen the dough and create an internal structure
Retard in the fridge
Divide and shape the loaves
Ket it rest
Bake
Perhaps reading them all could be too many steps, but quite the opposite. It is a very easy process to combine with other elaborations and it is not at all heavy to carry it out. The result is a wonderful bread, perfect to accompany any dish.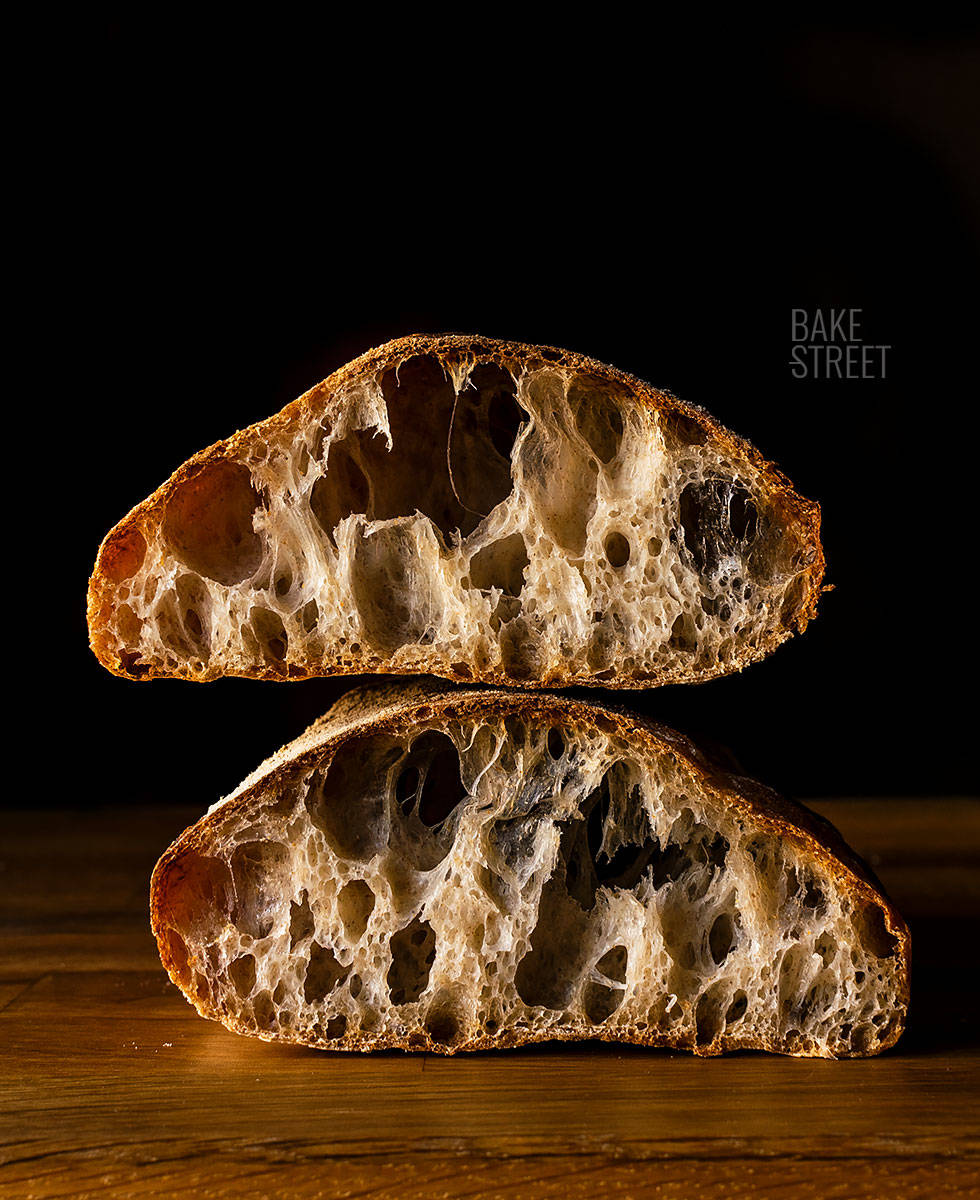 Ingredients for 2 pieces
500 g bread flour, W=300
400 g very cold water
2,2 g dried yeast
25 g olive oil
10 g salt
Instructions
Make Coca Bread.
Reserve 10 g of water for later.
In a bowl add the flour together with the water and mix until a homogeneous mixture is obtained. We can do this in the KitchenAid with the help of the KitchenAid sieve and scale accessory. We knead with the help of the hook or do the process by hand, if you prefer.
Mix until no flour remains, it can take about 2 minutes.
Cover with a film and make autolysis for 1 hour and 40 minutes.
After this time, incorporate yeast, previously dissolved in the water we had reserved and salt. Mix again.
Transfer the dough to a clean work surface and begin to knead doing the French kneading.
Alternate 3-4 minutes of kneading and 5 minutes of resting until we observe that our dough acquires strength, muscle and is smooth. We should observe a smooth surface.
Once we have the dough at this point, add the oil. The ideal thing is to do it little by little and kneading the dough at the same time to favor that it integrates well.
It is very important that the dough has developed gluten well before bulk fermentation.
Make bulk fermentation.
Grease a tupper with olive oil and put the dough inside.
Cover and let stand 1 hour and 30 minutes at 75,9ºF/24.4 º C (in my case) with a fold every 30 minutes. In total we will make 3 folds and, after making the last one, we keep in the cold until the next day. In my case it was 14 hours at 39ºF/4ºC.
Shape.
Remove the dough from the fridge and leave to stand for 15 minutes at room temperature. You will get a dough that has quadrupled in volume and has a surface full of bubbles.

Prepare a board, cover with baking paper and sprinkle with flour (if it is better rye, it can withstand humidity better). Set aside.
Very generously sprinkle a work surface with flour and turn the dough over. If necessary we will help the dough to slide and prevent it from tearing. It is very, very important the correct manipulation of the dough so as not to damage the structure and, consequently, the internal alveoli. Stretch the dough gently to shape a rectangle.
Using a metal scraper, divide the dough into two equal pieces. Or approximately the same.
If you want it to have a more defined shape, you can cut the ends to give it a rectangular finish.
With the help of our hands, we will trans the dough from the table to the board.

Introduce the hands underneath, close as if it were an accordion and arrange on the table while stretching the dough.
Sprinkle the surface with flour, cover with a cotton cloth or film and let stand for 45 minutes at room temperature.
Bake.
Preheat the oven 30 minutes before baking at 482ºF/250º C with a steel or stone sheet and a bowl/tray with volcanic stones that we will place inside from the moment we turn on the oven, in this way they will also take the temperature.
If you don't have a steel sheet, a perforated trays work very well. Remember to preheat the oven with it inside.
Five minutes before putting the bread in the oven we heat water (more than half a cup), we can do it in the microwave.
Put coca breads in the oven at the bottom. Slide the bread with the help of the wood board on the tray or steel plate.
Pour the water on the stones, close and bake for 5 minutes with steam.
After this time remove the tray with volcanic stones, close, reduce to 464ºF/240 º C and bake 10 minutes.
Lower the heat to 446ºF/230ºC and bake 5 more minutes with convection mood.
Take it out of the oven and let it cool completely on a rack.
Enjoy with tomato slices, olive oil and salt flakes.
Notes
In this occasion we will use bread flour (strong) instead of plain flour, as we do with chapatas, since in addition to working with a high hydration, we will submit the dough to a long process of fermentation.
Not all flours have the same absorption capacity. If you use a lower strength flour, reduce the amount of water when you mix the ingredients for autolysis. You can always add more later when you are ready to knead. Remember one thing: "the dough is always rectified with water, never with flour".
Do not omit the time of autolysis, it helps us to hydrate the flour and reduces the time of kneading. Among other factors very beneficial for the dough.

If you use fresh yeast instead of dry yeast, you should add 3 times this amount. In other words, for each gram of dry yeast, 3 g of fresh yeast are used. In this case it would be 6.6 g of fresh yeast.
Kneading will be laborious due to high hydration. Do not add all the water at once or this step will be a real hell. It is easier to develop gluten in doughs with more moderate hydration and then continue to increase hydration.
We will retard the dough in the fridge to prolong this step and favour the development of flavours and aromas.
To prevent the crust from softening after baking, bake the final minutes with air/convection. Otherwise the interior humidity will migrate to the surface and, after a few hours, we will have a leathery bread.
The ideal is to eat the bread the same day we bake it because it does not have much useful life.
Without a doubt I encourage you to make this Coca Bread at home so that you can enjoy both the process and the result. When it comes to making it, the biggest "complication" you can find is the kneading process. But, following the steps that I tell you and with patience, you will not become complicated.
You still wonder if this bread can be kneaded in the kneader. Yes you can, but the result is going to be infinitely better if we knead by hand. Why? Because this type of dough, high hydration, in a domestic kneader is not kneaded well and, therefore, gluten does not develop properly. This leaves us with a flatter bread and/or with a honeycomb that is not what we are looking for.
So get those muscles ready to make one of the most wonderful breads you can imagine!
Big hugs,
Eva
This post contains affiliated links
Archivado en