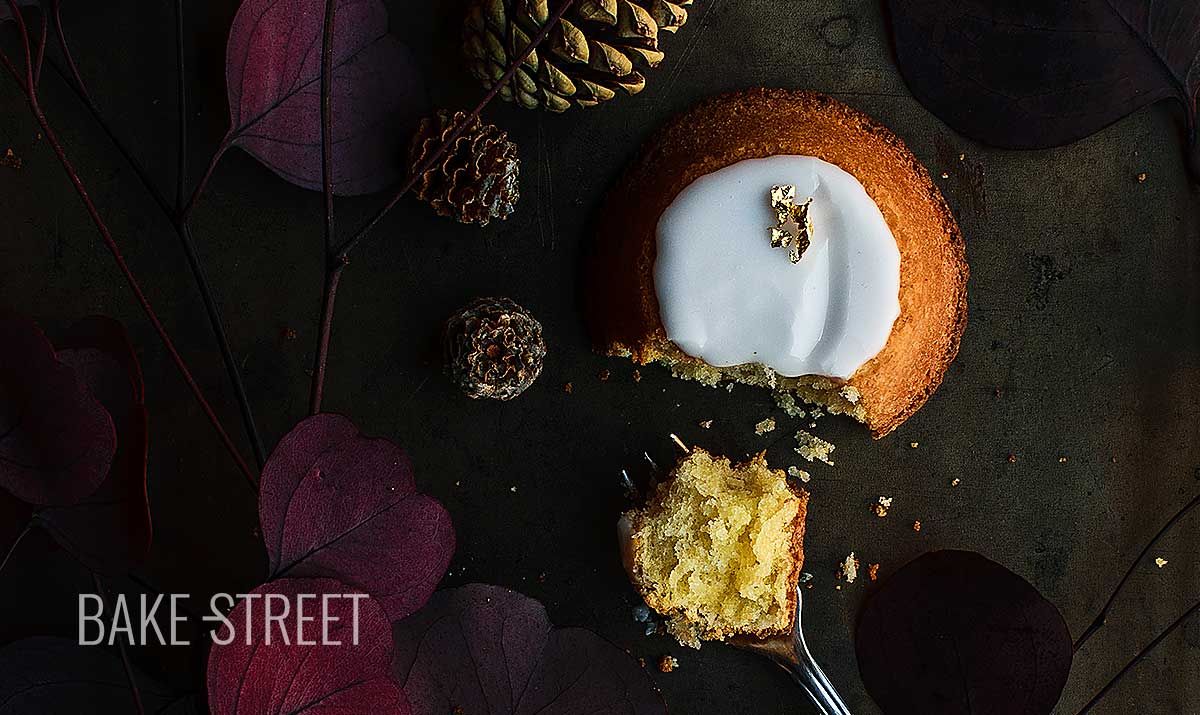 Ten Easy Recipes to Succeed at Christmas
Este post también está disponible en Spanish
I can't believe we're in the last month of the year. I don't know about you, but I have the feeling that each year passes faster than the previous one. Which leads me to think that I'm always so busy that I'm not aware of the time or that I enjoy it so much that time flies by. I think it's more of a mix of the two! hahaha. Since we're already counting down for Christmas, to lend a hand on the Christmas menu, I've compiled Ten Easy Recipes to Succeed at Christmas.
Many of you write to me asking for simple recipes for these days. Either because of lack of time or because you are still not finished encouraging to prepare more elaborate things. So today I show you some ideas that don't require much elaboration, but that will allow you to leave your family and/or friends completely in love.
Without a doubt one of the simplest preparations to carry out, always, are the sponge cakes. It is a recipe that we can prepare the same day or even the previous one, so as not to go just in time, they do not require a rising process, resting time or a complicated elaboration to do. And best of all, they last in perfect condition for several days. For that very reason I think it is one of the best options to consider.
1. Marquesas de almendra.
If there is a classic sweet par excellence in all the houses at Christmas, these are the Marquesas de almendra, almond cakes
The Marquesas, also known as pastas marquesas, are a sweet pastry traditional from Spain made mostly with a base of almonds and sugar. To make them we use the same ingredients that we use to prepare marzipan, only that these also have an addition of lemon zest and a small amount of flour and / or cornstarch (the latter provides a lot of juiciness).
Its elaboration process is very easy to do, only to mix, as well as its presentation. They are baked in paper muffin cups, usually square in shape, and finished with a delicate layer of icing sugar. Marvellous.
2. Gâteau Nantais, almond and rum cake.
Following the format of sponge cakes or individual cakes, also made with ground almonds, we have the Gâteau Nantais, almond and rum cake. These are cakes of French origin made with almonds, butter and rum, among other ingredients, and decorated with glasa.
It is said that this cake was invented around 1820 by a master pastry chef called Rouleau, who lived in the Saint-Clément district (now rue Maréchal-Joffre) in the Cité des Ducs, Nantes. This cake tells the story of Nantes and how trade is part of it. It was considered a very luxurious cake because of the ingredients with which it is made. Traditionally it was made by housewives and served to their guests at coffee time. But, for some reason, this wonderful elaboration ended up falling into oblivion.
If you like sweets made with almonds, undoubtedly, this is an option that should not be missing on your tables 😉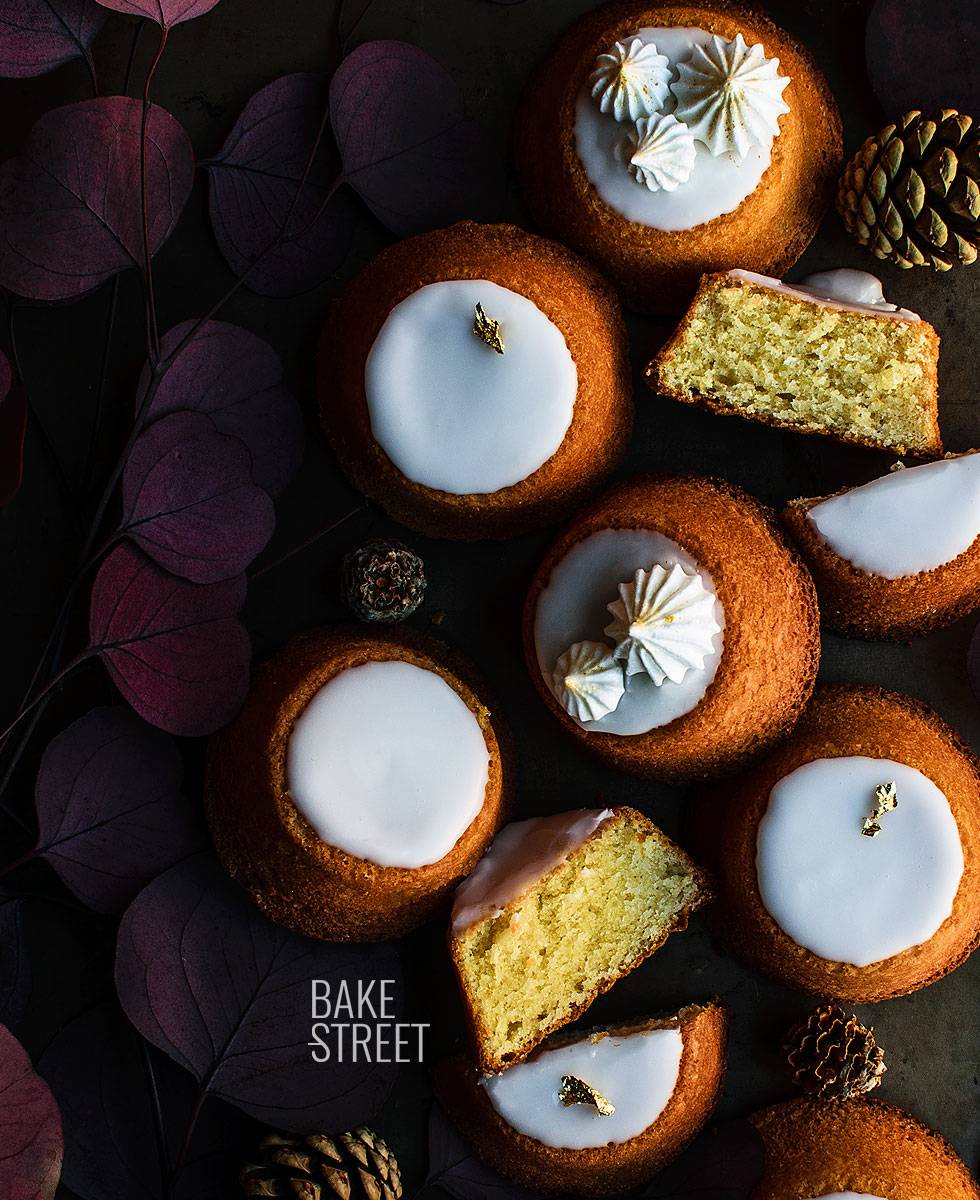 3. Mary Berry's Victorian Christmas Cake.
If what you prefer is an easy recipe such as biscuits, but with a larger format, then your ideal choice is Mary Berry's Victorian Christmas Cake. It is also known as Genoa Cake.
I recognize that its appearance is "old-fashioned", classic and traditional. But I can also assure you that this is a sweet full of flavour, without forgetting that this type of preparation takes us back to a romantic and magical time.
Genoa Cake as it is mainly called in the United Kingdom, is a variant of the Pandolce that originated in the 16th century in Genoa as a Christmas cake. There are many recipes to make this cake since the nineteenth century, such as the version I share with you today Mary Berry´s Victorian Christmas Cake.
The difference between the Genoa Cake and Pandolce lies in some of its ingredients such as pine nuts, in addition to the fact that the second is a dough and not a sponge cake, which is the version we will make today. The simplest version made with baking powder is also known as Pandolce Basso.
The preparation process will take no more than 15 minutes and while it's baking, which takes a little longer because it's done with love and affection, we'll be able to move many things forward. You don't have to do it the same day you are going to consume it. You can do it 1-2 days in advance and keep it wrapped in film in the fridge.
4. Cake aux fruits or Fruit Cake.
We continue with sponge cakes, but this time we will change the format of presentation to a rectangular instead of round like the previous one. Cake aux fruits or Fruit Cake.
This is a very classic sponge, which is very similar to the previous sponge (Genoa Cake), made with spices, honey, candied fruits and nuts. In order to decorate it we can do it the way we like, in my case I leave you a very simple option, but with a beautiful and elegant result. Covered with an apricot nappage (a mixture of honey, apricot jam and water) and decorated with more candied or dried fruits.
It is said that the first recipe dates from ancient Rome where a recipe was made with pomegranate seeds, pine nuts and raisins that were mixed with a barley puree. It was in the Middle Ages that honey was introduced along with spices and canned fruits. At that time this cake began to spread throughout Europe and, from there, different elaborations of this fruit cake were created all over the world. Hence we can find this cake, depending on where it is made, with a different name and process.
For fruit sponge cakes lovers full of sweet and spicy flavours, it is an indispensable choice 😉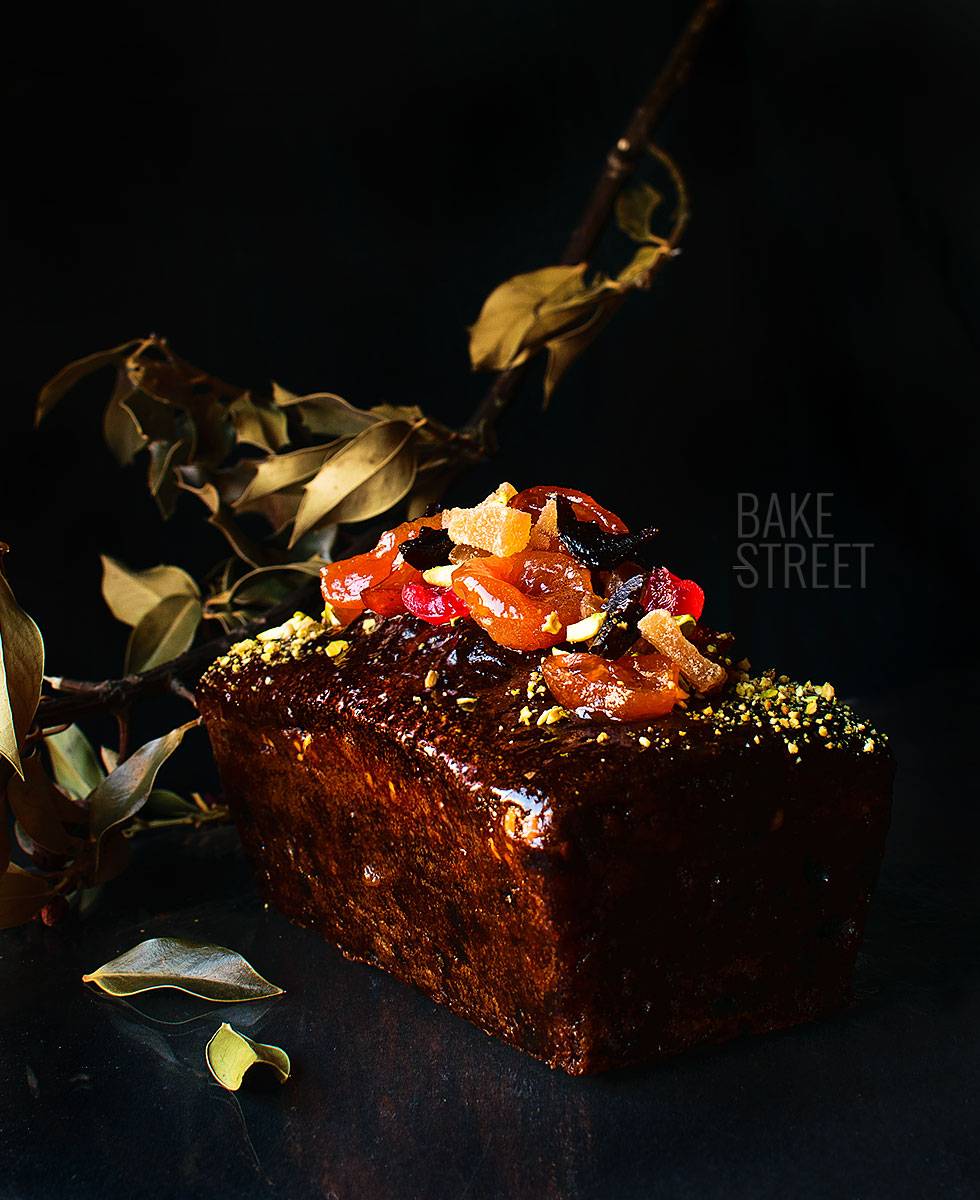 5. Cortadillos de cidra.
We leave the sponge cakes to get into full with sweets or cakes in individual format. What's a Christmas without good "Cortadillos de cidra"? A nonsense! There is no Christmas tray that is worthwhile in which there is not present one of the richest and most delicate sweets, under my humble opinion, as these pastries accompanying the traditional nougat. A sweet treat made with a buttery dough and filled with candied spaghetti squash.
These traditional Spanish sweets were made in the convents of Seville. They are a sweet pastry made with flour, lard, dry white wine and icing sugar, stuffed with candied spaghetti squash. They are also very typical in Cadiz, and their consumption extends throughout Andalusia, reaching of course the rest of Spain. But originally, cortadillos de cidra are from Écija  This is where the first factory to produce these pastries outside the convents emerged. Well known by all of us,"San Martín de Porres".
To carry them out there is no complication and, in return, we will enjoy a lot. To make the dough with lard, all you have to do is mix the ingredients and then stretch the dough. Stuff with candied spaghetti squash, cover with another layer of dough and bake.
Easy, isn't it? The result is a sweet with texture between polvorón and buttered biscuit, with an incredible flavor and very aromatic. Love your family with them! 😀
6. Pan de Cádiz.
We continue with traditional sweets from the south of Spain, such as this Pan de Cádiz. Ok, I see that the first thing you're going to think is that it's very complicated to do and not at all. Don't be fooled by appearances.
Pan de Cádiz, also known as nougat from Cadiz, it is originally from Cadiz as its name indicates. Its creation is attributed to the pastry chef Antonio Valls Garrido, born in Malaga and confectioner who owned the "Vienna Pastry Shop" – "Pastelería Viena" from 1929 to 1969. This sweet consists of a marzipan base that is filled with different ingredients. From candied yolk, sweet potato paste, candied spaghetti squash, quince paste or candied fruit. The most common of all, especially in which we can buy packaged, is filled with candied yolk and sweet potato.
All the processes to carry out this nougat are very simple. It is true that some of them require a little time to cook them, but they are not at all difficult to make. To form it we only have to stretch the marzipan and fill the layers with the fillings we have chosen. We end up baking for 6 minutes (see how little time, not even a coffee gives you time to prepare) and we will have it ready.
I'm sure it's a sweet treat that you've bought countless times and this year, you can have yours made by yourselves.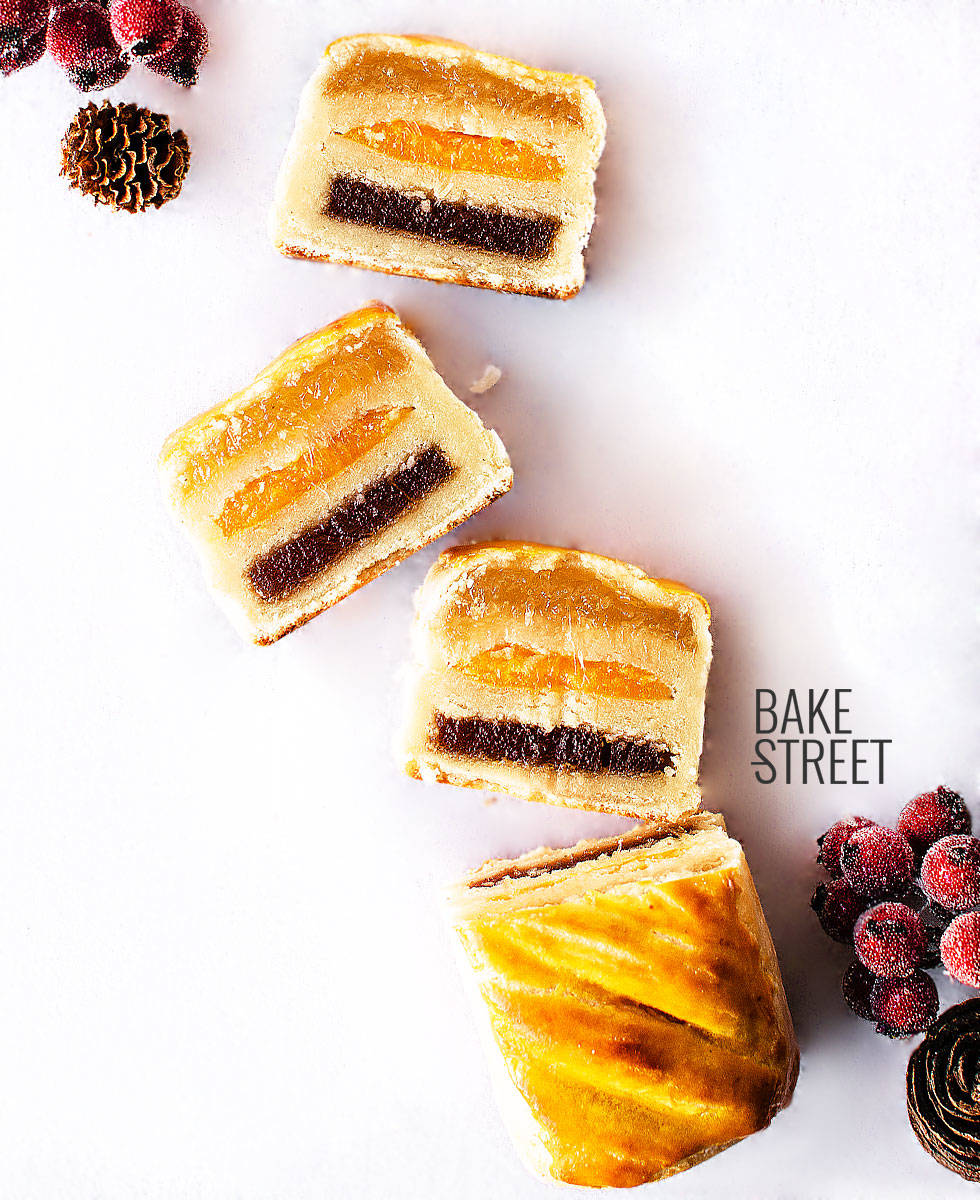 7. Jam and candied cherries flowers.
Cookies are another fantastic option to consider at Christmas. Not only because of how easy it is to make them, but also because it allows us to make them well in advance. And who doesn't like cookies? These Jam and candied cherries flowers with a vintage style can be a perfect accompaniment to your Christmas sweets treats or even to give them away.
Its elaboration has no mystery, the dough is elaborated in the same way that we would make a pâte sucrée only flavored with cinnamon powder. Then stretch the dough, refrigerate, cut the flowers and fry. Yes, that's just like the traditional sweets.
At the time of serving them we will only have to sprinkle with icing sugar and decorate them with candied cherries and/or orange marmalade. In my case, orange whiskey jam… So good.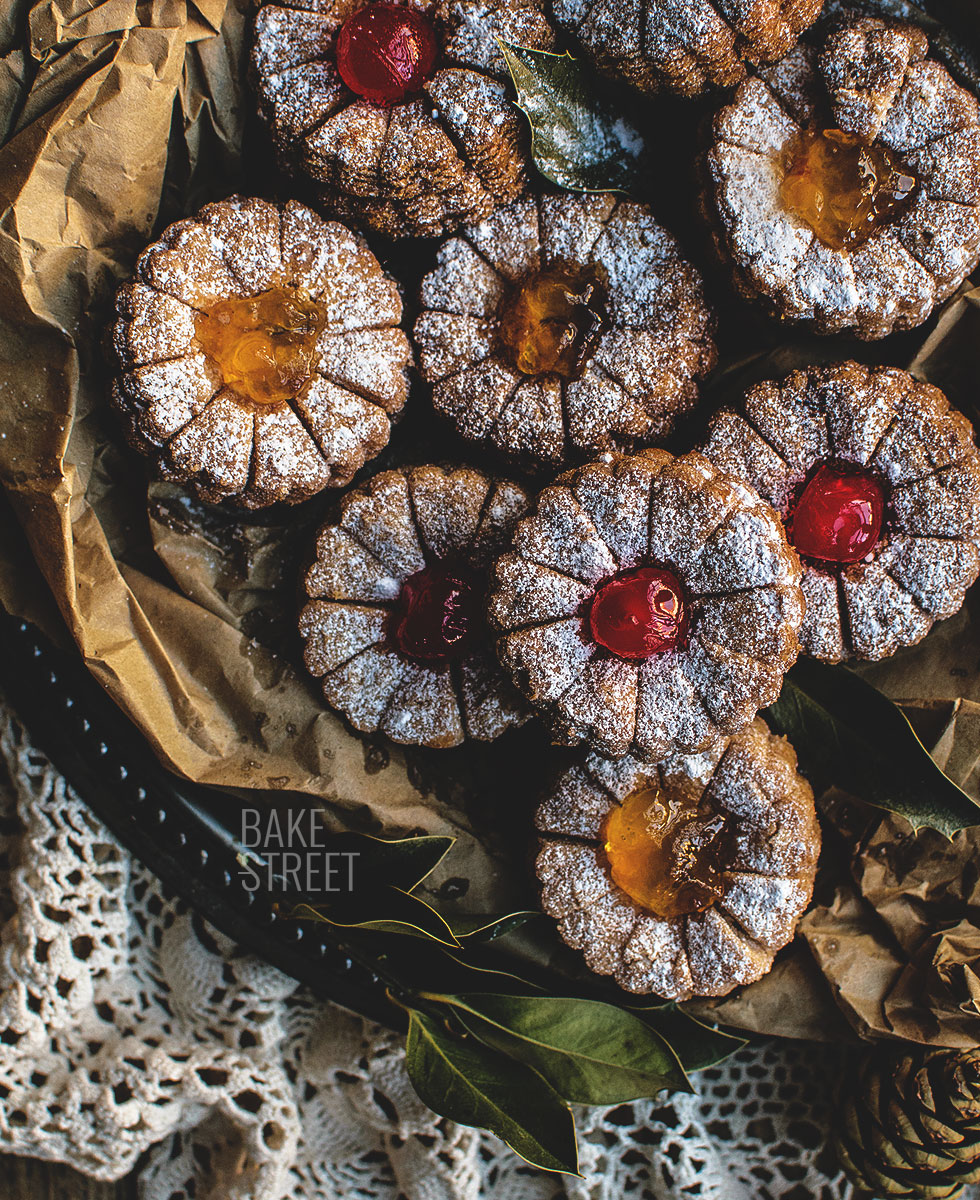 8. Gingerbread and spiced plum cookies.
If Christmas had a flavor, without a doubt, it would be that of these Gingerbread and spiced plum cookies. I can promise it is indescribable the flavor that they have, for me, are all the flavors ofChristmas concentrated in a cookie. Which, moreover, looks a lot like a Christmas tree ornament! I'm not telling you that they would be precious adornments to hang from the tree on Christmas Day and that the family could take them and eat them.
First of all, don't think they are difficult because of the way they look, I'm sure you've thought about it. They are still two types of cookie dough, cut into strips and rolled up on themselves to create a heart shape. Promised.
To prepare these gingerbread and plum paste cookies, we'll have to prepare 2 types of doughs. A ginger dough, another white cookie dough and a homemade plum and spice paste. To make this plum paste, we will need black plums, dark mascabado sugar (very small amount), cinnamon and star anise.
The result is fabulous, wonderful, exceptional and exquisite. Truly, I give you my word that they are extraordinary. Do not fail to prepare them for Santa Claus this year!
One of the things you enjoy most at Christmas, besides decorating the tree, is being able to make your own sweets treats for these dates. For that reason, I hope that these Ten Easy Recipes to Succeed at Christmas will give you a hand and give you ideas to enjoy these days.
As you have seen, they are very simple recipes to carry out, most only require that we mix and bake them, and that will allow you to enjoy homemade sweets made by yourselves.
I can't wait for you to tell me which of them you have prepared! And, if you want, you can share them with me in Instagram through the hashtag #BakeStreet or label me in your photos.
I wish you a happy beginning of the week.
Big hugs,
Eva
Archivado en