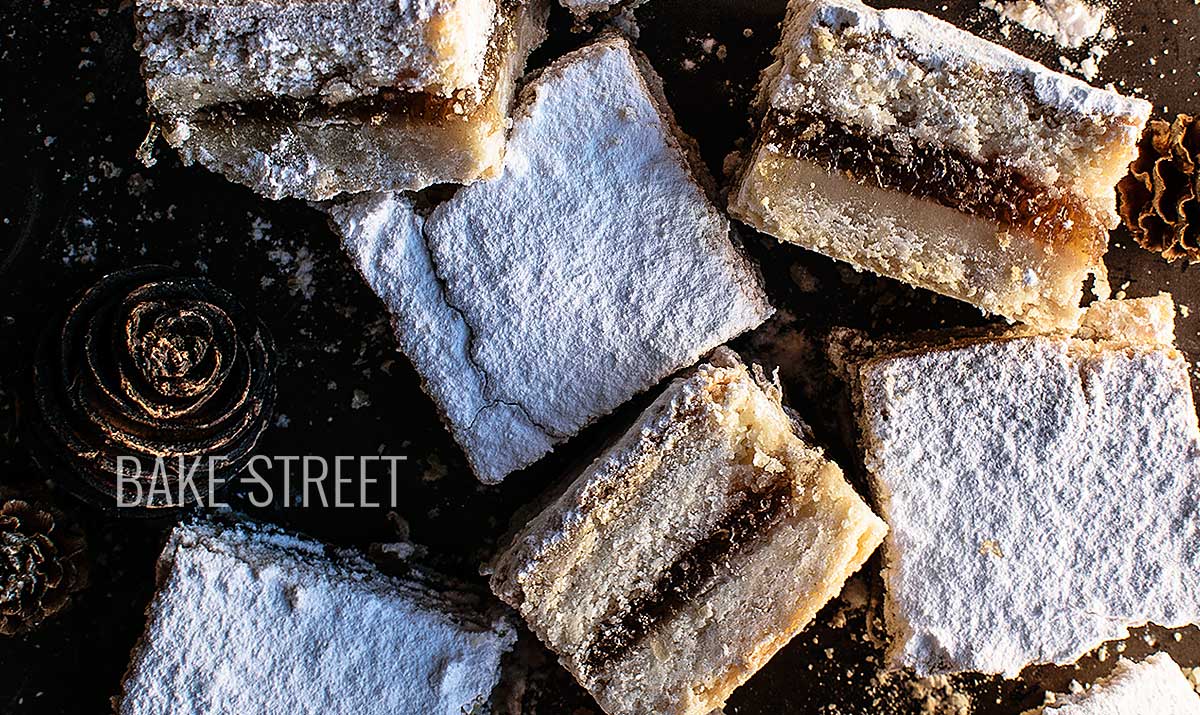 Cortadillos de cidra, traditional pastries from Andalusia
Este post también está disponible en Spanish
What's a Christmas without good "cortadillos de cidra"? A nonsense! There is no Christmas tray that is worthwhile in which there is not present one of the richest and most delicate sweets, under my humble opinion, as these pastries accompanying the traditional nougat. It's also true that these pastries will please you if you're a candied spaghetti squash lover. Personally I don´t like it, it fascinates me! I'm able to eat half a jar without noticing.
That's why everything that is made with candied spaghetti squash, I like directly without asking. Whatever I'm accompanying, be sure and with my eyes closed I'll love it. So everything that has to do with this sweet: ensaimadas, bayonesas, stuffed puff pastry… it drives me crazy.
Where are cortadillos de cidra from?
These sweets were traditionally made in the convents of Seville. They are a sweet pastry made with flour, lard, dry white wine and icing sugar, stuffed with candied spaghetti squash. They are also very typical in Cadiz, and their consumption extends throughout Andalusia, reaching of course the rest of Spain. But originally, cortadillos de cidra are from Écija. Who's gonna tell me?
My uncle is from Écija, I've been there a lot of times and I don't even know it! I have enjoyed in this wonderful place (the Écija blood sausage is one of the best in the world) and until the day that I decided to make this sweet, it was totally unaware of its origin. How small and beautiful the world is.
Apparently, this is where the first factory to produce these pastries outside the convents emerged. Well known by all of us,"San Martín de Porres".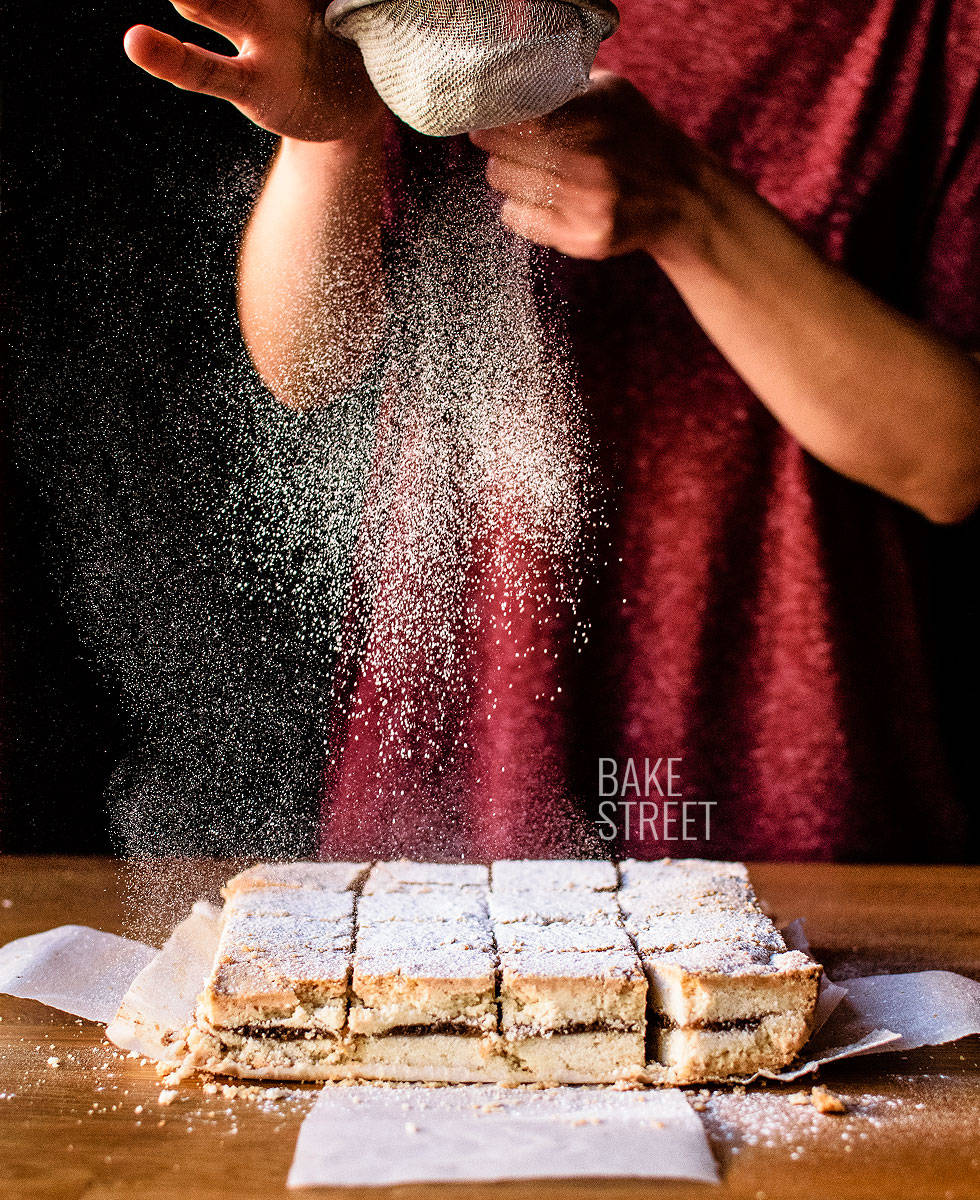 Candied spaghetti squash, what is it?
In Spain we call this sweet "cabello de ángel" which translation would be "angel hair".  It´s a sweet made with pumpkin strands from this variety of squash. To make it, we must cook the squash in pieces to soften the pulp. Then, we extract the strands trying to remove the seeds and cook with sugar (same weight of squash that of sugar) on a low heat until it acquires a golden color or, as my mother says,"old gold color". How I like her expressions!
The truth is that I would have loved to leave you the recipe of how to do it at home, but at this time of the year I have not enough time and I had to use those that I had packed last year. Let's see if I can leave the recipe for you soon.
Now is the season of this squash, well, a little fair because it's almost over. But I'm sure that if you ask your trusted fruit seller, he will still find one.
In case you can't find this variety of squash to prepare it at home, you can always use the one they sell canned and prepared. It can be easily found in any supermarket.
What complication does it have to carry out this wonderful sweet?
None. In fact, it couldn't be easier to make them. We only have to mix the ingredients of the batter, in the elaboration I specify you have to use a stand mixer to make the process easily. But of course, it is neither essential nor mandatory. The ingredients can be mixed by hand without any problem.
Then we will only have to stretch the dough, it is very grateful to work, it is not sticky or laborious. What's more, it has a soft touch and is quite pleasant. Fill with the candied spaghetti squash, cover with another layer of dough and bake in the oven. No rising times, no laborious kneading… really easy!
And the result? Wonderful.
A texture between polvorón and buttered biscuit, with an incredible flavor and very aromatic. I am not objective at all, the best thing would be to put them into practice and tell me.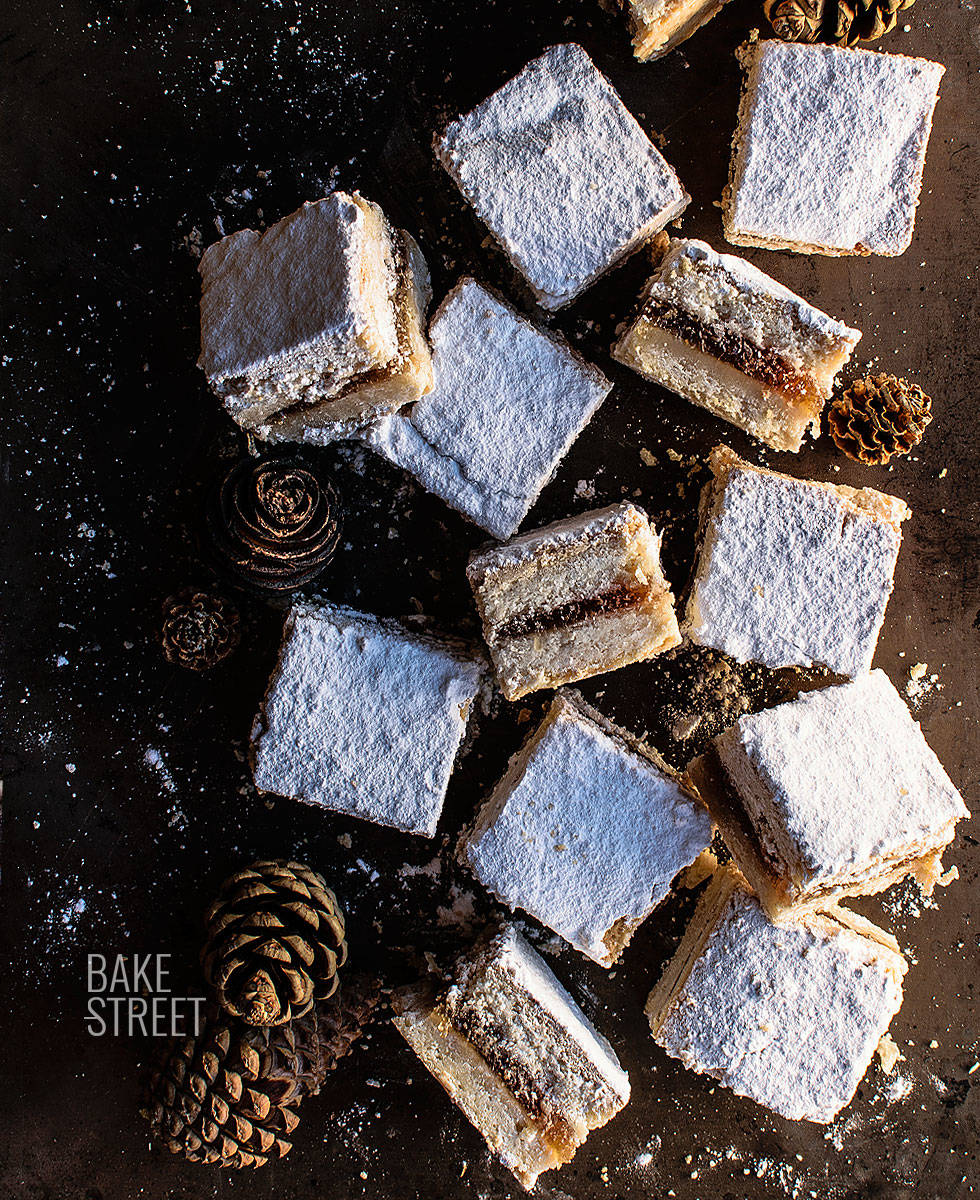 Ingredients for 16 pieces
FOR THE BATTER:
17,6 oz (500 g)  pastry or cake flour
8,8 oz (250 g) Iberian lard at room temperature
4,4 oz (125 g) icing sugar
2,1 oz (60 g) dry white wine
FOR THE FILLING:
12,35 oz (350 g) candied spaghetti squash
1/2 teaspoon ground cinnamon
one lemon zest
FOR DUSTING:
Instructions
Prepare the candied spaghetti squash.
In a bowl add the candied spaghetti squash together with cinnamon and lemon zest.
Mix until completely homogenized.
Cover with film and set aside until the moment of its use.
Prepare the batter.
In the bowl of KA add the lard together with the icing sugar.
Mix with the help of flat beater at low speed until a homogeneous mixture is obtained. I recommend you place a cloth over the KA to prevent a cloud of icing sugar from forming in the kitchen.
Add the flour, previously sieved, to the lard mixture while the KA works at low speed.
We will alternate the addition of white wine with flour. Mix until a homogeneous dough is obtained.
Dump the dough onto a clean work surface and knead for 2 minutes until a smooth dough is obtained.
Divide and shape.
I have used a 9 inch (23 cm) pan on the side, in case you don't have one, you can always make a pan/container with the baking paper itself by stapling the sides.
Put two baking paper strips together to form a cross, so that we can remove the pastry from the pan more easily. Set aside.
Divide the dough into 2 equal pieces, each weighing about 183 oz (465 g). While working with one piece, cover the other with plastic film.
Place the dough on a baking paper, this way we can stretch and manipulate more easily.
With the help of an adjustable roller, I have used the 0,23 inch (6 mm) disc, shape a square of 8,65 inch (22 cm) side. Cut the base paper leaving a couple of centimetres on each side of the dough piece.

Place the first layer inside the pan, with the paper on the base.
Spread the candied spaghetti squash evenly over the entire surface of the dough.
Stretch the other piece of dough, just like we did with the first one. Place it over the candied spaghetti squash, this time without the baking paper, and adjust the edges.
Bake.
Preheat the oven to 355ºF.
Bake for 35-40 minutes. It should take a light golden color on the surface, not very toasted. And, to the touch, the dough will be firm and cooked.
Remove from oven and let cool completely inside the pan. Ideally, let it rest overnight.
Cut and sprinkle.
Get out of the pan by using the cross strips.

Using a serrated knife, cut the outer edges to make a perfect square.
Cut into 16 equal portions.
Sprinkle generously with icing sugar and serve.
How to preserve them?
We can wrap them individually with paper and store them in an airtight or metallic container.
If, on the other hand, we are going to consume them in a few days, we can store them in a glass bell or hermetic container without having to wrap them.
It is an elaboration that is preserved in very good condition with the passage of time.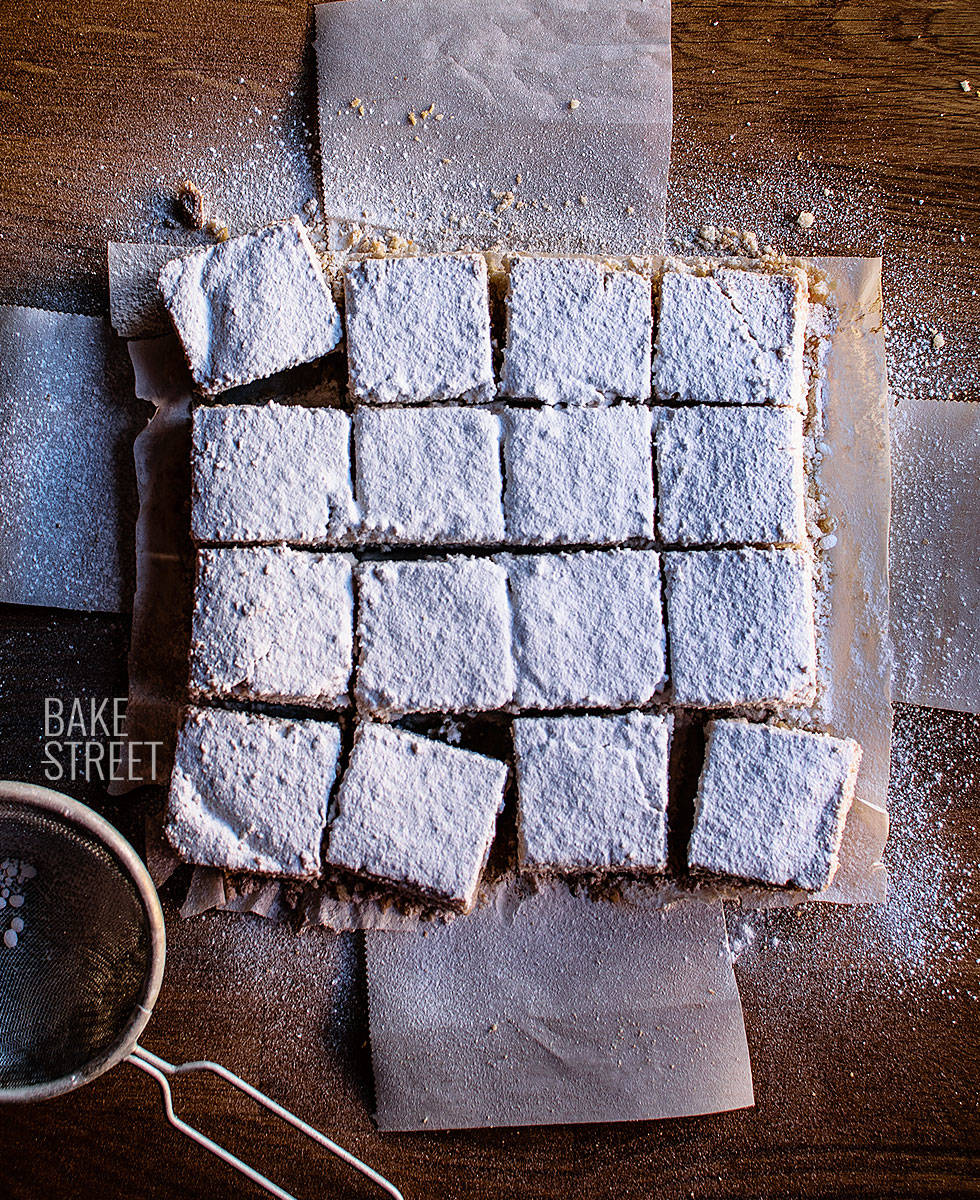 Notes
Pastry or cake flour is the variety of flour we use to make biscuits or sponge cakes, but without baking powder.
Does lard have to be Iberian? In my case it is the variety I have used and the flavor it gives is wonderful. Nothing strong and powerful. But if you don't find this variety, you can use normal lard.
The dry white wine can be of any variety you wish. Whichever type you decide to add, it will bring a very subtle and pleasant light flavor.

Candied spaghetti squash, preferably, is best made at home. But if this is not possible, you can always use the packaging one without any problem.
Baking time can vary, from 30-40 minutes. Look at the upper color to guide you, it should acquire a light golden color.
Since its texture is very delicate after baking, let it cool completely inside the pan or on the tray, in case you haven't used it.
These cortadillos de cidra are very well preserved over time, so you can prepare them in advance without problems.
If you don't have a lot of time to prepare Christmas sweets, but you still need some, these cortadillos de cidra can be a great solution. In addition, you can even take it as a gift if you wrap it individually or present it in a little box.
One thing I do tell you, they are addictive! It is very difficult to pass by them and ignore them... In the end, you always end up eating some!
I hope you will enjoy them very much and soon see yours ;)
Big hugs,
Eva
Archivado en