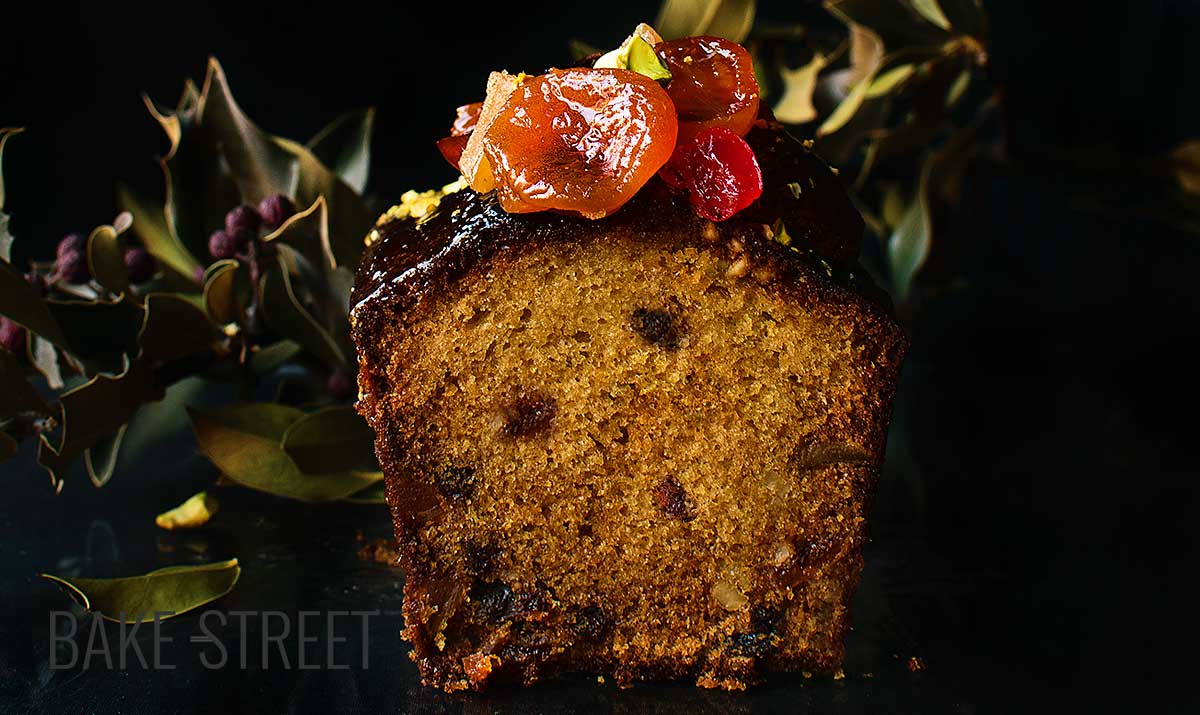 Fruit Cake – Cake aux fruits
Este post también está disponible en Spanish
Arriving this time of year I'm starting to feel like preparing Christmas recipes. Yeah, I know, there's still a little time left… But it seems that the cold is beginning to wake up my most traditional and festive pastry mood. If we look on the bright side, this way we won't be caught off guard and not knowing what to do. In addition, for some time I have been eager to prepare this Fruit Cake or Cake aux fruits, as Christophe Adam calls it in his book "Gâteaux", from where I have adapted the recipe.
This is a very classic sponge cake, made with spices, honey, candied fruits and nuts. When it comes to decorating it, you can find many more or less elaborate versions. In my case, I have chosen to cover it with a nappage and decorate it with more fruits. This cake is traditionally prepared in festive seasons such as Christmas or weddings. But I'm sure we'll come up with a celebration to make it.
Where does Fruit Cake or Cake aux fruits come from?
The first recipe is said to date back to ancient Rome, where a recipe was made with pomegranate seeds, pine nuts and raisins mixed with a barley puree. It was from the Middle Ages when honey was introduced along with spices and canned fruits.
At that time, this cake began to spread throughout Europe and from there, different preparations of this fruit cake were created all over the world. The recipes that emerged were very varied and depended on many factors; from the country where it was made, the ingredients available, the hands that produced it and even church regulations with butter restriction on fasting. This event affected the Stollen and could be integrated into these breads from 1490 onwards through a writing known as the "Letter of Butter" or "Butterbrief".
From the 17th century onwards, the production of sugar from the American colonies and the discovery of its use as a preservative led to the creation of exorbitant quantities of candied fruit. Not only did this make these cakes much more affordable for people, but it also made them more popular.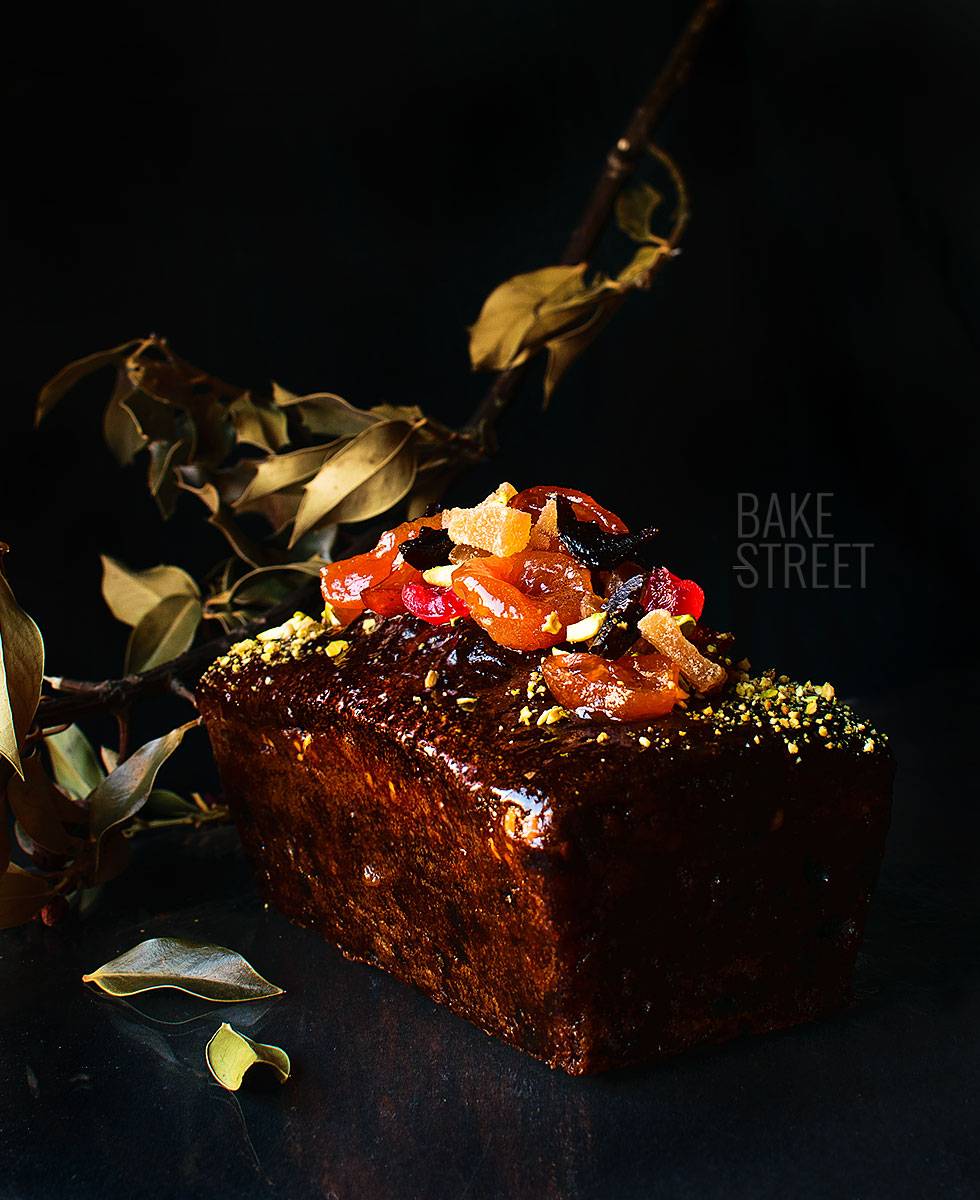 Tell me where you're from and I'll tell you your name.
As I mentioned above, this fruit cake derived in different recipes depending on where it was made. Not only in ingredients or process, but even in its final appearance:
Europe
Germany: Its fruit pie is called "Stollen" and is eaten at Christmas time. It is a bread made with candied fruits, nuts and marzipan that is usually decorated with icing sugar.
Bulgaria/Poland/Romania: This fruit cake is commonly referred to as "keks". You can also find another cake traditionally made with raisins, although today you can find many more varieties, called "Kozunak".
France: Its cake "gâteau aux fruits" is very common to find it under the name of "Cake".
Ireland: Its fruit cake is the famous "Barmbrack", a loaf of bread that is eaten on Halloween. It is a tradition to hide in its interior different objects that augur a meaning or destiny for those who find it.
Italy: You can find two types, Panforte made with fruit and nuts and Panettone, a traditional Italian sweet very much consumed at Christmas that, I think, does not need presentation.
Portugal/Spain: We can find the famous "Roscón de Reyes" or "Bolo de Rei", a slightly sweet bread decorated with fruit that is traditionally eaten at Christmas.
Switzerland:Birnenbrot, a bread made with pears, nuts and figs, among its many ingredients. Very delicious.
UK: Called Fruit Cake, we can find it in different formats and versions: denser or lighter. Usually, among its ingredients, there are usually gooseberries and iced cherries. In Yorkshire it is usually served with cheese.
America
Bahamas: It is made with fruits soaked in rum that can range from 2 weeks to 3 months. In addition, the cake is also soaked in rum once it leaves the oven.
Canada: Traditionally called "Christmas Cake" and consumed at Christmas, it is difficult to see at another time of the year. His cake is very similar to that of the United Kingdom, even though it is not decorated with frosting or soaked in alcohol.
United States: Fruit Cakes in the USA are very rich in fruits and nuts. In 1913, mail-order orders began and these cakes were sold through catalogues by charities to collect funds. Most of these cakes were prepared without alcohol, but the traditional ones were well soaked in liquor. They have come to give it a bad reputation because of the production of extremely cheap products.
Asia
India: We can find this "Fruit Cake" dense and full of fruits and nuts, flavored with spices and mostly consumed at Christmas. Although it can be found all year round.
Oceania
Australia: It is called "Fruit Cake", it is eaten all year round and is not usually accompanied by glaze or toppings.
New Zealand: They arrived with the first settlers from Britain to New Zealand. Until 1960 it used to be homemade, but due to the commercial immersion of the kitchen in the market, it began to be found in large supermarkets. Brandy or sherry is usually used to enhance the taste.
Curious anecdotes.
The Morgan L. Ford family of Michigan is said to have preserved a "Fruit Cake" baked in 1878 as an heirloom relic. This Fruit Cake was made by great-grandmother Fidelia Ford. She died before she was able to cut it and they decided to preserve it for sentimental reasons along with a note as proof of its origin. In 2003 he appeared on Jay Leno's "Tonight Show with Jay Leno". They commented that wrapping the cake in an alcohol-impregnated cloth was a good way to preserve it over time.
The presence of alcohol favors the useful life of this cake or other that we make, making it edible and in good condition for a long time.
This year, 2017, a 100-year-old cake was discovered by the Antartic Heritage Crust, made by "Huntley & Palmers". The fruit cake is still wrapped in paper and encased in the remains of a tin-plated iron alloy tin. Was described as "good and almost edible".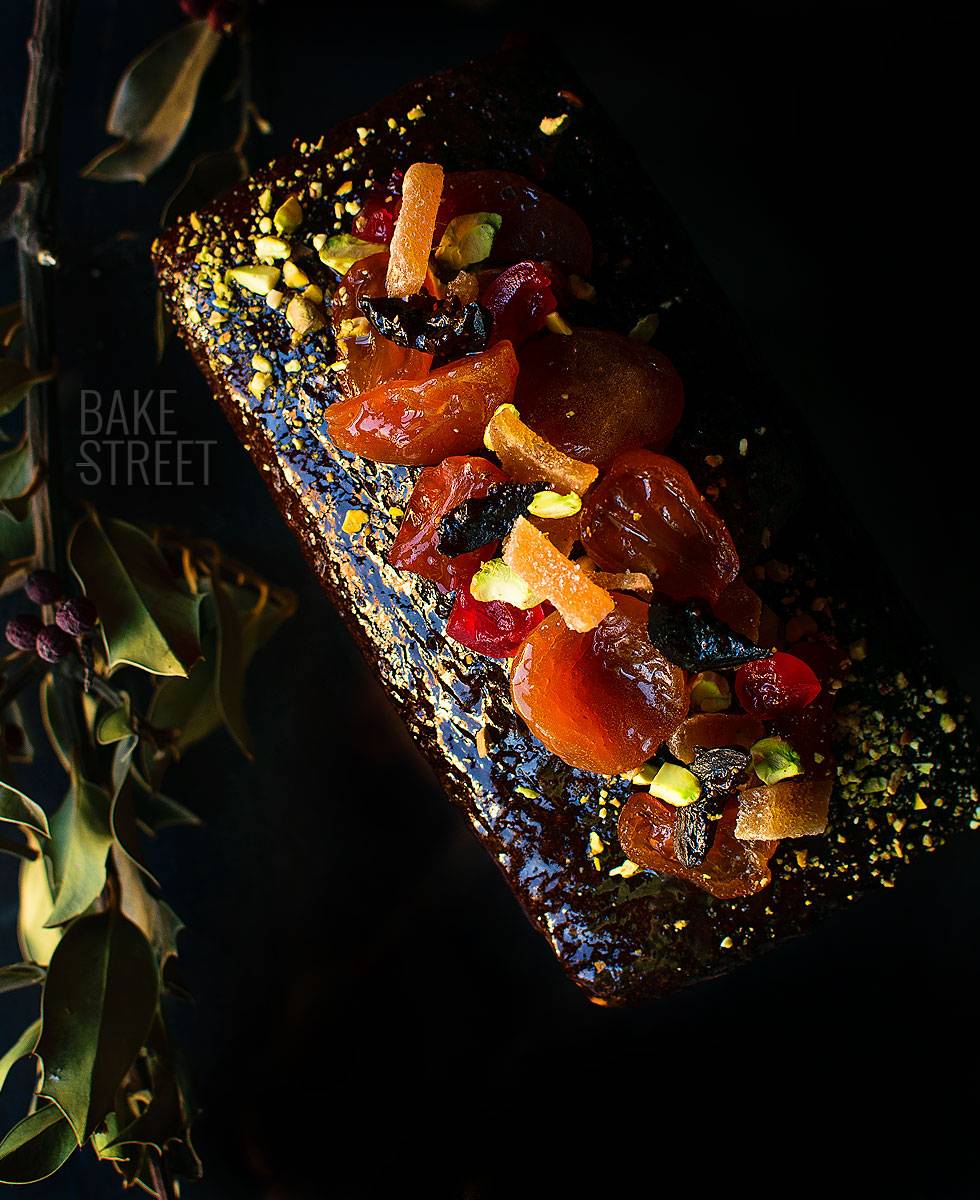 Ingredients for a pan 8x4x4 inches (20.5 x 10.5 x 9.5 cm)
5,65 oz (160 g) pastry flour
5 oz (140 g) unsalted butter at room temperature
3 large eggs
1 oz (30 g) orange juice
4,4 oz (125 g) icing sugar
0,53 oz (15 g) honey
0,18 oz (5 g) baking powder
one orange zest
one lemon zest
0,18 oz (5 g) grated fresh ginger
1,4 oz (40 g) de candied kumquats
2,65 oz (75 g) raisins
1 oz (30 g) dried apricots
1 oz (30 g) candied ginger
pinch of salt
FOR BRUSH:
FOR APRICOT NAPPAGE:
2 Tbsp apricot jam
1 Tbsp honey
1 1/2 ó 2 Tbsp water
FOR GARNISH:
Instructions
Make the Fruit Cake.
Preheat oven toa 355ºF.
Grease the pan and line with parchment, you can use non-stick spray if you prefer. Set aside.
Chop the kumquats, apricots and candied ginger. Mix with the raisins and batter in flour, set aside.
In the KA bowl or a bowl from a stand mixer sieve the flour along with baking powder, salt, honey, orange and lemon zest, eggs and butter. Mix with the flat beater. We'll get a very bright and creamy batter.
Pour the orange juice and mix until it is completely integrated.
Stir in the chopped fruit and mix with a silicone spatula to distribute evenly.
Pour the mixture into the pan and tap gently to settle the batter .
Bake in the oven for 50 minutes or until a toothpick is inserted in the center and comes out clean.
Remove, soak with the rum using a brush and let it rest for 4-5 minutes.
Remove the cake from the pan and let cool completely on the racks.
Once it is cold, we can decorate it or wrap it in film and place it in the fridge until the next day.
Make apricot nappage.
In a small pot add all the ingredients and place over medium heat until they become liquid.
Set aside.
Assemble the Fruit Cake.
Brush the cake with the apricot nappage over the whole surface except for the base. It will leave a very bright finish.
Garnish the surface with apricots, kumquats, cherries, pistachios and candied figs.
Serve.
Notes
Why should we batter the chopped fruits in flour? To ensure that these are kept distributed over the entire surface of the sponge cake and prevent them from falling to the base.
Some nuts you propose I don't like. It's okay, everyone can substitute another variety that you like more. For example, change the kumquats for candied orange, omit the dried apricots but add dried plum, pistachios for hazelnuts, figs candied by dried figs... I leave it to your choice.
Can fresh ginger be replaced by ginger powder? Yeah, no problem. We'll just have to add a teaspoon of ginger powder.
I have seen that the sponge cake is soaked with rum. Is this ingredient essential? Not at all, in fact you can omit it, if you wish. It is true that it gives a very good point of liquor to the cake, as well as a touch of juiciness, but this step can be omitted.

Can I substitute rum for another liqueur? Yes, if you don't have rum, a Grand Marnier will be great too.
Does alcohol contribute any benefit to the cake? Yes, it increases its useful life by keeping it juicy and tender for much longer, as well as preventing the appearance of mold.
Apricot nappage helps to preserve the freshness of the cake and gives it a shiny finish.
Once this sponge cake is cutted, we can keep it in a glass or hermetic container for 7 days.
This Fruit Cake or Cake aux fruits will delight you. It's true that it stays in a very classic line, but hey, these things also like it occasionally ;)
By the way, this Friday there will be no post because we are going to attend a few days of role-playing games that will keep me very busy... Oh, poor me! LOL
So we'll meet again on Monday, with the batteries fully charged! I hope you have a great weekend, cook a lot and enjoy more.
Big hugs,
Eva
Source: Wikipedia
Archivado en