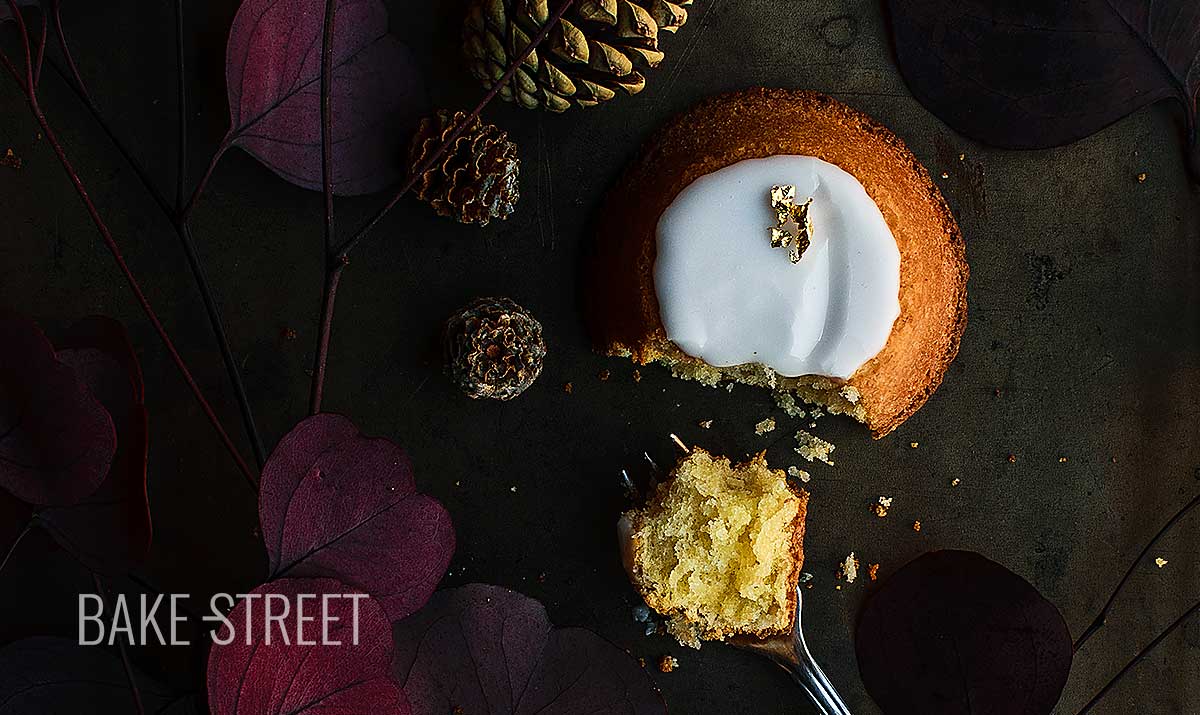 Gâteau Nantais, almond and rum cake
Este post también está disponible en Spanish
How have you been these days? I hope you have rested and enjoyed yourselves very much. We have disconnected a little bit, we needed it, but without stopping to advance work… These dates are a lot of work. To start the week as well as it deserves, I bring you a recipe that is absolutely wonderful. Cakes of French origin made with almonds, butter and rum, among other ingredients. Gâteau Nantais, a real delight you will not be able to resist.
I got to know this recipe through a book that I love and highly recommend, "Le grand livre de la boulangerie". The Gâteau Nantais is traditionally made in a unique format. That is, a sponge cake made in a round pan. But I loved the version they presented in this book. An individual format that can be perfect for serving with coffee. Besides having a simple and elegant presence.
Origin of the Gâteau Nantais.
In the 17th century, the port of Nantes was enriched by triangular trade and the cargoes of ships returning from the West Indies were received. Ingredients such as cane sugar, rum, Bourbon vanilla… which later became part of the gâteau nantais.
It is said that this cake was invented around 1820 by a master pastry chef named Rouleau who lived in the Saint-Clément district (currently rue Maréchal-Joffre) in the Cité des Ducs, Nantes. This cake tells the story of Nantes and how commerce is part of it.
It was considered a very luxurious cake because of the ingredients with which it is made. Traditionally it was prepared by housewives and served to their guests at coffee time. But for some reason, this wonderful elaboration ended up falling into oblivion.
The rebirth of the Gâteau Nantais.
In 1910 Lefevre-Utile, better known to all of us as the LU brand, refined and industrialized the recipe for the cake to be sold and resulted in a great success.
Since then, bakers in Nantes have taken inspiration from this recipe to create new or improved versions of this classic cake. It is also called "traveler's pie". It is said of it that it is the perfect marriage combining sugar, almonds, butter and rum from the Antilles.
A very simple cake to carry out and with which we will enjoy our on table as we would never have done before. Exaggerated?, maybe, but I assure you that when you taste it, you will understand me!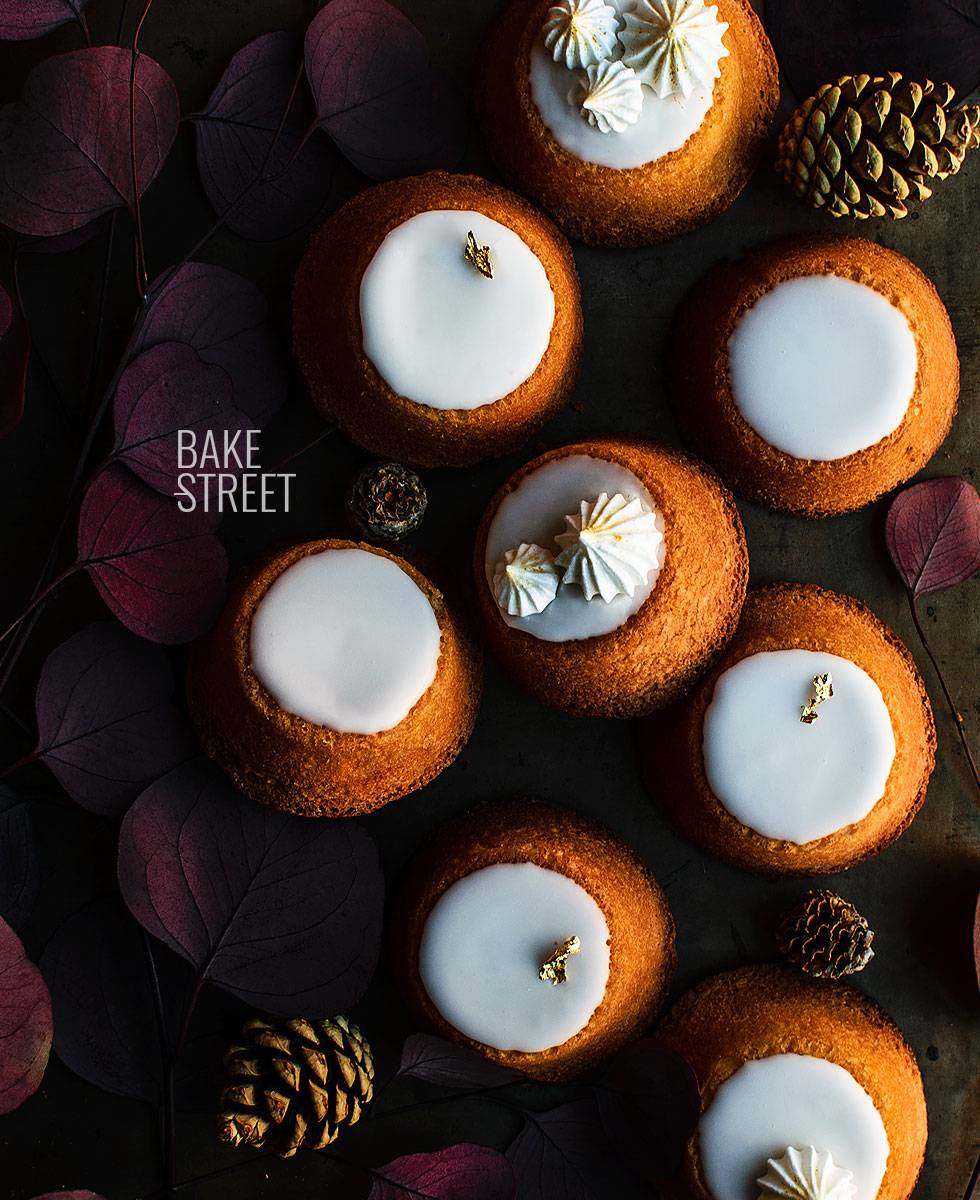 By the way, "Homemade bread for beginners" online workshop is now available! You have all the info, details and date in this link or in the upper menu clicking on "Bread workshop" 😉
Ingredients for 12 pieces
FOR THE BATTER:
5,3 oz (150 g) ground almonds
2,1 oz (60 g) pastry flour
5,8 oz (165 g) unsalted butter at room temperature
7,95 oz (225 g) eggs, about 4 large eggs
7,95 oz (225 g) sugar
0,17 oz (5 g) baking powder
1,6 oz (45 g) rum
FOR GLAZING:
6,9 oz (195 g) icing sugar
1 oz (30 g) water
0,1 oz (3 g) rum
FOR DECORATE (OPTIONAL):
dried meringues brushed with gold dust
edible gold leaf
Instructions
Make the batter.
Preheat convection oven to 355ºF.
Grease a muffin pan, I have used this one,  with butter and sprinkle with flour. Turn to remove the excess and set aside.
In the bowl of KA or a stand mixer, add butter and sugar. Mix with the flat beater at speed 1 until a white, creamy mixture has been obtained and the volume has increased.
Meanwhile, in a medium bowl sift the flour. Add the ground almonds together with the baking powder. Set aside.
Once the butter has turned white and increased in volume, add the eggs to the mixture while the flat beater continues beating. We'll do it one by one, and we'll wait for it to integrate before adding the next one. At the end we will get a curd look mixture.
Add the almond mixture. We will do it little by little and beating at the same time until obtaining a homogeneous mixture. Remember to mix only until the ingredients have been integrated.
Finally add the rum and mix until it is fully integrated.
Bake.
Divide the mixture into the holes in the pan. Tap gently on a surface covered with a cloth to help the batter settle.

Place in the oven and bake for 18-20 minutes, checking that they do not brown excessively on the surface. In my case it was 20 minutes, but it will depend on each oven.
Remove from the oven and from the pan immediately. To do this, place a rack on the muffin pan and, with the help of oven gloves, turn around. That way all the cakes will come out perfectly.
Let them cool completely on the rack.
Prepare the glaze and decorate.
In a bowl mix the icing sugar together with the water and rum to obtain a homogeneous mixture.
With the help of a coffee spoon, place some glaze on each sponge cake.
Let them stand for about 30 minutes so that the glaze dries slightly.
Finally, if desired, decorate with dried meringues or edible gold leaf.
Serve.
Notes
Given the large amount of butter in these cakes, I recommend using good quality butter. There will be an improvement in the final taste.
Is it essential to whip the butter together with the sugar? Yes, the soft and spongy texture of the cake will be achieved by whipping the butter.
Can I make these gluten-free cakes? Yes, you can omit the wheat flour and replace it with corn flour.
Can I substitute rum for another liqueur? Originally, these cakes are made with rum. But if you don't like it or don't have this liqueur, you can replace it with another one. For example Cointreau, almond liqueur...
These cakes can be made in a single format using a round pan, about 8,5 - 9,5 inches (22-24 cm) in diameter. The cooking time will be extended, it can be around 30 minutes. Remember to insert a toothpick to see if it has finished cooking.
They last in perfect condition for 5-7 days thanks to the presence of almonds and butter. You already know that nuts help to maintain freshness and juiciness. Ideally they should be kept in a glass bell or airtight container.
This Gâteau Nantais is a delight in every sense, starting from the visual, passing through the smell and ending in taste. Not only does it have an incredible and sweet aroma, but also, its texture is frankly amazing.
No doubt it can be a perfect ending in a evening this Christmas, whether it is a dinner or lunch. Its individual format, together with its simple and elegant presence, will be the ideal accompaniment to coffee, tea or even a good liqueur.
I look forward to hearing from you soon.
Big hugs,
Eva
Sources: Nantes, Compagnons Boulangers Patissiers,  Wikipedia
Archivado en